9 Best Crypto Trading Bots Reviewed for 2023
Disclosure: Crypto is a high-risk asset class. This article is provided for informational purposes and does not constitute investment advice. By using this website, you agree to our terms and conditions. We may utilise affiliate links within our content, and receive commission.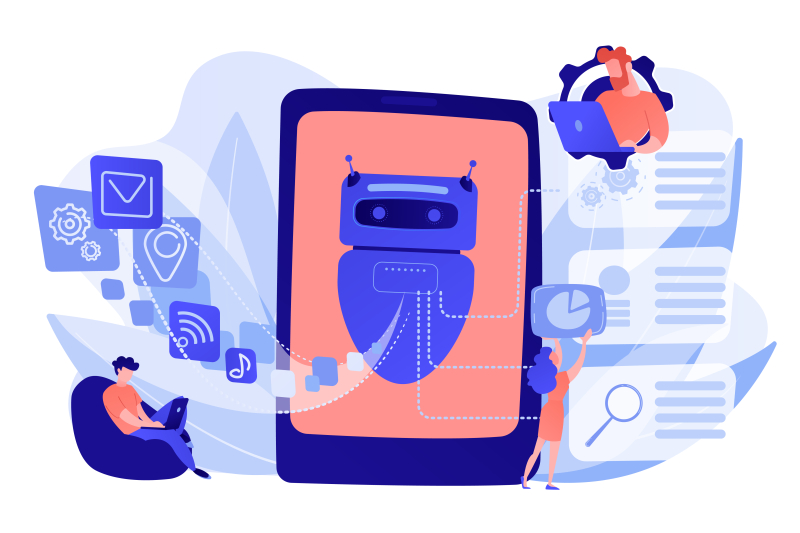 Disclaimer: The Industry Talk section features insights by crypto industry players and is not a part of the editorial content of Cryptonews.com.
A crypto trading bot can automatically buy and sell digital assets according to preset parameters. Such a tool can be extremely useful in executing crypto trades, without having to watch over the market at all times. 
In this guide, we explain what crypto bots trading is all about and how these automated systems work. 
We will also take a look at the best crypto bots that investors can use to trade digital currencies in 2023.
The 9 Best Crypto Trading Bots for 2023 Ranked
Those wishing to use automated investing strategies can consider the 9 best crypto bots listed below:
Dash 2 Trade – Crypto Analytics Platform Supporting Automated Trading 
Learn 2 Trade – Advanced Crypto Trading Bot to Generate Gains in Volatile Trading Conditions
Pionex – 16 Free Built-in Crypto Trading Bots
Coinrule – Set Rules for Automated Crypto Trading  
Shrimpy – Crypto Portfolio Management Platform With Automated Trading 
3Commas – Advanced Crypto Bot Trading Platform
Cryptohopper – Trading Platform With AI-Powered Crypto Bot
HaasOnline – Crypto Bot Platform to Automate Proven Trading Strategies
HodlBot – Best Crypto Trading Bot for Beginners
The best crypto trade bot providers can help investors tremendously.
Therefore, before picking a crypto bot, investors can read through the reviews that we have provided in the subsequent sections of this guide. 
Additionally, it is also recommended that investors do their due diligence in order to educate themselves about the risks associated with crypto bots. 
Best Crypto Bots Reviews
There are plenty of cryptocurrency trading bots available in the market today. 
This means that investors have a range of options to choose from. At the same time, this can also make it challenging to find the right provider. 
To help clear the mist, below we review some of the best crypto bots available for investors in 2023. 
1. Dash 2 Trade – Crypto Analytics Platform Supporting Automated Trading 
Dash 2 Trade is a crypto analytics platform that provides traders with in-depth market insights. Using the features of Dash 2 Trade, crypto traders can devise market-beating strategies and identify profitable investment opportunities. The platform comes with tons of tools – which include signals, social trading, and market metrics to find top trending crypto coins. 
This analytics platform is designed to encourage its users to build independent trading strategies. To facilitate this, Dash to Trade offers a long array of indicators and analytical tools at the disposal of its users. The platform also supports backtesting of trading strategies in live market conditions – so that users can assess whether their strategy will be profitable or not.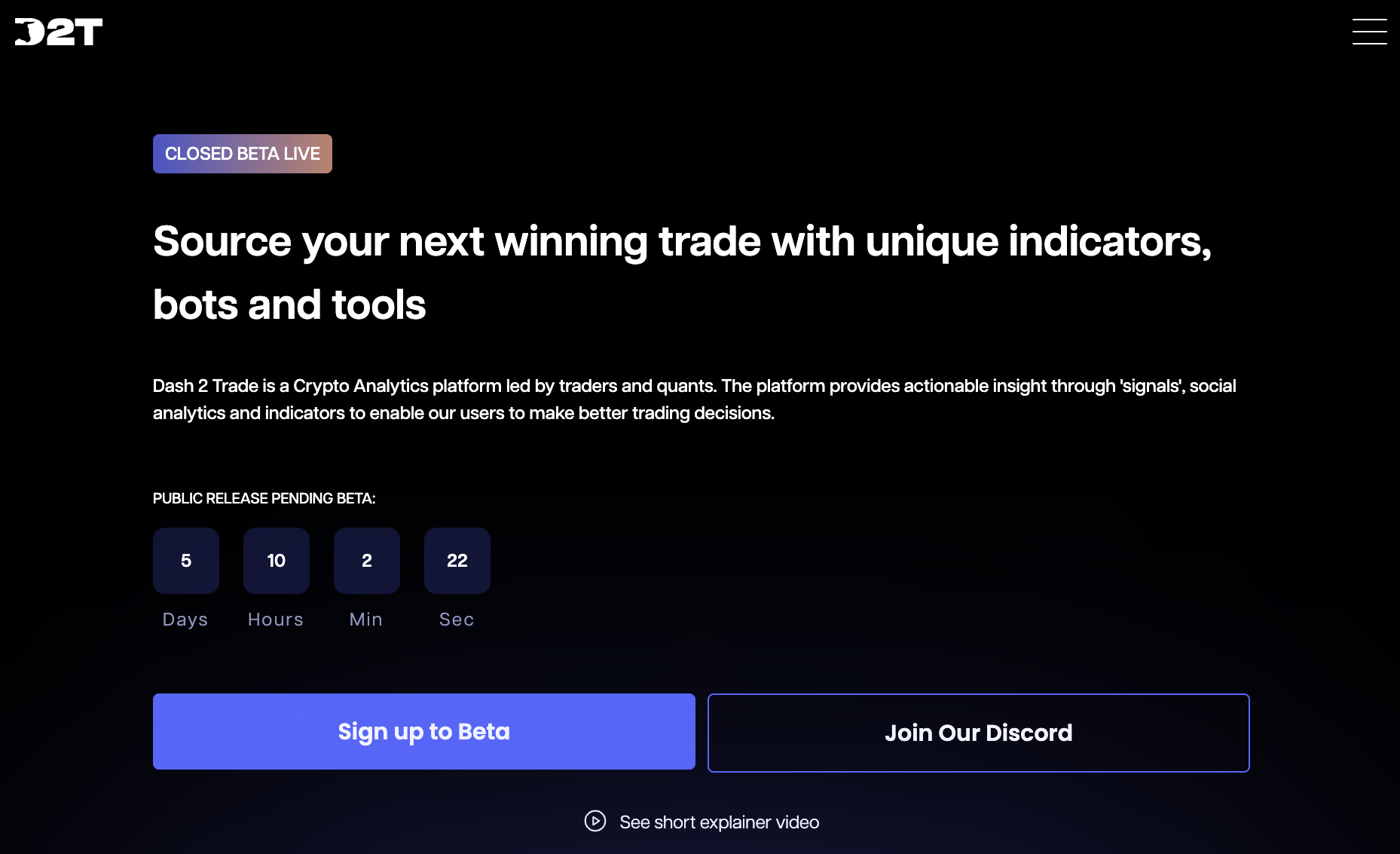 In case traders do not want to set up a strategy themselves, they can also rely on the crypto trading signals offered by Dash 2 Trade. This will include actionable insights such as entry prices, take-profit/stop-loss levels, and the type of trading order to place. And what's more, Dash 2 Trade also has an auto-trader that lets users automate their strategies based on these metrics. 
Investors can use the auto-trader by linking a crypto exchange with Dash 2 Trade via an API. Traders can then configure the bot based on their preferences, and the orders will be executed automatically. Moreover, what makes  Dash 2 Trade more attractive is that it reviews the performance of its trading bots. 
For instance, the platform will compare how the performance of the strategy would be altered if the take-profit or stop-loss levels were changed. This gives investors a chance to make adjustments before running the bot. Apart from the crypto robot, Dash 2 Trade also integrates features such as on-chain analytics, price alerts, and more. 
The native digital asset of the project is the D2T token, which can be used to pay for the platform's services. Dash 2 Trade has three broad subscription tiers, and users can choose one based on the type of features they seek. 
The public release of Dash 2 Trade is on 24th May 2023. 
Pros:
Offers access to tons of useful tools for crypto trading
Supports auto crypto trading robot
Available features include crypto signals, price alerts, on-chain analytics, and more 
D2T tokens are available for presale at just 0.05 USDT (as of writing)
Cons:
Subscripts can be paid only using D2T tokens
2. Learn 2 Trade – Advanced Crypto Trading Bot to Generate Gains in Volatile Trading Conditions
Learn 2 Trade is a crypto trading algorithm created for beginners who want to make the most out of the volatile trading ecosystem. The platform has been built by a team of experts who condensed more than two years of trading experience into 1500+ lines of codes and 100+ technical indicators to create an algorithm that looks for conducive market conditions and executes trades.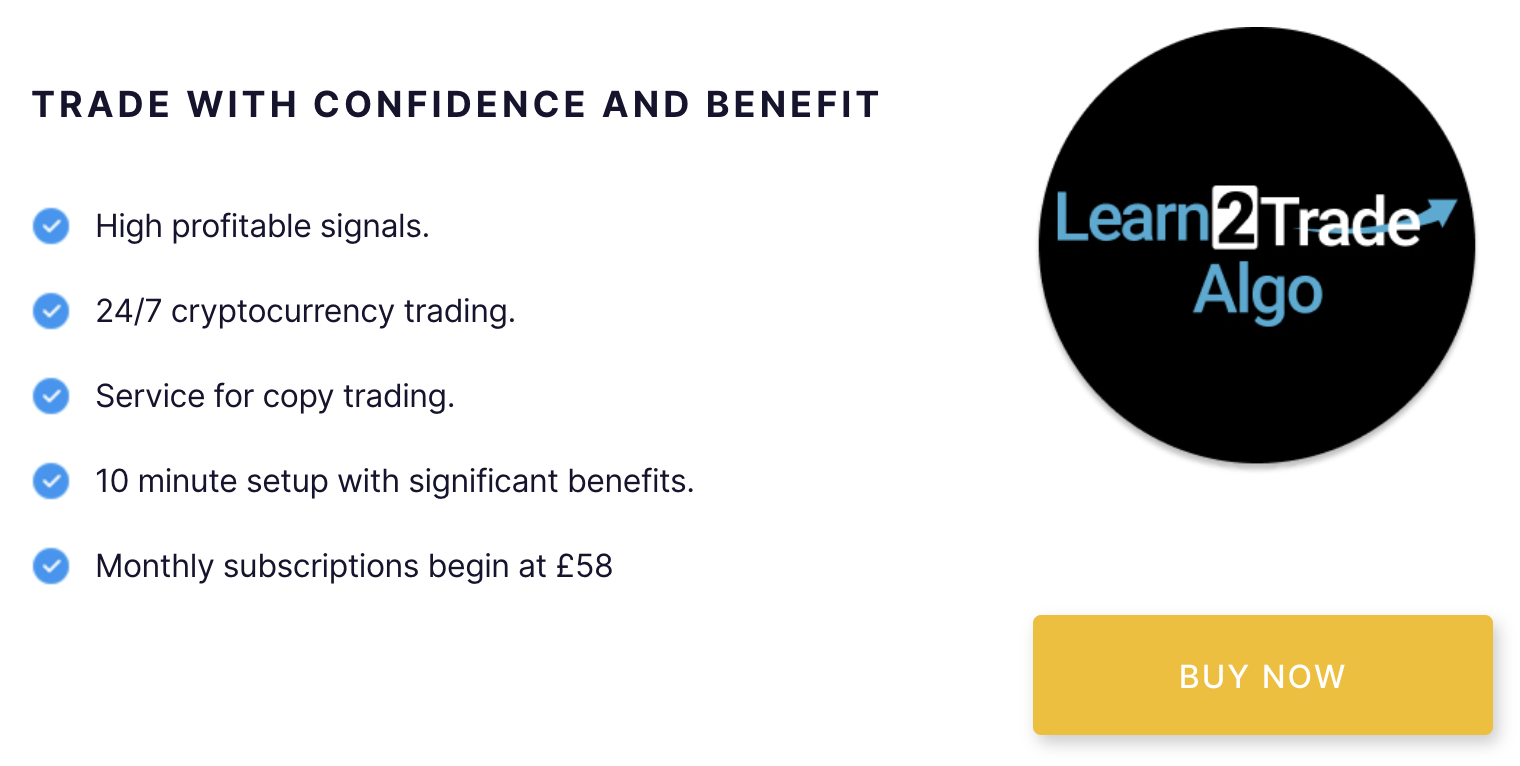 As one of the leading trading bots, the Learn 2 Trade algorithm scours the market for signals and sends automated alerts to traders to help them make quick investment decisions. The alert system has been integrated with Telegram, making getting access to critical market information easier. 
The automated trading aspect comes from Learn 2 Trade's integration with Cornix. Cornix is a trading bot that combines the Learn 2 Trade algorithm's market data with its quick investing protocol to execute trades automatically on behalf of traders. Learn 2 Trade is also compatible with Binance and Bybit. But creating an account with Cornix first is necessary. 
These features are underpinned by a flexible subscription model that comes in three packages. The platform traditionally offers up to 40 trades per month with a 79% success rate. 
Overall, Learn 2 Trade is a platform suitable for traders who want to capitalize on the current market's volatility to generate intra-day gains. The subscription fee is reasonable, and the trading process is hands-free, which is a great asset for those who don't have time to research. However, the algorithm also allows users to execute manual trades if they want a more hands-on trading experience. 
Pros:
The fully automated trading bot offered
The algorithm was created through two years worth of market data
Reasonable subscription fee
Cons:
Critical to have a Telegram account
3. Pionex – 16 Free Built-in Crypto Trading Bots
Pionex is one of the best free crypto trading bots available in the market today. It offers not one or two but 16 free in-built trading bots. Pionex allows its users to automate trading using strategies such as dollar cost averaging, arbitrage trading, grid trading, and more. 
That said, Pionex is not an auto-trading bot that works with other crypto exchanges. Instead, it operates as an independent trading platform – supporting hundreds of cryptocurrency pairs. Furthermore, Pionex can also be used as a global crypto bot for trading derivatives.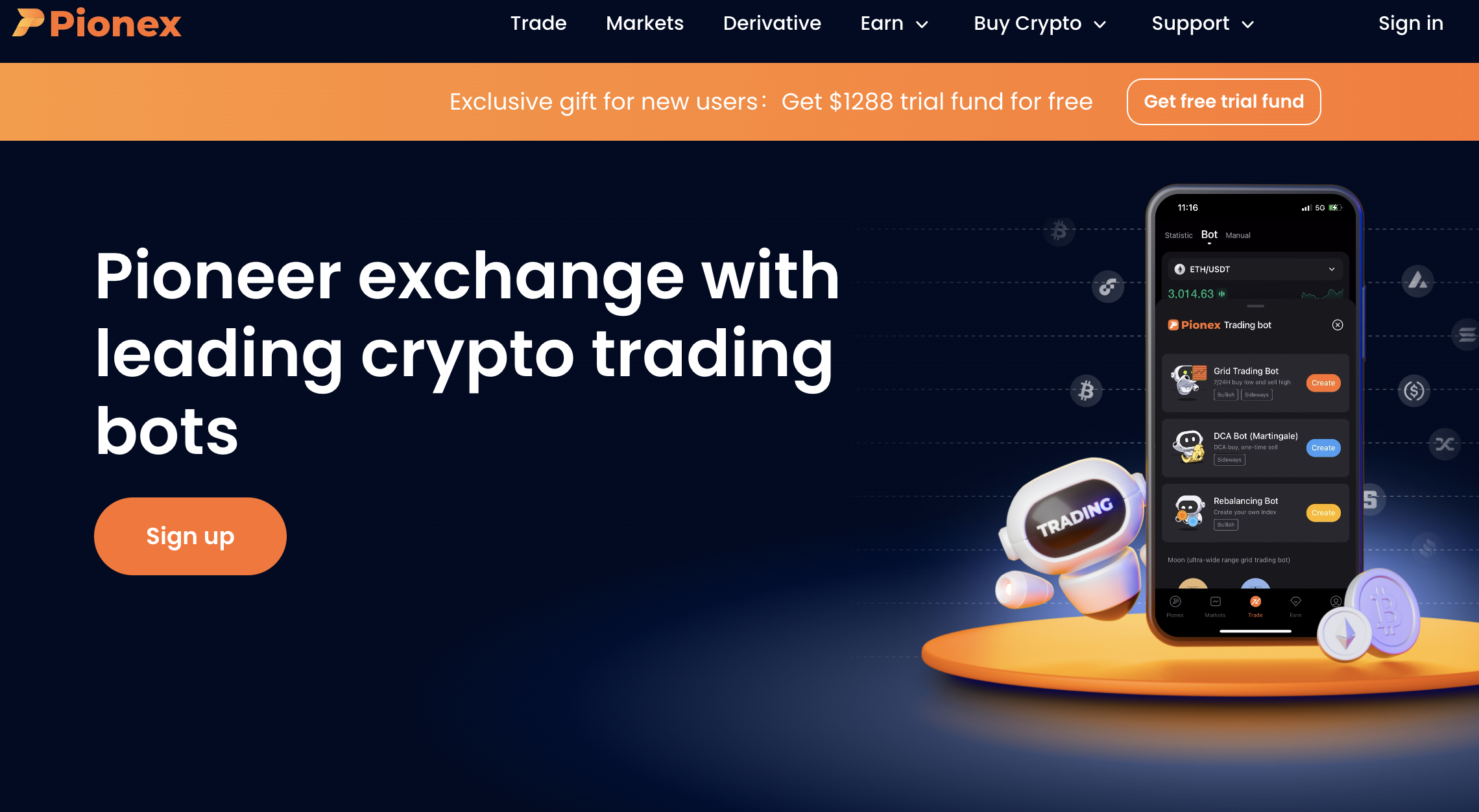 Another advantage of Pionex is that it supports leveraged trading. The platform also allows its users to directly buy cryptocurrencies with credit cards and stake digital tokens to earn additional rewards. Furthermore, this crypto trading bot is available as a mobile app, which makes it easy for investors to monitor their positions on the go. 
Pionex does not charge any fees for using its crypto bots. It levies a flat fee of 0.5% for spot trades and 0.1% for executing leveraged positions. 
Pros:
Offers 16 free cryptocurrency robots
Has several in-built trading strategies
Supports leveraged positions
Cons:
No scope for customization
Flat fee of 0.5% for spot trades
4. Coinrule – Set Rules for Automated Crypto Trading  
Coinrule was set up with the aim of making crypto trading simpler for investors. This trading bot allows users to devise strategies based on the 'if-this-then-that' condition. For instance, investors can tell the Coinrule trading bot to buy $100 worth of Ethereum if the price of the digital token increases by 1%. 
We found that Coinrule is one of the best crypto trading bots in terms of user-friendliness. It has tutorials that guide users to set up an AI crypto trading bot with ease, including complete beginners. To get started, users can connect their Coinrule account to crypto exchanges of their choice via APIs.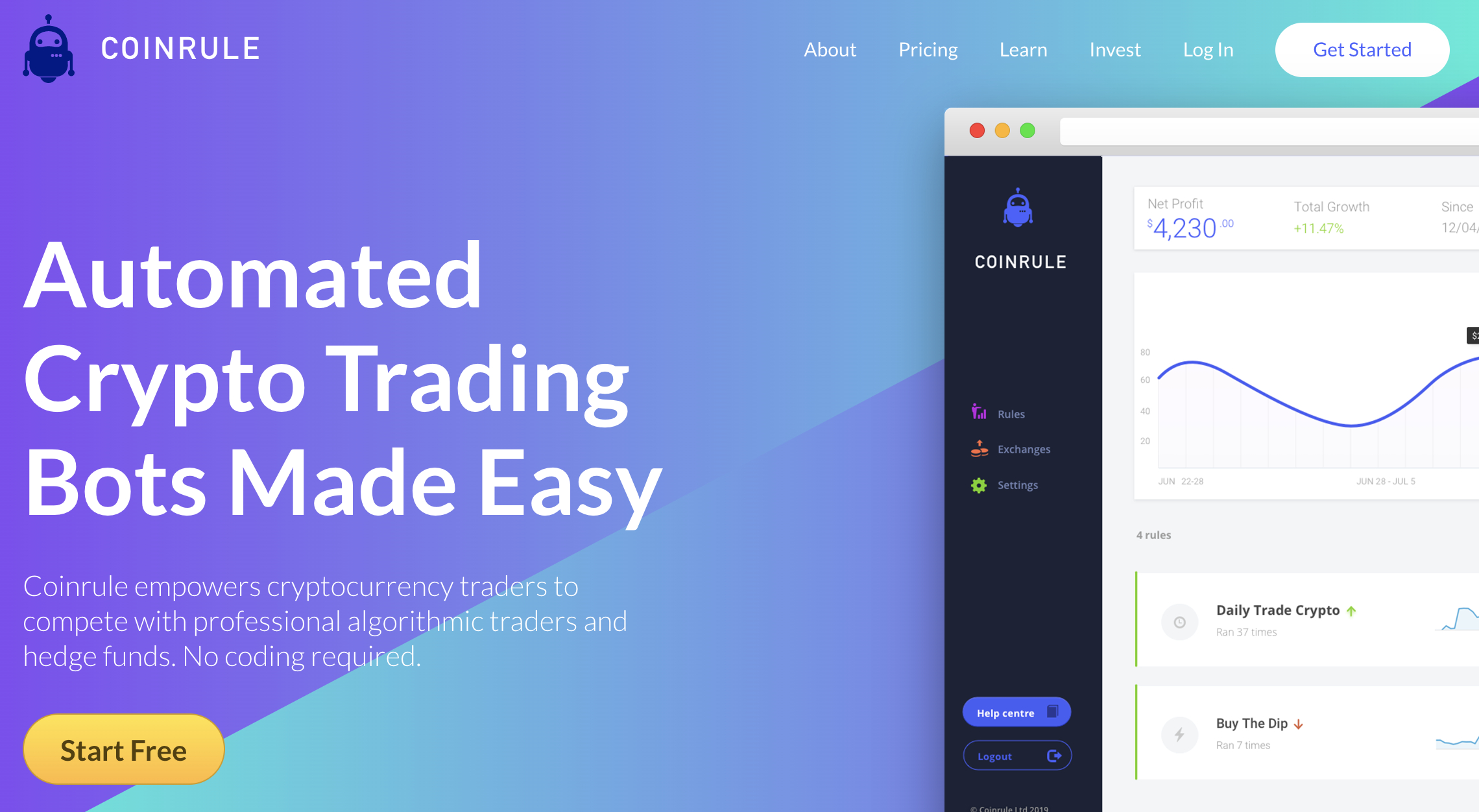 Coinrule also integrates technical indicators such as moving averages and the RSI, which can be helpful for investors when creating their strategies. The platform also lets its users test their bot rules before running them. When it comes to pricing, Coinrule has both free and paid options. 
Coinrule can be considered the best free crypto trading bot because it allows users to set two live rules and provides access to seven template strategies – without charging any fees. However, there is a limit on the trading volume. On the other hand, with the paid version that costs $29 a month, users can set up to seven live rules and can unlock a monthly trading volume of up to $300k.
Pros:
Easy to use and beginner-friendly
Option to set up to seven live rules
Both free and paid versions are available
Supports backtesting
Cons:
Limit on trading volume
Features on the free version are limited
5. Shrimpy – Crypto Portfolio Management Platform With Automated Trading 
Shrimpy is a one-stop shop for crypto investment solutions. It permits users to link multiple crypto exchanges in one place so that it is easier to manage an entire crypto portfolio. Moreover, Shrimpy users will also be able to track the performance of their investments and monitor the market via a single portal. 
This platform also integrates crypto robot trading in order to let its users implement an automated portfolio rebalancing strategy. This way, Shrimpy helps investors reduce the risk of their portfolio based on market conditions. Investors can also analyze their trading strategies with backtesting before risking their money.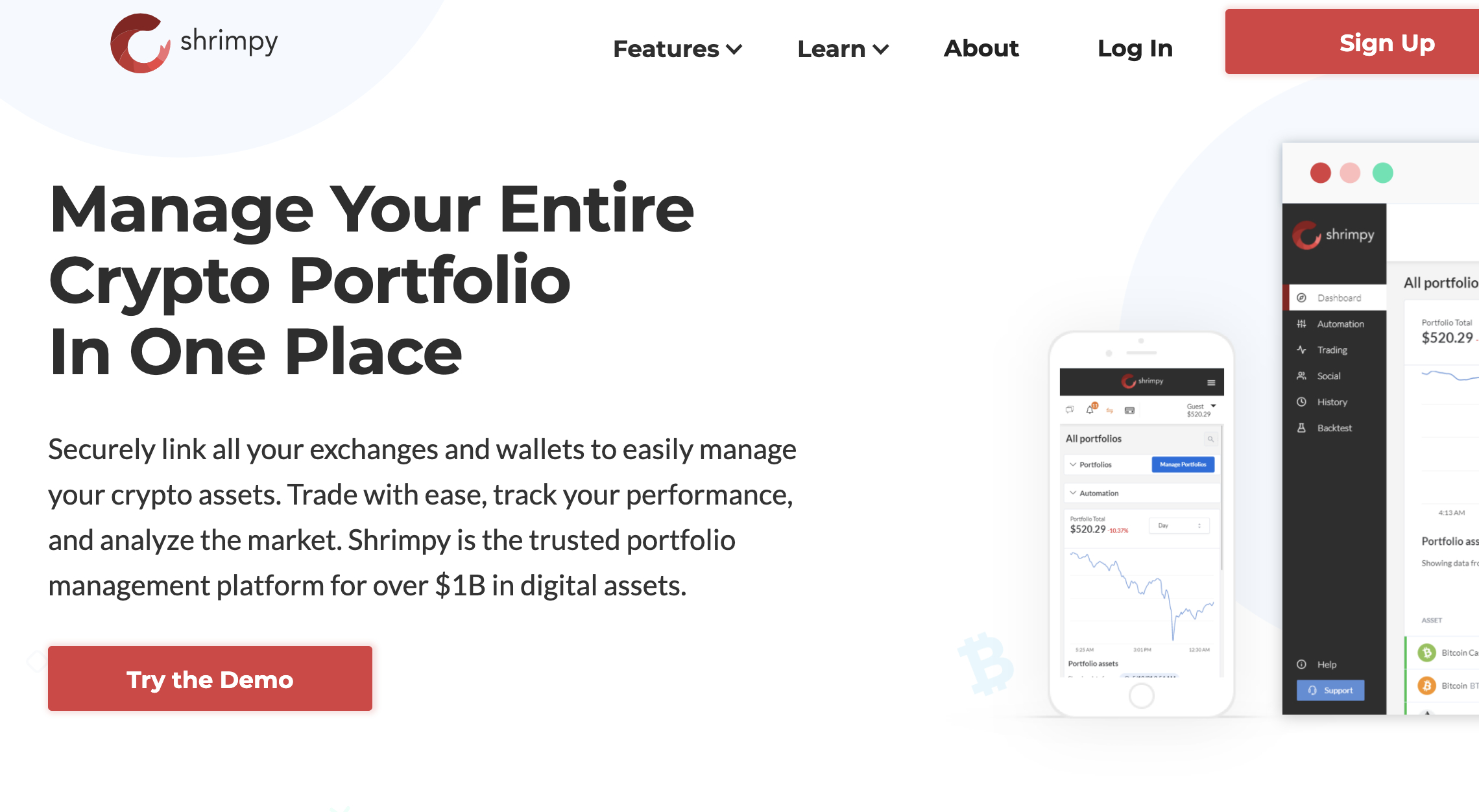 And beginners can also copy strategies of other experienced traders or even mimic the portfolio allocation of investment funds such as Coinbase Ventures and Blockchain Capital via Shrimpy. The one downside of Shrimpy is that there are no free versions available. 
Users will have to choose a plan depending on the features they seek. The basic plan starts at $19 a month, which allows users to keep three portfolios per exchange account. However, it is possible to check out the Shrimpy dashboard via a demo account for free. 
Pros:
Crypto portfolio management made easy
Automated trading for portfolio rebalancing
Supports copy and social trading
Cons:
No free version is available
6. 3Commas – Advanced Crypto Bot Trading Platform
3Commas has automated crypto trading robots that integrate with over 18 exchanges. It allows users to place trades manually or by setting up a crypto bot. With the latter, investors can trade 24 hours a day simply by assigning which conditions the trading bots should fulfill. 
Users of 3Commas have the option to implement automated trading strategies for multiple crypto pairs at a time. Furthermore, 3Commas's trading bots can execute positions based on TradingView signals such as the RSI and ULT. The platform also has bots that can copy the strategies of other traders on the platform.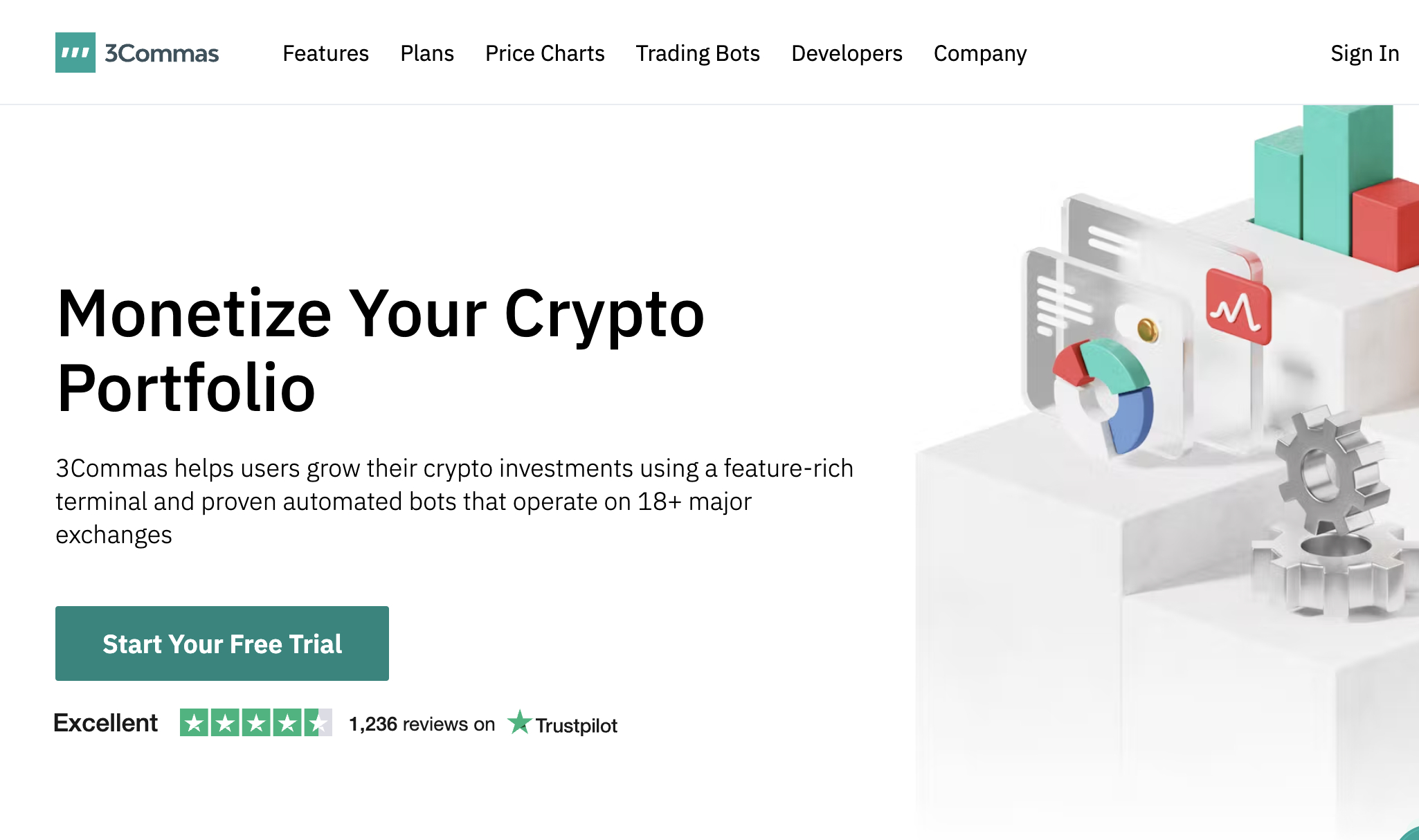 Needless to say, 3Commas is best suited for advanced crypto traders who know their way around bot trading crypto coins. It has four subscription levels, which include a free version. For the paid plans, the prices range from €14.50 to €49.50 a month 
Pros:
Best crypto bot for advanced traders
Supports copy trading
Available as a mobile app 
Works with 18+ exchanges
Cons:
Not suitable for beginners
7. Cryptohopper – Trading Platform With AI-Powered Crypto Bot
Cryptohopper is a full-fledged crypto platform that caters to the needs of investors across all levels. It comes with several features, which include an advanced trading platform, portfolio management tool, crypto bots, technical indicators, and more. 
With Cryptohopper, investors can run their bots based on the copy-trading strategy. In other words, the platform allows its users to copy the positions opened by other traders on the marketplace.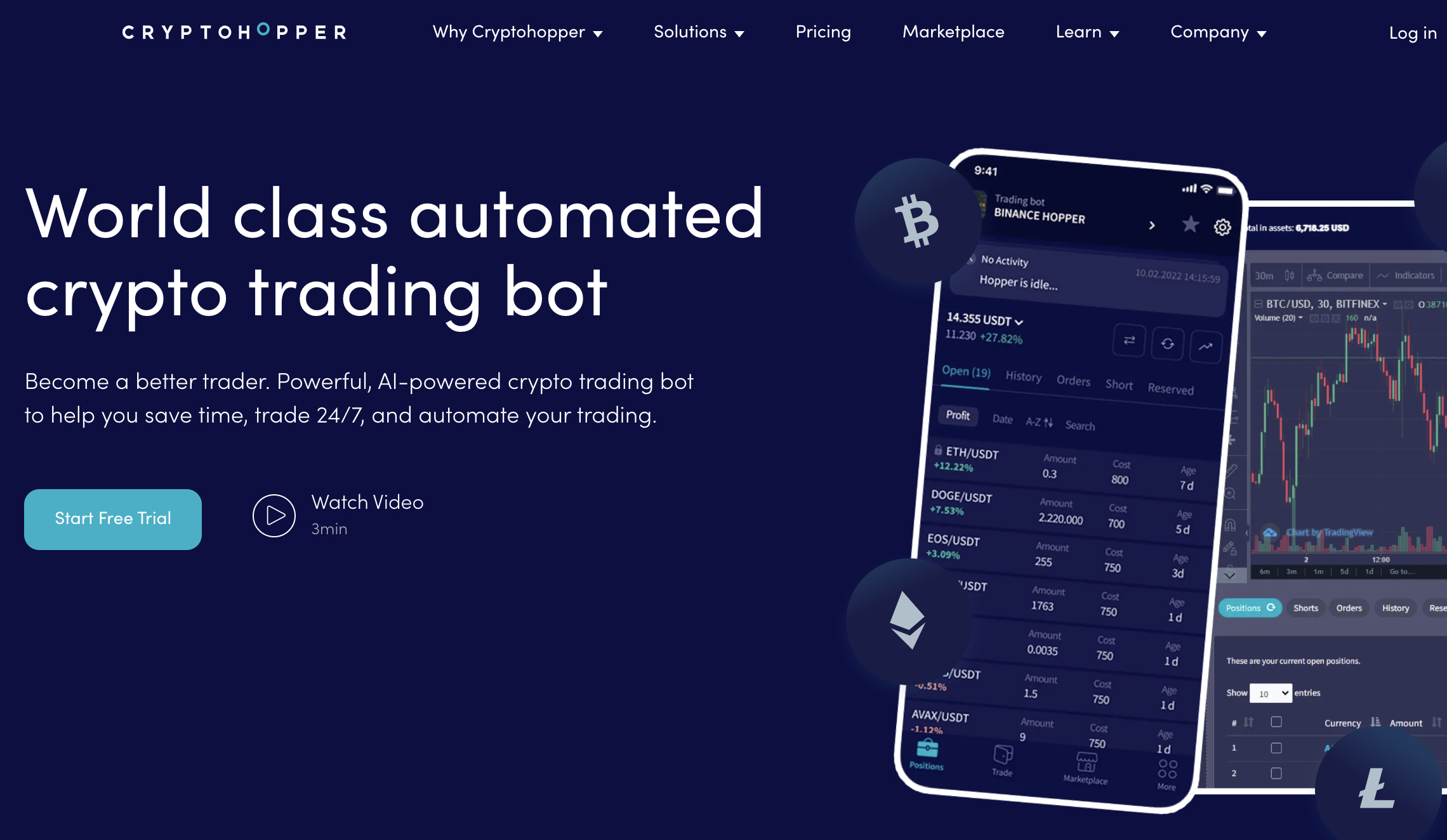 It is also possible to subscribe to Cryptohopper's trading signals, which will tell the bots when to buy and sell cryptocurrencies. In addition to both these choices, Cryptohopper also has pre-configured bot templates. 
Investors can simply choose one of them to proceed. While Cryptohopper supports a free plan, it does not offer access to crypto bots. The platform offers three tiers of subscriptions, with the basic plan starting at $19 a month. 
Pros:
Comes with predefined bot trading strategies
Offers a variety of crypto-related services
Supports copy trading
Cons:
Free plan does not support crypto bots
8. HaasOnline – Crypto Bots to Automate Proven Trading Strategies
HaasOnline is widely deemed the best cryptocurrency bot for advanced traders. This platform offers its users a number of ways to automate their crypto trades. The first option is the highly customizable trade bots – which can be configured using technical indicators, chart settings, and other risk management strategies. 
The second method is to use the pre-built trading bots available on HaasOnline. These trading bots utilize historically-proven crypto trading strategies in order to execute trades on an exchange. For instance, investors can integrate TradingView email alerts as signals or take advantage of the spread discrepancies between two exchanges.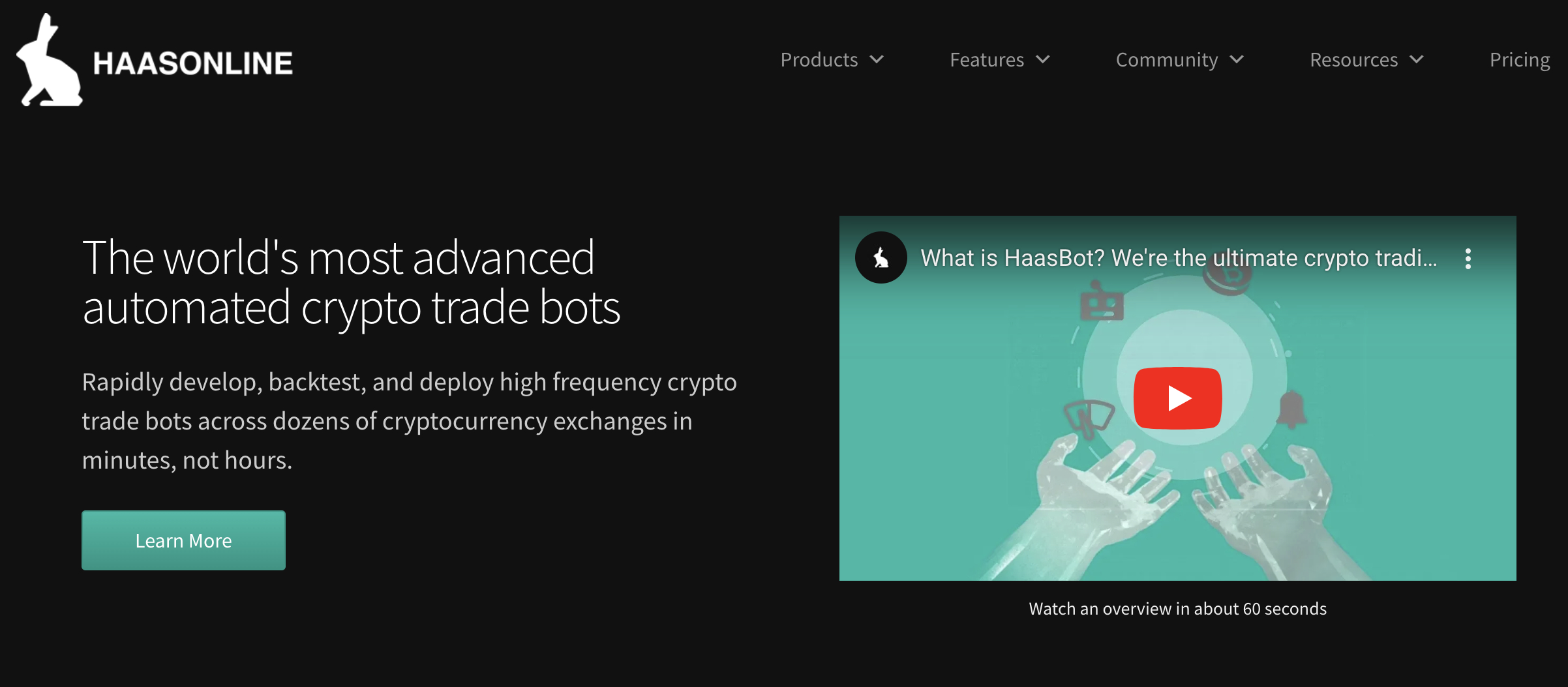 Finally, advanced crypto traders can also use the HaasScript language to generate scripts for bots. This requires no coding knowledge, whatsoever. The platform comes with an intelligent text-based editor to facilitate this. No matter the chosen approach, HaasOnline supports the backtesting of strategies and offers access to simulated paper trading. 
Like Dash 2 Trade, HaasOnline also charges its users in cryptocurrencies. However, here, users will have to make payments using Bitcoin. The basic package starts at 0.011 BTC per month, which equals around $230 based on the price of Bitcoin at the time of writing. 
Pros:
Highly customizable trading bots
Supports algorithmic trading using HaasScript
Comes with pre-configured crypto trading bots
Cons:
Only accepts Bitcoin as payment
Very expensive 
9. HodlBot – Best Crypto Trading Bot for Beginners
HodlBot has an efficient and effective crypto portfolio management system in place. It allows users to set up custom crypto portfolios and automatically rebalance them using trading bots. And all it takes are two simple steps – which makes this the best crypto robot for newbie traders. 
First, HodlBot users can connect the platform to their chosen exchange using API keys. Next, they can implement an existing strategy or create a customized portfolio based on the advanced metrics offered by the platform.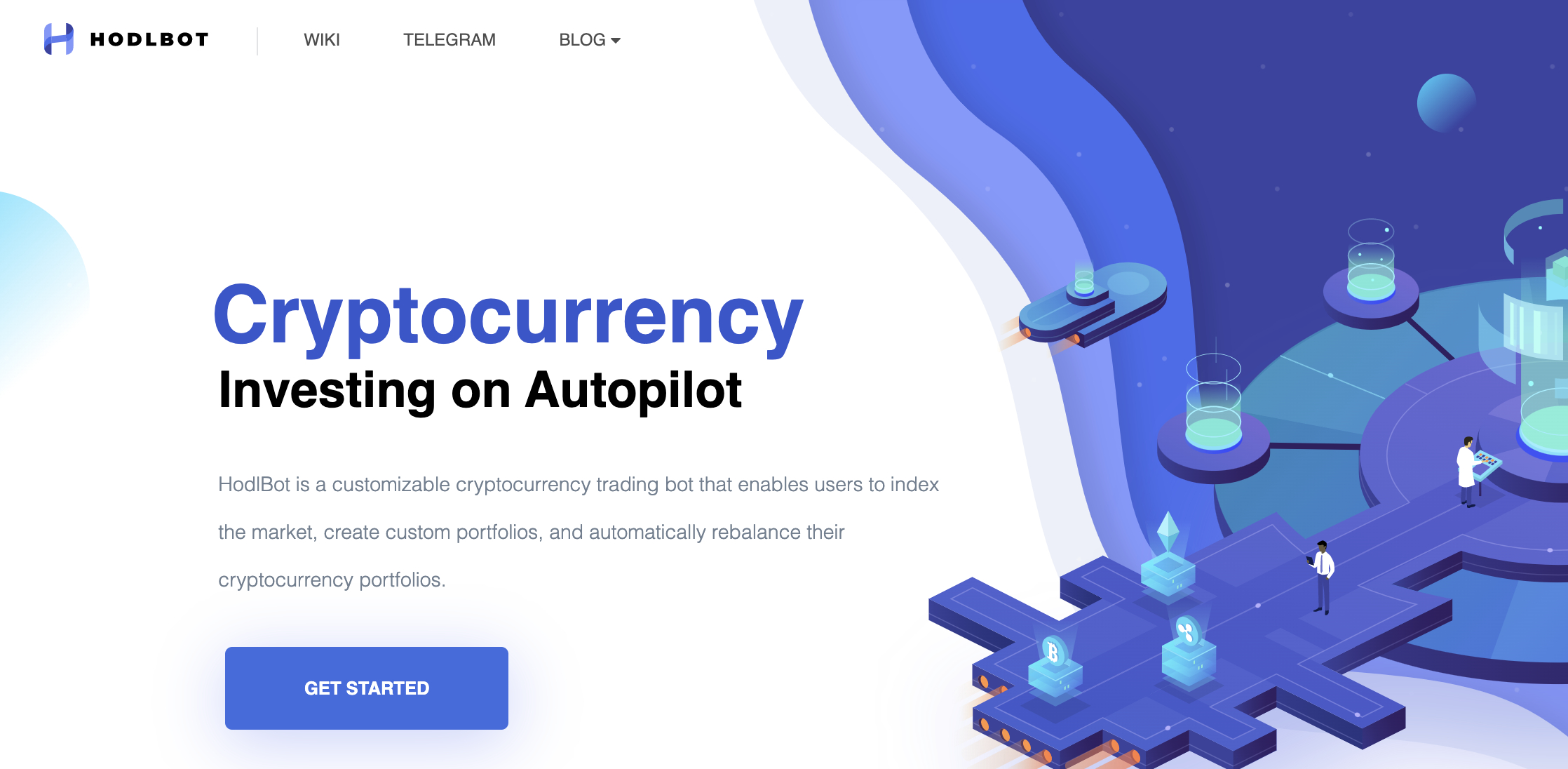 Once the bots are deployed, HodlBot will automatically track the portfolio's performance and make adjustments as necessary. 
HodlBot is free to use for the first seven days. The paid subscription plan starts at just $3 a month. In other words, HodlBot might be the best crypto trading bot for those looking for a budget-friendly option. 
Pros:
Beginner-friendly platform
Free trial available
Subscription starts at $3 a month
Cons:
Does not support backtesting
Other Crypto Trading Platform Reviews 2023
If you'd like to learn more about crypto trading bots we recommend reading our
What are Crypto Bots?
As a highly volatile asset class, the price of cryptocurrencies can change dramatically in a matter of minutes. This means that crypto traders should be able to make swift decisions – which require access to actionable market insights. 
However, it is virtually impossible for traders to keep tabs on every crypto market event or price movement. This is where cryptocurrency bots come into play. 
With the best crypto bots, investors can specify how they want their trades to be executed and when. In some cases, the provider will even have templates to pick from – which means that traders are not required to figure out what conditions the bot has to meet. 
Instead, the trading bot will automatically find the best crypto to trade, execute orders, and rebalance portfolios based on market conditions.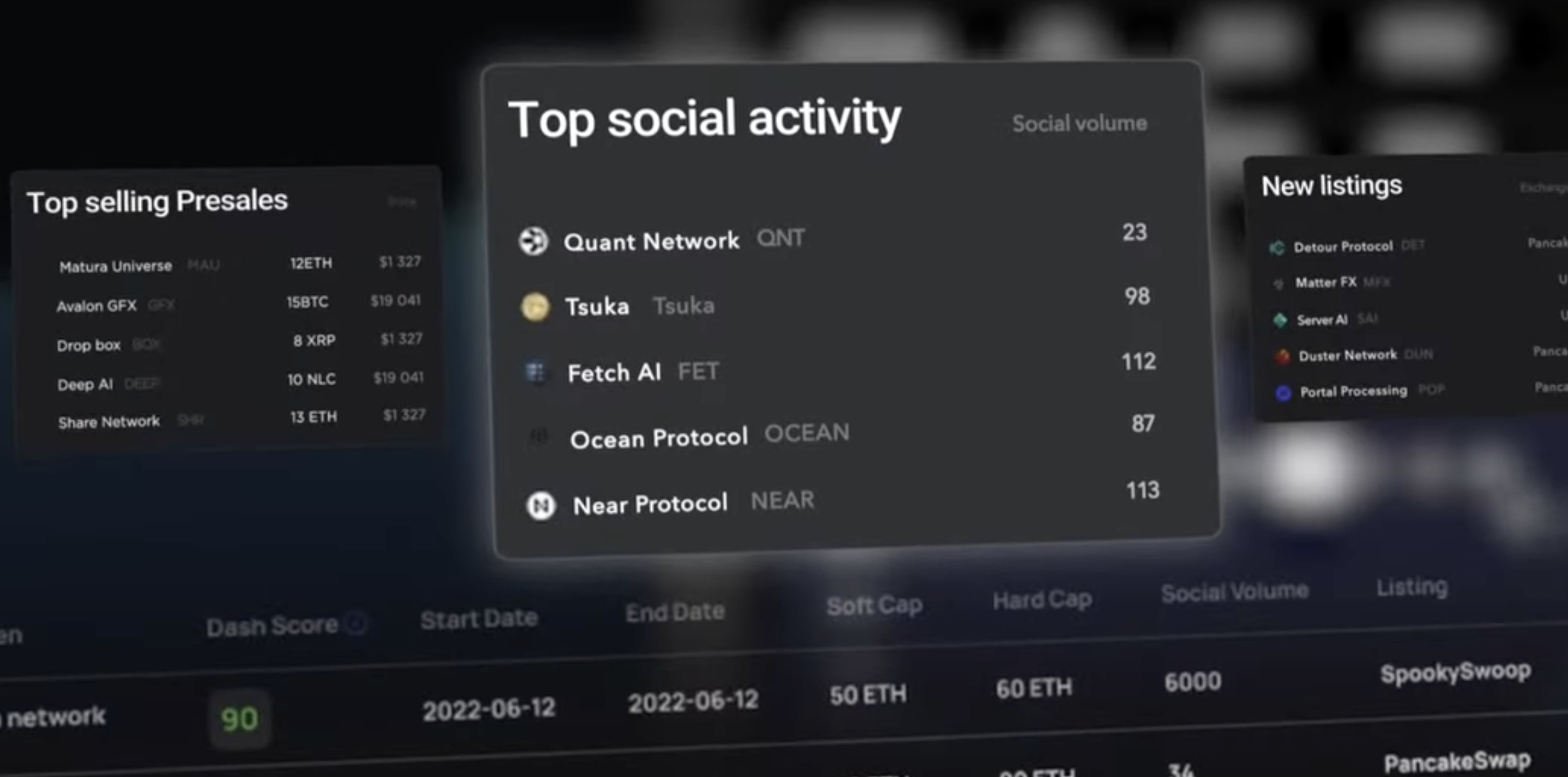 In a nutshell, using crypto bots can help investors save tons of time in research and eliminate the need to watch over the market every moment. However, the success of this strategy will depend almost entirely on the chosen provider. 
For this reason, it is crucial that investors spend time finding the best crypto bot that suits their trading style. 
How do Crypto Trading Bots Work?
Investors can get started with crypto trading bots by signing up on their chosen platform. 
Most of the best crypto robots on our list offer both free and paid versions, and investors can choose an option based on the features that are most useful to them. 
A crypto trading bot can work in the following ways:
Some platforms allow users to set up their own trading strategies. In this case, traders can establish specific rules such as entries and exit price levels. 
A few bots also let traders specify risk management rules. Once programmed, these rules will be automatically executed by the bot. 
In other cases, the trading bots provider might already have a pre-defined set of strategies. Users only need to pick one that best suits their trading style and deploy it. 
Advanced trading bot platforms also allow users to create their own algorithms. However, depending on the provider, this might require knowledge of coding. 
Nevertheless, the main attraction of using crypto trading bots is that it can take some of the emotion out of decision-making. 
For instance, with the help of AI, the best crypto trading bots can find the next cryptocurrency to explode or anticipate a market downturn and place trades accordingly. Moreover, bots can make it seamless for crypto traders to take advantage of market opportunities the moment they arise. 
That being said, crypto bots also carry risks. For instance, an error in the algorithm or the wrong settings can result in losses instead of profits. 
In other words, using crypto trading bots does not mean that returns are guaranteed, but rather, these tools can help make the investment process easier and less time-consuming. 
Are Crypto Bots Legit?
The crypto space is moving at a rapid pace. New platforms, bots and robo advisors are sprouting up every other day, promising huge returns and high success rates.
As with everything else on the internet, not every crypto bots provider is legitimate. 
Some of these platforms can turn out to be scams, and investors can end up losing their money. Traders need to be particularly careful when signing up for a Discord crypto bot or an open source crypto bot that claims to guarantee huge profits. 
After all, there is no way any crypto platform can assure profits. So, be sure to check crypto trading bots reviews before using any provider.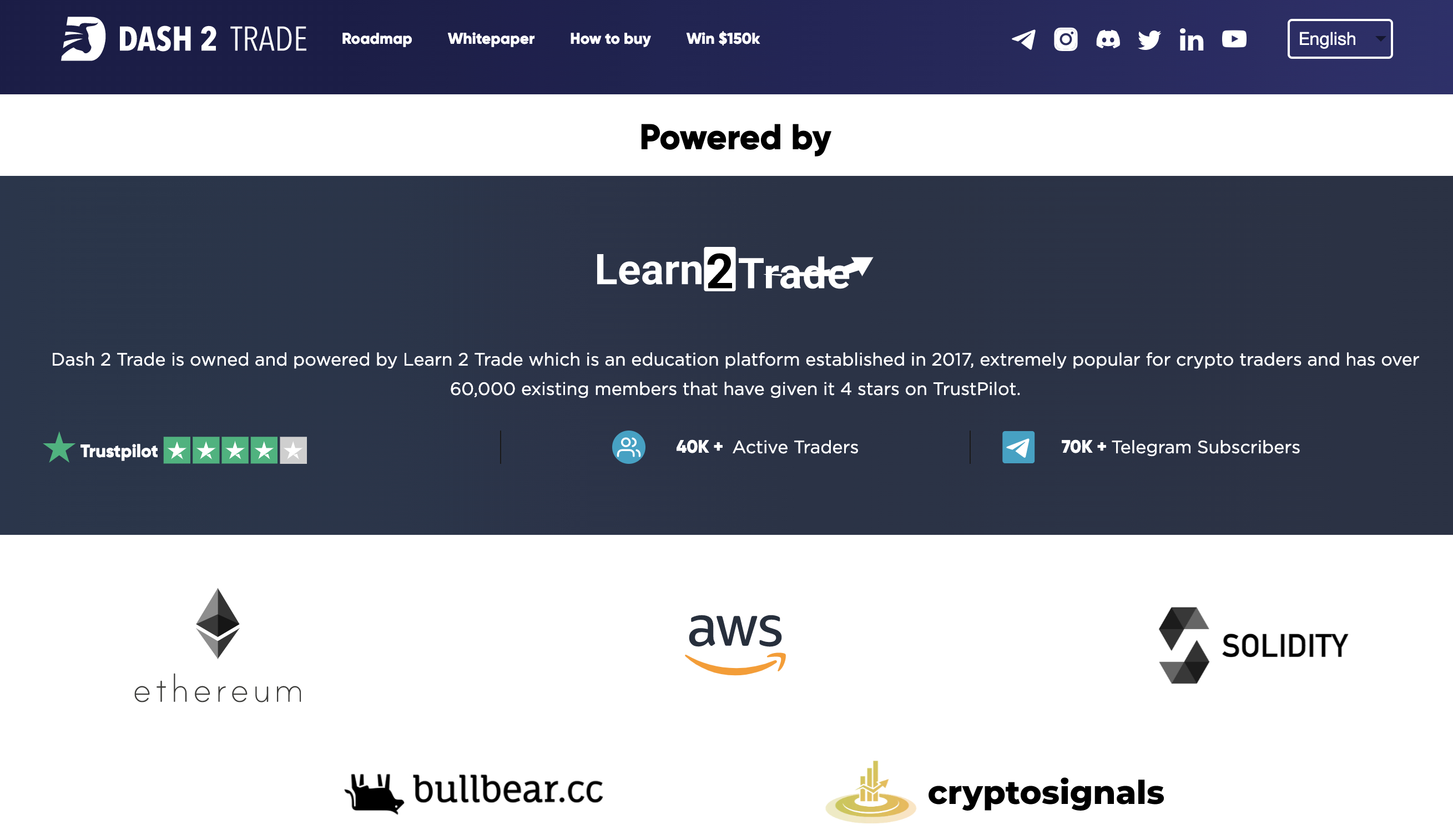 That being said, there are also crypto trading bots that have proven track records. For instance, Dash 2 Trade is the product of Learn 2 Trade, a well-established crypto signals provider that has been around for many years. 
The platform's Telegram channel has over 70,000 subscribers and a great reputation in the crypto space. This indicates that the team behind Dash 2 Trade is highly experienced and, as such, can offer investors valuable insights. 
Finding the best crypto bot can be challenging – so we have included a section on how to find the right provider later in the guide. 
Arbitrage Crypto Trading Bots
As we have covered, there are many varieties of crypto trading bots available these days. However, crypto arbitrage bots demand a special mention. 
These are tools that analyze the prices of digital assets across multiple crypto exchanges and place trades to take advantage of any discrepancies. 
For instance:
Let's say that the price of Bitcoin is $28,085 on one exchange. 
On another exchange, this might be $28,095. 
Such a price disparity is common across exchanges due to the differences in trading volume, fees, and liquidity. 
Now, typically, by the time a human trader spots this disparity, there won't be sufficient time to execute a profitable trade.
On the other hand, a crypto arbitrage bot is fast enough to identify these price differences. 
They can place buy and sell orders at different trading exchanges simultaneously in order to turn a profit for the user. 
In other words, trading bots are an effective way to make money with crypto arbitrage. 
Free Crypto Bots
We noticed that the best crypto bots always come at a cost. While some offer free plans, the features and limits available are often quite narrow. 
On the other hand, some platforms offer free trials for short durations, which can be a great way to get familiar with the tools and figure out whether or not to choose them. 
Nevertheless, given the advantages of crypto bots, it might be worth considering investing in a paid plan offered by a credible provider. 
How to Pick the Best Crypto Bot for You
Finding the best crypto trading bot is no easy feat. After all, as our guide has pointed out, there are tons of options at the investor's disposal. 
In the following sections, we explore what factors investors need to consider to select the best crypto bot. 
Features and Tools 
Cryptocurrency robots come in all shapes and sizes. While some offer the bare-bone basics and provide a set of pre-configured bots, others offer more flexibility to users. 
With platforms such as Dash 2 Trade, traders can access tons of technical indicators, crypto signals, market analysis tools, and other metrics to come up with an automated trading strategy.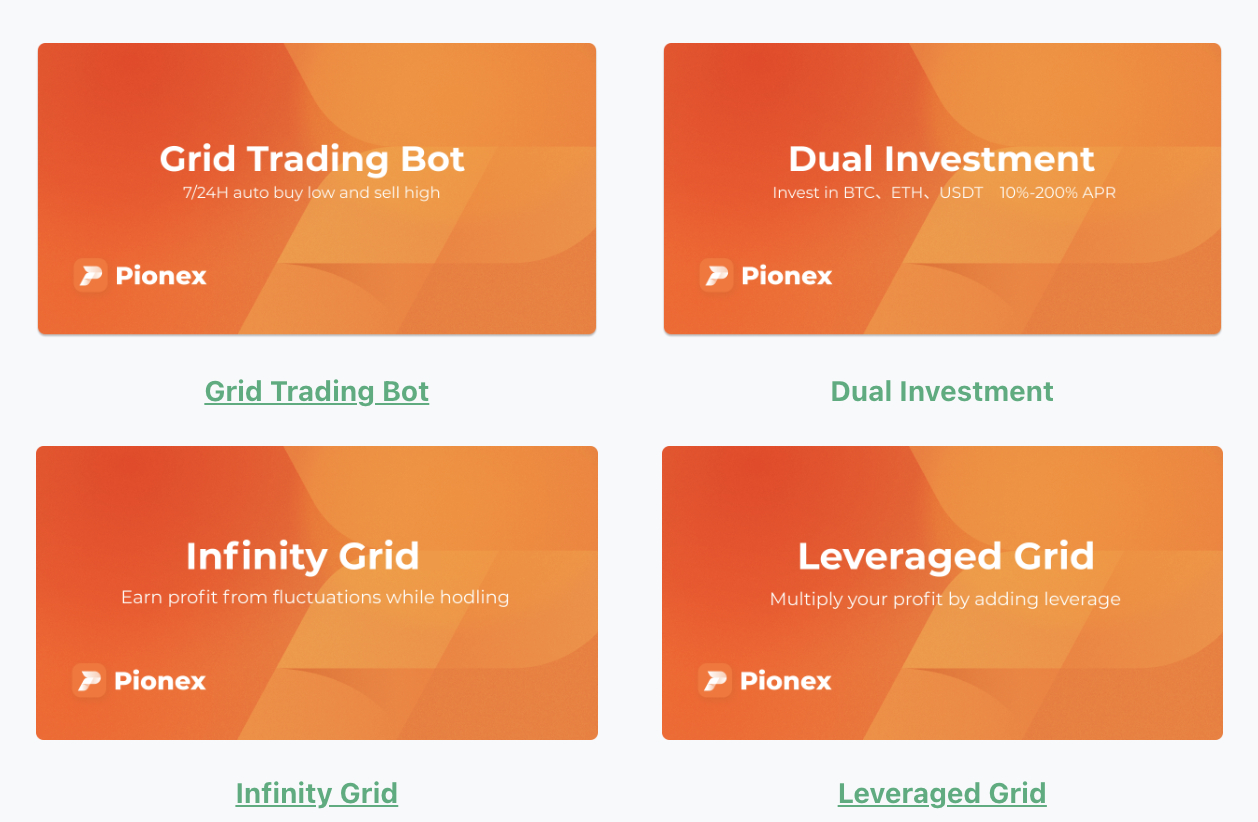 Moreover, the best crypto bots also facilitate the backtesting of strategies. In other words, the features offered by cryptocurrency bots can vary from one platform to another. 
Therefore, investors need to consider what trading tools are imperative to their strategy before choosing the best crypto bot. 
Fees 
For many investors, fees will play an important role in choosing the best crypto trading bot. 
Before signing up with a cryptocurrency robot, investors should check what fees apply and whether there are any ongoing charges. 
For instance, while some platforms charge a flat subscription fee, others levy a percentage of the stake. With some providers, a trading commission can also apply.
Check Crypto Trading Bot Review Sites
As with any other online service, the best way to find out about a platform's credibility is by checking reviews. However, instead of looking at the feedback available on the provider's website, it is best to check third-party platforms for crypto trading bot reviews. 
Take the example of Dash 2 Trade, which is backed by Learn 2 Trade. 
The Learn 2 Trade platform is considered to be one of the best crypto alerts sites and has raving reviews on TrustPilot and related websites. This indicates that Dash 2 Trade is a credible provider that investors can rely on. 
Below are some of the other crypto trading bots we've reviewed here at CryptoNews. Although bear in mind these didn't make our list of the best crypto trading bots:
Conclusion
There is no arguing that bots can be useful to aid investors with cryptocurrency trading. However, bear in mind that investors will need to do some homework to prepare themselves to use a bot adequately and effectively. 
Investors can also rely on an advanced crypto analytics platform to come up with viable trading strategies. For instance, Dash 2 Trade's auto-trader can be used to set up custom orders – which can be executed via popular crypto exchanges. 
FAQs
Which crypto trading bot is best?
After considering the different options in the market, we found that a great alternative to the best crypto trading bot providers is Dash 2 Trade. This platform functions as a top-notch crypto analytics platform that offers many features, such as trading bots, price alerts, signals, and more. Dash 2 Trade can also be used to backtest trading strategies and analyze the market sentiment towards a cryptocurrency before taking a risk.  
Is trading using a crypto bot profitable?
Using a crypto bot can indeed be profitable; however, there is no guarantee that all the trades will generate returns. As with any other market, the conditions of cryptocurrencies can also change. This is why it is crucial to find a reliable crypto trading bot. 
Which crypto bots are free?
There are several crypto bots that are accessible for free. Examples include free crypto trading bots offered by Pionex, 3Commas, and Coinrule. However, those looking to unlock the maximum potential of a bot will need to consider a paid option. 
---