The News Spy Review - Scam or Legitimate Trading Software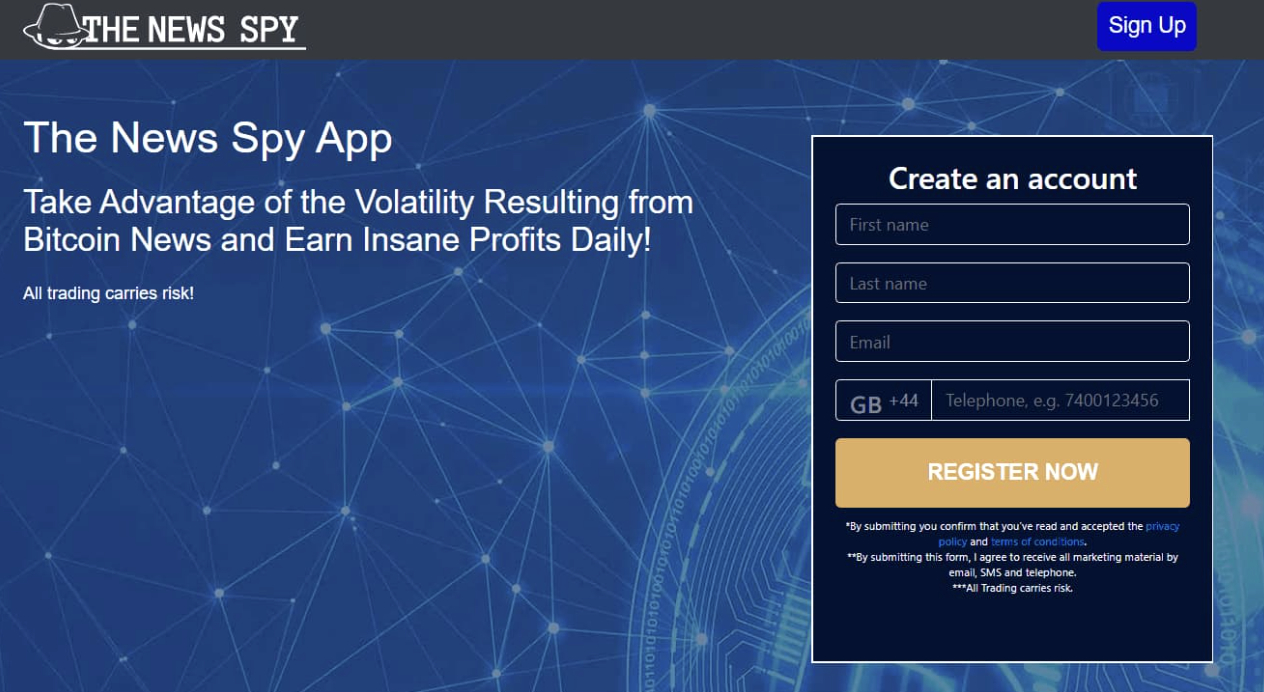 Disclaimer: The text below is an advertorial article that is not part of Cryptonews.com editorial content
The News Spy claims to be an off-beat cryptocurrency trading platform that bases its autonomous trading decisions on the latest news updates about the asset. The website promises a sustainable 70% win rate for trading 65 listed cryptocurrencies successfully.
Our The News Spy review will address these claims and find out if there is any truth to them.
The News Spy Summary
The crypto market doesn't follow the standard market fundamentals, so using the traditional metrics to predict the price of assets might be a fool's errand - that's the message of The News Spy website. That is why it claims to use news articles and social media movements to surmise where a crypto's price might head next. Here are a few points to consider before we get into our review of The News Spy:
| | |
| --- | --- |
| Supported Crypto | 65 cryptocurrencies, including Bitcoin, Bitcoin Cash, Binance Coin, Ethereum Classic, Ethereum, Cardano, ZCash, and more |
| Claimed Success Rate | 70% |
| Available on Mobile? | No mobile app is available |
| Fees | 2% Commission, 1% fees for those who withdraw more than 10 times in a month |
| Customer Support | Open to those who register an account |
| Withdrawal Speed | 24 Hours |
| Minimum deposit | $250 |
Cryptocurrencies are unregulated. Trading with unregulated brokers will not qualify for investor protection.
What is The News Spy?
The News Spy is a cryptocurrency trading platform that pivots from traditional metrics to use news articles and social media activity to predict an asset's price movements. The site claims to understand the impact of the community's sentiment on the crypto space, and thus it leverages that to achieve a 70% win rate.
We have not been able to confirm this fact, but if these claims are true, The News Spy won't be the first to do it. Many cryptocurrency market watchers base their predictions on how the community reacts to changes. But the only difference is that The News Spy implements that understanding into its trading bot to facilitate hands-free investments.
It implements this method to help traders buy and sell 65 digital assets, including Bitcoin, Ethereum, Bitcoin Cash, Dash, MIOTA, EOS, Cardano, and more. But users don't need to rely on the AI trading bot immediately. The News Spy claims to offer a demo trading account to test the mechanics first. However, to get access to these and all features, a deposit of $250 is a must, which might be too much for beginners.
A 24/7 customer support for those who register, and the site says that it has implemented advanced SSL and KYC techniques to keep customer data secure and the trades ethical. While there is no trading fee, there is a 2% commission on profits. And while a standard deposit fee is absent, there is a 1% fee on withdrawals if the withdrawals exceed 10 per month.
These features, while enticing, have yet to be confirmed. That is why investors must take heed and do their own research before trading on this platform.
The News Spy Pros and Cons
The News Spy pivots from the traditional way of predicting an asset's price, but that has pros and cons.
Pros
Offers advanced trading tools
Claims to use more dynamic news-based mechanics to predict an asset's price
Claims to have a 70% win rate.
Supports trades for 65 cryptocurrencies
Cons
There is no proof to verify the win rate
A deposit of $250 is required to start trading
News-based price prediction might be too random and unreliable
There is not much information available on the website
How Does The News Spy Work?
The News Spy works the same way as other auto trading platforms. Users get to customize the mechanics of the autonomous trading tool after creating an account. They can set take profit and stop loss parameters before turning the tool on and letting it execute on their behalf.
The News Spy reportedly uses social media, the latest news, and standard technical indicators to find the best buying opportunities. It opens a user's position on an asset that is going through its dipping phase and then starts looking for bullish scenarios. And once the asset reaches intraday peaks, it closes the user's position on that asset. Then after removing 2% of the profits, transfers the remaining to the user's trading account.
It is a generic method, common with most crypto trading platforms, but The News Spy claims to be right 70% of the time. We didn't find any evidence supporting its win rate claims. Furthermore, even if true, the win rate can decrease in bearish conditions. Keep note of that and the volatility of cryptocurrency trading before you invest in any asset through The News Spy.
Cryptocurrencies are unregulated. Trading with unregulated brokers will not qualify for investor protection.
The News Spy Key Features
The News Spy claims it has many features to turn beginners into better traders.
New Focused Trading Mechanic
Perhaps the biggest feature that The News Spy claims it has is the news-focused trading mechanic. The advanced trading tools scour not just the trading charts but also news sites and social media platforms to glean the community sentiment around an asset. The trading platform claims it combines that with traditional indicators to provide the most accurate price prediction for a listed asset.
News Updates and Educational Resources
The News Spy doesn't claim to be fully autonomous. It also is said to have a manual mode through which investors can trade of their own volition. Helping through these trades are news articles and educational resources that The News Spy say allows users to make the most informed decisions when trading.
Easy-to-use Platform
The News Spy claims that the official platform has been designed keeping beginners and veterans in mind. Beginners can play around with the standard and minimalistic modules and let the default settings control their trading needs passively. Veterans, however, can take a more customized approach and set stop-loss and take-profit parameters to curtail the risks borne out of the volatility of cryptocurrency trades.
Supports 65 Cryptocurrencies
The News Spy is said to support 65 different cryptocurrencies, allowing users to hedge their bets when crypto trading. Multiple investment options allow users to offset the losses from one investment through the gains made from another. And since the crypto market is inherently volatile, diversification is the only thing that makes sense.
Instant Withdrawals and Deposits
Users can reportedly withdraw and deposit instantly - even using fiat. There is a 24-hour waiting period sometimes, but that's only common if the verification takes longer. Otherwise, users can expect to withdraw money quickly from their trading accounts and transfer them to their bank accounts.
The News Spy Account fees
The News Spy hasn't taken a fee-free approach that many of the less-trusted platforms choose but instead has a realistic and fair payment model that may make it more trusted than other cryptocurrency trading platforms.
| | |
| --- | --- |
| Trading Fee | None |
| Account Fee | None |
| Commission | 2% commission only on profits |
| Withdrawal/Deposit Fee | A 1% fee is charged if a user withdraws more than 10 times a month |
Cryptocurrencies are unregulated. Trading with unregulated brokers will not qualify for investor protection.
The News Spy Minimum Deposit
You cannot start trading on the platform free of charge. The official website states you must deposit at least $250 to access any platform's features. That $250 is your initial capital to start using the platform for trading, but since the win rate of the platform is unverified, we recommend not depositing beyond this amount when you are only starting to use The News Spy.
The News Spy Compatible Devices
We only had access to The News Spy's advertising copy, so our assessment of the platform's compatibility with other devices is based on how well the platform looked on multiple devices. Our reviews considered that when they opened the website on different devices, including desktops, laptops, Android and Apple phones, and tablets.
We found the site's icons and other attributes visible across all devices. And the icons were intractable as well. If the platform's trading mechanics appear within the same window, we can say that The News Spy is compatible everywhere.
Is The News Spy a Scam?
After reading all the speculation around The News Spy, one of the questions that many of you will have is - is it a scam?
Getting a proper answer to this question is not possible at the moment. The site lays many claims about its success rate, and we also appreciate its willingness to provide multi-asset support. However, evidence to prove these claims is not available online.
Many third-party sites have given it an overly bullish rating, which makes us suspicious. And The News Spy's reception by the customers on Trustpilot is dubious at best. Many claim that the site has a positive return, while others claim that the interface is sub par. And a third category of people says The News Spy is a scam.
With so many varied opinions, it is hard to pinpoint which one is true. Therefore, we recommend doing your own research when going through the website and only trading what you can afford to lose.
The News Spy Customer Support
The News Spy has customer support available, but only for registered users. Outsiders who want to test the website would be at a disadvantage. And we also couldn't find anything in the Terms and Conditions and Policy documents about reaching the customer support team.
Once you register, however, you may be able to reach the team through live chat, email, or even phone.
How to Use The News Spy
Here are the steps to start trading on The News Spy if you decide to do so:
Step 1 - Visit The News Spy Website
Visit The News Spy at their official site and find the sign up form on the homepage.
Enter your first and last name, email, and phone number. You will receive a verification email carrying you through the KYC process. After completing the same, you will get access to your account.
Step 2 - Make the Minimum Deposit
The next step is to fund your account, which you can do using fiat methods like debit cards, credit cards, and bank transfers. Some third-party sites report that crypto payments are also available, but we couldn't find that option.
Step 3 - Start Trading on The News Spy
Once your account has the capital, go to the settings menu and open a Demo trading account. The News Spy is said to provide thousands of dollars in virtual money to let you play around with the trading tools to practice trading before you go live.
How to Delete The News Spy Account?
There is no information available online about whether you can delete The News Spy account. However, your best bet might be to contact the customer support team. Or, you can check your settings to find out if there is a way to delete your account. Most platforms have that feature, and considering The News Spy has mostly the same features, you might be able to terminate your account this way.
Do Celebrities Support The News Spy?
Despite rumors that the likes of Elon Musk, Jeff Bezos, or Snoop Dogg are using The News Spy to make their cryptocurrency trades, there is no evidence to support those claims. Elon Musk's interest in crypto doesn't extend beyond Dogecoin.
Jeff Bezos once said "Crypto is awesome," and has not had a lot of comments on cryptos since then, and Snoop Dogg is more about NFTs and less about cryptocurrencies. So, no, there is no evidence suggesting that celebs support The News Spy; we don't believe they are aware of the tool.
Who is the Founder of The News Spy?
There is no information about who founded The News Spy. The official website is mum about it. The third parties know nothing about it. And social media platforms have no discussions about it.
Even on Trustpilot, people don't seem curious about who runs the site. The founders are likely anonymous, but for those who value transparency, it may be a red flag. Many reviews also note that The News Spy has a similar website design to another tool known as Bitcoin News Trader.
The News Spy Payment Methods
Following are the payment methods that you can use on The News Spy.
Debit cards
Credit cards
Bank transfers
E-Wallets
The Verdict
The News Spy has a novel style of trading. Using news articles and social media instead of completely focusing on technical indicators is not unheard of. However, using an autonomous trading system to make trading decisions based on those factors is new. However, it is not yet clear how accurate these predictors are.
The News Spy also doesn't have a social media presence, and the customer reviews of the platform are mixed. There is no news about the developers, and the trading tools were inaccessible to us to review the offerings clearly. So, use The News Spy only if it meets your trading needs.
Cryptocurrencies are unregulated. Trading with unregulated brokers will not qualify for investor protection.
The News Spy FAQs
What is The News Spy?
The News Spy is a crypto trading platform that claims to use news articles and social media indicators to predict an asset's price.
Does Elon Musk endorse The News Spy?
Elon Musk has been a good supporter of Doge but has not shown any interest in other forms of crypto trades. Also, there is no evidence that proves The News Spy is endorsed by Elon Musk.
How to start trading on The News Spy?
You must deposit at least $250 into your trading account to start trading on The News Spy. Accessing any of the features requires this deposit.
---