Btc Nano 360 Review - Scam or Legitimate Trading Software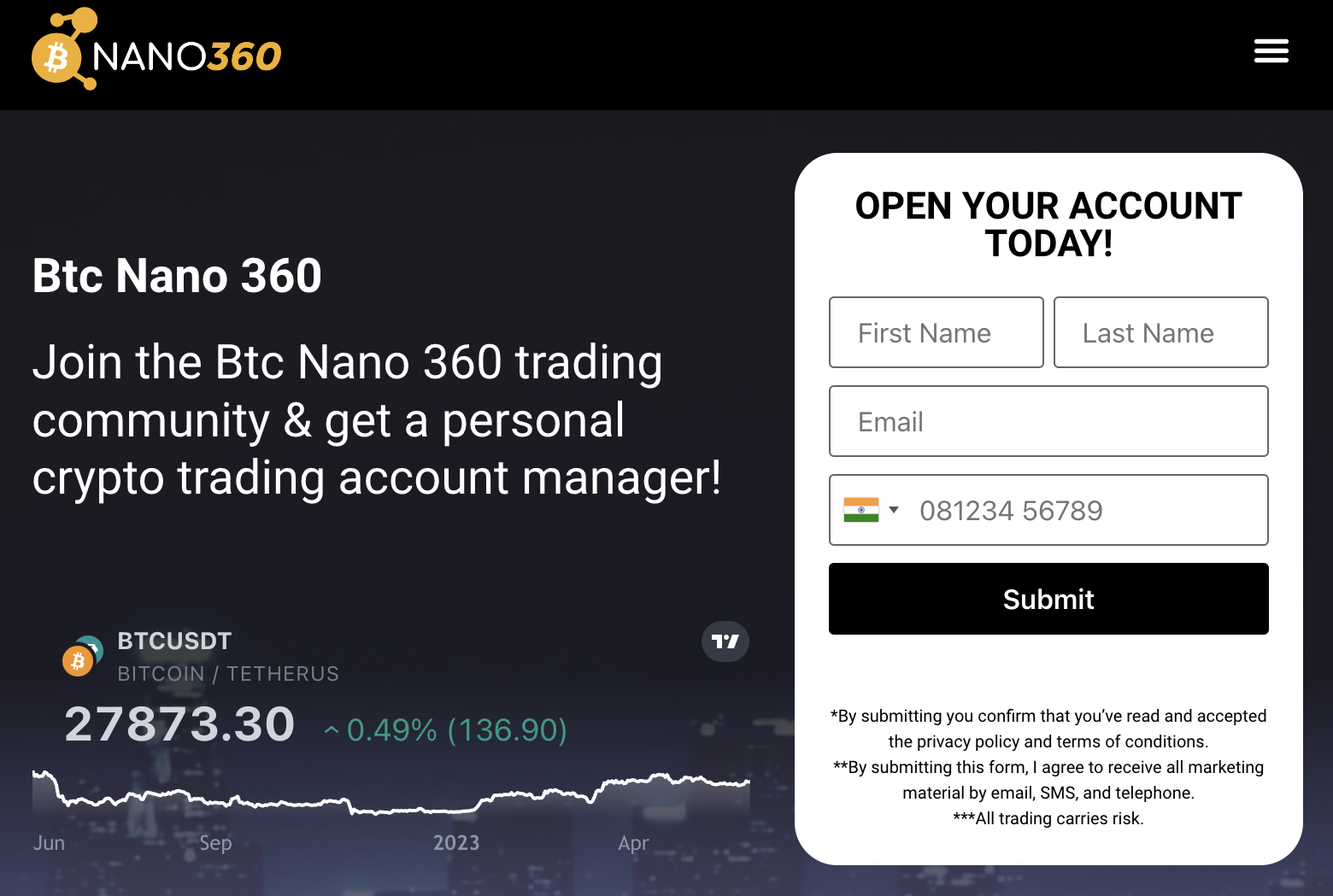 Disclaimer: The text below is an advertorial article that is not part of Cryptonews.com editorial content
Btc Nano 360 is another crypto trading platform that promises to provide investors with a crypto community, as well as aid from an account manager to make crypto trading easier.
The platform also claims to deliver up to 98% success rate using its autonomous trading system, which is said to have celebrity support as well. But is there truth to any of these claims? This Btc Nano 360 review answers this question and assesses the different features this trading system claims to have.
Btc Nano 360 Summary
Btc Nano 360 promises to have a host of features, but before we examine them, here are a few key points to know:
| | |
| --- | --- |
| Supported Crypto | Ethereum, Bitcoin, Litecoin, Bitcoin Cash, Binance Coin, Cardano, Ripple, and more. |
| Claimed Success Rate | 98% |
| Available on Mobile? | No mobile applications are available |
| Fees | No fee model |
| Customer Support | Available to those who register |
| Withdrawal Speed | 24 hours |
| Minimum deposit | $250 |
Cryptocurrencies are unregulated. Trading with unregulated brokers will not qualify for investor protection.
What is Btc Nano 360?
The Btc Nano 360 website claims to be an AI crypto trading bot project through which users can beat the current volatile market easily. It promises to deliver a combination of autonomous trading tools as well as an account manager that can help users every step of the day. According to the website, these elements work in tandem to help users achieve a 98% win rate.
This win rate, per Btc Nano 360, is applicable to all the assets that the platform has listed. We found on the official website of this platform that the top digital assets that it claims to support include Bitcoin, Ethereum, Litecoin, Binance Coin, Bitcoin Cash, Ripple, Cardano, and Dash. While there are hints that there might be other crypto assets it supports, the information about them is not available.
And the platform's claim of a 98% win rate has no historical data to support it. That lack of information reverberates through the entire website. But Btc Nano 360 says that users will get access to all the trading features "hidden" underneath once they create the account and deposit the minimum amount - $250. We believe that this may be expensive - especially for a platform with so little information. But Btc Nano 360 also ensures that users can get all of their issues resolved via customer support that's available 24/7. And according to the content on the website, a demo account is also available.
As the site makes a lot of claims for which there is no proof we could find, we recommend that users weigh their options before investing in Btc Nano 360. Even if true, the market is volatile, and profits are never guaranteed.
Btc Nano 360 Pros and Cons
Pros
The site claims to have a 98% win rate
According to the website, users will get access to a trading community
Assistance from an account manager is available - according to the claims
Registered users can access a customer support team
A demo trading account is available
Cons
A minimum deposit of $250 is mandatory, which might be a lot for novice traders.
No further details are available about the features that the platform claims to provide
No way to audit the win rate
No reviews available on TrustPilot
How Does Btc Nano 360 Work?
Btc Nano 360 bills itself as a standard crypto trading bot, and if that's the case, the following would be its operating structure.
As you deposit the amount, you get to use to demo trading account where you can test the site.
You may then be able to switch to live trading, in which you can change the stop loss and take profit settings.
The auto trading platform then may scan the market for the best conditions to make a buy. That is, it looks for tokens that have hit intraday lows.
Finally, the system sells the same token when it hits intra-day highs, but according to the settings you provided before turning it on.
This simple approach would ideally provide good profit to users. However, the crypto market conditions are hardly ideal. Therefore, take Btc Nano 360's claim of generating a 98% win rate with a grain of salt.
Btc Nano 360 Key Features
The following are the key features that Btc Nano 360 claims to provide.
An Account Manager
According to Btc Nano 360, users don't need to trade alone. They can take the assistance of an account manager for their trading needs. Ideally, these claims often turn out to be true - at least the account manager part. It is highly likely that an account manager would be involved in the account creation process as well. That said, it is not clear how helpful they are going to be for your trading needs.
A High Win Rate
Btc Nano 360 says that users will be able to generate profits 98% of the time. This seems an impractical number, placed in the content for marketing purposes. Another reason we are suspicious about this is due to the lack of evidence to support this claim.
Advanced Trading Features
The platform claims that once users create an account, they will be able to interact with advanced trading features easily. According to Btc Nano 360, these features have been made simple so that even novice traders don't have trouble making complex trading decisions.
Support for Multiple Cryptocurrencies
Hedging the market risks involves never investing everything in one asset. Diversification is crucial as it allows one to offset their losses from one asset through gains from another. Btc Nano 360 claims to support multiple crypto assets, including Bitcoin, Ethereum, Litecoin, Ripple, Binance Coin, Cardano, and more.
Offers a Demo Trading Account
A demo trading account is offered by many crypto trading exchanges as well as crypto trading platforms in order for users to learn the mechanics of crypto trade. Btc Nano 360 claims to offer this utility as well, but only to those who create an account and deposit the amount.
Cryptocurrencies are unregulated. Trading with unregulated brokers will not qualify for investor protection.
Btc Nano 360 Account fees
Btc Nano 360's official website doesn't specify how much it charges for its service. We were able to learn, however, that talking to the account manager would give you that information. But seeing the outline of this website and the services it promises to offer, it is much more likely that it has a no-fee approach like other platforms of similar nature.
Btc Nano 360 Minimum Deposit
In order to access any feature that the platform delivers, one needs to deposit at least $250 into their trading account. The platform states that one can use "any of their affiliated brokers" in order to make that deposit. The platform further states that there won't be any commission charged on this deposit.
Btc Nano 360 Compatible Devices
While we didn't have access to the trading account, we were able to open this website on several devices. Whether it is a desktop, laptop, smartphone (Apple or Android), or tablet, the official website is visible on all. None of the icons were hidden, and the signup button was working properly.
Is Btc Nano 360 a Scam?
The platform's aesthetics are appealing. We also appreciated the addition of a live price chart on the official site. But since we have seen this on similar websites, we can't consider that to be a unique aspect of this platform. Other than that, the sign-up button is easy to access - which makes account creation lag free.
But that is the extent of what we were able to confirm about Btc Nano 360. Information-wise, while the official website has written a lot, it has not provided a lot of information. Much of the information provided only points to the effectiveness of the tools it offers, but it hasn't stated in detail what these tools are. While it has used words like "automated predictions" to describe some of its features, there is not much detail available here.
And when it comes to third-party reviews, they are far-and-few, and all of them are equally lost about the information available on this website. The only differences among them were some were too bullish, and others were too critical about this platform. We also attempted to get our hands on customer reviews and didn't come up with anything. Even Sitejabber, a platform that offers a lot of reviews for platforms like these, didn't have any detail on Btc 360 Nano.
Overall, while the site has enough to make one view it as a red flag, there are also some positives when it comes to how the site looks. So, we can't say whether the Btc Nano 360 platform is a scam. We recommend that our readers invest carefully when interacting with this platform.
Btc Nano 360 Customer Support
Customer support is available, but only for those who register. Btc Nano 360 claims that the customer support team is available 24 hours, 7 days a week, and offers all the assistance that users need. But since accessing that also requires a deposit of $250, we couldn't assess its quality.
How to use Btc Nano 360?
After assessing the platform's pros and cons, if you still want to create an account and trade on Btc Nano 360, follow the steps below.
Step 1 - Visit the Btc Nano 360 Website
Go to the official Btc Nano 360 website. Fill out the form with your contact details - email ID, name, and phone number, before clicking on the submit button. There are some sites reporting incessant calls soon after. So, to those looking to reach out to Btc 360 Nano through email, we recommend only providing a burner number.
Step 2 - Make the Minimum Deposit
Getting access to the website requires one to deposit the minimum amount - $250. We recommend that our readers do so using the methods available.
Step 3 - Start Trading on Btc Nano 360
After the account is funded, switch to a demo trading account and test the website. If it performs according to the advertised win rate, switch to live trading. But that doesn't always mean that the platform would work in real market conditions. So, invest only what you can afford to lose.
How to Delete a Btc Nano 360 Account?
There is no information available online that tells us how to delete a Btc Nano 360 account. We recommend contacting the account manager or the customer support team and submitting a request. We also recommend trying to find the account termination page since many platforms may have it in their account settings.
Does Jeff Bezos Use Btc Nano 360?
Jeff Bezos is the founder of Amazon, who, according to some rumors, owns multiple Bitcoins and ETH tokens. But he himself has not provided any clarification on them. And while there is a Bezos coin dedicated to him, Jeff Bezos doesn't provide any information on whether he uses tools to invest in crypto trading. So, rumors saying that he supports Btc Nano 360 are likely false.
Does Elon Musk Use Btc Nano 360?
Elon Musk's company Tesla once was a major buyer of Bitcoins. However, it came out in the news in the middle of 2022 that the company has sold 75% of its Bitcoin holdings. It shows that the billionaire has not much interest in BTC. Furthermore, there is no proof showing that he relies on crypto trading tools, like Btc Nano 360, for his crypto trading needs.
Does Martin Lewis Use Btc Nano 360?
Martin Lewis is a financial journalist who has often been linked to crypto trading systems. And it is the same case with Btc Nano 360. And like before, there is no proof that he uses, endorses, or even knows about this trading platform.
Who is the Founder of Btc Nano 360?
Btc Nano 360 hasn't provided any information about its founders. And it has also not been upfront about what kind of professionals they might be. It is likely that, like most projects, Btc Nano 360 has decided to keep the details of the founders secret. But that might not be a positive thing since Btc Nano 360 focuses on fiat payments, and providing full information about the team to the customer is important.
Btc Nano 360 Payment Methods
Btc Nano 360 says that all types of fiat payment methods are accepted, including.
Debit cards
Credit cards
Bank Transfer
E-Wallets
The Verdict
This Btc Nano 360 review has covered all the information we were able to gather about this platform. While the site's look is versatile, the sign-up process is simple; it doesn't disclose anything else. We don't know what tools it uses, how viable is its win rate, and who are the people running this system.
Also, social media platforms have made no mention of it. Also, customer reviews of this website are nowhere to be found. In light of this, we recommend users only invest in Btc Nano 360 only after thorough research on their own.
Cryptocurrencies are unregulated. Trading with unregulated brokers will not qualify for investor protection.
Btc Nano 360 FAQs
What is Btc Nano 360?
Btc Nano 360 is a crypto trading platform that claims to offer a wide array of tools to make trading easy for veteran and novice traders. The platform also claims to deliver a win rate of 98% through its autonomous trading systems.
Does Elon Musk endorse Btc Nano 360?
No, there is no proof showcasing that Elon Musk endorses or uses Btc Nano 360. These rumors are possibly used as a marketing tool, nothing more.
How to start trading on Btc Nano 360?
Users must deposit $250 into their trading accounts in order to get access to Btc Nano 360's trading facilities. This minimum deposit should be considered a one-time fee, even though it has not been explicitly stated by this platform.
---