BitIQ Review – Scam or Legitimate Trading Software?
Disclosure: Crypto is a high-risk asset class. This article is provided for informational purposes and does not constitute investment advice. By using this website, you agree to our
terms and conditions
. We may utilise affiliate links within our content, and receive commission.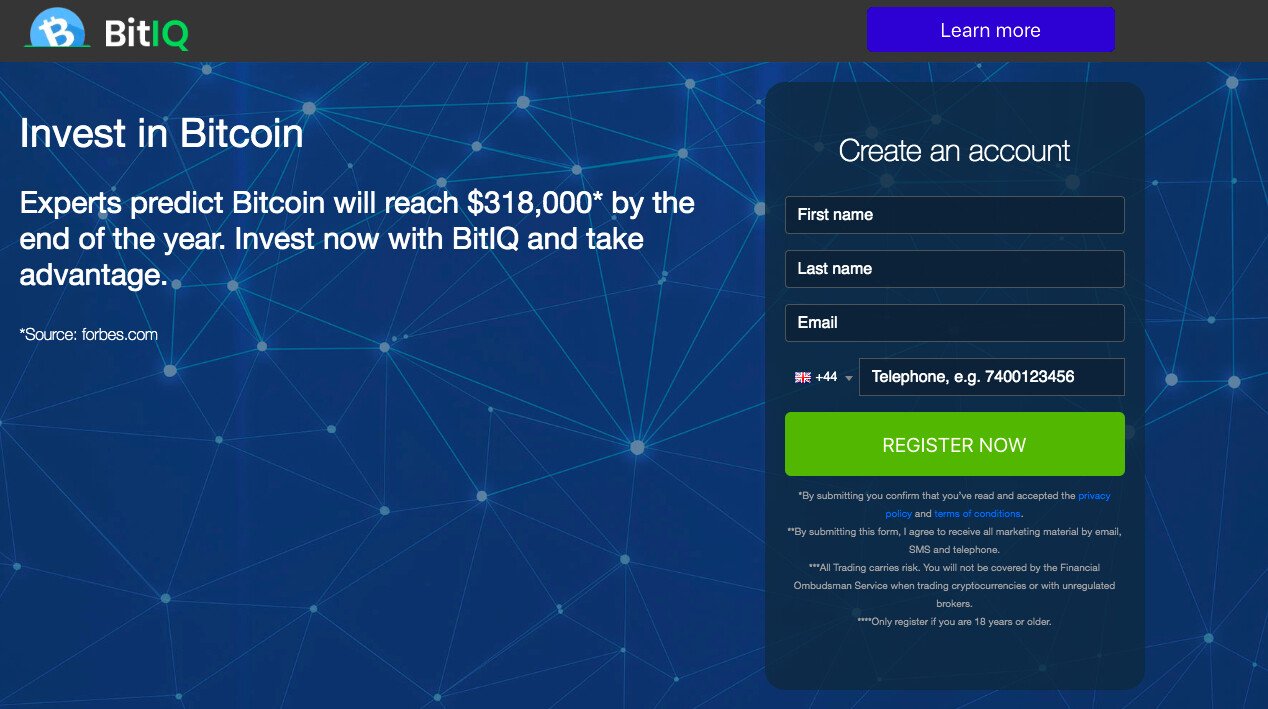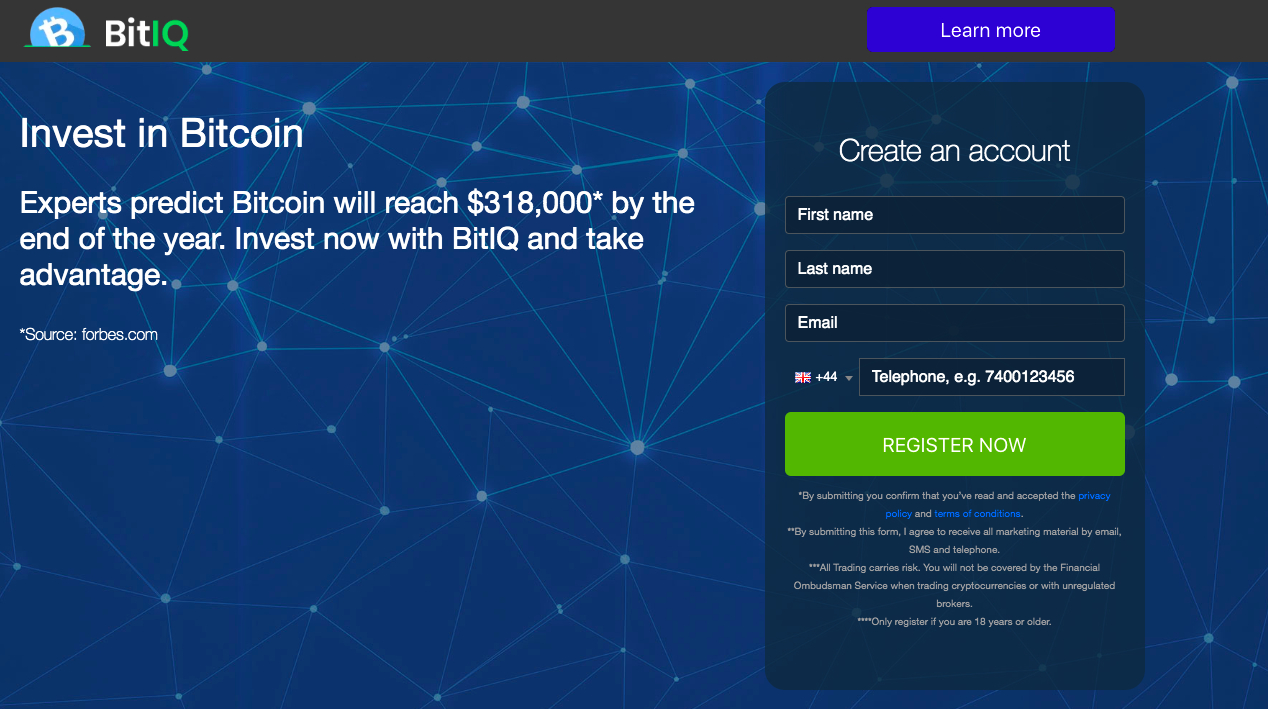 Disclaimer: The text below is an advertorial article that is not part of Cryptonews.com editorial content
The BitIQ website states that it is a cryptocurrency trading platform that claims to allow all members to buy and sell different digital assets such as Bitcoin, Cardano, Neo, Binance Coin, and Ripple. Our BitIQ review will assess some of the platform claims by going through the available features, payment options, supported tokens, and more.
We will also determine whether the BitIQ trading platform is a scam or legit.
BitIQ Summary
Our table below summarizes some of the key BitIQ trading platform offerings. The information has been provided after reviewing the claims made by BitIQ.
| | |
| --- | --- |
| Type of Trading | Crypto |
| Success Rate | Not Specified |
| Cryptos Available | BTC, LTC, BNB, ADA, + more |
| Mobile App? | No (but can be accessed via mobile browsers) |
| Withdrawal or Deposit Fees? | None |
| Customer Support | Live Chat and Email |
| Withdrawal Time | 24 Hrs |
| Minimum Deposit | $250 |
Cryptocurrencies are unregulated. Trading with unregulated brokers will not qualify for investor protection.
What is BitIQ?
According to the BitIQ website, this is a cryptocurrency trading software. As per the platform's claims, one can supposedly access the trading dashboard after completing the account creation process on the BitIQ website. Traders also need to deposit a minimum of $250, before they can access the platform.
On BitIQ, one can supposedly trade Bitcoin (BTC) and Ethereum (ETH), the two largest tokens, in terms of market capitalization. Traders can also buy and sell other popular cryptos such as Binance Coin (BNB), Neo (NEO), Zcash (ZEC), and more.
This cryptocurrency trading platform also claims to charge no additional deposit or withdrawal fees from users. Offering quick withdrawal times, BitIQ supposedly processes the withdrawal within 24 hours. Investors should ensure they are withdrawing with the same payment method they made the deposit with.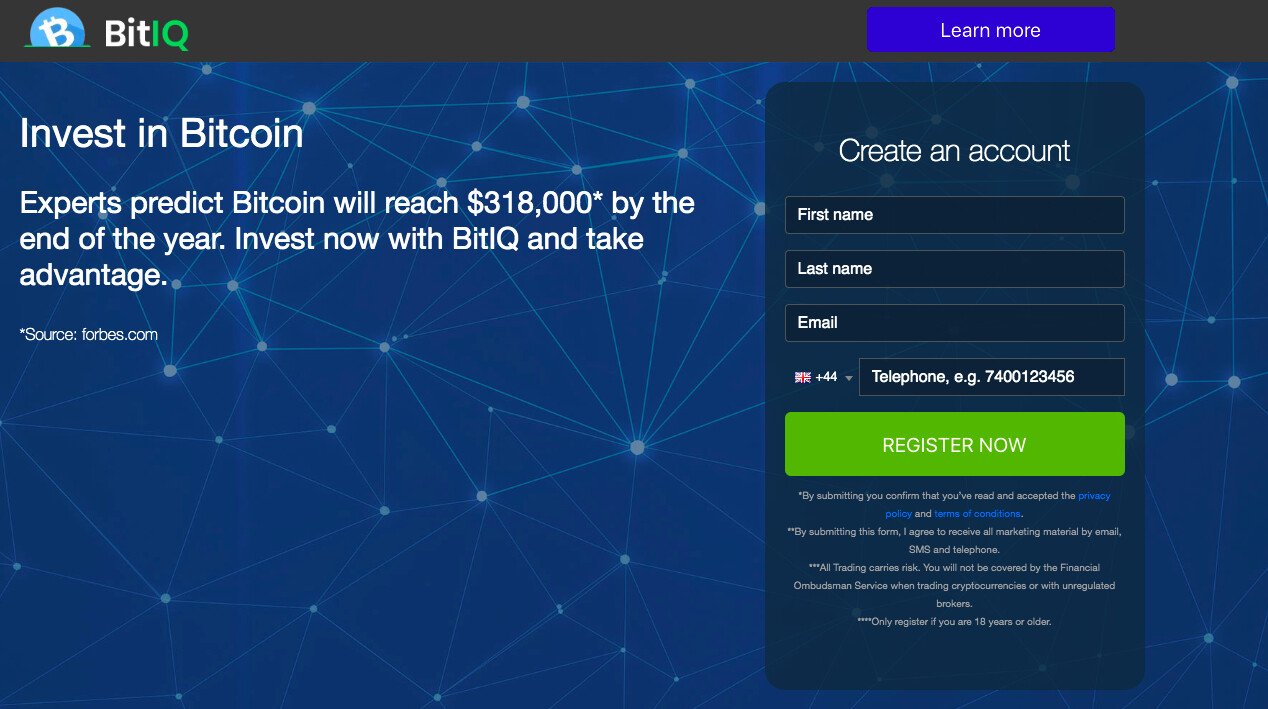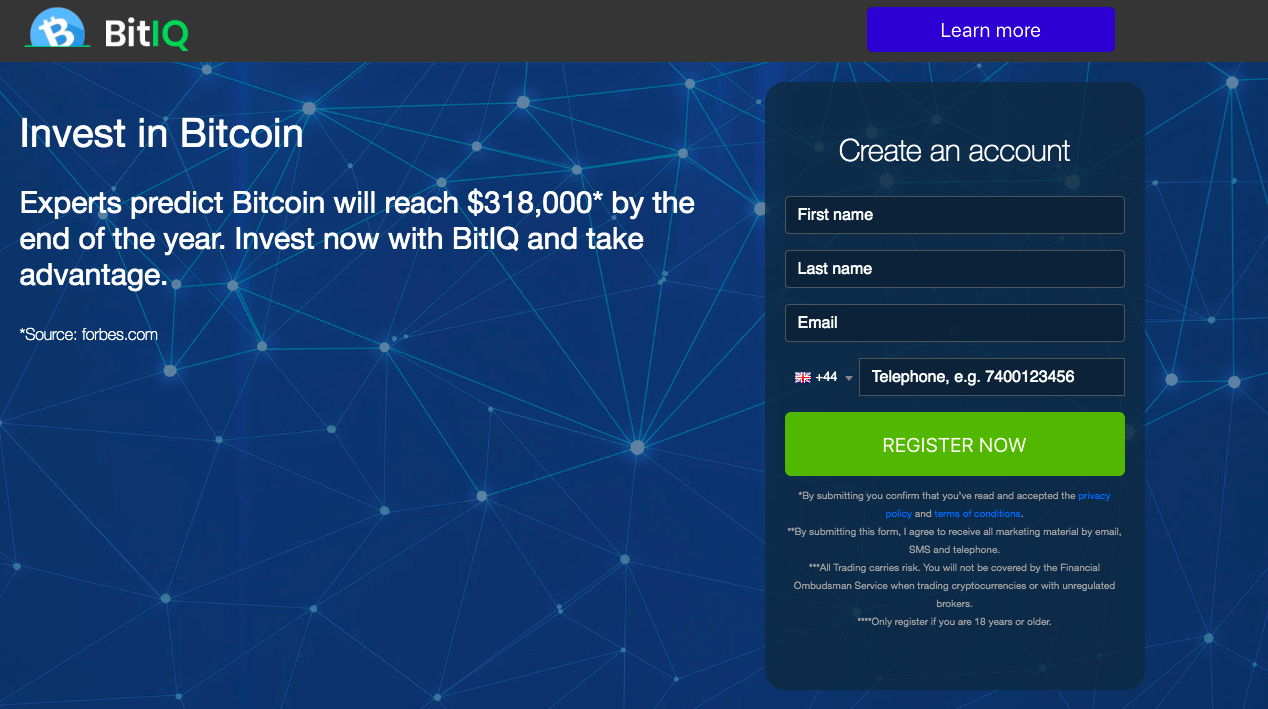 BitIQ also claims to offer a paper trading account and a customer service team to attend to the members.
While many claims suggest that influential celebrities may be a part of the BitIQ development team, there has been no such information to verify these statements. Furthermore, there is a lack of information provided on the trading website about the BitIQ platform.
BitIQ Pros & Cons
The sections below will discuss some of the pros and cons of BitIQ. We have made this assessment after studying the claims made by this trading platform.
Pros
Supports trading of digital currencies
Supports Web Trader
Withdrawal time of 24 hours
Demo trading available
Customer service is offered
Cons
Requires investors to make a $250 minimum deposit before accessing the dashboard
Lack of transparency about the platform owners
Cryptocurrencies are unregulated. Trading with unregulated brokers will not qualify for investor protection.
How Does BitIQ Work?
To start buying and selling assets with BitIQ, you are required to fill in some personal details to register with the platform.
Once the account is registered, users must make a minimum deposit of $250. After the transaction is processed, members can begin trading with BitIQ.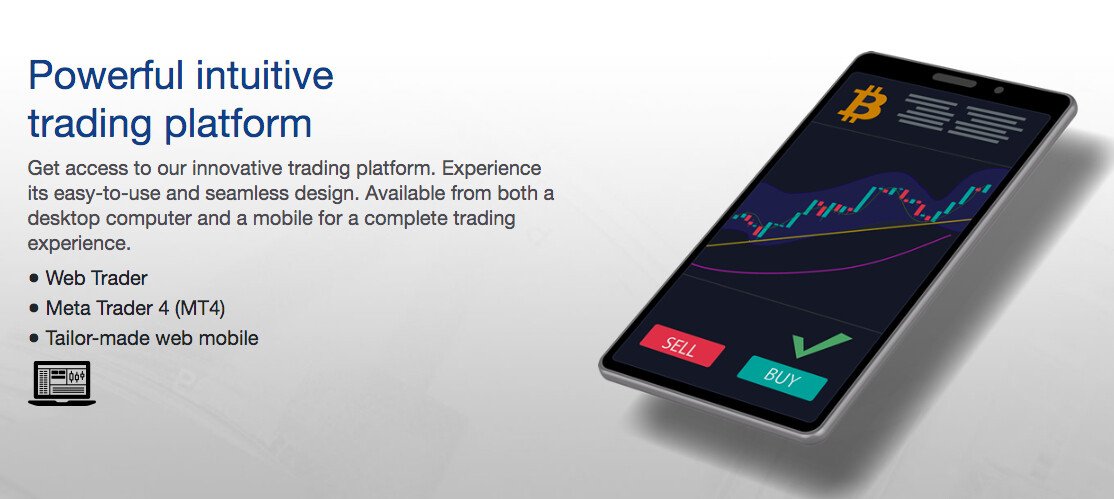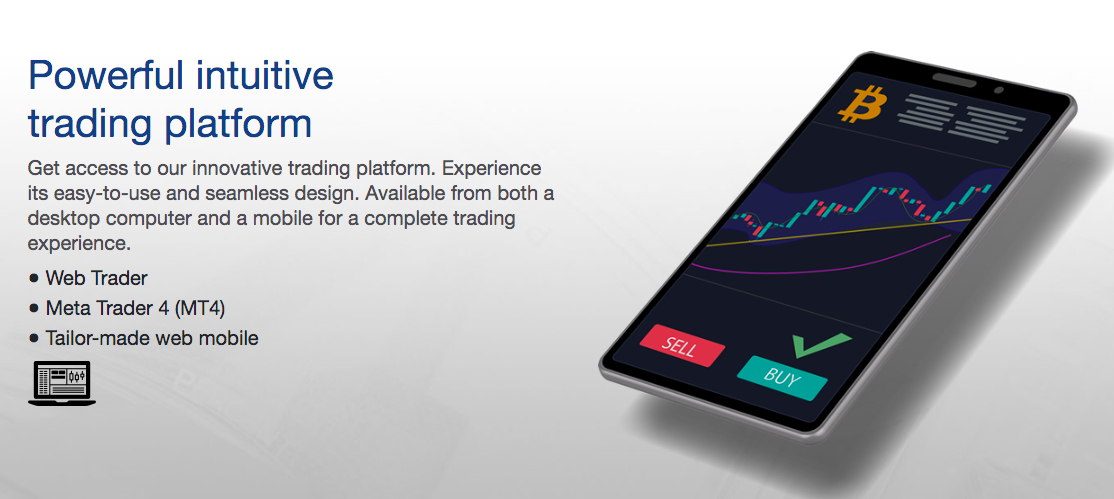 BitIQ claims to integrate MetaTrader 4 (MT4) – a popular trading platform. The MT4 trading platform can give one access to multiple technical indicators and pricing alerts. This will allow one to properly research a cryptocurrency and conduct technical analysis.
Moreover, BitIQ also claims to offer Web Trader – another trading platform that lets investors issue trades and set their own stop/loss. However, the BitIQ website does not provide any more details on how it operates or the other services it offers.
Some of the supported tokens which BitIQ claims to support include BTC, BCH, ETH, ADA, XRP, and LTC.
BitIQ Key Features
After reviewing some of the claims made by the BitIQ platform, here are a few features that the trading platform supposedly offers to its clients:
Demo Trading Account
The BitIQ trading platform claims to provide a demo trading account to members after they make a minimum deposit. A demo/paper trading account offers all the same features as the standard account but lets investors trade without using real funds.
Demo accounts are usually pre-loaded with virtual funds, which eliminates any chance of losing funds. While BitIQ claims to support a demo account, no information is available on the pre-loaded virtual funds or the features available in this mode.
Cryptocurrency Trading
One of the main elements of BitIQ is the supposed trading platform that it offers. BitIQ suggests that all members can start trading top crypto tokens on the platform.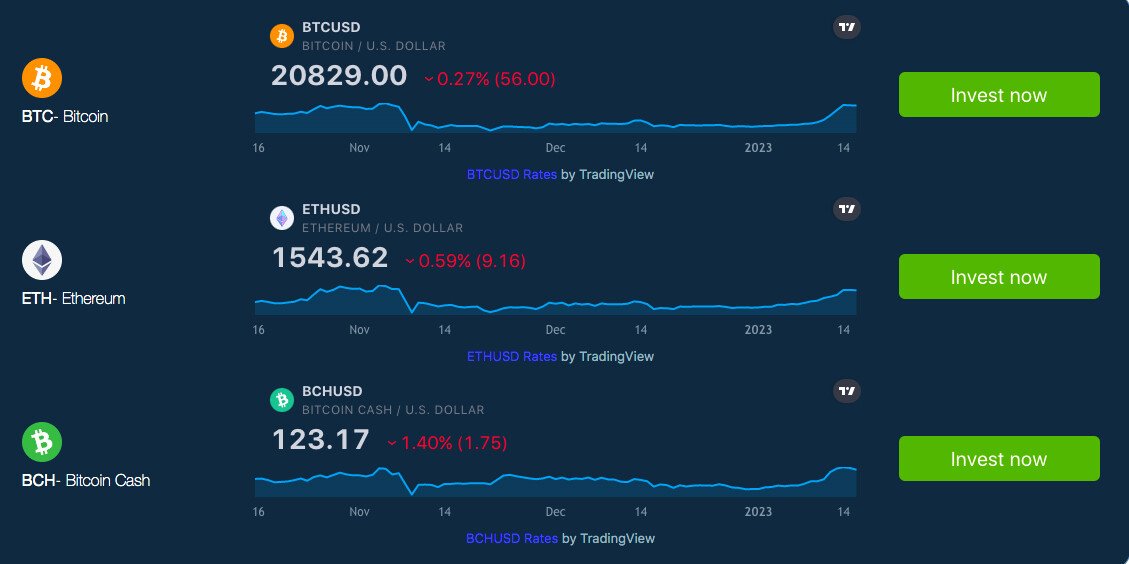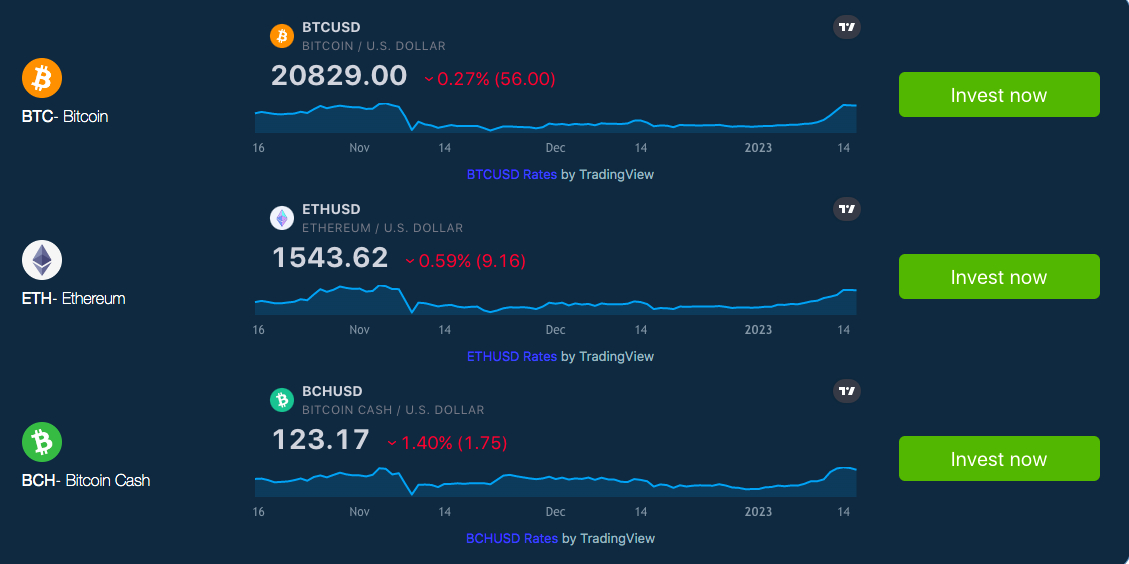 Some of the supported tokens, as per the claims of the BitIQ website, include – BTC, XRP, DASH, ZEC, ADA, BNB, BCH, ETH, and more.
Cryptocurrencies are unregulated. Trading with unregulated brokers will not qualify for investor protection.
BitIQ Fees
The BitIQ trading platform claims to not take any extra charges from its platform users. As seen in the table below, BitIQ apparently does not charge any extra fees when users make a deposit or a withdrawal.
There are apparently no commissions or trading fees to be paid either.
| | |
| --- | --- |
| Trading Fees? | None |
| Account Fees? | None |
| Commission? | None |
| Deposit/Withdrawal Fees? | None |
BitIQ Minimum Deposit
BitIQ requires all platform users to deposit at least $250 before accessing the trading features. This rate is comparatively higher than some of the popular cryptocurrency trading platforms available in the market.
Since $250 is not a small amount, interested readers should properly review the BitIQ trading platform before making an investment.
BitIQ: Compatible Devices
As per the BitIQ platform, here are some of the devices through which one can access the trading platform:
Mobile phone (web-based browsing)
Desktop and Laptops
iPads and other Tablets
Is BitIQ a Scam?
To determine whether BitIQ is a scam, we have researched the BitIQ website, features, and much more. After researching and reading through different BitIQ reviews, we have learned that this platform offers very little information about how it operates.
This lack of data makes it challenging to confirm many of the claims on the BitIQ website. Readers may be better of going through this platform website and reviewing all the available information on BitIQ.
BitIQ Customer Support
The customer support team is one way through which platform members can get assistance when they are facing any issues while trading cryptocurrencies. On BitIQ, users can supposedly access a customer support team through email and live chat options.
To get more insight into others' opinions of BitIQ, readers can also read through the platform's ratings on Trustpilot.
How to Use BitIQ
After going through the BitIQ website and learning a little more about this platform, you can decide whether or not you wish to trade with this platform.
Follow the steps below to learn how to start using BitIQ.
Step 1: Visit the BitIQ Website and Register an Account
Firstly, one can visit the BitIQ website and start completing the registration form.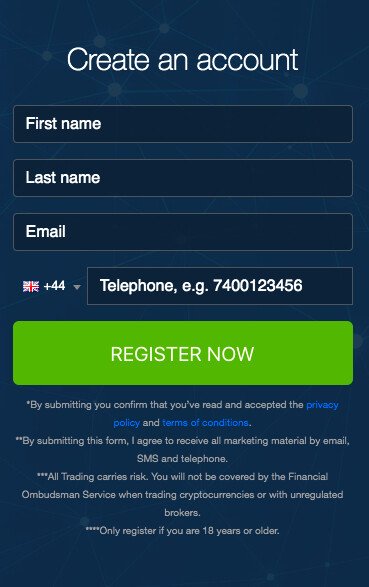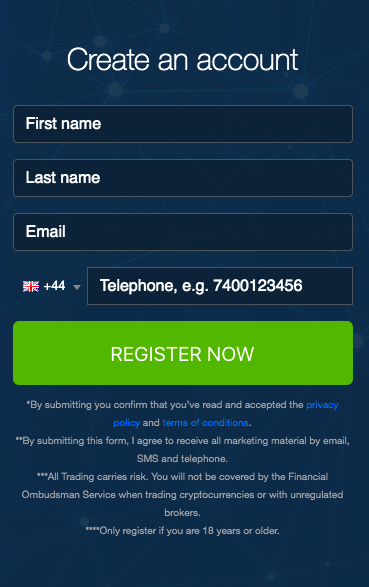 After entering your first and last name, email address, and phone number, click on 'Register Now' to officially register with BitIQ.
Cryptocurrencies are unregulated. Trading with unregulated brokers will not qualify for investor protection.
Step 2: Deposit Your Funds
Make a $250 minimum deposit on BitIQ after the account is verified. The transaction can be made with different payment options, such as credit cards or e-wallets.
Step 3: Start Trading with BitIQ
After the deposit has been processed, investors can supposedly begin trading with BitIQ. Choose which cryptocurrency assets you wish to trade and make an investment.
How to Delete a BitIQ Account?
We have learned that BitIQ supposedly lets investors close their accounts from the main menu. However, the website does not offer much insight into how long it may take to close an account.
Access the customer service team for any assistance or help.
Does Elon Musk endorse BitIQ?
As the CEO of multiple companies, including Tesla, Twitter, and SpaceX, Elon Musk is one of the most influential people in the world. Moreover, his tweets alone have impacted the prices of meme tokens such as Dogecoin.
While there may be rumors that different celebrities are behind the creation of BitIQ, there is no evidence to suggest that Musk has created or uses BitIQ.
Does Jeff Bezos Use BitIQ?
Along with Musk, Bezos is one of the wealthiest people in the world. He has amassed a net worth in excess of $100 billion after creating Amazon, a multi-national corporation with a market cap of $1 trillion.
After researching Jeff Bezos on Reddit threads and online forums, we found no evidence that he uses the BitIQ trading platform.
Does Martin Lewis Use BitIQ?
Martin Lewis is an English-based financial expert who created MoneySavingExpert.com, a popular money-saving website. Lewis made roughly £87 million after selling this website in 2012.
We could not find any information to suggest that Martin Lewis uses BitIQ.
Who Created BitIQ?
While the BitIQ website suggests that investors can begin trading cryptocurrencies and access different trading platforms, it does not give us any information on who runs the organization.
After reading other BitIQ reviews, we found no new information on the possible founder of this platform. Even the BitIQ development team is completely anonymous.
BitIQ: Payment Methods
Here are the payment methods that BitIQ supports, as per the platform claims:
Credit cards
E-wallets
Debit cards
The Verdict
Our BitIQ review has analyzed this cryptocurrency trading platform and all the features it offers. BitIQ claims to support crypto trading on multiple digital assets after members make a $250 minimum deposit. The website also claims to be integrated with MetaTrader 4, a popular web-based trading platform.
However, after researching this platform and reading other reviews, we cannot verify the authenticity of the claims made by BitIQ.
Cryptocurrencies are unregulated. Trading with unregulated brokers will not qualify for investor protection.
BitIQ FAQs
What is BitIQ?
BitIQ claims to be a cryptocurrency trading platform. Platform members can supposedly trade multiple tokens such as ETH, BCH, ADA, ZEC, DASH, BTC, and many more with BitIQ.
Does Jeff Bezos use BitIQ?
The founder of Amazon, Jeff Bezos, is one of the richest people alive. Despite rumors of many influential celebrities behind the creation of this trading platform, there is no evidence to suggest that Jeff Bezos has anything to do with BitIQ.
Who created BitIQ?
The BitIQ platform website gives no information about the founders of this trading platform. We could not find any evidence of the platform founders or the development team working on this project.

---