BitQZ Review - Scam or Legitimate Trading Software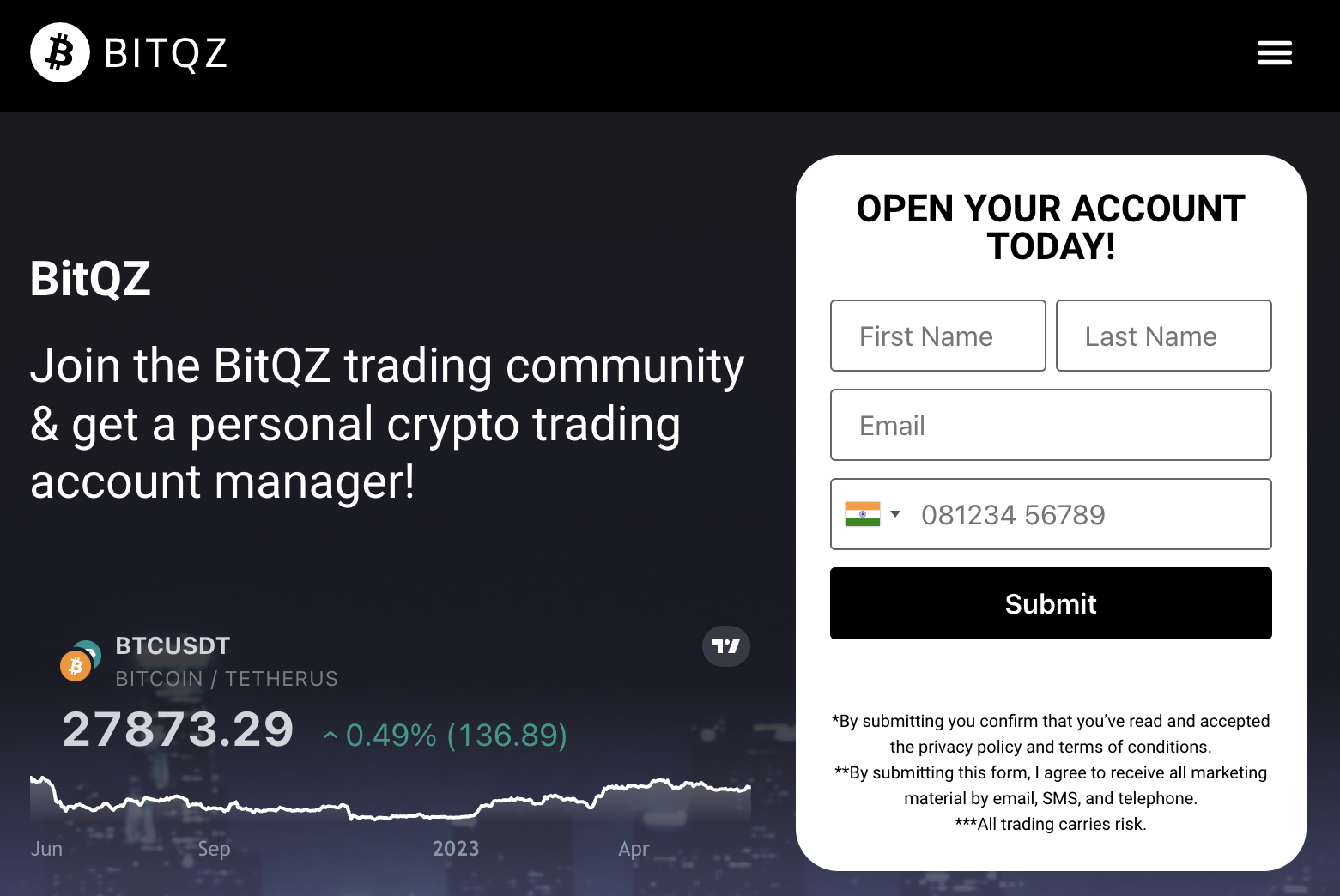 Disclaimer: The text below is an advertorial article that is not part of Cryptonews.com editorial content
BitQZ is a crypto trading platform that promises users a host of trading utilities as well as an account manager who can help them generate profits while trading crypto. The site claims to offer an 80% win rate through an autonomous trading system that provides hands-free trading.
In this BitQZ review, we are going to assess these claims and see whether it is a scam or a legitimate crypto trading platform.
BitQZ Summary
BitQZ has been reviewed by multiple third-party sites, some of which have some positive words to say about of this platform. But before we assess the truth behind these claims, here are the key details to know about this platform.
| | |
| --- | --- |
| Supported Crypto | Bitcoin, Ethereum, Cardano, Litecoin, Bitcoin Cash, Dogecoin, and Ripple. |
| Claimed Success Rate | 80% |
| Available on Mobile? | No mobile applications are available |
| Fees | No fee model |
| Customer Support | Available to those who register |
| Withdrawal Speed | 24 hours |
| Minimum deposit | $250 |
Cryptocurrencies are unregulated. Trading with unregulated brokers will not qualify for investor protection.
What is BitQZ?
BitQZ is an automated trading platform that promises to allow users to make profits by buying and selling top digital assets. According to the official website, BitQZ uses machine-learned trading mechanics to find conducive market conditions and execute trades on a user's behalf.
But users might not have to make the decisions alone; as BitQZ puts it, investors are provided with an account manager. An account manager plays an important role when it comes to facilitating the account creation process.
Speaking of account creation, we found the process to be simple and the UI to be interesting. The Bitcoin live chart is right on the home page, an aspect similar to many crypto trading bots. These features - according to BitQZ - work together to generate an 80% win rate.
That said, there is no information about the mechanics or the trading tools that BitQZ employs. And there is also no historical data providing any detail about the win rate. Therefore, we recommend assessing the offerings of this platform through multiple reviews before investing.
BitQZ Pros and Cons
Listed below are the pros and cons of BitQZ.
Pros
It claims that it has an 80% win rate
Claims to assign an account manager to make crypto trading simple
The platform also states that users get a host of trading fasciitis
Multiple assets are supported
Customer support is available 24/7
Cons
It is mandatory to deposit $250
The platform is very light on important information
No information about who the founders of this platform are
How Does BitQZ Work?
BitQZ claims to work in a way similar to an autonomous trading tool as well as a robo advisor. The former scans the market for the right conditions and executes trades based on the stop loss and take profit that users set after signing in. This approach would ideally allow the trading system to work without a user's involvement.
But in order to do more hands-on trading, BitQZ also claims to offer an account manager. These individuals are supposed to help users make trading decisions correctly under the current market conditions.
We are emphasizing the word "should" since that's how we believe that the systems would ideally work. The site itself hasn't provided much information in this regard. We don't know what the trading systems that this platform employs are, and we are also not aware of what qualifications those account managers have.
With so many variables about this platform, it is important that users only deposit any amount in it after considering all the critical information.
BitQZ Key Features
Listed below is the host of features that BitQZ claims to have.
A High Win Rate
Out of 100 trades that a user does, BitQZ claims that its trading system ensures that 80 are successful. It might not be unrealistic since platforms like Learn 2 Trade also advertise similar win rates. The difference here lies in expectation and the data backing that information. For instance, there is no historical data in BitQZ's case that would allow anyone to provide this claim.
Autonomous Trading Systems
When the market is volatile, the only way to generate gains is by making quick decisions that don't let any investment opportunity slip by. But since there is a limit to how humans can react, people rely on crypto trading bots for this very purpose. BitQZ claims to offer this utility. It states that it leverages the system by 3000:1 in order to maximize gains.
Enhanced Security
BitQZ claims that it has placed enhanced security measures to ensure that users have their assets safe and secure. While it hasn't extended upon what those features are, many third-party sites have said that SSL encryption is one of the security tools in their arsenal.
Demo Trading Account Available
A demo trading account is a go-to for those who want to test the site via paper trading before spending any money. This utility allows users to get familiarized with a trading system before switching to live trade - which is crucial for a trading platform that claims to offer an 80% win rate. BitQZ says that users will get access to a trading account. However, that utility is only available to registered users who, in turn, require to deposit at least $250 to access any feature that BitQZ advertises.
Multiple Asset Support
Along with Bitcoin, BitQZ claims to support tokens such as Cardano, Ethereum, Litecoin, Ripple, Bitcoin Cash, Binance Coin, and Dogecoin. That said, the site hasn't given a look at what this trading system might look like. The only price chart we could see was a dynamic Bitcoin chart posted at the top of the home page.
Cryptocurrencies are unregulated. Trading with unregulated brokers will not qualify for investor protection.
BitQZ Account fees
BitQZ claims to follow a no-fee model. It has stated in its FAQ section that it doesn't require a user to pay any transaction fee, withdrawal fee, or trading commission. That said, the same couldn't be said about the brokers it has apparently associated with or the account manager that it connects you with.
| | |
| --- | --- |
| Trading Fee | None |
| Account Fee | None |
| Commission | None |
| Withdrawal/Deposit Fee | None |
Furthermore, we gathered by reading the BitQZ website that there are some fee details that users can access only after talking to the customer support team.
BitQZ Minimum Deposit
BitQZ claims that it needs at least $250 to generate profitable income for the users involved. That is, a minimum deposit of $250 has to be made to access the account's trading facilities. Since these also include a demo trading account, we recommend considering this amount as a one-time fee by BitQZ.
BitQZ Compatible Devices
We opened the official website of BitQZ on the following devices and found that the site is responsive.
Desktop
Laptop
Tablets
Android and Apple Phones
Is BitQZ a Scam?
BitQZ has a standard look for its website. And the icons and the buttons are interactable. The site's responsiveness tells us that if the trading platform works, users will be able to use their cell phones to access the platform. However, the accessibility of the platform itself is the issue here.
There are no details about the trading tools that it employs. No information is given about the proof that can verify its win rate. And, BitQZ has also locked many features behind a deposit requirement - that's not conducive for first-time traders.
And when it comes to reviews, we have gotten mixed reactions for it. Some review sites have made bullish claims about this site, stating that it does perform admirably. On the other hand, there are review sites that have portrayed it as a scam because of how similar it looks to others of the same nature.
Customer reviews do not exist for this platform. We tried to look for it on Trustpilot and found nothing. That shows that this site is not that well known. In light of that, we can't make any assumptions about whether this site is a scam or legitimate.
BitQZ Customer Support
According to the official website of BitQZ, customer support is accessible. But since there is no contact us page, we guess only registered users can access it. The site does say that the support team is available throughout the day through live chat and email.
How to use BitQZ?
Here are the steps to start using BitQZ.
Step 1 - Visit the BitQZ Website
Visit the BitQZ website and start the account creation process. Enter your name, email, and phone number before pressing the submit button. We recommend only giving a burner number if you want to talk to the account manager via email alone.
Step 2 - Make the Minimum Deposit
Deposit the minimum required amount, which is $250, using any of the available methods on BitQZ.
Step 3 - Start Trading on BitQZ
After the account is funded, you can customize the parameters and start autonomous trading if that facility is available to you.
How to Delete a BitQZ Account?
There are no details given about how to delete a BitQZ account. The account manager or the customer support team can help in this regard. But before that, we recommend going through the given settings to see if there is a "delete account" option available.
Does Jeff Bezos Use BitQZ?
Jeff Bezos's name has been linked to many crypto trading platforms similar to BitQZ, and nearly all the times, that has been false. Now is no different. There is no proof that Jeff Bezos uses BitQZ for his crypto trading requirements.
Does Elon Musk Use BitQZ?
Elon Musk has been a big supporter of Dogecoin, but his interest in Dogecoin is about its meme nature and not about its trading utility. Also, Tesla, his company, offloaded 75% of its Bitcoin holdings in 2022. That indicates the general lack of interest he has in crypto trading. Also, there is proof that Elon Musk supports or uses BitQZ.
Does Martin Lewis Use BitQZ?
Martin Lewis is a financial journalist whose name is often the first to be associated with many crypto trading platforms. But those rumors have always been false, and so is the one that says that Martin Lewis uses BitQZ.
From what the website says, it is highly unlikely that BitQZ has any celebrity support.
Who is the Founder of BitQZ?
There is no information to be found online about who is behind BitQZ. We also tried to look on social media sites, and even they aren't privy to that information. That indicates that BitQZ has limited transparency, something that investors must consider before creating their accounts on this platform.
BitQZ Payment Methods
The following are the different payment methods applicable to BitQZ.
Debit cards
Credit cards
E-Wallets
Bank Transfers
The Verdict
BitQZ bills itself as a trading platform that provides hands-free trading facilities as well as human-assisted trading through an account manager. The site's sign-up page is optimal, and the sign-up process is simple.
But the same positives don't apply to the information that it delivers. There is a lack of information available, and social media sites don't talk about it. Therefore, we recommend assessing your risk tolerance before using this platform.
Cryptocurrencies are unregulated. Trading with unregulated brokers will not qualify for investor protection.
BitQZ FAQs
What is BitQZ?
BitQZ is a crypto trading platform that promises to deliver users ample gains via a collection of trading tools. It claims a 98% win rate and has a minimum deposit requirement of $250.
Does Elon Musk endorse BitQZ?
Elon Musk has shown no interest in any asset other than Dogecoin, and that too also not for trading reasons. Also, there is no proof that he uses or endorses BitQZ, for that matter.
---