Quantum Prime Profit Review - Scam or Legitimate Trading Software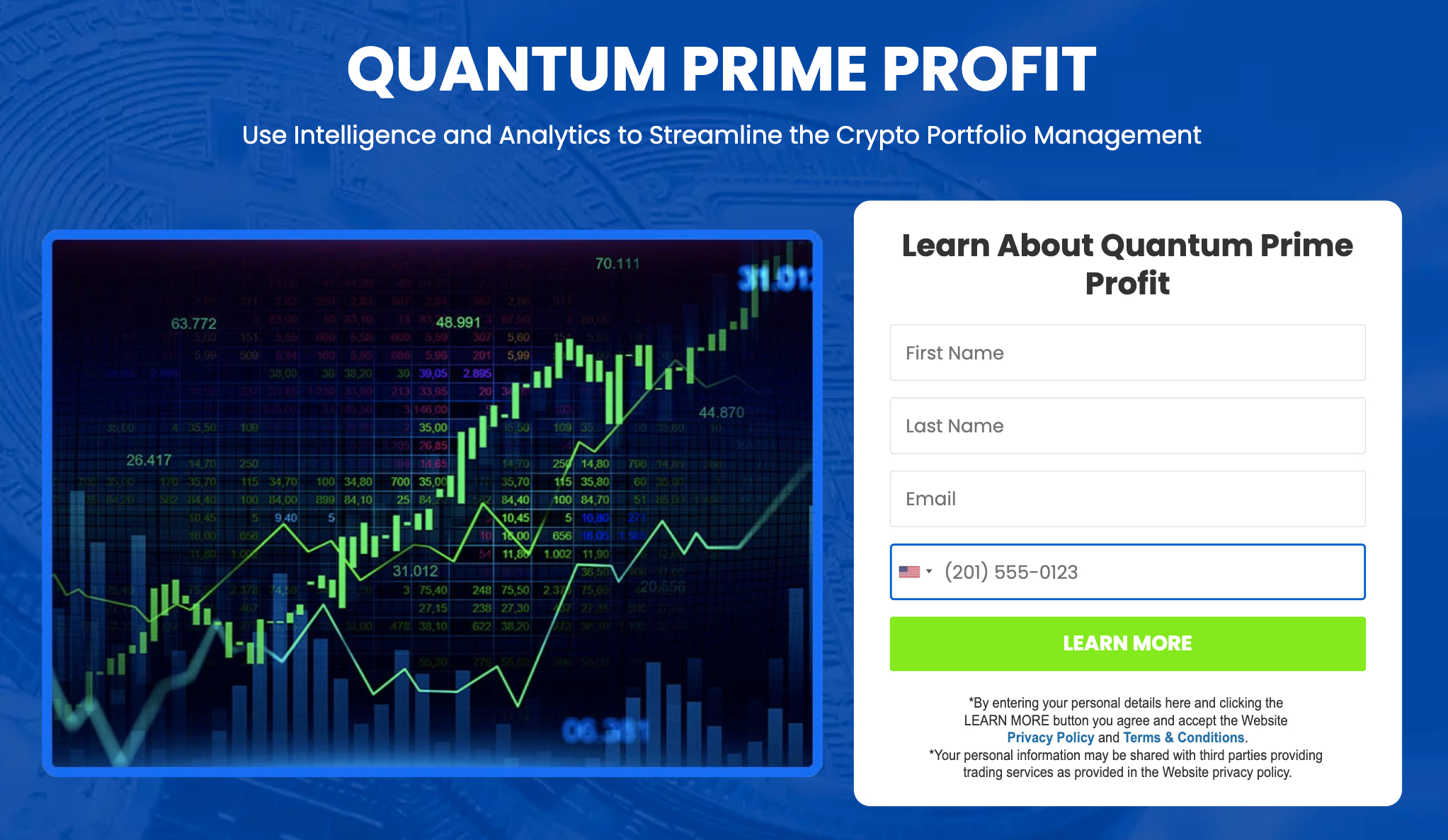 Given the recently renewed interest in the cryptocurrency market, investors are once again actively searching for secure platforms to fulfil their cryptocurrency trading requirements. However, with a multitude of popular options available, it can be challenging to determine the authentic and most viable choices. Quantum Prime Profit, a platform that has gained significant attention from users, is one such example.
In this article, our objective is to conduct a comprehensive review of the Quantum Prime Profit platform. By gathering and analyzing all the available information about the platform, we aim to form an informed opinion regarding its legitimacy as a reliable platform for engagement in cryptocurrency activities.
Quantum Prime Profit Summary
Here is a summary of the Quantum Prime Profit platform that may help you get a brief overview of the project:
| | |
| --- | --- |
| Type of Trading | Cryptocurrency trading |
| Success Rate | Not Specified |
| Cryptocurrencies Available | Not Specified |
| Available on Mobile? | No (But accessible via mobile browsers) |
| Withdrawal or Deposit Fees | None |
| Customer Support | Live Chat and Email |
| Withdrawal Speed | 24 hours |
| Minimum Deposit | Not Specified |
Cryptocurrencies are unregulated. Trading with unregulated brokers will not qualify for investor protection.
What is Quantum Prime Profit?
The Quantum Prime Profit website description reads:
"Quantum Prime Profit is an ideal trading platform that allows you to get insights about the changing cryptocurrency market. The optimal trading and charting platform allows you to understand the complexities and dynamics behind the crypto space."
According to the claims made by the platform, Quantum Prime Profit is positioned as a trading platform designed to enable traders to leverage the volatility of cryptocurrencies for profit-making purposes.
The website highlights two main products offered by Quantum Prime Profit: the crypto trading and portfolio management platform, as well as a dedicated platform for managing one's crypto portfolio. However, it is worth noting that during our analysis, we observed a lack of specific imagery or graphics showcasing these products, apart from generic images related to trading.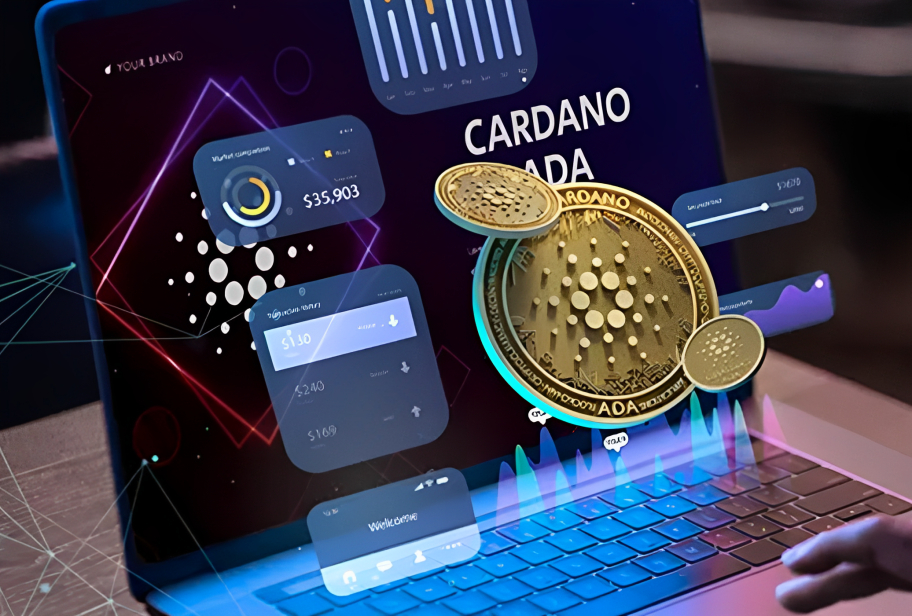 Quantum Prime Profit positions itself as a multi-asset platform, implying that it supports the trading of multiple cryptocurrencies. An interesting aspect highlighted by the platform is its claim to be capable of executing trades autonomously, without the need for human intervention. This feature appears to be one of its key unique selling points (USPs). Based on this claim, it is reasonable to speculate that the platform may utilize algorithmic trading mechanisms or automated robots to facilitate the trading process.
In addition to its various features, Quantum Prime Profit asserts that it offers fundamental and technical analysis tools along with instant notifications. This combination can be utilized as a resource to make informed trading decisions and potentially generate profits, even if users choose not to solely rely on the platform's automated trading options.
Although it may be challenging to pinpoint the exact nature of the platform due to the diverse offerings it claims to offer, the overall theme portrayed on the website suggests that Quantum Prime Profit considers itself one of the leading multi-asset cryptocurrency trading platforms in the current market.
Quantum Prime Profit - Pros and Cons
Let us take a look at the pros and cons of the Quantum Prime Profit platform to get a better understanding of its nature.
Pros
Responsive website
Claims to offer support for multiple assets
Boasts various features as per the website
Quick withdrawals
Easy payments
Claims to have data protection features
Cons
No dedicated mobile application
Limited information regarding the platform
How Does the Quantum Prime Profit Platform Work?
It appears that Quantum Prime Profit lacks substantial information about its operational mechanisms on its website. While the platform showcases an array of features, there is limited mention of the specific processes it employs to execute tasks within the platform.
However, the platform does claim to have an automated system for conducting trades, suggesting the presence of a robo advisor or automated software capable of handling various tasks. This implies that the robot may be responsible for opening and closing positions, as well as implementing stop loss or similar functions.
According to the website, the user is required to register on Quantum Prime Profit and provide the broker with the necessary information for the automated trade execution. While the platform does not elaborate on the specific details of what this entails, it is reasonable to assume that it refers to the permissions typically requested by brokers when using trading platforms.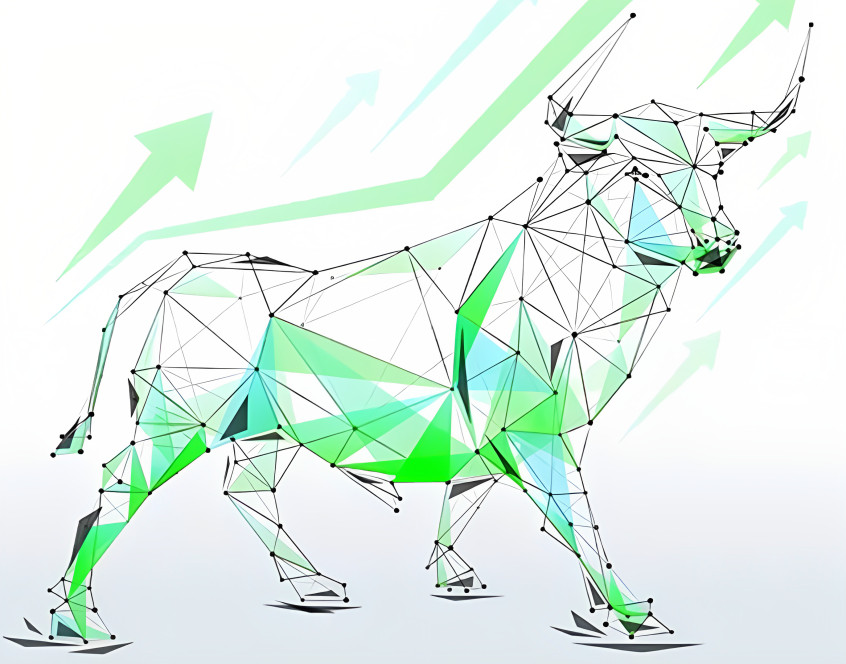 The brokers associated with Quantum Prime Profit are said to collect information from traders regarding their trading goals, risk tolerance, preferences, and restrictions.
Based on this information, the brokers then provide potential trading opportunities in the market. However, the website does not specify whether these brokers are human or AI-based. It appears that both manual and autonomous trading features on the platform may involve human-assisted facilities, as the website mentions expert opinions and live customer support.
The platform also claims to provide support for risk management and offers educational insights to users. Apart from these key aspects, the website does not provide extensive information about the inner workings of Quantum Prime Profit.
Quantum Prime Profit Key Features
Like any other platform, Quantum Prime Profit also boasts a variety of features that can appeal to users, Some of them include:
Robust Crypto Trading and Portfolio Management Platform
The website suggests that Quantum Prime Profit has been developed with a wide range of options to facilitate a user-friendly trading process while providing a learning environment. The platform aims to offer a feature-rich experience that grants users a competitive advantage.
By utilizing the available learning materials and online resources, users can enhance their financial literacy and develop trading strategies that align with their personal style and preferences. Additionally, Quantum Prime Profit distinguishes itself by providing access to a variety of cryptocurrency pairs. This feature sets it apart from other platforms, allowing users to engage in trading across multiple crypto assets.
24/7 Customer Support
According to the information provided on the website, Quantum Prime Profit offers consistent and seamless customer support to its registered users. Access to customer support services is typically available exclusively to official users who have completed the registration process.
The platform emphasizes this as one of its top features. Users can seek assistance through a 24/7 live chat option or by reaching out to the platform's employees via email. This customer support availability aims to address user inquiries, provide guidance, and resolve any potential issues that users may encounter while using the platform.
Enhanced Connectivity
Quantum Prime Profit claims to prioritize the provision of an exceptional trading experience, catering specifically to professional traders who engage in a meticulous analysis of price movements in real-time. According to the platform's assertions, speed is of utmost importance when it comes to processing crypto transactions. It states to offer superior connectivity, enabling users to avoid the time-consuming tasks typically associated with other platforms.
Data Protection
In terms of data protection, the platform asserts its understanding of users' concerns regarding the security of their personal information. Quantum Prime Profit claims to employ advanced security protocols and measures to ensure robust data protection. By doing so, the platform aims to provide users with a sense of confidence and assurance in their commitment to safeguarding sensitive data.
Cryptocurrencies are unregulated. Trading with unregulated brokers will not qualify for investor protection.
Quantum Prime Profit Fees
The Quantum Prime Profit platform does not provide clear information about its fee structure on the website. The absence of a dedicated section regarding fees suggests that users may need to register and progress further into the trading process to obtain detailed information about the applicable fees.
Another possibility is that the platform follows a fee-free model, which has become a growing trend in the industry. To ascertain the specific fee structure, users are encouraged to proceed with the registration process and seek clarification from the platform directly.
Quantum Prime Profit Minimum Deposit & Payment Methods
Quantum Prime Profit does not provide explicit information regarding the minimum deposit or payment methods required to initiate trading on its platform. It is recommended to reach out to the support staff of Quantum Prime Profit for accurate and up-to-date information regarding the minimum deposit requirement. They will be able to provide specific details and address any questions or concerns regarding the deposit process.
Quantum Prime Profit Compatible Devices
Throughout our review, it became apparent that the Quantum Prime Profit platform is designed to be highly responsive across multiple devices. Users can conveniently access and navigate the platform using various devices, including smartphones, laptops, iPads, tablets, and desktop computers.
This web-responsive feature ensures that traders have the flexibility to engage with the platform seamlessly regardless of their preferred device, enabling them to stay connected and trade efficiently on-the-go or from the comfort of their preferred workspace.
Is Quantum Prime Profit a Scam?
While the Quantum Prime Profit platform may appear intriguing, it is essential to highlight that it lacks comprehensive information about its operational structure. This deficit extends to other vital aspects of the platform, which are not commonly observed in reputable trading platforms. While the website does provide a wealth of generic information about the cryptocurrency industry, it fails to offer specific details relevant to traders' concerns.
The absence of such pertinent information may raise questions regarding the transparency and clarity of the platform's offerings, warranting caution and further inquiry before engaging with Quantum Prime Profit.
This limited information and transparency about the operational structure of Quantum Prime Profit may raise doubts about its authenticity. In such cases, it is advisable for traders to exercise caution and conduct thorough research before engaging with the platform. It is prudent to start with smaller investment amounts as a means of testing the legitimacy and reliability of the platform.
It is also essential to adhere to the principle of investing only what one can afford to lose, regardless of the perceived credibility of the platform. By approaching the situation with prudence and careful consideration, traders can mitigate potential risks and make more informed decisions.
How to Use Quantum Prime Profit?
Before engaging with a trading platform like Quantum Prime Profit, it is crucial to thoroughly study the platform and understand the associated risks. However, if you plan to go forward with it, then the following sections outline the steps to begin trading on the platform:
Step 1: Create a New Account Online
Visit the Quantum Prime Profit website and initiate the account registration process by filling in the required information on the registration form. Provide your full name, email address, and phone number.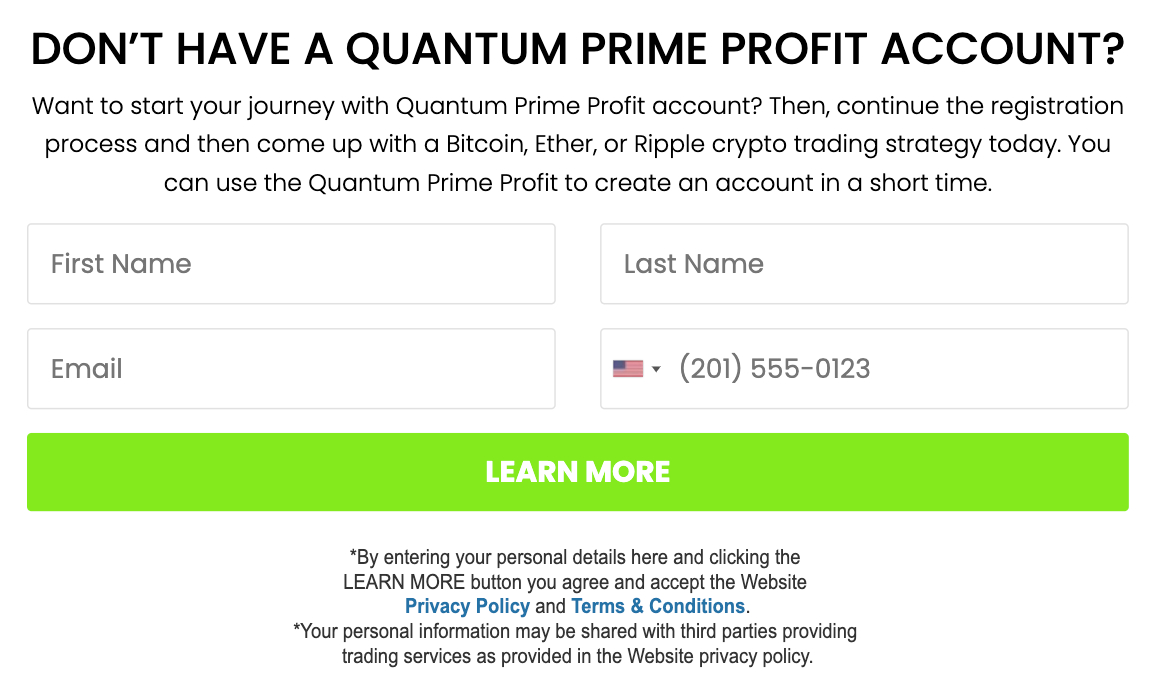 Consider using a burner number if you'd prefer to only be contacted via email.
Step 2: Make a Deposit
After successfully registering your account, you will need to make a deposit on the Quantum Prime Profit platform. Choose your preferred payment method from the available options, enter the deposit amount, and confirm the transaction.
Step 3: Commence Trading
Upon completing the deposit transaction, users can access the Quantum Prime Profit trading platform and start trading on multiple assets in pursuit of potential profits.
How to Delete a Quantum Prime Profit Account?
The process of deleting a Quantum Prime Profit account is anticipated to be relatively straightforward. According to the platform, users can conveniently terminate their accounts directly from the main menu. However, if users encounter any challenges or require further guidance, they have the option to contact the dedicated customer support team for assistance and clarification.
Do Celebrities Use Quantum Prime Profit?
Based on our research, there is no official association between Quantum Prime Profit and any celebrity. The platform's website does not mention any such affiliation, and there is no evidence of such a connection in other online reviews. It is important to note that claims of celebrity endorsements or partnerships should be approached with caution, as they may often be misleading or false.
Who Created Quantum Prime Profit?
Currently, there is no available information about the creators of Quantum Prime Profit. However, this practice of anonymity has become prevalent in recent times. While the lack of information about the creators may raise some questions, it is important to note that anonymity does not necessarily imply any malicious intent.
Note that there are similarly named tools, such as Quantum Flash, which don't appear to be related.
The Verdict
While Quantum Prime Profit may present attractive features and a user-friendly interface, the lack of substantial information and evidence to establish its credibility raises concerns. Without sufficient verification, it is challenging to ascertain the platform's authenticity as a reputable trading platform.
As a precautionary measure, it is highly recommended to undertake thorough research before considering any involvement with Quantum Prime Profit, and consulting other reviews to make an informed decision.
Cryptocurrencies are unregulated. Trading with unregulated brokers will not qualify for investor protection.
FAQs
Has any celebrity endorsed Quantum Prime Profit?
No. While there are rumours about some celebrities being involved with the platform, none of the rumours has any evidence to substantiate them.
What is the minimum deposit for accessing the Quantum Prime Profit Platform?
While it is common for many trading platforms with similar features to Quantum Prime Profit to have a minimum deposit requirement, the specific minimum deposit amount is not mentioned anywhere on the Quantum Prime Profit website.
Is there a dedicated Quantum Prime Profit mobile application?
As of now, there is no dedicated Quantum Prime Profit application available. However, users can easily access the platform using a web browser on multiple devices at any time.
Disclaimer: The text above is an advertorial article that is not part of Cryptonews.com editorial content
---