Bitcoin Rush Review - Scam or Legitimate Trading Software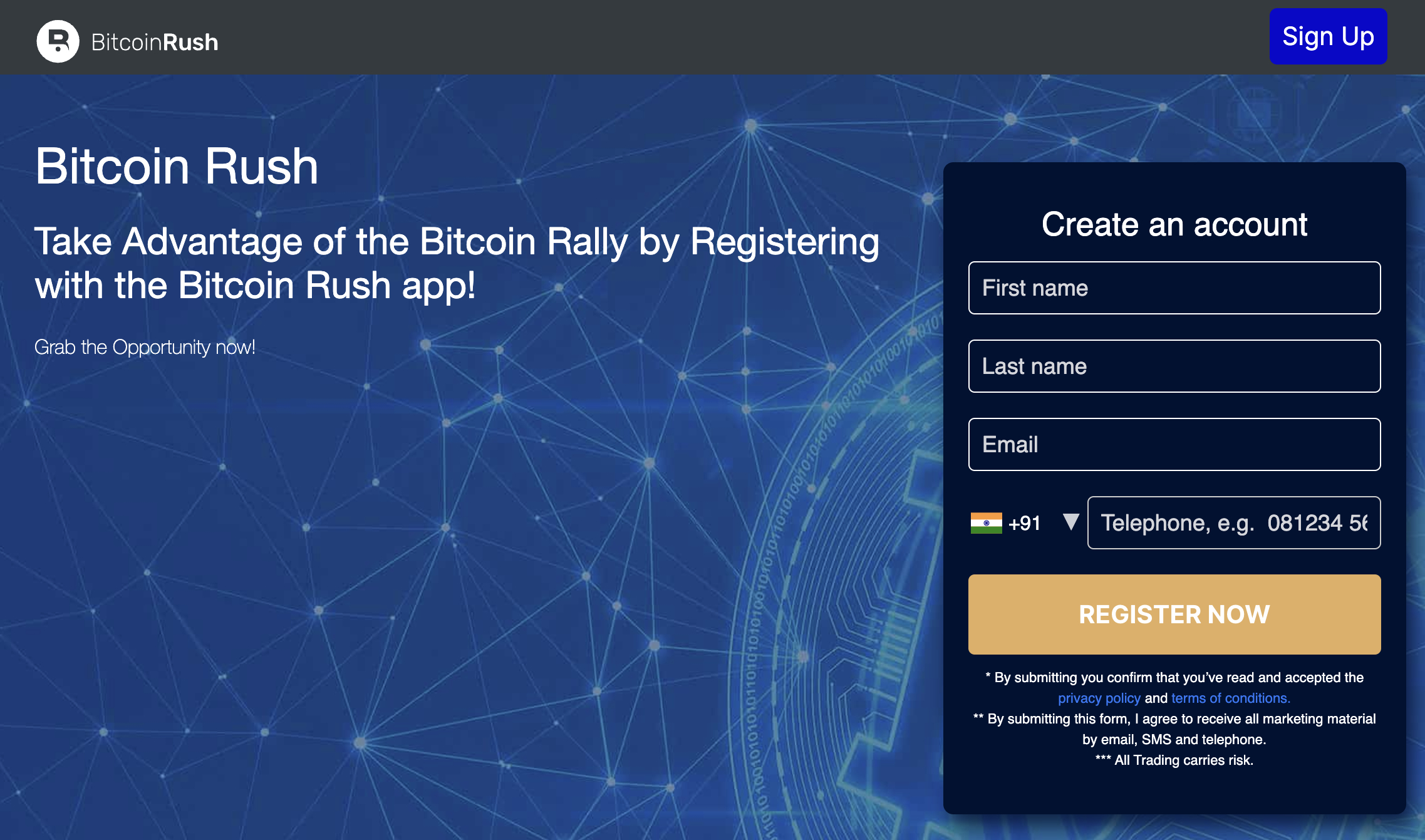 Disclaimer: The text below is an advertorial article that is not part of Cryptonews.com editorial content
Bitcoin's recent rally has got people rushing to buy the world's premiere crypto asset. But the market is volatile, and the chances of losses are high, so Bitcoin Rush claims to be a platform that takes advantage of the "Bitcoin Rally and helps people make more gains". The site claims to roll intuitive tools with an autonomous trading system into one "profit-maker" suite from which investors can earn a high ROI.
But are these claims real? This Bitcoin Rush review assesses the site's features and determines if this platform is worth rushing to.
Bitcoin Rush Summary
The Bitcoin Rush website claims to be popular internationally and to have received positive reviews on customer sites like Trustpilot. But before we assess the truth of those claims, here are a few facts about the platform:
| | |
| --- | --- |
| Supported Crypto | Bitcoin, Ethereum, Ripple, Cardano, Litecoin, ZCash, Bitcoin Gold, Ethereum Classic, EOS, Dash, MIOTA, Neo, and more |
| Claimed Success Rate | 98% |
| Available on Mobile? | No Bitcoin Rush app out yet for Android or iOS |
| Fees | 2% commission on profits, and a 1% fee on withdrawals if the consumer withdrawals more than 10 times a month |
| Customer Support | Available but only accessible to those who sign up |
| Withdrawal Speed | 24 Hours |
| Minimum deposit | $250 |
Cryptocurrencies are unregulated. Trading with unregulated brokers will not qualify for investor protection.
What is Bitcoin Rush?
Bitcoin Rush advertises itself as a BTC crypto trading system that offers financial freedom to its clients through BTC trading. The site claims that users can start trading and generate profits as soon as they deposit the initial amount, which is $250.
After funding the account, the in-app trading bot takes the reins of crypto trades and apparently gives quadruple returns within the first few days of trading. It is a claim that we have been unable to confirm because of the lack of information on the website.
Powered by blockchain, Bitcoin Rush says that it aims to make crypto trading transparent and seamless and charges only a 2% commission on profits. You can withdraw 10 times a month for free, after which you must pay a 1% fee for each withdrawal. At max, Bitcoin Rush allows users to withdraw up to $50,000 each time.
Multiple assets are supported on this platform, including Bitcoin, Bitcoin Cash, Dash, ZCash, EOS, IOTA, NEO, Binance Coin, Ripple, Ethereum, and more. And according to the website, these tokens are best traded during the most volatile conditions - because that's when the in-app tools can leverage the volatility to generate the most profits.
The official advertising copy has also highlighted many interesting points and has said that it has turned down billions of dollars from those who sought to buy it. While this statement looks more like a marketing story rather than a fact, we can't confirm or deny it since the information provided about this site is so minimal.
On the plus side, however, the website has a simple UI. With security measures like the KYC requirement, it does feel like this platform is legit. Bitcoin Rush claims it also offers a demo trading account for the signee, during which it offers $10,000 in virtual money to practice trading.
While these features are enticing, none could be confirmed by third parties. Trustpilot reviews of this website are quite mixed - ranging from overly complimentary to overly critical, and third-party reviews are also vague. We recommend trading on Bitcoin Rush with a minimum deposit to begin with.
Bitcoin Rush Pros and Cons
Here are the pros and cons of Bitcoin Rush.
Pros
Claims an 98% win rate
It has a simple-to-use interface
Educational resources and demo trading account is available to signees - according to the website
Multi-asset support
Cons
Requires a deposit of $250
Customer reviews of the platform are extremely mixed
Free withdrawals are not available after the first 10 withdrawals of a month
The monthly withdrawal limit is set at $50k
How Does Bitcoin Rush Work?
Bitcoin Rush claims that trading on the platform is super easy as it doesn't involve much input from the trading. According to our advertising copy, Bitcoin Rush offers trading assistance in a simple-to-understand language that people can access after depositing the initial amount.
Once the amount is deposited, the following three steps are taken to generate trades for investors.
The in-app mechanics get into action, scanning the entire market to find the tokens that have hit lows and are about to bounce. Buying the said tokens
Watching the market conditions to see if a token has reached its peak, which would mean a correction is on the way. And then selling the asset to generate profit.
After the successful trade, the profits are transferred to the trading account after removing a 2% commission.
These are yet unverified claims, so make sure you are diversifying the trade parameters and hedging your bets to increase your chances of profit. Trading is also possible through mobile, but a separate app is unavailable.
Bitcoin Rush Key Features
Bitcoin Rush has a host of features
A High Win Rate
Bitcoin Rush claims to have an enormous win rate of 98%. While it may be a marketing write-up within the advertising copy of the website, it does say that over 500k people registered on the platform last year, out of which 90% remain. A high win rate means you can generate profits 98 times out of your 100 trades. However, Bitcoin Rush also says that only 20% of the customers could generate massive profits using these utilities. If true, even that amount is big. That said, no further detail is available on this topic, so invest at your own risk.
Fully Autonomous Platform
Bitcoin Rush claims to be a fully AI crypto trading bot project allowing users to trade hands-free. The website says that being fully autonomous enables it to be helpful to all types of traders- whether they are novices or veterans.
Secure Platform
The site claims that it has high-end security systems in place to protect investors' assets. Users won't get their data stolen, apparently, and the KYC requirement ensures AML compliance for this website. However, no official detail about Bitcoin Rush being a regulated platform is available on the site.
Highly Rated on the Trust pilot
Bitcoin Rush claims that it has received high ratings on Trustpilot, a customer review aggregator site. While the official website claims a 4.5 out of five stars, we found out that the review is average - 3.6 stars. While the rating is not that high, it is still noticeable for a platform that hasn't provided much information about itself online.
Demo Trading Account Available
A Demo Trading account is great for trying out the different features of a crypto trading website before investing real money, which is why most confident platforms offer it. Bitcoin Rush exudes the same confidence level and offers a demo trading account. But it is not free of charge since that initial deposit is still required to access any feature of this platform.
Bitcoin Rush Account fees
Bitcoin Rush has a standard fee structure. While other sites claim to offer many of their services for free, Bitcoin Rush does ask for a commission. The site also has withdrawal fees and withdrawal limitations. You can only withdraw up to $50k a month - which is common with most crypto trading platforms. And here is the breakdown of the rest of the fee structure.
| | |
| --- | --- |
| Trading Fee | None |
| Account Fee | None |
| Commission | 2% |
| Withdrawal/Deposit Fee | 1% after ten withdrawals per month. No deposit fee |
Cryptocurrencies are unregulated. Trading with unregulated brokers will not qualify for investor protection.
Bitcoin Rush Minimum Deposit
To start trading on Bitcoin Rush, you must deposit $250. Your deposit method can vary between debit cards, credit cards, or E-wallets. Without the deposit, you won't be able to access any of the features that the site claims it has.
Bitcoin Rush Compatible Devices
We tested Bitcoin Rush on the following devices and found them to be compatible.
Desktop
Laptops
Android and Apple phones
Tablets
All the icons were visible and interactable; we could make out what was written by looking at the font size. If the official site runs the same way after sign-up, it is highly likely to have the same level of interactivity.
Is Bitcoin Rush a Scam?
Many of the details the site gives us are self-inserts, and the customer and thor-party reviews of the site are few. It claims to have onboarded 500k customers last year, of which 90% continue using this platform. Its win rate is suspiciously high, and it makes dubious claims like helping users to get rich with crypto.
While we couldn't verify these facts, that's still insufficient to paint it as an outright scam. The third-party reviews, while few, are present. The customer reviews, while few, are also present. And we could have been suspicious if every review was positive, but it is mixed at best - with different customers having different experiences.
So, while we can't say that Bitcoin Rush is a scam, we recommend that you be careful when trading on the platform. The market is volatile, and the chances of making a loss are high. In light of this, it is better to do your own research before assessing this site.
Bitcoin Rush Customer Support
You won't have any issue contacting the customer support of the website - if you are registered. If you are just a passerby, you won't be able to look at the contact us page of this site as it is not visible. Registered users, however, can call, email, or live chat with the support team at any time.
How to use Bitcoin Rush?
If you have done your research and are willing to give Bitcoin Rush a shot, here are the steps to start trading on the platform.
Step 1 - Visit the Bitcoin Rush Website
Visit Bitcoin Rush site and proceed with account creation. Enter your name, email, and phone number before clicking the "Learn More" button. As you submit your details, you will receive a verification link requiring KYC verification. Take the due steps, and you will have your account.
Step 2 - Make the Minimum Deposit
Deposit the minimum required amount, which is $250. You can choose any of the listed methods to make that deposit.
Step 3 - Start Trading on Bitcoin Rush
Once your account is funded, you are ready to use the automated tools to start trading. Make sure to customize the parameters and try out the demo trading account first to get the hang of things before using real money to invest.
How to Delete Bitcoin Rush Account?
There is no official information about how to delete the Bitcoin Rush account. Some sites report that contacting the customer support team will do the job. Others say that account deletion is possible by going to the website, withdrawing the remaining deposit, and terminating the account.
Does Jeff Bezos Use Bitcoin Rush?
Many believe Jeff Bezos, one of the leading billionaires, has rushed to Bitcoin Rush to make crypto trades. It is not true. While the Amazon Founder has discussed it, records about him trading crypto are unavailable.
Does Elon Musk Use Bitcoin Rush?
Elon Musk is known as a Dogecoin supporter, mostly due to his dog, which is of the Shiba Inu breed. However, he has shown no interest in other crypto assets, so we don't think he uses Bitcoin Rush.
Does Martin Lewis Use Bitcoin Rush?
Financial Journalists have often been falsely associated with many crypto projects, and the same case is this time. He doesn't support or endorse Bitcoin Rush.
Who is the Founder of Bitcoin Rush?
Bitcoin Rush has provided no information about the founders on its official website. Some claim that crypto developers and traders are running the site, while others say that the makers of OpenAi are behind it. All these claims are untrue.
In fact, the founders aren't even mentioned on social media platforms. It is likely that the makers of this site are anonymous - which won't be new for crypto, but it is something to note.
Bitcoin Rush Payment Methods
Here are the different payment methods you can implement to deposit the amount on Bitcoin Rush.
Debit cards
Credit cards
E-Wallets
Bank Transfers
The Verdict
Bitcoin Rush is an interesting crypto trading platform that claims very tall claims. A 98% win rate should be taken seriously - especially when no information verifies these claims. And when even the founders of this site are anonymous, you have reasons to become suspicious.
However, there are third-party reviews as well as customer reviews of the site. While their reactions are mixed, they paint a realistic picture of this website. But still, only invest if this platform meets your requirements.
Cryptocurrencies are unregulated. Trading with unregulated brokers will not qualify for investor protection.
Bitcoin Rush FAQs
What is Bitcoin Rush?
Bitcoin Rush is a crypto trading platform promising to provide an autonomous system that executes successful trades on the user's behalf 98% of the time. The site reportedly has over 500k users, and its UI is simple.
Does Elon Musk endorse Bitcoin rush?
No, there is no evidence to support claims that Elon Musk, one of the leading names in the cryptocurrency market, has a passing interest in Bitcoin Rush.
How to start trading on Bitcoin Rush?
You must deposit at least $250 to start trading on Bitcoin Rush. This requirement is a must after you have created an account, as you won't be able to access any features without it.
---