CoinGPT Review - Scam or Legitimate Trading Software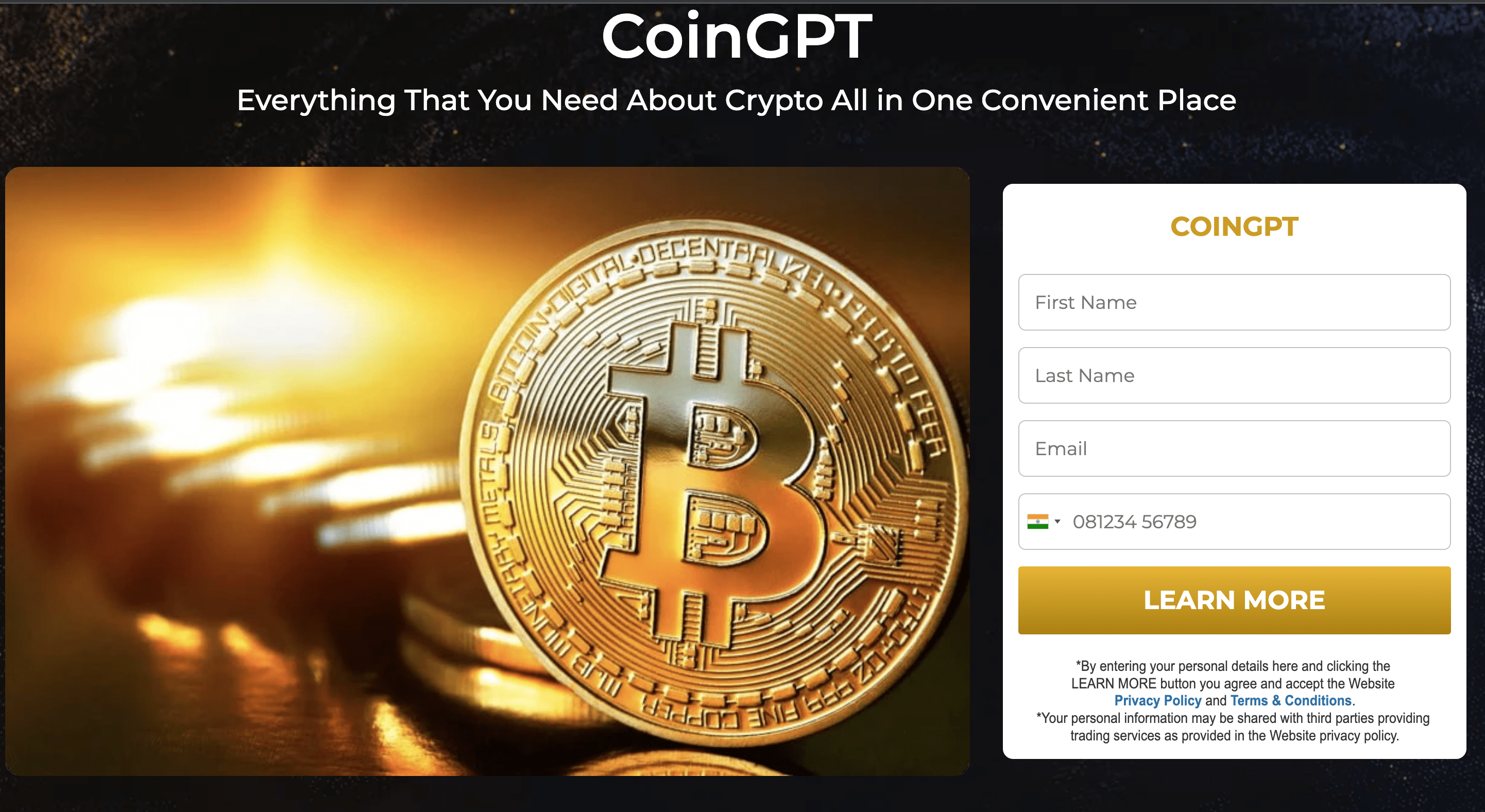 Disclaimer: The text below is an advertorial article that is not part of Cryptonews.com editorial content
The cryptocurrency market can generate great gains for those who invest at the right time. But the volatility of the space makes it difficult for novice traders. Solutions come in the form of software to which users can delegate trading duties. These platforms react to market changes and make split-second investment decisions helping people make progress when it comes to generating profits.
CoinGPT claims to be one of these applications that aim to "make the trading experience better for traders of all levels of experience". The platform reportedly takes no money when offering these services, and deposit requirements are also low. But how many of these claims are true? This guide reviews CoinGPT to see if it meets the requirements of modern crypto traders.
CoinGPT Summary
CoinGPT states that it is an automated crypto trading robot (likely naming itself after ChatGPT) to which traders can delegate their trading duties. As soon as the account is funded, CoinGPT states that it gets into action and scans the markets for the best trading opportunities. It reportedly can predict signals effectively to help investors generate a higher ROI.
| | |
| --- | --- |
| Trading Type | Crypto |
| Success Rate | Not available |
| Cryptocurrencies Available | Bitcoin, Ethereum, BNB, Ethereum Classic, etc. |
| Available on Mobile | No mobile application |
| Customer support | Available 24/7 - but apparently only for registered users |
| Withdrawal Speed | 24 hours |
| Minimum Deposit | Not specified |
Cryptocurrencies are unregulated. Trading with unregulated brokers will not qualify for investor protection.
What is CoinGPT?
CoinGPT has been described as an AI trading bot through which traders can generate gains from the volatile cryptocurrency market without active monitoring. The platform seemingly has a win rate that we weren't able to confirm since the data wasn't available for the same.
Accessing the platform, however, is simple. The signup process doesn't involve a lot of complexities, and there are no KYC requirements - which can indicate that this platform is available all over the world.
Crypto assets available to trade on this platform include Bitcoin, Ethereum, Ethereum Classic, Litecoin, Binance Coin, and more - although information about them is also limited. CoinGPT also claims to offer a demo trading account to all members, allowing them to understand the mechanics of the platform before trading.
Customer support is apparently provided round the clock - but only to registered users since the website itself doesn't show any About Us page or contact us page to provide the details.
Details related to the makers of this platform are also limited - a fact that can be seen as a red flag for more traders.
Consider these factors before trading on CoinGPT. And remembers that crypto trading is risky, and the market is often inside the volatile zones. Stay informed before investing.
CoinGPT Pros and Cons
Here are the lists of perks and disadvantages of this crypto trading platform.
Pros
It supports major cryptocurrencies
Claims to have a good win rate
Instant withdrawals and deposits are available - according to the claims.
Registered users can access the demo trading account - but only the registered ones.
Claims to offer charting tools and more for better trading.
Cons
The success rate has not been specified - historical data is not available
There is no information about the minimum amount required to start using the platform
The website itself is light on information - more info could give people more insight into the project.
Cryptocurrencies are unregulated. Trading with unregulated brokers will not qualify for investor protection.
How does CoinGPT Work?
It seems that CoinGPT works similarly to other crypto trading platforms with self-executing trading mechanics. Once users deposit the required amount, the in-app tool may get into action to scan the markets and chart the crypto prices. It then may establish patterns to make price predictions.
This would allow a platform to make buy an asset when it is hitting low and sell it when it hits high the instant appropriate market conditions are reached. If these claims are true, investors could be benefited from the volatile opportunities. However, information regarding how the site works is only available on third-party sites - and even they don't have enough details to work with.
A mobile trading facility is also available - but not as an app. We tested the website on our phones and found it to be interactable in all measures.
Everything from high win rates and demo trading accounts is a feature we have limited information about. Make sure to remember these matters when trading. And doing your own research before interacting with the platform is important.
CoinGPT Key Features
CoinGPT makes many claims about its features. Here is a list of them.
Claims a High Success Rate
CoinGPT claims to have a high win rate - allowing users to make gains most of the time through hands-free trading. However, the historical data about the same is absent and third-party sites that we have gone to have only limited things to say about it.
Fast Trading
One can't understate the volatility of the crypto market, where year highs and lows can happen on the same day. Good platforms leverage this utility to provide intraday gains to traders. CoinGPT is a robo advisor that claims to provide the same. It says that it is active 24/7 and scans the crypto market every second of every minute, and makes minute buying and selling decisions quickly to provide maximum returns.
Support for Multiple Cryptos
CoinGPT apparently supports all major cryptocurrencies that are currently ruling the market. They include Bitcoin. Ethereum, Ethereum Classic, Cardano, MIOTA, Ripple, EOS, Litecoin, NEO, and more. While there is not a legit list given on the official website that can substantiate these claims, if they are true, users would be able to diversify their investments to hedge market risks.
Demo Trading
Like most crypto trading platforms, CoinGPT also claims to offer a demo trading account. A demo trading account, providing a paper trading facility, allows traders to test the facilities of a platform under simulated market conditions before trading for real. CoinGPT apparently offers this - but we weren't able to test it since only registered users can use it.
Instant Deposits and Payouts
All types of crypto payment options are seemingly available on CoinGPT. As there are no KYC requirements, there are no bottlenecks to trading. Furthermore, multiple forms of payment options are available to make trades even easier. 24 hours is the maximum withdrawal time - apparently, and deposits are instant.
Cryptocurrencies are unregulated. Trading with unregulated brokers will not qualify for investor protection.
CoinGPT Account Fees
CoinGPT says that all the features it offers don't involve any costs. There is no mention of a commission on the official website, and neither is the mention of any deposit or withdrawal fee. Here is the breakdown of CoinGPT's fee structure:
| | |
| --- | --- |
| Commission | None |
| Deposits | None |
| Withdrawal | None |
| Subscription | None |
Minimum Deposit on CoinGPT
We couldn't find the minimum deposit requirement for CoinGPT. It is likely that things about the minimum deposit requirement will become clear once users start the signing-up process.
CoinGPT Compatible Devices
You can only access CoinGPT through a web application - which is responsive and shows full details on the following devices.
Laptops
Android Phones
Apple Phones
Tablets
Is CoinGPT a Scam or Legit?
After considering all the factors above, can we say CoinGPT is a scam or legitimate?
Unfortunately, the information available in that regard is light. No light has been shed on the win rate of the platform, and details around the minimum deposit requirements are also low. The same is the case with some of the other features of the site - including demo trading and customer support.
Another thing to point out is that third-party reviews of this site aren't many, and even they are vague when it comes to details. However, we did find some customer reviews that had mixed reactions about the responsiveness of the website. Some traders also confused it with a similar site BitGPT.
With these factors in mind, we consider it would be prudent for investors to assess the market and the tools they decide to trade with before beginning.
CoinGPT Customer Support
The official website claims a 24/7 customer support is available at all times. However, there was no link to the customer support contact number or Contact Us page on the home page. It is likely that the team will become available after people deposit the required amount.
How to Begin Trading with CoinGPT
After careful consideration, if you decide to stick with CoinGPT, follow the steps below to start trading.
Step 1: Visit the CoinGPT Website
The first step is to visit the official CoinGPT website and create an account. The process to do so is simple and only requires people to enter their names and phone number before getting started.
Step 2: Deposit the Minimum Amount
After account verification, you will likely receive a link that allows you to log in. But reviews say that all the features will only become available after you deposit the minimum amount. According to CoinGPT, debit/credit cards, e-wallets, and bank transfers can help you deposit the amount.
Step 3 - Start Trading on CoinGPT
Once you have funded your account, make a customization to the trading module or let it go with its default settings. The site says that all the profits generated will automatically fund your account. For more inform
How to Delete a CoinGPT Account?
The official website has not mentioned anywhere of the process of deleting the account. However, some third-party sites have claimed that contacting the customer support team will complete this process.
Does Jeff Bezos use CoinGPT?
Jeff Bezos is a billionaire and the founder of Amazon. Many believe that he uses platforms like CoinGPT to compound his profits. However, we did not find any evidence connecting him to CoinGPT.
Does Elon Musk use CoinGPT?
Elon Musk might be the biggest name in the crypto space thanks to his bullishness about Dogecoin's future. However, there are no records of him actively trading crypto anymore. His disdain for Bitcoin is well-documented due to environmental factors, and there is no evidence of him using any crypto trading platform such as CoinGPT.
Does Martin Lewis use CoinGPT?
Martin Lewis is a financial journalist who finds his name attached to many cryptocurrency projects - and most of them are false. CoinGPT is also not related to Martin Lewis in any way - as far as the evidence is concerned.
Who Created CoinGPT?
As we dived deep into the website to search for the makers, we couldn't find anything. There are no social media accounts discussing CoinGPT - and no third-party sites exist that truthfully tell us about the markers of CoinGPT. In the current age of transparency, this might be seen as a red flag. So investors are advised to ingest cautiously on CoiGPT.
CoinGPT Payment Methods
Here are payment methods that CoinGPT reportedly supports.
Debit Cards
Credit Cards
E-wallets
PayPal
The Verdict
We have covered all the basic aspects of CoinGPT and conclude that it doesn't provide us with enough information to give you the answer to whether it is a scam or legitimate.
The site's options work, and it is responsive across the board. But at the same time, its facilities aren't available for a trial run without a mandatory deposit. While this wouldn't have been an issue, information about the minimum mandatory deposit is also not readily available on the website.
No one on the internet is talking about it - other than a few third-party sites that are also low on information. Investors are therefore recommended to only trade on CoinGPT after thorough due diligence.
Readers interested in the applications of artificial intelligence in cryptocurrency may also be interested in our AI crypto coins article.
Cryptocurrencies are unregulated. Trading with unregulated brokers will not qualify for investor protection.
CoinGPT FAQs
What is CoinGPT?
CoinGPT is a crypto trading platform that says it wants to give the best trading experience to traders with all levels of experience. It claims to have a demo account, a low deposit requirement, and all the tools people need to trade successfully inside the volatile crypto market. But investors must do their own research before trying it out.
Does Elon Musk Endorse CoinGPT?
Nowhere is there a mention of Tesla CEO Elon Musk endorsing or using CoinGPT. Even the official website has no mention of it. Musk has commented on ChatGPT, OpenAI's artificial intelligence tool, but the two products are not related.
Who is the founder of CoinGPT?
No details are available on the members of CoinGPT. The official website has posted nothing and third-party websites are also mum about it. It is likely that the devs have chosen anonymity It is nothing new, but investors must still be mindful when they invest.
---