21 Best Crypto Signals Telegram Groups - Get Free Telegram Signals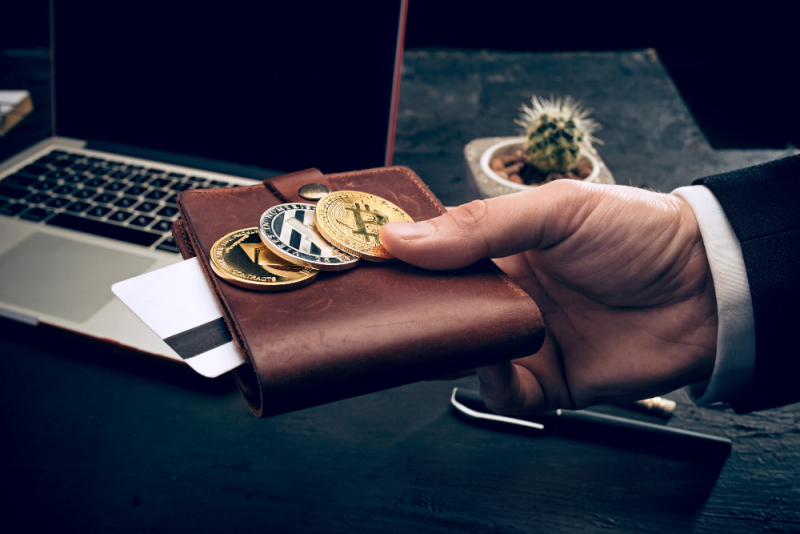 Disclaimer: The Industry Talk section features insights by crypto industry players and is not a part of the editorial content of Cryptonews.com.
Crypto signals can be a useful tool for traders across various experience levels. Signals indicate the right time to buy or sell a cryptocurrency - thus allowing traders to save hours of analysis and market research.
In this guide, we will explore the concept of crypto trading signals and explain how to use them. We will also review the best crypto signals platforms on the market - in terms of performance, accuracy, and fees.
Best Cryptocurrency Signals Telegram Groups Ranked
After scouring the market extensively, the list below highlights the most reliable cryptocurrency signals Telegram groups:
Jacob Crypto Bury - Best Signals Provider with a Huge Youtube Following
Bitcoin Bullets - Highly Accurate Signals for ByBit Traders
Wolf of Trading - Free Crypto Signals 2-3 Times per Week
Crypto Inner Circle - Beginner-friendly Crypto Signals with Strong Track Record
Binance Killers - Powerful Crypto Signals with Detailed Explanations
Wall Street Queen - Free Trading Signals from One of the Top Female Traders
Binance Signals - Altcoin Trading Signals Completely Free
CryptoSignals.org - Daily Crypto Signals with a Great Success Rate
Dash 2 Trade - Top Crypto Signals Provider with Automated Trading
Learn2Trade - Established Crypto Telegram Group With Daily Alerts
Rekt Capital - Offers A wide Array of Macro Research and Technical analysis on Crypto
FatPigSignals - Free Crypto Signals Provider With Clear Trading Results
WOLFX Signals - Crypto Intraday Trading Signals
MYC Signals - Crypto Signals With Various Trading Strategies
2Moon - Popular Crypto Signals Provider for Binance Exchange
AltSignals - Crypto Signals for Bitcoin Futures
CoinSignals - Trading Signals Based on Artificial Intelligence
Crypto Signals Guru - Top Crypto Signals Provider for Altcoins
Zignaly - Crypto Signal Provider With Copy Trading
Signals Blue - Best Crypto Signals Provider For Auto Trading
4C Trading - Crypto Signals Platform With Smart Bot Trading
With so many options on the market, it can be cumbersome in deciding which crypto trading signals to use.
As such, we suggest reading our comprehensive reviews to help choose a suitable provider.
Best Crypto Signals Providers Reviewed
When searching for top crypto signals, it is important to consider how the provider arrives at their trading decisions.
After all, not all providers offer the same signals, and nor do they use the same tactics. This makes it paramount to research a crypto trading signals provider before following its suggestions.
Below, we take a closer look at the best crypto signals providers and explain how investors can use them to gain an edge in this market.
1. Jacob Crypto Bury - Best Signals Provider with a Huge Social Media Presence
Jacob Crypto Bury is undoubtedly one of the best crypto signals platforms that investors can rely on at the moment. While there are several reasons for making this claim, his massive social media presence - especially on Youtube - is the most important one.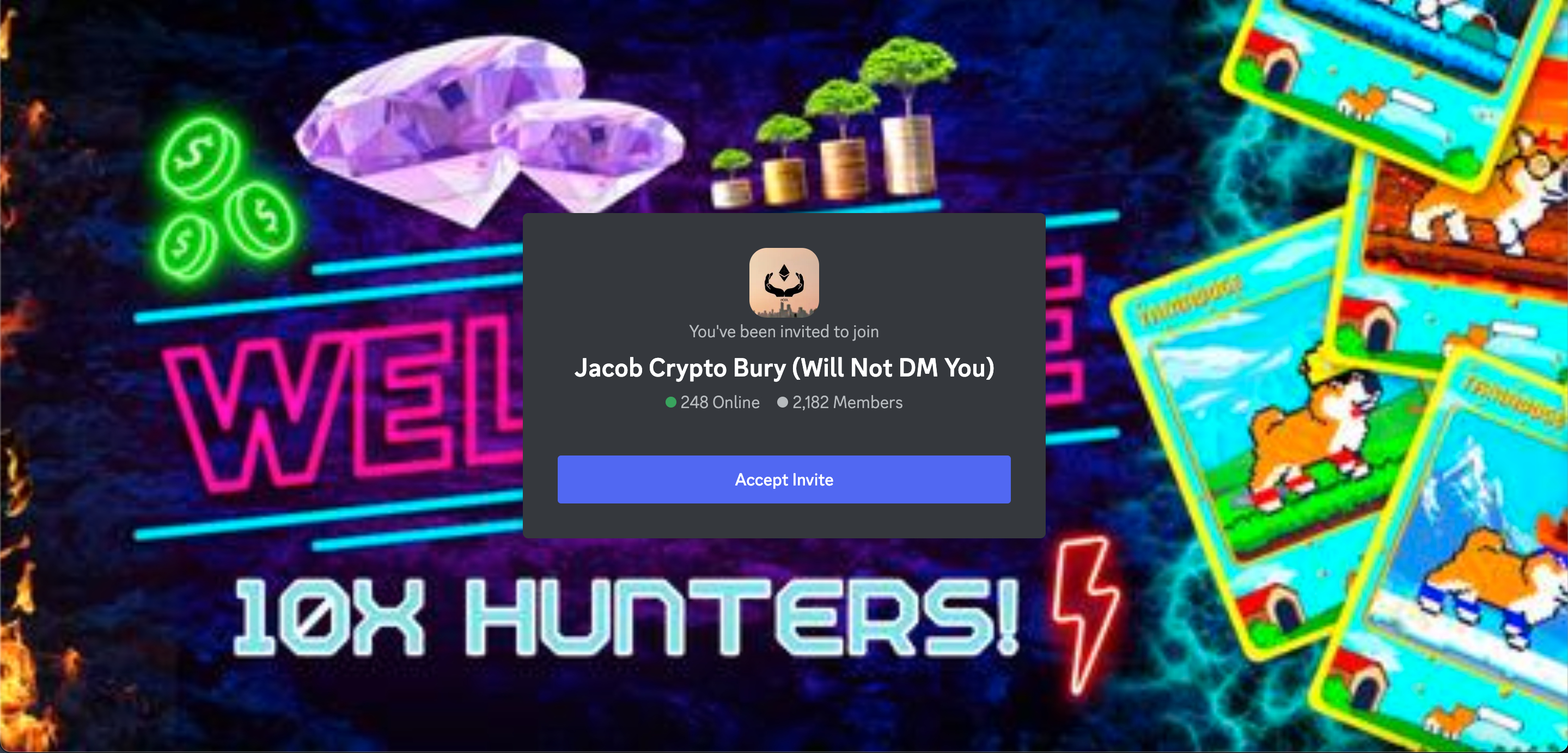 Unlike a majority of signals alternatives with unknown members or individuals, Jacob Bury is a real person who has appeared in almost every video on his youtube channel. This itself is an advantage, as the members of his community know exactly whose signals they are following. It is important to know that Jacob has a team of experienced professionals too, who are often involved in giving out signals and other important investment secrets within his community.
However, Jacob Crypto Bury doesn't have a Telegram channel. Instead of using Telegram, Jacob shares his strategies and signals on Discord, which is a better alternative and provides a comparatively better avenue for socializing with other crypto traders.
The discord channel is extremely easy to navigate and has been categorized in a way that even beginners can understand. He provides free crypto signals along with VIP signals for paid members.
The track record of his Discord channel when it comes to returns has been surprisingly high. Some of his recent signals were $SPONGE and $OSEAN that both did over a 20x.
He is active with on the channel and often posts the returns on his previous calls regularly, for example a recent short signal on OGN.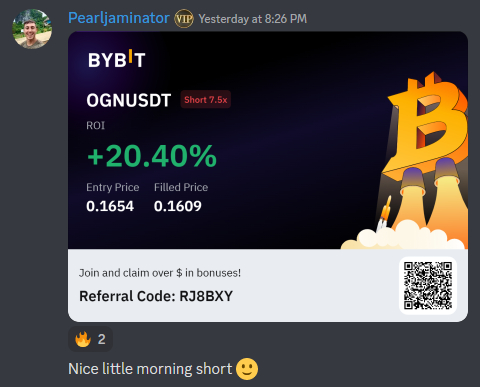 There are multiple other components within his discord channel too, which can be leveraged by investors to earn great profits. Despite being a fairly new addition to his social media and crypto community, the Jacob Crypto Bury channel has now amassed a community of more than 2,000 members.
As with all crypto signals platforms, beware of imposters - site admins will never direct message (DM) you first.
Jacob's newest project picks include a soon-to-list meme coin called Wall Street Memes ($WSM) and a utility token named Bitcoin BSC ($BTCBSC).
Since its Initial Coin Offering two months ago, Wall Street Memes has secured over $25 million in presale, showing strong community backing.
The brains behind this project are no strangers to the crypto world. They previously introduced the Wall St Bulls NFT series, which was completely bought out within half an hour of its launch on Ethereum.
Moreover, their recent Bitcoin Ordinals NFT collection also trended, amplifying their social media reach to over a million followers.
The $WSM token presale offers half the platform's maximum supply of 2 billion tokens without any lock-in period.
The remaining 50% is set aside as follows: 30% for community incentives and 20% to ensure liquidity on centralized and decentralized exchanges (CEX and DEX).
This project's lack of team allocation in the token distribution makes this project particularly trustworthy. This decentralizes ownership, drastically lowering the odds of a malicious 'rug pull' scenario.
Furthermore, Bitcoin BSC is another trending new Bitcoin-inspired staking token on Jacob's signals list. It operates on the Binance Smart Chain (BSC) and complies with BEP-20 token standards.
Bitcoin BSC introduces a staking mechanism, allowing users to earn passive income by holding and staking their coins in a smart contract. This utility aims to provide price stability and is considered Bitcoin BSC's key strategy for success.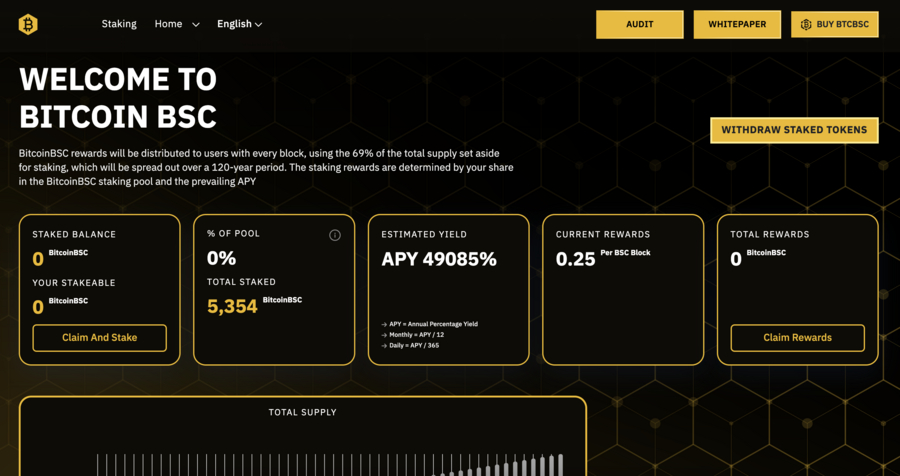 The coin is structured to offer rewards over 120 years, in sync with Bitcoin block confirmations. 69% of the total token supply is allocated for staking rewards, which are disbursed every 10 minutes as new blocks are added to the chain.
Built on the more scalable and cost-efficient Binance Smart Chain, Bitcoin BSC offers lower transaction fees and faster speeds than its competitors, positioning it as an attractive option for users.
2. Bitcoin Bullets - Highly Accurate Signals for ByBit Traders
Bitcoin Bullets is a popular and highly accurate crypto trading signals service on Telegram. It's run by a tight-knit group of traders spread across Europe, all of whom have deep experience in the crypto market.
Bitcoin Bullets provides a ton of information to help traders get the most out of the service and beat the crypto market. At the beginning of each trading day, traders receive a rundown with all of the key information they need to know. This includes how the market as a whole is setting up, what trader sentiment is like, and what trading opportunities are on the horizon.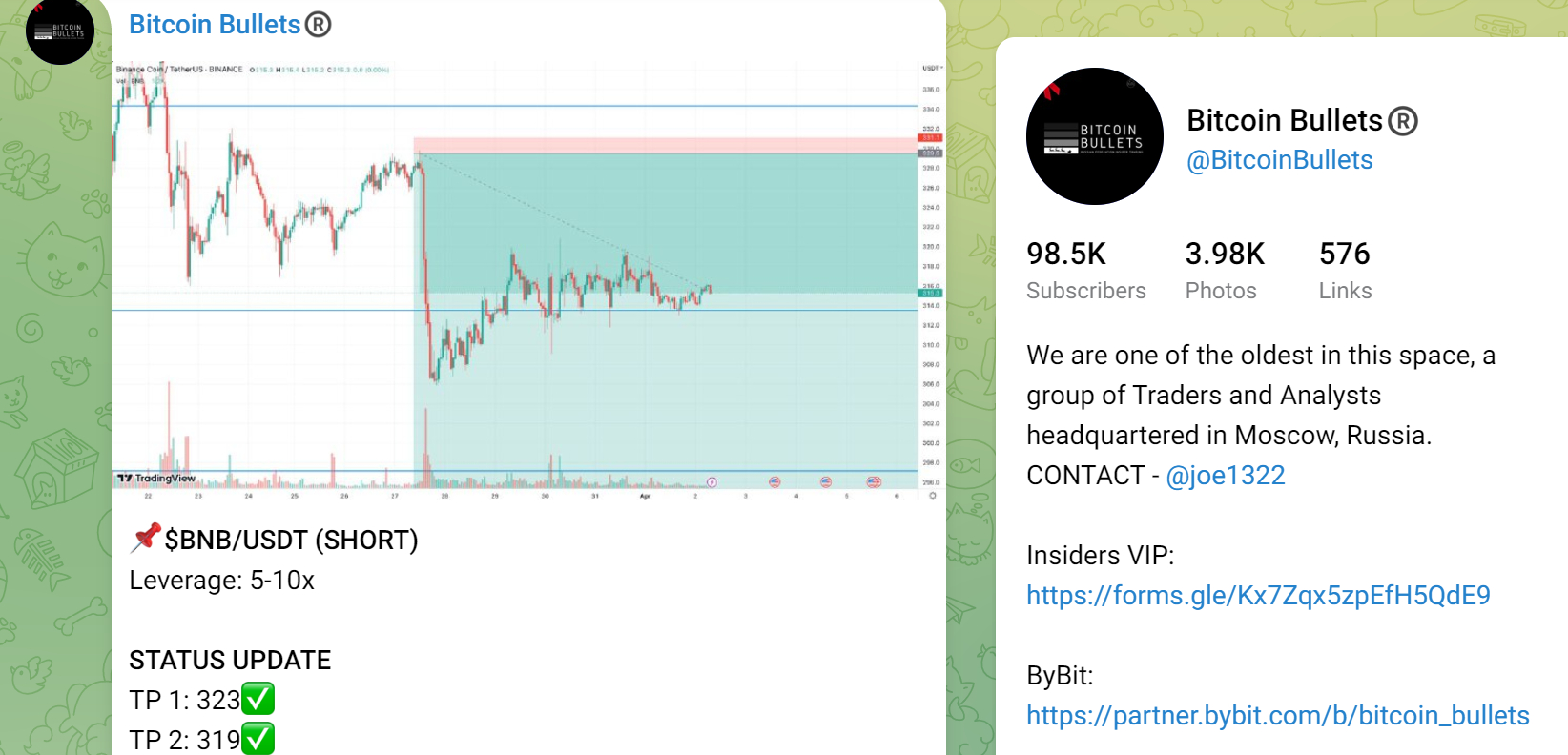 During the trading day, Bitcoin Bullets offers 1-2 trading signals as well as updates on open trades. The team also sends updates about crypto-related news that could result in new trading opportunities.
Bitcoin Bullets signals are designed with ByBit's leveraged crypto contracts in mind, but they can be used on Binance as well as other popular crypto exchanges. The service has an overall accuracy of more than 95%, although we haven't verified this claimed win rate.
The only drawback we could find to Bitcoin Bullets is that the signals don't always come with a lot of explanation. There are technical charts, but the trading team might not explain the exact pattern they're looking at or why it matters. Still, for traders who want signals rather than education, there's a lot to like about this service.
3. Wolf of Trading - Free Crypto Signals 2-3 Times per Week
Wolf of Trading is one of the best free crypto signals platforms to join today. The service issues 2-3 signals per week on Telegram at absolutely no cost to traders. While Wolf of Trading doesn't keep track of its overall win rate, a quick look back at recent trades reveals that the majority of them have been profitable.
Wolf of Trading mainly focuses on BTC and ETH trading, although the service occasionally issues signals for other altcoins. Every signal comes with an annotated chart and a minimum of 3 successive price targets for the trade. Signals also include an entry price and stop loss, which makes them easy to automate.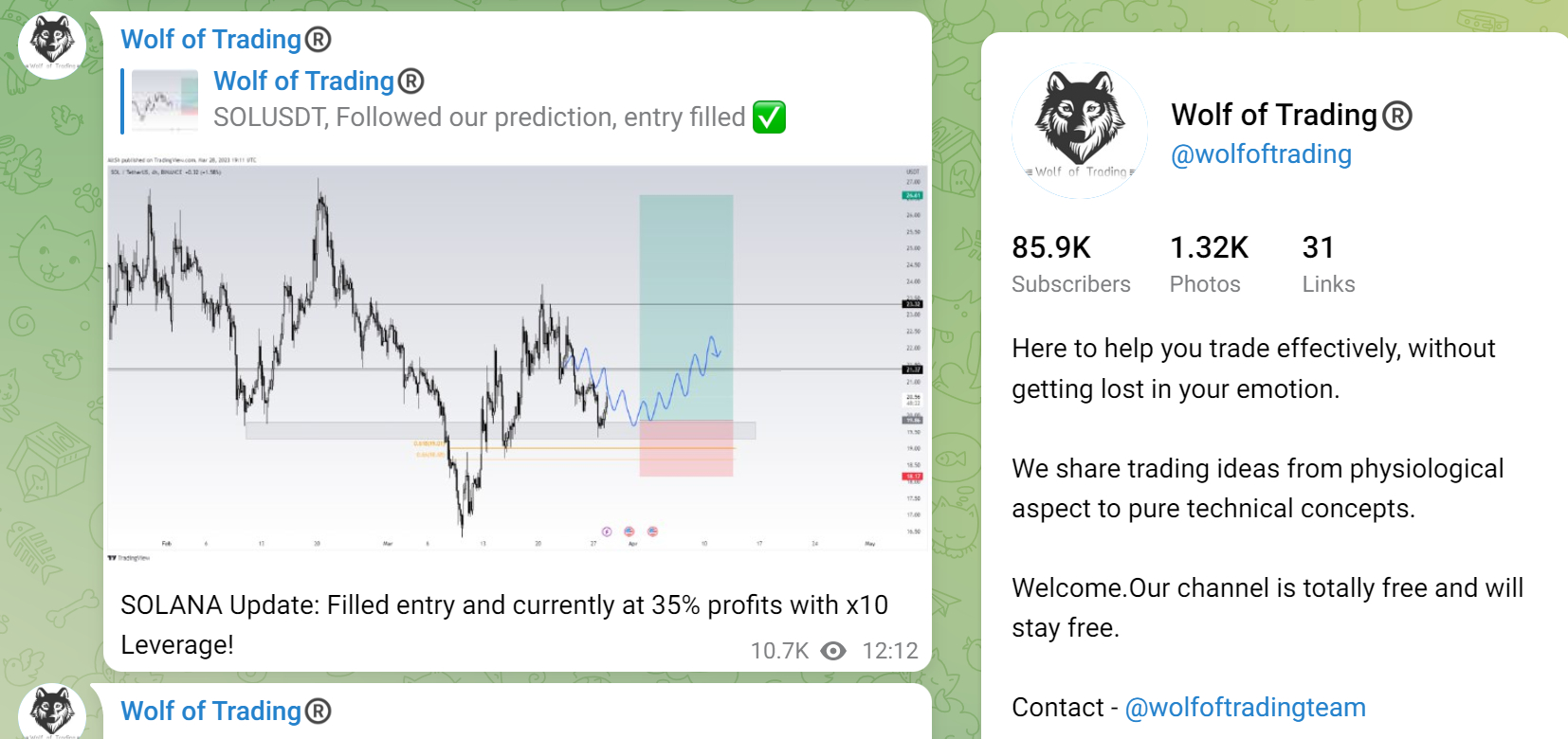 Wolf of Trading also posts a fear/greed indicator each day. Sometimes this can be difficult to interpret, and the traders behind this service aren't always great at educating followers. However, for traders who know how to make use of these extra indicators, that's just more value the service is providing for free.
Overall, there's a lot to like about Wolf of Trading - and the fact that it's free means there's little risk for traders who want to check it out and play around with the signals in a demo account.
4. Crypto Inner Circle - Beginner-friendly Crypto Signals with Strong Track Record
Crypto Inner Circle is another established and popular crypto signals service with a strong track record. The VIP signals group on Telegram has a verified win rate of 92%, which is incredibly good. The traders behind this service clearly know what it takes to get an edge in the crypto market.
Crypto Inner Circle delivers 1-2 signals per day for its VIP subscribers. That's enough frequency to keep traders busy, but not so many signals that they become overwhelming. The traders behind this service do a great job of only releasing the very best signals.

Every signal comes with an annotated chart and an explanation of the setup that the signal is targeting. Signals include 6-7 price targets along with an entry price and stop loss, so traders can develop a really resilient risk management plan going into each trade. Trades range from short-term to long-term, and each signal indicates the expected timeframe of the trade.
Crypto Inner Circle mostly focuses on BTC and ETH. However, the traders behind the service do occasionally post signals about new altcoins that are experiencing relatively big run-ups.
New traders can check out Crypto Inner Circle's free channel for a preview of the signals, but most of the action happens in the VIP Telegram channel. This costs $175 per month or $850 for life. The lifetime subscription option is quite inexpensive for traders with large accounts, especially given this service's win rate.
5. Binance Killers - Powerful Crypto Signals with Detailed Explanations
Binance Killers is an outstanding crypto signals service on Telegram. The team of traders behind this service is well-versed in technical analysis and they seem to have a sixth sense for when a coin is about to pop.
One of the great things about Binance Killers is that the service is transparent about its trade results. The service has a lifetime win rate of nearly 95%, and traders can look back at all of the trades ever signaled. In March 2023 alone, Binance Killers won 42 out of 45 trades and generated a return of more than 5,000% for traders who followed the service's signals.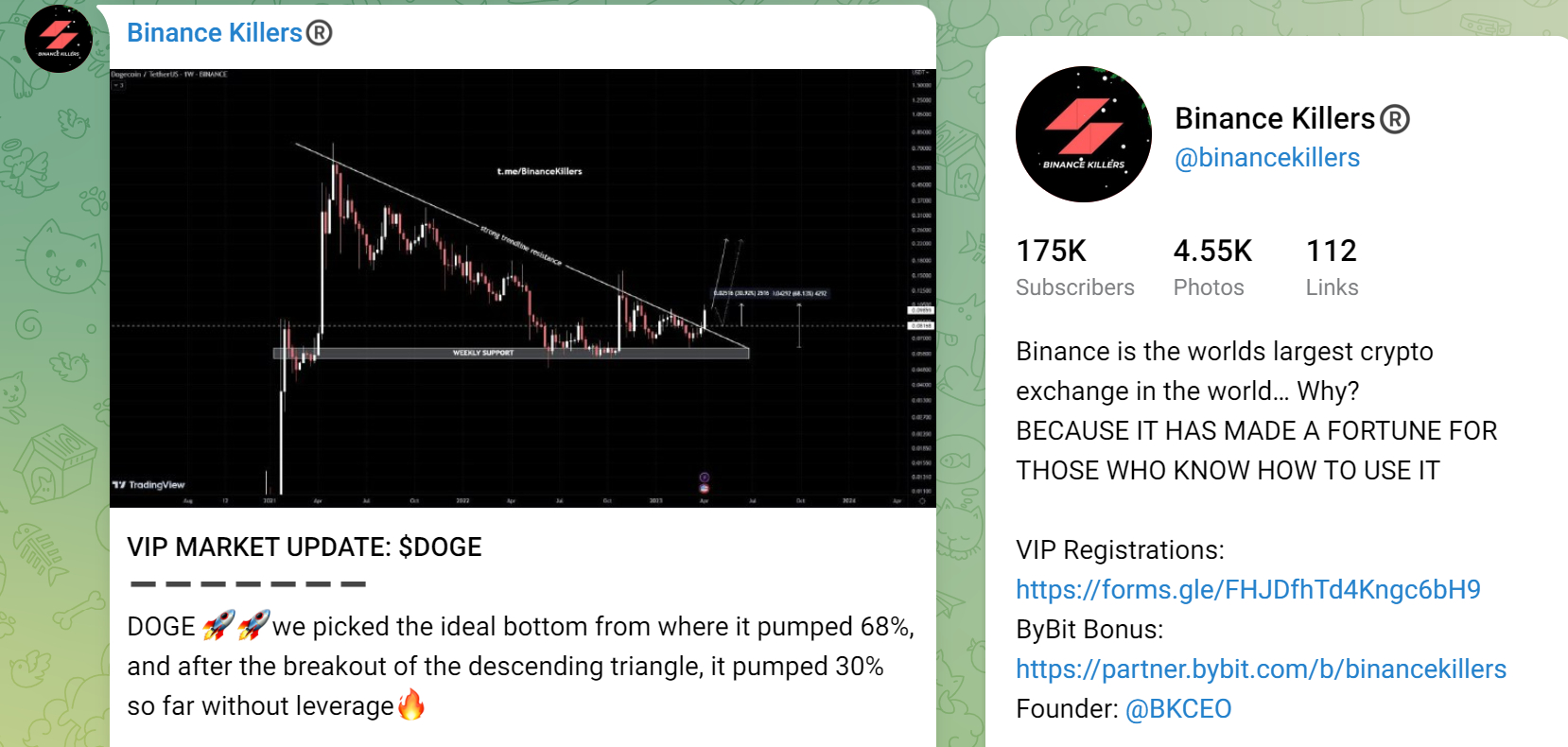 VIP subscribers receive 1-2 signals per day, most of which are focused on altcoins. The signals are designed to trade leveraged derivatives on Binance, but most can also work for spot trading with another exchange. Users who want to try out Binance Killers before subscribing can check out the service's free Telegram channel, which posts 1-3 signals per week.
Another benefit to Binance Killers is that every signal is explained in detail. Traders who are new to the crypto market or to using crypto signals can learn a lot about how to trade just by reading the signal explanations.
6. Wall Street Queen - Free Trading Signals from One of the Top Female Traders
Wall Street Queen is run by one of the most successful female crypto traders in the market today. She clearly has deep insights into technical setups and proven strategies for earning consistent profits from crypto trading.
On her Telegram channel, Wall Street Queen posts extremely detailed signals. The charts are not just annotated, but truly filled with detail that sets them apart from what other signals services offer. In addition, each signal is accompanied by text explaining what the setup is, why it's worth trading, and what to expect during the trade.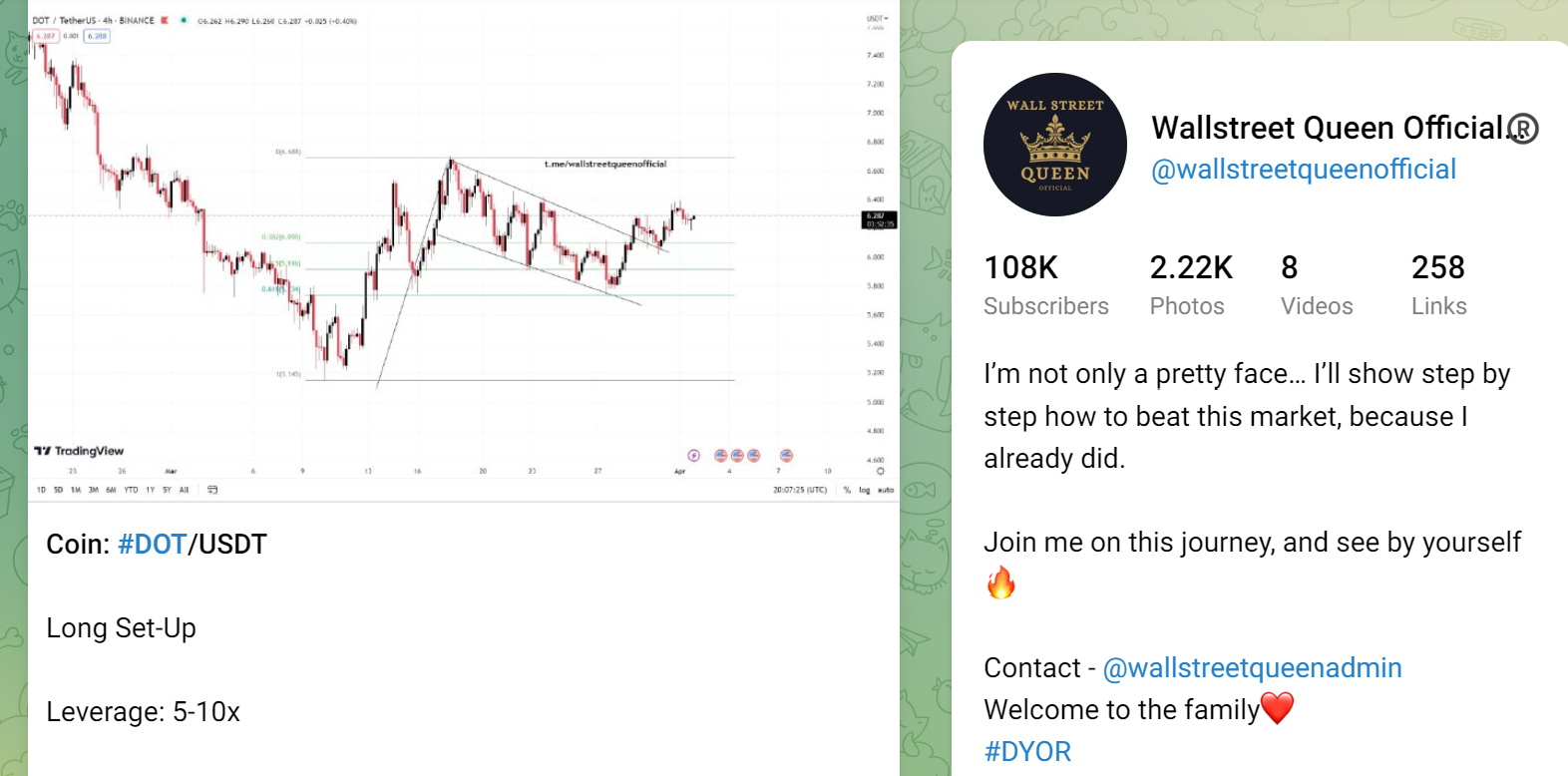 This level of detail makes a huge difference, especially for new traders who are new to crypto trading. It also makes it easier to develop good risk management strategies around every trade. Most signals come with up to 7 price targets to lock in profits and a clear timeframe for when to close the trade.
Wall Street Queen boasts an accuracy rate of more than 90%, although we haven't verified this. At least once a month, she posts high-potential trades that traders can put a significant chunk of their portfolio into to juice their potential gains. These signals have high confidence and often elevated price targets compared to typical signals.
7. Binance Signals - Altcoin Trading Signals Completely Free
Binance Signals is a free crypto signals Telegram channel that's perfect for first-time traders. Signals cover a very wide variety of tokens, including majors like BTC and ETH as well as volatile altcoins like DOGE, BNB, IOTA, AVAX, and more.
The range of tokens means that traders will never want for opportunities. The service posts free crypto trading signals multiple times per week. Each signal comes with an annotated chart and an explanation of the setup. The signals also note the exact time, in hours, that the trade should take to fully play out.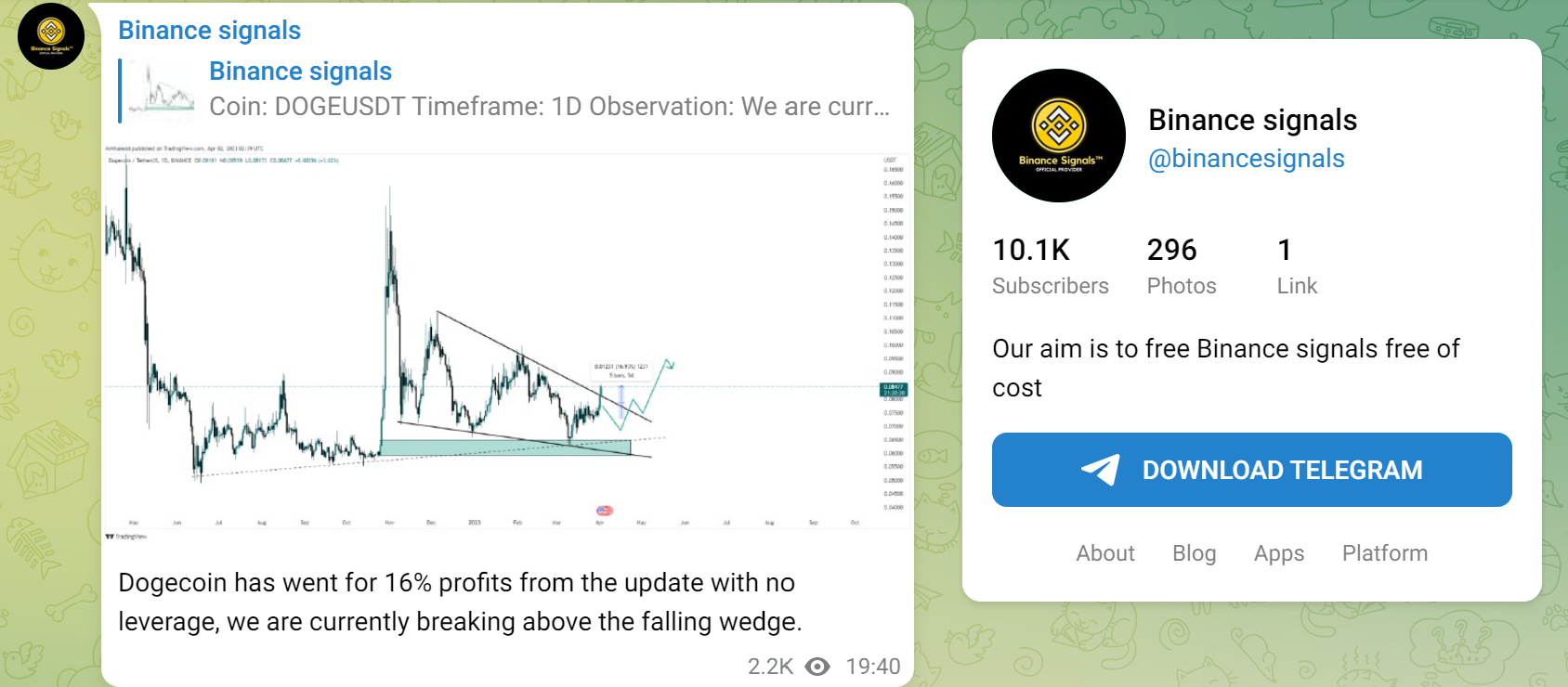 One unusual aspect of Binance Signals is that the signals themselves are not as detailed as traders might expect. They typically include price targets, but not necessarily an entry or stop loss price. The format of the signals is also usually a paragraph of text rather than a bullet point list of prices. So, it can be difficult for traders to automate execution of these signals.
While this can be frustrating, it's difficult to complain much about getting high-quality crypto signals at no cost. The signals we've seen are quite accurate and play out exactly according to the expectations of the traders behind this service.
8. CryptoSignals.org - Daily Crypto Signals with a Great Success Rate
CryptoSignals.org is the brainchild of highly experienced and professional crypto traders. The platform combines technical indicators, AI algorithms, as well as fundamental research to deliver crypto signals to its users. These signals can be assessed in real-time via dedicated Telegram groups.
As of writing, CryptoSignals.org offers signals for Bitcoin, Ethereum, Binance Coin, Cardano, Chainlink, Polkadot, and Ripple. Each of its signals comes with a detailed technical analysis of why the team is suggesting a particular trade. This allows crypto investors an opportunity to learn how to convert analysis into independent trading decisions.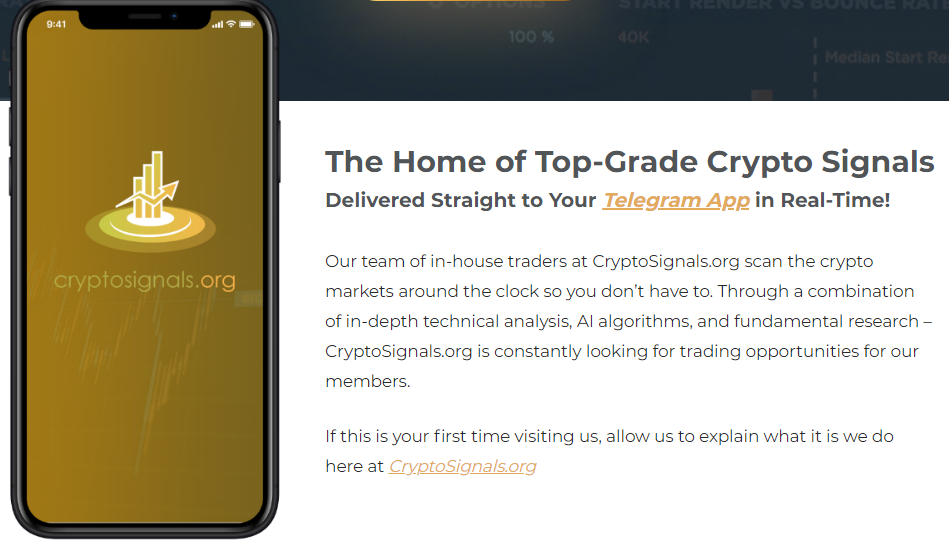 Moreover, the signals also include entry and exit information - such as the suggested take-profit and stop-loss price targets. CryptoSignals.org also makes it a point to state the risk-reward ratio of its signals. This ensures that traders are aware of the risk involved and thus - action should only be taken if the suggestion aligns with their strategy.
According to the CryptoSignals.org website, its trading signals come with a stated success rate of 82%. This provider offers both free and paid crypto signals. On the free crypto Telegram group, users can get up to three signals per week.
On the other hand, by choosing the premier option, VIP users will receive two to three signals per day. Access to this VIP Telegram group comes at a monthly fee of £42 (around $47). There are also quarterly, bi-annual, or annual plans, each of which comes with a significant discount.
Furthermore, CryptoSignals.org offers a 30-day money-back guarantee - which means that traders can try the signals for a month without making a long-term commitment. In addition to its crypto signals, this provider also sends regular market updates.
9. Dash 2 Trade - Top Crypto Signals Provider with Automated Trading
Dash 2 Trade (D2T) is a new cryptocurrency and among the best crypto signals platforms currently in development.
This best crypto auto trading platform aims to demystify trading via the creation of an all-encompassing crypto signals group - the native D2T token enjoyed a hugely successful presale, raising more than $15 million, and is now listed to trade on various exchanges.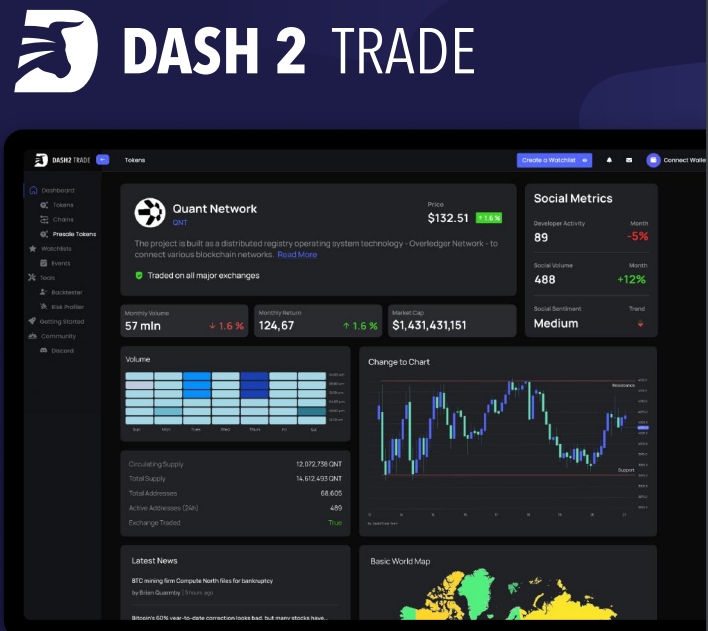 In contrast to the majority of crypto signal providers, which commonly exist only as a Telegram group, Dash 2 Trade will create a platform containing a diverse range of features that traders can use to elevate their strategies, expand their knowledge, and improve profits.
The Dash 2 Trade platform comes with a plethora of the best crypto tools. Dash 2 Trade provides its users with a series of social indicators that track buyer sentiment and mentions of a project on social media, an on-chain analytics monitor that tracks trends, and an alerts system that provides exchange listing alerts to help users capitalize on these profitable events.
On top of its analytical capabilities, traders and investors can utilize a variety of tools including a backtesting platform that helps people develop strategies, a customizable auto trading API that integrates effortlessly with various brokers, and even a range of technical indicators included directly on the Dash 2 Trade platform.
There are also trading signals to highlight buying and selling opportunities.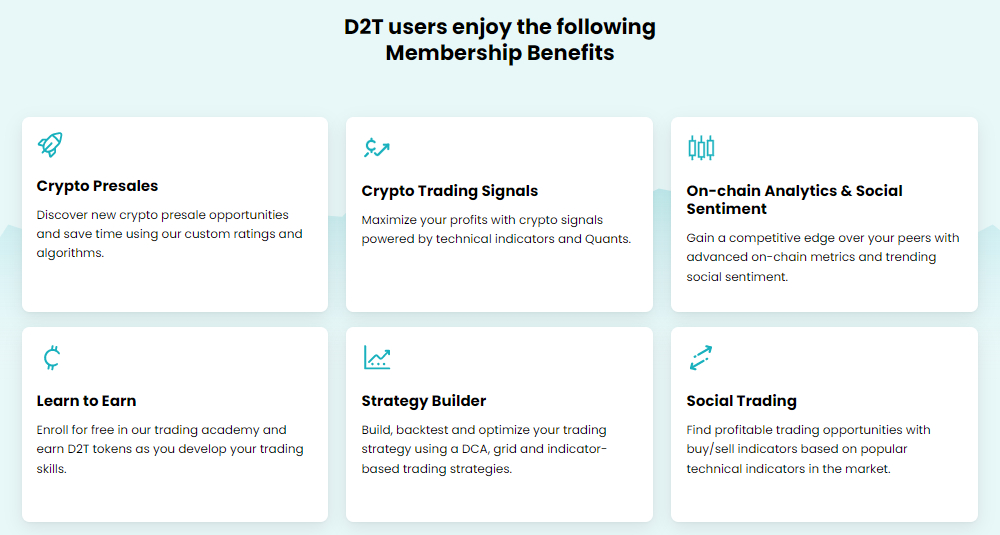 One of its main features is the Dash Score, a bespoke crypto presale rating project. Dash 2 Trade's experts will comb through new projects, providing scores out of 100 based on a variety of criteria including the product, tokenomics and developers so that users can invest in the best projects with confidence and avoid scams.
As highlighted in the Dash 2 Trade whitepaper, In place of reoccurring fiat payments, users can access the Dash 2 Trade platform using the D2T token for a subscription. There are three different tiers on the platform:
Free - The basic plan lets users explore and get a feel for the platform while accusing market/social metrics.
Starter (400 D2T monthly) - The starter plan will offer access to on-chain data, automated trading tools, the strategy/backtesting platform, and a members-only Discord group.
Premium (1,000 D2T monthly or 9,600 DT2 yearly) - The premium tier is for traders that want only the best. It provides access to every Dash 2 Trade feature as well as exclusive giveaways and premium-only Discord channels.
Powering Dash 2 Trade is the ERC-20-based D2T token. It features a 1 billion token maximum supply, zero tax on transactions, and provides access to the Dash 2 Trade platform.
The project boasts a fully doxed team that has been verified by Coinsniper, and a smart contract that has been audited by SolidProof, highlighting Dash 2 Trade's commitment to transparency.
Overall, Dash 2 Trade is a massively exciting project that is likely to unseat established crypto signals groups thanks to its treasure trove of information and wealth of exquisitely crafted features.
D2T tokens are currently available to buy on a number of exchanges, including Gate.io, Changelly and Uniswap, among others. Join the Dash 2 Trade Telegram group to stay informed with any updates.
10. Learn2Trade - Established Crypto Telegram Group With Daily Alerts
Learn2Trade is another platform well-known for its crypto trading signals. This provider has a huge community of over 70,000 members. Learn2Trade claims to offer trading signals that have a success rate of 76%.
Like CryptoSignals.org, this platform also provides both free and paid signals. The paid option offers users up to five trading signals per day, along with the entry, take-profit, and stop-loss price levels. These VIP signals will also include details of the risk-reward ratio specifications as well as the suggested amount to trade.
The free Telegram group on Learn2Trade offers up to three signals per week. That said, regardless of the plan, Learn2Trade users will receive real-time alerts on crypto technical analysis and economic events. The platform also regularly hosts weekly webinars that offer further insight into the crypto market.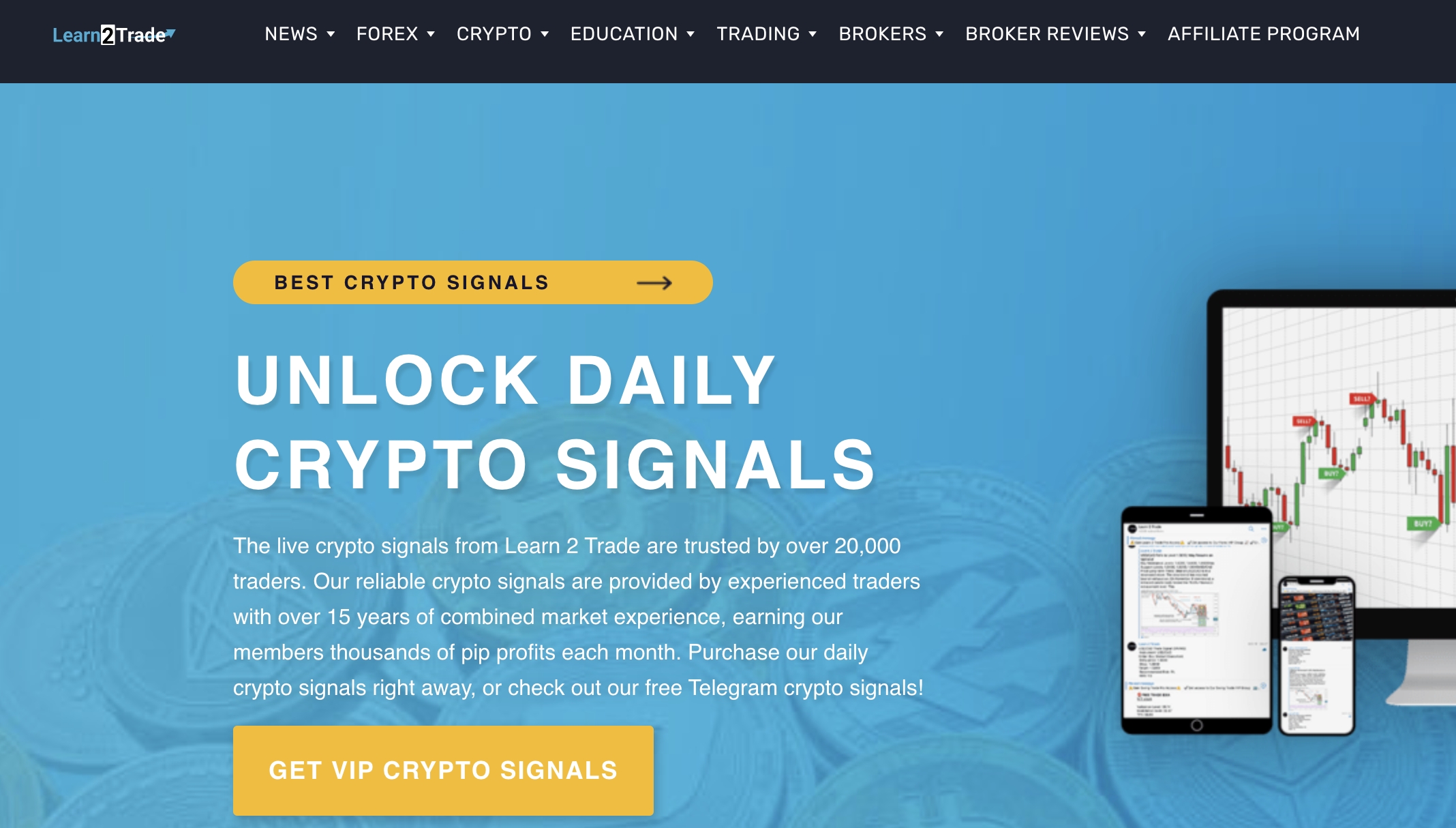 When it comes to VIP signals, Learn2Trade offers four different plans. Traders can choose between one, three, and six-month plans, or an annual subscription for the greatest discount. The monthly plan comes at the cost of £40 - which is about $45 as of writing.
Did you know that you can pair crypto signals with the best crypto trading bots to fully automate the investment process?
Interestingly, Learn2Trade - which also has a four-star rating on TrustPilot - offers courses on crypto and forex trading, which can be purchased directly from the website. It's worth noting that this provider offers forex trading signals that are available at the same price.
However, forex traders also have an additional option to join an exclusive swing trading Telegram group, with signals that claim a success rate of 84%.
11. Rekt Capital - Offers A wide Array of Macro Research and Technical analysis on Crypto
Rekt Capital is one of the leading crypto analysts active in the space right now, sharing macro research, commentary, and technical analysis related to cryptocurrencies.
Rekt Capital features a lot of perks that those looking for daily signals would want; one of them is the newsletter. Subscribing to the newsletter will give you access to deep technical analysis of multiple cryptocurrency traders. The newsletter is also a great way to teach traders about the ins and outs of cryptocurrencies.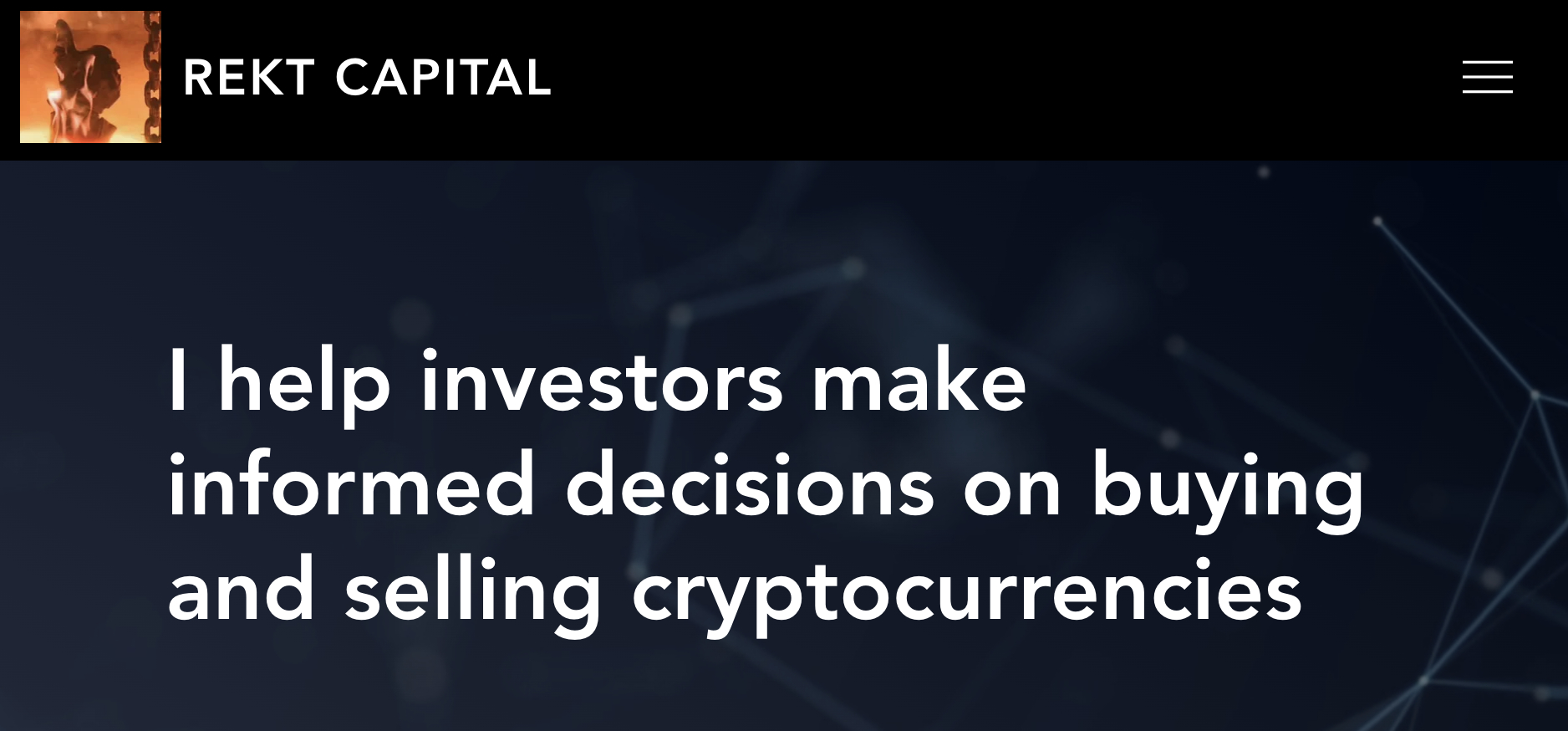 Rekt Capital also provides a deeper dive into crypto signals via its deep-dive videos that cover data science-based market indicators for Bitcoin and altcoins, risk-on and risk-off strategies for altcoins trading and investing, and also reasonable price predictions based on unbiased principles of Technical Analysis.
Along with crypto signals, you can access a plethora of crypto courses on the platform, and the leading courses provided at press time are.
Altcoins trading course
Bitcoin Trading Course
Technical analysis trading course
Risk Management Trading Course
Rekt Capital is the go-to place for you if you are not only looking for crypto signals, but also ways to act on them properly to gain the most out of the market.
The fee model implemented on this platform differentiates depending on what you want to buy. But if you want to get access to all that Rekt Capital has to offer - at least as far as the courses are concerned - you can buy Rekt Capital Masterclass at $599.
While it seems steep, know that this amount will give you a lifetime access to video tutorials and other courses - suitable if you want to become a serious trader.
12. FatPigSignals - Free Crypto Signals Provider With Clear Trading Results
FatPigSignals was set up in 2016 by a group of self-proclaimed crypto enthusiasts. In 2017, this team launched its YouTube channel, offering valuable market insight to the crypto community. Following the success of its channel, the platform began delivering crypto trading signals through its Telegram group.
Today, the FatPigSignals Telegram group has more than 50,000 subscribers. Its free Telegram channel offers up to two signals per week, but this only includes basic details - specifically, the pair, the take-profit target, and the period to hold the position open.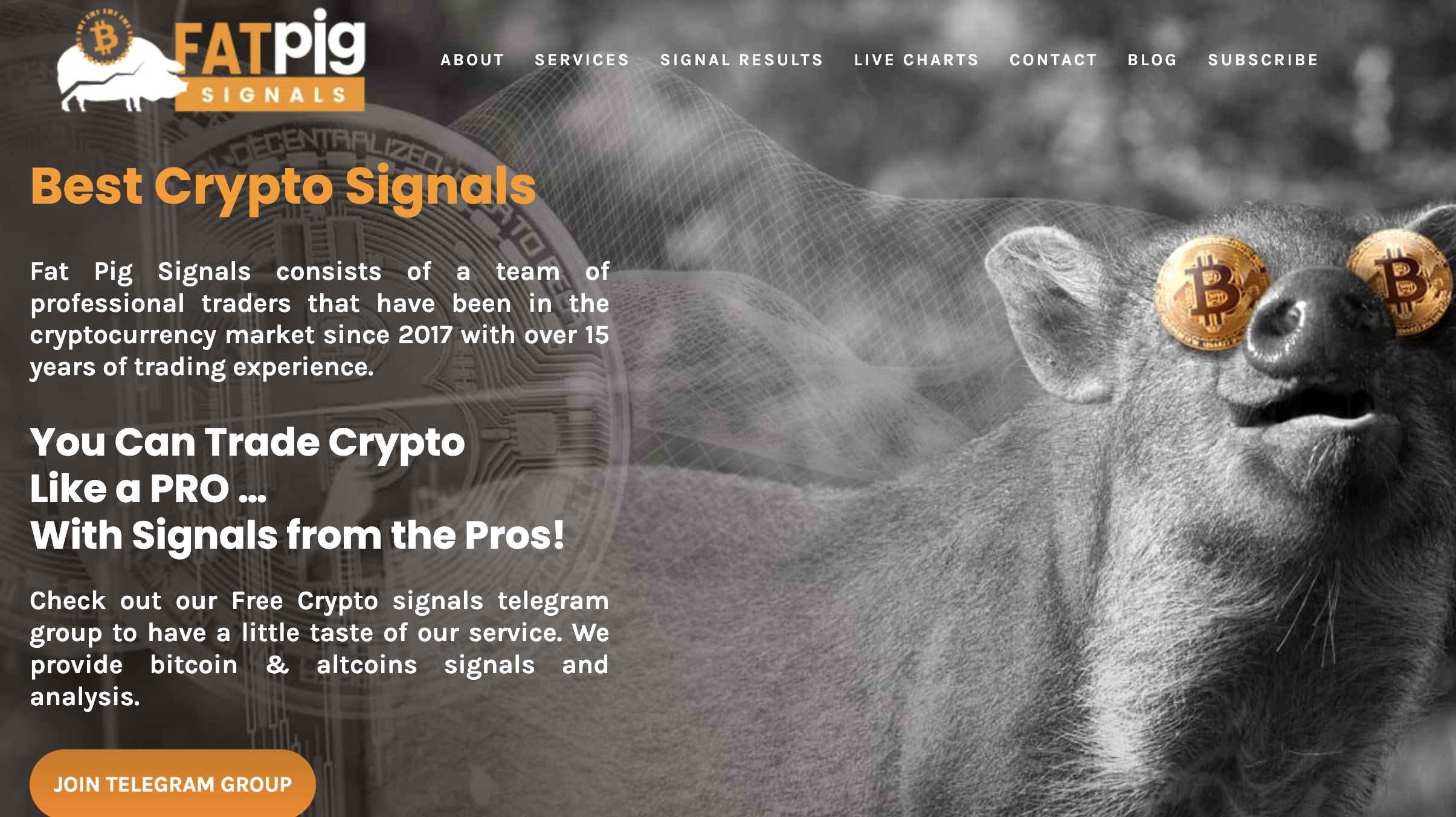 The VIP service offers detailed trading signals alongside market analysis and yield-farming recommendations. As a paid subscriber, users will also receive project reviews and recommendations, along with assistance with crypto portfolio composition.
To verify the result of its signals, the platform publishes how its trading alerts have performed in the past - which attests to its credibility.
All that being said, FatPigSignals might not be accessible to everyone. It is an expensive service that charges $740 for a three-month subscription. An annual membership will cost $1,850 - which be too expensive for those on a budget.
13. WOLFX Signals - Crypto Intraday Trading Signals
WOLFX Signals is one of the best paid crypto signals providers for short-term traders. Its VIP program claims to deliver signals with a 90% success rate. Users will receive two to five signals per day, along with risk management advice.
What differentiates WOLFX Signals from other providers is that it suggests three take-profit price levels. This offers further flexibility for traders to pick a target that is most preferable to their risk appetite.
Moreover, WOLFX Signals offers signals on a wide variety of crypto markets - which includes Bitcoin and several popular altcoins.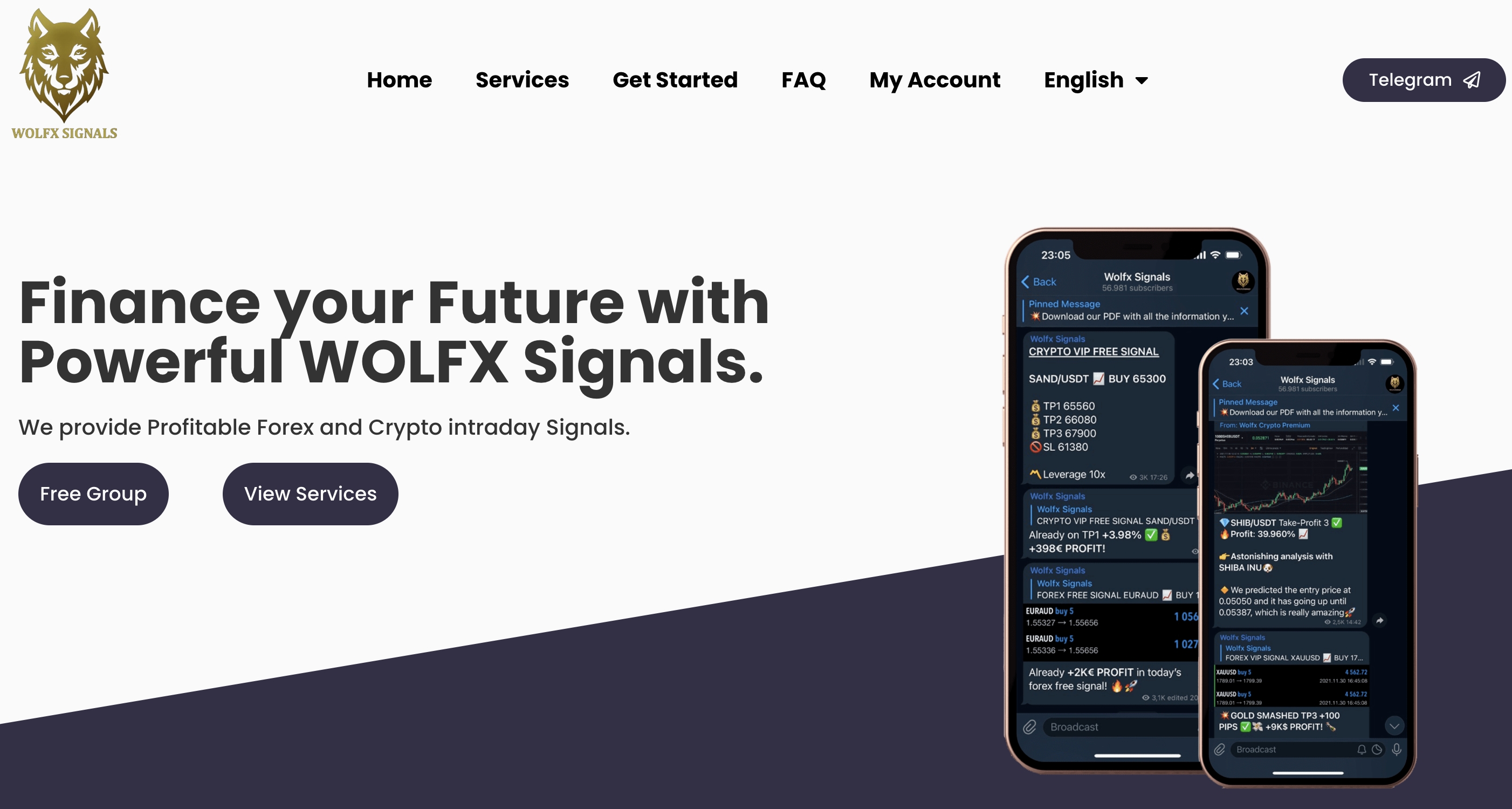 Additionally, VIP clients also have the option to set up an auto trading plan based on WOLFX's suggestions. The signal provider has partnered with Cornix, a reputed auto trading platform, in order to facilitate this. Like the other providers discussed thus far, WOLFX also offers a free Telegram group.
To get started, crypto traders can choose between a one-month, three-month, or lifetime plan. There are also options based on whether users are looking to trade crypto spot or futures markets. The monthly price for a crypto spot/futures plan is $149, whereas a lifetime subscription comes at $279.
14. MYC Signals - Crypto Signals With Various Trading Strategies
With more than 30,000 community members, MYC Signals is another provider widely used by crypto traders. It offers trading signals for Bitcoin, altcoins, and, importantly, crypto futures. With MYC Signals, users are able to pick a paid plan based on their strategy.
For instance, there is a basic plan that is best suited for beginners, offering trading signals for unleveraged, long positions on Bitcoin. However, this subscription model only sends one to two signals per week.
Then, there is the BTC/altcoin Telegram group that caters to swing traders. This option sends three to five signals each week.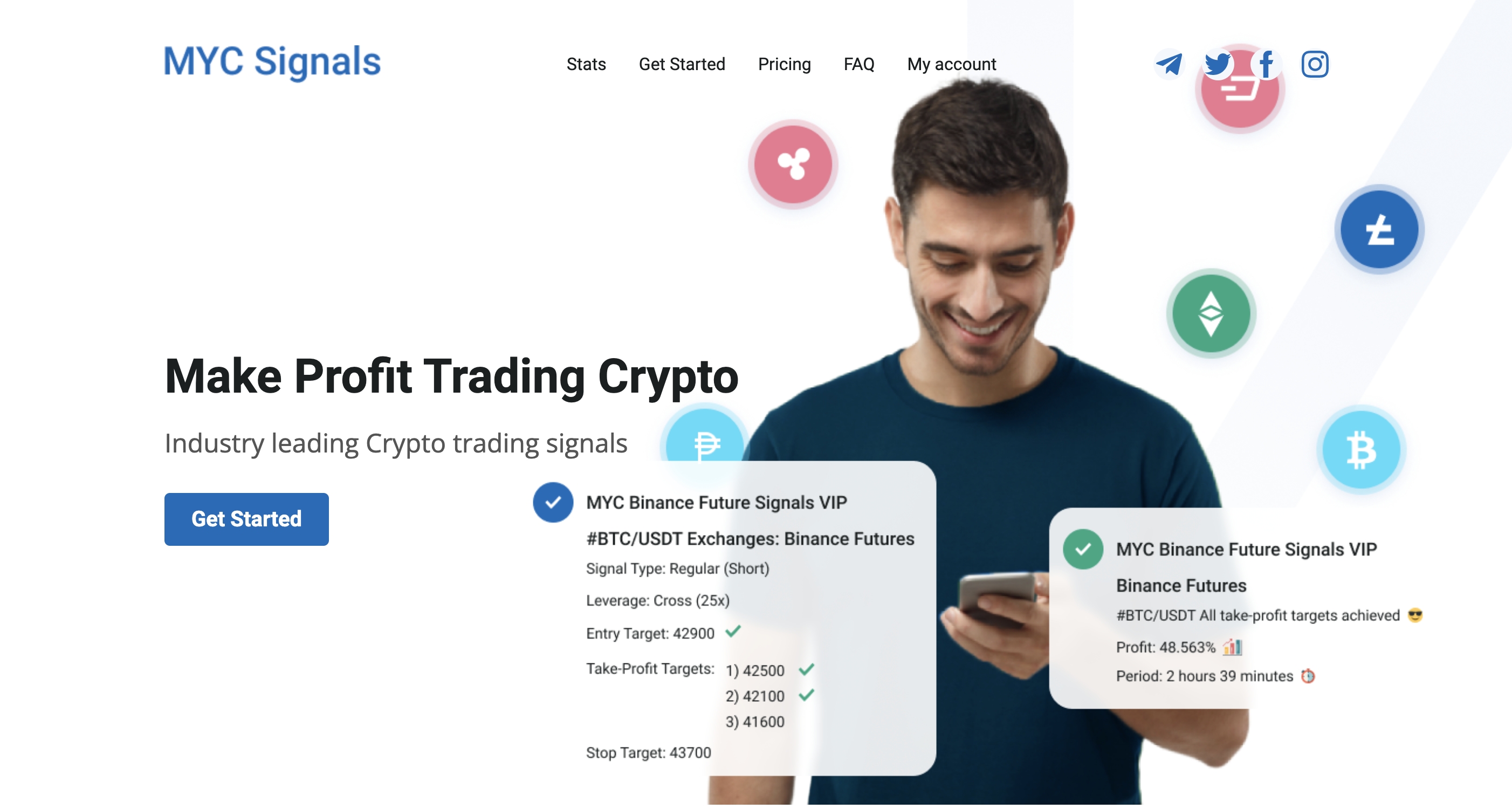 MYC also offers signals for crypto futures, which are ideal for intermediate and advanced day traders. These positions can also be leveraged. The price for the basic beginner plan starts at $60 a month.
Alternatively, traders can also choose a single plan that covers signals for all supported strategies combined. However, this package has a monthly price of $225. Furthermore, this provider does not offer free crypto signals or any trial package.
What are Crypto Signals?
The crypto market is open 24/7, around the clock. This means that if investors are not alert at all times, they might miss out on a potentially profitable trading opportunity or, worse, end up facing losses on existing positions.
However, not every trader will have the time to analyze market conditions or know how to use the information at hand in order to arrive at investment decisions. While some investors choose to search for the best cryptos to buy via Reddit others prefer crypto signals.
In simple terms, crypto signals are a set of instructions that suggests when to buy or sell a digital asset with the aim of generating a profit. Signals should also provide entry and exit information, such as at what price to open a position and when to close it to limit potential losses.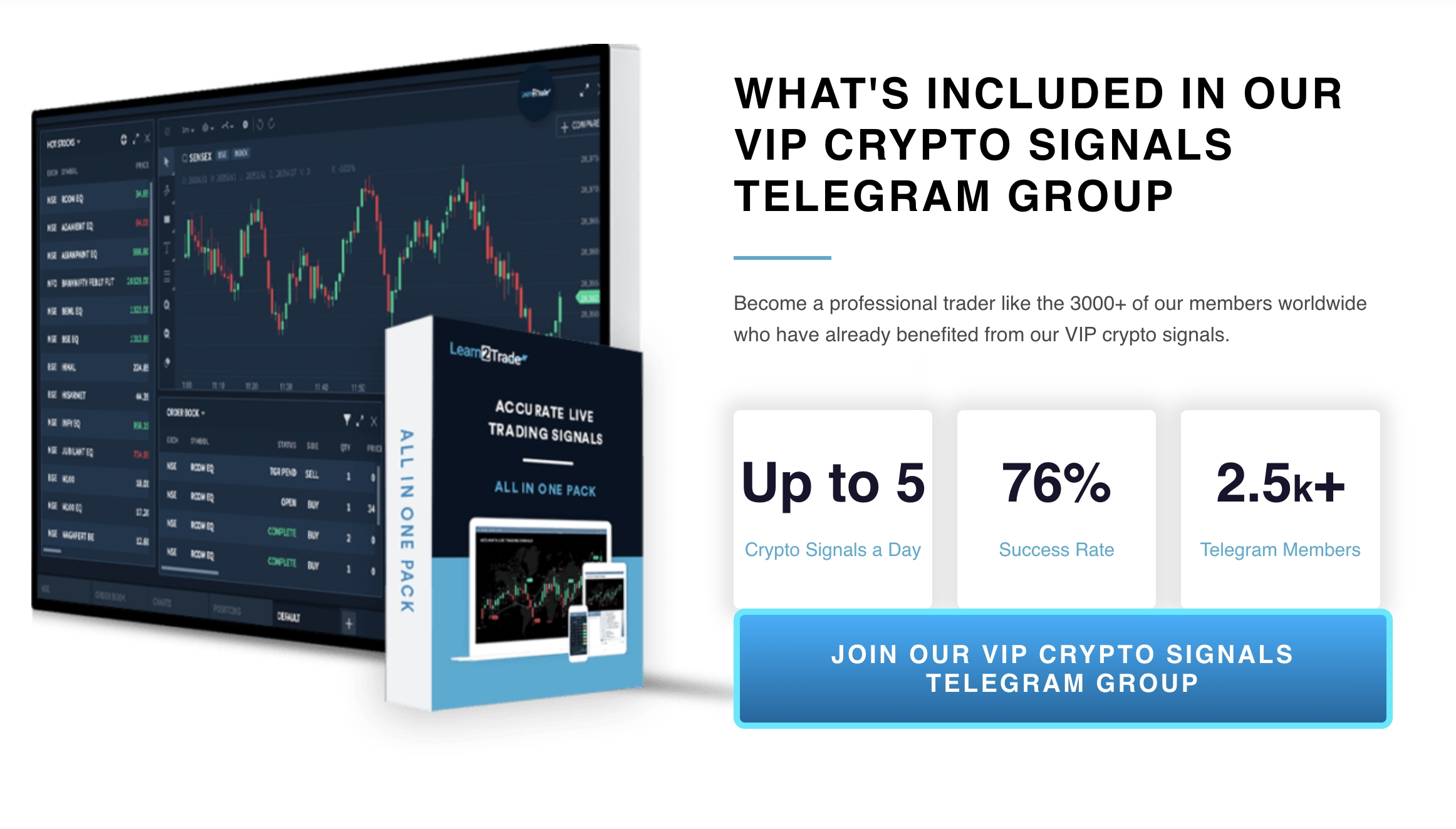 Crypto signals can make trading uncomplicated and time-effective, especially for inexperienced investors who are on the hunt for new cryptos to add to their portfolios. By relying on a third-party provider's signals, a crypto trader can eliminate emotional involvement in their decision-making. Instead, they can simply follow the signal to set up a trade.
That being said, it would not be wise to follow a signal without doing any due diligence. For this reason, some providers offer detailed analyses along with their signals - which explains why they are sending a particular trading suggestion.
Regardless, the smarter approach would be to use crypto signals as a tool to base independent trading decisions.
How do Crypto Signals Work?
The best crypto signals are based on a combination of fundamental and technical analysis.
Signals are not mere estimates, however. On the contrary, in most cases, experienced traders evaluate the crypto market and use research-based indicators such as the MACD, RSI, and others to generate their signals.
That being said, there are also a growing number of crypto signals providers that rely on AI-based analysis to send alerts.
Regardless of the approach, most crypto trading signals are likely to look somewhat like this:
Instrument: COMP/USD
Trade: Sell
Entry price: $53.55
Stop: $56.64
Target: $26.50
Our risk setting: 1%
RRR: 1:10
This is an example of a 'sell signal'. Based on the market conditions, the provider might also send 'crypto buy signals'.
In addition to this, some providers, such as CryptoSignals.org, will also send supporting market analyses explaining why the signal was formulated.
As is clear, crypto signals offer plenty of information for the trader to take action on.
It tells the trader which crypto pair to choose, what type of strategy is suggested, the entry price, the stop-loss and take-profit target levels, and the risk setting.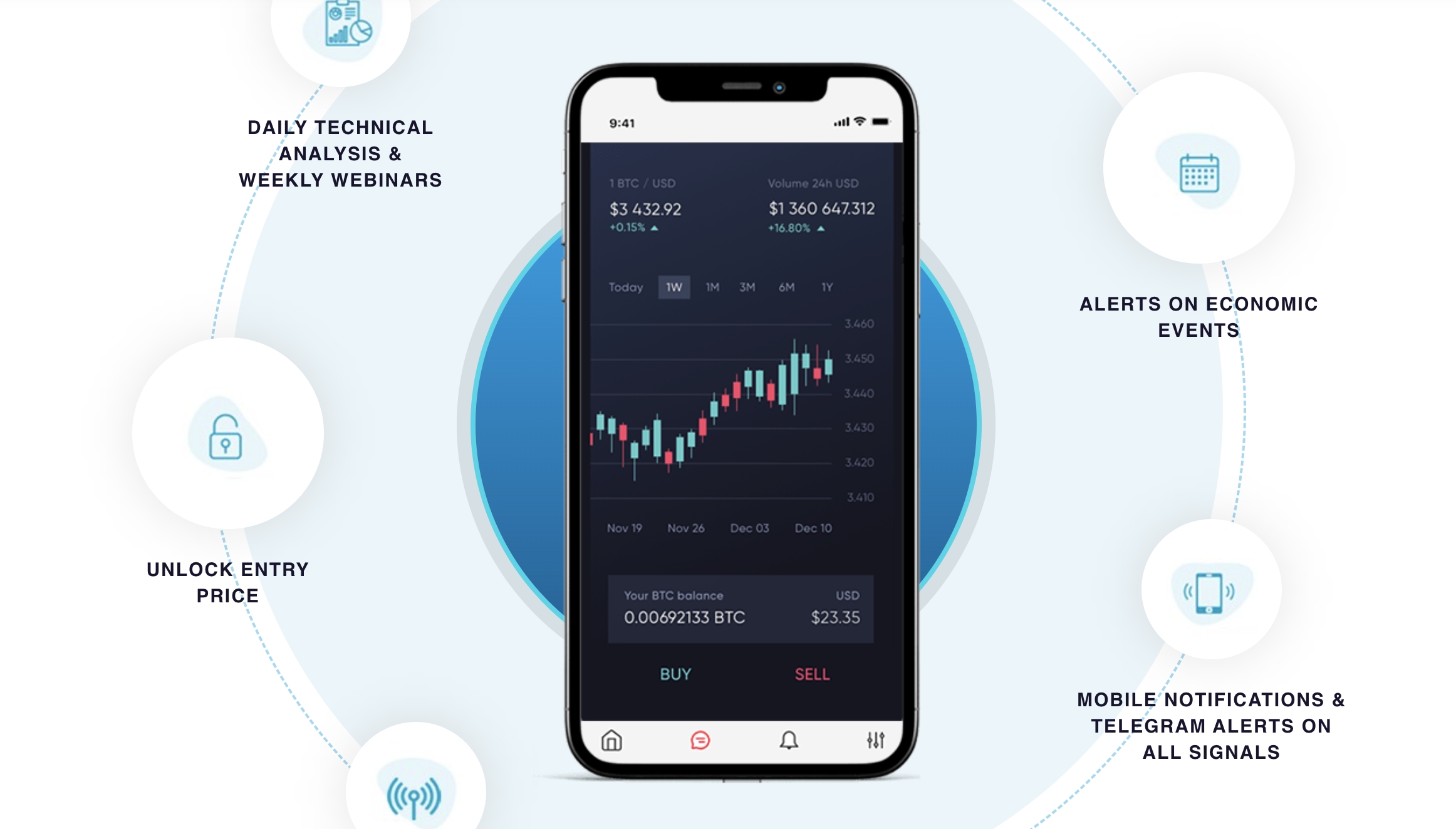 In other words, the trader can proceed to open a position without doing any research at all. However, traders can also choose to do their own due diligence before blindly following a crypto signal.
Bear in mind that it is ultimately the trader's choice to determine whether or not to open a position as per the signal provided. Traders will also have the option to adjust the take-profit or stop-loss limits as they see fit.
Crypto Signals Telegram Groups
As we mentioned above, the majority of the best crypto signals providers offer alerts via Telegram.
Telegram is one of the most popular messaging apps used in the crypto space. This is because it is extremely easy to set up and is effectively free of the censorship found on Big Tech platforms.
By signing up for a crypto signals Telegram group, traders will receive alerts directly to their device. Moreover, these will be sent in real-time so that traders can take action on the go.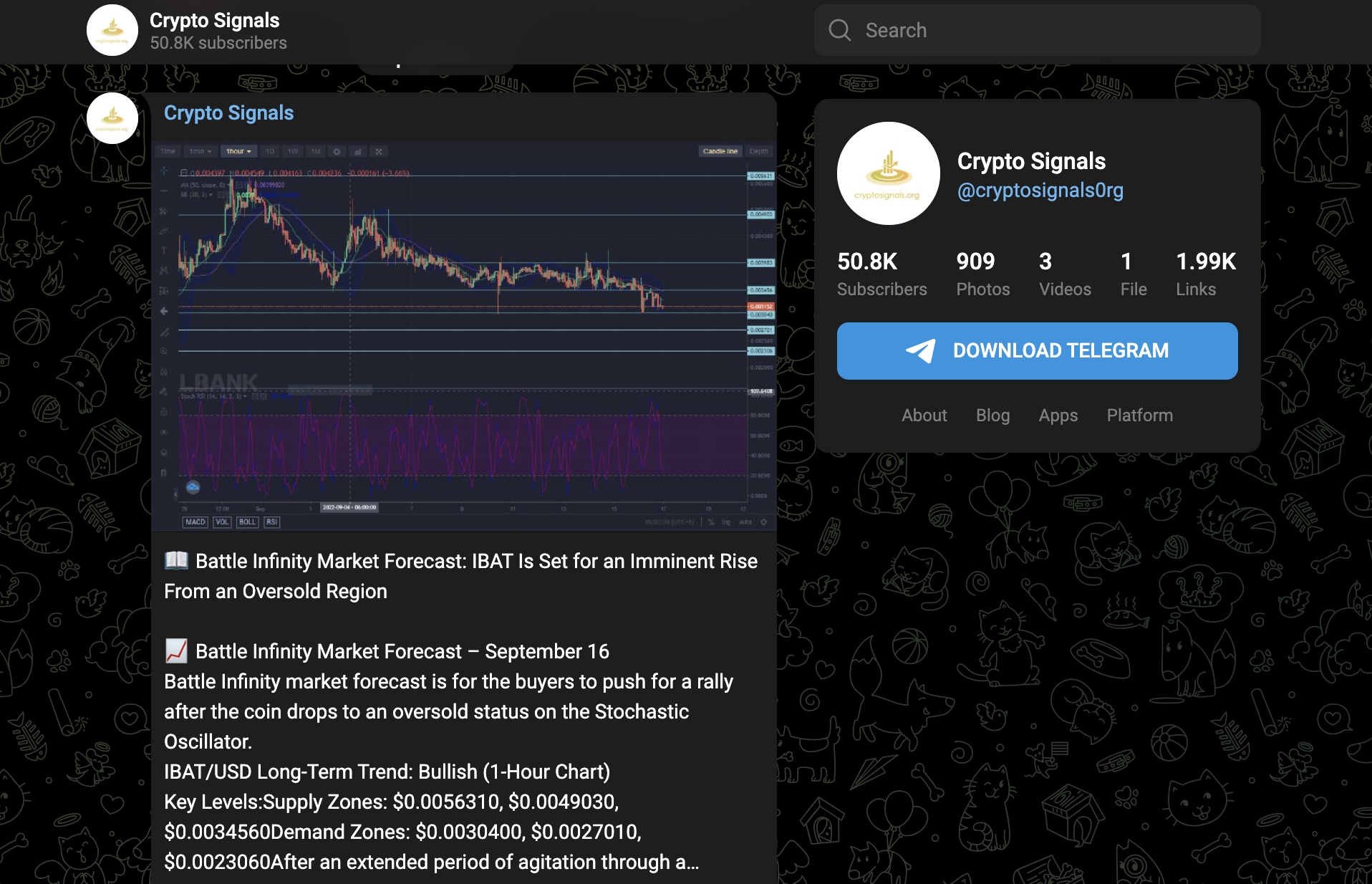 Telegram groups are not only accessible to paid members. On the contrary, some platforms also offer some of the best free crypto signals on the market via a dedicated Telegram channel.
This means that traders need not always spend money to gain access to crypto signals via Telegram. However, since Telegram provides its users with a relatively high degree of freedom, it is also a playground for scams.
There are several fake crypto Telegram groups offering falsified information to traders. As such, we stress that investors do their own research when choosing which groups to join.
How to Find the Best Crypto Trading Signals
Considering the amount of choice available, it can be a tedious task to find the best crypto trading signals providers.
Below, we have listed some factors that can help clear the mist.
Success Rate
The most important factor to explore when choosing a crypto signals provider is its success rate.
Many of the best crypto signals apps will display their success rate, i.e. past performance and ROI
In addition to this, top providers publish the performance of their suggested trades on their respective Telegram groups.
However, potential users might want to go a step further to go through the user reviews of their preferred signal providers.
Platforms such as TrustPilot feature crypto signals reviews from verified users. These can provide valuable insight into the credibility of the provider and the experience of current and past customers.
Number of Signals
Next, traders should assess the frequency of the signals offered. If a provider offers too few signals, then this means that traders will not be alerted about sufficient market opportunities.
On the other hand, a platform that sends too many signals should be consulted with caution, as this could indicate that the provider is reckless with their due diligence process.
Pricing
Those in the market for premium crypto signals will need to consider the cost of the service. Most signal providers offer a monthly paid plan for VIP Telegram groups.
Some platforms also offer bi-annual and annual subscription plans. Nevertheless, prices can vary widely from one provider to another.
For instance, on CryptoSignals.org, traders can access the premium Telegram group for around $47 a month, whereas on FatPingSignals, the same service comes to just under $250.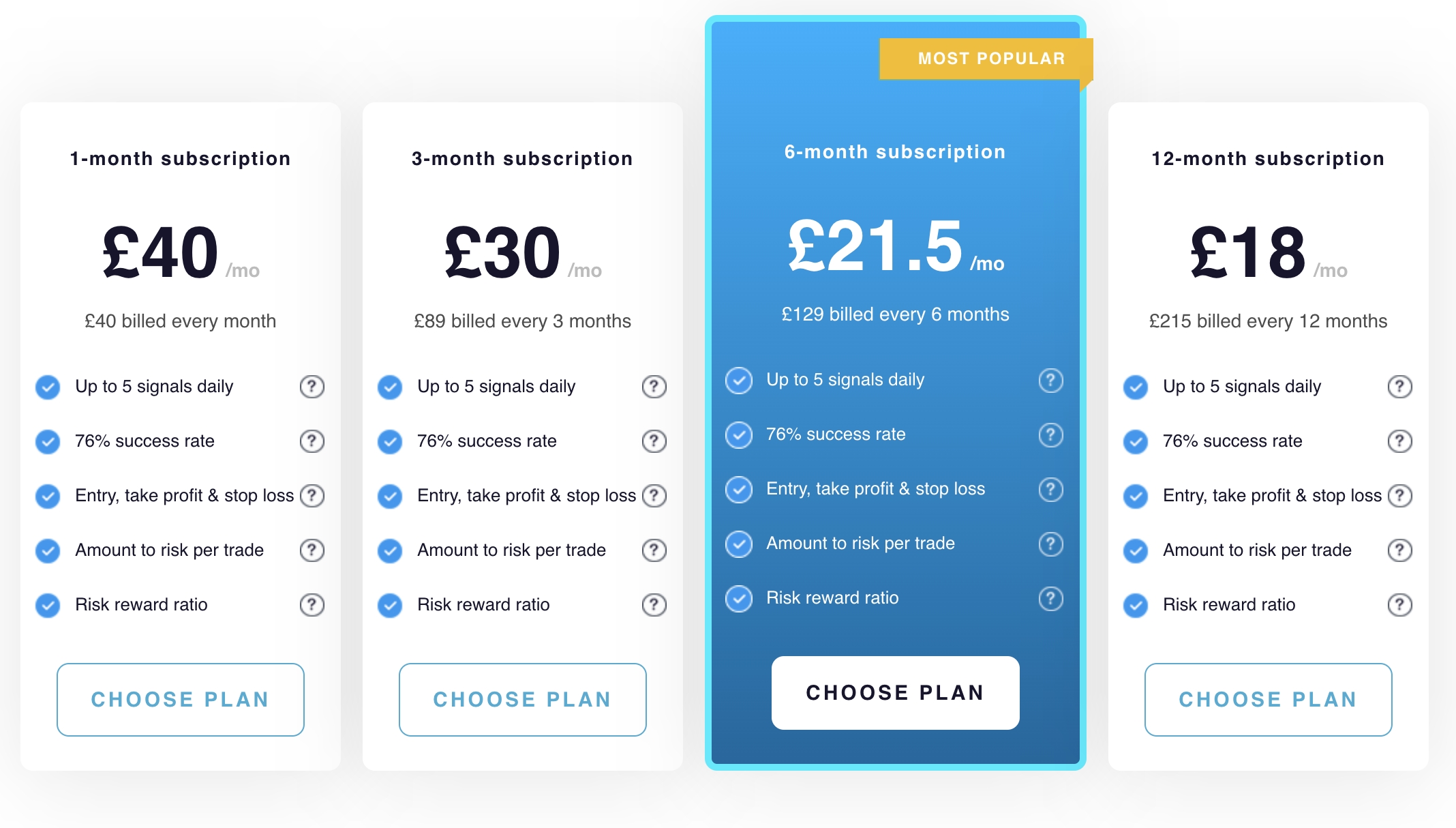 Furthermore, it would also be wise to opt for a provider that has a money-back guarantee, which will offer a chance for traders to cancel their subscription if the signals do not match their expectations.
Number of Members
Another factor that can shine a light on the credibility of a crypto signals provider is the strength of its community.
Crypto signals Telegram groups with a large number of members indicate that the service is widely used and relied on.
After all, if a provider was running a scam, there wouldn't be tens of thousands of members paying to access its trading signals.
Supported Trading Strategies
Traders should also pay attention to the types of strategies utilized by a crypto signal provider.
For instance, a trading signal that suggests an overnight position won't be suited for a scalper.
Similarly, a swing trader might not want to open a position based on an intra-day signal.
As such, traders should either choose a provider that is an expert in their preferred strategy or one that supports a wide variety of methods.
CryptoSignals.org is a platform that caters to swing, scalp, and day traders.
Free Crypto Signals
Since most of the best crypto signals providers support both paid and free Telegram groups, traders might be confused about which plan to opt for.
In the sections above, we covered the advantages of signing up for paid crypto signals. In this section, let us compare VIP plans against free Telegram groups.
Free vs Paid Signals
As noted, there are providers that offer both paid and free crypto signals. The main difference between these two options is often the number of signals provided.
For instance, many free Telegram groups offer traders up to three signals per week.
On the other hand, with a premium crypto signals Telegram group, users can access around three alerts per day.
This translates to about 15 crypto trading signals every week.
Similarly, some of the best paid crypto signals also include additional information - such as the risk-reward ratio and the amount to stake.
These crucial pieces of data can help traders open positions with calculated risk.
Best Free Signals
Although paid crypto signals are typically the best option to take, some crypto traders might prefer to sign up for a free crypto signals Telegram group.
After all, this would be the most practical way to assess the quality of signals before signing up for a longer subscription plan.
Dash 2 Trade, CryptoSignals.org, and Learn2Trade follow the same structure for both their free and paid signals.
This means that users will be offered information on not only the crypto pair but also the ideal entry/exit conditions.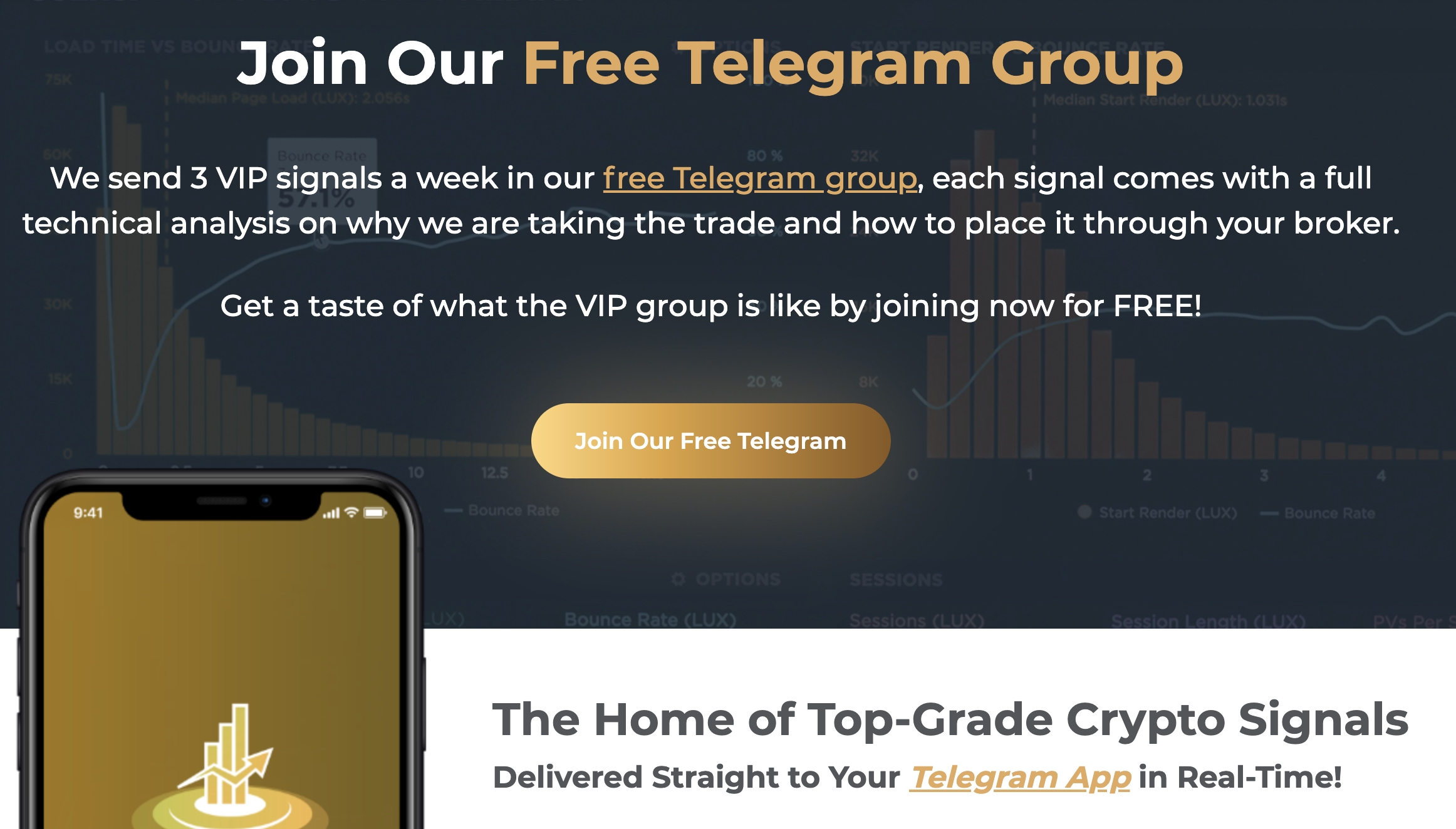 These providers even suggest how much a trader should risk and how much of a reward they can expect from the position - given that it follows through.
Moreover, platforms such as CryptoSignals.org offer paid crypto signals in addition to a money-back guarantee for the first 30 days - which makes it seamless for traders to opt out of the plan if necessary.
What is the Best Crypto Signals App?
After considering the different features as well as the pricing structure, our research team found that the Jacob Bury Discord, Dash 2 Trade, CryptoSignals.org, and Learn2Trade as the best crypto signals providers.
All of these platforms offer crypto signals that cover all necessary data for investors to place a risk-mitigated trade.
Moreover, the crypto buy and sell signals provided are also accompanied by extensive technical and market analysis.
In addition to this, these platforms do not charge exorbitant fees for their services and traders will also have the option to sign up for a free Telegram group or Discord channel to check out the signals before spending money on a paid plan.
Conclusion
When attempting to make financial gains in the crypto space, it is crucial to stay up to date about market conditions and price swings.
Crypto signals Telegram groups can help traders make investment decisions without having to watch over the market,
Providers such as Jacob Bury's Discord, CryptoSignals and Learn 2 Trade offer both free and paid subscriptions that provide real-time trading suggestions and detailed analysis that can help their users maximize their holdings and profits.
Join Jacob Crypto Bury Discord Now
FAQs
What are crypto signals Telegram groups?
Crypto signals Telegram groups offer trading ideas from experts. These signals include suggestions to buy or sell a particular digital asset at a specific price. Some platforms also include information on the target price levels. In simple terms, there is no requirement to conduct market research in order to trade crypto. Instead, traders can simply refer to crypto signals.
What is the best crypto signals provider?
Based on our research, we found CryptoSignals.org, Dash 2 Trade, and Learn2Trade to be the top providers of paid and free crypto signals. Their trading signals not only include the crypto pair and entry/exit requirements but also the risk-reward specification.
Can I get crypto signals for free?
Yes, the best crypto signals providers operate Telegram groups that can be assessed for free. However, the number of signals offered via these free channels will be significantly less when compared to VIP groups.
Do crypto signals really work?
Yes, crypto signals are developed based on fundamental and technical research. However, there is no guarantee that trading signals will yield a profit, as with any other investment. Therefore, crypto traders should do their due diligence and consider how to mitigate the risk when opening a position.
What is the most accurate crypto indicator?
One of the most reliable trading indicators used by crypto signal providers is the Moving Average Convergence/Divergence (MACD). It indicates price trends as well as the momentum of a specific cryptocurrency pair.
How can I get crypto signals?
To start receiving crypto signals, visit the provider's website and sign up for a free or paid plan. This will trigger an email with complete information on how to begin receiving crypto signals
---