BitAi Method Review - Scam or Legitimate Trading Software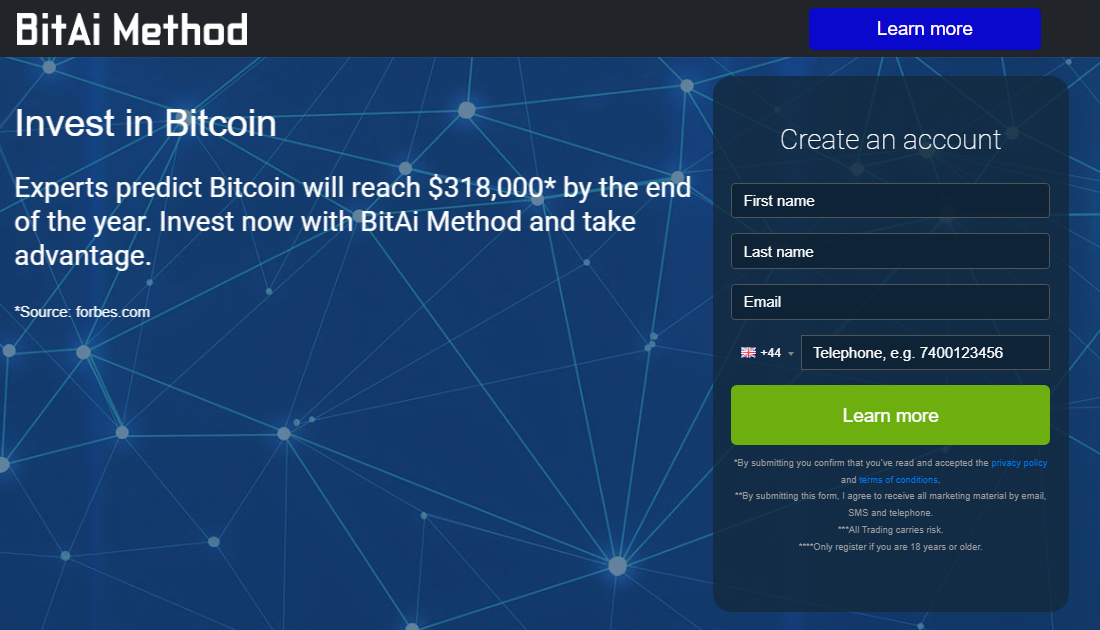 Disclaimer: The text below is an advertorial article that is not part of Cryptonews.com editorial content
Looking for a new trading platform that will allow you to invest in the crypto space? BitAi Method claims to offer trading opportunities for some of the best cryptos and altcoins, such as Bitcoin and Ethereum.
To better understand this platform, our BitAi Method review will go through all the organization's claims to identify whether it is a scam or legit.
BitAi Method Summary
The table below highlights some of the key offerings of the BitAi Method trading platform. From the withdrawal and deposit fees to the available cryptos and customer support options, keep reading to learn more about BitAi Method.
| | |
| --- | --- |
| Type of Trading | Crypto |
| Success Rate | Not Specified |
| Cryptocurrencies Available | BTC, ETH, XRP, DASH, ADA, and more |
| Available on Mobile? | No (But accessible via mobile browsers) |
| Withdrawal or Deposit Fees | None |
| Customer Support | Live Chat and Email |
| Withdrawal Speed | 24 Hours |
| Minimum Deposit | $250 |
What is BitAi Method?
After analyzing BitAi Method's platform website, we discovered this is a cryptocurrency trading platform. This organization claims to support the buying and selling of top digital assets, and with the growing bullishness in the markets, now may be a good time to invest in your preferred crypto tokens.
Since the start of 2023, some of the best cryptocurrency tokens have finally offered positive growth. Bitcoin, for example, has grown by more than 70% since the start of the year, after losing more than half of its valuation in 2022.
Being the largest crypto asset, Bitcoin's strong performance often positively influences the wider altcoins. The situation has been similar in 2023, as other altcoins, such as Ethereum, have also moved upwards. All these tokens and more can be accessed with BitAi Method.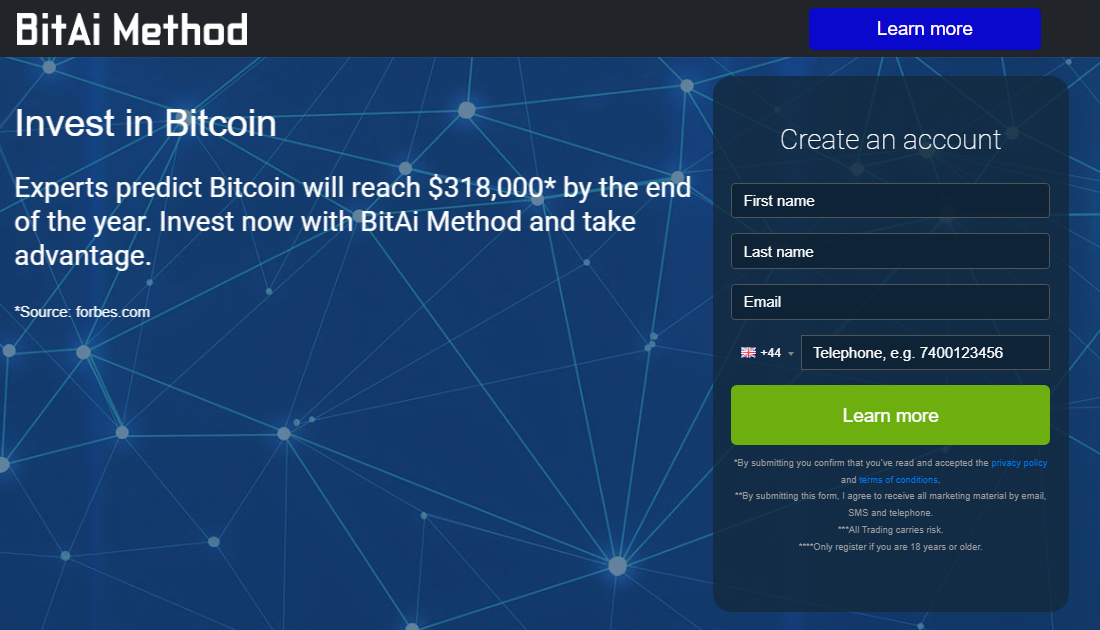 We have studied and gone through other BitAi Method reviews and learned that the platform offers a demo trading feature to support paper trading. Similarly, the platform claims to offer a customer support team, but a lack of client reviews makes it difficult to analyze the public sentiment.
As of now, the owners and developers of BitAi Method have chosen to stay anonymous. While there have been rumors of the possible involvement of popular celebrities in this platform's creation, there is little evidence to back these theories.
We also learned that one needs to make a $250 minimum deposit before accessing the BitAi Method trading dashboard. Therefore, it is vital that all interested users properly research this platform and learn about all the trading risks before investing.
BitAi Method Pros and Cons
The sections below cover some of the advantages and disadvantages of BitAi Method:
Pros
Multi-asset cryptocurrency trading
Claims to support a demo account
Fast withdrawal speed (Maximum 24 hours)
Does not charge any additional trading fees
Cons
No separate mobile trading app
Little information available about the trading dashboard and features
How does BitAi Method Work?
As witnessed with most crypto trading platforms, users can compare the available options by assessing the trading features, technical indicators, and price charts. However, BitAi Method has not publicized or shed any light on the features one may access on the dashboard.
All members must make a new account, followed by a $250 minimum deposit before trading with BitAi Method. Thus, we have no information about how the platform works. What we do know is that the BitAi Method website suggests that users can integrate their proprietary trading platform with Web Trader and Meta Trader 4.
The Meta Trader 4 trading account, for instance, can be accessed without downloading any additional software. Once downloaded, it allows users to make trades after applying some of the best technical and fundamental indicators. One can also use price charts and various alerts to their advantage when using this platform.
The BitAi Method website also states that users can trade some of the best altcoins, including Ethereum (ETH), Cardano (ADA), Ripple (XRP), Iota (MIOTA), Binance Coin (BNB), and Bitcoin Cash (BCH).
BitAi Method Key Features
In the sections below, we will take a closer look at some of the top features of BitAi Method:
Trade Some of the Largest Digital Coins
With BitAi Method, one can begin trading some of the top cryptocurrencies in the space.
If users expect Bitcoin to go up or other altcoins such as Ethereum to correct, they can apparently make all these trades through the BitAi Method dashboard.
Access a Demo Trading Account
Another feature that BitAi Method claims to offer is a demo trading account. A demo account comes pre-loaded with virtual funds but offers all the same characteristics as the standard account.
Thus, a user can access this account which mirrors all live market conditions as the standard trading platform, but not risk any funds since they are trading with paper money. The demo trading account can supposedly be accessed after the minimum deposit is made.
BitAi Method: Account Fees
Unlike other top crypto exchanges, BitAi Method does not charge any trading fees. While particular platforms may avoid charging spreads and take a maker/taker fee, BitAi Method does not mention any payable fees, whether account-related or extra charges for withdrawals or deposits.
| | |
| --- | --- |
| Trading Fees | None |
| Account Fees | None |
| Commission | None |
| Withdrawal/Deposit Fees | None |
Minimum Deposit on BitAi Method
On BitAi Method, one is required to make a minimum deposit of $250. The payment can be made by using e-wallets such as PayPal. Users can also use credit and debit cards to make this payment.
Since the amount is significantly high compared to other exchanges, it is vital to only invest after ensuring you have reviewed this platform. When trading cryptos, you should only invest what you are willing to lose.
BitAi Method: Compatible Devices
The sections below discuss some of the devices through which the BitAi Method trading platform can be accessed:
Mobile phones (via web-based browsing)
iPads and other tablets
Laptops and Desktops
Is BitAi Method a Scam or Legit?
While we cannot guarantee whether BitAi Method is a scam or a legitimate trading platform, we have looked at the website and studied client testimonials and other reviews to closely study this organization.
One of the reasons we cannot confirm BitAi Method's legitimacy is because of the lack of information the platform provides. For example, other reviews claim that this trading platform offers a demo account and quick withdrawal speeds. But, the platform itself does not have a known founder or any social media pages to help us confirm these claims.
Moreover, they do not offer any information about how the platform works or the available trading features one can leverage. Thus, the consensus from us and other BitAi Method reviews is neutral.
It is best to properly research and analyze BitAi Method on your own before making an investment decision.
BitAi Method Customer Support
We have discovered that BitAi Method claims to support a 24/7 customer support team, which can be accessed via live chat and email. Customers can use the customer support team to solve doubts or account-related issues.
How to Begin Trading with BitAi Method
After going through the organization, you can decide on whether to start investing with this trading platform. If so, the sections below show interested users how to begin using BitAi Method:
Step 1: Create a New BitAi Method Account
To create a new account, visit the BitAi Method website and start filling in the registration box.
To complete this step, enter your first and last name, email address, and phone number.
Step 2: Make a Minimum Deposit
The next step is to make a minimum deposit of $250. Select your payment type and enter the amount you wish to invest.
Step 3: Start Trading with BitAi Method
After the transaction has been completed, you will be given access to BitAi Method's trading dashboard. Search the cryptos you wish to trade, enter the amount you want to invest, and start trading.
How to Delete a BitAi Method Account?
Users looking to delete their BitAi Method accounts can do so from the menu option itself. Apart from this, BitAi Method offers no more details on how one can close their account.
Does Jeff Bezos use BitAi Method?
There have been rumors circulating about Jeff Bezos potentially using the BitAi Method trading platform. After founding Amazon in 1994, Bezos has managed to build one of the biggest global organizations in the world.
While his involvement in a trading platform could be huge, there is no evidence that he has anything to do with BitAi Method. We have confirmed this by reading various Reddit threads, articles and analyzing other online websites.
Does Elon Musk endorse BitAi Method?
Elon Musk has developed a name for himself after starting Tesla, SpaceX, and other corporations. He is also a famous figure in the crypto space due to his regular tweets on some popular meme tokens such as Dogecoin.
However, there has been nothing to suggest that he endorses or uses the BitAi Method trading platform.
Does Martin Lewis use BitAi Method?
No, we have found no evidence suggesting Martin Lewis, the popular financial journalist and broadcaster, uses BitAi Method.
Who Created BitAi Method?
In the sections above, we debunked the theories of popular businessmen and celebrities involved in creating the BitAi Method. After researching this topic, we have learned that BitAi Method's entire team has chosen to remain anonymous.
No one from the development team to the staff to the founders has made themselves known.
BitAi Method Payment Methods
To get started and make an investment with BitAi Method, users can use the following payment options:
Credit cards
Debit cards
E-wallets such as PayPal
Latest Crypto News
Before you can start investing in cryptos, it is a good idea to familiarise yourself with the latest developments in this market. Here is some trending news related to Bitcoin and the overall crypto markets:
Bitcoin and other top cryptos have been moving upwards in March 2023. This upside movement stems from the recent news of UBS, the global investment bank, wanting to buy Credit Suisse. UBS has struck a deal to purchase the bank for $3.2 billion.
In the past two weeks, Bitcoin has jumped by more than 26%. The token is currently priced at $28K and has a market cap of over $545 billion.
In three days, crypto investors have pulled almost $3 billion from the stablecoin USDC.
The Verdict
Our verdict on BitAi Method is that the platform could do with providing more information about its internal operations and features. This BitAi Method review has found that the platform has very few client testimonials available, and the founder's anonymity makes it hard to verify many of the claims they make.
Each interested party should invest only after going through the platform and ensuring it caters to their trading needs.
FAQs
What is BitAi Method?
This trading platform claims to support the buying and selling of cryptocurrency assets. Some of the assets BitAi Method claims to support include Bitcoin, Ethereum, Cardano, and XRP.
Does Jeff Bezos use BitAi Method?
We have found no evidence to suggest that Jeff Bezos, the founder of Amazon, uses or endorses the BitAi Method trading platform.
What is the minimum deposit on BitAi Method?
The BitAi Method website says the minimum deposit is $250. The payment can be made using credit/debit cards and e-wallets like PayPal.
---