Bitcoin Treasure Review - Scam or Legitimate Trading Software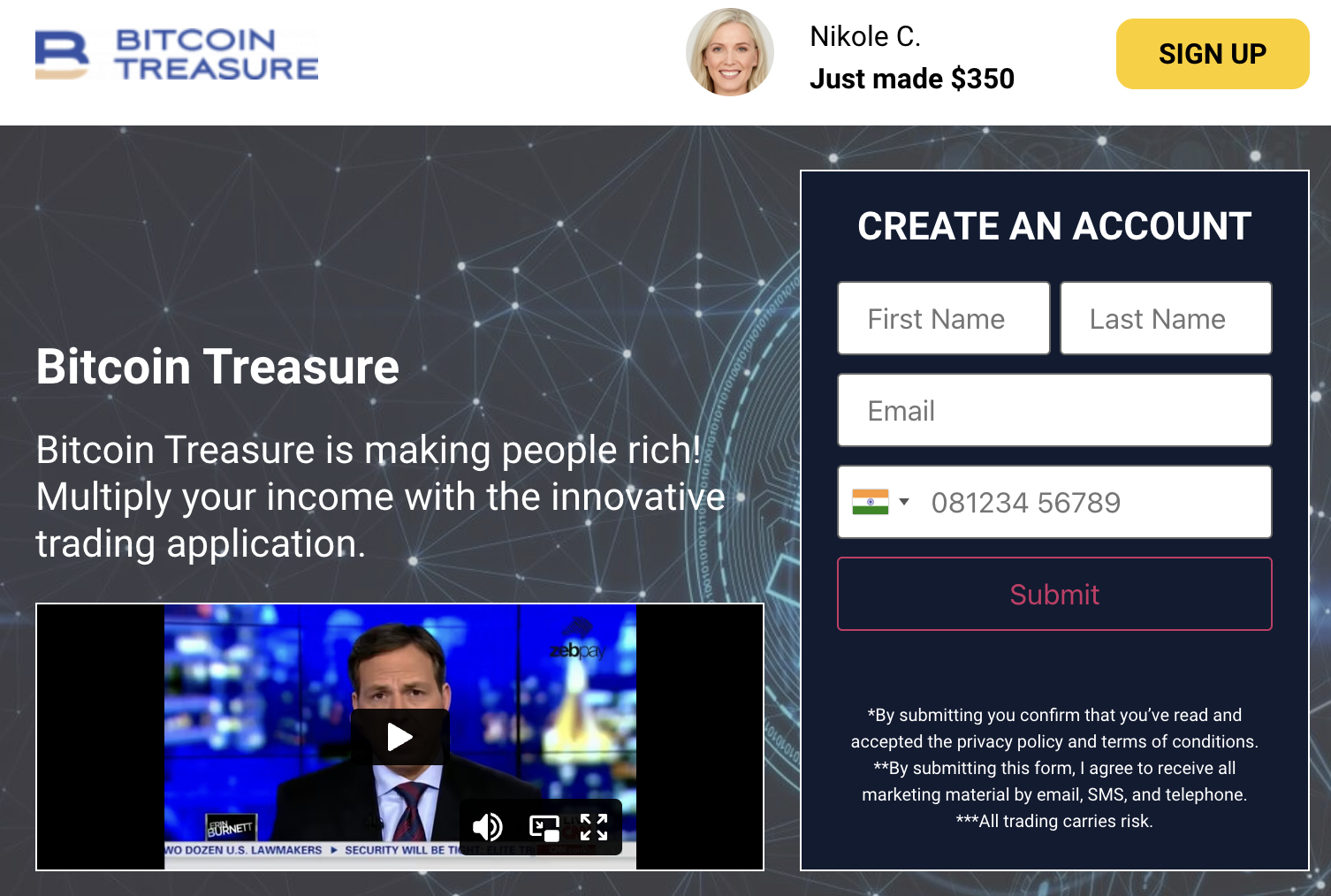 Disclaimer: The text below is an advertorial article that is not part of Cryptonews.com editorial content
Bitcoin trading can potentially a treasure trove for those who can invest at the right time and 'buy low, sell high'. Bitcoin Treasure is a crypto trading platform that makes bold claims of helping users generate wealth and "multiplying their source of income", promising a host of innovative trading apps.
But does Bitcoin Treasure truly deliver this "treasure trove" of tools to make crypto trades easy and profitable? Is it safe to use, or a scam? This Bitcoin Treasure review dives into this question.
Bitcoin Treasure Summary
Some third-party sites have praised Bitcoin Treasure, and others have given a more mixed reaction. But before we assess those statements, here are the key details to know about this crypto trading software:
| | |
| --- | --- |
| Supported Crypto | Bitcoin, Ethereum, Cardano, Litecoin, Bitcoin Cash, Dogecoin, and more |
| Claimed Success Rate | 60% |
| Available on Mobile? | No mobile applications are available |
| Fees | No fee model |
| Customer Support | Available to those who register |
| Withdrawal Speed | 24 hours |
| Minimum deposit | $250 |
Cryptocurrencies are unregulated. Trading with unregulated brokers will not qualify for investor protection.
What is Bitcoin Treasure?
Bitcoin Treasure is a crypto trading platform that claims to deliver a high-profit trading tool that combines manual and autonomous trading fundamentals. The manual trading system is said to involve a robo advisor that scans the market condition to help traders make the right trading decision.
And with the autonomous trading systems, Bitcoin Treasure claims to use a crypto trading bot that buys and sells top digital assets on behalf of users. Both these systems, according to Bitcoin Treasure, help users achieve a 60% win rate during crypto trading. While the win rate itself isn't outlandish, we have to reveal that there is no proof regarding these claims.
And when it comes to the cryptocurrencies that Bitcoin Treasure claims to support, they include Bitcoin, Ethereum, Dogecoin, Litecoin, Bitcoin Cash, Dash, Cardano, and more. The platform also reports supporting over 75 Bitcoin CFDs.
Supporting the platform's many trading features is a UI that Bitcoin Treasure says is fit for all. While our reviewers were able to check out the signup option and deemed it simple to use, the same cannot be said about the trading app itself because of the deposit requirement of $250, which locks all of the features that the platform claims to support.
Other than this minimum deposit, however, Bitcoin Treasure states that it doesn't charge any fees.
The platform has made a lot of claims, but proof of them is not available. We recommend doing your own testing before checking out this platform.
Bitcoin Treasure Pros and Cons
Here are the pros and cons of Bitcoin Treasure:
Pros
Claims to have a realistic win rate - 60%
It contains a simple sign-up process
Claims to offer an array of simple tools to engage in crypto trading
Supports multiple cryptocurrencies
Cons
A minimum deposit of $250 is mandatory
Customer reviews aren't available, and third-party reviews are too mixed
Not much information available about the tools available on the platform
How Does Bitcoin Treasure Work?
Bitcoin Treasure claims to work in two modes - autonomous and manual. The autonomous trading feature, according to Bitcoin Treasure, works according to the following points.
Once the user deposits the amount, they can set the stop loss and take profit settings.
The crypto trading robot then sets off to find the best deals available: tokens going through intraday lows. Bitcoin Treasure claims to predict this using a unique "automated forecast" utility.
The in-app systems of Bitcoin Treasure then focus on finding intraday lows and selling the token earlier bought instantly.
Bitcoin Treasure claims that this method allows it to make correct predictions 60% of the time.
And with manual trading, Bitcoin Treasure says that users will get access to manual trading tools and a machine-learned advisory system that can help them make informed trading decisions.
During both of these modes of trading sound ideal, Bitcoin Treasure hasn't expanded upon the tools that facilitate them. The site is light on information, and the historical data of even that realistic win rate is nowhere to be found. Therefore, we recommend that traders consider researching the site thoroughly and only invest the minimum amount if they are still inclined to.
Bitcoin Treasure Key Features
Listed below is the host of features that Bitcoin Treasure claims to have.
A Realistic Win rate
Bitcoin Treasure claims to deliver a win rate of 60%. This is in-line with professional human traders. Many crypto tools make far-fetched, unrealistic claims of a 90% or higher success rate.
That said, know that even this win rate hasn't been confirmed by any review site or customer reviews.
Autonomous and Manual Trading Platform
Bitcoin Treasure claims to provide both autonomous and manual trading facilities to facilitate crypto trading. Those who don't want to monitor the market constantly but want to capitalize on its volatility may want to engage with the platform's autonomous trading features. And the manual feature is for those who prefer doing their trading hands-on.
Secure Platform
Bitcoin Treasure says that all the users that create an account will have their assets secured. It claims to use traditional and non-traditional security features to provide asset protection to users. Ideally, that would mean an insurance policy or some cold storage facility, but Bitcoin Treasure hasn't touched upon that.
Highly Rated on Third-Party Review Sites
There are multiple third-party review sites that have given high praise to Bitcoin Treasure. These sites have stated that the platform has been successful in the past. That said, they have not supported that statement with any proof.
Demo Trading Account Available
Bitcoin Treasure claims that users don't need to jump into live trading right after creating an account. Instead, they can check out the demo trading feature to learn the mechanics of trading using Bitcoin Treasure. According to the website, the demo account puts users in simulated market conditions where they can test the platform's win rate before switching to live trading.
Cryptocurrencies are unregulated. Trading with unregulated brokers will not qualify for investor protection.
Bitcoin Treasure Account fees
Bitcoin Treasure hasn't said anything about the fee it charges. However, some review sites have pointed out that it may have a fee-free approach. That means it might not ask for deposit fees, withdrawal fees, or trading commissions. So, ideally, the following would be the platform's appropriate fee structure.
| | |
| --- | --- |
| Trading Fee | None |
| Account Fee | None |
| Commission | None |
| Withdrawal/Deposit Fee | None |
But the content on the website itself states that users need to contact the account manager to get the fee-related details. Since such details aren't accessible to us right now, the fee structure we specified above might be more appropriate.
Bitcoin Treasure Minimum Deposit
In order to turn on the autonomous or manual trading systems and start trading, users need to deposit $250. While it is seen as only a minimum deposit - the seed capital the site uses to conduct trades, some reviewers have marked it as a one-time trading fee for using the site.
Bitcoin Treasure Compatible Devices
While the trading platform itself wasn't accessible to us, its advertising copy was. And when we opened it on multiple devices, including desktops, laptops, tablets, and smartphones (Apple and Android), we found the website was accessible through all of them. All the icons were neatly arranged, and all the buttons were clickable. If one wants, one can also start the sign-up process from the phone itself.
Is Bitcoin Treasure a Scam?
Bitcoin Treasure has many things that we can consider good user practices. The advertising copy reads clearly, and the website is accessible on several devices. Also, the sign-up process is easy. However, that's the extent of what we were able to confirm about this platform.
The official website itself is full of self-inserted user reviews that all suspiciously say the same thing - they all are said to have made immense profits from the platform. We didn't find the same sentiments on customer-review sites.
Sites like Sitejabber have given it 4.7 out of five stars, but the customer reviews are still extremely mixed. Some reviews are too bullish, saying that they would recommend Bitcoin Treasure to anyone looking for a trustworthy trading community. These reviews also talk about daily bonuses, But the doubtful part comes from the fact that none have interacted with these reviews. And when we read them more than once, they appear to have the same tone.
As such, we can't confirm that they aren't fabricated. On the other hand, there are Bitcoin Treasure reviews that are overly critical of it. Many reviews just say one word - scam. They, too, don't have anyone interacting with them.
Such a mixed picture of the website and the lack of information available on the platform don't provide a balanced overview of this platform. So, we can't say for certain whether it is a scam or not. We recommend that users do their own research before investing.
Bitcoin Treasure Customer Support
Customer support is apparently available on this platform, but not for those who aren't registered. Also, since it is a single-page site, we couldn't find a "Contact Us" button anywhere on the website. However, it is likely that those who sign up can access the customer support page.
How to use Bitcoin Treasure?
After thoroughly researching the platform, if you think it meets your requirement, follow the steps below to start the process.
Step 1 - Visit the Bitcoin Treasure Website
Visit the Bitcoin Treasure website and enter your name, email, and phone number. Click on the submit button, and make sure to check the terms and conditions. The account manager may reach out to you to help you complete the account creation process. But if you only want to talk to Bitcoin Treasure via email, we recommend entering a burner number on the account creation page.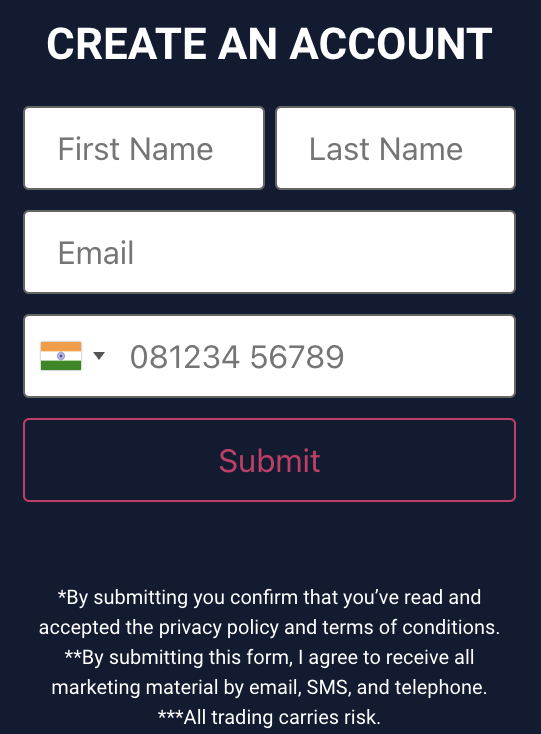 Step 2 - Make the Minimum Deposit
Use the methods available to make the minimum deposit to fund your account. According to the website, you need at least $250 to get started.
Step 3 - Start Trading on Bitcoin Treasure
Once you have deposited the amount, you will likely get access to the demo trading account as well. Test the site's win rate first before switching to live trading.
How to Delete a Bitcoin Treasure Account?
Bitcoin Treasure's official website doesn't provide any information on how one can delete an account. We recommend talking to the customer support team for assistance.
Does Jeff Bezos Use Bitcoin Treasure?
Jeff Bezos, the Amazon founder, is not a person who has been associated with crypto trading. So, the claims that say he might be using Bitcoin Treasure are untrue.
Does Elon Musk Use Bitcoin Treasure?
Elon Musk might be a Dogecoin supporter, but his enthusiasm toward cryptocurrency doesn't extend to Bitcoin or other assets. So, the claims saying that Elon Musk might use Bitcoin Treasure are also likely untrue.
Does Martin Lewis Use Bitcoin Treasure?
Martin Lewis is a name that is often attached to multiple crypto trading systems, and it is based on false assumptions all the time. This time, too, the claims reporting Martin Lewis to be using Bitcoin Treasure for his crypto trading needs are not true.
Who is the Founder of Bitcoin Treasure?
Bitcoin Treasure has provided us with no information about who is running the platform. Third-party reviews have claimed that it is an expert team of traders and software specialists working behind the scenes to run Bitcoin Treasure, but there is no information about who these members are.
Bitcoin Treasure Payment Methods
The following are the different payment methods applicable to Bitcoin Treasure.
Debit cards
Credit cards
E-Wallets
Bank Transfers
The Verdict
Bitcoin Treasure portrays itself as a one-stop crypto trading platform that can generate wealth for anyone interested in making money through crypto. But the veracity of these claims can't be assessed as it hasn't undertaken an audit.
Third-party sites portray an unbalanced picture of this platform, and customer reviews are either too bullish or too critical. We recommend using the Bitcoin Treasure platform only after doing your own research and starting with a low deposit - also test out the withdrawal process early on.
Cryptocurrencies are unregulated. Trading with unregulated brokers will not qualify for investor protection.
Bitcoin Treasure FAQs
What is Bitcoin Treasure?
Bitcoin Treasure is a crypto trading platform that claims to provide innovative tools so that users can generate ample gains regardless of their experience level. It claims a 60% win rate and says that it supports both autonomous and manual trading.
Does Elon Musk endorse Bitcoin Treasure?
Elon Musk might be interested in Dogecoin and Bitcoin - although it later came to light that Tesla has lost over $130 million on Bitcoin - but he has not endorsed Bitcoin Treasure or any type of crypto trading platform.
How to start trading on Bitcoin Treasure?
Users need to deposit the minimum amount, which is $250, in order to start using this platform. Every feature that the platform promises it has is locked behind that requirement.
---