16 New Crypto Launches to Invest in 2023
Disclosure: Crypto is a high-risk asset class. This article is provided for informational purposes and does not constitute investment advice. By using this website, you agree to our terms and conditions. We may utilise affiliate links within our content, and receive commission.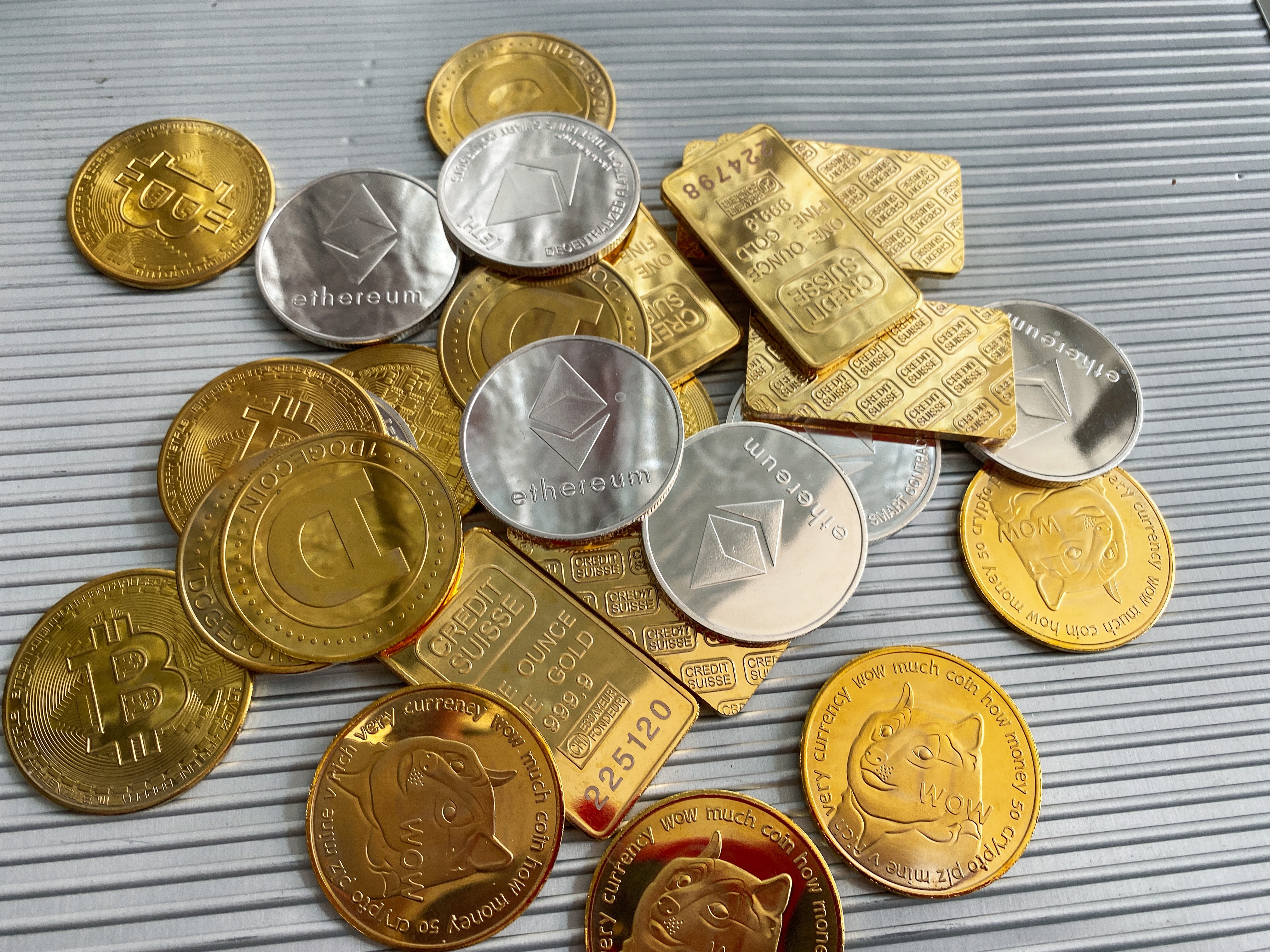 Blockchain hosts thousands of crypto projects, with new chains and tokens launched almost daily – but only a few projects add high value to investors. Our analysts reviewed several new crypto launches that provide proven benefits to investors and have strong long-term potential.
We reviewed each crypto in detail and provided guidance on how to discover new crypto. Our guide also answers the main questions investors have about newly launched crypto, and we've included key elements investors should analyze and ask themselves to decide if a project is a worthwhile investment.
The Top Crypto Launches to Watch This Year
Before we get into the detailed reviews of the top crypto launches, let's quickly find out what each offers.
Bitcoin ETF Token (BTCETF) – Brand new ERC20 presale has already raised $2m in three weeks. Campaign deploys aggressive 25% token burning, discounted presale pricing, and a high dynamic APY over 125%, in addition to its market-orientated roadmap tied to SEC ratification of Bitcoin ETFs in the USA. 
Bitcoin Minetrix (BTCMTX) – This new PoS cryptocurrency combines token staking and cloud mining. $BTCMTX holders can stake the token and earn cloud mining credits. The $BTCMTX token is currently available on presale and has raised more than $4.5m so far.
Meme Kombat (MK) – Exciting new meme cryptocurrency can be wagered on a play-to-earn battle arena. Investors can buy the $MK token on presale for $0.214, and stake the crypto to earn a 400% APY. Over $2.25m raised on presale.
TG.Casino (TGC) – Native crypto token of a new Telegram casino. $TGC offers access to exclusive casino games, high staking yields, and can be earned as rewards. The TG.Casino has raised over $3.1m on presale. 
Wall Street Memes (WSM) –  A hugely promising crypto token with strong community backing, remarkable early success, staking, and attention from high-profile figures like Elon Musk. The project has had one of the best presales ever, raising over $25 million, and recently launched a crypto casino for added utility.
Launchpad XYZ (LPX) – With its intuitive dashboard, data-driven insights, and unique alert system, Launchpad XYZ assists both novice and experienced investors. Around $2m raised in its presale.
eTukTuk (TUK) – A BSC-based crypto launch tackling climate change and financial inequality through EV transportation. Token holders can earn 750% APY through staking $TUK, while the presale has just launched and raised $275k.
Green Bitcoin (GBTC) – New crypto launch aiming to gamify Bitcoin's price predictions and reward participants. Also offers significant staking APR during the token presale. 
yPredict (YPRED) – Comprehensive crypto analytics platform providing advanced tools, detailed research capabilities, and a user-friendly trading interface. More than $5 million raised in presale so far.
Cogwise (COGW) – AI-based cryptocurrency model offers fast and accurate information on crypto and blockchain-based topics. Users can access technical analysis through AI trading assistants, and generate passive income by staking $COGW. The token will jump by 250% after the presale, which has raised over $1.3 million, ends. 
Pikamoon (PIKA) – This new cryptocurrency gives players access to a metaverse world comprising of unique NFT avatars and earning opportunities. Battle with Pikamoon NFTs, access an NFT marketplace and explore a virtual world. $PIKA is priced at $0.0006 during its final presale stage, with more than $4.25 million raised.
Corite (CO) – An interactive music crowdfunding platform built on the blockchain where artists invite fans to invest in their projects for a share of streaming revenues.
WeSendit (WSI) – A file transfer platform that uses blockchain to enable users to transfer large files globally.
Byepix (EPIX) – An all-in-one blockchain platform integrating play to earn, Metaverse, NFTs, SoFi, and DAO protocols.
LasMeta (LASM) – A Metaverse platform where poker players can use virtual reality headsets for an immersive gaming experience. 
Interest Protocol (IPT) – A fractional reserve banking protocol that pays interest to depositors.
A Closer Look at the Best New Coin Launches
We start off our list of the top new coin launches with some brand-new projects in the early phases of their presale:
1. Bitcoin ETF Token – Brand New Crypto Launched With Regulatory Focus And 25% Token Burn
Bitcoin ETF Token ($BTCETF) is a recently launched ERC20 presale with a focus on SEC ratification of Bitcoin ETFs in the USA. This is the main emphasis of this brand-new campaign. 
Many industry professionals have insinuated that this approval should be forthcoming shortly, as soon as December 2023. Should it materialize, it would mean an influx of new funds into the crypto economy as well as a much-improved price profile for Bitcoin ETF Token.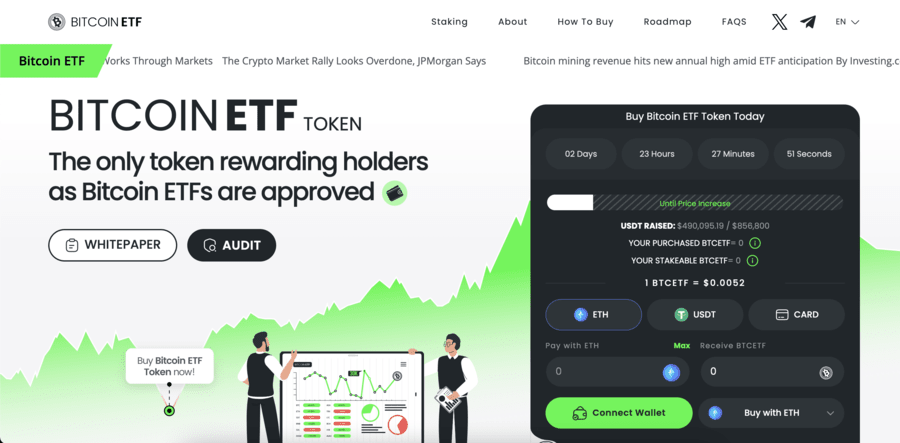 This campaign is different from many others, due to its ties to an actual event in the wider economy, and one that could have major effects. In total, the Bitcoin ETF roadmap consists of five major milestones. These include the SEC ratification of BTC ETFs, the total AUM of the BTC ETF market hitting $1 billion, and the BTC price reaching $100,000.
At each milestone target, 5% of the total 2.1 billion supply is burned, for a total burn of 25%. This encourages upwards price momentum for the remaining coins, rewarding token holders. Aside from the 25% burn allocation, 40% (840 million) goes to the presale, 25% (525 million) to staking, and 10% (10 million) to DEX liquidity. 
The campaign offers significant price appreciation through its presale, from $0.0050 in stage one to $0.0068 in stage ten – the current price is $0.006. Each stage offers 84 million tokens, with price increases at each.  Staking APY for this presale currently hovers above 125%. 
More than $2 million has been raised in just three weeks.
The new market-driven presale is offering a new concept and the token could enjoy massive success if the SEC approval happens, as that is exactly what the campaign has been designed for. Aside from this, it provides powerful APY, predetermined presale price increases, and a 25% token burn. 
Additional info can be extracted from the Bitcoin ETF Token Whitepaper. For key updates, it may be useful to connect with the Bitcoin ETF Token Twitter social media account. 
| | |
| --- | --- |
| Presale Started | 6 Nov 2023 |
| Purchase Methods  | ETH, USDT, BNB, MATIC, Card |
| Chain | Ethereum |
| Min Investment | None |
| Max Investment | None |
2. Bitcoin Minetrix (BTCMTX) – Stake-to-Mine Crypto is Offering Huge Staking APYs and Cloud Mining Credits, New Presale is Selling Out 
One of the best crypto launches in recent times is Bitcoin Minetrix (BTCMTX), a stake-to-mine cryptocurrency platform. A revolutionary cryptocurrency, Bitcoin Minetrix will tokenize cloud mining. 
More than $4.5 million has been raised in the presale at the time of writing, with 130% staking APY on offer.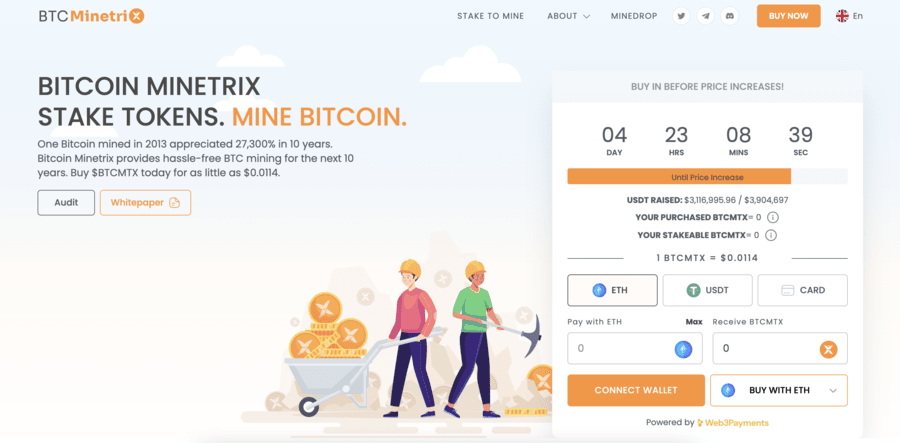 Cloud Mining is mostly offered by third-party corporations – allowing individuals to access rented mining power. However, these corporations have often scammed investors and stolen funds. Therefore, Bitcoin Minetrix will record all activities between themselves and investors on the blockchain. 
For instance, Bitcoin Minetrix will offer cloud mining credits – which are ERC-20 tokens. These will be recorded on a digital ledger since they are earned by staking $BTCMTX, the native cryptocurrency. Tokens will be staked on an Ethereum-powered staking contract on Bitcoin Minetrix. 
The earned cloud mining credits can be burned to earn Bitcoin mining power. The mining power is used to get allocated mining times and earn a portion of mining revenues. Therefore, this new cryptocurrency will revolutionize the cloud mining space by offering more transparency and security. 
Interested investors can buy $BTCMTX tokens during round one of a ten-stage presale. There is a total supply of 4 billion tokens – 2.8 billion of which are being allocated on the presale. Currently, $BTCMTX is priced at $0.0119. This will rise to $0.0148 in the final stage, stage 39. 

The platform has set a soft cap target of $15.6 million and a $33 million hard cap target.
Read the Bitcoin Minetrix whitepaper and join the Telegram channel to learn more about this cryptocurrency. 
| | |
| --- | --- |
| Presale Started | 26 Sept 2023 |
| Purchase Methods  | ETH, USDT, BNB |
| Chain | Ethereum |
| Min Investment | $10 |
| Max Investment | None |
3. Meme Kombat – Wager on Meme Coin Avatars Through a Battle Arena and Earn Staking Rewards
One of the top new cryptocurrency launches is Meme Kombat ($MK), a multi-use case meme cryptocurrency platform. Meme Kombat leverages artificial intelligence and blockchain technology to offer a prominent battle arena for popular meme coins. 
The project, which also offers staking and a play-to-earn game, has raised around $2.25 million in its presale – and offers 400% APY staking rewards.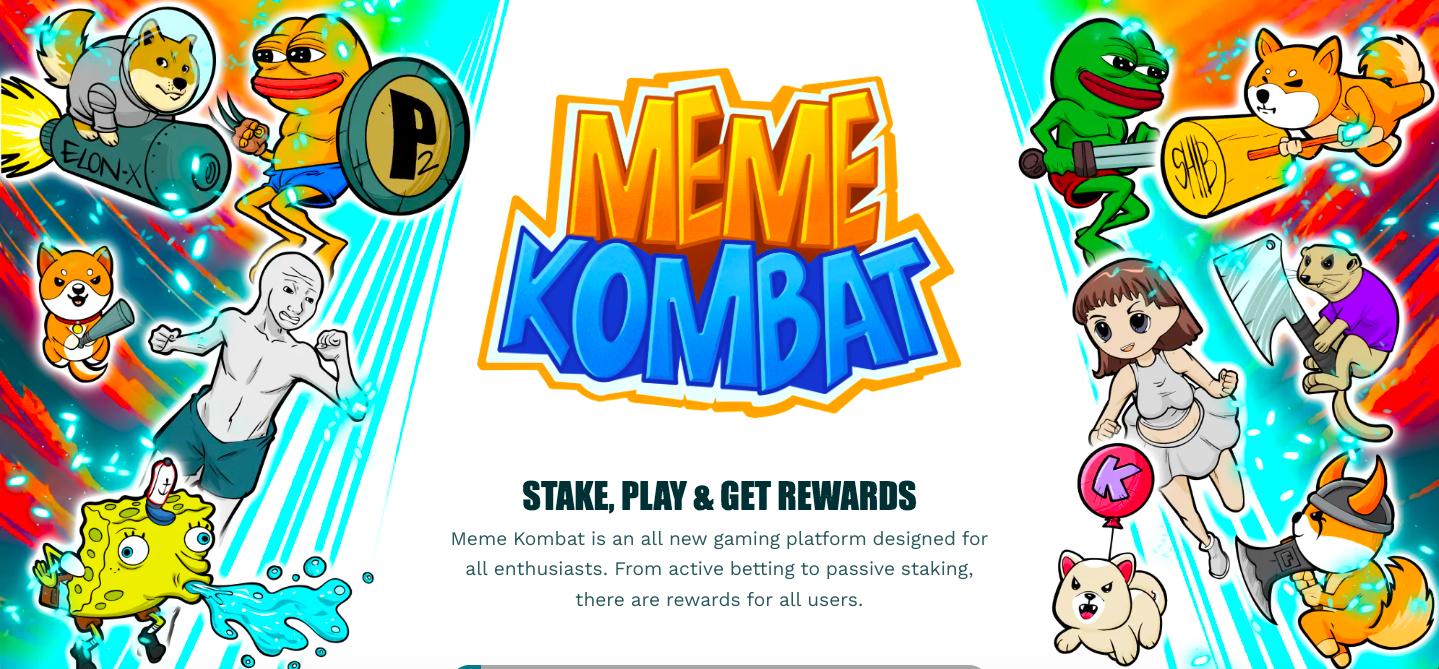 The battle arena will be released in seasons, the first featuring 11 meme coin avatars in battle. One can challenge their friends in battle through the Player vs Player mode.
Furthermore, you can also wager your $MK holdings to bet on the live battles taking place. By wagering on side action modes and Player vs Game modes, you can earn big rewards on Meme Kombat. 
The $MK token can also be staked through a staking contract. At press time, the staking APY (Annual Percentage Yield) is a high 112%. Investors can purchase $MK tokens through the ongoing presale, and instantly stake their holdings. 
Compared to most popular meme coins, Meme Kombat offers a supply of 120 million. Half of the 120 million supply has been allocated for the ongoing presale. So far, Meme Kombat has raised more than $1.1M.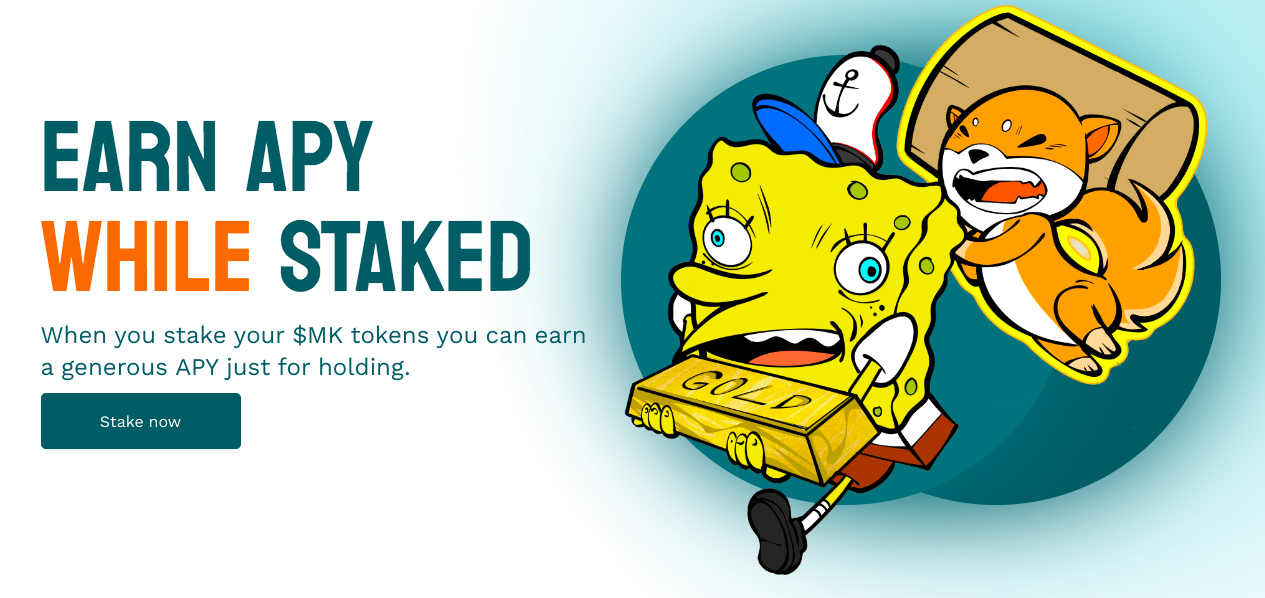 Another 30% of the token supply will be offered through staking and battle rewards. To garner a loyal customer base, Meme Kombat will also offer 10 million tokens through community rewards. The remaining 10 million tokens will be used for DEX allocation. 
Interested investors can buy Meme Kombat for only $0.214 per token. Stay updated with this meme project by going through the Meme Kombat whitepaper and joining the Telegram channel. 
| | |
| --- | --- |
| Presale Started | 21 September 2023 |
| Purchase Methods  | ETH, USDT |
| Chain | Ethereum |
| Min Investment | $5 |
| Max Investment | None |
4. TG.Casino – Stake-and-Earn Telegram Casino Token with Huge Rewards
$TGC is the native cryptocurrency of TG.Casino – a new Telegram-only online cryptocurrency casino. With $TGC, token holders can get access to exclusive rewards and games by earning gaming credits on TG.Casino. 
The token presale has now raised $3.1 million with the casino also now live – the token entitles holders to staking rewards and a 25% cashback on losses if they use it at the casino.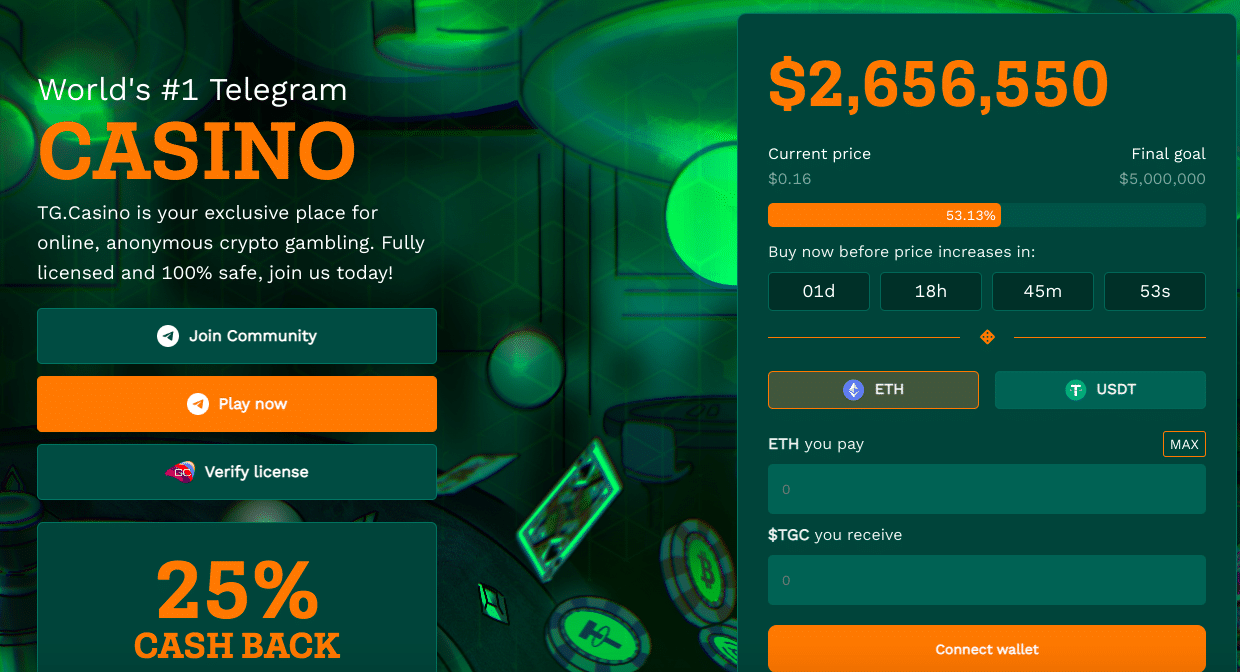 The $TGC token can also be exchanged for other crypto tokens and fiat currencies on the ecosystem. Once you purchase $TGC on presale, you can also stake your holding to earn high yields. At press time, TG.Casino is offering a staking yield of more than 200%. 
For the presale, TG.Casino is priced at just $0.19 per token. From a 100 million token supply, 40 million has been allocated for the presale. The platform wants to raise $10 million by the end of the presale. 
In the future, TG.Casino will also buy back tokens with the profits it raises. 40% of the tokens will be burnt, while the remaining will be offered through staking pools. 
On the TG.Casino, users can get a 150% matched deposit bonus + 500 free spins on their first deposit. The casino will also offer instant deposits and withdrawals via multiple cryptos including Bitcoin and Dogecoin.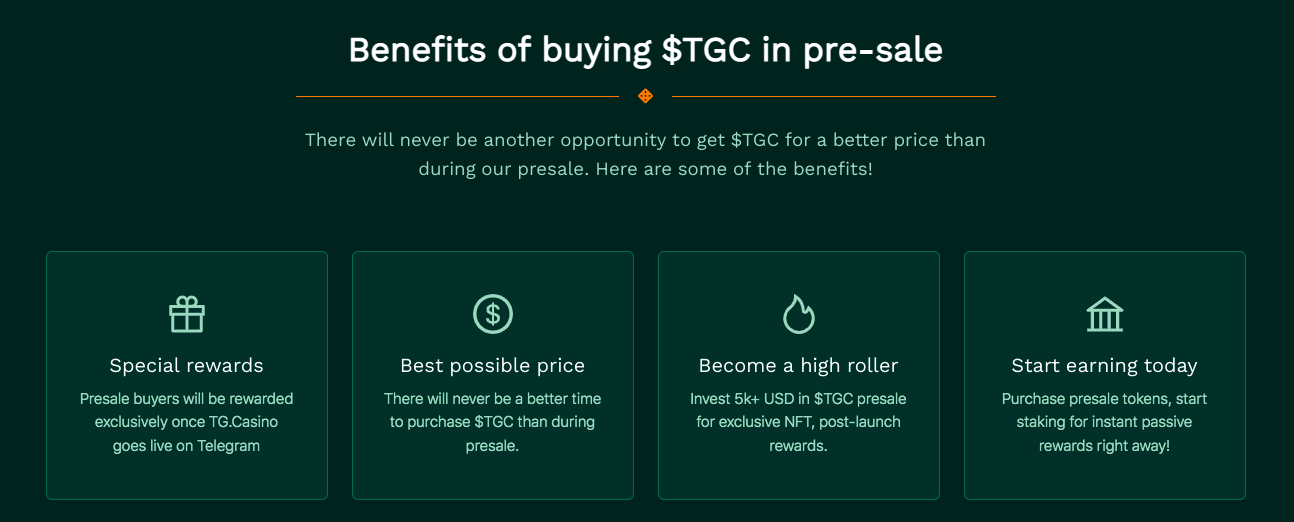 TG.Casino has allocated 20% of the supply for the staking mechanism. Another 10% will be offered for players rewards and bonuses. Since the TG.Casino is accessible only through Telegram, it lets users access anonymous trades and is KYC-free. 
Read the TG.Casino whitepaper and join the Telegram channel to learn more about this project. 
| | |
| --- | --- |
| Presale Started | 21 September 2023 |
| Purchase Methods  | ETH, USDT, BNB |
| Chain | Ethereum   |
| Min Investment | None |
| Max Investment | None |
5. Wall Street Memes (WSM) – Highly Successful Presale Now Live on Exchanges
Wall Street Memes ($WSM) is a trending token that enjoyed one of the best ever crypto presales before becoming one of the top meme coins immediately after launching.
Now listed on multiple exchanges, $WSM has huge trading volume and could be poised to break out in the next crypto presale.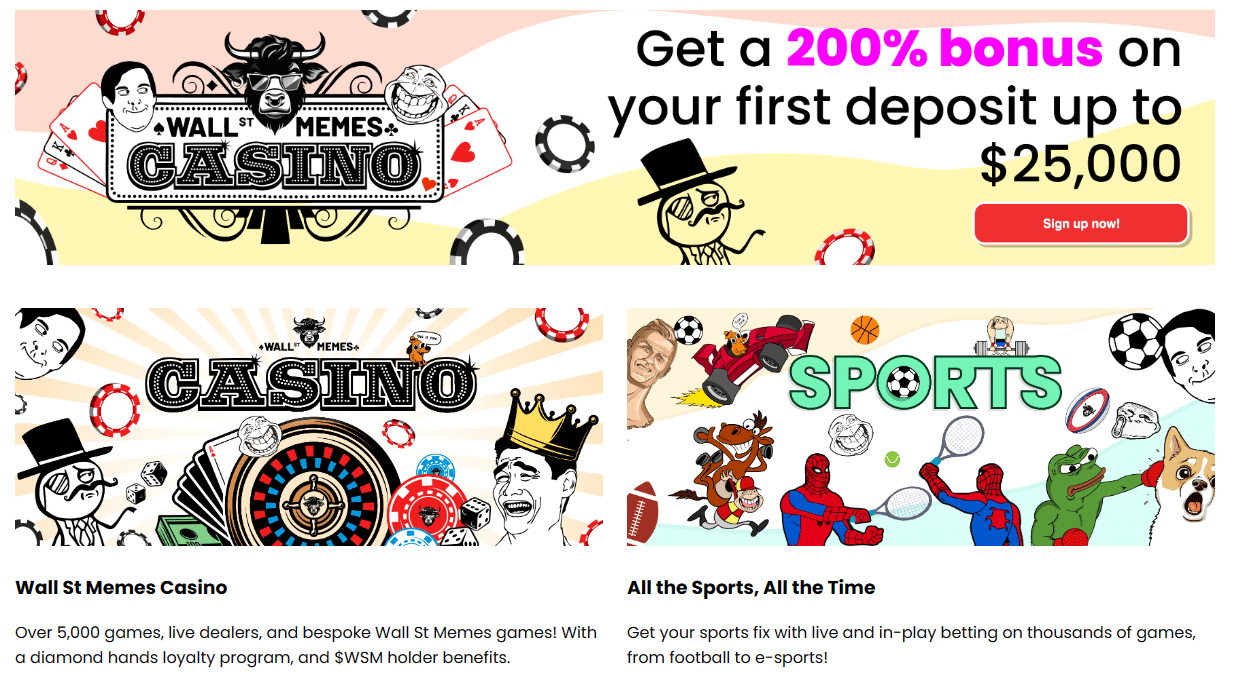 The project also recently launched the WSM Casino, which allows players to utilize Telegram to play thousands of slots and bet on sports anonymously – new players get a 200% welcome bonus, up to $25k, plus 200 free spins if they deposit and play with $WSM.
The project previous success in Web3 with the Wall St Bulls NFT collection that gained popularity after selling out within minutes in 2021. The community, already boasting a million-strong following across social media, has even attracted the attention of personalities like Elon Musk, enhancing its online influence.
It also has a robust staking feature, allowing holders to earn a passive income via an annualized percentage yield from the staking pool. At the time of writing, the estimated APY is 40%.
With its successful launch, community support, and potential future listings on top-tier exchanges, the $WSM token offers an exciting prospect among the new crypto launches. 
Join the Wall Street Memes Telegram channel for the most recent updates on the $WSM presale.
6. Launchpad XYZ (LPX) – Navigating Web 3.0 Investments with Intuitive Real-time Insights
Launchpad XYZ has recently initiated its crypto launch for its native token, LPX. In real-time, the platform empowers users to gather key insights, such as the current sentiment toward cryptos and other relevant social data.
Currently, an LPX token can be acquired for a mere $0.0445, with a listing price of $0.07 offering investors an attractive prospect for substantial returns. Around $2m has been raised in the presale since it launched.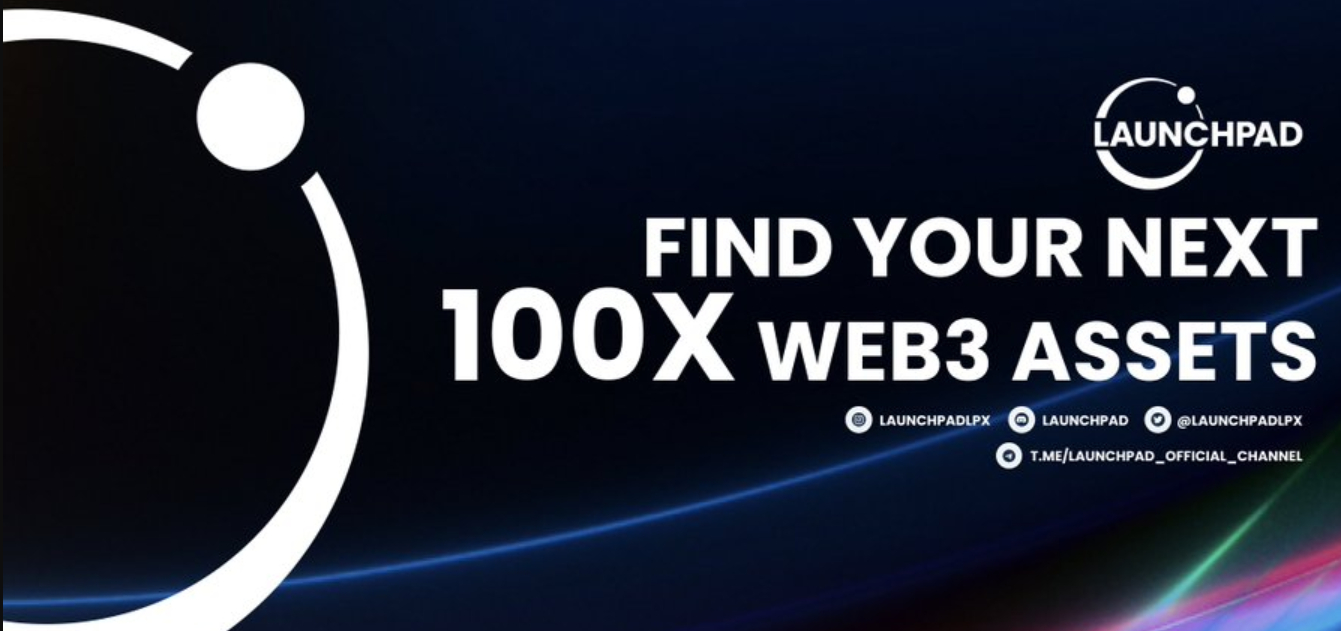 With the reliable data, analytics, and market sentiment of Launchpad XYZ, novice and experienced investors can navigate the Web3 investment landscape more comfortably. The platform encourages users to trust their research and not over-depend on the opinions of others while trading.
According to the Launchpad XYZ whitepaper, a key feature of the platform is its alert system, which keeps investors abreast of new NFT launches, crypto presales, P2E game releases, and important project updates.
Prior to their debut on exchanges, LPX tokens are available for purchase on the platform at a reduced cost. Although investing in presale cryptos carries inherent risks, altcoins such as Tamadoge have shown promising growth potential.
In line with its mission to become the Web3 business ecosystem's epicenter, Launchpad XYZ is creating a decentralized exchange (DEX) that will facilitate smooth in-platform transactions.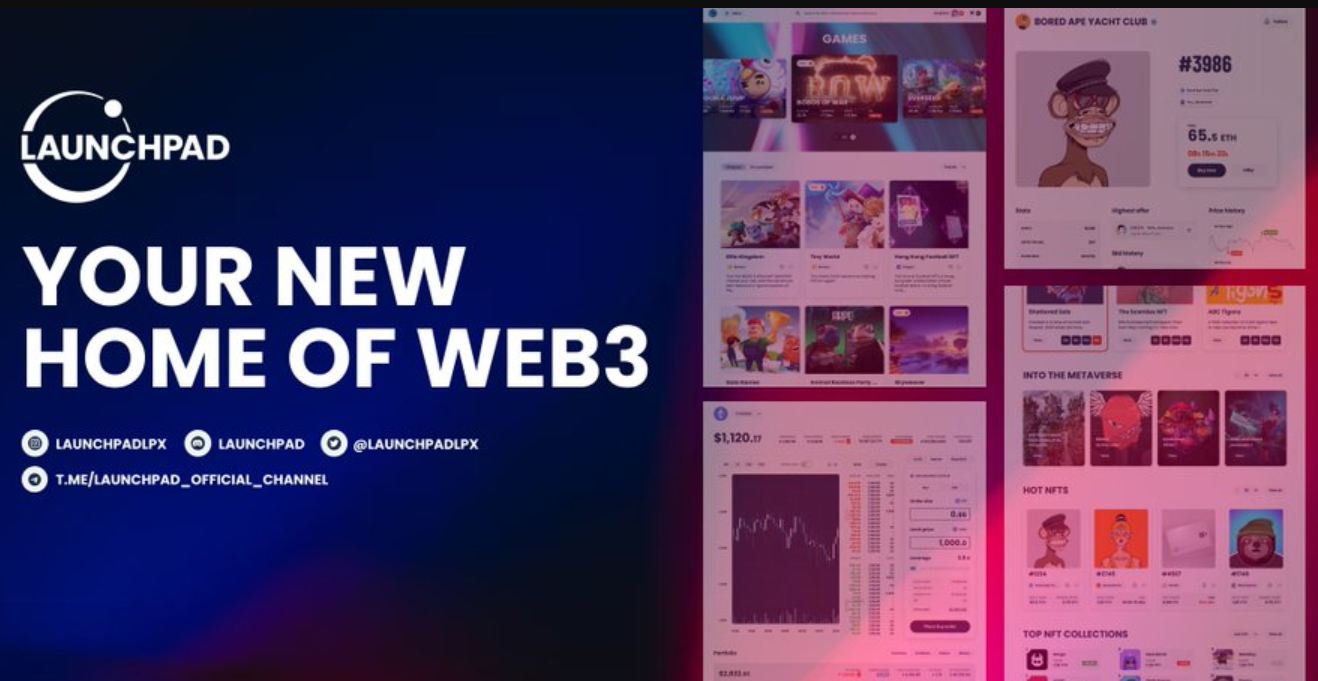 One of its biggest features, an alpha signals Telegram group, is already live and has made multiple 1,000% calls in recent weeks.
The native LPX token of Launchpad XYZ has multiple uses. Users who stake at least 10,000 LPX tokens are granted early access to beta versions of premier P2P games and discounts on products and services from Launchpad XYZ partners. Once users stake a minimum of 10,000 LPX for 90 days, they can gain access to these premium features, showcasing the token's utility.
By leveraging Launchpad XYZ's real-time data on Web3 investments, users can identify promising opportunities before they hit the mainstream.
Users can join the Launchpad XYZ Telegram channel for regular updates on the platform's progress.
| | |
| --- | --- |
| Presale Started | 25 April 2023 |
| Purchase Methods  | ETH, USDT, Credit Card |
| Chain | Ethereum |
| Min Investment | 100 LPX |
| Max Investment | None |
7. eTukTuk (TUK) – New Crypto Launch Aiming To Reduce Carbon Emissions With EVs, Offers APY on Staking $TUK
eTukTuk (TUK) is a new crypto launch on the Binance Smart Chain blockchain that aims to tackle global challenges like climate change and economic inequality. It's mainly focusing on sustainable transport in developing countries.
The platform's main goal is to transition existing TukTuk fleets powered by Internal Combustion Engines (ICEs) to electric vehicles (EVs), significantly cutting carbon emissions. 

Plus, eTukTuk is establishing a network of Electric Vehicle Supply Equipment (EVSE) and solar charging stations with local partners, readying for a broader EV rollout.
As per the eTukTuk whitepaper, the platform's token, $TUK, has various uses. Primarily, it will be utilized for transactions at EV charging points. 
As these stations become more popular, part of the revenue will be shared with local collaborators who maintain and power the stations. Also, $TUK token owners can stake the tokens to earn an APY (Annual Percentage Yield) that grows with the rise in transactions and EVSEs.
With the support of The Capital Maharaja Group, the project aims to encourage local production to reduce costs and make EVs affordable for TukTuk drivers. This change could quadruple driver earnings due to lower operating and maintenance costs.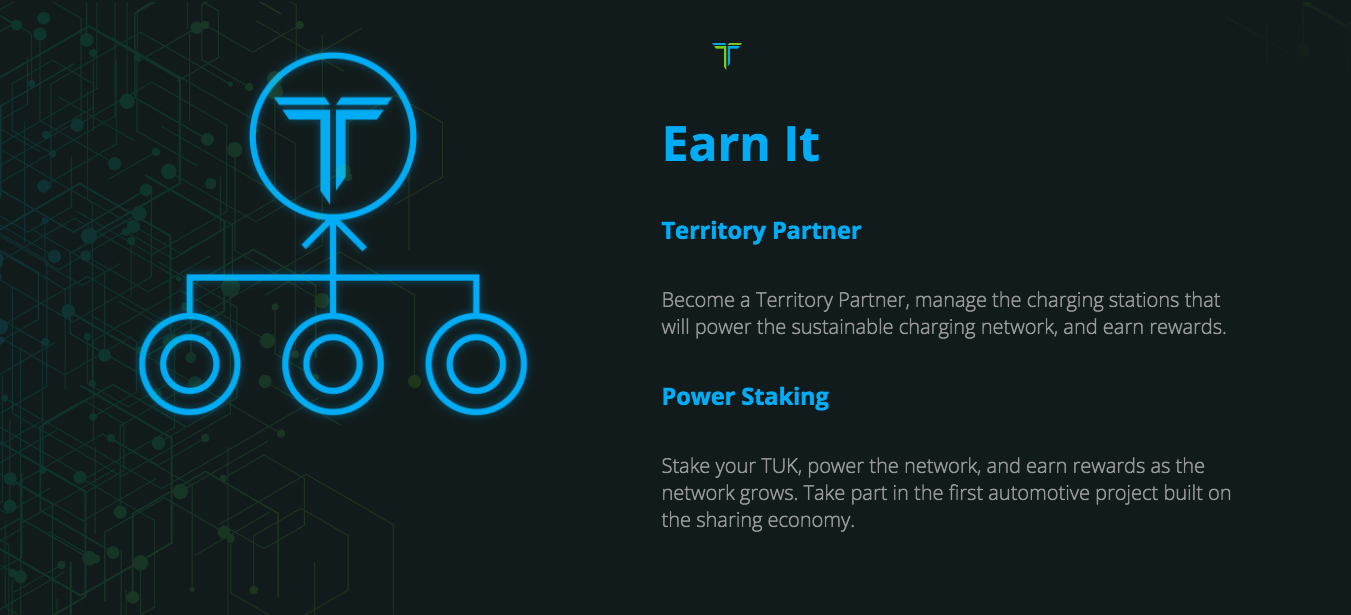 Beyond green transportation, eTukTuk uses blockchain to boost economic inclusion, lower transaction fees, and offer digital identities, extending financial access to underserved communities. 
The presale has now raised more than $275k and offers 750% staking APY – to stay updated on eTukTuk's progress, consider joining the token whitelist and following the eTukTuk Telegram channel.
8. Green Bitcoin – New Crypto Launch That Rewards Bitcoin Price Predictions
Green Bitcoin is a new crypto presale that aims to gamify Bitcoin price prediction and reward participants. The way it works is you buy $GBTC tokens, stake them and then try to predict Bitcoin's price. Depending on the staking duration and your prediction accuracy, you'll be rewarded with more $GBTC tokens.
Currently, you can only buy $GBTC in a token presale using ETH, USDT or a card. This means, you will need an Ethereum wallet, such as MetaMask, to connect to the site and complete the purchase.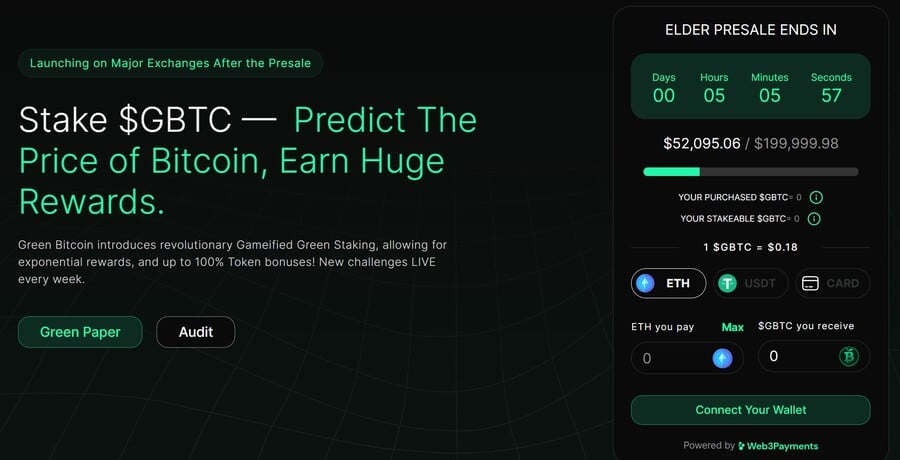 The token presale will go in multiple stages where each stage will have a a higher token price than the previous. Because of that, you may want to consider buying the token as early as possible to get the best price.
Regardless of when you buy the tokens, however, you can stake them and earn a generous APR in return. As of this writing, the APR stands at 1,306%. Note, the more tokens are staked, the more the APR will drop. This makes it prudent to stake as early as possible to maximize your token rewards.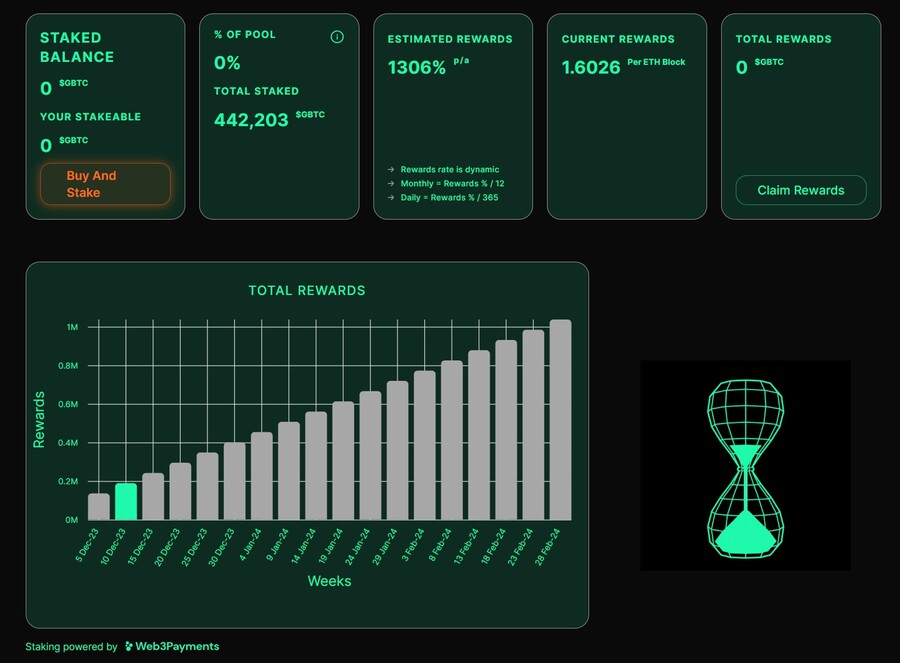 You should be able to withdraw your tokens once the presale has ended. This is is likely to coincide with phase three in the project development where the gamified price prediction and staking rewards will come online.
Follow Green Bitcoin's X account and Green Bitcoin's Telegram account to stay up to date with the latest information about the project. Also, make sure to check out the Green Bitcoin whitepaper.
| | |
| --- | --- |
| Presale Started | Q4 2023 |
| Purchase Methods  | USDT, ETH, Card |
| Chain | Ethereum |
| Min Investment | N/A |
| Max Investment | None |
9. yPredict (YPRED) – Offering Advanced Crypto Analytics and AI-Driven Predictions
yPredict offers a comprehensive suite of advanced crypto analytics tools, extensive research resources, and a user-friendly trading interface. Its precise prediction models are crafted by AI experts utilizing Natural Language Processing (NLP) and other advanced AI technologies.
Each $YPRED token is priced at $0.11 at the time of writing, with a listing price of $0.12 – that means investors can get an upside of at least 9% in the coming weeks. More than $5 million has already been raised in the presale.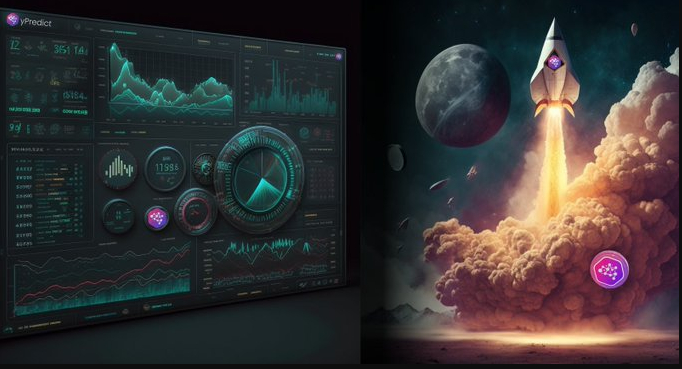 yPredict has partnered with financial mathematicians and AI specialists to develop its prediction models, catering to the growing algorithmic trading industry. These models prove invaluable in detecting market shifts and appraising crypto values.
The platform offers a variety of tools beyond technical analysis and automated trading indicators. Its unique pattern recognition technology allows investors to visualize upward and downward market trends on charts.
Moreover, the yPredict token smart contract is built on the adaptable Polygon blockchain, backed by a fully transparent and KYC-verified development team.

According to the yPredict whitepaper, those who stake their $YPRED tokens are entitled to a 10% share of the subscription income. The total circulating token supply is capped at one billion tokens. 
Stay up-to-date with the latest developments on the platform by subscribing to the yPredict Telegram channel.
| | |
| --- | --- |
| Presale Started | Q1 2023 |
| Purchase Methods  | MATIC, ETH, USDT, BNB, Credit Card |
| Chain | Polygon |
| Min Investment | 200 YPRED |
| Max Investment | None |
10. Cogwise (COGW) – AI-Powered Cryptocurrency Offers Market Insights and Staking Yields, Priced at $0.02 on Presale
Cogwise (COGW) is a state-of-the-art artificial intelligence model, which helps users gain insights and accurate information about various blockchain and crypto-related topics. The platform leverages AI tools such as NLP (Natural Language Processing), to efficiently communicate and respond to humans.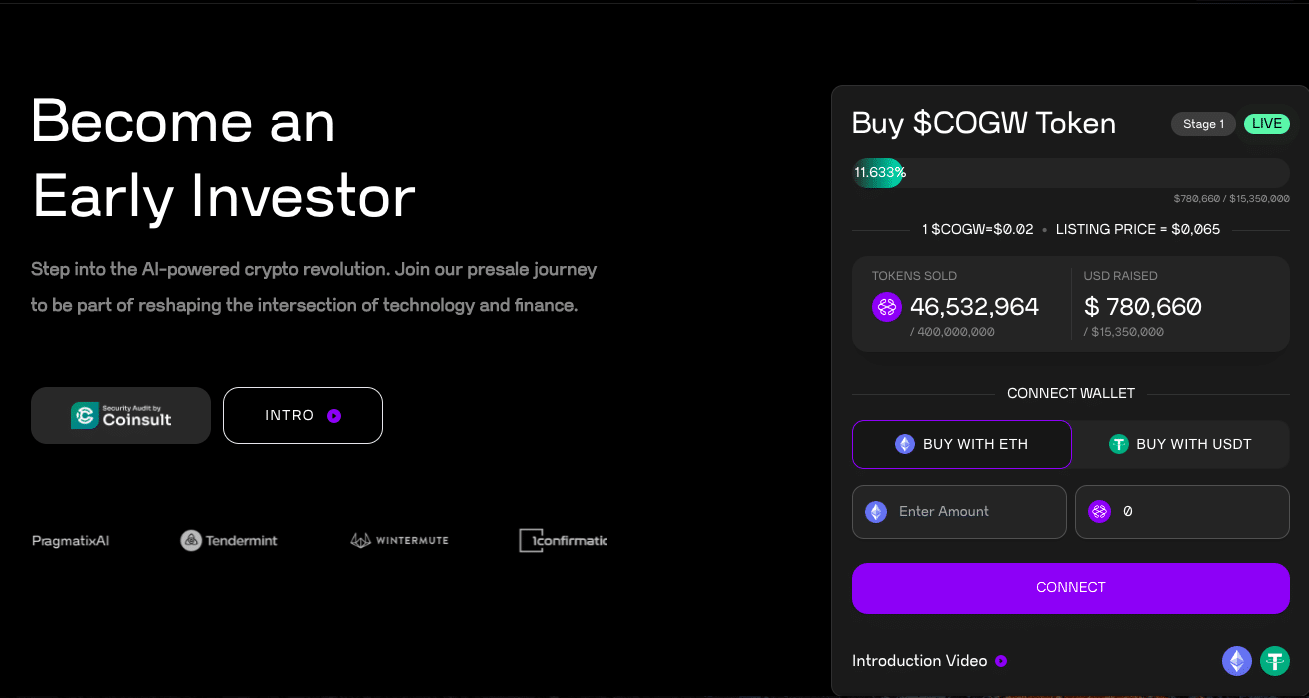 At the center of the ecosystem is the CogwiseAI Core – which will feature a conversational AI-powered assistant that can help you with smart contract generation, market analysis, and guidance. Members can also access trading strategies through the AI – which automatically reads charting patterns and conducts technical analysis on different assets. 
All these features can be accessed by staking a minimum of 10,000 $COGW tokens on the ecosystem. This new cryptocurrency also provides passive income to token holders. $COGW can be staked into liquidity pools, and are used to offer liquidity to other decentralized exchanges (DEXs). 
As the tokens are used on the exchanges, token holders get a percentage of each swap. $COGW has a supply of 1 billion – 400 million of which have been allocated for the ongoing presale. Once the platform starts generating profits, 35% will be burned to reduce the supply. The remaining will be used for growth and sustainability.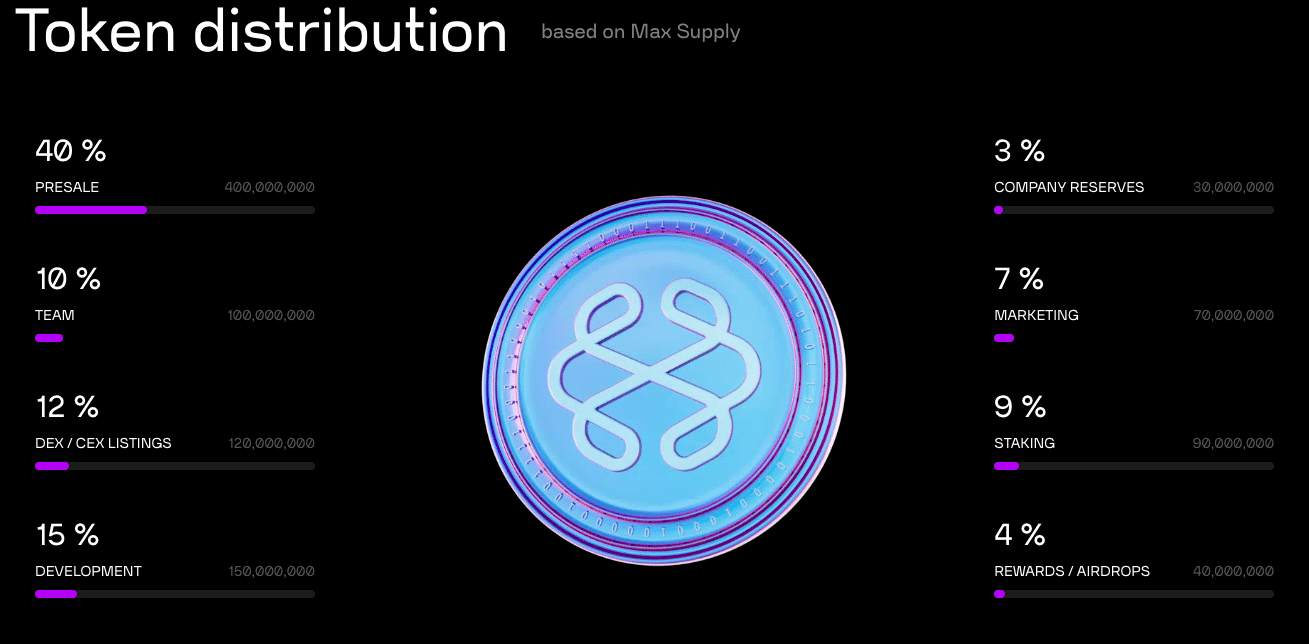 Currently, $COGW is priced at $0.03 per token. The exchange listing price is set at $0.065 – a 116% price jump.
Since the presale started, Cogwise has raised over $1.3m. Go through the Cogwise whitepaper and join the Telegram channel to stay updated with this new crypto project. 
11. Pikamoon (PIKA) – NFT and Play-to-Earn Metaverse Cryptocurrency 
Pikamoon ($PIKA) is a play-to-earn role-playing metaverse game. This platform allows players to mint their own NFTs – known as Pikamoon companions. With your NFTs, you can enter the Pikaverse – based in a virtual world known as Dreva. 
The world of Dreva comprises of four regions – including the Flame Empire, Water Kingdom, Thunder Collective, and the Earth Regions. In total, 18,012 Pikamoon NFTs belong to the world of the Pikaverse.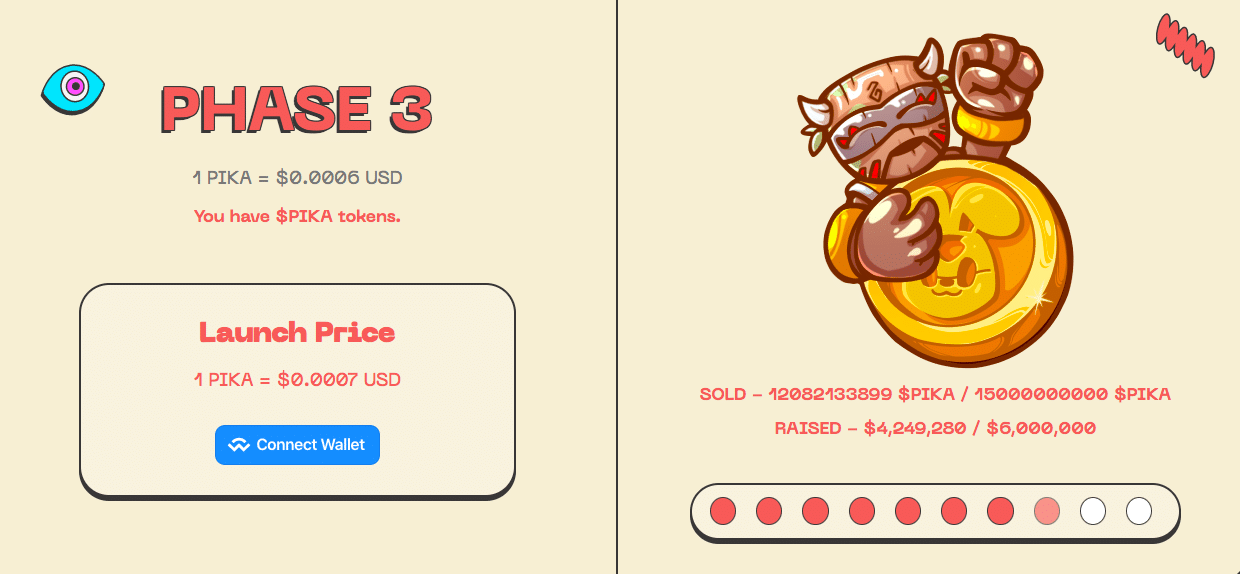 Your NFTs can be leveraged on a battle system – to fight other avatars. The top performers climb up an online leaderboard and win additional tokens as rewards. Players can also access equipment such as healing potions and capture devices from an NFT marketplace. 
The marketplace allows purchases only in $PIKA. 5% of all tokens spent on the marketplace are burned. Another 65% are given back to players through a play-to-earn prize pool, while the remaining tokens are used for marketing purposes. 
Pikamoon also features an exploration side – where players can view the different regions, and capture new Pikamoon avatars along the way. Expanding your empire can be one way to stand a better chance of winning in the battles. 

This new cryptocurrency has a total supply of 50 billion tokens – 15 billion of which has been allocated across three presale rounds. Currently, $PIKA is priced at $0.0006 during the third and final round. The presale has already raised more than $4.2 million since launch. 
Interested investors can buy $PIKA through the presale, before the initial exchange offering. The listing price is set at $0.0007 per token. For more information on this new crypto project, go through the Pikamoon whitepaper and join the Telegram channel. 
| | |
| --- | --- |
| Presale Started | May 2023 |
| Purchase Methods  | ETH, USDT, BNB |
| Chain | Ethereum |
| Min Investment | N/A |
| Max Investment | None |
12. Corite (CO) – Popular Interactive Music Crowdfunding Platform 
Blockchain boasts various projects, and musicians can benefit from it as well. Corite is a platform launched for artists and their fans to interact while serving as a crowdfunding source.
Artists on Corite can invite fans to support their new projects by investing. It's different from a donations platform because fans that support their artists receive a share of the streaming revenues. The artists decide the share of their royalties, and they keep all the rights.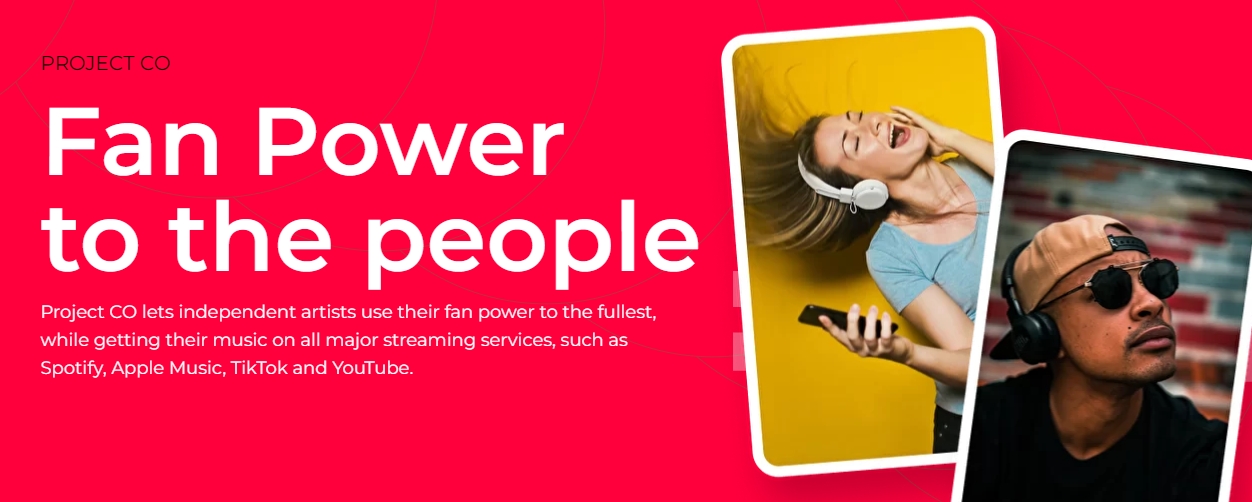 Corite provides daily data about how music is streamed globally and has also been instrumental in helping artists such as Alan Walker and Oscar Stembridge. Both artists gave back to their fans by using Corite.
At the core of this project is the native token CO. This utility token powers the entire ecosystem to enable transparent funding. Owning the coin enables investors to stake it, earn rewards for contributions and unlock functionality.  
This cryptocurrency launches today, 28 September 2022. Corite is making 42 million tokens available on PancakeSwap at $0.035 per token. The project's goal is to raise $1.47 million.
13. WeSendit – Efficient File Transfer Platform for Large Documents 
WeSendit has used the power of blockchain to enable users to transfer large files globally. It has more than 3 million users in 150 countries that have trusted this platform for 10 years.
The platform launched WeSendit3.0 to create a decentralized solution for data protection. Premium users can anonymize their data management to ensure that central connections cannot collect personal data.

One of the features that separate WeSendit from other file transfer platforms is the ability for users to earn rewards. This is an ideal long term crypto project for users wanting to earn the platform's native token, WSI, while sending files. Users need to register for a business or premium account to receive rewards from the activity pool for sending data.
Users get up to a 60% discount on premium features by paying for their subscription with WSI tokens. WeSendit's ICO began on 1 September 2022, and the project aims to raise $2 million. Only 8% of the total token supply (120 million coins) will be available during the ICO at $0.017 each.
14. Byepix (EPIX) – Profitable Metaverse and All-in-One Blockchain Platform
One of the top crypto launches this year considered an all-in-one platform is Byepix. It has diversified its network by incorporating play to earn, Metaverse, NFTs, SoFi and DAO protocols.
Investors can access several protocols such as Gems Hunter, mission platform and the NFT showroom. Gems Hunter is a profitable play to earn game, and the mission platform enables investors to earn in-game currency by completing tasks. Virtual lands enables investors to buy, sell and build digital real estate.
To take advantage of the rewards offered, investors need to own the native token, EPIX – investors can buy EPIX tokens from the Byepix ICO platform.
One hundred million tokens are available for the ICO at $0.18 each. Byepix has enabled the advantageous maximum profit program (AMP) to ensure that tokens aren't released all at once. They'll be released daily at different times to prevent a pump and dump.
The platform has enabled investors to stake their coins while they wait for them to be released, so they can earn rewards.
15. LasMeta (LASM) – New Play to Earn VR Poker Gaming Platform 
LasMeta is a Metaverse platform launched to enable poker player to immerse themselves in the ultimate gaming experience by using virtual reality headsets. It runs on the Ethereum blockchain and also enables players to earn rewards.
Players can also own casinos, entitling them to special NFT ownership privileges. The collection consists of 7,000 NFTs, enabling holders to earn a passive income. Casino owners can host tournaments and receive actual profits.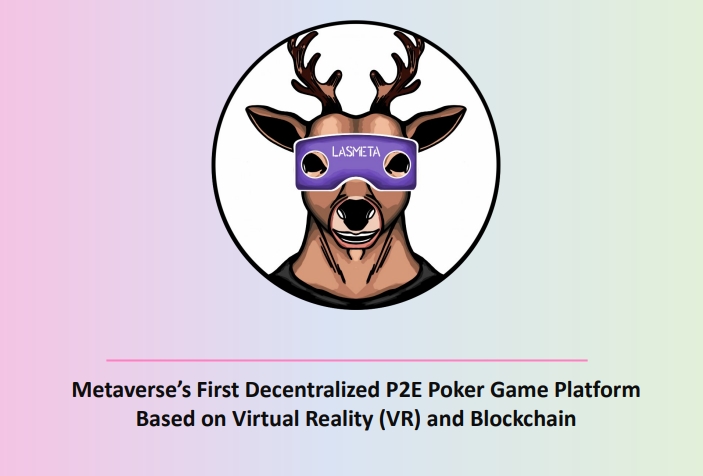 Participating in games is another income stream. LasMeta also enables players to earn in-game currency by selling their analysis and predictions and joining the referral program. 
Staking will be available for investors wanting to receive interest for locking away their coins. An annual percentage rate (APR) of up to 15% is achievable, and a 2-year staking period earns investors up to 25%.  
Not many details have been released about the LASM token, the only information stated is that the token will trade at $0.062.  
16. Interest Protocol (IPT) – Scalable Lending and Borrowing Blockchain Platform
Interest Protocol is another new crypto launches in September 2022. This fractional reserve banking protocol pays interest to depositors. Its stablecoin, USDi enables investors to earn yield without staking.
The two main participants on this platform are depositors holding USDi to earn interest and USDi borrowers. Using this platform enables investors to access convenient and efficient financial services.

The Interest Protocol Token (IPT) is the platform's governance token, enabling holders to control the protocol. IPT holders propose and vote on changes such as updating the interest rate curve or adding new collateral assets.
Investors can buy IPT tokens from the platform's website. Each token costs $0.25, and 35 million coins are available. Interest Protocol aims to raise $8.75 million to make its platform even more scalable.
How to Find New Crypto Launches
Investors wanting the best possible crypto prices should get involved in projects in their infancy. That means investing in projects when they're in presales or during the ICO. Below are some resources for finding such avenues.
ICO Calendar
The most popular ICO calendar is provided by CoinMarketCap. The convenient aspect of using this source for new coin launches that it shows upcoming ICOs and ongoing projects. Having access to the upcoming ICO information enables investors to gauge projects potentially in the presale stages.

CoinMarketCap's calendar also provides information about projects that recently concluded their ICO. Those platforms are also considered to be new crypto launches.
Events
Networking is a powerful tool for attaining wealth. The best way to network with like-minded individuals is by attending crypto events. The key speakers usually have an inside scoop about upcoming projects.
Even if the speakers don't mention new cryptocurrencies during the speech, investors can speak to them after the event. Meeting one of the attendees who know about new crypto launches is highly likely.
Exchanges
Exchanges advertise new coin listings well in advance to ensure sufficient liquidity the day the coin starts trading. A key advantage of buying new crypto when it launches on an exchange is the possibility of getting the lowest prices.
Then when the rest of the market enters, the demand should increase the coin's value. 
How to Decide Whether to Invest in a Crypto Launch
Investors need to do their due diligence to ensure a project is worth investing in. The fewer risks that accompany a project, the more likely it is to be a sound investment. So, how do investors minimize risk?
Ensure that a cryptocurrency provides utility. Crypto coins need to solve a real-world problem, provide a service or enable investors to earn interest by owning them. 
The meme coin era has passed and has proven that investors quickly get over the hype of celebrity endorsements. They require value from projects. The ideal investment would be a project that already has a prominent brand and is branching out into different blockchain protocols.
Investors should enquire about the project's developers. Knowing the identities of the people running the project is key. It shows they aren't trying to hide, and investors know who to hold accountable in case of nefarious activities.
Conclusion
From the new crypto launches we reviewed, Bitcoin ETF Token ($BTCETF) is one of the top options to watch.
It offers many incentives for the cost-conscious investor, and its fate is tied to key market phenomena. Should these events occur, Bitcoin ETF Token could perform extremely well. 
Currently in its early presale stage, the token price is heavily discounted and the APY yields remain very high at over 200% – more than $2 million has been raised in just three weeks.
FAQ
What new cryptocurrencies are coming out?
Several crypto projects are added to the blockchain daily, but only a few a worth investing in. We found that projects such as Bitcoin ETF Token, Bitcoin Minetrix, Meme Kombat, TG.Casino, Launchpad, and yPredict, are new coin launches with excellent utility and a big future.
Where can I find newly launched crypto?
Investors can look for newly launched crypto in several places, such as ICO calendars, crypto events and exchanges. CoinMarketCap is a popular ICO calendar, and attending events with industry leaders as key speakers helps investors gain insight into crypto presales and new coin launches.
Disclaimer: The Industry Talk section features insights by crypto industry players and is not a part of the editorial content of Cryptonews.com.
---