Robbo AI Review - Scam or Legitimate Trading Software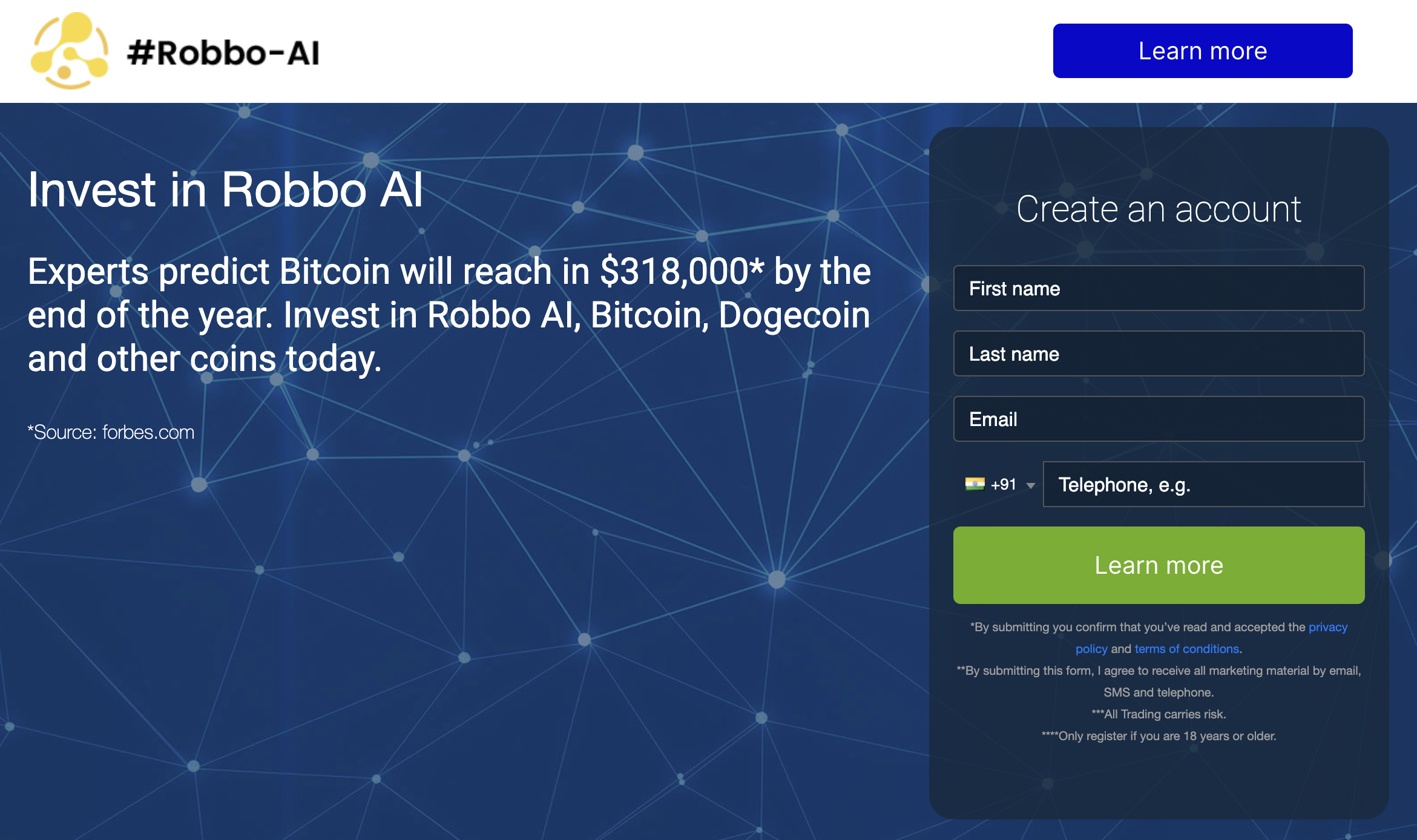 Disclaimer: The text below is an advertorial article that is not part of Cryptonews.com editorial content
Robbo AI is a crypto trading platform that claims to make Bitcoin and altcoin trading more profitable and easy by offering tools that traders can use to conduct trades quickly without paying much attention to market conditions. The platform claims to have an onboard ML-enabled mechanism for that purpose.
But is Robbo AI all that it claims to be? In this Robbo AI review, we will unveil the different characteristics of this crypto trading software to see if it has all the tools it claims to improve your trading experience.
Robbo AI Summary
Crypto trading has a hands-on and hands-off approach. Robbo AI claims to accommodate a hands-off approach that involves quickly scanning the market and providing traders with the best opportunities that generate the most profits. Here is the breakdown of all the features that form the baseline of our review.
| | |
| --- | --- |
| Type of Trading | Crypto |
| Success Rate | Unspecified |
| Cryptocurrencies Supported | Bitcoin, Bitcoin Cash, Litecoin, Ethereum, and More |
| Available on Mobile? | No dedicated app but accessible through mobile |
| Fees | No fees |
| Customer Support | Accessible only to those who sign up |
| Withdrawal Speed | 24 Hours |
| Minimum deposit | $250 |
Cryptocurrencies are unregulated. Trading with unregulated brokers will not qualify for investor protection.
What is Robbo AI?
Robbo AI is a crypto trading bot that claims to scan the market looking for the best investment opportunities and completes the trading process on behalf of users. It says it has onboarded complex analytical tools to make buying and selling cryptocurrencies faster, more informed, and more profitable for everyone involved.

It claims to be one of the best robo advisors in the industry, making it easier for beginners to invest in crypto without possessing all the technical know-how. To achieve those goals, Robbo AI has implemented machine learning technology whose main job, as the site claims, is to scan the volatile market and find the best investment opportunities. And if investors want it, it also conducts the trades on users' behalf.
Robbo AI claims that it has a high success rate without asking for any commission or an additional fee. We could not verify those claims because of the homepage's minimalistic nature. The site has also not made it perfectly clear how to contact customer support if users encounter issues.
Therefore, we recommend investors take every precaution and conduct their research before using the platform, as it would minimize the risks associated with crypto trading.
Robbo AI Pros and Cons
Listed below are the pros and cons of conducting trades on Robbo AI:
Pros
The process of account creation is easy
Withdrawal and deposits can be performed using conventional fiat methods
Trading of leading cryptocurrencies available on the platform
Claims to offer a high success rate
Says that there are no hidden fees
Cons
The success rate is unverified
Requires an investor to deposit $250 before conducting any trades
Cryptocurrencies are unregulated. Trading with unregulated brokers will not qualify for investor protection.
How Does Robbo AI Work?
Robbo AI is a crypto trading platform that claims to use machine learning mechanics to navigate the volatile cryptocurrency market and uses self-learning protocols to conduct profitable trades on a client's behalf.
The site claims to use the on-boarded mechanics to scour the price charts and assess the market based on historical data and current technical indicators. It then predicts where the price of certain assets might go following which it conducts the trading.
It buys low, and when it sees the signs of an upswing, it waits for the price to reach the target before selling the asset.
This hands-off approach is common in many cryptocurrency exchanges but can lead to major losses since the crypto market doesn't follow the standard fundamentals. Therefore, investors must be careful before investing.
Robbo AI claims that it doesn't charge anything for conducting the trades, and investors only need at least $250 deposited in their account to execute the transaction. The site also claims that the on-boarded trading mechanic works round the clock, leading to a high success rate.
Our reviewers couldn't verify these claims through the course of their research. Therefore, investors must be careful and make their own decisions before starting trades on this platform.
Robbo AI Key Features
Robbo AI is not so different from the other auto trading platforms we have previously covered. Here is the breakdown of all the key features of this software.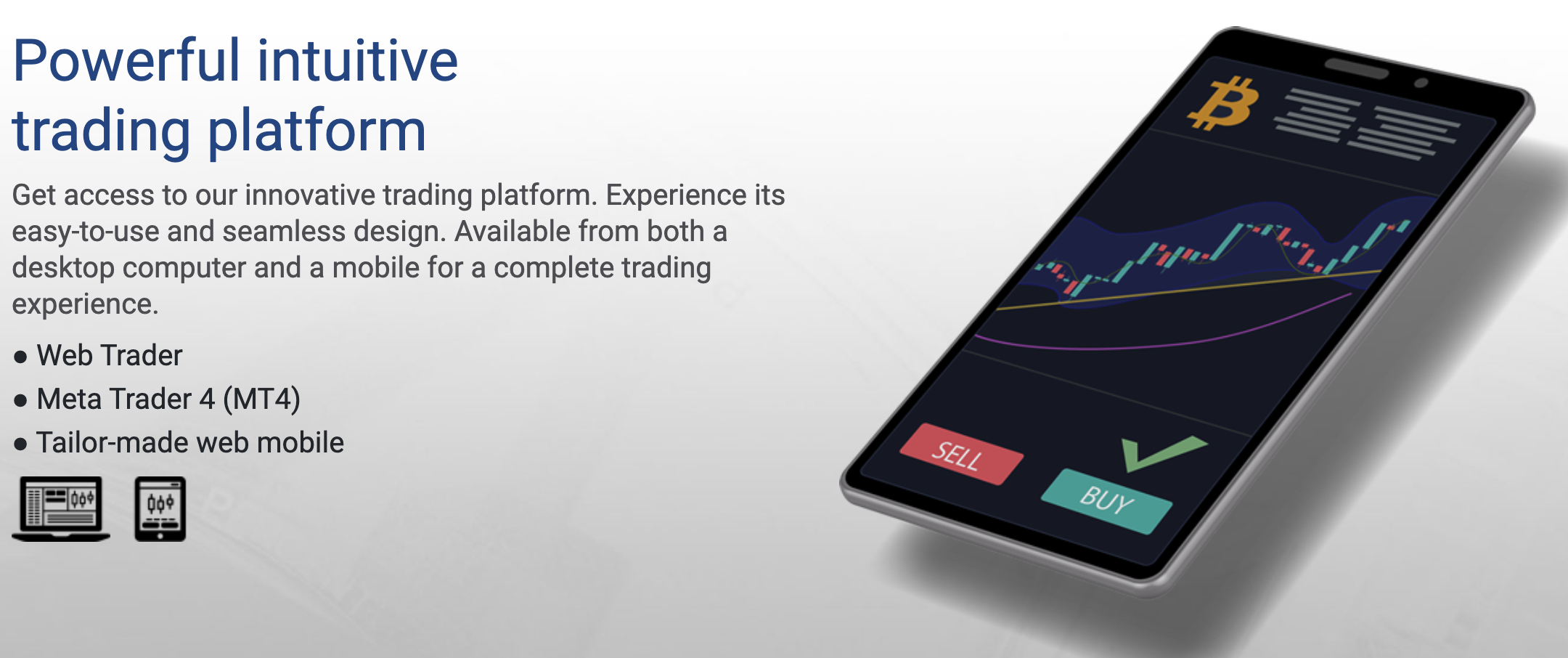 Claims a High Success Rate
The official website states its machine-learning mechanics allow traders to assess the market quickly and make quick decisions they would be otherwise unable to make when trading manually. Robbo AI claims that this approach leads to a high success rate.
No Hidden Fees
The official homepage of the website doesn't mention any commission that Robbo AI asks to conduct trades on an investor's behalf. It claims that users only need to deposit $250 in their account to start interacting with the markets and start trades without having to pay any deposit or withdrawal fee.
Support for Major Cryptocurrencies
Robbo AI says that it supports all the major cryptocurrencies in the market, including Bitcoin, Ripple, Ethereum, Litecoin, Bitcoin Gold, Bitcoin Cash, Cardano, IOTA, Binance Coin, NEO, and EOS.
Demo Account
Many crypto trading platforms allow users to test their features through a demo account. This approach helps investors ease into using the platform - which is also a facility we found on Robbo AI. That said, accessing even the Robbo AI demo account is hidden behind a paywall, which means only paying members can trade in virtual environments as training before trading using real money.
Safe Trading
Safety is paramount in crypto trading since the largely unregulated nature of cryptocurrency has made crypto investments a den for scammers. Crypto trading platforms that implement safety mechanics establish safeguards to ensure all users' data remain safe.
Robbo AI claims to provide a high level of security to the user-date. But we can't be sure of this platform's safety since it hasn't expanded upon these security features.
Cryptocurrencies are unregulated. Trading with unregulated brokers will not qualify for investor protection.
Robbo AI Account fees
According to the official website, no fee is charged to use any of the services on the platform. The site claims not to have any of the standard commissions associated with any of the profits that investors generated on the platform.
| | |
| --- | --- |
| Trading Fee | None |
| Account Fee | None |
| Commission | None |
| Withdrawal/Deposit Fee | None |
Robbo AI Minimum Deposit
In order to start using Robbo AI and conduct trades on the platform, you must deposit at least $250 in your trading account. As the amount isn't small, and much of the information about the internal mechanics of the website are hidden - we recommend caution and assessing all the risk before using this crypto trading platform.
Robbo AI Compatible Devices
Robbo Ai doesn't have a dedicated mobile application. What it does have, however, is a responsive website. We tested Robbo AI on the following devices and found that all of its advertised features are visible across all of them.
Laptop
Desktop
Android Phones
Apple Phones
A responsive website means there is a low hardware requirement. But since the platform must conduct trades fast, we recommend having a robust internet connection before getting started.
Robbo AI Customer Support
There is no ability to access customer support for those who want to assess the website before getting started. We make this assessment because Robbo AI doesn't have a contact us page - just a sign-up button that requires you to enter your phone number. Customers can likely reach out to support through phone or a specialized email address that members get.
Is Robbo AI Scam or Legit?
We have assessed all the intricacies of this crypto trading platform and are now ready to answer the question - is Robbo AI a scam or legit?
The answer to this, however, isn't easily accessible. The site's claim that anyone is allowed to trade without having to pay any fee is admirable - but the initial deposit requirement of $250 to start trading is not meant for frugal cryptocurrency traders.
Furthermore, our expert couldn't verify the site's claims to generate a high success rate through its trades.
On the plus side, however, we found it extremely easier to create an account. We only needed to enter our email ID, password, and phone number to do so. And the lack of any KYC requirement makes it believe that the site is truly open to anyone around the globe. Robbo AI also claims that it has integrated with leading cryptocurrency exchanges to conduct trades - which is a huge plus in our books.
That said, customer support is not accessible to outsiders who want to learn about this website before trying it out. Additionally, there is not much information given about the website per se – most of the content on the homepage is about perks and risks associated with Bitcoin Trading and trading CFDs.
Due to these factors, we cannot conclude whether this site is legitimate or not. It is recommended that investors research on their own end before checking out this website.
Does Jeff Bezos Use Robbo AI?
Jeff Bezos, the billionaire behind Amazon and one of the richest people in the world, is long thought of as one of many who use hands-off trading platforms like Robbo AI to conduct profitable trades quickly. That said, we couldn't find any evidence that Jeff Bezos uses Robbo AI to execute crypto trades.
Does Elon Musk Use Robbo AI?
Elon Musk is one of the leading voices driving the price of Dogecoin and multiple similar assets. His bullishness about his own Doge pet has often funneled into Dogecoin, pumping its price and reaching an all-time high. With an impact like this, it is natural for people to think that Elon Musk might be using Robbo AI.
Unfortunately, that is not the case. The world's richest man doesn't have an account registered on Robbo AI.
Does Martin Lewis Use Robbo AI?
Popular financial journalist Martin Lewis has long been thought of as a name associated with many crypto trading platforms. Martin has himself debunked these claims - and the same goes for Robbo AI. There is no evidence to suggest that he uses the platform.
Cryptocurrencies are unregulated. Trading with unregulated brokers will not qualify for investor protection.
Who is the Founder of Robbo AI?
There is no information about any of the founders given on the Robbo AI crypto trading platform. In fact, we couldn't even find anything remotely similar to an About Us. The only two pages we could find other than the home page - privacy policy and terms and conditions - didn't have any mention of the founders. However, investors mustn't be alarmed, as it is not uncommon for crypto trading platform's founders to keep themselves anonymous. That said, you must decide how much stock you put on transparency before conducting trades on this platform.
How to Start Trading on Robbo AI?
Here are the steps to keep in mind to start trading on Robbo AI.
Step 1 - Create an Account
The first step is to create an account on the official website. For this, you can visit the Robbo AI website and then click the "Learn More" button after entering your name, email, and phone number - check that you agree with the terms and conditions before deciding to sign-up.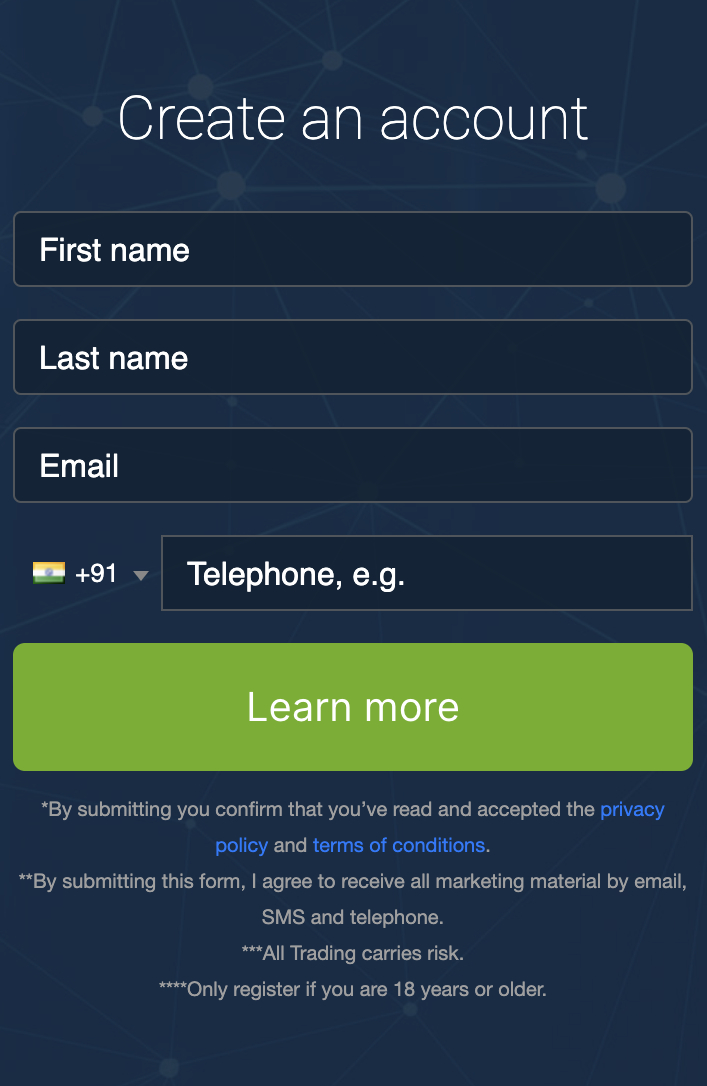 Step 2 - Deposit the Amount
Your account won't be automatically created upon signing up. To fully get your account functional, you need to deposit $250, the details of which you will receive from a customer support expert who will call you later. Use the link you get from the support team to deposit the amount so that all the Robbo AI features become open to you.
Step 3 - Start Trading on Robbo AI
Once you deposit the amount, you can modify the in-app trading mechanic to conduct trades.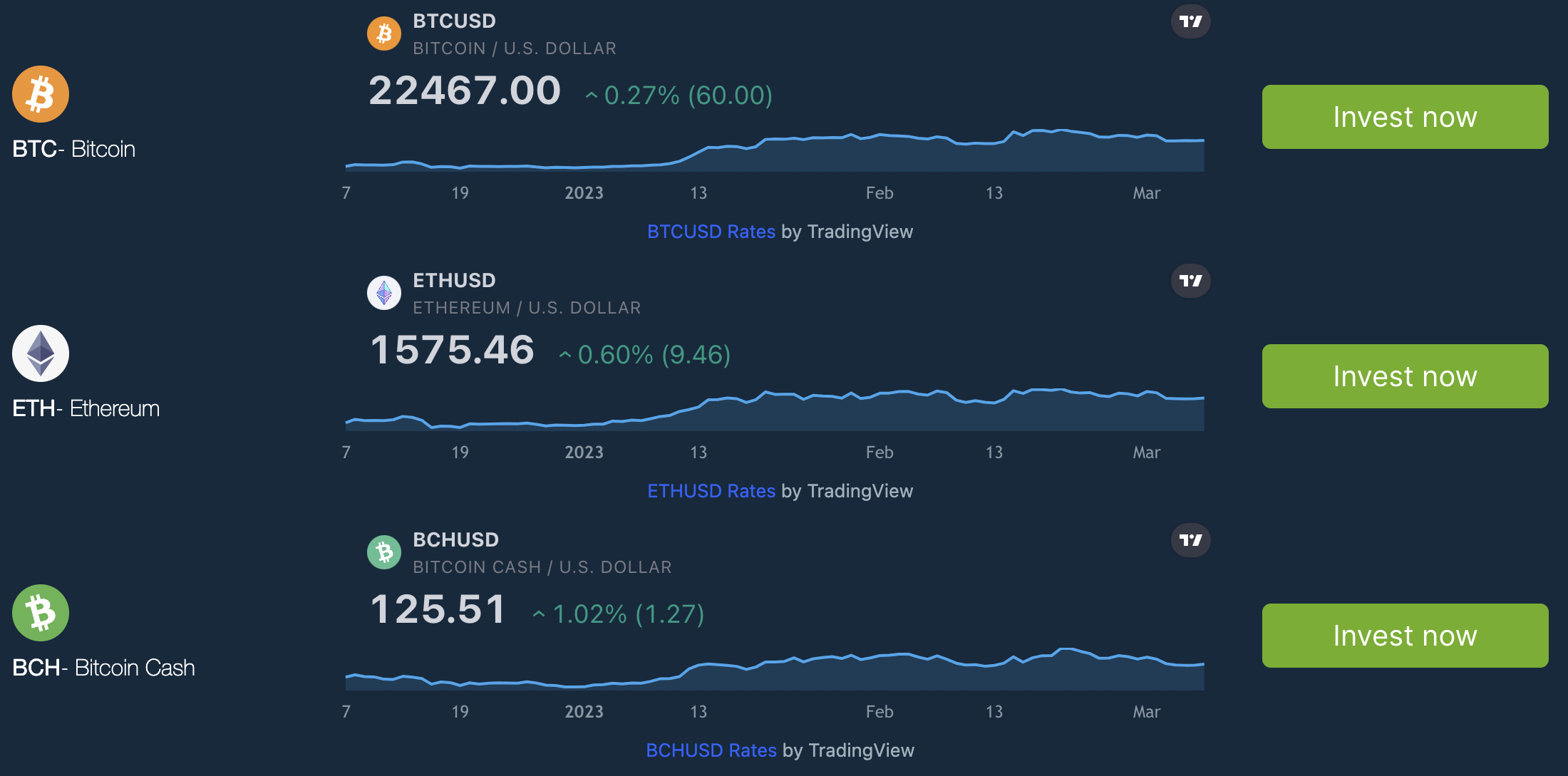 How to Delete Robbo AI Account?
Robbo Ai claims that you can delete the account by going to your dashboard, then settings, and then clicking on the "Delete Account" button that you find on the platform. But account deletion will remove all the money you have deposited to get started. So, we recommend withdrawing your deposit before letting go of your Robbo AI account.
The Verdict
Robbo AI is a crypto trading platform that claims to bring the best results in the market while delivering an excellent UI that makes it easier for beginners to engage in crypto trades. For the most part, we found these claims to be true. It is easier to create an account on the website - and there is also a demo trading account that will make the use of UI easier.
However, other than the sign-up, all the features are locked behind a deposit of $250. You won't find any information by looking at the homepage. You need to make a deposit to create an account - for that's the only way to access all the features the site claims.
Additionally, there is a lack of information about the people behind Robbo AI. We couldn't find anything about them in the privacy documents or anywhere else. These factors don't provide us with enough information to decide whether the platform is legit. We recommend doing your own research as well and only using this platform if it meets your trading needs.
Cryptocurrencies are unregulated. Trading with unregulated brokers will not qualify for investor protection.
Robbo AI FAQs
What is Robbo AI?
Robbo Ai is a crypto trading platform that claims to use machine learning to make crypto trades faster and more profitable for traders of all levels. While the platform says that it doesn't charge any commission - you need a deposit of $250 to start using this platform.
Does Elon Musk endorse Robbo AI?
While Elon Musk has been bullish about crypto trading in the past, there is no evidence to suggest that he uses Robbo AI to conduct his crypto trades.
Who is the founder of Robbo AI?
There is no information available online that points us to the founder of Robbo AI. Much of the details given on this platform are generic - and information about the development team is absent.
---