Bitcoin Profits Way Review - Scam or Legitimate Trading Software

Disclaimer: The text below is an advertorial article that is not part of Cryptonews.com editorial content
Bitcoin Profits Way is a crypto trading platform that claims to help investors trade cryptocurrencies the right way by giving them access to an extensive array of tools that are supposedly backed by ears of market research and real-time market data.
The platform portrays itself as a trading assistant making it easier for everyone - novice or veteran - to trade cryptocurrencies. This Bitcoin Profits Way review is going to analyze the different claims that this app makes to find out if they are really accurate.
Bitcoin Profits Way Summary
Bitcoin Profits Way has been a bit clearer on its features than other similar trading platforms we have covered so far. But before we look into them, here are the key features of this platform:
| | |
| --- | --- |
| Supported Crypto | Bitcoin, Ethereum, Litecoin, Bitcoin Cash, Dogecoin, and more |
| Success Rate | Not specified |
| Available on Mobile? | Not specified |
| Fees | No fees |
| Customer Support | 24/7, but only for registered traders |
| Withdrawal Speed | 24 hours maximum |
| Minimum deposit | $250 |
Cryptocurrencies are unregulated. Trading with unregulated brokers will not qualify for investor protection.
What is the Bitcoin Profits Way Platform?
Bitcoin Profits way claims to be a trading assistant program, providing investors with an array of tools to invest in crypto after learning all the details. The Bitcoin Profits Way website says it offers a real-time trading analysis based on years of market research and advanced technologies to help users trade successfully.
That said, the platform hasn't specified how successful these trades might be. What is clear, however, is Bitcoin Profits Way's claim that users can access an intuitive and reliable platform accessible through all devices. As far as the website's registration page goes, the sign-up process is indeed simple.
According to the official website, once users enter their parameters, they get access to relevant insights that offer them a complete overview of the market. Information derived from those details - which Bitcoin Profit Way's machine-learned mechanics help with, apparently - become information investors can leverage to find the right time to invest in a volatile cryptocurrency market.
That information is reportedly presented in a simple format that even a novice trader can decipher starting the trading process. We didn't make a deposit to test that out however.
Accessing those advanced tools, which the site says are free of cost, only becomes accessible after the user invests a seed capital. That means a deposit of $250 has to be made first. After making the deposit, users may use the demo trading account to familiarize themselves with the platform.
Bitcoin Profits Way also claims to secure users' accounts using SSL encryption and other standard strategies. And if a user gets stuck using any utility, customer support is also supposedly within their reach.
These features, although enticing, have no information backing them up. While the site has provided a more clear-cut view of the type of features it offers - the name of those features is still absent.
Therefore, investors must exercise caution when trading on this site. Users must invest only a minimum amount and only continue investing if the platform performs as advertised.
Bitcoin Profits Way Pros and Cons
Listed below are the pros and cons of Bitcoin Profits Way.
Pros
Claims to provide an array of tools
Simplified UI
Easy sign-up process
Support for multiple cryptocurrencies
Customizable platform - according to the claims
A demo account is available
Cons
Requires a deposit of $250
Not as much information as required to get started
How Does Bitcoin Profits Way Work?
Bitcoin Profits Way doesn't present itself as a typical crypto trading bot, even though some of its features, as mentioned by the platform, give it some AI-driven characteristics. Once the user creates an account and deposits the required amount, Bitcoin Profits Way claims to get into action, bringing data-driven analytics for traders, similar to a robo advisor.
According to the platform, Bitcoin Profits Way scans various news and media outlets as well as price charts to predict the price of certain assets. The platform reports that there are 20 different indicators - which are a combination of sentimental and technical attributes - considered to provide users a full view of the crypto asset's price and the factors most likely to influence them.
Users can then manually conduct their live trading sessions. Depending on the accuracy of the data, users can accumulate profits. These funds are then transferred into the user's accounts.
Data-driven insights are key to trading; however, because of the deposit requirement, we weren't able to assess the quality of those insights. We tried third-party sites to see what tools Bitcoin Profits Way might provide, but even those have come up empty.
Therefore, we recommend doing as much research as possible before trying out the features that this platform claims to offer.
Bitcoin Profits Way Key Features
Listed below are the key features that Bitcoin Profits Way claims it offers users:
Advanced Technologies
Bitcoin Profits Way claims that it integrates advanced technologies to aid investors in identifying and taking full advantage of the information available on the cryptocurrency market.
According to the website, the tools scan the historical price chart of an asset using sentimental and technical indicators to predict the price of an asset. That, in turn, gives a user all the info they need to make informed decisions while investing.
Autonomous and Assistance
Bitcoin Profits Way claims it is a reliable trading assistance to investors, allowing them to explore investment opportunities by providing detailed insights into the market.
The website claims to provide real-time analysis of the volatile price action to help users develop the best strategies to use for trading. Users can reportedly also customize the techniques per their experience, risk tolerance, and trading skills.
Secure Platform
Bitcoin Profits Way claims that users will get access to top-level security from the moment they create an account on the website.
During the sign-up process, however, Bitcoin Profits Way admits to collecting some basic financial and personal information from members. But it promises not to share that info with third parties. Furthermore, the advert copy of this platform states that all the web pages are secured using the latest SSL encryption.
Demo Trading Account
Demo trading accounts help users do a test run of a platform before making any investment decisions. Bitcoin Profits Way states that it offers that - but only for registered users. That said, we found that even this feature is only made available once a user deposits the required amount.
Instant Withdrawals
According to some third-party sites, withdrawals and deposits on Bitcoin Profits Way are also instant. That means users might not have to wait for a long time to enjoy their profits. If accurate, that is a good factor to consider when picking a crypto trading platform.
Support for Multiple Assets
In a bid to provide more investment options to traders, Bitcoin Profits Way claims to support multiple cryptocurrencies. While it hasn't been stated by the platform itself, some report that crypto assets in addition to Bitcoin, such as Ethereum, Cardano, MIOTA, EOS, and more, are also supported.
Cryptocurrencies are unregulated. Trading with unregulated brokers will not qualify for investor protection.
Bitcoin Profits Way Account Fees
Bitcoin Profits Way claims to have no fees involved. Users can apparently create an account and start trading without having to pay any hidden charges:
| | |
| --- | --- |
| Trading Fee | None |
| Account Fee | None |
| Commission | None |
| Withdrawal/Deposit Fee | None |
Bitcoin Profits Way Minimum Deposit
To start trading on Bitcoin Profits Way, one needs to deposit $250 at least. The website states that this amount is considered seed capital, which can be used by the platform for trading crypto assets.
Bitcoin Profits Way Compatible Devices
We tried and tested Bitcoin Profits Way across several devices and were happy to note that the platform was visible across all fronts. The links were clickable, and the sign-up button was easy to access. However, that's not to say the same might happen once the platform opens up its trading features. Those who register must be mindful of that.
Is Bitcoin Profits Way a Scam or Legit?
To claim that a crypto trading platform is a scam or a legitimate website, one must have enough information. And to make the same claims for Bitcoin Profits Way, we scoured the internet hoping to find as much information as we could - but still came up shorthand.
While the site uses relatively fewer emotional words than some of the other platforms of the same nature we have covered, it still doesn't tell us everything.
For one, we don't know what type of trading tools it offers. And while we have the number of indicators it uses to forecast an asset's price - 20 - we don't know what these indicators are. Furthermore, testing was not possible for us since that requires a minimum deposit.
Therefore, we checked out some third-party sites for info as well, and even they were not clear on many features. The answers that we got were vague at best, and were often confused with similar tools such as 1G Profit System.
Therefore, we can't make comments on the legitimacy of this platform. However, the lack of it does cast some doubts over its reliability. Therefore, we recommend testing the site thoroughly before investing.
Bitcoin Profits Way Customer Support
There is customer support available on Bitcoin Profits Way. However, only registered users have access to it. And those who can reach out to the support team report that the representatives are available 24/7/
How to use Bitcoin Profits Way
There are three steps involved with opening a new Bitcoin Profits Way account:
Step 1 - Visit Bitcoin Profits Way Website
Visit the official website of the Bitcoin Profits Way platform. Enter a name, email, and phone number on the form on the right. The site will then start the verification process, after which the account becomes accessible.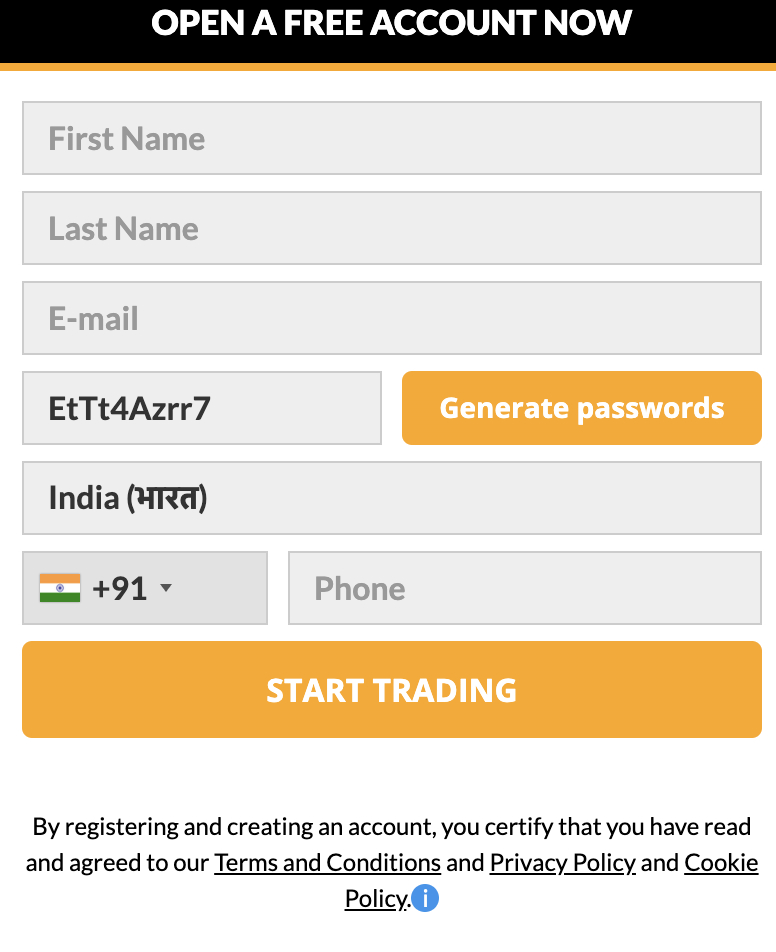 Step 2 - Deposit
Deposit the required amount, which is $250, using any of the listed methods mentioned on Bitcoin Profits Way.
Step 3 - Start Trading
All the features will likely unlock once the account has funds. Try out the demo account first to test the website, and if it yields satisfactory results, begin live trading.
How to Delete a Bitcoin Profits Way Account
There is no mention of deleting a Bitcoin Profits Way account. Some say that talking to the customer support team can help - but it is not confirmed. We recommend checking out the website's features thoroughly to find the terminate account option.
Have Celebrities Endorsed Bitcoin Profits Way
Elon Musk, Jeff Bezos, and Martin Lewis are three names are often attached to different crypto trading projects, and almost always, such rumors turn out to be untrue. The same goes for Bitcoin Profits Way, and there is no verified mention of any celeb supporting this platform.
Who are the Founders of Bitcoin Profits Way
Bitcoin Profits Way has given no information about the founders of the platform. There are some rumors that it is a group of traders, but there is evidence to substantiate those claims. The makers have likely decided to stay anonymous. While it is nothing new, a more transparent platform could have been better.
Bitcoin Profits Way Payment Methods
Listed below are the payment methods on Bitcoin Profits Way
Debit Card
Credit Card
Bank transfer
PayPal
The Verdict
Bitcoin Profits Way is described as a crypto trading platform that uses advanced tools and advisors to help users trade more efficiently. But the platform isn't clear when it comes to the kind of information new users would want to see.
While one can try this site out, care must be taken - all trading carries risk and that's particularly true for lesser known independent trading platforms. For more alternatives, check out our AI crypto trading bot projects list.
Cryptocurrencies are unregulated. Trading with unregulated brokers will not qualify for investor protection.
FAQs
What is Bitcoin Profits Way?
Bitcoin Profits Way is a crypto trading platform that offers a combination of advanced tools and machine-powered assistance to help investors become better crypto traders. It requires a $250 initial deposit to start trading, and the platform is also said to feature a demo trading account.
Does Jeff Bezos use Bitcoin Profits Way?
There is no evidence to suggest that Jeff Bezos endorses Bitcoin Profits Way in any way. The Amazon founder's interest in crypto is also unknown.
---