Top Trending Crypto Coins to Buy in 2023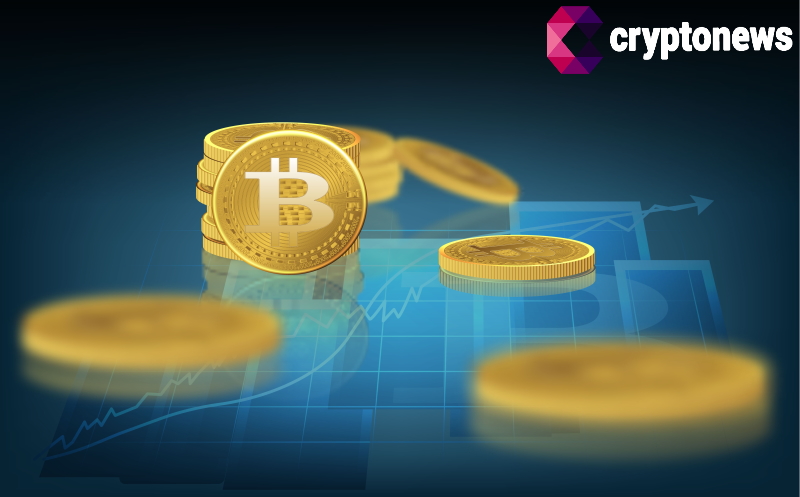 Disclaimer: The Industry Talk section features insights by crypto industry players and is not a part of the editorial content of Cryptonews.com.
Trending cryptocurrencies often see a jump in price as momentum around these coins grows and demand for them spikes. So, it's no surprise that many crypto investors seek out trending cryptocurrencies to buy and hold.
In this guide, we'll highlight some of the top trending cryptos to buy in 2023 and take a closer look at what makes each coin so popular.
The Top Trending Cryptos to Buy in 2023
Let's dive straight into our list of the most trending cryptos to buy today:
Wall Street Memes - This new meme cryptocurrency offers no utility but has generated an organic following of over 400K followers across social media. In just a few weeks since the start of the $WSM presale, over $4 million has been raised.
AiDoge - Trending AI-based meme cryptocurrency platform. Hold $AI to generate memes automatically and earn rewards through AiDoge's public wall.
Ecoterra - Green Crypto Project with Recycle-to-Earn Rewards. Access a Carbon offsetting marketplace and a recycled materials marketplace with $ECOTERRA tokens.
yPredict - This trending cryptocurrency offers predictive models and trading insights. The $YPRED token can be used to generate passive income and earn rewards through a P2E ecosystem.
DeeLance - Decentralized Web3 crypto ecosystem for freelancers and clients. Access lower fees and higher transparency by holding $DLANCE.
Launchpad XYZ - The $LPX token can be used to reduce fees on this all-in-one Web3.0 ecosystem. Access a decentralized exchange and Web3 wallet on this platform.
Chimpzee – Crypto NFT Project Dedicated to Wildlife Conservation, Climate Action and Earning Income
Tamadoge - A play-to-earn meme ecosystem. Use $TAMA to purchase in-game NFTs and access P2E arcade modes.
Battle Infinity - Leverage $IBAT tokens to access crypto pairs on a decentralized exchange, play P2E games and stake tokens.
Lucky Block - NFT-based competitions and rewards platform. Take part in this ecosystem to win exciting rewards and prizes.
Ethereum - Largest altcoin in the crypto space. Popular blockchain used for deploying smart contracts and DApps.
Uniswap - One of the largest decentralized exchanges in the world. Hold $UNI tokens to access voting rights on the platform.
Fantom - Platform created for offering quick crypto transactions at a relatively low cost. This blockchain can handle 30,000 transactions per second.
Gala - $GALA is the native token of Gala's gaming ecosystem. Access multiple P2E games with this platform.
ApeCoin - Popular cryptocurrency launched by the team behind the Bored Ape Yacht Club (BAYC) NFT collection.
LoopRing - This platform offers the infrastructure required to build decentralized exchanges on the Ethereum blockchain.
The Best Trending Crypto Coins to Buy Now Reviewed
Want to know more about the hottest cryptos trending on Twitter and Reddit right now? We've put together quick reviews of the most trending cryptocurrency tokens so investors can decide which ones are right for them.
1. Wall Street Memes - New Meme Cryptocurrency, which is trending since the start of its token presale
Wall Street Memes is a popular cryptocurrency platform that has existed since 2019. $WSM is an extension of the platform and functions as its native cryptocurrency. After Wall Street Memes released $WSM on presale in May 2023, this token has become one of the most trending projects in recent times.
Over popular social media platforms such as Instagram and Twitter, Wall Street Memes has generated a following of over 1 million people. This loyal fan base is helping Wall Street Memes become as popular as other trending meme coins, including Pepe ($PEPE) and Milady ($LADYS).
Wall Street Memes also released its own NFT project, Wall St Bulls, in 2019. During the first NFT collection drop, Wall St Bull managed to sell out 10,000 Ethereum-based NFTs in just 32 minutes. The success has carried on with the release of the presale, as Wall Street Memes has managed to raise more than $4 million in a short period of time.
Wall Street Memes' token does not offer any utility but aims to generate wealth for the community. $WSM is a 100% community token, with half of the 2 billion token supply set aside for the ongoing presale. Another 30% of the supply will be offered as community rewards, while the remaining 20% will be reserved for exchange listings.
Currently, $WSM is priced at just $0.0271 per token. The presale will consist of 30 rounds, with the price rising to $0.0337 by the final round. Over the course of the presale, Wall Street Memes aims to raise more than $30.5 million.
To learn more about this meme cryptocurrency, join the Wall Street Memes Telegram group.
| | |
| --- | --- |
| Hard Cap | $30,577,000 |
| Total Tokens | 2 Billion |
| Tokens available in presale | 1 Billion |
| Blockchain | Ethereum |
| Token Type | ERC-20 |
| Minimum Purchase | 100 tokens |
| Purchase Type | USDT, ETH, BNB, Card |
2. AiDoge - Trending AI-based Meme Token
AiDoge is the first-ever cryptocurrency platform to leverage artificial intelligence to generate memes. The platform does this by offering $AI, the native cryptocurrency, to members. Platform users can buy this presale token and exchange it for credits on the ecosystem.
Credits are used on AiDoge to generate memes using the AI-powered meme generator. To earn more credits, users can stake $AI to generate daily credit rewards. The ecosystem uses AI tools such as Natural Language Processing (NLP), which processes data offered in the form of text-based prompts.
The AiDoge whitepaper states that the memes will be available to post on a public wall. Eventually, AiDoge will incorporate a voting mechanism, allowing users to upvote and downvote the available memes.
Members can earn free $AI tokens if they receive the highest number of upvotes at the end of every month. Furthermore, the token can be used to generate memes and earn rewards, making it a high-utility token. More so, one can stake $AI to access premium features such as new meme templates and platform enhancements.
This trending cryptocurrency managed to raise nearly $15 million through its token presale. AiDoge will conduct its exchange listing on June 19th, 2023.
To stay updated with all the presale developments, join the AiDoge Telegram channel.
3. Ecoterra - Newly Trending Green Crypto Project with Recycle-to-Earn Rewards
Ecoterra is a newly launched project that is already trending in the crypto space due to its exciting presale and unique utility - which rewards users for recycling.
The presale is fast making waves for offering a novel way to help fight the climate crisis.
With ecoterra, users scan and recycle unwanted items in Reverse Vending Machines (RVMs) - which are available at supermarkets globally - and earn ECOTERRA tokens.
The tokens can be held as an investment, staked to generate passive income or spent to further combat climate change, funding eco-friendly projects such as planting trees or cleaning beaches.
As well as its recycle-to-earn function, ecoterra also has a carbon offset marketplace, where individuals and companies can offset their carbon footprint through verified carbon projects, as well as a recycled materials marketplace that will connect companies and recyclers.
That will allow firms to be more efficient in their green efforts, while companies can also purchase impact packages to negate the effects of their production and logistical processes.
| | | | | | |
| --- | --- | --- | --- | --- | --- |
| Phase | Price | Percentage | Amount of Tokens | USD Value | Raised Total |
| 1 | $0.00400 | 20% | 200 million | $800,000 | $800,000 |
| 2 | $0.00475 | 10% | 100 million | $475,000 | $1,275,000 |
| 3 | $0.00550 | 10% | 100 million | $550,000 | $1,825,000 |
| 4 | $0.00625 | 10% | 100 million | $625,000 | $2,450,000 |
| 5 | $0.00700 | 10% | 100 million | $700,000 | $3,150,000 |
| 6 | $0.00775 | 10% | 100 million | $775,000 | $3,925,000 |
| 7 | $0.00850 | 10% | 100 million | $850,000 | $4,775,000 |
| 8 | $0.00925 | 10% | 100 million | $925,000 | $5,700,000 |
| 9 | $0.0100 | 10% | 100 million | $1,000,000 | $6,700,000 |
Ecoterra has been developed by a doxxed and KYC-verified team, while the token smart contract has been audited by Certik.
The project has already partnered with Ahold Delhaize, a multi-billion dollar supermarket chain that operates globally and has more than 2,000 stores in the US, including Food Lion and Stop & Shop.
ECOTERRA tokens are on sale for $0.00925. The project is offering 50% of its max supply of 2 billion tokens to presale buyers, with no vesting period and a hard cap of $6.7 million.
Join the ecoterra Telegram group or read the full whitepaper for more information on the project.
| | |
| --- | --- |
| Presale Started | March 29 |
| Purchase Methods | ETH, USDT, Card |
| Chain | Ethereum |
| Min Purchase | $10 |
| Max Purchase | N/A |
4. yPredict - Next-Gen Trading and Analytics Crypto Platform
yPredict is a cryptocurrency platform that allows members to access trading insights to get a better idea of the future outlook of the digital assets space. Members can purchase monthly subscriptions to predictive models with $YPRED, the native token.
The subscriptions offer access to models through a financial marketplace. The models are created by AI developers and financial quants and verified by the yPredict DAO (Decentralized Autonomous Organization). yPredict leverages various AI tools, such as sentiment analysis, to predict the future outlook of the cryptocurrency markets.
Moreover, tools such as charting patterns are leveraged to properly assess whether the tokens are bearish or bullish. Other tools, such as technical indicators and AI trading signals, are also leveraged in the ecosystem.
The $YPRED token also offers several use cases in the ecosystem. For example, members can stake the native cryptocurrency to earn passive income. 10% of all new subscription revenue generated on yPredict is sent toward a staking pool.
The platform also distributed 15% of all swapping fees towards this staking pool. Thus, holders can receive a potentially high APY (Annual Percentage Yield). $YPRED can also be used to access the play-to-earn hub on yPredict.
Through this ecosystem, users can make directional bets on the future of different assets. The most accurate predictions are rewarded with free tokens. To increase your knowledge of the crypto space, you can access content and take quizzes on the Learn2Earn ecosystem. For successfully completing assessments, yPredict offers $YPRED tokens.
Currently on presale, $YPRED is priced at $0.09 per token. However, the price will rise to $0.12 by the final round. More than $2 million has been raised since the start of the presale. Read the yPredict whitepaper and join the Telegram channel to stay updated with this cryptocurrency.
| | |
| --- | --- |
| Presale Started | Q1 2023 |
| Purchase Methods | MATIC, ETH, USDT, BNB, Credit Card |
| Chain | Polygon |
| Min Investment | 200 YPRED |
| Max Investment | None |
5. DeeLance - Emerging Trending Crypto Reshaping Web 3.0 Recruitment with Low Fees
DeeLance, an innovative Web3 platform designed for freelancers and employers, has recently been trending after its presale phase's launch.
The platform streamlines the payment process for freelancers by incorporating digital currency transactions. Freelancers can turn their work into NFTs, allowing them to receive immediate payments through crypto transfers.
Moreover, the platform's native token, $DLANCE, has considerable potential for growth as it is scheduled to be listed on major exchanges in Q2 2023. Currently, $DLANCE is priced at $0.038 per token.
DeeLance uses escrow accounts to guarantee prompt payments for freelancers. The platform's decentralized nature and embrace of digital currency payments enable it to offer some of the most competitive fees in the industry. Unlike other well-established freelance platforms, DeeLance charges an exceptionally low employer fee of just 2%.
All transactions between freelancers and their clients are securely documented on a transparent blockchain and protected by smart contracts to prevent dishonesty.
Furthermore, freelancers can convert their work into NFTs on the platform, protecting their intellectual property while simplifying rights transfer.
A key aspect of the project is its NFT marketplace, detailed in the DeeLance whitepaper. This feature permits users to create, buy, and sell several Non Fungible Tokens (NFTs) through dynamic pricing.
The project seeks to grow its user base by cultivating online connections between freelancers and employers in virtual gathering spaces.
Additionally, the platform strives to link high-quality clients with exceptional businesses through its recruitment services.
Users are encouraged to join the DeeLance Telegram channel to keep up-to-date with the latest progress.
| | |
| --- | --- |
| Presale Started | 30 March 2023 |
| Purchase Methods | ETH, USDT, Credit Card |
| Hard Cap | $6,800,000 |
| Total Tokens | 1,000,000,000 |
| Tokens Available in Presale | 300,000,000 |
| Chain | Ethereum |
| Min Investment | $10 |
| Max Investment | None |
6. Launchpad XYZ - Access Web3.0 Services with this Crypto Platform
Launchpad XYZ aims to offer a portal through which users can access a range of Web3.0 services. By using Launchpad XYZ, members can create their own Web3 wallet through which they can swap tokens and interact with decentralized applications.
With $LPX, the native token, users can also get trading fee discounts through the Launchpad XYZ decentralized exchange. The token can be leveraged to purchase fractionalized assets on Launchpad XYZ. Fractionalized assets involve purchasing a portion of real-world assets such as real estate and art.
Launchpad XYZ also gives users access to Web3 presale listings. By staking a minimum monthly average of 10,000 $LPX, members can also get guaranteed access to new presale listings on Launchpad XYZ. Other benefits include access to whitelist listings of NFTs.
Through Launchpad XYZ's NFT ecosystem, users can access some of the top NFT marketplaces and curate their own collections through an NFT gallery. Members can also use the platform's NFT exchange to take loans by putting their NFTs as collateral.
Launchpad XYZ will feature its own trading edge game, where members can test trading strategies and ideas and get rewarded. The $LPX token is currently available to purchase on presale.
From a token supply of 1 billion, 250 million tokens have been allocated equally across ten rounds. The $LPX token is currently priced at $0.0445 per token. The token will be listed at a price of $0.0565. This cryptocurrency platform has already raised nearly $900K since the presale went live.
After this stage comes to an end, $LPX will conduct its initial exchange offering on multiple crypto exchanges. To learn more about this ecosystem, read the Launchpad XYZ whitepaper.
Join the Telegram channel for regular presale updates and information.
| | |
| --- | --- |
| Presale Started | 27 April 2023 |
| Purchase Methods | ETH, USDT, Credit Card |
| Chain | Ethereum |
| Min Investment | 100 LPX |
| Max Investment | None |
7. Chimpzee – Crypto NFT Project Dedicated to Wildlife Conservation and Climate Action
Next on our list is an excellent financial, social, and passive income investment. If you have been thinking about contributing to climate action and wildlife protection - but don't know where to start - you should look into Chimpzee.
Chimpzee is a creative project dedicated to empowering wildlife conservation, which in turn, will boost climate action and vice versa. It stems from the realization that the environment can't wait. Global warming and climate change are getting worse by the day. More people and businesses need to make eco-conscious efforts to save Earth from mass destruction. But traditional initiatives dedicated to the cause have proven inefficient. They are not scalable.
This is where Chimpzee comes in. The project brings more excitement and engagement to these initiatives through crypto incentivization. This is how the ecosystem works.
Chimpzee sets aside 10% of its token supply and a portion of its profits to organizations dedicated to saving animals, stopping deforestation, and combating climate change.
The limited collections of Chimpzee NFT passports will give holders multiple benefits and rewards.
CHMPZ coins will be used for a wide range of payments in the ecosystem.
CHMPZ coins used to buy the Chimpzee NFT Passports will be burned (up to 10% of the total circulating supply) and taken out of circulation, supporting the value of these assets in the open market.
The three-pillared ecosystem allows users to earn rewards through multiple methods:
Play to earn (The Zero Tolerance Game) – Earn CHMPZ coins by achieving a series of predetermined benchmarks.
Trade to earn (NFT marketplace) – If you are an active trading user on the network, or hold an NFT passport - earn a percentage of the trading fee profits.
Shop to earn (Merchandise store) – Earn CHMPZ rewards by purchasing unique branded merchandise and supporting the ecosystem.
Chimpzee's current partners on the mission include The Giving Block, One Tree Planted, and the Wild Foundation. More will be announced in the future.

The ongoing presale of CHMPZ opens the most profitable gateway to the project. Interestingly, early presale participants can get up to 100% free bonus tokens.
| | |
| --- | --- |
| Token Symbol | CHMPZ |
| Token Supply | 200 Billion |
| Presale Supply | 40 Billion |
| Network | Ethereum |
| Purchase Methods | ETH, USDT, Credit Card |
8. Tamadoge - New Trending Meme Cryptocurrency to Buy
Tamadoge is one of the most exciting new cryptocurrencies of this year and investors have taken notice, with the Doge-themed cryptocurrency selling out its presale in less than eight weeks to raise $19 million at the end of 2022.
TAMA tokens then rose by nearly 2,000% and although they have retraced amid the struggles of the crypto winter, the project is one of the most exciting for the next bull run.
The main Tamadoge game sees players purchase NFT pets and grow them to adulthood - once the pets are fully grown, players can battle them against one another in the Tamadoge virtual arena.
Winning players climb the game's leaderboard and earn TAMA, the native crypto token of the Tamadoge universe. TAMA can be used to buy additional NFT pets or to purchase in-game upgrades.
The gaming ecosystem also includes five Tamadoge Arcade games, where players can earn rewards for taking part in fun platform games, while augmented reality features are also in development.
What has investors so excited TAMA is that its tokenomics are deflationary, with 5% of the TAMA tokens used for every transaction in the pet store are removed from circulation and burned.
So, the more players who join Tamaodge and spend TAMA, the faster the supply decreases. Over time, that could lead to limited supply of TAMA relative to demand, potentially sending the price of the coin soaring. With such a high level of interest, Tamadoge has become one of the best trending DEXTools cryptos on the market in 2023.
Join the Telegram group or follow the Twitter page for the latest news on listings and the project in general.
9. Battle Infinity - A Top Trending Coin for Metaverse Gaming
Battle Infinity is another new crypto token that many investors see a lot of potential in. This metaverse platform is seeking to build a multiverse within the metaverse. In addition to experiences created by Battle Infinity's development team, third-party developers will be able to build their own virtual mini-games within the metaverse.
For developers, that means an opportunity to earn crypto on a new and growing platform. For users, that means more things to do. For investors, it means more utility for Battle Infinity's native crypto token, IBAT.
Battle Infinity is kicking things off with its own play-to-ean crypto game, IBAT Premier League. This is a fantasy sports game modeled on India's Premier League for cricket. Players can assemble teams and compete against one another to score points based on how their players perform in real life. Winning players earn IBAT tokens, which they can exchange or spend throughout the Battle Infinity metaverse.
Battle Infinity closed out one of the biggest crypto presales of 2022 and held a crypto ICO. The IBAT token is now available for anyone to buy and sell on the decentralized crypto exchange Pancakeswap. Currently, IBAT is trading at $0.0017 per token. Check out IBAT today to experience the Battle Infinity metaverse.
10. Lucky Block - Trending Crypto Coin for Giveaways & Prizes
Lucky Block is one of the top trending cryptocurrencies in the world of crypto giveaways. The LBLOCK token is used to buy NFT entries into giveaways with prizes like a Lamborghini, a $1 million home, or a 5-star vacation getaway. NFT holders are entered into drawings for specific prize pools.
The LBLOCK token also has appeal as one of the most undervalued cryptos because it can be used for staking and lending, creating additional ways for investors to potentially make money off this crypto token. NFT holders also earn crypto rewards - whenever a prize is released, NFT holders who don't win receive a small piece of the prize pool as thanks for supporting the Lucky Block ecosystem.
Investors should also note that Lucky Block has a set of exclusive NFTs, the Platinum Rollers Club NFT collection. These NFTs enter owners into a daily prize drawing for $10,000. There are only 10,000 Platinum Rollers Club NFTs available, so owners have a 1-in-10,000 chance of winning each day.
LBLOCK is currently available on several popular crypto exchanges, including Uniswap, Gate.io, and MEXC Global.
11. Ethereum - Second Largest Crypto Now with Proof of Stake
Ethereum is already the world's second largest cryptocurrency by market cap. But this large-cap crypto is trending thanks to The Merge - Ethereum's switch from a proof-of-work blockchain to a proof-of-stake blockchain.
With The Merge, huge sums of wealth in staked Ethereum will be released and the inflation rate of the token will drop dramatically, potentially increasing the coin's value for current investors.
More broadly, Ethereum remains one of the most popular blockchains for developers building decentralized applications and Web3 platforms. Furthermore, it's become one of the best VR cryptos on the market as most virtual reality projects run on the Ethereum blockchain. Ethereum's success at attracting developers means this coin has significant long-term potential, despite the advent of numerous 'Ethereum killer' blockchains that promise faster transaction speeds.
The only thing investors need to keep in mind when buying Ethereum is that the transaction fees for this blockchain can be steep. So, it's a good idea to buy ETH from an exchange that offers low commissions or reduced gas fees.
Cryptoassets are highly volatile and unregulated. No consumer protection. Tax on profits may apply.
12. Uniswap - Trending Crypto for the Largest Decentralized Exchange
Uniswap is one of the world's largest decentralized crypto exchanges. It offers numerous incentives for UNI token holders, including voting rights over the future of the platform and a share of profits from the exchange's fees. The UNI coin price has held up relatively well even during the crypto winter because of the enduring popularity of this token.
While Uniswap faces competition from other decentralized exchanges like SushiSwap, it remains dominant when it comes to exchange transaction volume. Uniswap offers a huge variety of tokens, so it's also the gateway for many crypto investors to buy new trending cryptos.
Another reason Uniswap is trending right now is that it runs on the Ethereum blockchain. So, significant changes to Ethereum as it switches to proof of stake could end up having benefits for the Uniswap platform as well. Many users on Reddit and Twitter have been hopeful that gas fees will come down, providing more incentive for crypto investors to turn to Uniswap for crypto transactions.
Cryptoassets are highly volatile and unregulated. No consumer protection. Tax on profits may apply.
13. Fantom - Most Trending Crypto for Fast Transaction Processing
Fantom is a relatively new blockchain platform that was created with the purpose of providing faster and cheaper transactions than Ethereum. It's one of the fastest blockchains around, with a promised ability to process more than 300,000 transactions per second once the platform is fully developed.
Fantom's FTM token is one of the top trending cryptocurrencies today because it powers the Fantom blockchain ecosystem. FTM is used to pay for transaction fees for smart contracts and decentralized apps, for staking to the Fantom blockchain, for governance, and more. Importantly, investors who hold FTM can earn rewards by participating in the blockchain's proof of stake transaction validation system.
Fantom currently has a market cap of over 1$ billion, so it has a long way to go to catch up to Ethereum. However, crypto investors on Twitter and Reddit are excited about this platform and the future potential of the FTM token.
Cryptoassets are highly volatile and unregulated. No consumer protection. Tax on profits may apply.
14. Gala - Top Trending Cryptocurrency Today for Play-to-earn Gaming
The GALA token from Gala Games was one of the hottest cryptocurrencies of 2021. In that year, the value of GALA rose more than 50,000%. While the token has suffered along with the rest of the crypto market in recent months, investors don't appear to be any less excited about this top trending crypto.
The GALA token is the native token used for many of Gala Games' play-to-earn crypto games, which include The Walking Dead: Empires, Legends Reborn, and many more. Players can earn GALA by winning games as well as by minting and selling their own NFTs within the Gala universe.
Gala Games currently operates most of its games on Ethereum, but it's in the process of developing its own blockchain. When that happens, players will face lower transaction fees for using GALA. In the long run, Gala owning its own blockchain could allow the platform to generate more metaverse experiences and enhance the value of the GALA token.
Cryptoassets are highly volatile and unregulated. No consumer protection. Tax on profits may apply.
15. ApeCoin - The Official Crypto of the Bored Apes Yacht Club
ApeCoin is a top trending crypto created by Yuga Labs, the creative team behind Bored Apes Yacht Club and several other ultra-popular NFT collections. The purpose of ApeCoin isn't to replace Bored Apes, but rather to supplement the Apeverse with its own token for participants.
ApeCoin is trending because Yuga Labs is working on building its own metaverse, Otherside. There is widespread speculation that ApeCoin will be the official cryptocurrency of the Otherside virtual world and that land sales will be made in APE. If that happens, demand for ApeCoin could skyrocket and push up the price of this token with it.
Potential investors should keep in mind that this is purely speculative, as Yuga Labs has not announced what coins will be accepted in Otherside when it launches, making APE one of the most volatile cryptos on the market.
However, anticipation of ApeCoin's future utility has propelled it to be a top trending crypto on Reddit.
Cryptoassets are highly volatile and unregulated. No consumer protection. Tax on profits may apply.
16. LoopRing - Trending Coin that Lets Anyone Build Crypto Exchanges
LoopRing is a unique crypto project of the kind that often flies under the radar. However, this particular platform has caught the attention of crypto investors because it was recently endorsed by Vitalik Buterin, one of the founders of Ethereum.
The purpose of LoopRing is to provide the infrastructure necessary for anyone to build a decentralized crypto exchange on the Ethereum blockchain. In the long run, democratizing access to exchange technology can bring down fees and make it easier for anyone to get access to new and trending cryptocurrencies. It could also make it much simpler for businesses of all types and sizes to accept cryptocurrency payments.
Many investors are excited about the LRC token, the native cryptocurrency of LoopRing, because it is deflationary. Around 10% of tokens used for transactions are burned and the total supply of LRC is capped. So, as demand for LRC grows, the price of the coin could potentially rise sharply.
Cryptoassets are highly volatile and unregulated. No consumer protection. Tax on profits may apply.
How to Find Top Trending Cryptocurrencies
One of the most challenging aspects of investing in top trending cryptos can be finding them before they explode in value. This is exactly what the best crypto VC firms try and accomplish. Since many investors are searching for trending cryptos, it's important to spot momentum early on.
There's no single database of trending cryptocurrencies that investors can go to. Instead, finding cryptos that users are excited about takes some research. In general, social media is the best place to find trending cryptos because that's where crypto enthusiasts talk about the coins they're most excited about.
For example, Twitter is one of the best places to find top trending cryptos. Crypto Twitter is filled with discussions about new and upcoming projects, and it's often where crypto creators announce their new ideas or crypto presales.
Reddit is another good source of information, especially for investors who want to dig into more details about trending projects. On Reddit, investors can discuss the merits of a specific crypto token and get answers to specific questions about how the tokenomics of a particular coin work.
The best crypto Discord groups are also a valuable resource. Many crypto projects have their own Discord channels, which developers use to provide updates about their roadmaps. In many cases, Discord community members have first access to a new token's presale.
Finally, YouTube can be a valuable source of information. Many YouTube creators who focus on crypto will highlight coins that they think are worth watching. This can be a quick way to find out about top trending cryptos.
Conclusion
Trending cryptocurrencies can be ripe for investment because they often represent strong projects that crypto enthusiasts are excited about.
One of the top trending cryptocurrencies right now is Wall Street Memes (WSM). With an existing follower count of over 1 million on social media, Wall Street Memes has now launched its own token, $WSM.
In just a couple weeks, the project has raised more than $4 million.
FAQs
What are the top trending crypto coins to buy today?
The top trending cryptos to buy right now include Wall Street Memes (WSM), AiDoge (AI), Ecoterra (ECOTERRA), yPredict (YPRED), DeeLance (DLANCE), Launchpad XYZ (LPX), Tamadoge (TAMA), Battle Infinity (IBAT), and Lucky Block (LBLOCK).
How do I find trending cryptos to buy?
The best way to find trending cryptocurrencies is to check social media. Twitter and Reddit are good sources of information about new and popular cryptocurrencies.
---