Financial Peak Review - Scam or Legitimate Trading Software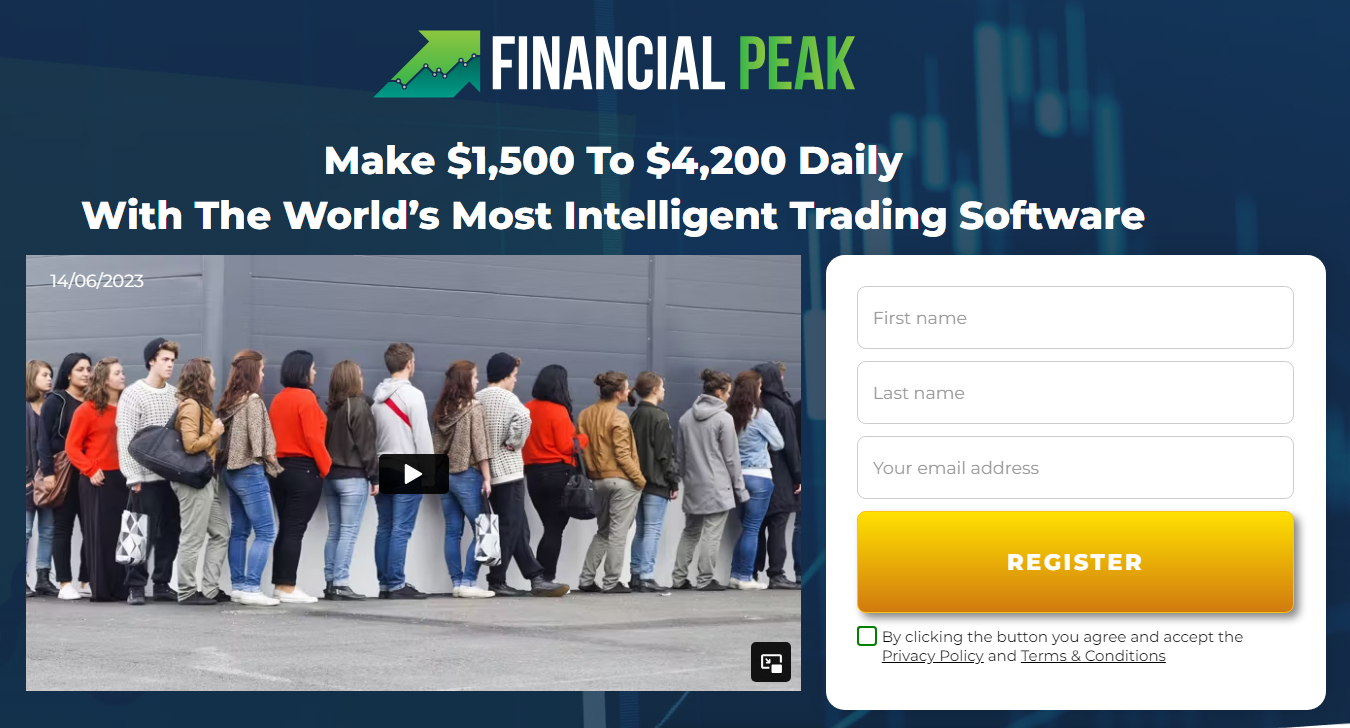 Disclaimer: The text below is an advertorial article that is not part of Cryptonews.com editorial content
The crypto trading space is extremely volatile, and Financial Peak portrays itself as a platform that can help beginners sustain a profit even in those conditions.
Claiming to be a new decentralized crypto trading software, Financial Peak is said to be built by 500 expert traders. But how much truth lies in those claims? In this Financial Peak review, we examine all the features of the Financial Peak platform.
Financial Peak Summary
Here is the summary of all the key points to know about Financial Peak:
| | |
| --- | --- |
| Supported Crypto | Bitcoin and other cryptocurrency assets |
| Claimed Success Rate | 99.7% (unverified) |
| Available on Mobile? | No Financial Peak app mentioned |
| Fees | Uses a no-fee structure |
| Customer Support | Accessible to registered users throughout the day |
| Withdrawal Speed | Up to 24 hours |
| Minimum deposit | $250 |
Cryptocurrencies are unregulated. Trading with unregulated brokers will not qualify for investor protection
What is Financial Peak?
The Financial Peak website bills itself as an advanced crypto trading platform capable of helping you earn a higher return on investment (ROI). The site states that cryptocurrency is risky (which is the truth), and amidst those risks, it aims to provide a correct platform that can give its users the best support.
Claiming to be developed using "advanced blockchain technology", Financial Peak states that it records price movements of all cryptocurrencies. This approach seemingly allows it to predict market trends and help users generate profits "easily". The website further states that it uses market data and news in combination with advanced trading technologies enabled by artificial intelligence to make precise market predictions.
These features are reportedly supported by user-friendly features that include a tutorial for beginner-level investors. The website's homepage also boasts of an auto trading platform that has a success rate of 99.7%.
According to the site, accessing the trading facilities is "free of charge" other than the standard minimum deposit requirement.
Exciting as these features may be, we couldn't find any proof to verify them. There is no historical data available on the website that could let us see how the website performs. And while the site has touched upon the features it claims to deliver, we are yet to know the names of these tools. Also, while Financial Peak has stated that it supports all cryptocurrencies, it hasn't listed any crypto asset on the platform - not even Bitcoin.
Due to this ambiguity, we recommend that you only use this trading platform after proper research.
Financial Peak Pros and Cons
Here are the pros and cons that we found find going through the content of Financial Peak:
Pros
Claims to provide a user-friendly platform
Says that the platform is built using blockchain technology
Features a demo trading account that it says provides tutorials to beginners
Claims to have a win rate of 99.7%
Claims to support all cryptocurrencies
States that it has a no-fee model
Cons
No way to assess the truth about the win rate
Not clear what tools it offers
While the site says that it has been developed by 500 expert traders - no one knows their identities
How Does Financial Peak Work?
Financial Peak's content suggests that it works in the same way as the other crypto trading bots. It claims to use the "best" and the most "advanced" technologies to scan the cryptocurrency market to find the best trading opportunities.
According to the website, Financial Peak is capable of analyzing a lot of trading data within seconds and modifying the trading systems according to market conditions. That approach, according to claims, allows it to achieve a 99.7% win rate.
The platform also says that users can modify the trading systems according to their requirements. And since the trading systems function around the clock without any human intervention, there is no need to monitor the markets.
This is a minimalistic explanation of how the site could work. Financial Peak hasn't offered any detail beyond that. And since the 99.7% win rate seems ludicrous, it is likely a marketing term used by this platform. We recommend that our readers weigh these factors before investing and know that even if the win rate is closer to what is advertised, profits are never guaranteed when buying and selling digital assets.
Financial Peak Key Features
Financial Peak says that the following key features are the reason it is one of the leading trading systems:
Consistent Profits
According to Financial Peak, users get access to intelligent crypto trading software that will allow them to earn 4000 dollars in one day. While it could be a great ROI for a one-time $250 investment, there is no proof available online to support this claim.
High-Speed Trading
The advanced blockchain technology that Financial Peak supposedly uses has a 99.7% success rate. The platform says that it is possible due to its ability to make multiple "profitable" trades within a short time. According to the platform, "every trade will earn users money". This statement makes it seem like a near-perfect trading system, which is why we recommend that our readers tread lightly.
24/7 Customer Support
Financial Peak states that users will get access to the best assistance from experts and analysts. It claims to have the best crypto experts in the industry working for it (probably a marketing term) who are ready to assist investors whenever they want. According to the claims, customer support is accessible through live chat and email.
Optimal Profit Model
Financial Peak claims that it has a logical profit model that can help users reach their profit goals. According to the platform, this platform doesn't involve any extra trading commission or hidden fee.
Cryptocurrencies are unregulated. Trading with unregulated brokers will not qualify for investor protection
Financial Peak Account fees
Financial Peak has provided no detail about its fee. However, it has stated that there is a no-fee model in place. However, in its features section, it has also stated that it charges no "extra" fee. It means that there is probably some fee required to access this platform and its facility. But for now, information about it can only be accessed by signing up.
Financial Peak Minimum Deposit
The minimum deposit requirement to access this platform is not mentioned on the platform itself. But some third-party sites say that it is about $250. Without this mandatory deposit, accessing the platform's facilities is not possible.
Financial Peak Compatible Devices
We tested the official website of Financial Peak on the following devices and found that the website was responsive.
Desktops
Laptops
Tablets
Smartphones
The icons were visible. However, the signup button is different from other platforms we have reviewed in the past. It takes users to a different platform from where they must register.
Is Financial Peak a Scam?
The question of whether or not Financial Peak is a scam can only be answered if the platform offers enough information for us to analyze. While the site has taken a content-first approach, much of what is written is only about the effectiveness of the platform, not what the tools are. Its claims about the win rate couldn't be confirmed, and while it offers a tutorial via a demo trading account, it is only for those who sign up.
Third-party reviews of the site, however, paint a positive picture of this platform. All of them have given it more than 4-star ratings. But their reviews also haven't said much about the tools that this website offers either. Also, while the platform claims to be decentralized and backed by 500 trading experts, none of them are doxxed.
Based on these findings, there is not enough information for us to assume whether Financial Peak is a scam or a legitimate platform.
Financial Peak Customer Support
Customer support is apparently available on Financial Peak. While the site claims that users can reach out to the customer support team via live chat or email, we can't substantiate these claims or give a review of the response times.
How to Use Financial Peak
If the offering that the site claims to have appeals to you, follow these steps to start trading on Financial Peak.
Step 1 - Visit the Financial Peak Website
You must first create an account. For that, visit Financial Peak's official site. Click on the image at the bottom of the screen, and you will be directed to another page. On the form available, enter your name, email, and phone number. We recommend that you provide a burner number to ensure that the team only reaches out to you via email.
Step 2 - Make the Minimum Deposit
Deposit the minimum amount, which is $250, using any of the methods that the website claims it supports,
Step 3 - Start Trading on Financial Peak
Once your account has been funded, try the tutorial to familiarize yourself with the platform. Assess the win rate thoroughly. And if it is similar to what Financial Peak says, only then switch to live trading.
How to Delete a Financial Peak Account?
Financial Peak doesn't provide any information that could tell us how to delete the account. However, we recommend talking to the customer support team that you will likely have access to once you create your profile.
Is Financial Peak Endorsed by Celebrities and Big Brands?
When we attempted to sign up on the website, we ended up on another page that showed images of more than 10 celebrities who are renowned Bitcoin supporters. Names included Snoop Dogg, Elon Musk, Dan Bilzerian, Ashton Kutcher, Gewnyth Paltro, and more. The site even highlighted the likes of Bill Gates and Winklevoss Twins as crypto investors.
However, these images appear to be only an attempt to upsell Financial Peak, as there is no proof that these celebs are using this platform.
Who is the Founder of Financial Peak?
Financial Peak portrays itself to be a decentralized platform built using advanced blockchain technology with the help of 500 crypto trading experts. However, no details pertaining to these experts are available on the website. We also looked into social media platforms to discuss Financial Peak but didn't find anything. Since the site itself claims to be decentralized, it makes sense that the devs have kept themselves anonymous. But whether or not they will reveal their identities in the future remains a mystery.
Latest Bitcoin News
The crypto market is volatile, and it will remain so until most crypto assets are able to decouple from Bitcoin. Till then, the only way to stay ahead is by staying informed about Bitcoin's latest news.
In the Binance lawsuit, the SEC identified 12 crypto tokens as securities.
Due to the recent events surrounding Binance, Bitcoin dropped by over 5% but is now showing signs of recovery.
The Verdict
In our review, we found Financial Peak lacking on several fronts. The website's content is not as thorough, the win rate seems unsustainable, and there aren't any first-hand accounts that could tell us about the Financial Peak platform's effectiveness and reliability.
However, it does claim to be decentralized, which can be a legit reason why it has hidden the identities of its founders. However, due to other dubious factors, we recommend that our readers also check out alternative AI trading bots that may meet their requirements better.
Cryptocurrencies are unregulated. Trading with unregulated brokers will not qualify for investor protection
Financial Peak FAQs
What is Financial Peak?
Financial Peak is a crypto trading platform portraying itself as a crypto trading app that allows users to make huge gains trading crypto without having to watch the market consistently. It claims to have a win rate of 99.7% and requires a minimum deposit during the account creation process.
Does Elon Musk endorse Financial Peak?
While the site has listed the names of many celebrities, there is no proof to support the claims that these celebs have used or endorsed Financial Peak at any point.
---