Immediate Code Review - Scam or Legitimate Trading Software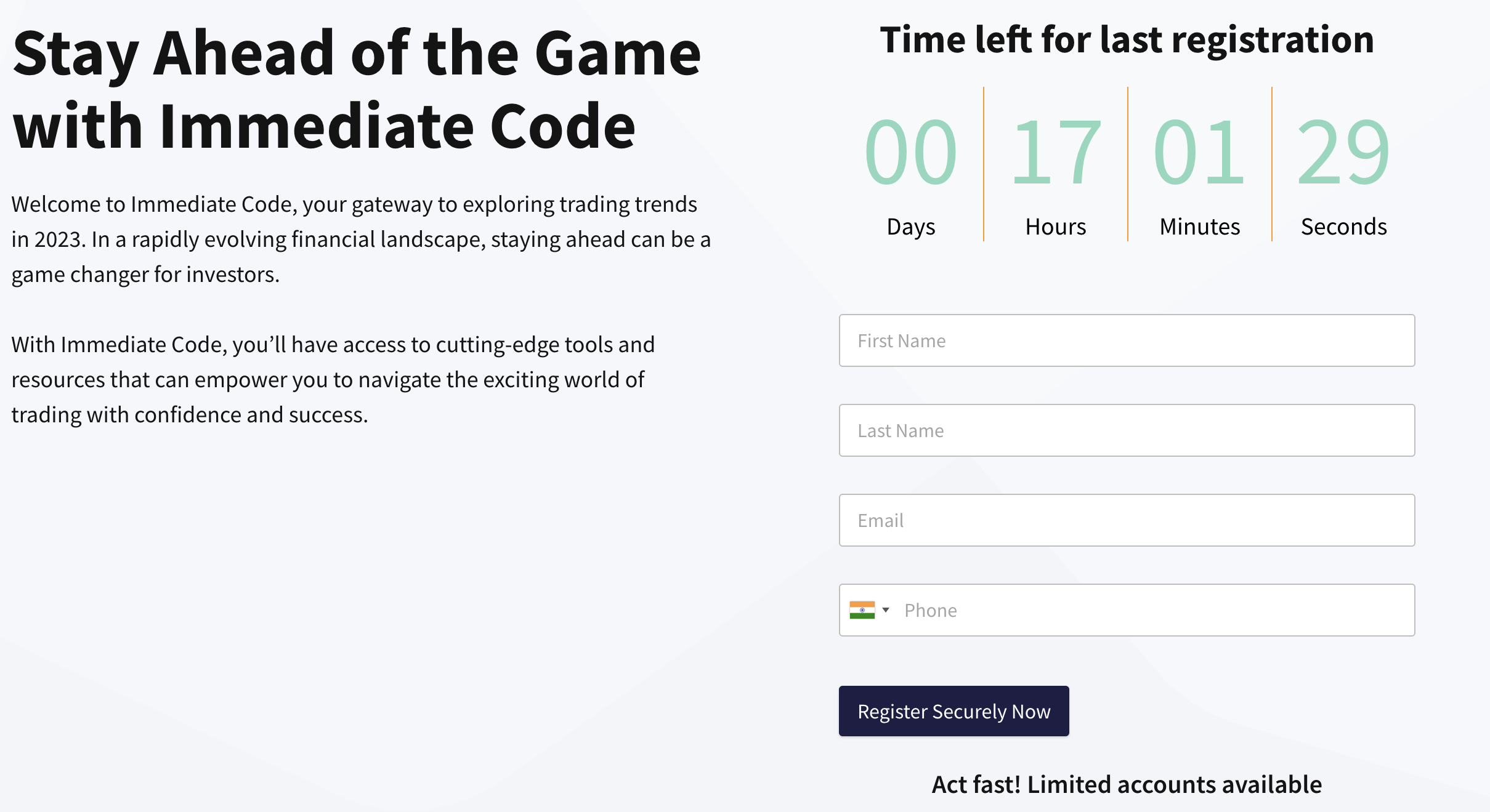 Disclaimer: The text below is an advertorial article that is not part of Cryptonews.com editorial content
Immediate Code is a trading platform that claims to help you "stay ahead of the game" by letting you explore the trading trends of this year and leverage them to make important trading decisions. This trading system claims to provide tools that simplify trading for beginners and elevate trading for veteran traders.
But how effective are this platform's offerings? This Immediate Code review explores this question.
Immediate Code Summary
Listed below are the key points to note about Immediate Code:
| | |
| --- | --- |
| Supported Crypto | Bitcoin, Ethereum, and other crypto assets |
| Claimed Success Rate | No details are available about the win rate |
| Available on Mobile? | No mobile app is available - although the site is responsive |
| Fees | No fee detail provided |
| Customer Support | Registered users can reach out to the team via live chat, email, or phone |
| Withdrawal Speed | 24 hours depending on the payment mode |
| Minimum deposit | No details are available about the minimum deposit |
Cryptocurrencies are unregulated. Trading with unregulated brokers will not qualify for investor protection
What is Immediate Code?
The cryptocurrency market is going through rapid changes, and the only way to stay ahead of the game is to be informed. Using that principle, Immediate Code claims to provide users with cutting-edge tools and resources to empower them to navigate the trading world successfully.
The site claims to support trading stocks, securities, forex, and cryptocurrency. CFDs and many other assets are also apparently supported by Immediate Code. Helping users buy and sell these assets are "rich resources" that Immediate Code says can help beginners and veteran traders.
For beginners, it claims to provide educational resources that can help kickstart their investment journey. These resources apparently have all a beginner needs to learn trading fundamentals before investing.
For veterans, Immediate Code claims to offer sophisticated tools that can help refine their trading strategies. These apparently include charting tools, customizable indicators, and real-time data.
Both veterans and beginners can also get assistance from a team of crypto trading experts - the team behind Immediate Code - according to the claims. However, the name or any other detail of this website's makers is unknown.
In addition to these perks, Immediate Code also talks about leveraging artificial intelligence and machine learning to help traders invest properly. There are also sparing mentions of risk management software across the official home page of the website. Does that mean Immediate Code acts as an automated trading platform?
We can't say anything definite, but it seems like it follows a hybrid model. However, it has not mentioned its win rate—the same lack of information perpetuates across its fee structure and minimum deposit requirement.
Due to the lack of information we can access, we recommend you exercise caution when trading on this platform. Crypto trading is volatile, and profits are never guaranteed.
Immediate Code Pros and Cons
The following are the pros and cons of Immediate Code:
Pros
It claims to deliver a user-friendly platform
Claims that users get access to risk management facilities
Educational resources available for beginners - according to the claims
The website says that veteran traders get access to sophisticated charting tools
24/7 customer support available for registered users
Traders can reach out to experts and robo advisors
Cons
Not many details about the tools offered
The site is full of vague content
No information about the people behind this platform
There are no details available about the fee structure or the minimum deposit requirement
No information about whether there is a demo account available
How Does Immediate Code Work?
From the look of the content available, it seems like Immediate Code works as a hybrid trading platform.
Its manual features likely include multiple sophisticated tools that veterans can use to make better trading decisions. The site talks about charting features and customizable indicators that can help investors navigate the volatile market. There are also mentions of machine-learned trading tools that could help with risk management and faster trading execution.
Beginners may be able to use educational resources - likely a combination of news articles and glossaries.
We still need clarification about Immediate Code's autonomous trading features. While there are talks about machine-learned mechanics, which could indicate the presence of an AI crypto trading bot, we need to find out if that's available since the site doesn't talk about the win rate.
Overall, it appears that the site has mostly manual trading features, but a crypto trading bot can be turned on based on certain conditions. And as it goes with other portals we have reviewed before, expect there to be a minimum deposit requirement. That information is not yet given on the website - but you might be able to get it during the signup process.
Immediate Code Key Features
Immediate Code has yet to explicitly state what kind of features it offers. But we were able to decipher some of them in the list below:
Sophistical Trading Tools for Advanced Traders
Like the most prominent crypto trading platforms, Immediate Code states that it offers sophisticated trading tools for advanced traders. These apparently include charting tools and customized indicators. AI-powered risk management tools are also discussed on the website's official page. It also states it has attributes similar to social trading platforms, such as trading assistance from a community of experts.
Educational Resources for Beginners
To help beginners get the hang of trading, Immediate Code claims to provide educational resources. While it hasn't provided an answer about what these resources are, we guess that they are a combination of news articles, definitions of popular terms, and papers related to market analysis.
24/7 Customer Support
Immediate Code has mentioned in the FAQ section that it offers customer support. It states that users can contact the team via live chat, email, or phone.
Available in Multiple Countries
While it is not explicitly stated, Immediate Code's website hints that it is available in many countries - except the US. The "phone number" section of the signup box indicates that it is available in more than 200 countries.
Support for Multiple Assets
Along with cryptocurrencies, Immediate Code claims to support securities, stocks, forex, and CFDs. If those are available, it will provide investors a chance to hedge market risks while trading. However, it has given no further explanation in this regard.
Immediate Code Account fees
Immediate Code has said nothing about its account fees. There are no mentions of any fees of any kind given on the official website. While it is likely that it has taken the same - fee-free - approach as the platforms we have reviewed before, we suggest that you talk to the customer support team about this matter.
Cryptocurrencies are unregulated. Trading with unregulated brokers will not qualify for investor protection
Immediate Code Minimum Deposit
With sites like Immediate Code, you must expect to deposit a minimum amount before accessing any available features. But this platform has provided no information about it. We could say it might be around $250 to $300. But better than guessing, we suggest you talk to the customer support team about this issue.
Immediate Code Compatible Devices
As far as the official website is concerned, we experienced no issues across any of the devices. There were no messy texts, unclickable buttons, or hidden sections on the website when we opened it through our smartphones, desktops, laptops, and tablets. That said, we can't say the same for its platform's actual trading facilities.
Is Immediate Code a Scam?
"Mixed bag" is the appropriate sentiment we feel when talking about Immediate Code. While its content is vague, it is still simplified. It is not overselling its features; it merely discusses what it could do for a trader. We also didn't find any outlandish win rate that immediately puts most crypto trading platforms as red flags.
However, the same lack of credible information and the abundance of vague statements is a cause for concern. We need to know more about its trading features. We also need help figuring out what indicators it offers - even though they seem standard.
Another issue is the lack of a demo account. Most platforms feature a demo trading account to help beginners and some veterans learn the ropes of the system. But Immediate Code makes no mention of whether it offers a testing tool. That's one of the reasons why it was difficult for us to access this platform's features.
And finally, there were issues with reviews - there are none. By all accounts, it seems like Immediate Code has only just recently dropped. So, there are no third-party reviews or customer reviews available yet - which is justifiable.
Due to these mixed aspects, we can't say for certain whether Immediate Code is a scam. Do an independent testing of this site to learn more.
Immediate Code Customer Support
Non-registered users can contact the support team via the Contact Us page. But we encountered that the response times were slow. Registered users, however, apparently get access to live chat, email, and a contact number to contact Immediate Code.
How to use Immediate Code?
Here are the steps to start using Immediate Code if you think that its info-focused approach fits your trading habits:
Step 1 - Visit the Immediate Code Website
Visit the Immediate Code website portal and read all the content available. Explore whether its features are legit according to your requirements. If they are, proceed by entering your name, email, and phone number in the signup dialogue box. Follow that by clicking on the "Register Securely" button.
Step 2 - Make the Minimum Deposit
A support team will likely reach out to you during the signup process. Ask about how the platform works and the minimum deposit requirement. Proceed by following the instructions that your account manager gives you to deposit the minimum required amount.
Step 3 - Start Trading on Immediate Code
Don't switch to live trading straight away. Test the available features. If you are a veteran trader, explore how "sophisticated" the provided tools are. And if you are a beginner, dive into its educational resources. Only move forward with trading once you feel satisfied after checking all the listed features.
How to Delete an Immediate Code Account?
Immediate Code doesn't tell whether it is possible to delete the account. However, you can find related information by talking to the account manager. But before talking to the team, explore the account settings by yourself and look for an account termination option. Also, check the FAQs to see if there is an answer to your query.
Do Celebrities and Big Brands endorse Immediate Code?
Immediate Code doesn't seem to be a large platform many people would know about. Most of its features seem standard and third-party reviews have not written anything about it. So, it is highly unlikely to be endorsed by big celebrities or brands. However, we did come across a section that states that the likes of Forbes and The Guardian have featured on this platform - but we couldn't find anything to support that claim. So, take any big brand support or celebrity-related claims with a grain of salt.
Who is the Founder of Immediate Code?
Immediate Code hasn't said anything about who founded the website. The "About Us" page tells us nothing about the founders. All it discusses is how powerful the tools can be for the user base. And since social media platforms also haven't covered this site, we are not sure who the makers of this site are.
Anonymity is not new with sites like these - we saw the same with another platform we reviewed, Immediate Alpha.
Latest Bitcoin News
To trade on an info-focused site like Immediate Code, you need to be updated about the latest happenings of Bitcoin. Here are the latest pieces of news about the oldest cryptocurrency:
Fidelity, the asset management giant, plans to file for a spot Bitcoin ETF.
Bulls are holding strong as Bitcoin has once again surpassed the $30k mark. Bitcoin is trading around the $30.5k mark at press time.
The Verdict
Immediate Code is an info-focused crypto trading platform that also seems to have autonomous trading features. Although the content available on the official website is vague, it makes no outlandish claims. And the fact that it states that it is not available in the US gives it more legitimacy than other platforms we have reviewed.
However, information on the site is still lacking. There are no third-party reviews or customer reviews to confirm its features. Invest wisely and understand the risks that come with crypto trading via a platform with little to no information around it.
Alternatively, you can check out crypto presales to invest in utility-focused tokens with definite upsides.
Cryptocurrencies are unregulated. Trading with unregulated brokers will not qualify for investor protection
Immediate Code FAQs
What is Immediate Code?
Immediate Code claims to be a trading platform that lets you stay ahead of the trading game via a collection of intuitive tools that are fit for veterans and educational resources fit for beginners. It also claims to offer AI-powered risk management tools for better trading opportunities.
Does Elon Musk endorse Immediate Code?
Immediate Code is a relatively new platform that has yet to get much traction across media - regardless of what it says on the official website. Also, the platform's facilities are too vague to attract celebrity attention. So, no, there is no evidence to support the claim that Elon Musk is endorsing this platform.

---