Bitcoin Pro Review - Scam or Legitimate Trading Software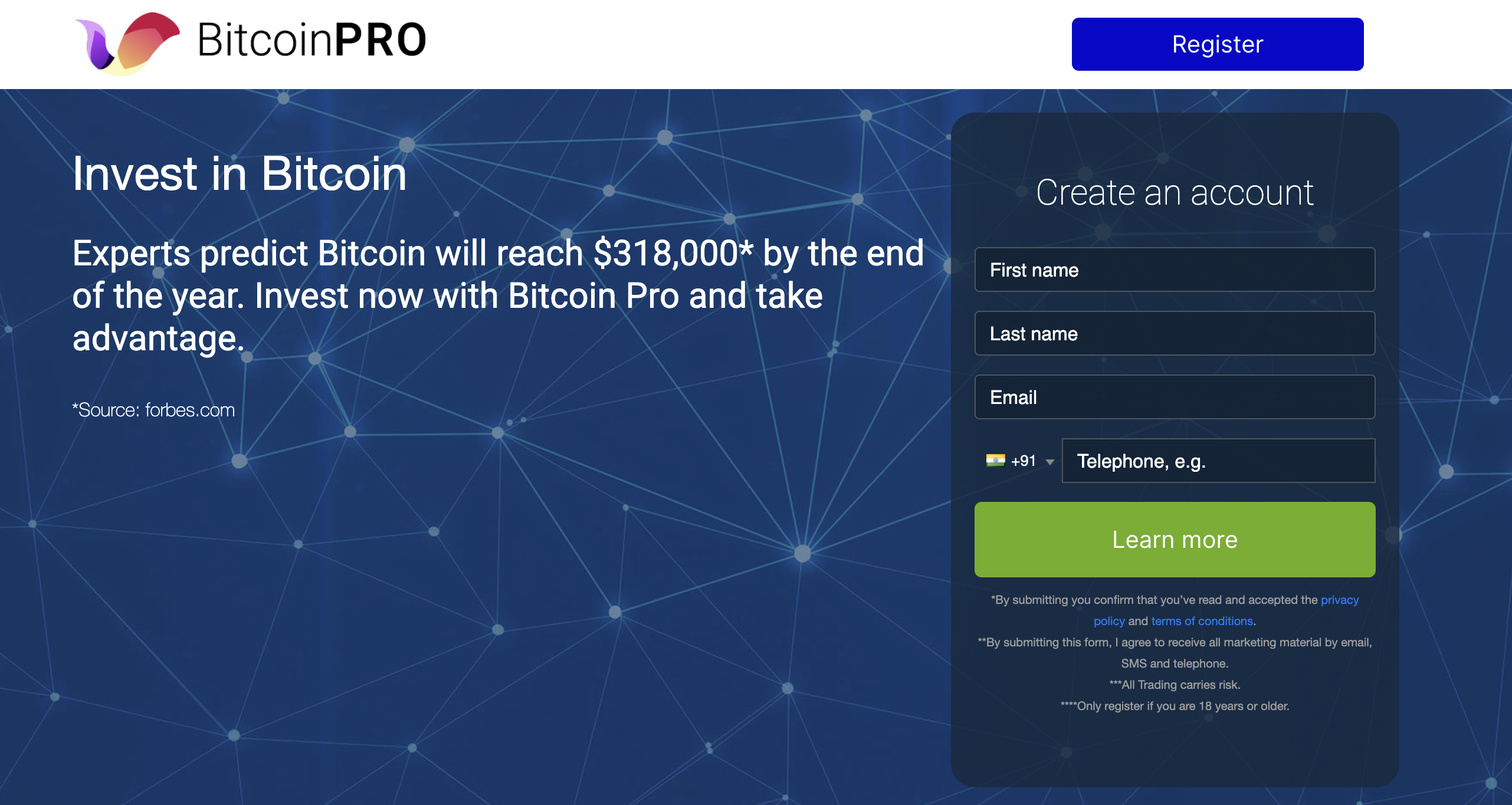 Disclaimer: The text below is an advertorial article that is not part of Cryptonews.com editorial content
There are several trading platforms that have been introduced to the crypto industry lately. One of them is Bitcoin Pro, which claims to be a "powerful intuitive trading platform". It essentially lets users trade by buying or selling cryptocurrencies. This review aims to find out any and every available information about Bitcoin Pro to verify its authenticity as a trading platform.
Read till the end to know how to get started with Bitcoin Pro, if you potentially choose to trade on the platform.
Bitcoin Pro Summary
The overall layout of the Bitcoin Pro website looked like any other similar trading platform. However, it does mention that it supports multi-asset trading, which users can potentially take advantage of by signing up. But in order to commit to a platform, it is necessary to initially be aware of the platform's features, costs, and more.
Let us take a look at this table to get an idea of what the Bitcoin Pro trading platform claims to feature.
| | |
| --- | --- |
| Type of Trading | Cryptocurrencies |
| Success Rate | 95% (unverified) |
| Cryptocurrencies Available | BTC, ETH, XRP, BCH, LTC |
| Available on Mobile? | No |
| Withdrawal or Deposit Fees | None |
| Customer Support | N/A |
| Withdrawal Speed | Less than 24 hours |
| Minimum Deposit | $250 |
Cryptocurrencies are unregulated. Trading with unregulated brokers will not qualify for investor protection.
What is Bitcoin Pro?
According to the website, Bitcoin Pro is a trading platform that lets users have access to multiple cryptocurrencies like BTC, ETH, XRP etc in order to trade for profits. Apparently, it acts as an automated trading tool that finds successful crypto deals in real time and executes trades on your behalf using a custom algorithm.

Using Bitcoin Pro, one can supposedly trade automatically when the cryptocurrency market's prices fluctuate, since there are always trading opportunities to take advantage of. One can get started with the platform by simply registering and apparently depositing the minimum required amount.
The interface of Bitcoin Pro's website features some bullish statistics about Bitcoin and how it could grow as an investment in the upcoming years. While the context for this information may have to do with the platform being a cryptocurrency-based entity, we weren't able to find any direct relation.
The growth of cryptocurrency may surely be one of the many reasons why a platform like Bitcoin Pro has been introduced. However, there is no proper information regarding the vision or any such fundamental positioning for the platform on its website at the moment.
While Bitcoin Pro claims a 95% success rate for its automated trading platform, there was no transparent data to support this, which made it difficult for us to verify. Moreover, the security of Bitcoin Pro also seemed to be more or less inadequate, as the website didn't mention any backtesting or independent audit.
However, the Bitcoin Pro trading bot is stated to be free to use, which means that there are no subscription charges, or initial payments to get started with the platform. All that is required is for the user to deposit the minimum requirement of $250, according to the Bitcoin Pro website.
Cryptocurrencies are unregulated. Trading with unregulated brokers will not qualify for investor protection.
Bitcoin Pro - Pros and Cons
While reviewing this AI trading platform, we came across some information that can be categorized as Pros or Cons. While most of this information is claims from the platform's end without much proof, we have still put divided them into two parts.
Pros
No hidden fees
Easy to use according to testimonials
Automated crypto trading
24/7 service
Cons
Only registered users may get access to customer support
Unverified data and claims
No dedicated mobile app
How Does Bitcoin Pro Work?
According to what Bitcoin Pro states, it can be used as a sophisticated method based on artificial intelligence to time the cryptocurrency market for potential profits. The platform's technology can identify crypto signals that have historically resulted in profitable price movements because it has been trained on years' worth of bitcoin price data.
Supposedly, the automated system or the Bitcoin Pro algorithm can take strategic trading decisions on your behalf, when it detects an opportunity. The programme places limit orders to purchase cryptocurrency using funds in your trading account and establishes a take profit objective and stop loss level for the deal. When the profit objective or stop loss is met, Bitcoin Pro instantly closes the open transaction.
It claims to be a great addition to a trader's set-up as it can help one keep track of the market 24/7. While all these factors surely make the platform seem like a very appealing option, potential users must be aware that none of these claims is backed by strong data or audit links on the website.
Cryptocurrencies are unregulated. Trading with unregulated brokers will not qualify for investor protection.
Bitcoin Pro Key Features
Let us look at some key features that Bitcoin Pro claims to boast of having, which could be an advantage for those looking to consider trading on the platform.
Instant Trades
While we cannot vouch for the authenticity of this claim, Bitcoin Pro states that it can open and close a trade within milliseconds. This may come as a surprise to many since such a task can often be difficult for automated services to achieve as well. But once again, this claim too is backed by nothing that would serve as proof.
Demo Trading Mode
A demo or paper trading account can be highly beneficial for traders to try out their strategies and take calculated risks. However, there is a downside to this feature. Unlike other alternatives where paper trading doesn't require users to park funds first, Bitcoin Pro requires its $250 minimum deposit to hit the account first for users to be able to access this service.
Easy to Use
According to some reviews available online, Bitcoin Pro has been created keeping in mind the difficulty that investors face when they are new to the space. It claims to have an easy-to-navigate interface which might suit both beginners and experienced traders.
Cryptocurrencies are unregulated. Trading with unregulated brokers will not qualify for investor protection.
Bitcoin pro: Account Fees
While there is a heft $250 minimum deposit to even access the website, fortunately for users, there are no additional fees or charges. However, one might want to research this thoroughly before getting involved, since there is no transparency about any fees or charges that might be levied.
This table represents the current fee structure of the platform, according to Bitcoin Pro:
| | |
| --- | --- |
| Trading Fees | None |
| Account Fees | None |
| Commission | None |
| Deposit/Withdrawal Fees | None |
Minimum Deposit on Bitcoin Pro
The minimum deposit on Bitcoin Pro as mentioned in the article is $250. This is very important since the only way of accessing the platform's dashboard and other services is to first deposit this amount. However, since the sum is considerably high, it may be in the trader's best interest to do their due diligence on the platform before they actually deposit any funds.
Bitcoin Pro: Compatible Devices
The compatible devices for Bitcoin Pro, as per the website include:
Mobile (online browsing)
Laptops and Desktop
iPads and Tablets
While it is possible that more devices can be used to trade on the platform, these were the only options we could find from the website.
Cryptocurrencies are unregulated. Trading with unregulated brokers will not qualify for investor protection.
Is Bitcoin Pro a Scam or Legit?
We noticed that there are some reviews and positive feedback about the project from anonymous accounts online. While this should spark any suspicion in a normal scenario, we found Bitcoin Pro to be limited when it came to information about it on the website.
There is no prior information about what to expect from the platform without depositing funds, which according to us, should not be the case. Another thing to note was that the platform did not feature any social media handles or means to get in touch before depositing the $250 minimum deposit.
Bitcoin Pro surely claims to have some really great features, but, unfortunately, it does not provide any kind of evidence to support its argument. This lack of information and data to prove its legitimacy makes it hard for us to assess the authenticity of the platform thoroughly.
While we can't give a very specific answer, it will definitely be a great idea for users to proceed with caution if they are considering trading on this platform.
Bitcoin Pro Customer Support
As mentioned above, there was no proper information about how one could get in touch with the team without registering and depositing the initial requirement. However, the platform claims to have a customer support system once the users sign up and get access to the main services.
How to Begin Trading with Bitcoin Pro?
Once you explore the website thoroughly and do ample research, you can decide if Bitcoin Pro is a platform you would like to trade on. If you did find it to be a good option, then you can follow these steps to get started.
Step 1: Visit the Bitcoin Pro Site
Create a new account on the Bitcoin Pro site by providing your name, email id and phone number.
Step 2: Make the Minimum Deposit
The Bitcoin Pro requires a $250 minimum investment, used as the principal capital to place trades with. This payment can be made using a variety of methods.
Step 3: Start trading on Bitcoin Pro
You can start trading numerous cryptocurrencies using the Bitcoin Way as soon as the payment has been processed.
Cryptocurrencies are unregulated. Trading with unregulated brokers will not qualify for investor protection.
How to Delete a Bitcoin pro Account?
A Bitcoin Pro account, according to the website can be deleted easily through the menu option. Simply navigate to the setting panel and click on delete account. This too is as directed by the platform itself. We did not come across any such option on the website, at least before registration and completing the initial deposit.
Does Jeff Bezos Use Bitcoin Pro?
There is no kind of evidence whatsoever to support a claim that Jeff Bezos uses Bitcoin Pro
Does Elon Musk Endorse Bitcoin Pro?
While Elon Musk has been popular for influencing the memecoin industry and cryptocurrencies as a whole, there is no evident association between him and the platform.
Does Martin Lewis use Bitcoin Pro?
No, we found nothing that suggests that Martin Lewis uses Bitcoin Pro.
Who Created Bitcoin Pro?
Bitcoin Pro's creator is unidentified, which infact is another factor to look at the platform with scrutiny. While this is common today, it would still be wise if potential traders did their due diligence first.
Bitcoin Pro Payment Methods
Here is a list of some of the available payment methods on Bitcoin Pro:
Debit cards
Credit cards
PayPal
The Verdict
There is no substantial information regarding the Bitcoin Pro platform that positions it as a trusted entity. Surely, there are some factors that make trading on it sound like an appealing idea. However, we must reiterate that these are just claims by the platform, with no evidence backing them up.
Moreover, It is also challenging to assess the reliability of this trading platform because there aren't any client endorsements or comments. As a result, one should only consider using the Bitcoin Pro platform if they are sure and thorough about their research.
Cryptocurrencies are unregulated. Trading with unregulated brokers will not qualify for investor protection.
Bitcoin Pro FAQs
What is Bitcoin Pro?
Bitcoin Pro is supposedly a platform where one can purchase and sell a variety of digital assets after opening a new account and depositing a minimum of $250.
What Cryptocurrencies Does Bitcoin Pro Support?
Bitcoin Pro supports cryptocurrencies like BTC, ETH, XRP, BCH, and LTC.
What is the success rate of Bitcoin Pro?
According to the website, the success rate of Bitcoin Pro is about 95% however that hasn't been verified by independent third parties.
---