Bitcoin Clever Review – Scam or Legitimate Trading Software
Disclosure: Crypto is a high-risk asset class. This article is provided for informational purposes and does not constitute investment advice. By using this website, you agree to our terms and conditions. We may utilise affiliate links within our content, and receive commission.

Bitcoin Clever is a crypto trading platform that claims it is designed to help users trade quickly by "adapting to the market changes using the right tools." The platform claims to offer specific features that are alternatives to traditional modes of trading, allowing novice and veteran traders to generate wealth from the cryptocurrency ecosystem.
This "no emotion" approach apparently shows a lot of promise. But is it providing a legitimate solution to traders? This Bitcoin Clever review is going to assess those claims.
Bitcoin Clever Summary
The Bitcoin Clever website doesn't provide a lot of information in the small print:
| | |
| --- | --- |
| Supported Crypto | Bitcoin and a range of other cryptocurrencies |
| Success Rate | Not specified |
| Available on Mobile? | Mobile application not available |
| Fees | No fee approach |
| Customer Support | 24/7, but only for those who register |
| Withdrawal Speed | 24 hours maximum |
| Minimum deposit | $250 |
Cryptocurrencies are unregulated. Trading with unregulated brokers will not qualify for investor protection.
What is the Bitcoin Clever Platform?
Trading is challenging; that is the first line one reads when one ends up on Bitcoin Clever's official website. Bitcoin Clever claims that since trading is a "new area," developing new skills is required to succeed. But because building these skills requires time, not many might be able to capitalize on it.
Bitcoin Clever claims to fix that issue by providing a crypto trading bot that looks for the best market conditions only and conducts trades autonomously on behalf of traders. According to the platform's official website, users can navigate the market statistically rather than emotionally and get the most out of volatile circumstances.
The platform states that it "broadens the perspectives" for traders by giving them various alternatives but doesn't highlight what those alternatives might be. All the site does is hint that one can "change the tools based on the ideas that traders might have," but there is no explanation beyond it.
Thankfully, third-party reviews of the site state that Bitcoin Clever uses a traditional autonomous trading system, allowing users to trade autonomously and manually.
That being said, Bitcoin Clever hasn't specified the success rate. There is no historical data available either. Also, using the website requires that a user deposits at least $250 before getting started.
Customer support is available, but only for those who register. And a demo trading account is offered to those who want to try the site out – but that, too, is only available for those who create an account and deposit the initial amount.
As you can see, much of what this website offers isn't clear. So, we recommend only using Bitcoin Clever if it suits your trading requirements. Don't invest beyond the minimum amount, and understand the risks of crypto trading before investing.
Bitcoin Clever Pros and Cons
Listed below are the pros and cons of Bitcoin Clever.
Pros
Claims to offer an array of tools to make trading easier
Supports both manual and autonomous trading
A simple UI for users
Simple sign-up process
Multi-asset support
Demo trading account
Cons
No information about the win rate
Vague information on the official website
A minimum deposit of $250 is required
No information about the founders
How Does Bitcoin Clever Work?
At best, Bitcoin Clever may be working using a semi-autonomous trading module. One allows traders to go hands-free, and the other helps them trade manually.
Many reviewers have stated that the autonomous mode allows Bitcoin Clever to search the market for the best trading conditions and execute trades quickly on behalf of traders. The trading system in play here seemingly looks for tokens that have hit intraday lows to make a buy. It then waits for the same tokens to hit intraday lows to make a sale. Ideally, that approach would allow users to generate profits within a short time frame.


Manual trading would likely give users access to advanced trading mechanics that gives them different indicators or different "alternatives," as it states on the official website, to help them investors buy and sell digital assets.
According to claims, once a trade is complete, Bitcoin Clever transfers the amount back to the user's account.
Bitcoin Clever Key Features
Listed below are the key features that Bitcoin Clever claims it has.
Autonomous and Manual Trading
The official website claims that users can engage with autonomous trading and manual trading – and generate profits from both. While manual trading is more hands-on, there are some manual features on autonomous trading as well, with the platforms allowing users to change certain parameters before the trading software gets into action.
Support for Multiple Assets
Diversification is the key to succeeding in the crypto space, which is why Bitcoin Clever claims to support a diversified cryptocurrency trading ecosystem. While according to the website, its main focus is on Bitcoin – made evident by most content dedicated to Bitcoin – many reviewers have stated other assets, such as Ethereum, Bitcoin Cash, Dash, and Litecoin, are also available.
Claims a high success rate
Bitcoin Clever claims that by using its tools, users can generate successful trades most of the time. In contrast, there is no actual number given to the win rate. Reviewers have reported that it is in the high 90s. However, they only speculate about it since historical data is available online.
Advanced Trading tools
Bitcoin Clever states that users can get access to advanced trading tools that give them a different perspective about which assets to trade and when. While the actual trading utilities aren't known, many speculate that this platform may offer trading charts and over 100 technical indicators. But still, that is only speculation.
Instant Transaction Support
Bitcoin Clever claims that users won't need to wait for long to withdraw their profits from their trading accounts. The site claims that the withdrawals are instant. At most, users might have to wait for up to 24 hours to get some of the bank details to clear out – but that's only on rare occasions.
Bitcoin Clever Account Fees
Bitcoin Clever has taken a fee-free approach. There is no trading fee, withdrawal, or deposit fee involved. It has also not been mentioned on the platform if there is any commission. Here is the overall fee structure employed by Bitcoin Clever.
| | |
| --- | --- |
| Trading Fee | None |
| Account Fee | None |
| Commission | None |
| Withdrawal/Deposit Fee | None |
Bitcoin Clever Minimum Deposit
To start a trading account on Bitcoin Clever, one must deposit at least $250 into their trading accounts. All the facilities that the site claims to provide become available that way only.
Bitcoin Clever Compatible Devices
We tested Bitcoin Clever on multiple devices and found that the main page works flawlessly on the devices listed below. All the icons were visible, and all the tabs were clickable. The sign-up button too was accessible across all devices.
Desktop
Laptop
Android and Apple smartphones
Tablets
That said, this review is only for what we had access to – the official website. So don't consider this UI review as something that can be applied to the main trading platform.
Is Bitcoin Clever a Scam or Legit
Considering all these facts, it's difficult to conclude that Bitcoin Clever is a scam or legitimate tool. There is simply not enough information available online or on the website itself that can help us put points in Bitcoin Clever's favor or against it.
When it comes to positives, the UI is simple to use, as far as we have seen. It is easy to sign up, and all the content has been provided clearly.
But the quality of that content casts doubts over the legitimacy of this platform. Nothing has been explained clearly, and most of the content is cursive. There are a lot of maybes and emotional words used by the site to tell people the value that Bitcoin Clever can bring. But they aren't showing anything. Also, many consider this site to be a copycat of Bitcoin Smarter, another platform that makes the same claims.
And when it comes to reviews, they are mixed at best – but they were also not easy to find. Trustpilot reviews of the site are non-existent at the moment, and the reviewers that have touched upon this platform have not given it a fair shake. Their reviews are unbalanced.
Therefore, while we can't outright say that Bitcoin Clever is a scam, we can't paint it as a legitimate website either – all due to the limited info we have at hand. We recommend that you keep on researching and do a deep dive into the site yourself by clicking the link below to make your own decision. Step out if you see any red flags, but invest only the minimum amount if you are interested.
Cryptocurrencies are unregulated. Trading with unregulated brokers will not qualify for investor protection.
Bitcoin Clever Customer Support
Bitcoin Clever offers customer support, but it is only for registered users. Outsiders can't access that facility as the official platform doesn't have a "Contact Us" page. But those who can access it have reported that a customer support team is available 24/7.
How to use Bitcoin Clever?
After a thorough assessment of all that is offered on Bitcoin Clever, if you are ready to trade on this platform, follow the steps below.
Step 1 – Visit Bitcoin Clever Website
First, head over to the official Bitcoin Clever website and start the account creation process. Enter your name, email, and phone number, and click the "Learn More button." And go into clicking the "Read more" button on the site in hopes of getting more info. You will be directed to the sign-up page only. Verify your account, and your account will be created.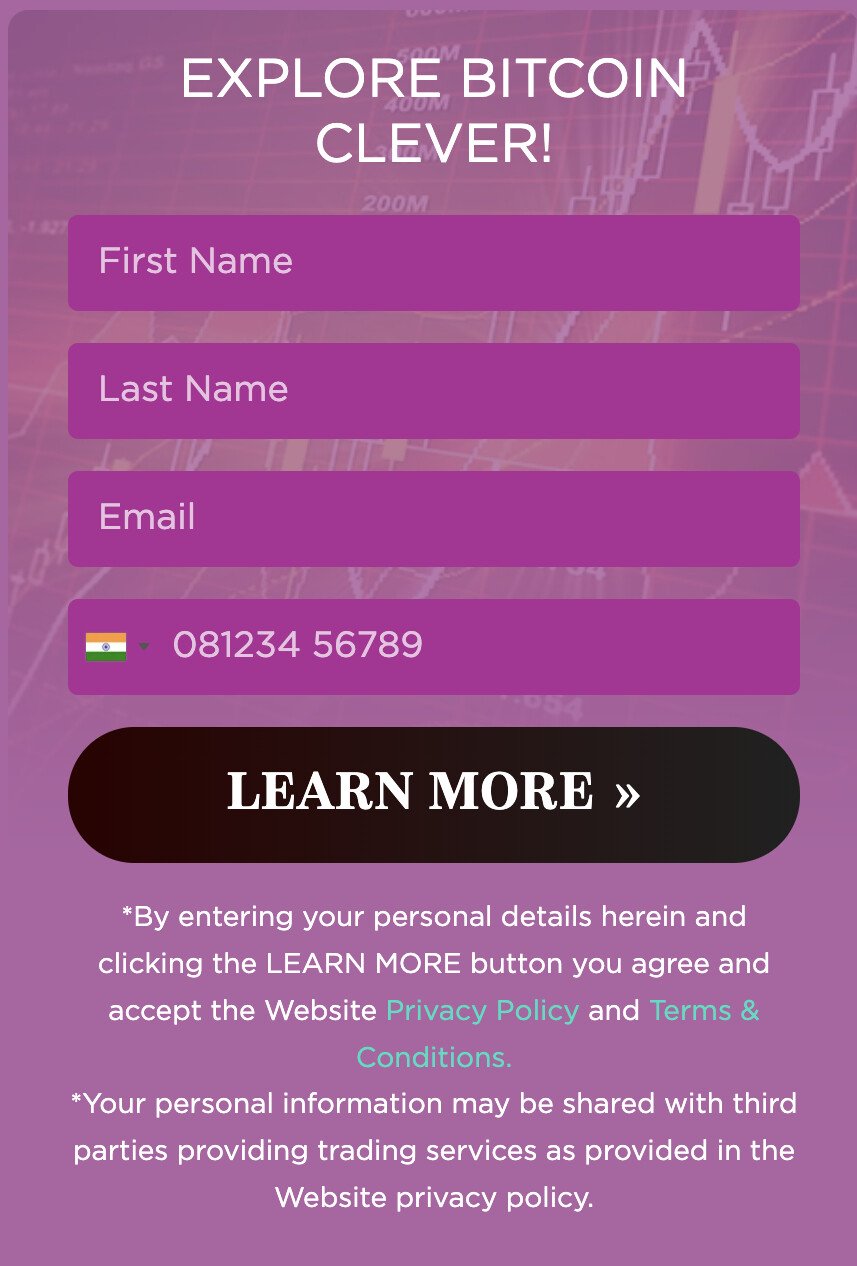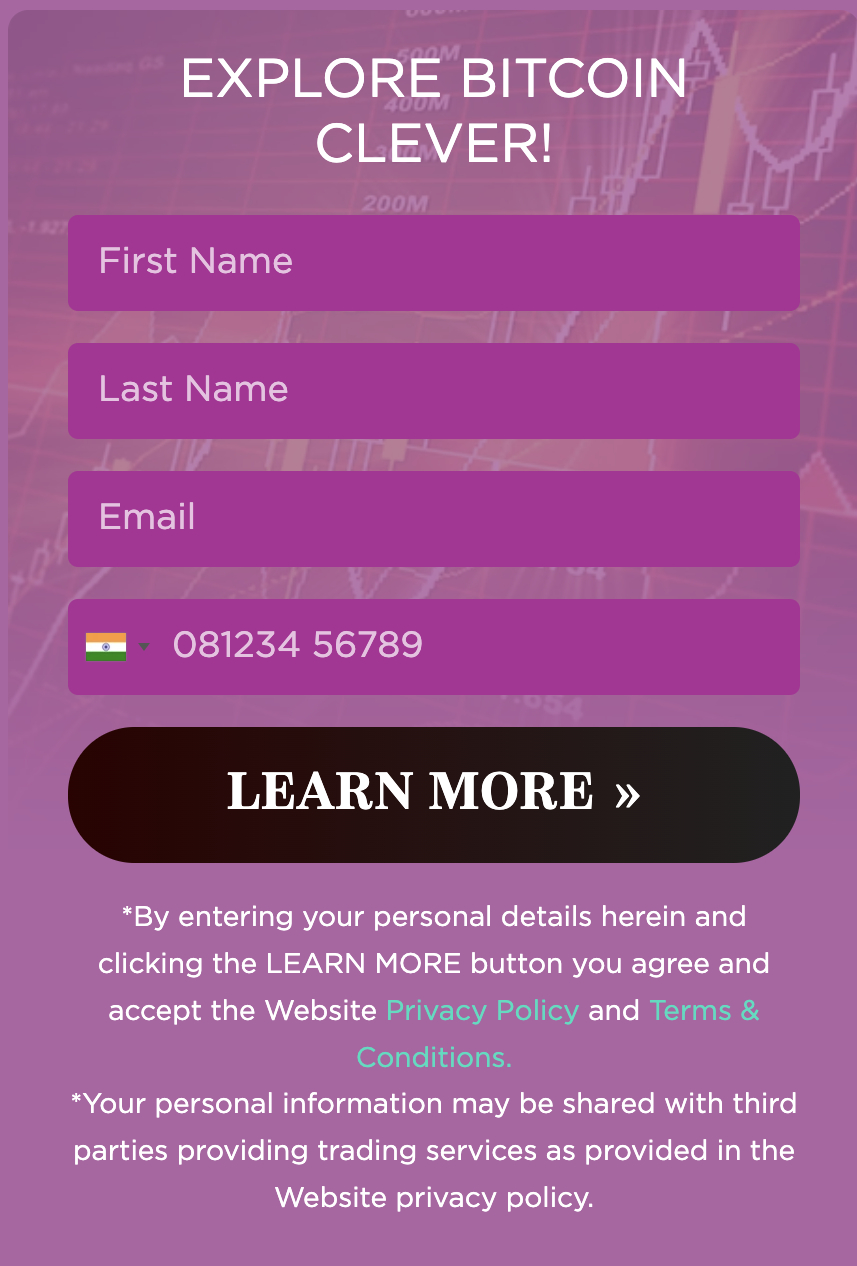 Step 2 – Deposit the required amount
Use any of the listed payment methods to pay the minimum deposit you need to start buying and selling assets.
Step 3 – Start Trading
After making the deposit, switch to the demo trading mode – if available – to see how the site works. Once you have had enough experience, switch to live trade, customize the in-app mechanic and let Bitcoin Clever App trade for you.
How to Delete a Bitcoin Clever Account?
Bitcoin Clever has provided no information about how to delete an account. At best, you can reach out to your account manager – whom you will contact during the sign-up process – to get instructions on how to terminate your Bitcoin Clever account.
Have Celebrities Endorsed the Bitcoin Clever System?
While there are more than a couple of rumors that celebrities support Bitcoin Clever, there is no evidence to suggest that they are true. Businessmen like Elon Musk, who have shown some interest in cryptocurrency, have shown no interest in crypto trading sites, and Jeff Bezos has commented only once about cryptocurrencies and blockchain. And when it comes to Martin Lawrence, Bitcoin Clever is just one of many names he has been falsely associated with.
Who is the Founder of Bitcoin Clever?
There is no information available about who is running Bitcoin Clever. The platform's About Us page has stated that Bitcoin Clever began with a mission to provide a convenient tool for crypto trading. But it has pointed nothing to who designed that tool. Social media websites also have no information about the makers of this platform.
Bitcoin Clever Payment Methods
Here are the payment methods applicable to Bitcoin Clever.
PayPal
Debit card
Credit card
Bank transfer
Crypto transfer
The Verdict
We have thoroughly assessed Bitcoin Clever in this review by checking out what was available on the official website and in other reviews. And all of them tell the same story. Bitcoin Clever claims to be an autonomous crypto trading platform that can offer a huge win rate to beginners and veterans alike. However, there is not much info to back those claims.
The site is too minimalistic in terms of content, and we came up dry when divided into social media sites to learn about the makers of this trading platform. Therefore, we recommend checking out alternative AI crypto trading bot projects instead.
Cryptocurrencies are unregulated. Trading with unregulated brokers will not qualify for investor protection.
FAQs
What is Bitcoin Clever?
Bitcoin Clever is a crypto trading platform that claims to provide a semi-autonomous system to help traders make better trading decisions. The site claims to provide alternatives from the norm regarding utilities and requires a $250 deposit from users.
Does Jeff Bezos use Bitcoin Clever?
There is no evidence suggesting that Jeff Bezos uses Bitcoin Clever. His comments about the cryptocurrency space are too far, and most people in the media have reported nothing regarding assets that he might be interested in.

---