Bitcoin Formula Review - Scam or Legitimate Trading Software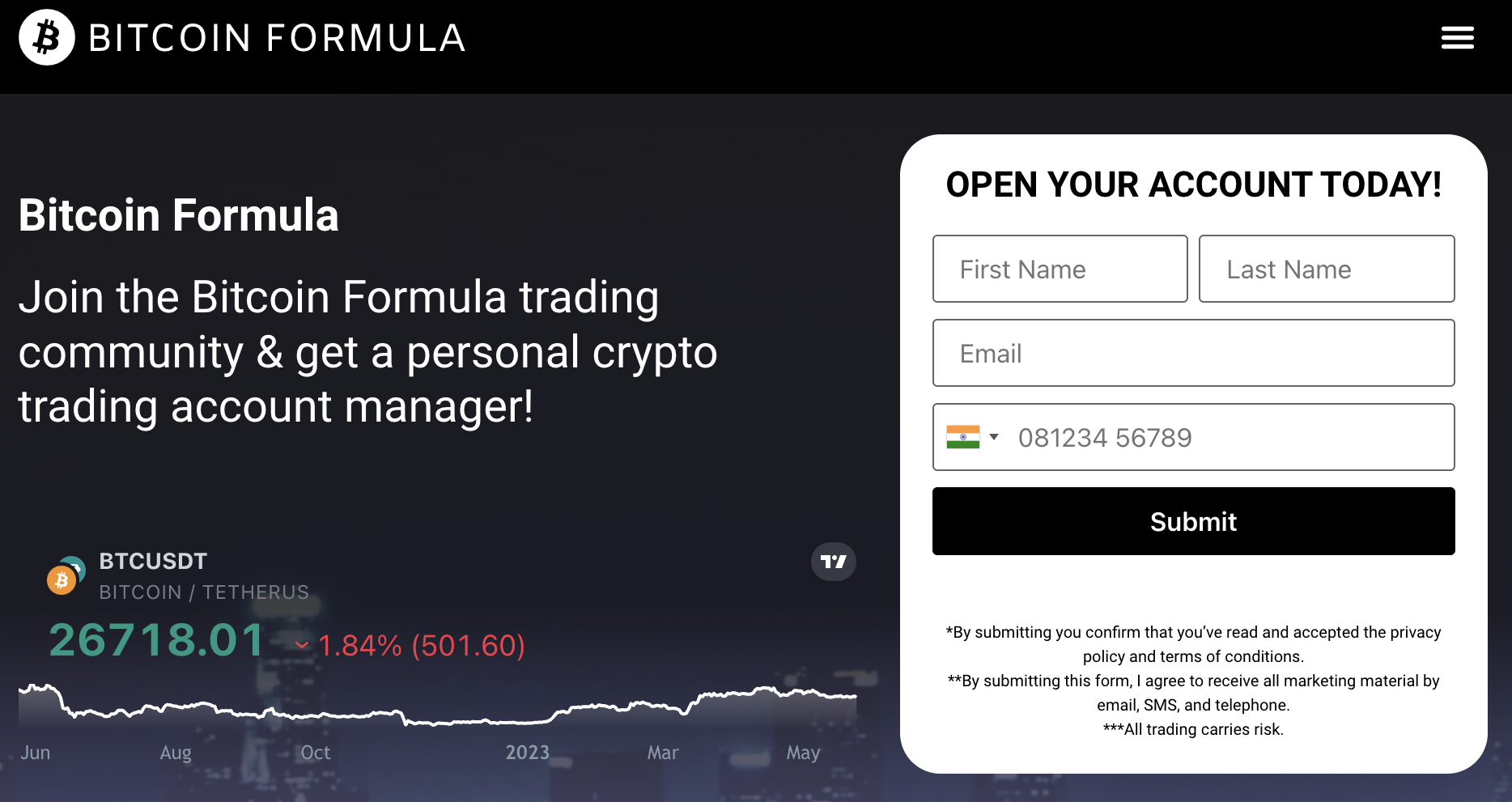 Disclaimer: The text below is an advertorial article that is not part of Cryptonews.com editorial content
Bitcoin Formula is a crypto trading software that portrays itself as a one-stop shop where you can get autonomous trading services that you can use to navigate the volatile market and generate profit. The platform claims to provide a holistic overview of the market to help you trade better. This and other features are what we are going to look into in this Bitcoin Formula review.
Bitcoin Formula Summary
Here is the condensed list of elements that Bitcoin Formula claims to deliver
| | |
| --- | --- |
| Supported Crypto | Bitcoin, XRP, Ethereum, Dogecoin, Bitcoin, Bitcoin Cash, Cardano, and Binance Coin |
| Claimed Success Rate | 80% - but unverified |
| Available on Mobile? | No mention of a mobile application |
| Fees | Provides no details about fee |
| Customer Support | Available 24/7 in seven different languages according to claims |
| Withdrawal Speed | It can take up to 24 hours |
| Minimum deposit | $250 |
Cryptocurrencies are unregulated. Trading with unregulated brokers will not qualify for investor protection
What is Bitcoin Formula?
Bitcoin Formula bills itself as a crypto trading software through which you can join a crypto community and get help from an account manager. It says that it has the same features as an auto trading platform that not only monitors ongoing trades but executes them on behalf of the investor.
The crypto trading bot that this trading platform seems to have employed explores the market thoroughly and takes sentimental and technical indicators into account when executing transactions. This approach, according to Bitcoin Formula, involves a formula that can yield profit 80% of the time.
The other utility that this platform talks about is automated projections that reportedly allow it to stay ahead of the market and make accurate price predictions of the listed assets.
And the assets listed on the platform, from what we can tell from the website, include Bitcoin, Ethereum, Bitcoin Cash, Litecoin, Ripple, Cardano, and Binance coin. Bitcoin Formula also claims to deliver a demo trading account and 24/7 customer support to help users make informed trading decisions.
But this facility requires a minimum deposit of $250. While it is not uncommon for a platform to have this type of high deposit requirement, issues arise when you consider that there are not many reports available online that confirm Bitcoin Formula provides these facilities.
Therefore, we recommend that our readers always know the risks of crypto trading before investing.
Bitcoin Formula Pros and Cons
Here are the pros and cons of Bitcoin Formula
Pros
Offers autonomous trading utility
It claims to have an 80% win rate
Offers advanced trading mechanics that make crypto trading simple
Claims to have an affordable fee model
A demo trading account is reportedly accessible to users
Cons
No information is available about the tools that this platform uses
Information about the founders of the website is not present
It has a high deposit requirement: $250
No historical data available online to confirm the win rate
How Does Bitcoin Formula Work?
Bitcoin Formula portrays itself as an autonomous trading system, which means it may work similarly to other platforms we have covered before. That would involve the following steps:
When users create an account and deposit the amount, they get access to stop loss and take profit settings.

After making adjustments to these variables, they can turn on the AI crypto trading bot which starts scanning the market to look for tokens on which it can execute a buy order.
After buying the asset, it may look for conditions that allow it to execute a sell order.
Bitcoin Formula claims that this approach uses tools like "automated projections" that allow it to be successful 80% of the time. While there is no historical data available online to confirm this win rate, testimonials available on the platform say otherwise.
Bitcoin Formula also says that users get connected to an account manager when they first create their account. These managers act as their customer support specialists who can help them make informed trading decisions or understand the tools that the platform offers. But it is not clear whether these managers are robo-advisors or humans.
After an account has accumulated enough gains, Bitcoin Formula states that users to who that account belongs can use standard fiat methods to withdraw them. However, that will entail some deductions, but Bitcoin Formula isn't clear on this matter.
Bitcoin Formula Key Features
The following list constitutes the features that Bitcoin Formula claims to provide:
Hands-free Crypto Trading
Bitcoin Formula claims that it is one of the "few innovative trading systems" that know how to allow users to reap the full benefits of hands-free trading. According to the website, Bitcoin Formula's approach is more precise than its competitors, allowing users to earn a high level of profit.
Simple-to-use UI
It is important for a trading platform to have a simple user interface to ensure maximum participation. Bitcoin Formula claims to deliver it. It says that the system's simplicity allows beginner-level traders to customize the trading parameters easily.
Account Manager's Assistance
Bitcoin Formula claims that users won't be alone when they are making profitable trading decisions. Helping them will be a qualified account manager who will help them navigate the tools available on the platform. This account manager also doubles as the customer support team, according to the platform.
Demo Account
Those who just get started can trade under simulated market conditions using virtual money before they jump into live trading using real money - according to Bitcoin Formula. The platform claims to provide a demo account which is freely available for those who register.
Monitoring Trades
Bitcoin Formula claims its system monitors the trade and accumulates data before feeding them into the trading unit so that the autonomous systems work more precisely.
Bitcoin Formula Account fees
Bitcoin Formula has stated that it charges a low fee from users. However, according to the website, knowledge about this fee is only available to the customer support team. It is highly likely that the platform divulges that info once a user starts the account creation process.
Bitcoin Formula Minimum Deposit
In order to access any of the features listed on Bitcoin Formula, users need to deposit at least $250. While the platform says that there is no fee, we recommend considering $250 as a one-time fee that's to be used as trading capital to help you trade.
Bitcoin Formula Compatible Devices
Bitcoin Formula doesn't have a dedicated mobile app, as far as we can tell. But it does have a web app. While we couldn't assess the trading platform it supposedly gives access to, we did open the official website on desktops, laptops, tablets, and smartphones and found it to be working correctly.
Is Bitcoin Formula a Scam?
Bitcoin Formula has some positives that we can list. The site has not neglected the amount of content, and the home page has a live Bitcoin trading chart, allowing you to check the stats as you are creating an account. And while we can't say anything about the trading utilities, Bitcoin Formula's website is accessible on multiple devices. Finally, we also found the sign-up process to be simple.
These aspects aside, we didn't find much substance in how the content was presented. The content, although large, was full of filler words that didn't talk about what features users would get access to. The lack of information permeates through other claims as well, like there is no information to verify its win rate, and there is no way to test the platform without creating an account, which also requires a minimum deposit of $250.
And the other issue is the lack of reviews. While the platform itself has posted some reviews, and a few of them have said that the site works, we couldn't find much outside the platform. Sitejabber is the only site we could find, but the reviews were unbalanced there. Reviewers were either too bullish or straight-up painted Bitcoin Formula as a scam.
So, while the site doesn't have enough information to mark it as a legitimate trading platform, there isn't enough information that can make us point it out as a scam either. Our suggestion would be only to invest the minimum amount and only move forward with investing in it further if it meets the user's requirements.
Cryptocurrencies are unregulated. Trading with unregulated brokers will not qualify for investor protection
Bitcoin Formula Customer Support
According to Bitcoin Formula, customer support is available 24 hours a day and in multiple languages. The platform claims that the support team is agile and can fix any issue the customer is facing.
How to use Bitcoin Formula?
If you choose to use this platform after a thorough assessment of the website and its features, follow these steps.
Step 1 - Visit the Bitcoin Formula Website
First, go to the official website of Bitcoin Formula. Enter your name, email, and phone number to start the account creation process. An account manager will reach out to you to help you complete the rest of the steps.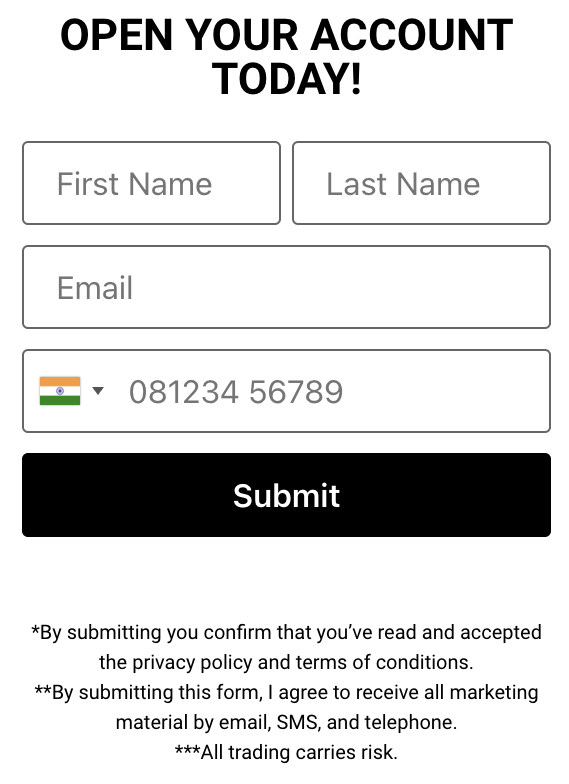 Step 2 - Make the Minimum Deposit
After you have started your account, you must deposit the minimum amount using any of the listed methods. The amount you must deposit is $250.
Step 3 - Start Trading on Bitcoin Formula
After you have deposited the amount, you can move forward with the trading process. Make sure to test the site using the demo trading account first to check if Bitcoin Formula's claim of offering an 80% win rate is true.
How to Delete a Bitcoin Formula Account?
There is no information available online or on the website that could tell us how one can delete the account. Our best bet is to talk to the account manager about this issue.
Does Jeff Bezos Use Bitcoin Formula?
Jeff Bezos, the founder of Amazon, has had a few good words to say about cryptocurrencies. While the community translated it as him being interested in crypto trading, there is no proof that he buys and sells crypto assets. Also, Bitcoin Formula is not the first crypto trading platform that he has been rumored to associate with, which means that it is likely false.
Does Elon Musk Use Bitcoin Formula?
Elon Musk has been called the hypeman of Dogecoin, which has led to Dogecoin's historical increase to its all-time high in the past. However, he doesn't have much to say about other crypto assets. So, the claim saying that Elon Musk uses Bitcoin Formula is likely false.
Does Martin Lewis Use Bitcoin Formula?
Martin Lewis is a financial journalist, and there doesn't exist one crypto trading platform that his name hasn't been falsely linked to before. It might be the same case here as there is no proof to substantiate the claims that he uses Bitcoin Formula.
Who is the Founder of Bitcoin Formula?
Bitcoin Formula has not provided us with any details that could help us learn about its founders. And there is no About Us page either that could have helped us check this information. Anonymity is common in crypto trading. But Bitcoin Formula bills itself as a crypto trading platform that offers a high level of gains and asks for a hefty deposit. So, the unavailability of the identities of its founders in this situation can be a red flag.
Bitcoin Formula Payment Methods
The following payment methods are applicable to Bitcoin Formula, according to the platform.
Bank transfer
Credit Card
PayPal
Skrill and other e-Wallets
The Verdict
Bitcoin Formula makes a lot of claims to highlight its effectiveness. It is said to deliver a win rate of 80% through its autonomous trading system that anyone can use. However, there is no proof to verify any of these claims.
And the platform also hasn't told us anything about who its founders are. Social media platforms say nothing about it, and customer reviews of this platform look dubious. In light of this, we recommend to our readers to be careful when using Bitcoin Formula.
Cryptocurrencies are unregulated. Trading with unregulated brokers will not qualify for investor protection
Bitcoin Formula FAQs
What is Bitcoin Formula?
Bitcoin Formula is a crypto trading platform that claims to offer an 80% win rate through its autonomous trading systems. It says that any level of trader can use the platform after making a mandatory deposit of $250.
Does Elon Musk endorse Bitcoin Formula?
While there are some rumors saying that Elon Musk might be endorsing the Bitcoin formula, proof to substantiate these rumors don't exist. The tech magnate has shown no interest in anything other than Dogecoin and has also sold 75% of Tesla's Bitcoin holdings in 2022.
---