Crypto Success Review - Scam or Legitimate Trading Software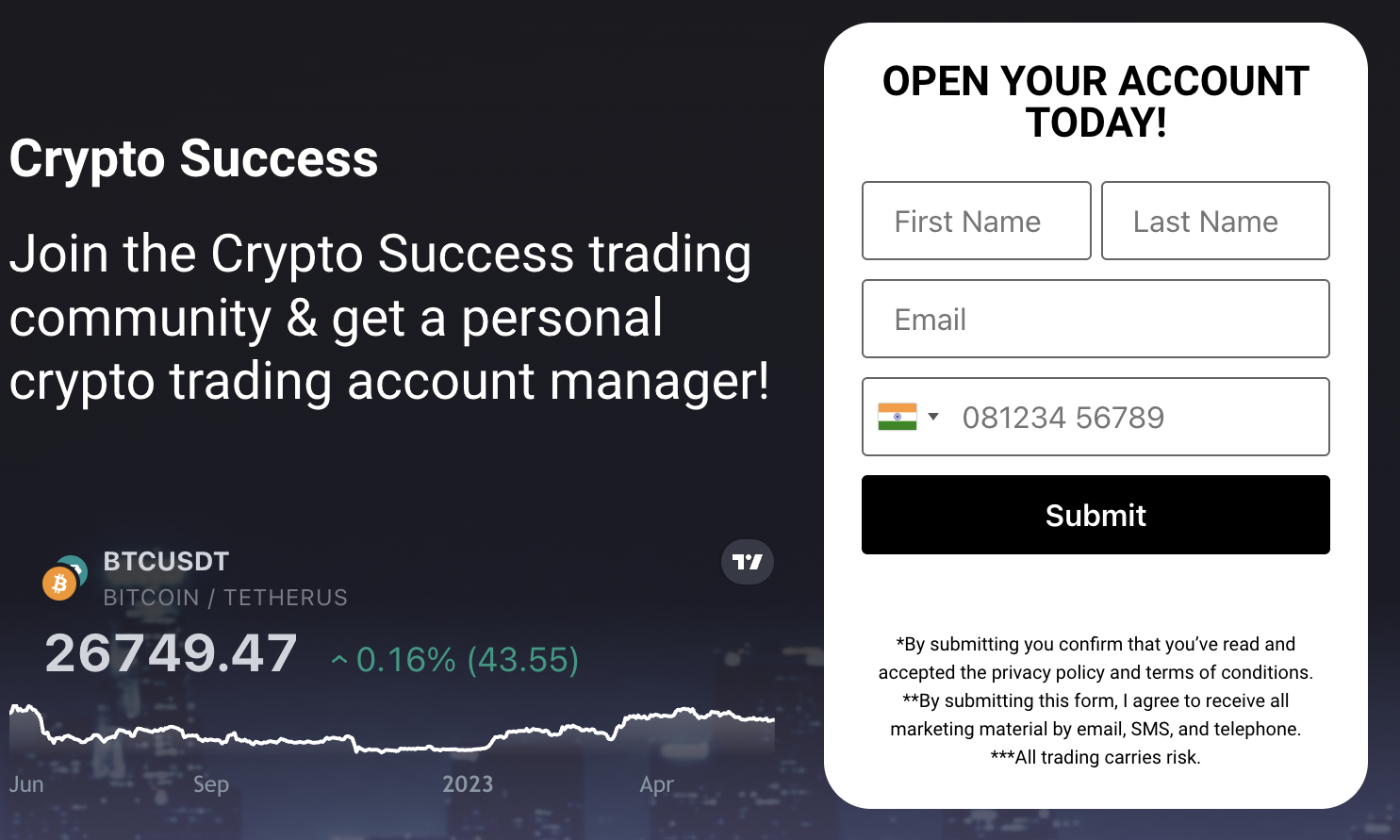 Disclaimer: The text below is an advertorial article that is not part of Cryptonews.com editorial content
Crypto Success claims to provide a trifecta fit for making crypto trading easier - a trading community, an account manager, and an autonomous trading platform. The site promises that it has a 98% success rate, that, under ideal conditions, would make it suitable for traders for all levels of experience.
But are these tall claims true? This Crypto Success review questions the success of this platform when it comes to generating profits for users.
Crypto Success Summary
Crypto Success claims to have many features to make crypto trading simple. But before we assess those claims, here are some of the key factors of this platform:
| | |
| --- | --- |
| Supported Crypto | Bitcoin, Ethereum, Litecoin, Cardano, Ripple, Dogecoin, and more crypto assets |
| Claimed Success Rate | 98% |
| Available on Mobile? | No mobile applications are available |
| Fees | No fee model |
| Customer Support | Available to those who register |
| Withdrawal Speed | 24 hours |
| Minimum deposit | $250 |
Cryptocurrencies are unregulated. Trading with unregulated brokers will not qualify for investor protection.
What is Crypto Success?
The current crypto winter can only be beaten by those with the forethought to make quick trading decisions and invest in the right assets at the right time. Crypto Success claims to be successful in this regard. It says that it makes crypto traders winners by giving them access to tools that would make buying and selling top digital assets easier.
One aspect that sticks out about the Crypto Success's website the most is the banner page that showcases the current Bitcoin price chart, which allows users to monitor the market even when they are creating an account. Speaking of account creation, the signup process is simple.
Crypto Success promises to deliver an innovative selection of tools similar to an AI crypto tool that allows users to trade hands-free. However, according to the website, they are allowed to make adjustments to the bot before trading, like setting the stop loss and take profit parameters. That said, there is nothing we can say about the effectiveness of this hands-free trading system since it is impossible to access without the minimum deposit requirement, which is $250.
Another feature that Crypto Success claims to deliver is trading with the help of an account manager. According to the website, every user gets assigned an account manager that helps them with their day-to-day trading needs. The platform also claims that the account manager is crucial in formulating trading strategies for the user. However, there is no clarity about how helpful an account manager can be.
That information needs to be accounted for since Crypto Success claims to have a 98% success rate. It remains unverified as we could not find any historical data to audit this win rate.
Crypto Success Pros and Cons
Listed below are the pros and cons of Crypto Success.
Pros
Claims to have a high ROI
It has a simple sign-up process
Bitcoin live trading chart visible on the home page
Features a demo trading account
Cons
Requires a minimum deposit of $250
The site has not expanded upon the features available
No historical data available to confirm the claimed win rate
How Does Crypto Success Work?
Crypto Success claims to be a fully autonomous platform, which means it should work in the following manner.
The user first logs in and makes a deposit before turning on the crypto trading bot.
That autonomous trading system scans the market to find the best trading conditions. That is, it looks for cryptocurrencies that are close to hitting their intraday lows and buy them.
It continues scanning the market until the same asset hits its daily high before closing its position.
If the intra-day high is higher than the intraday low, the user can generate profit. Crypto Success claims that it is the case 98% of the time, Although there is no proof to verify this claim. Also, even if it has a chance to be true, the volatility of the crypto space doesn't guarantee profits. Invest only what you can afford to lose.
Crypto Success Key Features
Here is the list of features that the Crypto Success website claims it has.
A High Win Rate
Crypto Success claims that its win rate is similar to that of Bitcoin Prime - 98%. That would mean that out of 100 trades it does, 98 are a success. This seems unrealistic since there is no perfect predictive system in the market yet. Therefore, users must not assume this win rate to be true when using the platform.
Autonomous Trading System
Those who are looking for hands-free trading will have access to robust features on Crypto Success, according to the claims. The website states that users can customize their stop loss and take profit parameters before turning on the auto trading platform.
Secure Platform
According to the website, the user's data is secured behind SSL encryption and using other standard security features. These features also extend to KYC requirements, according to some third-party reviews, but Crypto Success itself has made no mention of it.
Support for Multiple Cryptocurrencies
Crypto Success seemingly understands the value of diversifying one's investments in the cryptocurrency market, which is why it claims to support multiple cryptocurrencies, including Binance Coin, Bitcoin, Bitcoin Cash, Ethereum, Ripple, Cardano, and Litecoin. However, users must be careful since there happens to be a typo in the way the ticker symbols of these tokens are written. It might not be a big deal, but a sign of a legit platform is that it is focused on the grammatical nuances; however little they appear to be.
Access to a Demo Trading Account
Even though a site lacks information, much can be learned about it by using a demo trading account. Crypto Success apparently offers this feature, but only to those who create an account - which made assessing this facility not possible for our reviewers.
Cryptocurrencies are unregulated. Trading with unregulated brokers will not qualify for investor protection.
Crypto Success Account fees
Crypto Success hasn't posted anything about its fee structure other than writing that users must talk to the customer support team for that information. Many sites have reported that it has the same zero-fee structure as other trading sites we have covered before, but we can't say for certain until we have critical information. So, consider this information "not available" in the meantime.
Crypto Success Minimum Deposit
At a minimum, users must deposit $250 in order to access the platform's features. The platform says that it doesn't charge users a commission on this minimum deposit.
Crypto Success Compatible Devices
As we went through the site, we opened it on several devices. We first opened the official website on a desktop and then moved onto the laptop. We also went mobile and tried out this website on smartphones that are both Android and Apple-based. We found that every aspect of the website was visible on all devices. However, that doesn't mean that the trading platform would have the same level of flexibility - an important factor you must keep in mind before using Crypto Success.
Is Crypto Success a Scam?
Crypto Success hasn't been very forward about the trading tools it claims to deliver. On the official page, it has merely hinted at them. It speaks for autonomous predictions, but there is no way to assess their accuracy. It also claims to offer a large selection of trading utilities to traders, but these features aren't accessible to someone who doesn't log in. And even registering doesn't help; users must also deposit the minimum amount before they can get full access to Crypto Success's tools. Because of this payment barrier, even testing the platform is risky.
And when it comes to customer reviews, there is none to speak of. Part of the reason that's the case is Crypto Success's name; it is too similar to other trading systems that claim to offer the same utility. For instance, there is a Crypto Boom review available on many third-party sites, which has the same features as Crypto Success in many ways.
These factors make it hard for us to determine whether Crypto Success is a scam. We recommend that users be careful when using the platform. And they must only do so after assessing their risk tolerance.
Crypto Success Customer Support
Crypto Success offers customer support via the account manager. The site claims that users can reach out to the account manager at any time for any assistance.
How to use Crypto Success?
Here are the steps to use Crypto Success:
Step 1 - Visit the Crypto Success Website
Visit the Crypto Success website. Fill out the form on the left-hand side of the screen and press submit. The next conventional step involves you talking to the account manager. But if you want only to use your email ID, provide only your burner number.
Step 2 - Make the Minimum Deposit
Deposit the minimum amount - $250 - using any of the listed methods available on the platform.
Step 3 - Start Trading on Crypto Success
Start using your funded account for crypto trading. But before trading live, we recommend checking out the demo trading account.
How to Delete a Crypto Success Account?
We couldn't find any information on how one can delete their Crypto Success Account. We recommend talking to the account manager for assistance. But before that, check if your account settings have a terminate account option.
Does Jeff Bezos Use Crypto Success?
Jeff Bezos has never shown interest in crypto trading. His only statement about cryptocurrency came in early 2022 when he stated that crypto assets would hold immense value in the future. However, no one knows about his personal trading portfolio. And there is no proof to substantiate the claims that he uses Crypto Success.
Does Elon Musk Use Crypto Success?
Elon Musk, Tesla's founder and Dogecoin hype man, has shown no real interest in trading cryptocurrencies other than Dogecoin. So, the claims saying that Elon Musk uses Crypto Success are false.
Does Martin Lewis Use Crypto Success?
While Martin Lewis's name has been linked to many crypto trading ventures, there is no record of his crypto investment portfolio. So, the rumors saying that Martin Lewis uses Crypto Success are likely false.
Who is the Founder of Crypto Success?
No information about Crypto Success' founders is available on the platform. Even the third-party reviews have not mentioned them. While having an anonymous founder is not so uncommon in the crypto space, users might want to pay attention since the current ecosystem demands more transparency from crypto trading platforms.
Crypto Success Payment Methods
Crypto Success claims to support all forms of fiat payments, including PayPal, bank transfer, credit cards, and debit cards, as well as Skrill and Neteller.
The Verdict
Crypto Success has a unique homepage that allows users to keep a watch on Bitcoin's current price. But beyond that, there is not much to be said about the platform itself.
The win rate it claims to have is unrealistic, and what makes it worse is that there is no proof to verify it. Social media platforms have no mention of this website, and the platform itself isn't giving any information about the trading tools it offers. Since much of this platform's offerings are locked behind the $250 deposit requirement, we recommend only checking this platform out if it meets your investment needs.
Cryptocurrencies are unregulated. Trading with unregulated brokers will not qualify for investor protection.
Crypto Success FAQs
What is Crypto Success?
Crypto Success portrays itself as a trading platform that offers autonomous trading facilities, a trading community, and an account manager to make crypto trading simpler. The site claims to have an array of modern tools to help novice and veteran traders.
Does Elon Musk endorse Crypto Success?
No, there is no proof to support the claims saying that Elon Musk uses or endorses Crypto Success. The tech magnate has shown no interest in a crypto asset that isn't an NFT or Dogecoin.
How to start trading on Crypto Success?
Crypto Success requires users to deposit at least $250 to start trading. While the platform claims to only ask for a nominal fee, many have said that making this minimum deposit is the only way people can access the features available on this platform.
---