Bitcoin Bank Breaker Review – Scam or Legitimate Trading Software
Disclosure: Crypto is a high-risk asset class. This article is provided for informational purposes and does not constitute investment advice. By using this website, you agree to our terms and conditions. We may utilise affiliate links within our content, and receive commission.

Disclaimer: The text below is an advertorial article that is not part of Cryptonews.com editorial content
The blockchain industry's rapid expansion has brought lucrative opportunities for investors, but it has also created a cluttered landscape with numerous educational resources, crypto platforms, and projects, making it challenging to navigate. 
Bitcoin Bank Breaker is billed as a platform that seeks to address this issue by positioning itself as a comprehensive hub for all trading-related needs. By offering a centralized and consolidated solution, Bitcoin Bank Breaker aims to simplify the trading experience and provide users with a convenient one-stop destination for all their trading requirements.
But can one trust the platform to be a safe haven for crypto trading? Well, in order to assess whether the platform is a secure option for crypto trading, we will gather and thoroughly review relevant project details. This will enable us to reach a conclusion on whether the platform is reliable or not.
Bitcoin Bank Breaker Summary 
Let us take a look at the specifics of Bitcoin Bank Breaker to gain a general understanding of the platform before diving deeper into the project.
| | |
| --- | --- |
| Supported Crypto | BTC, ETH, LTC, BCH, XRP, DOT, SOL etc |
| Success Rate | N/A |
| Available on Mobile? | Yes |
| Fees | None |
| Customer Support | 24/7 |
| Withdrawal Speed | Up to 24 hours |
| Minimum deposit | $250 |
Cryptocurrencies are unregulated. Trading with unregulated brokers will not qualify for investor protection.
What is Bitcoin Bank Breaker?
Bitcoin Bank Breaker is a trading platform that asserts to offer fully automated trading algorithms. According to the platform's website, these algorithms have the capability to trade various assets, including Bitcoin and several altcoins. The platform claims that its algorithms are user-friendly and can potentially generate profits with minimal intervention, allowing traders to earn money by simply allowing Bitcoin Bank Breaker to operate on its own. 
Bitcoin Bank Breaker emphasizes that it is a free-to-use trading platform that does not impose any hidden fees. Traders are said to retain all their earnings without commissions on profits. However, the website does not provide specific information regarding the accuracy of the algorithms or their past performance.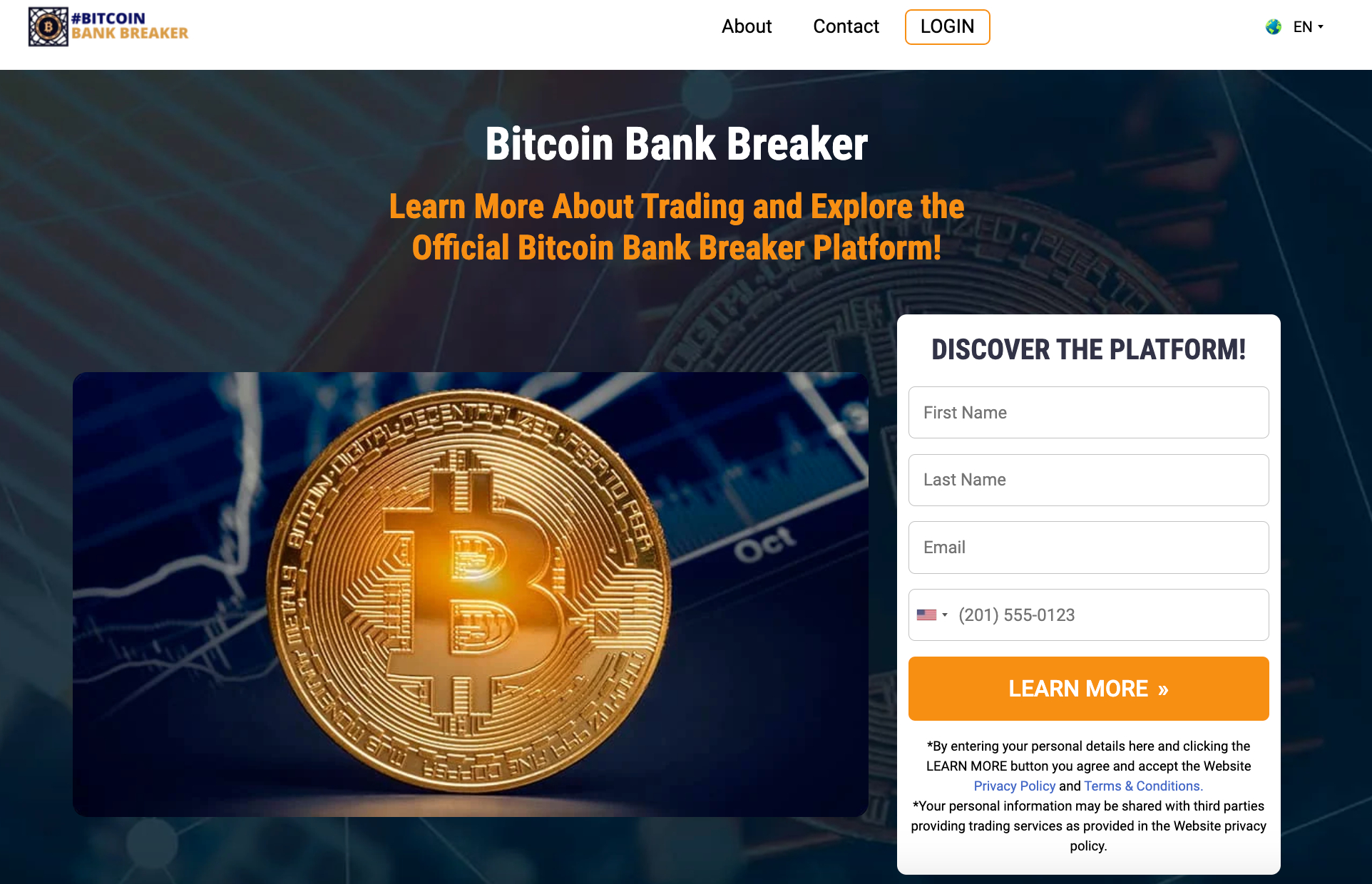 To allow traders to evaluate the platform on a better level, Bitcoin Bank Breaker offers all its registered users a free demo account for testing purposes. But while the platform is accessible in multiple countries, traders in the US cannot use it due to some restrictions.
By utilizing the analysis provided by Bitcoin Bank Breaker, traders can theoretically make informed decisions about which trades to pursue and how to approach them. The platform facilitates the execution of trades directly on Bitcoin and other prominent altcoins, such as Ethereum. While all these factors ideally make Bitcoin Bank Breaker a good choice to consider, one must keep in mind that a majority of claims made here are by the platform itself, and isn't backed with proof of any kind. 
Bitcoin Bank Breaker Pros and Cons
As with any other trading platform, Bitcoin Bank Breaker also has its own set of pros and cons. Let us take a look at a few of them that we were able to identify while exploring the website. 
Pros 
Simple interface
Suitable for beginners as well as advanced traders
Demo account available 
No trading fee
24/7 customer support for registered users
Cons
Not available in the US
No dedicated mobile application
How does Bitcoin Bank Breaker Work?
Surprisingly, Bitcoin Bank Breaker's website provides very limited information about its operational details. The platform mentions the utilization of trading algorithms without delving into specifics that could help us understand better about its operations. However, based on our knowledge of other algorithmic trading platforms, we can speculate to some level on how Bitcoin Bank Breaker may be operating. 
It is probable that Bitcoin Bank Breaker employs an algorithm trained on price data from various cryptocurrencies. This algorithm likely analyzes the data to identify recurring price patterns that have historically resulted in predictable outcomes, such as short-term price fluctuations. By recognizing these patterns, the algorithm can make informed trading decisions. 
Bitcoin Bank Breaker emphasizes that its trading platform operates with minimal human intervention. The algorithm autonomously identifies and acts upon recognized patterns, executing trades accordingly. Additionally, the platform is equipped to automatically close trades when predetermined stop loss or profit targets are reached. It is important to note that we cannot independently verify the exact workings of Bitcoin Bank Breaker as the website lacks specific information. 
Bitcoin Bank Breaker Key Features

These are some of the most notable features that we found to be potentially appealing to users on the Bitcoin Bank Breaker platform. 
Multi-asset Trading 
Bitcoin Bank Breaker's website asserts that traders can utilize the platform to engage in trading across multiple cryptocurrencies like Bitcoin, Ethereum, Polkadot etc. However, specific details regarding the available options, are not provided on the platform. 
Demo Account 
Every user of Bitcoin Bank Breaker is said to have access to a demo trading account. This allows traders to familiarize themselves with the platform's functionality, explore its features, and assess its performance. The demo account provides an opportunity to observe how Bitcoin Bank Breaker's algorithm performs under current market conditions, offering a risk-free environment for testing and learning. 
Enhanced Security 
Bitcoin Bank Breaker claims to prioritize the security of user data and trade information. The platform utilizes strong encryption to safeguard sensitive data. While we did try to search for the specifics, there was nothing of relevance that we were able to find out about the security system of Bitcoin Bank Breaker.  
Beginner-friendly Platform 
Bitcoin Bank Breaker claims to be designed to cater to traders of all experience levels, including beginners without prior trading experience. The platform offers an automated trading feature that may be particularly appealing to novice traders. Additionally, the website suggests that more experienced traders have the flexibility to adjust algorithmic trading parameters or engage in manual trading using Bitcoin Bank Breaker. 
Mobile Support 
While Bitcoin Bank Breaker does not have a dedicated mobile app, the platform is accessible through web browsers on various devices, including computers, smartphones, and tablets. Traders can access the platform from anywhere in the world, except for the United States, as long as they have an internet connection. 
Bitcoin Bank Breaker Account Fees
Bitcoin Bank Breaker operates on a fee-free model, as highlighted on its platform. Users of Bitcoin Bank Breaker are not required to pay any fees, be it for account maintenance, subscriptions, trade commissions, or profits earned through the platform. Additionally, the platform does not impose any charges for deposits, withdrawals, or any undisclosed fees. This transparent fee structure ensures that users can access and utilize Bitcoin Bank Breaker's services without incurring any additional costs.
| | |
| --- | --- |
| Trading Fee | None |
| Account Fee | None |
| Commission | None |
| Withdrawal/Deposit Fee | None |
Cryptocurrencies are unregulated. Trading with unregulated brokers will not qualify for investor protection.
Bitcoin Bank Breaker Minimum Deposit
Bitcoin Bank Breaker follows a similar practice to its trading platform counterparts by requiring a minimum deposit of $250 to register a new trading account. This deposit is necessary to unlock the platform's features, including paper trading capabilities. 
Bitcoin Bank Breaker states on its website that the initial deposit can be withdrawn at any time without incurring any fees. This means that traders have the flexibility to retrieve their deposited funds if they determine that the platform is not suitable for their trading needs.
Bitcoin Bank Breaker Compatible Devices
Some of the website-compatible devices that are mentioned on the Bitcoin Bank Breaker website are:
Desktop 
Laptop 
Mobile Phones
Tablets
Is Bitcoin Bank Breaker Scam or Legit?
Traders should approach Bitcoin Bank Breaker with a healthy level of scepticism regarding its legitimacy, considering the platform's bold claims. During our review, we were unable to substantiate the functionality and performance of Bitcoin Bank Breaker's algorithm, as well as its historical win rate. 
The lack of trader testimonials on the website and limited reviews on the platform's performance adds further uncertainty. However, Bitcoin Bank Breaker does provide a free demo account, allowing traders to personally evaluate the algorithm's capabilities. It is important to note that the platform emphasizes no hidden fees, reducing the financial risk associated with testing the platform in demo mode. Nevertheless, it is crucial for traders to conduct extensive research and exercise due diligence before engaging with the platform. 
Bitcoin Bank Breaker Customer Support
According to the information provided on the Bitcoin Bank Breaker website, the platform offers 24/7 customer support service. Traders who have registered and deposited the required minimum amount of $250 can access this support service. It is important to note that this customer support is available to registered users and may not be accessible to those who are simply browsing the website or considering the platform.
How to Use Bitcoin Bank Breaker?
After reviewing the information, if you decide to proceed with the Bitcoin Bank Breaker platform, you can follow these steps: 
Step 1 – Create an Account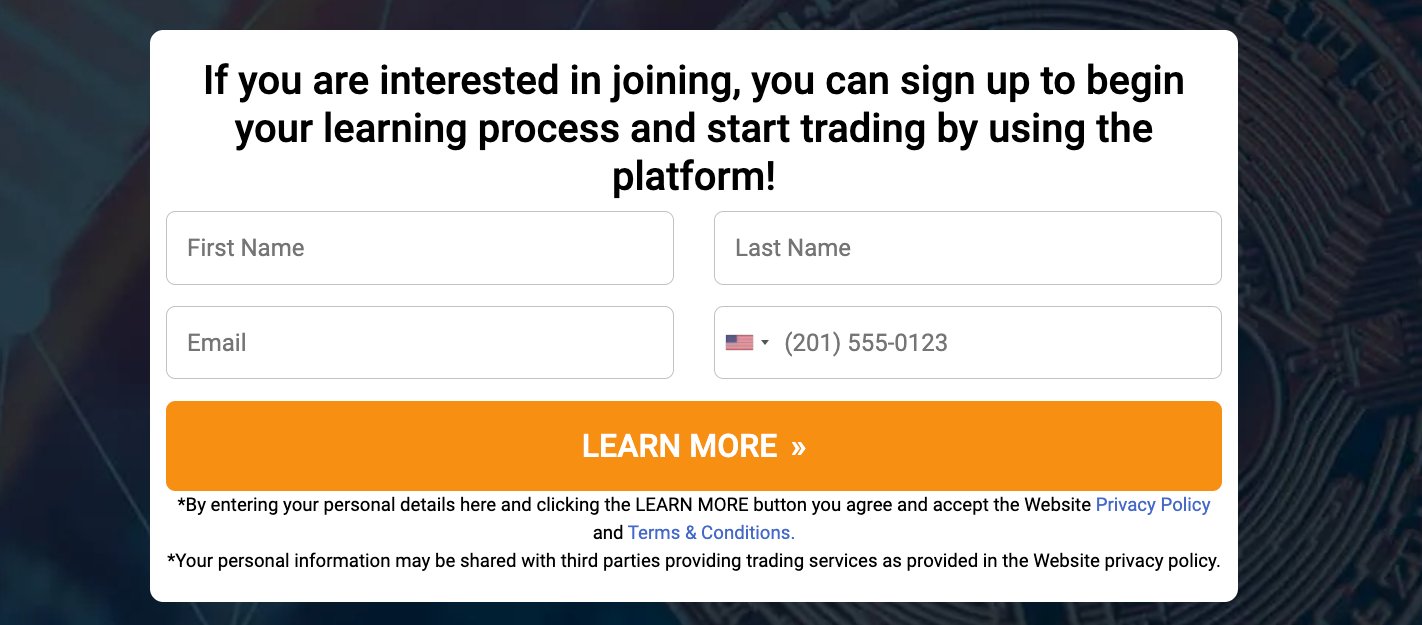 Visit the Bitcoin Bank Breaker website and register by providing your name, email address, and phone number. 
Step 2 – Deposit Funds
Make a deposit of at least $250. Bitcoin Bank Breaker accepts various forms of payment, and most of them are instant, ensuring a hassle-free process for investors. 
Step 3 – Start Trading
Once your account is funded, Bitcoin Bank Breaker will supposedly conduct market research and execute trades as needed. You can initially use the demo account to familiarize yourself with the platform's functionality. Users can withdraw their remaining funds at any time, according to Bitcoin Bank Breaker's claims.
How to Delete a Bitcoin Bank Breaker Account?
Bitcoin Bank Breaker has not specified the procedure for deleting an account on its website. In this case, the recommended approach would be to reach out to the customer support team for assistance with the account termination process. Alternatively, users can try accessing their account settings and look for an option to close or delete the account. However, it is advised to contact customer support for guidance on how to proceed with deleting the Bitcoin Bank Breaker account.
Who is the Founder of Bitcoin Bank Breaker?
Bitcoin Bank Breaker has been the subject of rumours, with claims arising that it has been founded by renowned celebrities like Elon Musk, a prominent supporter of cryptocurrencies such as Bitcoin. Furthermore, there have been alleged discussions regarding the endorsement of Bitcoin Bank Breaker by major companies, both within and outside the cryptocurrency space. 
However, it is important to note that during our comprehensive review of Bitcoin Bank Breaker, we were unable to verify any of these rumours. No concrete evidence was found to support the involvement of Elon Musk or other celebrities with the platform. Similarly, we did not come across any endorsements from notable companies endorsing Bitcoin Bank Breaker as a trading platform. It is advisable to exercise caution and rely on verified information when assessing the credibility of such claims.
The Verdict
In conclusion, Bitcoin Bank Breaker is one of the many cryptocurrency trading platforms that potentially offer a range of benefits to investors. However, there is limited information available about this site despite its mention on social media as a popular choice. While the platform claims to have a high success rating, we were unable to find any specific details or evidence to support this claim. 
Considering all these factors, we believe that it is advisable for investors to conduct their own research before using the platform to ensure they understand the potential risks involved. To learn more about the features of the platform, you can visit Bitcoin Bank Breaker by clicking the following link.
Cryptocurrencies are unregulated. Trading with unregulated brokers will not qualify for investor protection.
FAQs
Who is the founder of Bitcoin Bank Breaker?
There is no information about the founder of Bitcoin Bank Breaker anywhere on the website. While there are rumours about celebrities being a part of the founding members, we didn't find any proof to substantiate this claim. 
 
What is the minimum deposit on Bitcoin Bank Breaker?
The minimum deposit amount on the Bitcoin Bank Breaker platform as per the website is $250. It is vital to gain access to the wide variety of features offered by the platform. 
---