Quantum Hancock Review - Scam or Legitimate Trading Software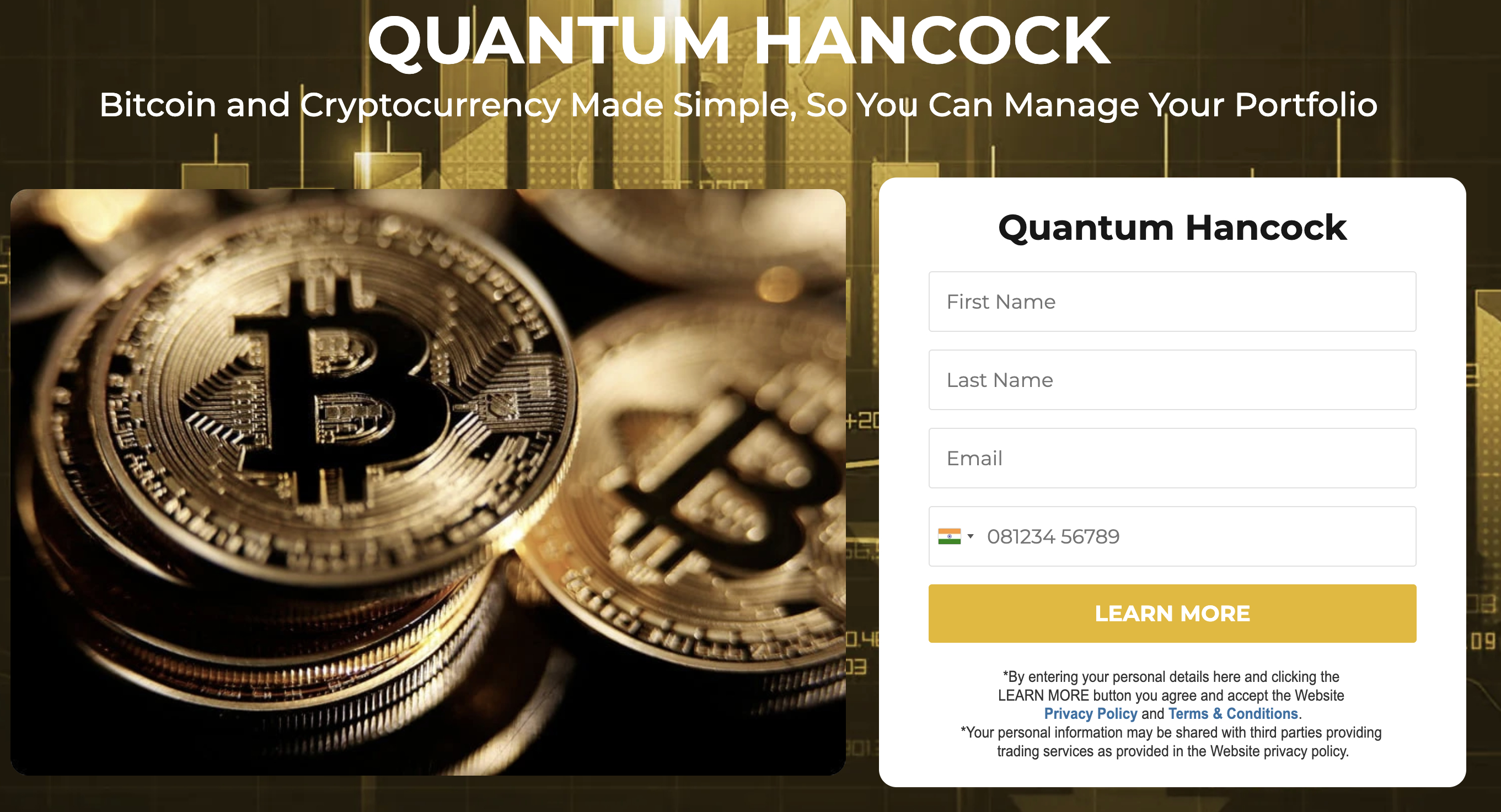 Disclaimer: The text below is an advertorial article that is not part of Cryptonews.com editorial content
Quantum Hancock is a crypto trading platform that promises to make cryptocurrency and Bitcoin trading simple via tools you can use to manage your portfolio better. Claiming to be an all-in-one crypto and Bitcoin trading platform, the site claims to provide charting tools that anyone on any skill level can use.
Is Quantum Hancock safe though? This Quantum Hancock review checks its features and sees if these tools (if available) are worth your time.
Quantum Hancock Summary
Quantum Hancock makes a lot of claims about letting users stay ahead in the financial market. But before we assess those claims, here are the key details to know about this platform.
| | |
| --- | --- |
| Supported Crypto | Bitcoin, Ethereum, Dogecoin, Ripple, Litecoin, and DeFi coins like UniCoin |
| Claimed Success Rate | Not Specified |
| Available on Mobile? | No mobile applications are available |
| Fees | No fee model |
| Customer Support | Available to those who register |
| Withdrawal Speed | 24 hours |
| Minimum deposit | $100+ |
Cryptocurrencies are unregulated. Trading with unregulated brokers will not qualify for investor protection.
What is Quantum Hancock?
Trade, Monitor, Track, and Automate - these are the four things that Quantum Hancock claims to provide. According to the official website, users can securely trade a variety of cryptocurrencies, including Ripple, Dogecoin, Ethereum, and Litecoin. Support for DeFi coins like UniCoin is also supposedly available.
Underpinning these trading features is a crypto trading bot that Quantum Hancock claims to provide a high win rate. That said, it has not been clearly stated what that win rate is. Another key factor that Quantum Hancock has emphasized through its content is the security feature.
Quantum Hancock states that the platform's team has taken "extreme measures" to ensure the security of the data and other assets available on the website. It has also stated that there is a "smart terminal" that tests processes and protocols to ensure that all the platform's features are in full compliance with the security standards.
From the looks of the content available, Quantum Hancock has more in common with a robo advisor than an autonomous trading platform. We say this because the site itself has made no mention of how machine-learned mechanics work. What we could learn, however, is that Quantum Hancock claims to provide a trading unit consisting of custom-designed widgets and layouts that all levels of traders - novices or veterans - can use easily. But consider these remarks as only claims for now because these features are locked behind the minimum deposit requirement.
The site states that depositing this amount will allow users to start using all the features, including the demo trading account. Another feature that makes depositing mandatory is customer support.
Overall, while Quantum Hancock makes claims that may be conducive to traders, there is no proof that these are real. The site itself is light on information, and it hasn't specified the type of trading applications it employs. Therefore, those who still are inclined to use this platform must do so carefully. Only invest according to your risk tolerance, and know that profits are never guaranteed in crypto.
Quantum Hancock Pros and Cons
Here are the pros and cons of Quantum Hancock that we could note as we analyzed the website.
Pros
Claims to provide manual and autonomous trading facilities
Claims to support customized trading features
Have listed multiple assets
Registered users can talk to the customer support team
Cons
Access requires a mandatory deposit
Not much information is available on the platform
No details about the founders are available
How Does Quantum Hancock Work?
According to the FAQs that Quantum Hancock has provided at the bottom of its official website, users can "connect their account using a secure API connection and start trading." The platform states that it allows users to get a holistic picture of their assets and create strategies to "meet their goals." And since these are vague terms at best, here is how many third–party reviews have pointed out how the site might work.
Users first deposit the amount and test the features via the demo trading account.
Once they have exhausted the virtual currency they were given to test the site, users may switch to live trading.
The live trading feature may come in two modes - autonomous and manual.
With manual trading, users may have access to charting tools.
And with autonomous trading, users may have access to an AI crypto trading bot that executes trades autonomously and tracks the performance. That information may then be fed into the bot to help it trade better in the future.
If Quantum Hancock works per these claims, novice and veteran traders will benefit a lot from it. However, as it stands now, the information we have provided here is second-hand. The site itself hasn't shed light on it, and customer reviews have also not said anything. Therefore, we recommend exercising caution when using Quantum Hancock.
Quantum Hancock Key Features
Listed below is the host of features that Quantum Hancock claims to have.
Advanced Trading Features
Quantum Hancock promises its users that once they create an account, they will have a slew of trading facilities available to them. According to the website, these features would entail charting tools, market monitoring tools, and smart fund allocation. The website also claims that users can create custom trading strategies to counter the volatility of the trading market.
Autonomous Trading Systems
While the website hasn't given us a large explanation, it does claim that users can access an autonomous trading system that would allow them to execute trades hands-free. This system, if claims are to be believed, scans the market for the right conditions to execute trades that generate ample profits for users.
Enhanced Security
Quantum Hancock has dedicated a whole section of the website to the security features it has implemented. Claiming to provide standard security protocols, Quantum Hancock states that these features include 256-bit encryption to shield user data, HSTS protocol to add an additional layer of security, and rate limits to stop brute force attacks on their tracks.
Demo Trading Account Available
According to Quantum Hancock, users don't need to jump into crypto trading right away. They can use a demo trading account to get used to the complex features that the site apparently offers before switching to live trading. This feature, however, is only available to those who register.
Supporting Multiple Assets
Quantum Hancock states that it supports multiple assets belonging to different niches of crypto. While the website has only pointed out one niche in this regard - DeFi - third-party sites claim that the site also supposedly offers metaverse tokens, P2E tokens, and more. That said, the website itself has stated that other than niche tokens, it also facilitates the trades of top digital assets like Ripple, Bitcoin, Ethereum, Litecoin, and Dogecoin.
Quantum Hancock Account Fees
Quantum Hancock hasn't provided any information about its fees. There is no mention of a transaction fee, withdrawal fee, deposit fee, or even a commission. While many third-party platforms have taken this information and considered that Quantum Hancock asks for no fees, we recommend contacting the account manager to access this information. Users may be able to get a hold of an account manager by initiating the signup process.
In the meantime, however, one can consider the following table to be the precise representation of Quantum Hancock's fee model.
| | |
| --- | --- |
| Trading Fee | None |
| Account Fee | None |
| Commission | None |
| Withdrawal/Deposit Fee | None |
Quantum Hancock Minimum Deposit
The Quantum Hancock website has not provided any details about the minimum deposit. But if we go by features of similar trading platforms like Quantum Trade Wave, it is likely that a $100 - $300 minimum deposit is mandatory.
However some trading platforms in the same niche have no stated deposit requirement, such as Quantumator.
Quantum Hancock Compatible Devices
While the trading platform and tools weren't available to us, the website was. So, we tested the website on multiple devices, including desktops, laptops, tablets, and smartphones (Android and Apple). We found the website to be responsive. On desktops and laptops, Quantum Hancock's display on a wide screen allows the content to be shown off correctly. With mobiles and tablets, we found the site responsive and all the buttons working correctly.
Is Quantum Hancock a Scam?
Is Quantum Hancock a scam? It is a question that is often asked, and the answer to it can only be based on the information we have available at the moment.
And for now, we don't have much available. Quantum Hancock bills itself as an all-in-one crypto trading platform that provides advanced trading tools that allow users to trade manually as well as in an autonomous fashion. However, we don't know the types of tools that are available to us. Quantum Hancock hasn't shone a light on them. It also has not provided us with a way to independently test the site, as even accessing the demo trading feature comes with a minimum deposit requirement.
The other factor to keep in mind is the lack of information available to us. Instead of focusing on the types of trading tools people would have access to, Quantum Hancock has dedicated its page to discussing the intricacies of crypto trading. This gives the site a generic feel, which gets further exasperated by the fact that we also couldn't find any video proof to check out the demo trading account.
The platform also has only a minimum number of third-party reviews, and the customer reviews are even fewer. These factors give us an ambiguous image of this automated trading platform. As a result, there is no way for us to determine whether this website is a scam or is legitimate.
Cryptocurrencies are unregulated. Trading with unregulated brokers will not qualify for investor protection.
Quantum Hancock Customer Support
Customer support is available, but only to those who create an account. Many reviews have stated that those who register can contact the customer support team via live chat or email.
How to use Quantum Hancock?
If you still want to use this platform after carefully assessing it, here are the steps to follow
Step 1 - Visit the Quantum Hancock Website
Head over to the Quantum Hancock website and start the account creation process. Enter your name, email, and phone number before clicking on the "Learn More" button. If you are conscious of your privacy, we recommend giving you a burner number and an alternative email.
Step 2 - Make the Minimum Deposit
Make a deposit using the methods available on the platform. While we don't know the exact deposit requirement of this platform, it likely is in the $100 - $200 region. Also, if the account manager does reach out to you after the first step, you will get that information.
Step 3 - Start Trading on Quantum Hancock
After funding the account, access the demo trading system and assess the platform's features. If they perform as advertised, switch to live trading and start investing.
How to Delete a Quantum Hancock Account?
Quantum Hancock has provided no information about how one can delete an account. Talking to the account manager or the customer support team can help. But before you do that, we recommend going to your account's settings to find a "terminate account" option.
Does Jeff Bezos Use Quantum Hancock?
Jeff Bezos' name has often been linked to crypto trading platforms like Quantum Hancock. However, there is no insight available into his crypto trading portfolio. While there were speculations during the bull season of 2021 that Jeff Bezos might invest in Dogecoin, there hasn't been any news since then.
Does Elon Musk Use Quantum Hancock?
Since Elon Musk is a Dogecoin supporter, it would be easy to think that he might be using Quantum Hancock since the site apparently supports DOGE. However, that's not the case. Rumors of his support of this crypto trading platform are false.
Does Martin Lewis Use Quantum Hancock?
Martin Lewis of Money Saving Expert is a name that has often been associated with cryptocurrency trading - and falsely so. There have been cases where people have admitted that they have been scammed out of thousands of dollars because of a fake advert saying that Martin Lewis uses them. So, consider those speculations saying that Martin Lewis uses Quantum Hancock to be false rumors.
Who is the Founder of Quantum Hancock?
The Quantum Hancock website doesn't say anything about its team. It has not mentioned what they do and how they contributed to the development of the platform. Third-party reviews have also failed to provide any information about the founders. It is likely that the dev team is anonymous, which can be seen as a red flag since now people have been asking for more transparent trading platforms.
Quantum Hancock Payment Methods
Quantum Hancock apparently supports the following payment options.
Debit cards
Credit cards
E-Wallets
Bank Transfers
The Verdict
In this review, we have tested this website on several fronts. And while we couldn't assess the quality of its features, we were able to get some insight from its content and third-party reviews.
Quantum Hancocks portrays itself as an all-in-one crypto trading platform with a host of tools and security features to facilitate safe trading. However, it doesn't provide a lot of information when it comes to its features.
Customer reviews and third-party reviews about this platform are also few, and they also provide a mixed picture of this site's features. Therefore we recommend that users only use this platform if it fits their requirements.
Cryptocurrencies are unregulated. Trading with unregulated brokers will not qualify for investor protection.
Quantum Hancock FAQs
What is Quantum Hancock?
Quantum Hancocks portrays itself as an all-in-one platform that delivers manual and autonomous trading features, making crypto trading accessible to everyone. The site requires one to deposit before they can start using its facilities.
Does Elon Musk endorse Quantum Hancock?
Elon Musk has not personally endorsed any crypto trading exchange in the past. So, it is highly unlikely that he would endorse a relatively unknown platform like Quantum Hancock. Such rumors are likely false.

---