Bitcoin Investor Review - Scam or Legitimate Trading Software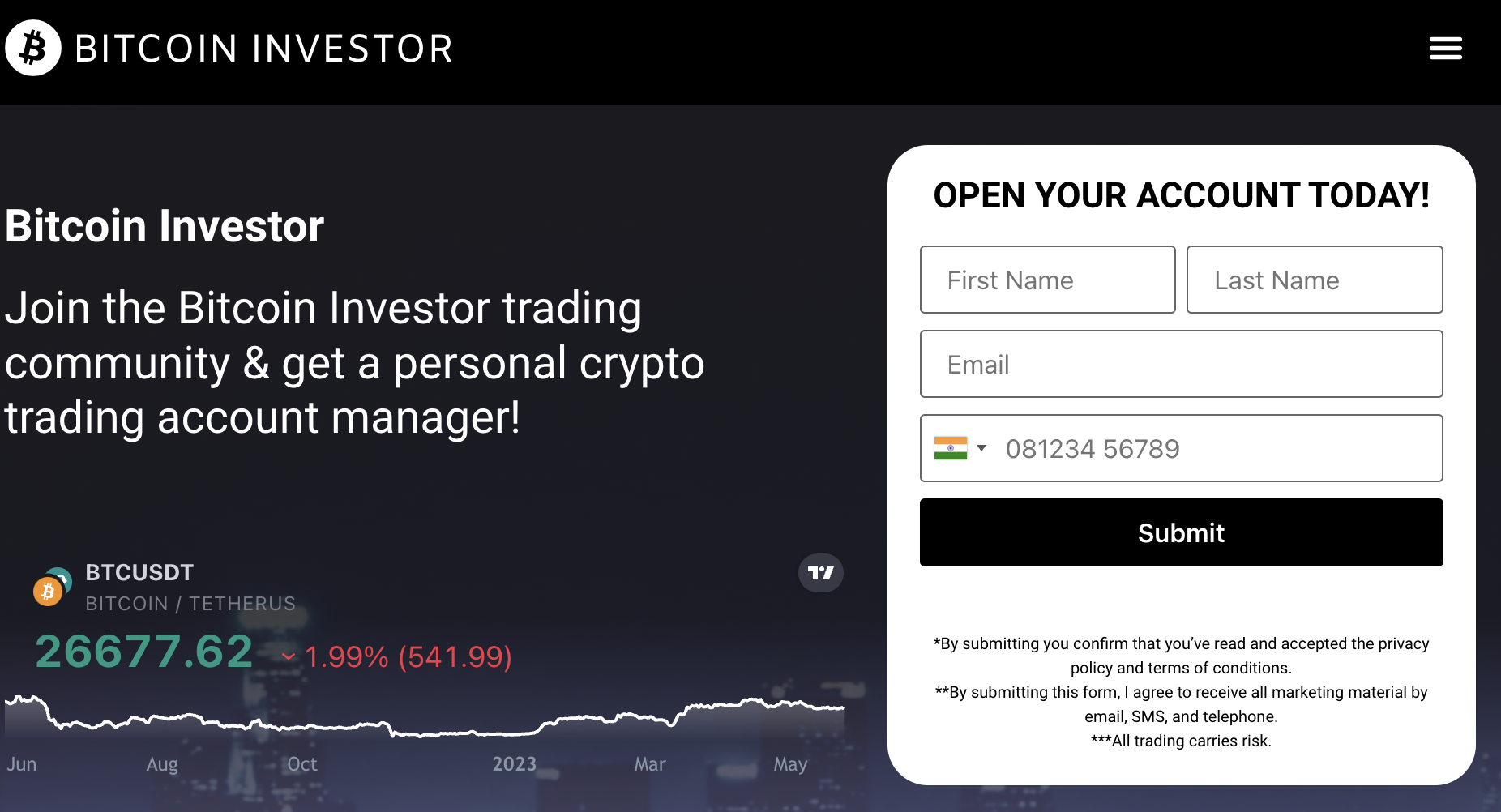 Disclaimer: The text below is an advertorial article that is not part of Cryptonews.com editorial content
Claiming an offer of a win rate of 80%, Bitcoin Investor is a crypto trading platform that claims to use hands-free trading facilities to help novice and veteran traders generate profit in the crypto market. It also says that the platform is affordable to use, and users won't need any prior trading experience when engaging with it.
While these claims are noteworthy, are they legit? This Bitcoin Investor review explores this question in the quest to help our readers learn whether it is a suitable trading platform for them.
Bitcoin Investor Summary
Before we start off the review, here are some of the main elements that Bitcoin Investor claims to offer, based on its website description.
| | |
| --- | --- |
| Supported Crypto | Bitcoin, XRP, Ethereum, Dogecoin, Bitcoin, Bitcoin Cash, Cardano, and Binance Coin |
| Claimed Success Rate | Claims to deliver an 80% win rate |
| Available on Mobile? | No mention of a mobile app |
| Fees | Fee structure not specified |
| Customer Support | Accessible to registered users throughout the day |
| Withdrawal Speed | UP to 24 hours, depending on the payment mode |
| Minimum deposit | $250 |
Cryptocurrencies are unregulated. Trading with unregulated brokers will not qualify for investor protection
What is Bitcoin Investor?
On its official website, the Bitcoin Investor advertises itself to be a trading community that gives inroads to users to generate profit while trading crypto using a crypto trading bot. But they won't be alone, according to Bitcoin Investor, as users will get a fair share of help from the account manager they are assigned.
These elements work in tandem to create a trading system that, according to Bitcoin Investor, has an 80% win rate. While the proof - the historical data - that can tell us the truth about these claims is absent - there are customer testimonials on the website itself that say otherwise.
The cryptocurrencies supported by Bitcoin Investor include the standard top digital assets that include Bitcoin, Bitcoin Cash, Ethereum, Dogecoin, Litecoin, Binance Coin, Cardano, and Ripple. Access to the buying and selling of these crypto assets is provided by crypto brokers that Bitcoin Investor states are legitimate.
As for the Bitcoin Investor website's UI, the platform claims it to be simple. The Bitcoin price chart design on the top of the home page may reflect how the trading platform actually performs once people get access to it. And getting access to the trading features requires a minimum deposit of $250 along with account creation. While not entirely affordable, if the site does as advertised, beginners may consider it a good investment.
But the proof that these facilities are actually provided by the platform is not available. And there is no historical data about the win rate. Therefore, we recommend being careful when using this trading platform and only investing according to your risk tolerance.
Bitcoin Investor Pros and Cons
Pros
It claims to provide a fully autonomous trading system
Offers an account manager to help with trading
24/7 customer support
Supports multiple assets
It has a simple user interface
Showcases Bitcoin's live price chart on the website
Claims to offer an 80% win rate
Cons
Has no historical data to support its win rate-related claims
The information available on the website doesn't talk about the available tools
There are no details available on who created the website
Requires users to deposit a minimum of $250 to create an account
How Does Bitcoin Investor Work?
Bitcoin Investor portrays itself to be an auto trading platform that uses hands-free trading features to help users navigate the volatile cryptocurrency market. If true, this feature would entail a trading mechanic that scans the market to look for buying opportunities. In other words, finding cryptos that have hit their intraday lows. Bitcoin Investor would then buy that asset and waits for the price to hit an intraday high before selling it quickly, generating profit or loss depending on its win rate.
According to Bitcoin Investor, profits are generated 80% of the time. But there is no historical data available to confirm it. To counter this point, Bitcoin Investor claims that users can test the win rate themselves by using a demo trading account, which gives users virtual currencies to trade under simulated trading conditions.
Bitcoin Investor says that users can witness the effectiveness of its tools firsthand, thanks to "automated predictions" that train ML-infused systems by letting them learn from previous trades. But that's the extent of information Bitcoin Investor has provided people with. Details about the other tools in action aren't available on the official website.
Bitcoin Investor Key Features
Bitcoin Investor states that the following features set it apart from other crypto and Bitcoin trading platforms:
Support for Multiple Assets
According to Bitcoin Investor, Bitcoin CFDs aren't the only assets users can trade. They can also buy and sell digital assets that include Ethereum, Litecoin, Dogecoin, Binance Coin, Cardano, Litecoin, and Ripple.
While the site claims that it also provides other assets, the names of those are not available. So, it is likely that the ones we listed are the only ones available.
Algorithmic Trading facilities
Bitcoin Investor states that it uses algorithms to power its hands-free trading features. These algorithms, according to the website, are precise, allowing users to generate profits 80% of the time. The platform says that this approach would help investors profit from even the most volatile market conditions.
Monitoring Trades
According to Bitcoin Investor, the machine-learned mechanic monitors the ongoing trades and then feeds the data into the AI crypto trading bot to train it to make it execute transactions more precisely in the future. Bitcoin Investor says that this feature becomes accessible as soon as a user joins the website.
24/7 Customer Support
Bitcoin Investor says that customer support is available to registered users in multiple languages. It states that the support team is agile and capable of dealing with any issues that investors might face while using the platform.
Demo Trading Account
Keeping in mind the need of investors who have just started using the platform, Bitcoin Investor claims that it offers a demo trading account. This feature would allow users to test the platform's maximum capacity and help users get familiarized with the tools available.
Bitcoin Investor Account fees
Bitcoin Investor hasn't specified on its advertising copy how much fee it charges. However, it has specified that the fee is low, and customers must reach out to the support team to get more information.
Bitcoin Investor Minimum Deposit
Bitcoin Investor says that investors must make a minimum deposit of $250 to start trading on the platform. This money acts as seed capital that the trading system uses to execute the trade on behalf of investors.
Bitcoin Investor Compatible Devices
While we weren't able to access the platform's trading capabilities on multiple devices, we did open the website through our desktops, laptops, tablets, and smartphones. We found that everything was optimal. We didn't come across any issues when attempting to sign-up, and all the texts were visible.
Is Bitcoin Investor a Scam?
"Too similar" are the first words that come to mind when one checks out Bitcoin Investor. Everything from the Bitcoin live price chart to the login module reminds us of other platforms that we have reviewed before, which dampens the platform's uniqueness. That said, the site is functional, and we can see it on multiple devices.
But we don't have the same words to describe the platform's content. Although there are many words written, they don't clearly showcase how Bitcoin Investor is able to deliver the services it claims to provide. Customer testimonials are present, but only on the website itself. We tried to check out the platform on Trustpilot and didn't find anything. Even sites like Sitejabber, which have covered similar platforms before, didn't have anything about Bitcoin Investor.
Also, there is no historical data available online or any proof that shows us that the platform performs as advertised.
These factors paint a mixed image of this platform, which doesn't help us get definite answers about whether the Bitcoin Investor platform is a scam or legitimate.
Cryptocurrencies are unregulated. Trading with unregulated brokers will not qualify for investor protection
Bitcoin Investor Customer Support
There is customer support available on Bitcoin Investor, but only for registered users. The site reports that the support team is capable of aiding customers in multiple languages while helping them with their issues.
How to use Bitcoin Investor?
Here are the steps to use Bitcoin Investor after doing thorough research.
Step 1 - Visit the Bitcoin Investor Website
Investors need to create an account on the platform first by vising the Bitcoin Investor website. Entering the name, email, and address will start the signup process.
Step 2 - Make the Minimum Deposit
Once the user has signed up, they must deposit the minimum required amount, which is $250. Investors can use any of the methods listed on the website to make the deposit, including Skrill, Neteller, PayPal, bank transfer, debit, or credit card.
Step 3 - Start Trading on Bitcoin Investor
Depositing the required amount would likely give users access to the account. But trading using real money, we recommend that our readers test out the demo account to assess Bitcoin Investor's win rate.
How to Delete a Bitcoin Investor Account?
Bitcoin Investor hasn't provided any instructions about how to delete an account. However, talking to the customer support team can help. We recommend using the contact form available on the trading platform to reach out to the team.
Is Bitcoin Investor Endorsed by Celebrities and Big Brands?
There are many claims on other review sites saying that Bitcoin Investor is being endorsed by Elon Musk. Brands like Amazon have also been linked to Bitcoin Investor by some. While both Jeff Bezos and Elon Musk have talked about the importance of crypto, there is no proof that shows they have actively engaged in crypto trading.
And when it comes to branding, Bitcoin Investor doesn't tell us anything about it. The bottom line is that there is no proof to support claims that say Bitcoin Investor has the backing of a celebrity or any brand. We recommend ignoring these claims when using this platform.
Who is the Founder of Bitcoin Investor?
Bitcoin Investor hasn't specified anything about who its founders are. It also has not said anything on its official website about whether they were crypto traders or professionals.
Third-party review sites that we checked out to get more information about this platform were also at a loss when asked who made Bitcoin Investor. It is likely that they have decided to stay anonymous, which can be an issue considering people have been asking for more transparency in crypto trading.
As mentioned, the Bitcoin Investor site is similar in design to other platforms we've reviewed, such as BitQZ, Btc Nano 360, Bitcoin Formula and Crypto Success.
Latest Bitcoin News
In order to win while trading crypto, one has to be informed about the latest developments. So, here are the biggest headlines related to Bitcoin from recent weeks:
The Security Exchange Commission has sued Binance, alleging that the world's leading cryptocurrency exchange is violating securities laws. That has led to Bitcoin dropping below the $26k mark.
Binance has said that it will fight SEC "to the full extent of the law" against the charges levied against it.
Reports say that Ethereum NFTs can be migrated to Bitcoin using the BRC-721E bridge, but the process would destroy the Ethereum NFT before it becomes available on the Bitcoin Blockchain.
The Verdict
Bitcoin Investor promises to deliver autonomous trading facilities that would allow even beginners to generate profit in a volatile market. These features look enticing, but there is no proof to showcase that they are actually available on the website.
Social media sites don't have any details about them, and the details third-party review sites have are vague at best. In light of that, we recommend only depositing a minimum and checking out whether the amount can be withdrawn soon after creating the account.
Cryptocurrencies are unregulated. Trading with unregulated brokers will not qualify for investor protection
Bitcoin Investor FAQs
What is Bitcoin Investor?
Bitcoin Investor is a crypto trading platform that promises to deliver an 80% win rate through its autonomous trading system. The site claims that the platform is designed in a way that even beginner-level investors can use it. Accessing this platform requires a deposit of $250.
Does Elon Musk endorse Bitcoin Investor?
No, Elon Musk does not endorse Bitcoin Investor as far as the evidence available to us is concerned. We recommend not assuming any celebrity support for Bitcoin Investor before using this platform.
---