Quantum Flash Review - Scam or Legitimate Trading Software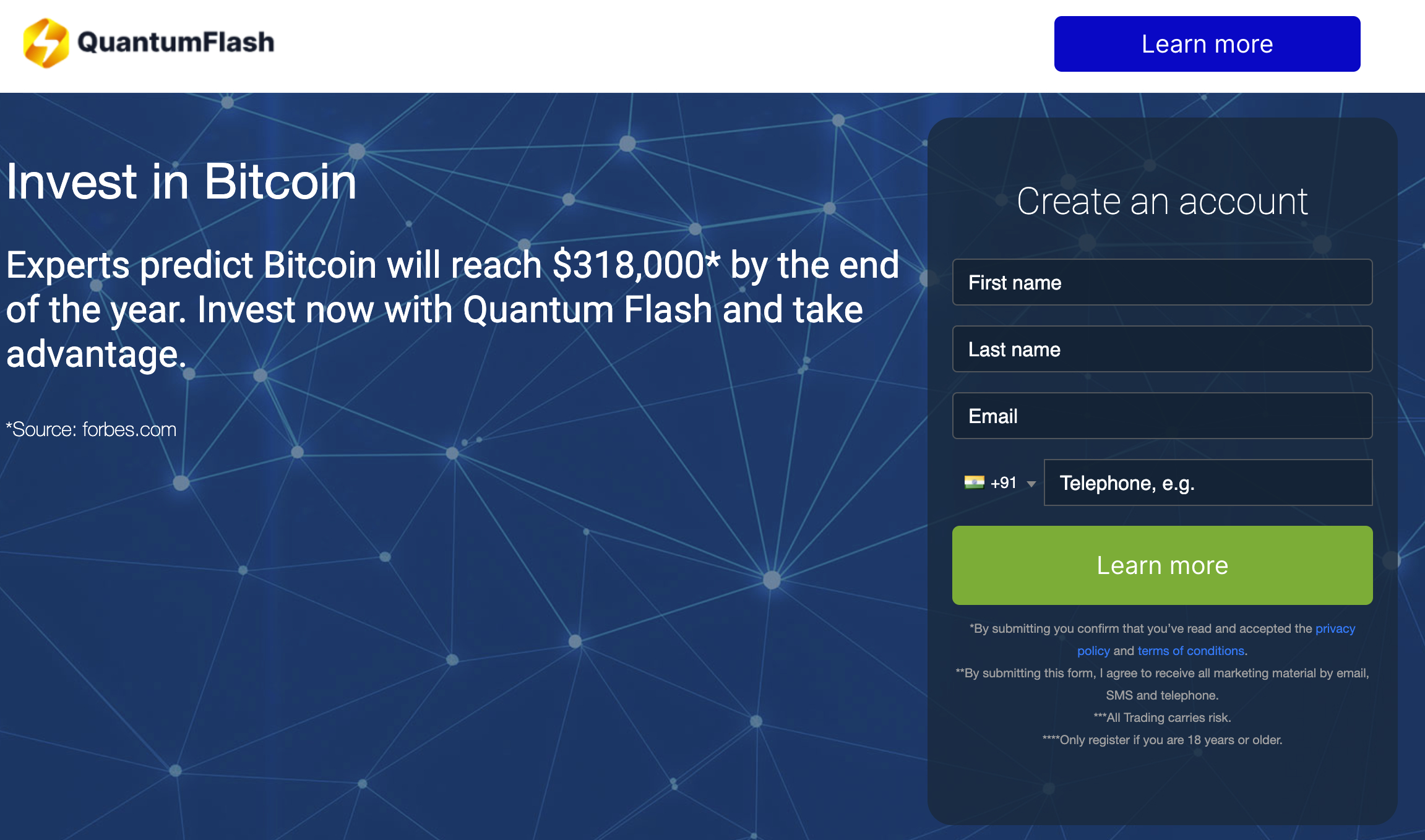 Disclaimer: The text below is an advertorial article that is not part of Cryptonews.com editorial content
Cryptocurrency platforms of all types have been increasing in number considerably, thanks to the growing popularity of the blockchain industry. One such entity is Quantum Flash, which is a crypto trading platform that allows multi-asset trading for users 24/7.
This Quantum Flash review aims to assess all the available features, options and other such components of the trading platform to verify its authenticity. Make sure to read on till the end to learn how to get started with trading on the platform, if you chose to do so after the entire review.
Quantum Flash Summary
Quantum Flash is supposedly a cryptocurrency trading platform that supports multi-asset trading, as per the website. This means that users get to trade multiple currencies in one place without having to hop from one platform to another.
But before choosing any platform, a user must be well aware of the features their potential pick boasts of. Here is a table to understand more about the components of Quantum Flash.
| | |
| --- | --- |
| Type of Trading | Crypto |
| Success Rate | 95% (claimed) |
| Cryptocurrencies Available | BTC, ETH, LTC, BCH etc |
| Available On Mobile? | No (But accessible via mobile browsers) |
| WIthdrawal or Deposit Fees | None |
| Customer Support | Live Chat and Email |
| Withdrawal Speed | Under 24 hours |
| Minimum Deposit | $250 |
Cryptocurrencies are unregulated. Trading with unregulated brokers will not qualify for investor protection.
What is Quantum Flash?
As per the website, Quantum Flash is a multi-asset crypto trading platform that aims to help investors carry out trades even when they can't be present physically. What this essentially means is that the algorithm running Quantum Flash has the capability to carry out orders by finding our trades on its own by spotting opportunities at the right time.
According to Quantum Flash, a demo account is available, enabling new users to get acquainted with the trading platform using fictitious funds. We discovered that this website claims to have a customer support group by reading previous evaluations of Quantum Flash in other reviews and articles.
There are rumours that famous people may have helped create this platform, but we have discovered no proof to back up these claims. Also, nothing is known about the creators of this site. There isn't a lot of information available on the website on how the platform works. It is challenging to verify many of Quantum Flash's promises because there is little information on the website and client testimonials.
All players need to do is get to the website, register as a user and deposit the initial minimum deposit. This is the only way of gaining access to all the features available on the platform, according to the Quantum Flash website.
Quantum Flash Pros and Cons
There are some pros and cons for Quantum Flash that can be highlighted for your attention. However, one must note that these too, are simply claims made by the platform, and could infact, be inaccurate.
Pros
Integrates other web-based trading platforms
Does not charge trading fees
Multi-asset crypto trading
Claims to offer customer support
Demo trading supported
Cons
Platform founders are anonymous
Less information available on the website
How does Quantum Flash Work?
As of right now, using the Quantum Flash platform is fairly easy. To sign up as a user, all one needs to do is finish their simple signup form which may require some personal details like the name, email ID and contact number. They will reportedly get access to all of the website's services once they submit the $250 minimum deposit.
The trading service also claims that consumers can benefit from its extremely intelligent and user-friendly trading platform. Quantum Flash is integrated with widely used trading platforms like MT4 or Meta Trader 4, according to the website. Traders who have previously paid the $250 minimum deposit are allegedly given access to a demo account as well.
There is no dedicated app for mobile phone users. However, they can take advantage of the browser function from where the Quantum Flash platform can be accessed. While all these sound exciting to hear from a trader's perspective, these functionalities too, are claims made by the website and were difficult to verify since the information on its website was fairly limited.
Cryptocurrencies are unregulated. Trading with unregulated brokers will not qualify for investor protection.
Quantum Flash Key Features
There are many key features that would entice users to commit to Quantum Flash as per the website. But interested parties may want to take this material with a grain of salt because these claims, too, cannot be fully trusted given the website's lack of supporting documentation for the majority of them.
Easy Registration
Users of the Quantum Flash platform must sign up and make the aforementioned deposits in order to access certain functionalities. The registration procedure is really as easy as it gets. Users can immediately begin using the platform after providing just a few contact data.
Demo Trading Feature
Making money can be greatly aided by practicing and developing tactics before engaging in trading. With the use of Quantum Flash's demo trading capability, this would theoretically be possible. Users will be able to do this and actually earn some experience prior to investing real money, as per the platform.
Instant Transactions
While we cannot verify the veracity of this claim, Quantum Flash claims to be able to open and close trades in milliseconds. Many people may be surprised by this, because such a task can often be difficult for non-manual services to complete as well. However, this claim, like the others, is not supported by any evidence.
Quantum Flash: Account Fees
This too, is a claim that cannot be fully verified, but might come as off as very exciting to traders. Quantum Flash features a 1% commission to use its platform. The only other requirement essentially is the first $250 deposit, and users can supposedly enjoy the platform for free. Here is a breakdown of the entire fee structure to give you a better idea.
| | |
| --- | --- |
| Trading Fees | None |
| Account Fees | None |
| Commission | 1% |
| Withdrawal/Deposit Fees | None |
Minimum Deposit on Quantum Flash
As mentioned throughout the article, the minimum deposit amount for Quantum Flash is $250. However, this deposit is essential for users to even get access to the features that are allegedly available on the website.
Quantum Flash: Compatible Devices
After going through the platform's claims, here are some devices through which one can access Quantum Flash.
Mobile (online browsing)
Laptops
Desktop
iPads and Tablets
Is Quantum Flash a Scam or Legit?
It may not be ideal to just call out Quantum Flash as a scam, but can also be difficult to term it as legitimate, since there are many discrepancies when it comes to the crypto trading platform. There is no prior information about what to expect from the platform without depositing funds, which should not be the case, in our opinion.
Another thing to note was that there were no social media handles or other ways to contact the platform before making the $250 minimum deposit. While Quantum Flash certainly claims to have some really great features, it fails to provide any kind of evidence to back up its claim.
We are unable to thoroughly assess the platform's authenticity due to a lack of information and data to prove its legitimacy. While we cannot provide a specific answer, it is strongly advised that users proceed with caution if they are considering trading on the platform in the future.
Check out our other crypto trading bots that are regulated and are known to provide proven results.
Cryptocurrencies are unregulated. Trading with unregulated brokers will not qualify for investor protection.
Quantum Flash Customer Support
Customer support on Quantum Flash is something that can only be accessed once the minimum deposit of $250 has been made and the registration is complete. As per the website, users can get in touch with the team to get their issues resolved through email or live chat.
How to Start Trading with Quantum Flash?
After reading the review, and doing your own due diligence, if you think that Quantum Flash is indeed a platform worth trying, then follow these steps to get started with trading.
Step 1: Visit the Quantum Flash Site
Create a new account on the Quantum Flash site by providing your name, phone number and email ID.
Step 2: Make the Minimum Deposit
Quantum Flash requires a $250 minimum investment, as was already explained. This payment can be made using a variety of methods, including card or crypto, as per the website.
Step 3: Start trading on Quantum Flash
You can start trading numerous cryptocurrencies using Quantum Flash as soon as the payment has been processed.
Cryptocurrencies are unregulated. Trading with unregulated brokers will not qualify for investor protection.
How to Delete a Quantum Flash Account?
A Quantum Flash account can be permanently deleted by selecting an available option on the main menu. However, there is not much clarity on the exact process to carry out this action on the website.
Does Jeff Bezos Use Quantum Flash?
There is no proof that Amazon CEO Jeff Bezos is a user of the Quantum Flash trading platform.
Does Elon Musk Endorse Quantum Flash?
Elon Musk has been known for making remarks about assets that would have major price fluctuations. However, there is no evidence that suggests that the billionaire is involved with or endorses the Quantum Flash platform.
Does Martin Lewis Use Quantum Flash?
No, Martin Lewis is not associated with Quantum Flash in any manner, as per our research.
Who Created Quantum Flash?
The developers of Quantum Flash have yet to be identified. There is currently no mention of the team or core members who were involved in the creation or operation of the trading platform.
During the course of our review we also found pages reviewing similarly named platforms such as Quantum Hancock, Quantum Prime Profit and Quantum System.
Quantum Flash: Payment Methods
This section lists some of the available payment methods on Quantum Flash as per our understanding from the information available on the website:
Credit cards
Debit cards
PayPal
The Verdict
This review attempted to cover all available information about the Quantum Flash crypto trading platform. Due to a lack of online presence and limited information on the website, it may be impossible to provide an accurate verdict that demonstrates the platform's authenticity. As a result, investors are encouraged to conduct their own research before joining the platform.
Cryptocurrencies are unregulated. Trading with unregulated brokers will not qualify for investor protection.
Quantum Flash FAQs
Does Elon Musk use Quantum Flash?
While Elon Musk's bullishness about Dogecoin and other assets has proven worthy in the past, there is no proof that Elon Musk is a user of the Quantum Flash platform.
What is the accuracy rate of the Quantum Flash platform?
The accuracy rate of the Quantum Flash platform is a whopping 95%, as per the website. However, the platform fails to produce any evidence to back this claim.
Does Quantum Flash have a customer support service?
Yes, Quantum Flash users who have already deposited the minimum amount and registered can supposedly have access to the customer support service.
---