Bitcoin Freedom Review – Scam or Legitimate Trading Software
Disclosure: Crypto is a high-risk asset class. This article is provided for informational purposes and does not constitute investment advice. By using this website, you agree to our terms and conditions. We may utilise affiliate links within our content, and receive commission.

Disclaimer: The text below is an advertorial article that is not part of Cryptonews.com editorial content
Crypto trading can be daunting and time-consuming, deterring many potential traders from exploring this lucrative opportunity. However, Bitcoin Freedom aims to address these concerns and provide a solution. With its rising popularity among traders worldwide, the platform offers an enticing option for individuals seeking to enter the world of cryptocurrency trading. By simplifying the process and attracting a wide user base, Bitcoin Freedom presents itself as a promising choice for those interested in starting their crypto trading journey.
However, due to the lack of detailed information available about the platform, it becomes challenging for users to navigate and utilize Bitcoin Freedom confidently. So, in order to assess the platform's legitimacy, we will gather and review all the available information to provide a comprehensive analysis of its authenticity.
Bitcoin Freedom Summary
| | |
| --- | --- |
| Supported Crypto | BTC, ETH, LTC, DASH, XRP, BCH etc |
| Success Rate | Claims 90% |
| Available on Mobile? | Yes (Although it does not have a dedicated app) |
| Fees | None |
| Customer Support | 24/7 |
| Withdrawal Speed | Up to 24 hours |
| Minimum deposit | $250 |
Cryptocurrencies are unregulated. Trading with unregulated brokers will not qualify for investor protection.
What is Bitcoin Freedom?
Bitcoin Freedom claims to revolutionize the trading experience by offering traders a streamlined way to earn additional income without the usual demands of time, energy, and resources. The platform supposedly features a cutting-edge automated trading system, which serves as the star product, empowering users to achieve financial success effortlessly.
The platform claims to essentially facilitate analyzing and monitoring the market by providing each user with all the information they need in a one-stop shop. Moreover, the platform offers features such as the help of a dedicated account manager, who can notify the user about trades that suit their desired criteria.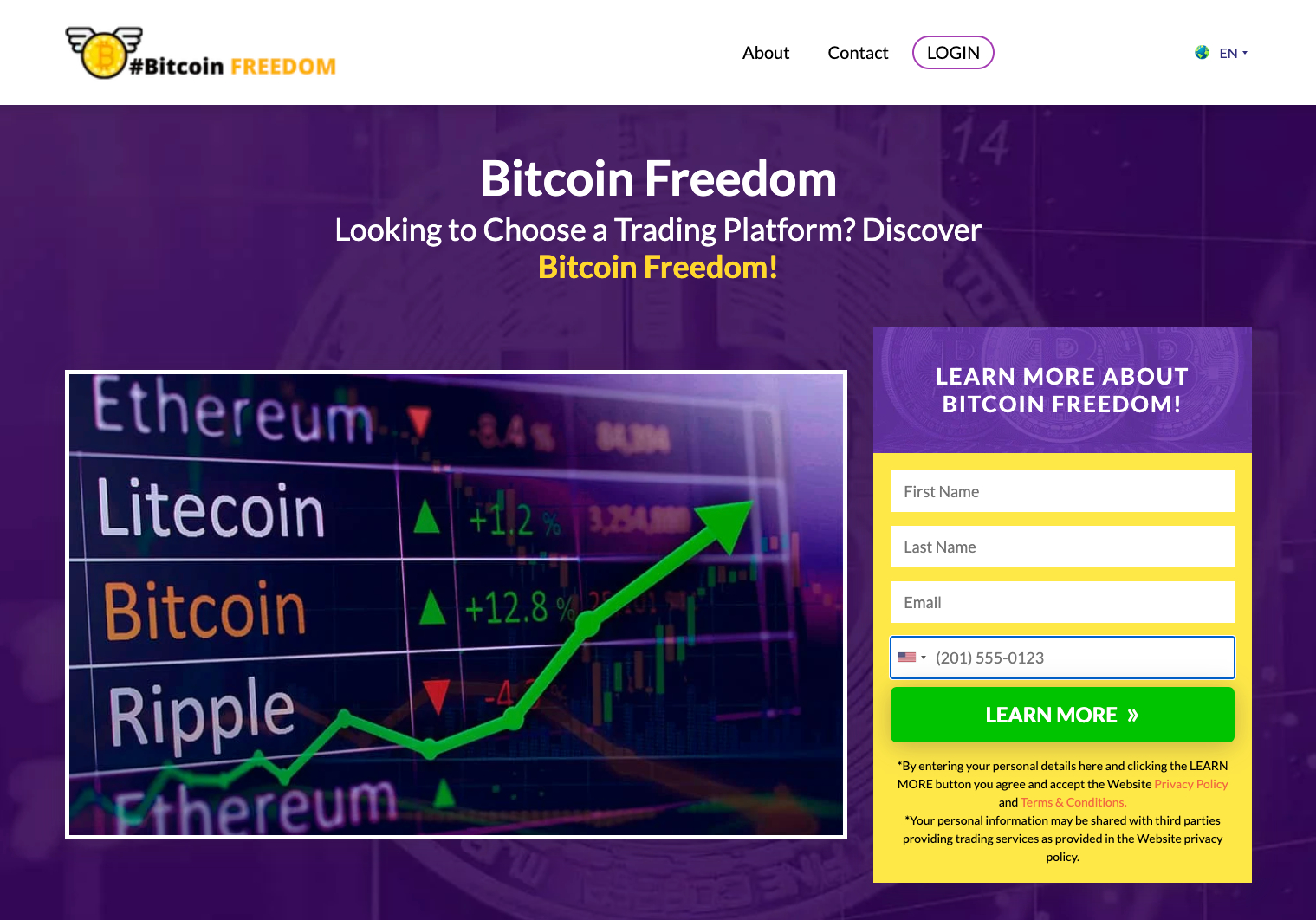 Other than a convenient means to effortlessly buy and sell various digital assets, Bitcoin Freedom promotes itself as a versatile multi-asset entity, providing support not only for BTC but also for other altcoins. Its website asserts that Bitcoin Freedom is a dependable solution for investors aiming to navigate the bear market and generate profits amidst the current volatile economic climate. 
It asserts the capability to autonomously open and close positions, while also offering guidance on which cryptocurrencies to invest in and the optimal timing for such investments. Additionally, the platform also talked about prioritizing user-friendliness and boasting a seamless and intuitive interface that simplifies its usage. 
However, it is important to note that consistent profits with automated trading systems can be challenging, and there is no guarantee that Bitcoin Freedom will deliver favorable returns. Consequently, it is strongly advised that individuals conduct thorough research and exercise due diligence before depositing funds into the platform.
Bitcoin Freedom Pros and Cons 
While Bitcoin Freedom may have its advantages, it is crucial to consider both sides of the equation. Below, you'll find a list of pros and cons that will provide you with a deeper understanding of the platform, helping you make an informed decision about whether to engage with it.
Pros
Features multiple tradeable crypto assets
Quick withdrawals
Allegedly ideal for beginners in the industry
Zero trading fees
Cons
Hefty minimum deposit amount
How Does Bitcoin Freedom Work?
Bitcoin Freedom presents itself as a cryptocurrency trading platform that purportedly offers investors potentially profitable trading opportunities. The platform emphasizes its focus on the development of its primary product, the automated trading software. At the core of Bitcoin Freedom's functionality lies its trading engine, which swiftly scans the cryptocurrency markets to analyze potential trades. 
The software claims to leverage a combination of historical market analysis and real-time market conditions to identify optimal trading opportunities for users. However, it is important to note that there is no verified data available to substantiate the effectiveness of this system.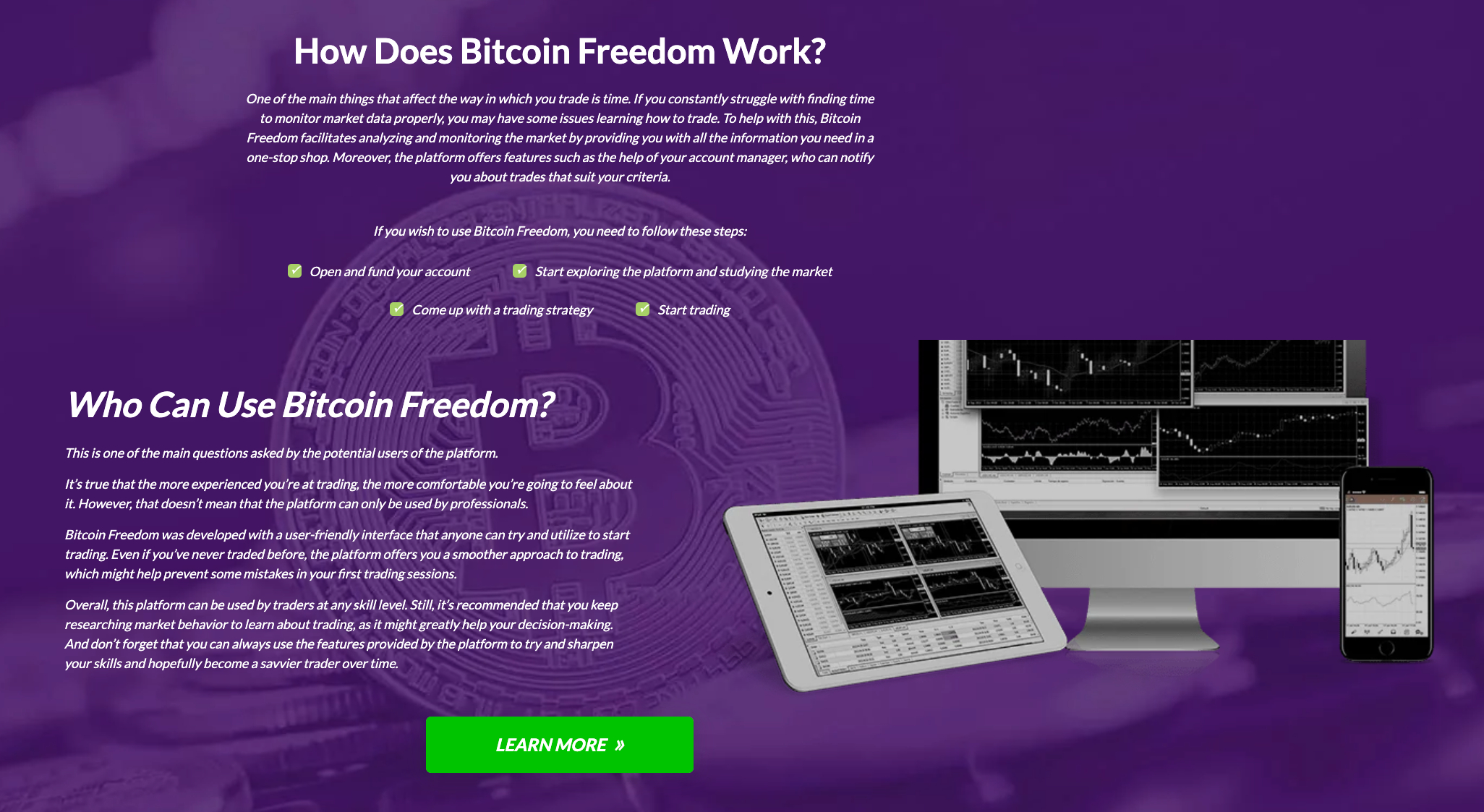 To commence trading on the Bitcoin Freedom platform, users are required to create an account and deposit a minimum of $250. The platform also provides customization options, enabling investors to tailor their trading preferences based on their preferred style. Depending on their desired level of autonomy, users can authorize Bitcoin Freedom to execute trades on their behalf. 
The platform devotes approximately 20 to 30 minutes to navigating the markets before selecting suitable trades. According to Bitcoin Freedom, their platform boasts the capability to execute trades 0.01 seconds faster than the general market, providing them with a perceived competitive advantage.
Bitcoin Freedom Key Features
Here are some key features that Bitcoin Freedom claims to offer, which may influence your decision-making process when considering the platform for your trading needs:
Robust Security Measures 
The trading platform claims to place a strong emphasis on creating a secure and safe trading environment for its users. The platform asserts that it employs top-notch security technologies, including SSL encryption, to protect against hacking attempts. Additionally, the platform is designed to safeguard users' personal and financial information, providing an added layer of security to traders' sensitive data. 
Demo Trading 
Bitcoin Freedom states that it recognizes the importance of a demo account and offers this feature to its users. This enables new traders to practice their trading strategies and gain valuable experience in a risk-free environment, without the need to invest real money. By apparently providing a demo trading account, Bitcoin Freedom allows users to familiarize themselves with the platform's interface, charting tools, and other features while honing their trading skills. 
Support for Multiple Assets 
The platform claims to simplify the trading process by offering access to a wide range of cryptocurrencies within a single platform, as mentioned on the website. Traders can conveniently trade popular cryptocurrencies like Bitcoin, Ethereum, Litecoin, Dash, Binance Coin, and more, eliminating the need to switch between different platforms for different assets. This multi-asset approach can allow users to efficiently manage their investments and execute trades across multiple cryptocurrencies. 
No Fee Policy 
Bitcoin Freedom asserts on its website that it does not charge any fees for the services it provides. While this fee-free structure may be appealing to potential users, it is essential to review all terms and conditions to ensure transparency and verify that there are no hidden fees or additional charges imposed by the platform.
Bitcoin Freedom Account Fees
According to the official website, Bitcoin Freedom asserts that all its features are available for users without any cost. This includes no fees for deposits, account maintenance, or withdrawals. 
The platform does not explicitly mention if it takes a commission from the profits earned through trades, leaving the possibility that trades may be conducted without incurring any fees. It is, however, advisable to carefully review the platform's terms and conditions to ensure a clear understanding of any potential fees or charges that may apply.
As of now, the fee structure for Bitcoin Freedom, as per the available information, is as follows:
| | |
| --- | --- |
| Trading Fee | None |
| Account Fee | None |
| Commission | None |
| Withdrawal/Deposit Fee | None |
Cryptocurrencies are unregulated. Trading with unregulated brokers will not qualify for investor protection.
Bitcoin Freedom Minimum Deposit
The Bitcoin Freedom platform requires a minimum initial deposit of $250 in order to access the range of features available. While there is no explicit mention of whether this minimum deposit applies to subsequent deposits, based on the presentation on the website, it is reasonable to assume that a minimum deposit of $250 is likely to be required for each deposit made on the platform. 
Bitcoin Freedom Compatible Devices
Bitcoin Freedom allows users to access its trading platform from multiple devices. The website suggests the following options as the recommended and commonly used devices for accessing the platform:
Mobile phones
Tablets, Ipads
Laptops, and Desktops
Is Bitcoin Freedom a Scam?
Upon initial evaluation, Bitcoin Freedom presents itself as an enticing option for cryptocurrency trading, offering automation and fee-free transactions among its notable features. The platform's website showcases an abundance of cryptocurrency-related information, creating an immersive experience for users. However, due to the limited available information about Bitcoin Freedom, its credibility remains somewhat uncertain. 
Insufficient transparency regarding a trading platform can raise valid concerns, prompting users to exercise caution and conduct thorough research before committing to any investments. It is crucial to verify the legitimacy and security of a platform before engaging in financial transactions. Therefore, we strongly recommend traders carefully assess their risk tolerance and diligently explore the platform, ensuring a comprehensive understanding of its capabilities and terms before making any investment decisions.
Bitcoin Freedom Customer Support
According to the information provided on the website's homepage, Bitcoin Freedom highlights the availability of a robust customer support system that operates round-the-clock. It is worth noting, however, that this support service is exclusively accessible to registered users who have completed the initial minimum deposit of $250.
How to Use Bitcoin Freedom?
After thoroughly reviewing the information and deciding to give the Bitcoin Freedom platform a try, interested users can easily sign up and initiate their trading journey by following a few simple steps. It is vital to exercise caution and ensure that you are accessing the official Bitcoin Freedom platform, avoiding imitators or scam websites. 
Step 1 – Create an Account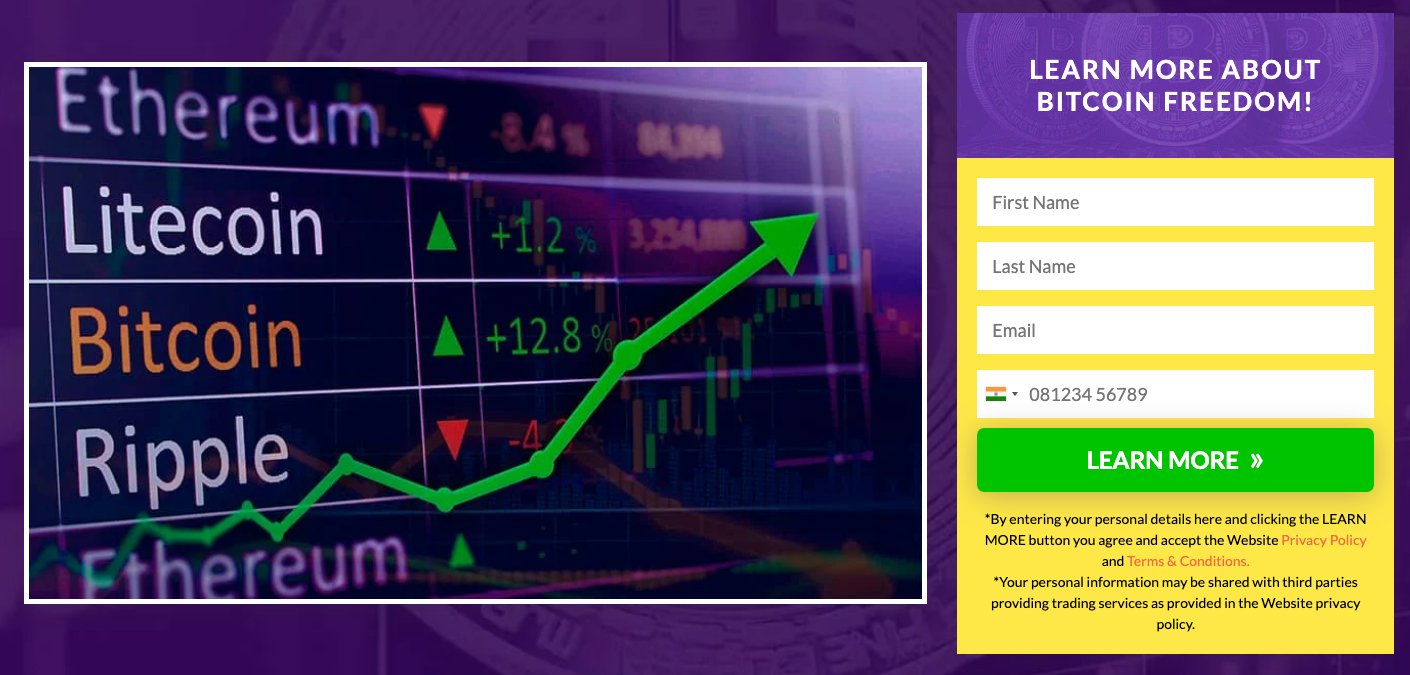 To begin using the Bitcoin Freedom platform, visit the Bitcoin Freedom website and complete the registration process. This typically involves providing your full name, email address, and phone number as part of the account creation. 
Step 2 – Deposit Funds 
In order to access the full range of services offered by Bitcoin Freedom, investors are required to make a minimum deposit of $250. Supposedly, the platform offers various convenient and instant payment methods, such as PayPal, wire transfers, and credit cards, with no deposit fees imposed. 
Step 3 – Start Trading on the Platform 
Once your Bitcoin Freedom account is funded with a minimum deposit of $250, the platform will commence market research and execute trades on behalf of investors. To familiarize yourself with the platform's features and functionalities, you can apparently take advantage of the provided demo account, which allows you to practice trading without the risk of losing invested funds. 
The platform provides the flexibility for account holders to withdraw their remaining balance at any time, offering an additional advantage for users who wish to test the platform's effectiveness without the fear of losing their invested funds. This too, is a claim made by the platform which we weren't able to verify completely. 
How to Delete a Bitcoin Freedom Account?
Deleting a Bitcoin Freedom account is expected to be a straightforward process. However, the specific steps to accomplish this are not explicitly mentioned on the platform's website. Therefore, we recommend that potential users reach out to the customer support team for assistance in resolving this matter and having their accounts deleted. The customer support team should be able to provide clear guidance and support to ensure a smooth account closure process.
Do Celebrities Support Bitcoin Freedom?
There have been circulating rumours suggesting associations between Bitcoin Freedom and various celebrities in the finance industry. However, after conducting thorough research, we were unable to find any substantial evidence to validate these claims. Based on the lack of supporting proof, it is reasonable to conclude that these rumours are unsubstantiated and likely unfounded.
Who is the Founder of Bitcoin Freedom?
The online information regarding the founder of Bitcoin Freedom is notably scarce. No specific details about the founder or founding team are available. While some third-party websites claim that the platform is developed by a group of technology and financial experts, the information provided is vague and lacks concrete evidence. 
Thus, it is safe to assume that the real identity of the platform's founder is not revealed anywhere yet. 
Bitcoin Freedom Payment Methods
The Bitcoin Freedom platform offers a range of payment methods to deposit the minimum amount on their website. These payment methods include:
E-Wallets 
Bank transfers
Debit cards 
Credit cards 
The Verdict
Our analysis encompasses Bitcoin Freedom's claimed functionality and the range of features available to users. However, due to the platform's status as a relatively new automated trading platform with limited information available on its website, we were unable to independently verify its legitimacy. 
Given these circumstances, we strongly advise traders to exercise caution and adopt a conservative approach when considering Bitcoin Freedom. It is crucial to only invest funds that you can afford to lose, taking into account the inherent risks associated with cryptocurrency trading. Conducting extensive research, evaluating the platform's reputation through reliable sources, and considering the experiences and feedback of other users can greatly contribute to making an informed decision.
Cryptocurrencies are unregulated. Trading with unregulated brokers will not qualify for investor protection.
FAQs
How to start trading on Bitcoin Freedom?
To start trading on Bitcoin Freedom, you are expected to deposit $250 using any method of your choice. It will make you a registered user, giving you access to the Bitcoin Freedom trading system.
How many cryptocurrencies does Bitcoin Freedom support?
While there is no clear mention of the exact number of supported cryptocurrencies, the Bitcoin Freedom platform is expected to host more than 15 tradeable cryptocurrencies.
---