Bitcoin Union Review - Scam or Legitimate Trading Software

Disclaimer: The text below is an advertorial article that is not part of Cryptonews.com editorial content
Having the right information at the right time is crucial when it comes to crypto trading. Market trends can be upended in a day, leading to massive gains or massive losses quickly. Therefore, people are often on the lookout for crypto trading platforms that keep them updated with news and give them access to advanced tools so that profitable trades are possible.
Bitcoin Union is a crypto trading platform that claims it has multiple advanced trading tools as well as technical indicators that make investing in cryptocurrency easy. It also says that it features autonomous features that trade on behalf of the users. But are the offers genuine? This Bitcoin Union review will look into whether or not this platform has all that you need to trade profitably.
Bitcoin Union Summary
According to the Bitcoin Union website, users can get access to advanced trading tools, technical indicators, educational resources, as well as machine-learned utilities that allow for hands-free trading. Before we dive deep into our review, here are the key elements to know about Bitcoin Union.
| | |
| --- | --- |
| Supported Crypto | Bitcoin, Ethereum, Dogecoin, Litecoin, Bitcoin Dash, and More |
| Success Rate | Not Verified |
| Available on Mobile? | App is available |
| Fees | It takes a commission - but the exact amount isn't available |
| Customer Support | 24/7, but only accessible to registered users |
| Withdrawal Speed | 24 hours maximum |
| Minimum deposit | $250 |
Cryptocurrencies are unregulated. Trading with unregulated brokers will not qualify for investor protection.
What is Bitcoin Union?
Bitcoin Union advertises itself as a crypto trading platform with a "wealth of features" and "experts-backed educational resources" that allows users to make better investment decisions and generate profits inside the volatile cryptocurrency trade.
The platform also claims that it has autonomous tools, making it an auto trading platform, which makes trading even easier for those who don't want to constantly monitor the market.
Helping with these complex features is apparently a UI that is simple for everyone to use. And when it comes to security features, the official website claim that special security measures, such as SSL encryption, are placed to keep users' data safe. A demo trading account is also available for those who want to practice before putting real money into trades.
However, most of the information that the site claims it has couldn't be confirmed since accessing any of them requires a deposit of $250. It can be a high price to pay for a website with limited information, but if any of these claims are true, you can think of them as a bargain.
However, due to the lack of information, we suggest assessing the website's terms and conditions thoroughly before starting the trade. Invest only what you can afford to lose and be aware of the crypto trading risks.
Bitcoin Union Pros and Cons
Bitcoin Union has many of the same pros and cons as other social trading platforms.
Pros
It claims to give access to high-end trading tools
The process to sign up is simple
A demo trading account is available - according to some claims
Support for multiple assets
Cons
The site is light on information
No detail available on who created Bitcoin Union
A deposit of $250 is required to trade with
Information about the win rate is not available
Charges a small commission on profits
How Does Bitcoin Union Work?
A look at Bitcoin Union's website will make you realize that it has all the standard features of other crypto trading platforms that we have covered in the past, You create the account, deposit the amount, and get access to tools. And since it claims that it is semi-autonomous, you can use the onboard trading bot to take it from there.
When it comes to its autonomous trading systems that apparently run for the entire time, Bitcoin Union claims a high win rate. But the information about the same is not available. And the website's features are also inaccessible unless you create an account.
Trading can also happen through a phone, apparently - but only through the web app. There is no mobile-centric application. Accessing this website is also simple, which we can attest to since we didn't come across any issues when we attempted to register. All the icons were working, which indicates that the site is functional.
While these features are great, we don't have any evidence to attest to them. So, make sure to read the terms and conditions of the website before you begin. Also, be aware of all the risks of crypto trading when using this site, or any other crypto trading platform for that matter.
Bitcoin Union Key Features
Bitcoin Union claims to have a lot of features. Here are some of the highlighted ones that we found on the website.
Access to Advanced Trading Tools
The volatile crypto market can only be navigated properly if you have tools that can tell you where a price of an asset might go. For that purpose, Bitcoin Union seems to have advanced tools. It is said that they include technical indicators - both beginners and advanced - that are suitable for beginners as well as veteran traders.
Autonomous Trading Systems
Those who want to trade hands-free may be able to use this website's autonomous trading tools to trade on their behalf. While there is nothing about this tool on the website itself, there are claims in some third-party reviews saying that these tools are particularly effective.
Simple to use UI
If you are a beginner, you will find an easier time trading if the platform is capable of fully understanding your requirements and gives you a simple UI. And as a veteran trader, you will also benefit from it since you won't need to swim through the complex UI just to trade. Bitcoin Union apparently has those features.
Demo Trading Account
It is said that Bitcoin Union has a demo trading account through which users can navigate the website's features and trade in simulated market conditions. This account, however, is only for registered users.
Access to Multiple Cryptocurrencies
Bitcoin Union reports that it supports multiple cryptocurrencies, including Bitcoin, Dogecoin, Ethereum, Ethereum Classic, XRP, and others. Having multiple assets to trade gives you a chance to diversify your investments, hedging your losses in the current volatile environment.
News Updates
Since you need to stay updated with the latest news to get wins in the cryptocurrency market, news updates are a great feature for a crypto trading platform to have. You can check out the latest updates about the macroeconomic conditions and match them against how your favorite crypto might perform due to them. Bitcoin Unoin reportedly has those features.
Multiple Educational Resources
If you are new to crypto, you need to have all the educational resources beforehand. They will help you make important trading decisions since you get how an asset might perform. Bitcoin Union apparently has excellent educational resources provided by leading cryptocurrency traders.
Bitcoin Union Account fees
Bitcoin Union states that it does take a small commission to allow users to trade, but it hasn't mentioned what that amount is. Furthermore, withdrawal and deposit fees are not charged. Here is a breakdown of Bitcoin Union's fee structure:
| | |
| --- | --- |
| Trading Fee | None |
| Account Fee | None |
| Commission | Has a low-commission model, but the real amount is not specified |
| Withdrawal/Deposit Fee | None |
Cryptocurrencies are unregulated. Trading with unregulated brokers will not qualify for investor protection.
Bitcoin Union Minimum Deposit
In order to start trading on the platform, you need to deposit $250. That deposit requirement has become a necessity since all the features, even the demo trading account, and the contact support, are locked behind this requirement. Multiple payment methods are supported here. You can deposit the amount in fiat or crypto.
Bitcoin Union Compatible Devices
Bitcoin Union is available across most devices. Our reviewers first checked out this website on the desktop and then ran it through phones and tablets. While we couldn't find a dedicated mobile app, we found the site responsive.
Is Bitcoin Union Scam or Legit?
The information that has been provided by the official Bitcoin Union site is limited. You can say that the website has not paid much attention to delivering any info. You will likely find all the standard info that you would find on other platforms of the same nature - but it isn't enough to help us decide whether or not it is a legit cryptocurrency trading platform.
Most of the info provided on the official website is about how effective the trading tools it offers are. Customer support and demo trading account are only accessible to registered users, along with the rest of the other features - which doesn't give people proper time to assess the quality of this trading software.
We went online to look at third-party sites and customer reviews for Bitcoin Union. When it comes to third-party sites, we found that many reviewers were in the same boat as us - armed with not enough information - and the customer reviews of the site were mixed. Bitcoin Union appears to trend online for crypto related internet searches in the United Kingdom.
We recommend reading the terms and conditions and only using Bitcoin Union if it fits your requirements.
Bitcoin Union Customer Support
Bitcoin Union provides customer support, but it is only available for those who register their accounts. There happens to be a contact us page, but that doesn't necessarily work for those who have not registered.
How to use Bitcoin Union?
Take these steps if you want to start trading on Bitcoin Union.
Step 1 - Visit the Bitcoin Union Website
The first step is to go to Bitcoin Union's official website and create your account. The process entails entering your name, email, and phone number. You will receive a verification code later than gives you an account on the website.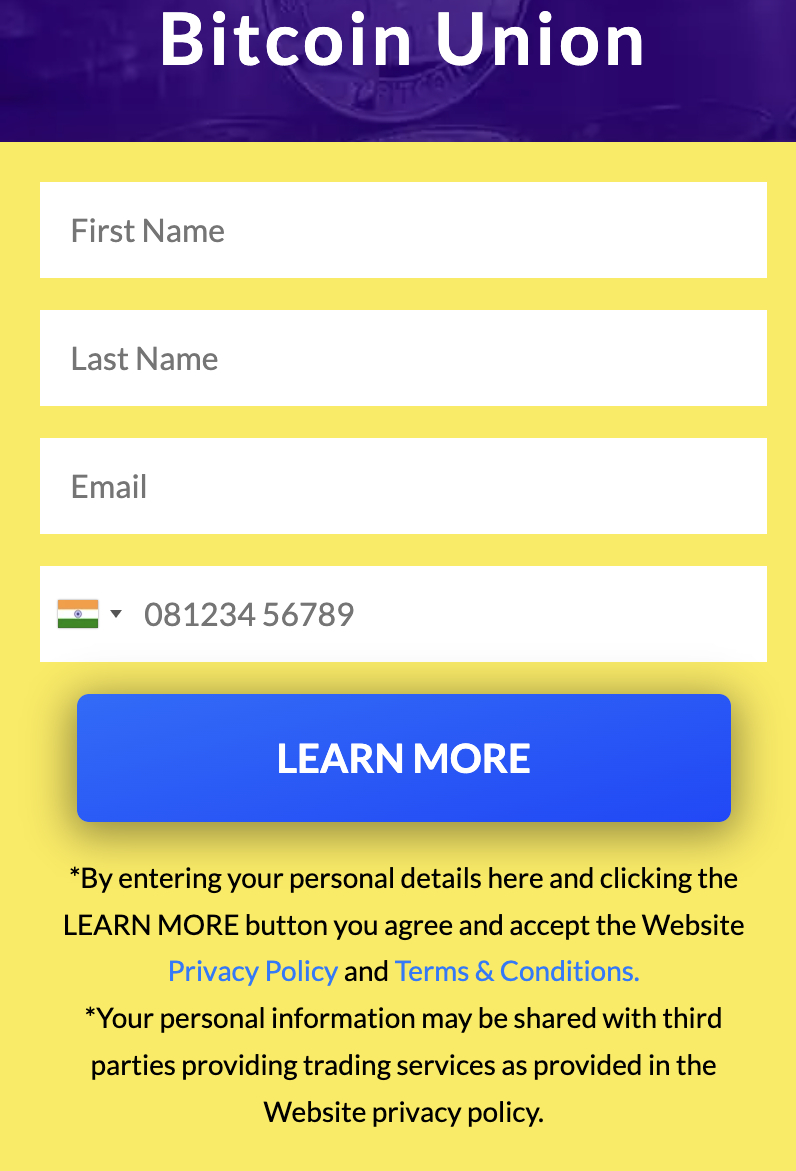 Step 2 - Make the Minimum Deposit
Deposit the minimum amount, which is $250. You can choose between fiat methods like debit cards, credit cards, or bank transfers. Or, you can go deposit the amount through crypto.
Step 3 - Start Trading on Bitcoin Union
Once you have your account created, select the crypto you want to trade and get started. We suggest using the demo trading account before letting your $250 be used for trading.
How to Delete Bitcoin Union Account?
Bitcoin Union's official website has no info about how to delete the account. Many customer reviews, however, have said that a call to the customer support team will do that job.
Do Celebrities Endorse Bitcoin Union?
There are rumors that Bitcoin Union is being endorsed by top-tier celebrities. Names like Jeff Bezos, Martin Lewis, and Elon Musk are being thrown around in this regard.
While most of them have talked about it, with Elon Musk going so far as to replace the Twitter icon with Shiba Inu, there is no evidence to suggest these celebs use Bitcoin Union.
Who is the Founder of Bitcoin Union?
There is no information about who the founder of Bitcoin Union is. While the site says that a team of crypto trading experts is handling things in the background, we don't know who they are. There are no social media handles, no buzz about the makers of this site - and the website itself has no buzz around it, to be honest. While anonymity was common during the infancy of crypto trades, we prefer transparency now. So, you better be careful when you trade on Bitcoin Union.
Bitcoin Union Payment Methods
All the standard payment methods are reportedly supported by Bitcoin Union. You can pick between crypto or fiat options, like debit cards, credit cards, bank transfers, or eWallets.
The Verdict
While the Bitcoin Union platform promises a lot of features, we didn't get a chance to test any of them because of the deposit requirement. Most informaion we were able to gather was second-hand, and even the customer reviews about the site are mixed.
Furthermore, people don't know about the website because of the lack of social buzz. And there are also no proofs to substantiate any rumored support that Bitcoin Union gets from celebrities. Therefore, we recommend doing your own research before investing.
Cryptocurrencies are unregulated. Trading with unregulated brokers will not qualify for investor protection.
Bitcoin Union FAQs
What is Bitcoin Union?
Bitcoin Union is a crypto trading platform that reportedly offers advanced trading tools and autonomous trading facilities to all levels of traders.
How to start trading on Bitcoin Union?
You need to deposit at least $250 to start trading on Bitcoin Union. This is the required amount to access the features that Bitcoin Union advertises that it has.
---