New Upcoming Coins to List on Binance in 2023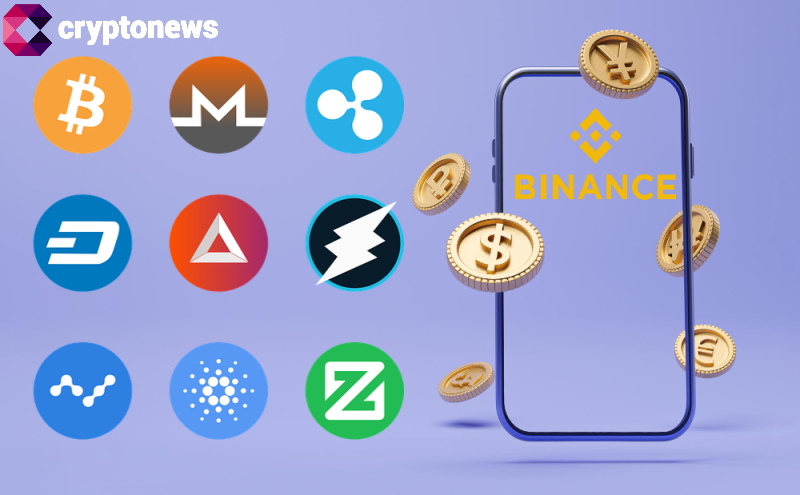 Disclaimer: The Industry Talk section features insights by crypto industry players and is not a part of the editorial content of Cryptonews.com.
Although Binance offers more than 600 coins across over 1,000 markets, the exchange is very selective in which project listings it approves.
This highlights that Binance prefers quality over quantity. In this guide, we analyze the most notable new Binance listings for investors to explore for their crypto portfolios.
The Best New Coins on Binance Launching Soon
Below, we provide a quick overview of the best new Binance listings to consider:
Wall Street Memes - Token that provides a favorable prospect for initial investors, potentially setting the stage for a listing on top exchanges while being anchored by a loyal community. More than $25 million has been raised with the presale to close on September 25
Bitcoin BSC - Potential Binance listing that has raised $3 million in just two weeks. Combines the supply and price of Bitcoin in 2011 with the BNB Smart Chain to offer investors an estimated 180% APY via staking for just $0.99 per token during its presale.
Launchpad XYZ - An all-in-one Web3 ecosystem offering access to the top projects in the blockchain space. Currently, on presale with more than $1.7 million raised. $LPX can be used to earn discount fees, access NFTs, trading terminals, and presales.
yPredict - Get data-driven market analysis on the cryptocurrency markets by purchasing subscriptions using $YPRED tokens. Earn passive income by holding this cryptocurrency, which is currently priced at $0.1 and has raised more than $3.8 million in its presale.
Chimpzee - An environmental initiative that has already planted over 20,000 trees and donated $15,000, and further aims to financially reward users. $1.3 million raised in the presale so far.
eTukTuk - Upcoming presale token that will help TukTuk drivers to access energy-efficient EV charging stations. The presale has just launched with $50k raised.
Pikamoon - Pikamoon is a blockchain-based Pokemon-inspired RPG. It's native currency, $PIKA, is presently in its final presale phase - where it has raised almost $4 million - and will subsequently be listed on all relevant trading platforms.
XRP20 - While this cryptocurrency offers the same tokenomics as XRP, it gives investors more earning opportunities by adding an on-chain staking protocol. Now sold out presale has raised $3.68 million with APY offering 40%.
BTC20 - New ERC20 token that reflects Bitcoin tokenomics in 2011 at $1 token price, offers DeFi PoS staking, sustainable design, and 120-year token vesting. Now has a fully diluted market cap of $15 million with 70% of its circulating supply locked in the staking pool.
RizzMonkey - New meme cryptocurrency has raised $50K on presale. $RZZMNKY will conduct its exchange listing in Q3 2023 after reaching a presale hard cap target of $2.17 million.
Stargate - A fully composable liquidity transport protocol, which has been listed on the Binance exchange.
Optimism - The native token, $OP, has been listed on Binance. It offers efficient solutions for the Ethereum blockchain in terms of speed and gas fees.
Lido DAO - Supporting multiple cryptocurrency networks, Lido DAO allows users to connect with other blockchains and earn passive income.
MobileCoin - A project that combines blockchain technology with the mobile industry. The token has been listed on Binance.
Oftentimes, new Binance listings offer access to the most undervalued cryptocurrencies. This is often because upon being listed, the respective coin will attract vast amounts of interest.
Read on to learn about the new Binance listings outlined above.
A Closer Look at the Top Upcoming Binance Listings
It is important to note that over the prior 12 months, Binance has been very selective in the number of new coins that it chooses to add to its exchange.
In fact, Binance will often only add just one or two coins each month, which illustrates just how stringent the approval process is.
Nonetheless, in the sections below, we offer insight into new and recent Binance listings for investors to explore.
1. Wall Street Memes - Token with Prospects for Exchange Listing Thanks to a Loyal Community
As crypto enthusiasts scout for the next potential Binance listing, a new player has emerged. Inspired by the surge of GameStop and AMC in 2021, Wall Street Memes ($WSM), which also has an Ethereum NFT venture by Wall St Bulls, has launched its meme token.
Wall St Bulls' have had remarkable success in the NFT landscape. Aligning with the current trends, they've expanded their repertoire, adding Bitcoin NFTs and meme coins to their collection.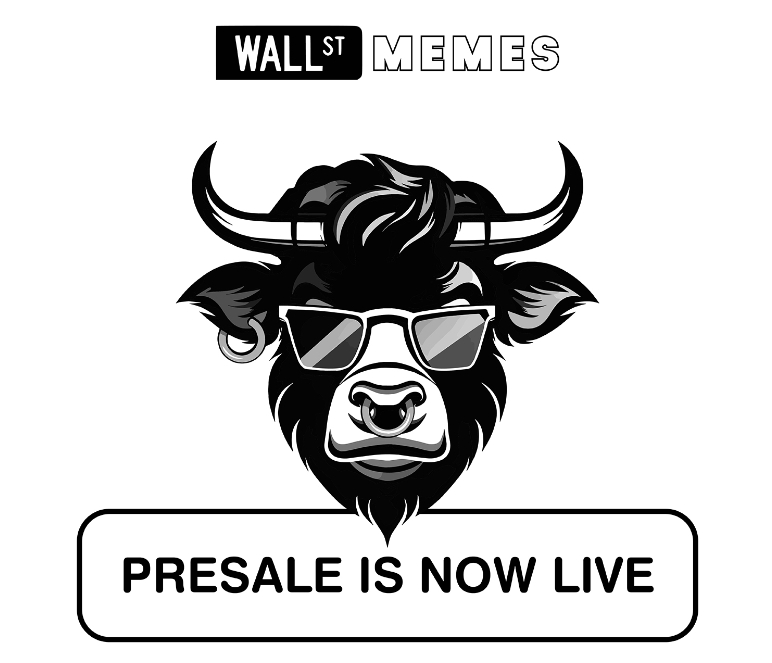 Backed by a strong community of a million followers, these offerings brought the NFTs a footing in the OpenSea marketplace. Wall Street Memes can leverage this strong community backing to secure a potential listing on top exchanges like Binance.
To mitigate potential pitfalls like token flooding, $WSM initiated a community-focused presale of half its two-billion supply. While meme coins inherently possess high risks, they also promise substantial returns, often not aligning with traditional market analysis norms.
The $WSM token presale, has now reached an impressive $25 million with buyers rushing to secure tokens ahead of its September 25 deadline and a highly-anticipated IEO. The project also has a robust staking mechanism with a current APY of 58% - although that is expected to drop once more holders add tokens to the staking pool.
This overwhelming response suggests an enormous investor interest and paints a promising picture of its future. Such swift growth and community support could entice renowned exchanges, like Binance, into listing $WSM. Additionally, a $50k airdrop has been planned for followers to engage on their social channels.

Early participation in presales often translates into substantial returns, especially when led by a team with a proven track record, such as Wall Street Memes.
With an ERC-20 token having a total supply of 2 billion, $WSM is positioned to inspire a 'meme stock' style movement in the crypto world. The recent surge of low market cap meme coins outperforming assets like Bitcoin and Ethereum provides a favorable environment for $WSM.
Aided by the impressive returns of similar assets in 2023, $WSM's potential as the next coin listed on Binance must be considered.
Enter the Wall Street Memes Telegram community to receive the latest updates.
| | |
| --- | --- |
| Presale Started | 26 May 2023 |
| Purchase Methods | ETH, USDT, Credit Card |
| Chain | Ethereum |
| Min Investment | 100 $WSM |
| Max Investment | None |
2. Bitcoin BSC - Bitcoin Clone on the BNB Smart Chain with Potential Binance Listing, $0.99 Per Token with 180% APY Rewards
Bitcoin BSC ($BTCBSC) is a recently launched presale project that could launch on Binance if it experiences positive momentum. Bitcoin BSC is a Bitcoin clone with a total supply of 21 million tokens, 6.125 million available in the presale, and priced at $0.99.
Investors who missed out on the original can possibly find another opportunity with this new and improved edition, with other investors also taking note - more than $3 million has already been raised in just two weeks since launch.
The improvement over BTC comes from the proof-of-stake BNB Smart Chain, which is proven to be faster, more eco-friendly, and cheaper than Bitcoin's proof-of-work mechanism.
For example, while Bitcoin handles about 7 transactions per second, Bitcoin BSC can handle more than 2,000 transactions per second. And while the cost of a Bitcoin transaction can range from $5 - $10, average BNB Smart Chain transactions are in the region of $0.10.
The main benefit of Bitcoin BSC comes from the staking rewards - more than 1.5 million tokens have already been locked into the staking pool, with a current estimated annualized percentage yield of 180%.
These PoS rewards will come down with time as more people find out about this project and stake their tokens but remain a huge incentive for investors.

Bitcoin BSC is an ingenious concept that provides the appeal of Bitcoin with the power of the BNB Smart Chain, combined with large APY rewards for project participants.
However, it should be understood that this project has nothing to do with Bitcoin - it is a separate implementation on a different blockchain, not a fork like Bitcoin Cash or Bitcoin SV.
The project has undergone a third-party audit and no funds are kept by the core team, both of which are highly encouraging signs. A similar project that recently launched, BTC 20 (more info below), made 600% gains after launch and BTCBSC will be hoping for a similar performance after listing.
To take part in the presale keep in touch with the Telegram and Twitter accounts, and read the whitepaper. USDT, ETH, BNB, or Credit card can be used to make a purchase, with a minimum of $10. Remember to keep some ETH or BNB at hand for gas fees.
| | |
| --- | --- |
| Presale Started | September 2023 |
| Purchase Methods | ETH, USDT, BNB, Credit Card |
| Chain | BNB Smart Chain |
| Min Investment | $10 |
| Max Investment | None |
3. Launchpad XYZ - Access Multiple Web3 Services with this New Ecosystem
Launchpad XYZ gives users access to a range of Web3 services under one roof, giving access to Web3 wallets, token presales, NFT events, trading terminals, and play-to-earn ecosystems.
The platform is powered by $LPX, an ERC-20 token, currently available to buy on presale and which has raised more than $1.7 million.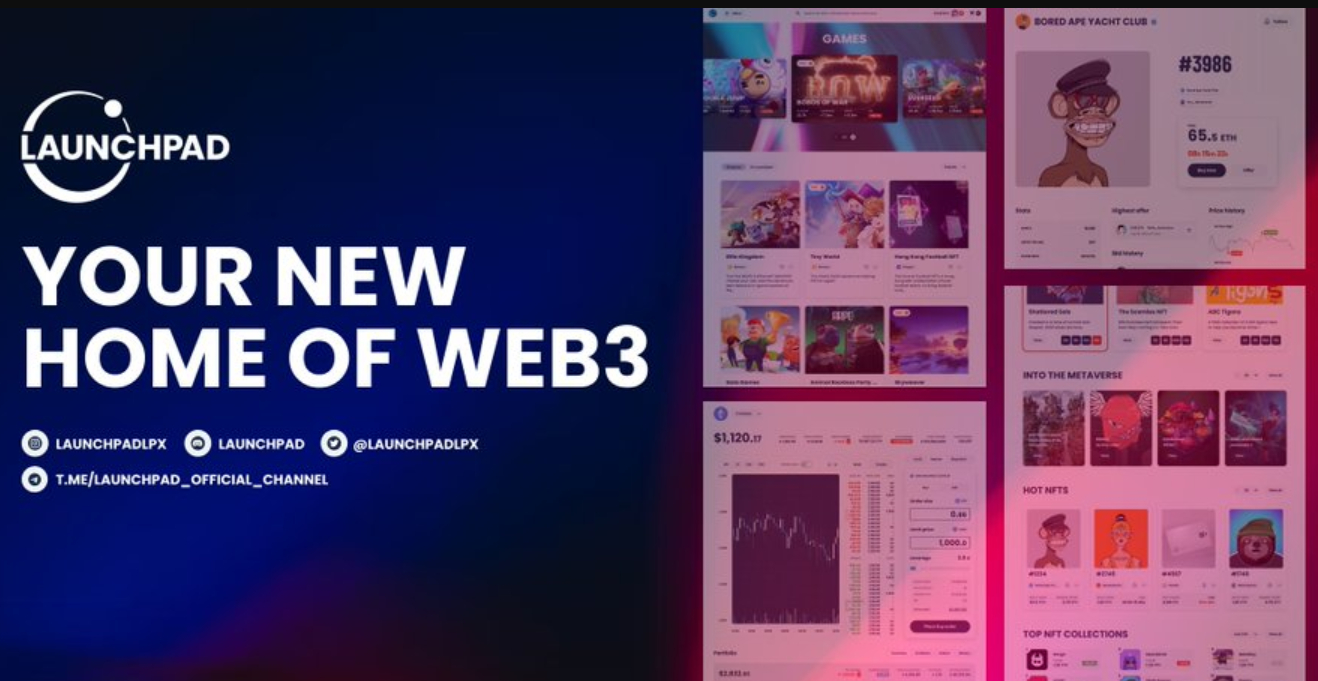 While an exchange listing on Binance has not been confirmed, the global exchange tends to deploy tokens that can generate high trading volumes. One of the reasons why this may be possible with $LPX is due to its multiple use cases. The token can be staked on the ecosystem to sell NFTs.
The platform will host an NFT gallery where one can collect their assets. On Launchpad XYZ's decentralized exchange, members can stake $LPX to reduce fees. The decentralized exchange allows members to swap hundreds of token pairs and access perpetual contracts.
One of its main features is already live, an alpha Telegram signals group that recently made a 7,000% call on LINQ.
On the exchange, members can leverage $LPX to trade fractionalized assets. On the Launchpad XYZ ecosystem, members can get guaranteed access to presales by staking the native token. Users can access market-driven insights on the utility of hundreds of tokens on this ecosystem.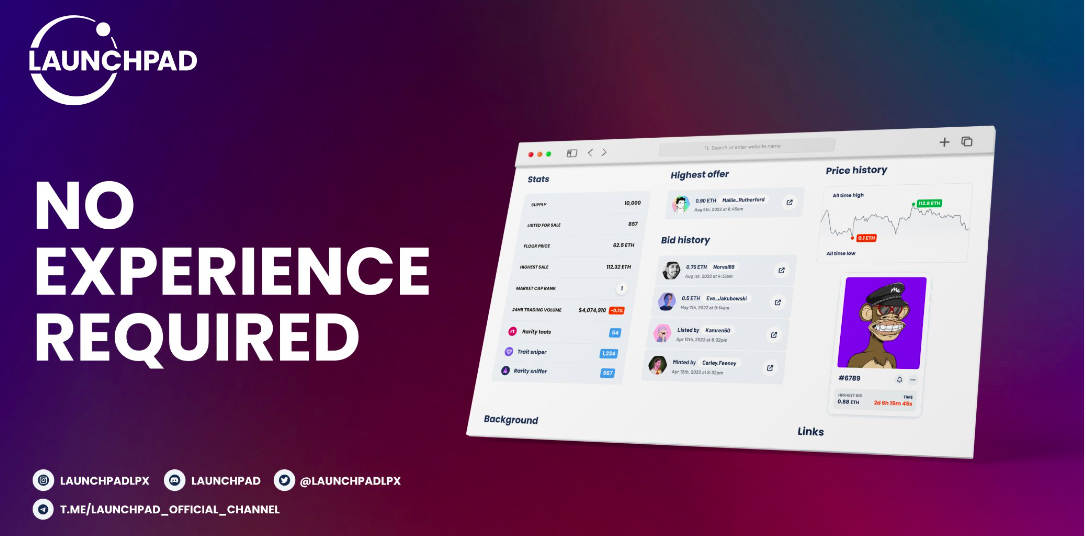 One can find investment opportunities, learn about the liquidity of different exchanges, and trade using the decentralized exchange. Launchpad XYZ will also host its internal trading game, where players can learn more about cryptos and get rewarded with $LPX.
Finally, one can also take loans against their assets by accessing the NFT exchange - $LPX is priced at $0.0445 during the presale, with new buyers also earning a 20% bonus on their purchase.
From an overall supply of 100 billion tokens, 250 million coins have been divided equally across the ten rounds.
Read the Launchpad XYZ whitepaper to learn more about this project and join the Telegram channel.
| | |
| --- | --- |
| Presale Started | 27 April 2023 |
| Purchase Methods | ETH, USDT, Credit Card |
| Chain | Ethereum |
| Min Investment | 100 LPX |
| Max Investment | None |
4. yPredict - Crypto Trading and Analytics platform
The next cryptocurrency on our list is yPredict, a next-gen cryptocurrency analytics and research platform.
With $YPRED, the native cryptocurrency, one can purchase subscriptions to predictive models and more than $3.8 million has been raised in the presale so far.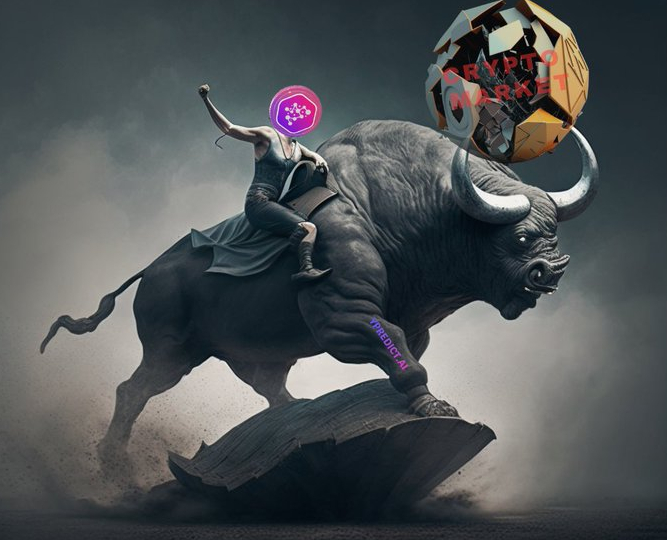 These models have been generated by AI developers and financial quants, who predict where the crypto markets may head in the future. The financial quants offer predictions on a financial marketplace through a monthly subscription.
yPredict also offers data-driven insights by leveraging artificial intelligence. For instance, the platform can conduct the sentiment analysis of multiple cryptos by using NLP (Natural Language Processing) to examine buyer sentiment.
yPredict also generates AI trading signals by utilizing technical and fundamental data. The platform offers a patent-pending pattern recognition algorithm, which generates real-time alerts for some of the top digital coins.
$YPRED can offer unique staking rewards to customers. Unlike most tokens which offer a 5% - 10% APY (Annual Percentage Yield) for staking, this platform claims to offer higher returns.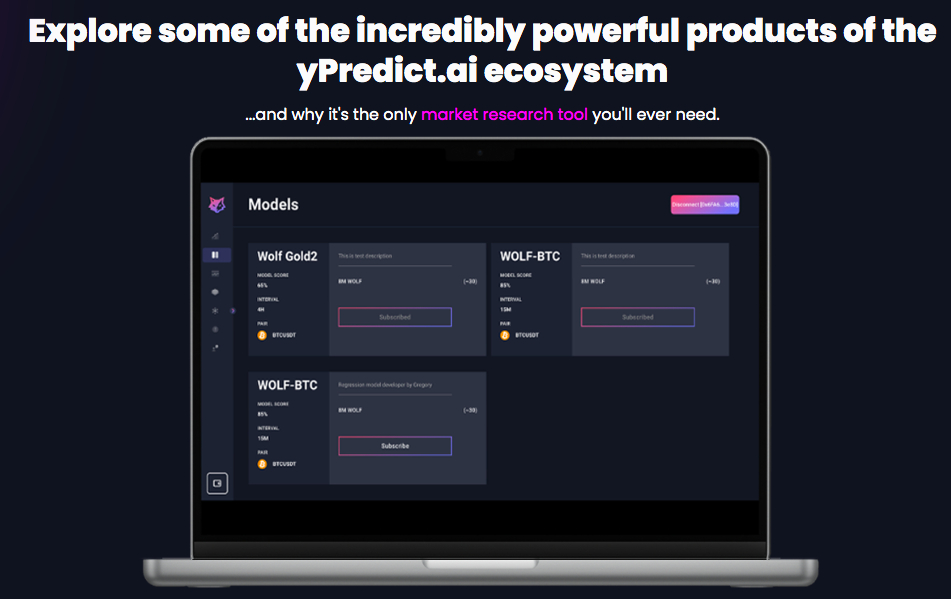 yPredict sends 15% of all swap fees collected to a staking pool. The revenue generated is sent to the token stakers in the ecosystem. Furthermore, 10% of all new subscription revenues are distributed among existing token holders.
yPredict also lets users make directional bets on the future of the crypto space through its play-to-earn environment. The best performers are rewarded with tokens. There will also be a 7% tax charged for selling the token, which will be distributed towards liquidity pools, marketing, development, and research.
$YPRED has a total supply of 100 billion tokens and those interested in the cryptocurrency can purchase the token for $0.1 through the sixth presale round. By the final round, the price will rise to $0.12 per token - an increase of 20%.
Interested readers can read the yPredict whitepaper and join the telegram channel to learn more.
| | |
| --- | --- |
| Presale Started | Q1 2023 |
| Purchase Methods | MATIC, ETH, USDT, BNB, Credit Card |
| Chain | Polygon |
| Min Investment | 200 YPRED |
| Max Investment | None |
5. Chimpzee - Save the Environment While Earning an Income with Passive Staking, $1.3 Million Raised So Far
Chimpzee (CHMPZ) is a new crypto presale project that provides a means of helping the planet by making donations to organizations and networks that protect endangered plants and animals.
It aims to simultaneously enhance public awareness of the plight of these plants and animals, while rewarding participants through financial incentives and could well be listed on Binance soon.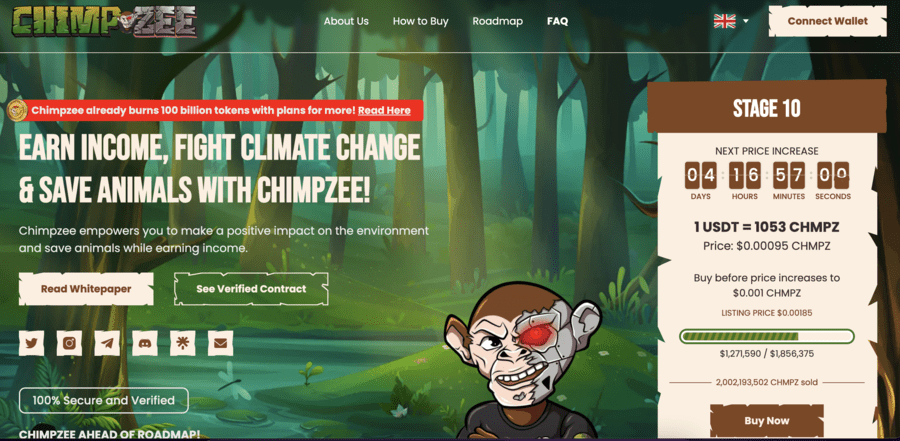 As stated in its whitepaper, there can be no delay in saving the environment, and the best way to do this is through raising awareness, rewarding users, and providing direct financial aid. This has already been done to a large extent - so far, Chimpzee has helped to plant 1,200 trees to save the Brazilian rainforest, donated $15,000 to save elephants, and also planted 20,000 trees in Guatemala.
This is at odds with many other Web3 projects that make promises that are not ultimately fulfilled. With Chimpzee, they are already working on their core objectives without delay.
To fulfill its environmental initiatives, Chimpzee deploys a wide range of features, including Play-to-Earn, Shop-to-Earn, and Trade-to-Earn. These features empower users to earn rewards, while also contributing to the project's objectives.
Chimpzee has been audited and has further attained a KYC certification. Such measures are reassuring, as they provide further evidence regarding the transparency and integrity of the initiative.
In terms of the tokenomics, 45% of the supply is allocated to the presale, 10% to exchange liquidity, 15% to marketing, 5% to community rewards, 10% to charity, 10% to development, and 5% to the team.
All tokens that are unsold will be burned to promote scarcity and price appreciation. People who make a purchase during the presale can attain 50% free tokens as a bonus. The total supply of 100 billion tokens is also set to reduce to 60 billion.
To take advantage of this offering, users are required to use MetaMask or Trust Wallet, completing the transaction in ETH, USDT, or Card. It is for a good cause and Chimpzee is already delivering on its promises.
More information can be found on Twitter, Discord, Telegram, Link Tree, and Instagram.
| | |
| --- | --- |
| Presale Started | Q2 2023 |
| Purchase Methods | USDT, ETH, Card |
| Chain | Ethereum |
| Min Investment | $25 |
| Max Investment | None |
6. eTukTuk - New Presale Token Providing EV Charging Stations to TukTuk Drivers
With the rise of blockchain technology, platforms such as eTukTuk ($TUK) are coming up with innovative solutions that will positively impact the world.
With the rapid increase of air pollution and carbon emissions in the atmosphere, eTukTuk has decided to create a global network of charging stations.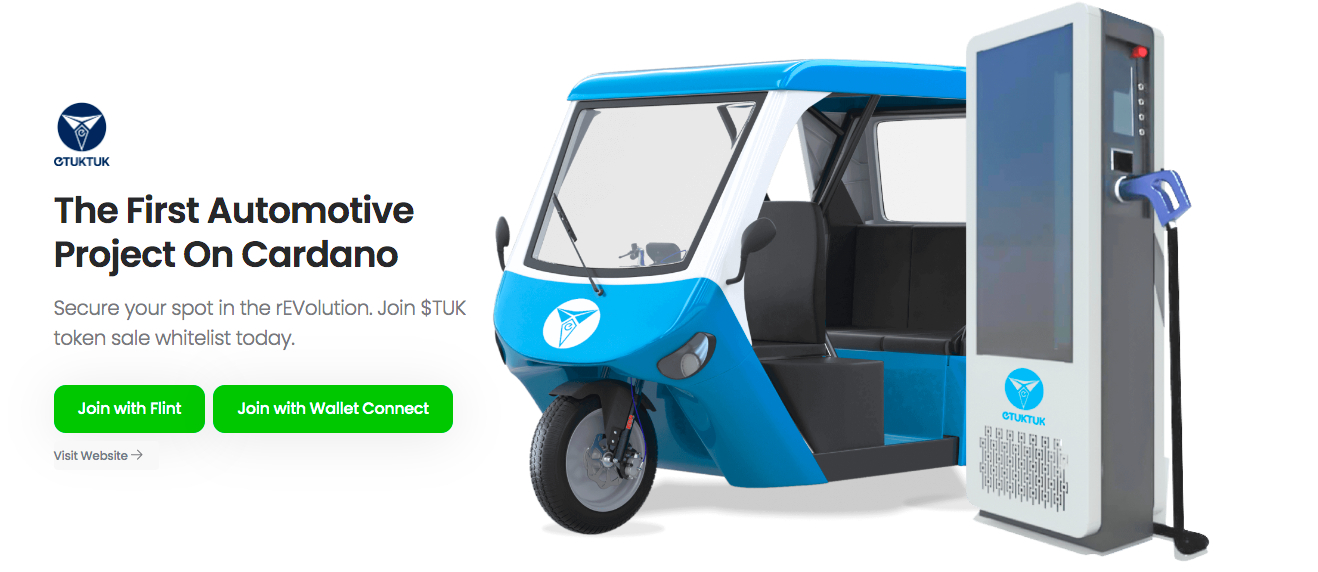 The main demographic of eTukTuk is TukTuk drivers in developing nations who struggle to make a wage. With the growing energy prices and the need for fossil fuels to run Internal Combustion Engines (ICEs), TukTuk drivers are considering switching to electric vehicles.
eTukTuk will be developing electric vehicle supply equipment (EVSE), allowing TukTuk drivers to charge their zero-emission vehicles (ZEVs). The platform states that using the energy-efficient Binance Smart Chain will make the process 75% cheaper for drivers.
eTukTuk will set up EVSEs in urban and suburban areas of developing countries. Slowly, the platform aims to expand worldwide. By using local manufacturing and partners to set up operations, they will save costs.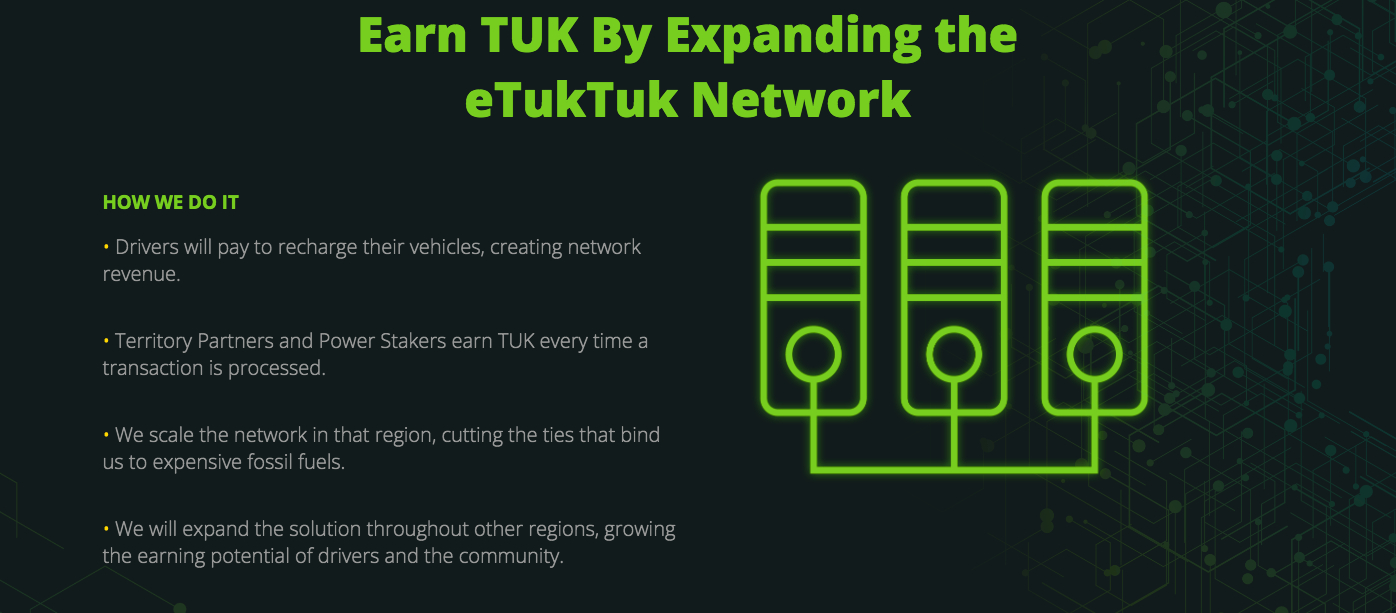 With $TUK, drivers can make payments at the charging stations. Token holders will be able to earn a passive income by staking this token on the ecosystem. As the number of EVSEs increase, the platform will offer higher rewards to staked holders.
This token is now available to buy on presale, with $40k raised so far. Afterward, the token may list on popular exchanges such as Binance if the presale is a success. Read the eTukTuk whitepaper and join the Telegram channel for more information.
7. Pikamoon - A Play-to-Earn Game With $PIKA Cryptocurrency Powering Its Ecosystem
Pikamoon is a new project currently in its presale stages. It's a game heavily influenced by Pokemon, a popular anime franchise. Players assume the role of travelers who roam around the mythical continent of Dreva, populated by magical creatures called Pikamoons.
These monsters are essentially collectible NFTs, but you can use them to go on an adventure, upgrade them, and pit them against each other. In other words, the game has exploration and battle elements to it, but it's essentially an RPG.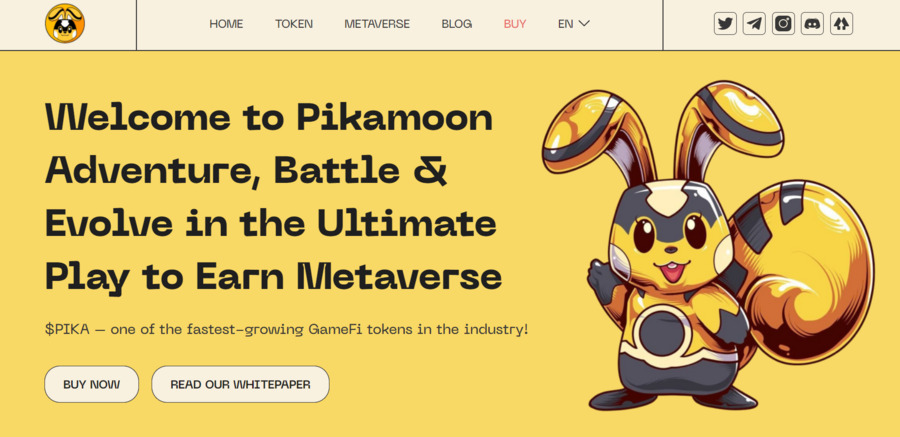 The in-game currency, $PIKA, can be used to purchase upgrades, items, and more. It's the central coin of the Pikamoon ecosystem. Those who obtain $PIKA will receive a free Pika NFT to start their adventure.
According to the project's whitepaper, the presale will feature three stages, each offering $PIKA at a different price. During the first stage, the presale was available at $0.0002 but now in the final stage, $PIKA is priced at $0.0006. A total of 15 billion $PIKA coins will be distributed during the presale (out of 50 billion, which is the max supply). The coin will be listed on all relevant centralized and decentralized exchanges when the time comes.
Almost $4 million has been raised in the presale, which is now in its third and final stage.
The talented team behind Pikamoon is actively working on the project. Potential investors and interested parties can join Pikamoon's official Telegram group, where they can find the latest news about the project.
| | |
| --- | --- |
| Presale Started | April 2023 |
| Purchase Methods | USDT / ETH |
| Chain | Ethereum |
| Min Investment | N/A |
| Max Investment | N/A |
8. XRP20 - The Second Coming of XRP with Huge Staking Rewards
The next cryptocurrency that can be listed on the Binance exchange is XRP20 ($XRP20), an Ethereum-based token as the second coming of XRP. This cryptocurrency seeks to provide investors another chance to make potential gains if they missed the XRP bull run.
The presale was a roaring success so far, selling out its $3.68 million in just two weeks before launching on exchanges.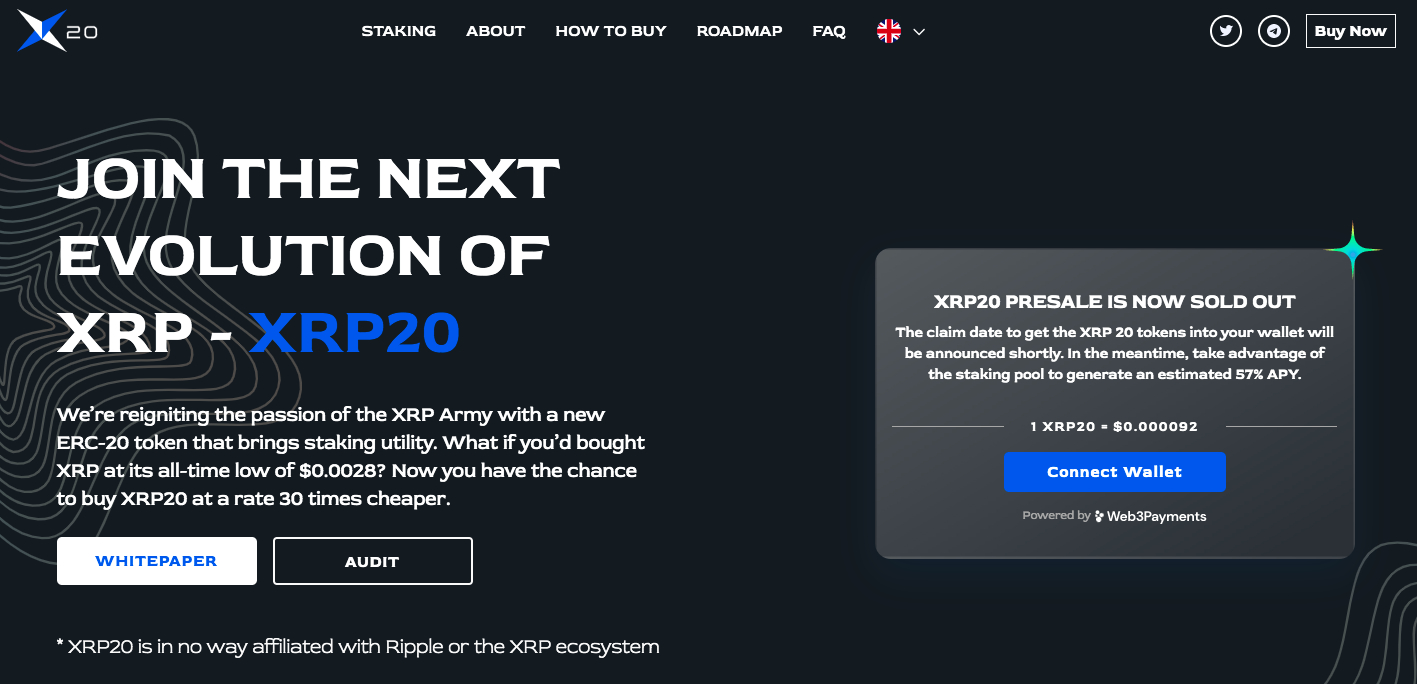 While the two projects have no affiliation or connection, XRP20 has similar tokenomics to Ripple's XRP. The $XRP20 token has a total token supply of 100 billion. However, while XRP is more for financial institutions and banks, XRP20 offers multiple features for retail traders.
Firstly, 40% of the 100 billion token supply will be allocated for staking. Since XRP20 is based on the Ethereum blockchain, it adheres to a stake-to-earn system, allowing token holders to generate passive income.
The staking pool has already had a huge amount of tokens added and, at press time, users can earn an APY of 40% by staking $XRP20.
Secondly, XRP20 is a community-driven token. When XRP launched, 80% of the tokens were first distributed to the parent company, Ripple. XRP20 offers the entire token supply to the public. Another 40% of the tokens were allocated on a single-round presale.

Therefore, XRP20 has introduced a burning mechanism, which will send 0.1% of all buy and sell transactions to a burnt wallet address.
10 billion tokens will eventually be burnt, reducing the supply to 90 billion. Read the XRP20 whitepaper and join the Telegram channel to stay updated with this cryptocurrency project.
9. BTC20 - Bitcoin with ERC20 Functionality & DeFi Staking
With all of the features it offers, BTC20 ($BTC20) is a token that, for a variety of reasons, may soon be listed on Binance. The situation may appeal to those who regret not investing in Bitcoin before its meteoric rise, who might be annoyed at missing out on the opportunity to invest in early stage Bitcoin - twice.
Although it is an ERC20 token, $BTC20's supply, and price, are identical to those of Bitcoin (BTC) in April 2011. The total number of tokens in the ecosystem is 21 million, with 6 million in circulation and the rest being unlocked over 120 years.

No investment is risk-free. Just because a token resembles Bitcoin doesn't necessarily mean its price will move in the same direction. Making an investment always requires due diligence and caution and all responsibility lies with the investor.
Yet there are some elements that set this project apart from many of the others, such as its long term orientation. Over a 120-year period, a minimum of 14.95m $BTC20 tokens will be systematically released, designed to replicate the block reward system of Bitcoin on an ERC20 framework.
Users can actively contribute to the network's security and integrity by staking BTC20 tokens in exchange for a portion of the staking rewards. This strengthens the community's commitment and dedication and encourages long-term participation.
The project adheres to the fundamental tenets of BTC, mimicking its architecture while enhancing some elements to promote participation. The BTC20 team's commitment to openness, creativity, and the spirit of Bitcoin was also reaffirmed in the whitepaper. The team wants to make sure the project is stable in the long run by adhering to the roadmap.

Interested buyers can find more details on Twitter and Telegram. The team's email address is also available on the website.
The BTC20 presale sold out in just over two weeks with the project now having a fully diluted market cap of $25 million and an estimated APY of 60% - around 70% of the circulating supply are locked into the staking pool, proving investor confidence in the long-term prospects of the token.
10. RizzMonkey - Exciting Meme Token is Priced at $0.000005367 on Presale, Will Rise by 16.7% Upon Exchange Listing
The next cryptocurrency with the potential to be listed on Binance is $RZZMNKY, the native token of the RizzMonkey ecosystem. This meme coin is currently available to buy on presale and will go up by 16.7% by the time the initial exchange offering (IEO) takes place.
It has now raised around $100k during its presale.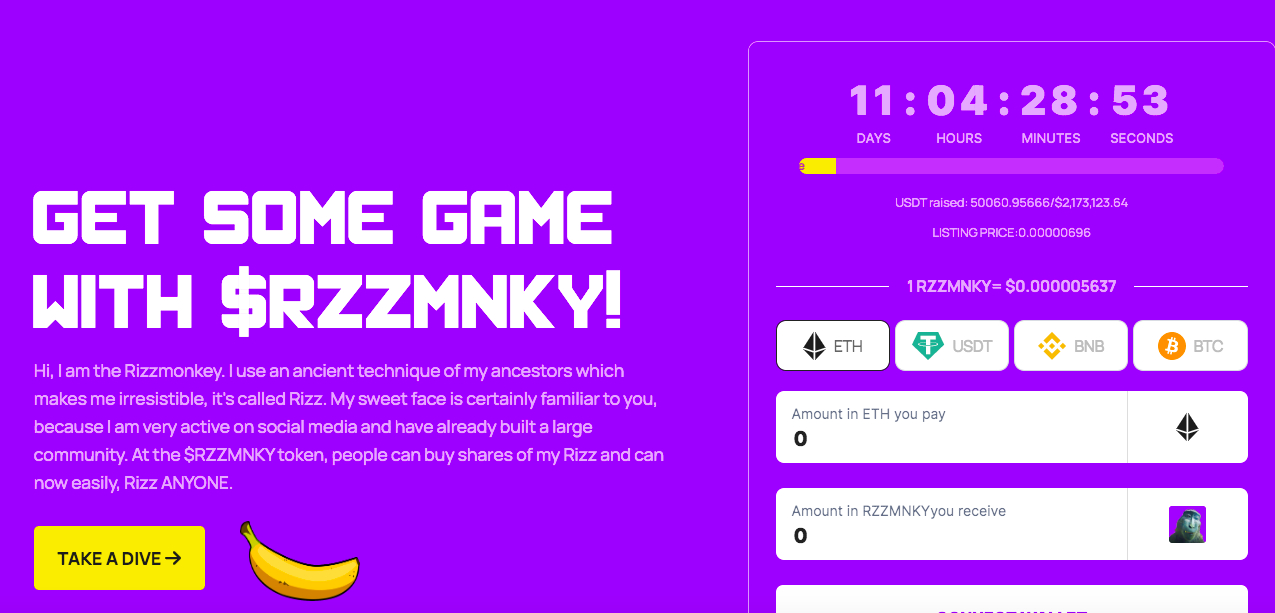 RizzMonkey has a total token supply of 696 billion, 55% of which has been allocated for the ongoing presale. Currently, $RZZMNKY is available to buy on round two of a three-stage presale. The token is priced at just $0.000005367 but will jump to $0.000006264 by the third and final round.
According to the RizzMonkey whitepaper, the token will conduct its IEO in Q3 2023. The IEO price is set at $0.00000696, which is a 16.7% price jump from current levels. Therefore, presale investors will be able to purchase this meme coin at a lower price right now. 10% of the token supply will be used for CEX liquidity and the exchange listing.
Another 10% of the token supply will be used to maintain DEX (Decentralized Exchange) liquidity. A further 20% of the token supply will be given to the development team, while 5% will be used for marketing purposes.
From the presale, RizzMonkey wants to raise a $2.17 million market cap. A successful presale will help the token in getting listed on top crypto exchanges such as Binance. So far, the RizzMonkey presale has collected over $50K.
Join the RizzMonkey Telegram channel to learn more about the cryptocurrency.
11. Stargate - Newest Binance Listing This Year
At the time of writing, the most recent cryptocurrency project to be listed by Binance is Stargate. This project describes itself as a "fully composable liquidity transport protocol" that sits at the forefront of decentralized finance. More specifically, Stargate enables users to access liquidity on a cross-chain basis.
Those providing Stargate pools with liquidity have the opportunity to earn passive income via a yield farming strategy. As of writing, Stargate is carrying a market capitalization of just $70 million.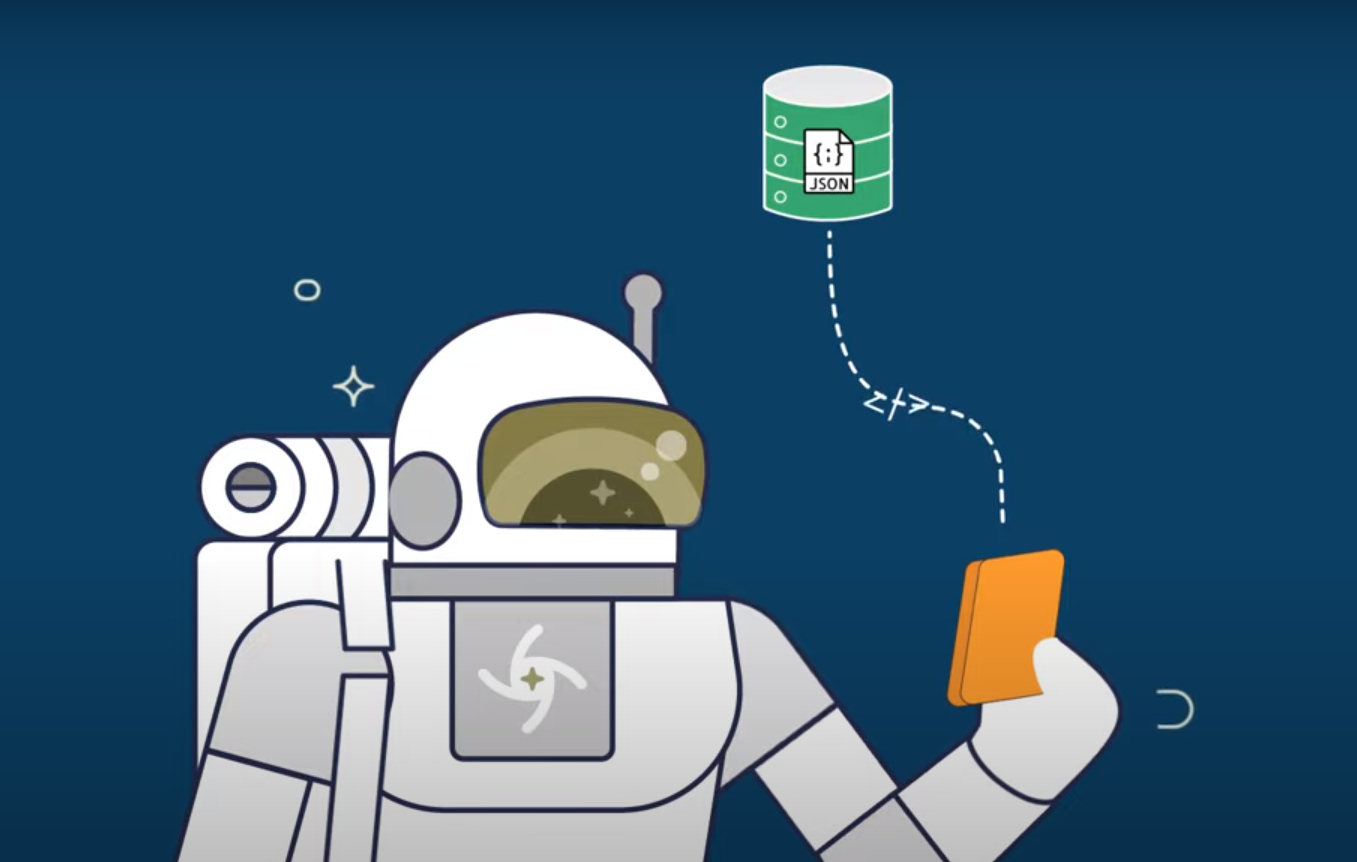 This means that Binance is happy to access both low and large-cap coins on its exchange, so long as the project meets its high approval standards.
In addition to Binance, Stargate is listed on a full wave of other tier-one exchanges. This includes everything from Coinbase, Gate.io, and Kucoin to FTX, Huobi, and Kraken. Therefore, based on its valuation right now, Stargate could be one of the best altcoins to add to an investment portfolio for long-term upside.
12. Optimism - Speed and Scalability Solutions for the Ethereum Network
Prior to Stargate, the most recent coin to be listed on the Binance exchange is Optimism. This popular project was listed on Binance in June 2022, which again, shows that it is becoming less common for the exchange to accept new applications.
Optimism also had a recent Coinbase listing, as well as Kucoin, OKX, Gate.io, and others.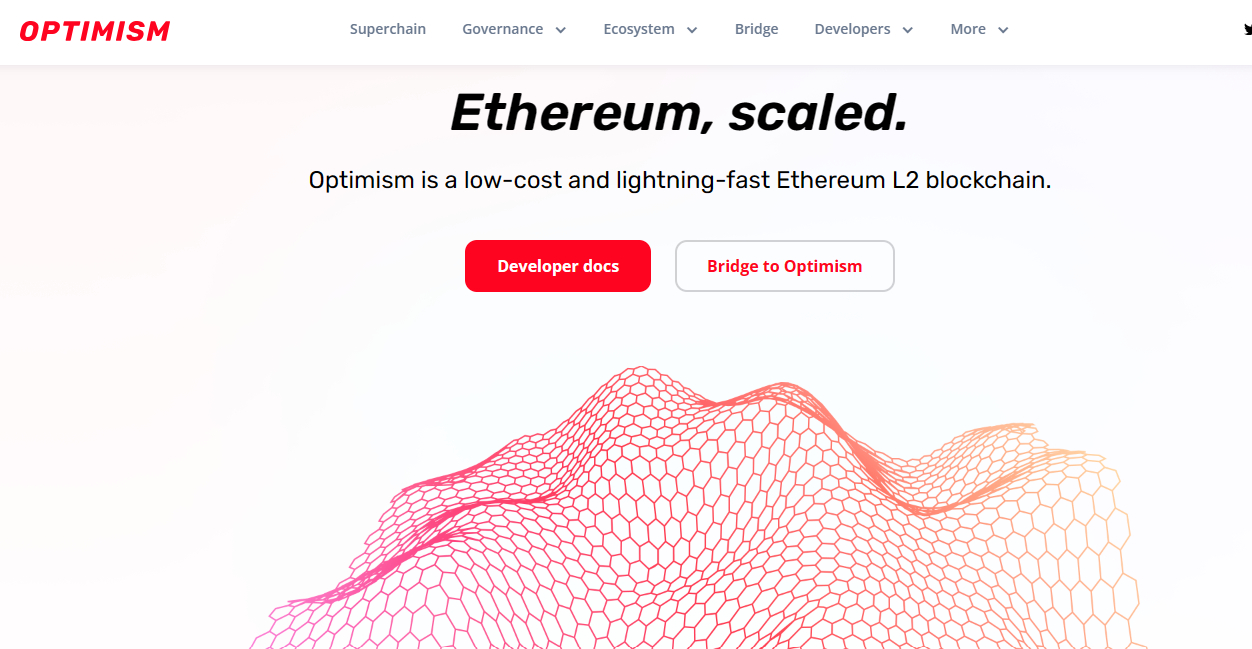 In terms of the project itself, Optimism offers efficient solutions for the Ethereum blockchain in terms of speed, fees, and scalability. The software offers a seamless way to access the Ethereum ecosystem through a simple extension, which will appeal to developers that require a low-cost and speedy way to deploy their dApps.
According to the Optimism website, the project has already saved developers more than $1 billion worth of gas fees. Looking at the project's price chart, Optimism carries a market capitalization of just over $200 million as of writing, so it's still a small-cap token.
At current pricing levels, investors can buy Optimism tokens at an 80% discount, when compared to its 52-week high.
13. Lido DAO - Staking and DeFi Services Across Five Networks
Lido DAO is yet another top-rated project that was recently listed on the Binance exchange. In a nutshell, the project offers a simple ecosystem that enables investors to generate passive income on their idle tokens.
The platform supports five networks - inclusive of Ethereum, Solana, Kusama, Polkadot, and Polygon.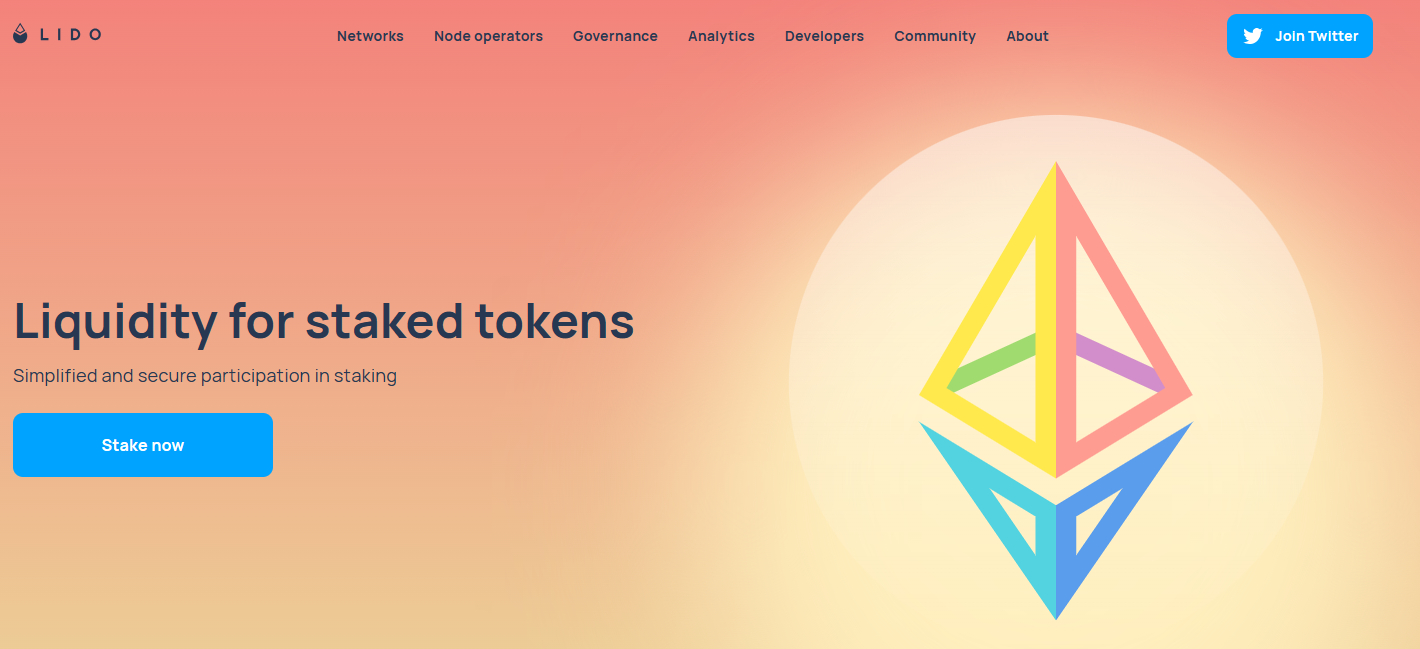 Staking yields will vary depending on the network, but to offer some insight, Polygon can be staged at an APY of 6.3% and Polkadot at 13.4%. Another interesting angle to Lido DAO is that upon staking, investors are issued minted tokens on a 1:1 basis.
These minted tokens can then be used to generate further gains across the DeFi ecosystem, thus promoting compound growth. Lido DAO has been audited by three key players - Quantstamp, MixBytes, and SigmaPrime. In terms of its performance, Lido DAO has witnessed extreme volatility since its Binance listing.
For example, the token dropped from over $3 down to $0.50 after the announcement, only to then return to the $3 level. As of writing, Lido DAO is trading 85% lower than its 52-week high.
14. MobileCoin - Inexpensive Global Payments Secured by Blockchain Technology
MobileCoin is one of the newest Binance listings of 2022. This project is building an innovative concept that brings blockchain technology to the mobile payment industry.
The idea is that users from all over the world will be able to send and receive cryptocurrencies via their mobile phones - in a simple, fast, cost-effective, and user-friendly manner.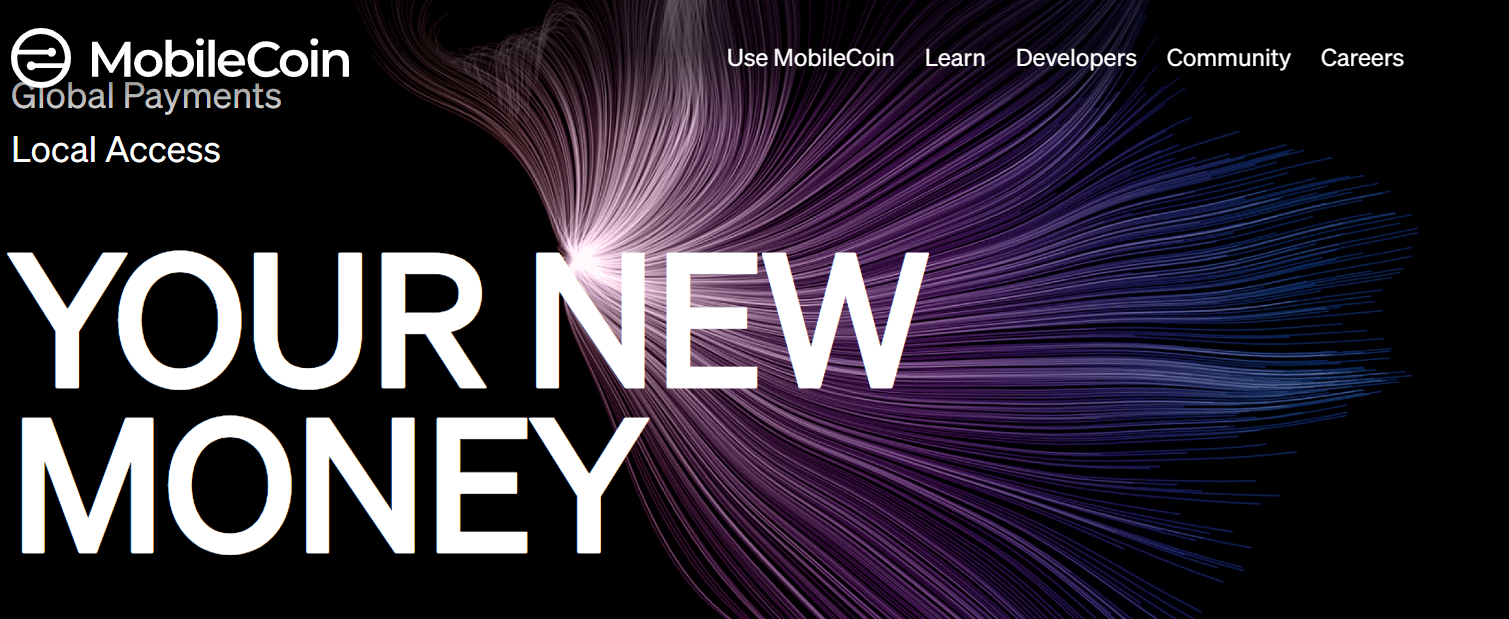 This will perhaps appeal to people living in developing countries, many of which rely on local mobile payments to send and receive funds.
Those relying on remittance payments from friends and family members living overseas might also turn to MobileCoin, considering the cost savings and speed at which transactions are processed.
From a price perspective, the bear market of 2022 has been overly disastrous for MobileCoin. At the turn of the year, the token was trading at nearly $10.
As of writing, the same token is available to buy for under a dollar. Those that believe in the long-term vision of the project may view this as an attractive price to enter a position.
How Often Does Binance Add New Coins?
Binance is often viewed as the go-to exchange to invest in brand-new coins that are still in their infancy. However, this isn't the case at all - at least in today's market. For example, in the six months prior to writing this guide, Binance added just six new coins to its exchange.
This illustrates that Binance is not as active in the listing department as it once was, meaning that it now only considers high-quality projects. This is why the general consensus is that Binance could approve Tamadoge's listing application, not least because of the global interest the play-to-earn and metaverse project has generated.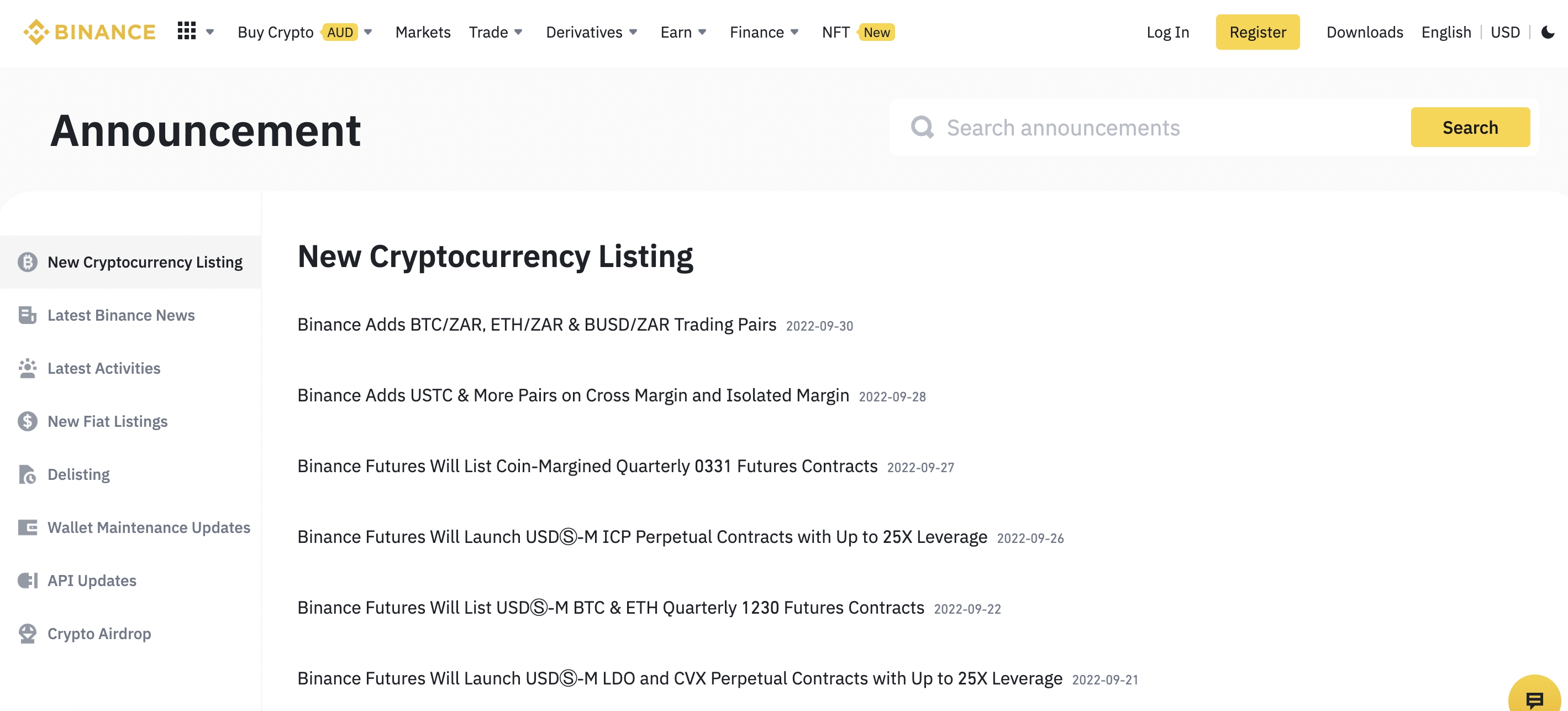 Nonetheless, Binance appears to be more focused on adding additional markets to its exchange, relevant to coins that are already listed. For example, in recent months, Binance has added a significant number of futures and other derivative markets, in addition to support for more emerging fiat currencies such as TRY and ZAR.
Why You Should Invest Before Coins List on Binance
Being one of the largest crypto exchanges in terms of trading volume, new listed tokens usually experience an upward trajectory.
On the one hand, we mentioned in the section above that Binance is super-selective on the projects it lists on its exchange. And as such, new Binance listings are becoming rarer.

Below, we discuss some of the reasons why seasoned investors pay close attention to confirmed new Binance listings.
New coin listings can be found on sites such as CoinMarketCap and CoinGecko, which dedicate whole sections to newly-launched projects.
Pre-Listing Announcement
It goes without saying that the best time to invest in Binance new crypto listings is once the announcement has been made. Now, there are actually two announcements to keep an eye on in this regard.
First, it is all but certain that the project in question will be the first to announce that its Binance new coin listing application has been approved. This will typically be displayed via the project's Telegram group, and perhaps its social profiles on Twitter and Reddit.
Binance new listings alert websites can also help in this respect too. However, it is crucial to remember that just because a crypto project announces that it has had its Binance listing application approved, this isn't to say that the news is legitimate.
On the contrary, there have been many unscrupulous projects that have announced they have been added to the Binance new coins list, but then the news turns out to be fake. As a result, the second announcement that investors should look for is from Binance itself.
Buy the News
In a similar nature to the stock markets, seasoned crypto investors will typically 'buy the news'.
This means that an approved crypto listing on Binance will often experience the vast bulk of its upward pricing trajectory before the market goes live.
This is why investors will often search for the best new crypto on Binance through third-party platforms, with the view of buying the coin as early as practically possible.
Largest and Most Liquid Exchange
Binance is by far the largest crypto exchange in this market. In the prior 24 hours of writing, Binance has attracted more than $6 billion worth of volume. During bull markets, Binance will often process over $70 billion in daily trading volume.
Being listed on Binance is a major coup for a cryptocurrency project, considering the volume that the exchange attracts in addition to its 100+ million users.
Moreover, as we noted several times in this guide, Binance does not approve a lot of listing applications. To reiterate, the number of new cryptocurrency released on Binance in 2023 amounts to just a handful.
Conclusion
In summary, this guide has evaluated new Binance listings to keep an eye on in 2023.
As noted, the exchange has approved very few new coins in the last 12 months, highlighting that Binance is only interested in high-grade projects.
One of the projects that could get listed on Binance is Wall Street Memes, which is already seeing huge investment and has massive community backing. Given its successful presale launch and unique features, $WSM appears poised for a potential listing, while its staking pool is ever-growing.
Since its launch, the $WSM token presale has raised more than $25 million and is set to finish on September 25 ahead of a highly-anticipated IEO.
FAQs
What new coins are coming to Binance?
Binance recently added trending meme coins PEPE and FLOKI to its exchange, but usually keeps tight-lipped about what else is being added. Other presale projects, such as Wall Street Memes, Bitcoin BSC, and Launchpad XYZ, could get a listing in the future.
How do I get a new cryptocurrency before listing?
The best way to get a new cryptocurrency before it is listed on Binance or any other exchange for that matter is to invest in the project's presale campaign. This strategy recently proved very successful for those investing in the Tamadoge presale, not least because TAMA has since returned 10x in price appreciation.
What are the newest crypto coins?
Some of the newest crypto coins to keep an eye on include Wall Street Memes, Bitcoin BSC, yPredict and Launchpad XYZ.
Can you buy new coins on Binance?
Yes, as soon as a new coin is listed on Binance, investors from all over the world can invest in the respective project. However, to avoid paying a premium, it is often worth buying the coin in question before it goes live on Binance. This is because seasoned investors will often 'buy the news'.
---