Immediate Profit Review - Scam or Legitimate Trading Software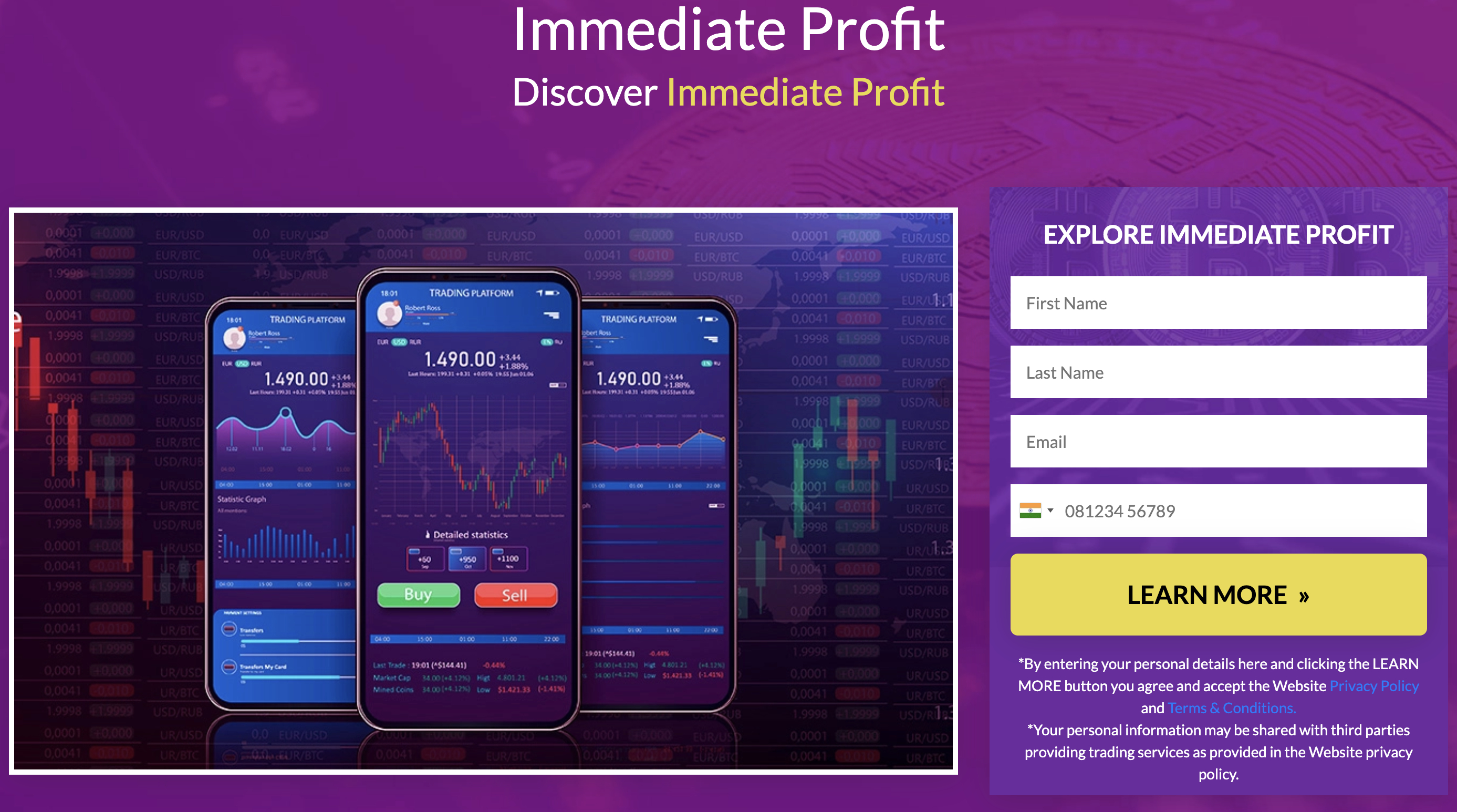 Disclaimer: The text below is an advertorial article that is not part of Cryptonews.com editorial content
Immediate Profit is a crypto trading platform that promises immediate profit to those who are brave enough to venture across the volatile waters of crypto trades. The platform promises to offer trading facilities for not just cryptocurrencies but also NFTs and other assets. Educational resources will make novices trade-ready – according to the official website. But how much truth is there to these claims? This Immediate Profit review explores that.
Immediate Profit Summary
Immediate Profit claims to be a holistic platform offering trading features for all types of crypto-related assets. Here are the points to note before we dive into this review.
| | |
| --- | --- |
| Supported Crypto | Cryptocurrencies like Bitcoin, Ethereum, Bitcoin Gold, and Bitcoin Cash, as well as NFTs and other types of assets |
| Claimed Success Rate | Not specified |
| Available on Mobile? | Mobile application not available |
| Fees | No deposit fee, withdrawal fee, trading commissions, or any hidden fee |
| Customer Support | Accessible to those who register |
| Withdrawal Speed | Up to 24 hours, depending on the mode of payment |
| Minimum deposit | $250 to start trading |
Cryptocurrencies are unregulated. Trading with unregulated brokers will not qualify for investor protection.
What is Immediate Profit?
Being informed allows users to navigate the market properly, and learning about crypto is equally crucial - that's what Immediate Profit says in its advertising copy. It pivots away from the standard auto trading platforms and instead chooses to provide an information-focused platform that:
Teaches people the ropes of crypto trading
Allows them to buy and sell top digital assets
Has an NFT marketplace that people can engage with
However, getting access to any of these features requires depositing the minimum amount - of $250. That is why we are not sure about the quality of these features - or if they are even present.
When it comes to cryptocurrencies, Immediate Profit promises to offer most top ones available in the market, including Bitcoin, Ethereum, Litecoin, Bitcoin Cash, Dash, and more. Traders can apparently use a demo trading account before putting in any real money, but that feature is also locked behind the deposit requirement.
While having ample information to hedge against the crypto market's volatility is good, we aren't sure about the features available on Immediate Profit. Much of the information is hidden, and customer reviews are few. Therefore, we recommend that our readers do their due diligence before using this platform.
Immediate Profit Pros and Cons
Here are the pros and cons of Immediate Profit.
Pros
Claims to offer ample educational resources to teach novices about cryptocurrencies
Advanced trading tools are present - according to the website
NFT trading facilities available
Support for multiple cryptocurrencies as well
Claims immediate withdrawals
Cons
Not much information about the nature of the tools available on the platform
The identity of the makers of the website is not known
A deposit of $250 is required to start trading - which might be a bit much for an untested site
How Does Immediate Profit Work?
Looking at the advertisement copy will make you believe that Immediate Profit works as a traditional crypto trading site. Like exchanges, it also claims to have advanced trading tools and indicators that people can use to predict the price of an asset. It also claims to have a feature similar to social platforms, through which people can trade after learning from the community.
From the looks of the advertising copy, it doesn't seem like Immediate Profit features standard AI crypto trading bots that facilitate hands-free trading. Many experts say that hands-on trading is much better since simple market fundamentals can move the crypto market as much as the community sentiments do.
As we already mentioned, Immediate Profit seemingly includes a "Demo" account where traders can practice their skills and tweak their trading strategies before trading in real time with real assets. It is another factor that might help investors win big in the market.
That said, we could neither confirm these features' quality nor their existence because of the mandatory deposit requirement. However, we can say this live trading platform has made it easy to sign up - but that can be seen as a phishing attack by many.
So, we recommend doing your own complete research before checking out this platform. Crypto trades are extremely volatile, and even if these features are available on Immediate Profit, it is not a guarantee that you will generate any profit - immediate or otherwise.
Immediate Profit Key Features
Here are the key features that Immediate Profit has vaguely highlighted on the official website.
Advanced Trading Tools
The cryptocurrency market's volatility can be circumvented using the right advanced trading tools. These features can give you precise information about the market and, through indicators, help you predict the price. Immediate Profit claims to provide a host of these tools to make trading more strategic for its members.
Educational Resources
Since Immediate Profit claims to be an information-focused platform, similar to what we have seen with Immediate Granimator, users may be able to get a host of reading materials and tutorials before they start trading.
NFT Trading
Immediate Profit doesn't call itself a crypto trading platform but rather a "general trading platform", which unchains it to offer other trading facilities for assets like NFTs. The site claims that users may be able to set bidding for their NFTs or sell them directly. Buying NFTs is also apparently possible on this platform.
Support for Multiple Cryptocurrencies
Immediate Profit claims to support multiple cryptocurrencies, including Bitcoin, Bitcoin Cash, Ethereum, Ethereum Classic, Dash, Litecoin, Bitcoin Gold, and other crypto assets. While the exact number is unavailable, Immediate Profit claims that all is revealed once a user creates an account.
Instant Deposits and Withdrawals
Thanks to Immediate Profit's self-proclaimed instant transaction feature, investors may be able to withdraw and deposit instantly. Users can make a deposit using standard fiat modes. Crypto payments may also be supported, but there are few customers reviews attesting to that claim.
Cryptocurrencies are unregulated. Trading with unregulated brokers will not qualify for investor protection.
Immediate Profit Account fees
Immediate Profit has explicitly said that no fee is required to start using the platform other than the initial deposit. It has also stated that there are "no withdrawal fees or hidden costs whatsoever." However, the platform isn't clear on how much the commission on Profit is. It might not be present, but it can also be revealed once you create an account. Immediate Profit stated that the account manager assigned to you might ask for a nominal fee.
| | |
| --- | --- |
| Trading Fee | None |
| Account Fee | None |
| Commission | Information not available; the account manager might ask for a nominal fee |
| Withdrawal/Deposit Fee | None |
Immediate Profit Minimum Deposit
To start trading on Immediate Profit, its reportedly necessary to deposit $250 although that may be subject to change. In its FAQ section, Immediate Profit stated that the deposit requirement fully activates that account and unlocks all its features, then is used as the principal capital to trade with rather than being a fee.
Immediate Profit Compatible Devices
Immediate Profit is a web app, which means it can be accessed through multiple devices. We tested it by opening the official website on our Android and Apple phones as well as desktops, laptops, and tablets. We found that the site was running fine on all devices. We could see all the icons, and the sign-up button was easy to interact with.
Is Immediate Profit a Scam?
Keeping all of these facts in mind, can we answer whether Immediate Profit is a scam or legit?
The lack of information doesn't allow us to do so. The official website looks great. It can use all the colors to make it visually appealing, but when we got down to the content available - we couldn't find anything.
Immediate Profit has chosen to be very vague about the information it is willing to deliver. It has simply stated that it offers cryptocurrencies and Asset trading - NFTs are being counted as assets on the official websites. However, it doesn't discuss the tools that have been made available for the users to trade.
That said, much of the information is open-ended - which means Immediate Profit knows that it is being less transparent when it comes to information and leverages it to invite people to log in and know more.
The Immediate Profit Trustpilot page has a 3.6 out of five stars rating. The two reviews that are given there are mostly positive. However, since only two reviews are present, we didn't have a massive frame of reference to see if these reviews are legit.
Another issue is the lack of information on the platform's developers. Immediate Profit has repeatedly hinted at a "team" but has not expanded upon it, which may be a cause for concern for those who are looking for more transparency.
Therefore, we recommend interacting with this platform only after you are fully committed to taking the risks of crypto trading.
Immediate Profit Customer Support
Immediate Profit does offer robust customer support, but it is only reserved for those who sign up. That said, there is a Contact Us button given on the official home page, but it only is an extension of the registration button - and serves the same purpose. The reviews have stated that the customer support team is ready to help 24/7, which is good news since crypto trading can be complex for beginners.
How to use Immediate Profit?
After fully assessing the site, if you still feel like Immediate Profit delivers the services you are looking for, take the steps below to get started.
Step 1 - Visit the Immediate Profit Website
Go to Immediate Profit's official website and enter your first name, last name, email, and phone number. Click on "Learn More," and your account creation process will begin. The platform says that you will receive a confirmation link, clicking on which your account will be verified.
Step 2 - Make the Minimum Deposit
Now, deposit the minimum amount - $250 - using any of the listed methods given on the platform. You can use debit cards, credit cards, or eWallets to do this job.
Step 3 - Start Trading on Immediate Profit
Once you have created an account, you can start live trading. We recommend checking out the demo trading account first to get the hang of the tools available.
How to Delete an Immediate Profit Account?
There is no information available about how to remove an Immediate Profit account. You can talk to the customer support expert and submit an account termination request there. But we recommend checking out your account settings as well and see if there is a "Delete Account" button there somewhere.
Do Celebrities Support Immediate Profit?
Immediate Profit doesn't have hands-free tools. It supposedly offers live trading that you can only engage in after you learn much about cryptocurrencies. Therefore, there seems no reason for it to be supported by celebrities - despite what the rumors say. That said, there are still many who state that Immediate Profit is supported by the likes of Elon Musk, which is not true according to our research.
Who is the Founder of Immediate Profit?
Immediate Profit has not provided any information about who the founders of these platforms might be - although it has hinted at a team. But the names and occupations of those members are still not available anywhere. We also searched social media platforms for this purpose and came up with nothing. It can be seen as a red flag, but as cryptocurrency trading has been big on anonymity, it may be legit too. But be careful and remember to research the platform thoroughly before trading.
Immediate Profit Payment Modes
You can use the following payment methods to make a deposit on Immediate Profit.
Debit cards
Credit Cards
eWallets
The Verdict
Immediate Profit claims to be a straightforward live trading platform that facilitates traders by providing them with educational materials and advanced trading tools. However, there is not much information available on what these tools might be. None of these facilities are available for testing without depositing the minimum amount, and the customer reviews of this platform are few.
Therefore, we recommend only checking out this platform if it meets your trading requirements. Click the link below to learn more about it.
Cryptocurrencies are unregulated. Trading with unregulated brokers will not qualify for investor protection.
Immediate Profit FAQs
What is Immediate Profit?
Immediate Profit is a trading platform that claims to offer crypto and NFT trading facilities using advanced trading tools that teach novices about crypto trading to make their investments successful.
Does Elon Musk endorse Immediate Profit?
Elon Musk is one of the many names that have been rumored to be associated with Immediate Profit. We found those rumors to be false since they can't be substantiated using actual evidence.
How to start trading on Immediate Profit?
To start trading on Immediate Profit, one needs to make a deposit of $250. It is the required money you need to fully activate your account and start trading on this platform.

---