Immediate Bitcoin Review - Scam or Legitimate Trading Software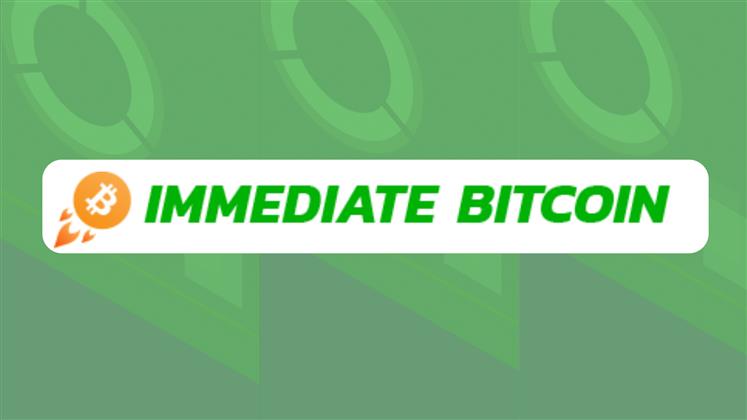 Disclaimer: The text below is an advertorial article that is not part of Cryptonews.com editorial content
When it comes to engaging in Bitcoin trading, there is a wide array of platforms to choose from, making it easy for users to select and begin using one. However, it is often after they have already started using a platform that they begin to uncover its negative aspects, which can be problematic as it may be too late to address these issues. Presenting itself as a reliable solution for traders, Immediate Bitcoin claims to be a reliable platform where investors can trade with confidence and peace of mind.
In order to determine the authenticity and safety of Immediate Bitcoin, it is crucial to thoroughly evaluate the available information about the trading platform. This article aims to provide a comprehensive review, analyzing various aspects to arrive at a final rating indicating whether the platform can be considered trustworthy or not.
Immediate Bitcoin Summary
These are some essential features to know before delving further into the specifics of the Immediate Bitcoin platform:
| | |
| --- | --- |
| Supported Crypto | Bitcoin, Ethereum, Litecoin, Ripple and more |
| Success Rate | Claims 90% - not verified |
| Available on Mobile? | Mobile responsive web trader |
| Fees | None |
| Customer Support | 24/7 |
| Withdrawal Speed | Up to 24 hours |
| Minimum deposit | $250 |
Cryptocurrencies are unregulated. Trading with unregulated brokers will not qualify for investor protection.
What is Immediate Bitcoin?
Immediate Bitcoin describes itself as a beginner-friendly Bitcoin trading platform. However, while there is information on the homepage about cryptocurrencies, there is not much detail on how Immediate Bitcoin works - no backtesting data has been provided.
The Immediate Bitcoin website claims to be a safe and secure auto-trading platform, aiming to attract users looking for an easier and less time-consuming way of trading. Immediate Bitcoin states it offers users the opportunity to engage in trading with multiple cryptocurrencies, including popular options like Bitcoin and Ethereum.
The Immediate Bitcoin platform does not discriminate based on trading expertise or experience, catering to both novice and expert traders alike. It reportedly provides a range of tools and resources, such as online charts displaying the historical prices of various coins. This, however, is part of a set of features that can only be accessed after registering as a user.
Regarding security and safety, Immediate Bitcoin does not require traders to provide Know Your Customer (KYC) information. The platform claims it operates using advanced algorithms and crypto trading bots that swiftly scan multiple financial trade sources, ensuring that traders can access the best deals ahead of competitors.
Immediate Bitcoin Pros and Cons
Pros
No KYC required
Multi-asset platform
Highly secure
Offers demo trading
Quick withdrawals
Cons
Customer service can be slow
No dedicated mobile application
How Does Immediate Bitcoin Work?
To get started, prospective traders need to create an account on the platform, ensuring they choose a strong password to protect their information. It is important to note that all submitted details will undergo a verification process to ensure the security and integrity of the platform, granting users permanent access once their information is verified.
One notable feature is the minimal user involvement required. Once funds are added, the platform's automated trading system takes over, allowing users to carry on with their daily activities without needing to actively participate in the trading process. The platform's automated trading system reportedly operates by constantly monitoring the market and executing trades on behalf of users. This eliminates the need for users to closely follow market trends and make trading decisions themselves.
The Immediate Bitcoin platform claims to simplify trading by enabling users to initiate trades with just a few clicks, making it accessible even to those with limited trading knowledge. To get started, users are required to make a minimum deposit of $250. As users' account balances grow, they have the flexibility to withdraw their profits or reinvest their capital based on their individual preferences and market conditions.
Immediate Bitcoin Key Features
Highlighted below are the key features that are likely to capture users' interest and encourage them to register on the platform, fostering ongoing trading activities:
Rapid Withdrawals
Immediate Bitcoin distinguishes itself by prioritizing its reputation and offering an automatic and immediate payout feature. This feature significantly enhances the accessibility and satisfaction of users' earnings. When a live trading session is activated, the auto payout functionality precisely calculates the earnings.
Users' funds can then be credited to the associated local bank account directly. Numerous users have expressed high levels of reliability and trust in this method, further establishing it as a valuable and integral component of the Immediate Bitcoin platform.
High Security
Immediate Bitcoin supposedly features a swift, user-friendly, and highly secure verification system, providing users with peace of mind regarding the protection of their data and funds. To enhance security, new users are prompted to create a strong password, which plays a vital role in authenticating subsequent account activities, effectively distinguishing between legitimate and fraudulent actions.
It's worth noting that Immediate Bitcoin emphasizes the importance of this verification process, especially in the absence of Know Your Customer (KYC) requirements. The platform's commitment to maintaining a high level of security ensures a seamless and efficient trading experience, as mentioned on the website.
24/7 Customer Support
Users often encounter challenges or inquiries during their interactions with trading platforms, and having a robust support system is essential. To cater to this need, Immediate Bitcoin has established a dedicated customer support portal, enabling registered users to easily reach out for assistance. This proactive approach ensures that users can receive prompt and effective support, resolving any concerns they may encounter while using the platform.
Auto-Trading Feature
Many traders have full-time jobs but seek additional income due to insufficient earnings. However, managing multiple responsibilities makes active trading and manual deal evaluation challenging. To address this issue, Immediate Bitcoin offers an auto trade tool that eliminates the need for manual trading and reduces inconveniences. Traders of all levels can use this feature to generate daily profits effortlessly. The platform's user-friendly design further simplifies the buying and selling of Bitcoin and other cryptocurrencies.
Immediate Bitcoin Fees
The Immediate Bitcoin site claims to offer a fee-free trading model, enabling users to conduct trades on the platform without any charges. However, a commission is applied to profitable trades to cover operational expenses. The commission amount, which can vary based on the customer's geographic location, is set at 2%. However, Immediate Bitcoin does not charge any amount of money if the trade ends up being a loss for the trader.
| | |
| --- | --- |
| Trading Fee | None |
| Account Fee | None |
| Commission | 2% |
| Withdrawal/Deposit Fee | None |
Cryptocurrencies are unregulated. Trading with unregulated brokers will not qualify for investor protection.
Immediate Bitcoin Minimum Deposit
To unlock the full range of exclusive features and products on the platform, an initial deposit of $250 is required, as mentioned earlier. It's not clear if the same amount will be the minimum requirement for deposits after the initial deposit as well.
Immediate Bitcoin Compatible Devices
Upon reviewing the platform's claims, it is important to note that Immediate Bitcoin does not offer a dedicated mobile application for trading. However, there are various devices through which users can easily access Immediate Bitcoin. These include:
Mobile (online browsing)
Laptops
Desktop
iPads and Tablets
Is Immediate Bitcoin a Scam
It is challenging to determine Immediate Bitcoin's legitimacy due to several discrepancies observed on the crypto trading platform. One major concern is the lack of prior information available before depositing funds, which should ideally be provided to users.
Additionally, Immediate Bitcoin does not offer any social media handles or alternative contact methods before making the minimum deposit of $250. The platform claims to possess reliable Bitcoin trading features but fails to provide concrete evidence to support these claims. Due to the limited information and data available to verify its authenticity, a comprehensive assessment of Immediate Bitcoin's legitimacy becomes difficult. Users are strongly advised to exercise caution if they are considering trading on the platform.
Immediate Bitcoin Customer Support
Immediate Bitcoin offers customer support services, although contacting their customer service team before becoming a registered member can be a challenge. However, once users complete the registration process and deposit the minimum amount of $250, they can gain easy access to the dedicated customer support team. It is worth noting that according to reviews from various sources, the response time of Immediate Bitcoin's customer support may be slower than desired.
How to Use Immediate Bitcoin
If you've decided to open an Immediate Bitcoin account, the steps are:
Step 1 - Visit the Immediate Bitcoin Website
To begin your trading journey, navigate to the official Immediate Bitcoin website. Sign up by providing your email and phone number. The registration process is straightforward, and additional verification steps will follow.
Step 2 - Make the Minimum Deposit
Proceed to make the minimum required deposit, which is $250, to start using the platform. You can conveniently use standard payment methods like debit or credit cards to complete the deposit. We recommend starting with a minimum deposit and testing out the withdrawal process early on to ensure it works as described.
Step 3 - Start Trading on Immediate Bitcoin
Once your account is funded, you can begin trading on the Immediate Bitcoin platform. It is advisable to start by utilizing the demo account, as it allows you to assess the platform's win rate and familiarize yourself with the trading process before engaging in live markets.
How to Delete an Immediate Bitcoin Account
Deletion of an account is something that isn't mentioned anywhere on the website. While some other review websites state that one can access the main menu to delete the account permanently, we would suggest traders get in touch with customer support for better guidance.
Do Celebrities Support Immediate Bitcoin?
No, we didn't find Immediate Bitcoin to be associated with any celebrity figures or prominent investors. So it would be wise to assume that this is nothing but a rumor.
Who is the Founder of Immediate Bitcoin
The founder of the Immediate Bitcoin platform is not explicitly mentioned on the website. Although the platform provides substantial information about cryptocurrency trading, there is a lack of insightful details about the platform itself, including the identity of its creator.
Its not clear if the platform is related in any way to other tools with a similar name, such as Immediate Connect.
Payment Methods on Immediate Bitcoin
There are a variety of payment methods that can be used by traders to fund their Immediate Bitcoin accounts. As per the website, the available options are credit/debit cards, e-wallets, bank transfers and some third-party payment platforms.
The Verdict
This Immediate Bitcoin review attempted to cover all available information on the features of the platform. Due to a lack of online presence and limited information on the website, it may be challenging to provide an accurate verdict that demonstrates the platform's authenticity. As a result, investors are encouraged to conduct their own research before joining the platform.
Cryptocurrencies are unregulated. Trading with unregulated brokers will not qualify for investor protection.
Immediate Bitcoin FAQs
Is there a customer support service available on the Immediate Bitcoin site?
Yes, customer support is supposedly available on a 24/7 basis on Immediate Bitcoin. However, only registered users who have made the minimum deposit on the platform can access this service.
What is the claimed accuracy rate of the Immediate Bitcoin trading platform?
The Immediate Bitcoin platform asserts an accuracy rate of 90% on its website. However, it is important to note that no verifiable evidence is presented to substantiate this claim.
---