5 Best Crypto Exchanges in 2022
Disclaimer: The text below is an advertorial article that was not written by Cryptonews.com journalists.
Crypto is mainstream today. Most investors have at least a few cryptocurrencies in their portfolios. Crypto exchanges help meet the rising demand for these digital assets. Over the years, they have grown to accommodate new features, services, and products. If centralized exchanges dominated the market in the early phases, decentralized exchanges play a significant role in maintaining liquidity today. While some exchanges offer competitive fees and sophisticated tools, others excel in speed and performance.
We have compiled a list of the top crypto exchanges in 2022 and how they can step up your crypto investment strategy.
What are the Best Crypto Exchanges
AQRU: Best crypto exchange with low fees
DeFi Swap: Top DEX for DeFi users
eToro: Beginner-friendly exchange
Binance: Crypto trading simplified
Crypto.com: Best mobile-based crypto exchange
Top Crypto Exchanges Reviewed
Whether you are a new user just getting acquainted with the crypto industry or an experienced trader looking for advanced services and tools, we will help you find the best crypto exchange that suits your requirements. In this article, we take a detailed look at the five top crypto exchanges listed above. We go through their fee structure, payment methods, security systems, and allied services among other key features.
Let's dive in!
AQRU: The best crypto exchange with low fees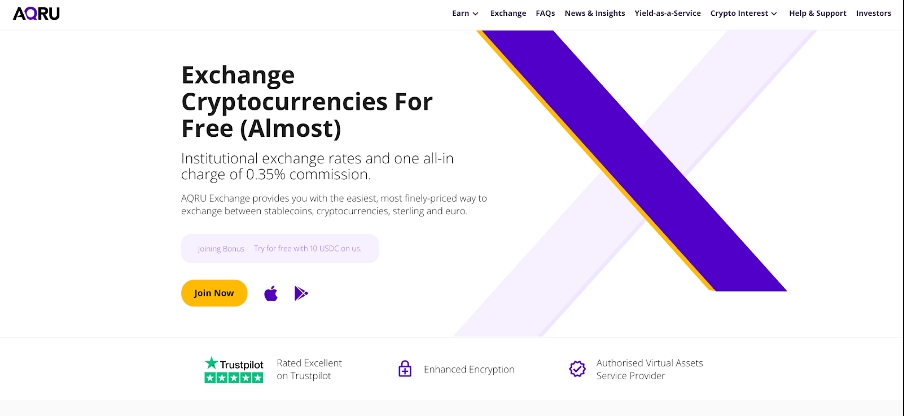 AQRU tops our list of the best crypto exchanges this year. The platform is known for its low fee structure, which allows you to trade cryptocurrencies for (almost) free. AQRU not only makes crypto investments more affordable, but also gives more flexibility to traders. Since the transaction fees are cheap, you can get in and out of your positions with relative ease. As a result, AQRU has emerged to become a favorite among both experienced and new investors. Apart from an exchange, AQRU also serves as a crypto yield platform.
Cheap, transparent pricing
AQRU charges a single 0.35% commission on each exchange transaction. Unlike most crypto exchanges, the platform's fee structure is not based on tiers. Neither does it charge any hidden fees.
It is interesting to note that AQRU charges no fees on buying cryptocurrencies like BTC, ETH and USDC, when investing into one of their interest accounts. All deposits into AQRU are free of cost too, with the exception of a small fee for credit card transfers. You can add funds to your account on the platform through a variety of payment methods including crypto transfer, bank transfer, and credit card. There is no extra charge for keeping balances that exceed a predefined amount when you're staking your assets. This will save you a lot of money if you're a large-volume trader.
Crypto withdrawals on AQRU amount to a flat fee of USD 10 for Bitcoin, and USD 20 for other cryptocurrencies. But if that sounds like a lot, you can opt for fiat withdrawals instead. They are completely free of cost.
Institutional exchange rates
AQRU features institutional exchange rates, making crypto trading more lucrative for retail investors and traders. It gives you fine rates, with no padding. That is, cryptocurrencies are offered to you at the same rate AQRU procures them from its providers.
No clutter or distractions
One of the key features that have contributed to AQRU's mass appeal and high retention rate is its focus on user experience. Both the website and the mobile application are straightforward, clean, clear, and responsive. Getting started on the platform is fast and simple. The theme is easy on the eye and functional, letting you find each service and tool without going through any hassle.
Earn with crypto
As discussed above, AQRU offers one of the best yield services in the industry. It lets you earn passive income on your crypto assets like BTC, ETH and USDC. Currently, it offers up to 7% interest. In the highly volatile crypto market, the notion of locking your assets can sound dreadful. You can't be blamed, as the commitment can sometimes lead to massive losses. AQRU offers an excellent solution with its flexible lock-in terms. The majority of interest accounts on AQRU don't have a definite lock-in period. You can withdraw the assets at any time you want to, with just 24 hours' notice.
AQRU updates the interest rates from time to time depending on the changing market conditions. Another interesting feature is that AQRU pays the interest daily, tracked to the second.

Robust yield generation strategies
AQRU follows sustainable yield generation strategies to give consistent returns to investors. The team analyzes the market and distributes the pooled assets to institutional and retail borrowers as well as DEXs. The profits made from these methods are then circulated back to investors in proportion to their deposits. Moreover, the yield generation strategies have to go through a stringent risk management process before going live.
Advanced security measures
AQRU features some advanced security measures to protect funds deposited on the platforms. For example, it has integrated the latest Multi-Sig technology from Fireblocks for wallet protection. It also has an insurance plan in place to protect the funds sent to decentralized exchanges against hacking. It is an authorized Virtual Assets Service Provider that follows financial responsibility standards.
At present, you can trade a few stablecoins and cryptocurrencies like Bitcoin (BTC), Ethereum (ETH), DAI, Tether (USDT), USD Coin (USDC), Dogecoin (DOGE) and a number of other altcoins, along with sterling and euro on AQRU. It will extend support to more currencies in the coming weeks.
DeFi Swap: Top DEX for DeFi users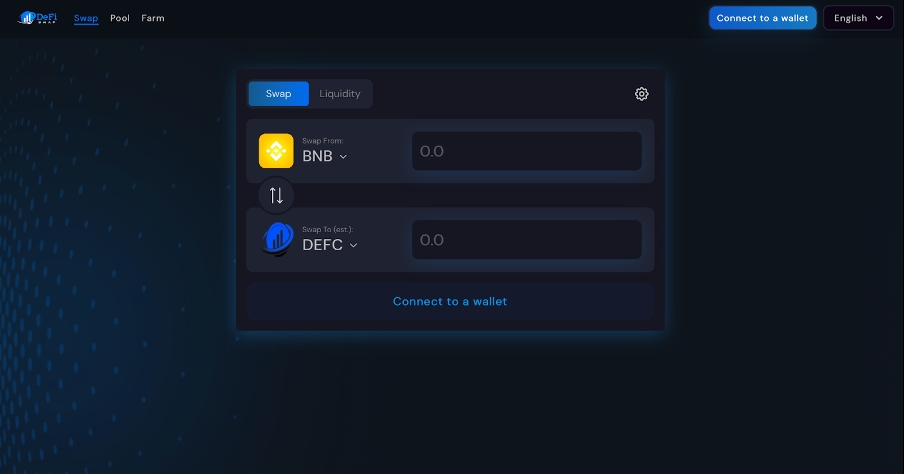 DeFi Swap is one of the best DEXs in the market. DEXs stands for decentralized exchanges. These cryptocurrency exchanges allow you to directly transfer cryptocurrencies with other users online, without relying on a centralized platform or an intermediary. With the rise of DeFi, they have become incredibly popular. As the DeFi ecosystem grows with new technologies and innovation, the demand for DEXs is also expected to grow. DeFi Swap enters this market with some unique value propositions.
DeFi Swap lets buyers and sellers trade digital currencies directly with other market participants instead of having to go through a centralized third party. The token exchanges are conducted using automatic liquidity pools. The DEX is powered by DeFi Coin (DEFC), a community-driven crypto token that has a three-pillar system against market volatility. The three functions of the system are static rewards, automatic liquidity pools, and a manual burning strategy.
Passive income opportunities
The V1 version of DeFi Swap comes with a framework that allows the farming and staking of digital assets. This means you can earn interest on the cryptocurrencies you hold. The platform plans to support a wide range of tokens from multiple blockchains, including both large-cap tokens with high liquidity and emerging tokens that show great growth potential.
If you wish to earn passive income on your digital asset holdings, you can add them to the automatic liquidity pools on DeFi Swap. The exchange promises above-average market yields during the period the tokens remain in the pools. You can also target staking rewards by locking your assets for a fixed number of days for blockchain validation.
Advanced analytic tools and resources
Successful crypto traders use high-end analytic tools to hone their strategies. DeFi Swap V2 features some advanced tools to help users with that. The technical analysis tools will help traders forecast the direction of the market and individual assets. The suite will come with many technical indicators and charting tools as well.
The DeFi Coin website also publishes articles and the latest news that concern the crypto and DeFi markets throughout the day. You can follow the platform on Twitter to get the updates. Going forward, it will publish market insights and analysis in video format to attract more users. They will give you an insight into the market conditions and various projects along with other relevant information.
Another key highlight is webinars, keeping in line with the above missions. However, this will be two-way, unlike analysis videos. You can ask questions to seasoned traders, investors, and analysts to step up your strategies. And in V3, the platform will feature research materials, forums, crypto signals, interactive charts, market data, and podcasts.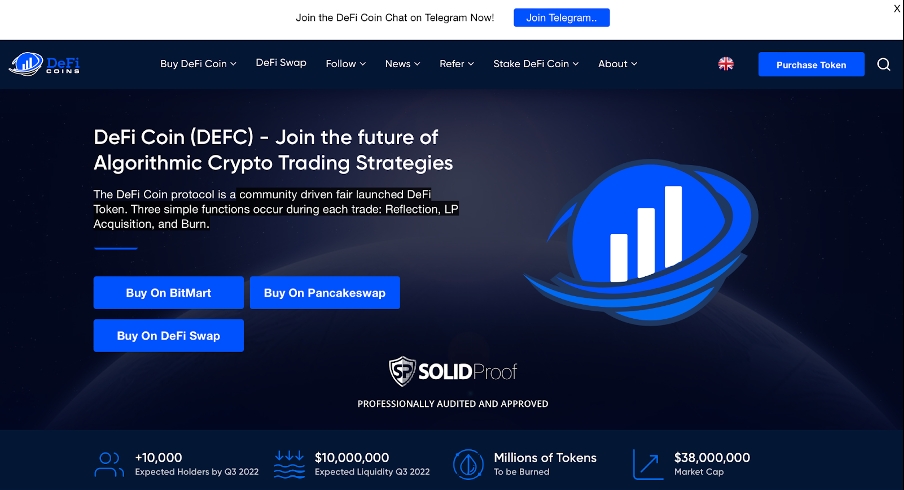 Static rewards
Most early-stage investors tend to dump their tokens once they go live on exchanges. The DeFi Coin protocol protects its native cryptocurrency from this threat by implementing a static reward system. It incentivizes long-term holders with dividends and disincentivizes short-term holders with a 10% tax. When you sell DEFC, you need to pay the protocol 10% of the total amount as tax. 5% of this tax is then distributed among existing holders.
Manual burning strategy
DeFi Coin ecosystem also follows a manual token burning strategy where tokens are bought back by the protocol after consultation with the community. This helps reduce the circulating supply and increase the value of the token without hindering liquidity.
eToro: Beginner-friendly exchange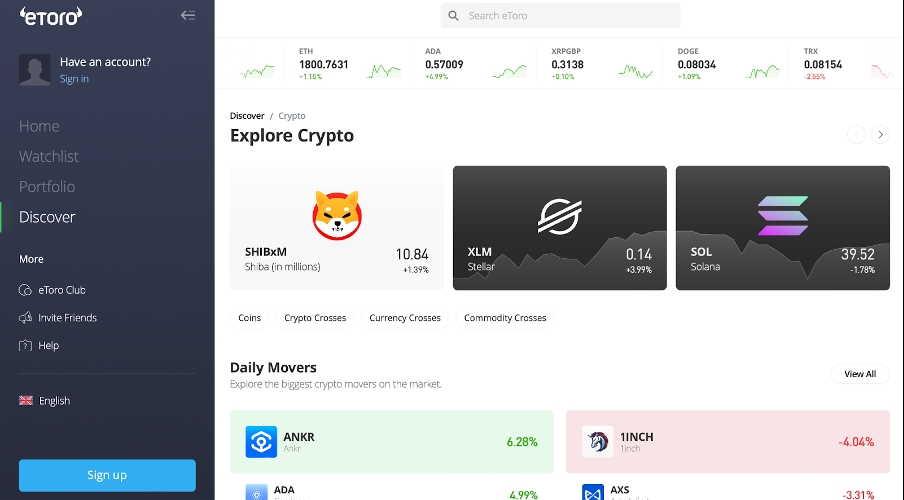 Next on our list of top crypto exchanges is eToro. It introduced social trading and copy trading to the crypto market. Here, new traders can learn and apply the trading strategies of experienced investors. On the other hand, professional traders can use this as a means to earn a passive income. This feature has made eToro popular among crypto investors. In the highly volatile crypto market, eToro encourages more users to take their dive into the market. As a result, eToro is considered one of the best crypto exchanges for beginners.
eToro currently supports more than 40 popular crypto assets, including Bitcoin (BTC), Bitcoin Cash (BCH), Polkadot (DOT), Polygon (MATIC), Solana (SOL), Cardano (ADA), Dash (DASH), Dogecoin (DOGE), Ethereum (ETH), and Litecoin.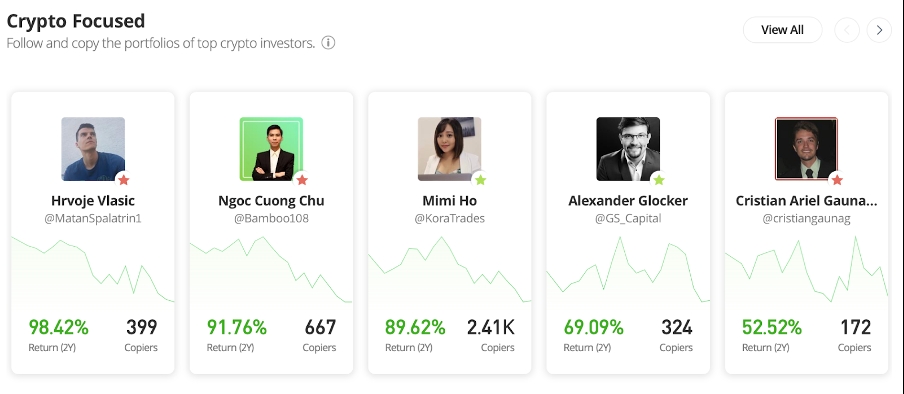 Transparent fee structure
eToro charges a single fee of 1% when purchasing and selling cryptocurrencies. The fee is added to the market price of the token. You get a preview of the fee when entering or exiting a position. It is calculated based on the Bid-Ask spread from eToroX, the project's Distributed Ledger Technology (DLT) licensed trading platform, affiliated with eToro EU and eToro AU.
Excellent user experience
eToro application is user-friendly. It caters to all users, regardless of their technical know-how. The social trading feature further helps bring down the barrier to entry.
Multiple layers of security
eToro has implemented multiple layers of protection against hacks and theft. This includes a cold storage Custody as a Service solution that encourages users to hold their crypto assets offline. You can also install two-factor authentication (2FA) to block unauthorized entry to your account.
Binance: Crypto trading simplified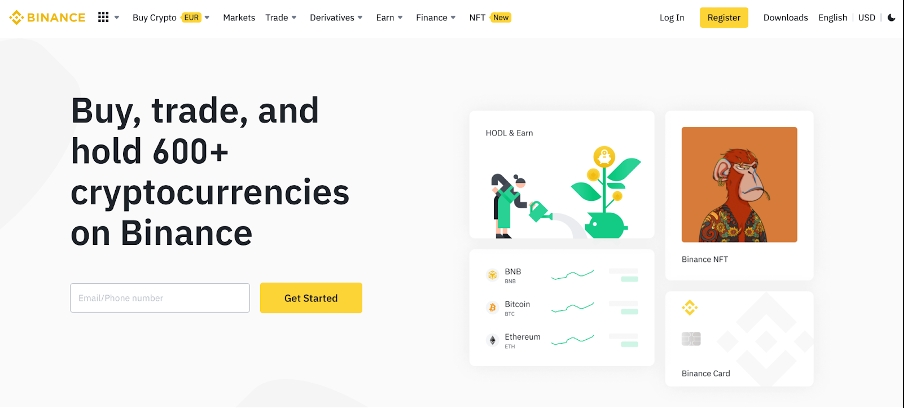 Binance is one of the biggest crypto exchanges in the world, with more than 90 million registered users. The platform is known for its cheap transaction fees, board collection of assets, and allied crypto services like staking, derivatives trading, margin trading, and NFT exchange. Besides, the platform is designed to cater to all users, whether they are looking for methods to purchase cryptos or advanced tools to fine-tune their trading strategy.
Low fees
Binance follows an affordable fee schedule that is updated on the website from time to time. The standard trading fee is 0.1%. However, if you're trading in BNB, it can get you additional discounts. The fee structure varies for spot trading, margin trading, futures trading, and NFT exchanges.
While you can make deposits to the platform free of cost, withdrawals are chargeable. The fee is determined dynamically, depending on multiple factors.
User experience
Binance is accessible on both mobile and web. Both applications are excellent in terms of user experience with a wide range of tools and functionalities. You can switch to Binance Pro to access advanced trading resources, including real-time charting tools. It also allows hassle-free portfolio management. You can view your account, assets, trades, and charts from the dashboard. Binance also regularly publishes educational content about the platform and the industry to help beginner users get on board.
Wide selection
Binance features more than 600 cryptocurrencies on its platform. You can access a diverse selection of trading options and order types if you switch to Binance Pro. It has also launched a platform to help discover premium NFT collections. The broad collection of assets and flexibility make Binance one of the best crypto exchanges.
Security measures
Binance features two-factor authentication (2FA), address whitelisting, and device management to add extra layers of protection to the deposits on the platform. However, the platform doesn't have a built-in digital wallet, despite its vast user base and reputation. It has also locked horns with authorities in many countries.
Crypto.com — Best mobile-based crypto exchange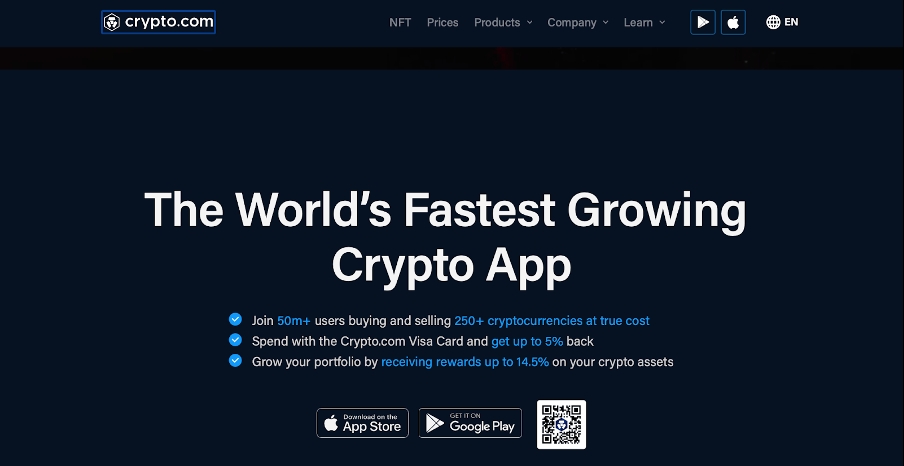 Next on our list of the best crypto exchanges is Crypto.com. The platform's key highlight is the variety of services it supports like trading, investing, staking, and storage among others. Most features, rewards, and discounts on Crypto.com are tier-based. The number of CRO tokens you have in possession determines your tier.
Fees and discounts
Crypto.com has a complex fee and discount structure. It charges trading fees based on your trading volume. The higher the trading volume, the lower the fees. CRO stakers get better discounts, the more tokens they hold. Another way to get discounts is to make your payments in CRO. While this is favorable to large-volume traders, it limits opportunities for low-volume traders. The condition adds the risk element attached to CRO volatility.
You can apply for a Crypto.com Visa Card, which can be topped up with both fiat and cryptocurrency, to get up to 5% back on all spending.
Great usability
Crypto.com is mobile-friendly. It helps traders keep track of their portfolio in a few clicks and gives a quick view of the assets, tools, charts, and resources. This is aimed at making crypto trading mainstream by attracting young and part-time traders. The mobile-first approach provides a seamless trading experience on the go.
The platform supports bank transfers and credit/debit cards. It is also compatible with more than 20 popular fiat currencies like the U.S. Dollar (USD), Australian Dollar (AUD), Canadian Dollar (CAD), Euro (EUR), and Pound Sterling (GBP).
Passive income opportunities
You can earn interest of up to 14.5% on your crypto holdings via Crypto.com's staking platform Crypto Earn. It supports more than 40 cryptocurrencies.
Good security measures
Crypto exchanges are prone to hacks and thefts, so it is important to employ multiple security systems. Crypto.com implements multifactor authentication and whitelisting to mitigate the chances of unfortunate incidents. In addition to that, it has USD 750M insurance coverage against these events.
Wrapping up
Listed above are the five top crypto exchanges that perform remarkably well in terms of usability, fee structure, payment methods, and security. Each of them brings something new to the market.
If you are looking for an overall best crypto exchange, our suggestion is AQRU. The key highlight of the platform is its transparent fee structure that makes crypto trading affordable. It comes with a staking platform where you can deposit your idle crypto holdings to generate attractive yields. They are paid daily and tracked to the second. Additionally, AQRU's advanced security measures make sure that your assets are in safe custody.
---