FTX (Re)Turns, BTC (Not)Moneyz, ETF (Un)Coming and 20 Crypto Jokes
This week in crypto, we had FTX: it was having initial talks with investors on bringing back the FTX.com exchange through structures such as a joint venture, the new FTX leadership team recouped approximately $7 billion in liquid assets, the exchange put a pause on the sale of its stake in the AI startup Anthropic, it was revealed that Sam Bankman-Fried had shot a tutorial video on cryptocurrency for MasterClass, and Sequoia Partner Alfred Lin claimed that the FTX investment was a correct decision at the time.
Meanwhile, Binance's powerful co-founder Yi He finally broke his silence amidst regulatory turmoil, and Binance overturned the restriction on privacy coins for European customers. KuCoin implemented a mandatory KYC procedure, Prime Trust was facing imminent closure as Nevada regulators moved to shut it down, and after abandoning the Prime Trust deal, BitGo eyed other acquisitions. MicroStrategy added an additional 12,333 bitcoin to its portfolio, the share price of Grayscale Bitcoin Trust reached a one-year high fueled by renewed ETF optimism, a new ETF backed by BTC futures and with 2x leverage is set to go live on Tuesday, and investment funds backed by digital assets saw their largest weekly inflows in a year.
As that was happening, the Bank of England suggested that CBDC 'Britcoin' may not rely on blockchain, and the Swiss Central Bank said it was launching a wholesale CBDC on the SIX digital exchange as part of a pilot. Canadian lawmakers recognized blockchain as an innovative industry with "significant, long-term" potential, Argentina's top financial regulator wanted to adopt the crypto regulations set out by the FATF, a South Korean court ruled that 'Bitcoin is not money' and 'interest rate rules don't apply' to business deals involving crypto, Russia's Supreme Court ruled that criminals' BTC-to-fiat trades can be considered money laundering, Japanese token issuers were exempted from corporate taxes on unrealized crypto gains, and the UK law commission called for a special legal framework for crypto as collateral. Robert F. Kennedy Jr. vowed to defend the US citizens' right to hold and use BTC, and the FCA head of digital assets Binu Paul left the organization less than a year after joining it.
In other news, Three Arrows Capital founders were facing a $1.3 billion recovery claim from the liquidators, a report found that BTC was falling out of favour among crypto criminals, Israel seized millions of dollars in crypto used to finance militant groups, three suspected Brazilian crypto fraudsters were detained while trying to flee to Argentina, and the infamous 2020 Twitter hacker, who phished thousands of dollars in Bitcoin, was sentenced to five years in prison.
In other other news, a hospital in Brazil became the first in the nation to accept crypto pay, a survey said that fifth of French workers would like to receive all or part of their salaries in crypto, Swiss banking giant Julius Baer Group decided to expand its crypto presence in Dubai, the NEAR Foundation and Alibaba Cloud joined forces to boost the Web3 development in Asia and the Middle East, and Warner Music Group and Polygon Labs joined hands to launch a music accelerator program. Then, Coinbase offered to lend $50 million to Hut 8, and Texas miners halted operations due to a heat wave and subsequent surge in electricity prices. Lastly, FC Barcelona partnered with World of Women to create an Alexia Putellas-inspired NFT, and Azuki NFTs lost value as investors criticized the 'identical' Elementals artwork.
And now, let's laugh at some carefully selected jokes.
__________
GM, CT! What's up?
__
No sweat at all.
__
Looking forward to that 40K.
__
The best advice ever. Thanks, god!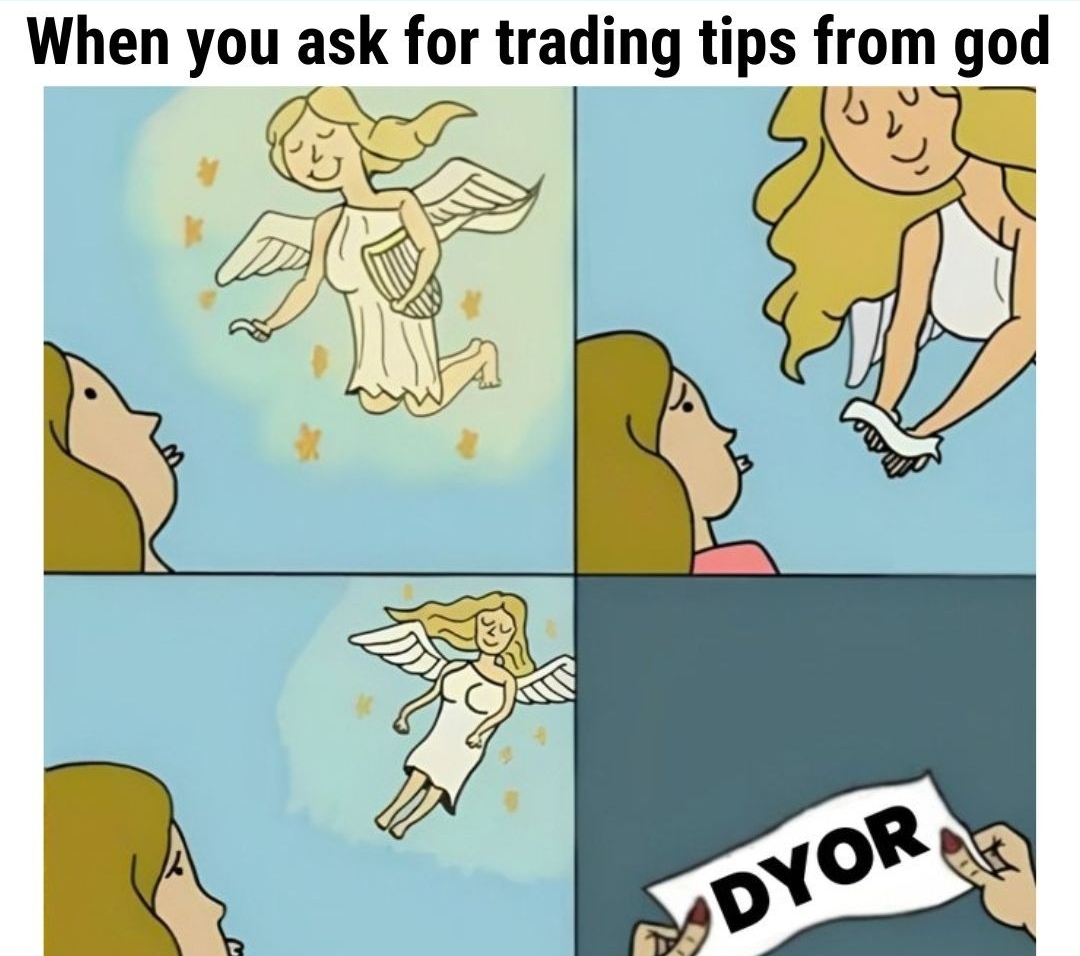 __
Which one are you?
__
Daaaaarrrn!
__
It's just a tiny bit of a small loss.
__
Let's check up on the sentiment this week.
__
Don't panic. First check: maybe it IS one of your spelling words papers after all.
__
👀
__
Well, that's a significant boo-boo.
__
You can trade banana and crypto at the same time.
__
Just need to say a very loud 'argh'. Good luck.
__
Welcome, you clever sonovabeesh!
__
Aaaand discuss.
__
Ooof.
__
Well, well well. How the turn tables.
__
That's what it's biologically there for.
__
Not. Even. Your. Bank. (Drops mic. Claps and 'whoooo' everywhere.)
__
And for the end, a documentary.
---