The Next Big Crypto – Top 14
Disclosure: Crypto is a high-risk asset class. This article is provided for informational purposes and does not constitute investment advice. By using this website, you agree to our terms and conditions. We may utilise affiliate links within our content, and receive commission.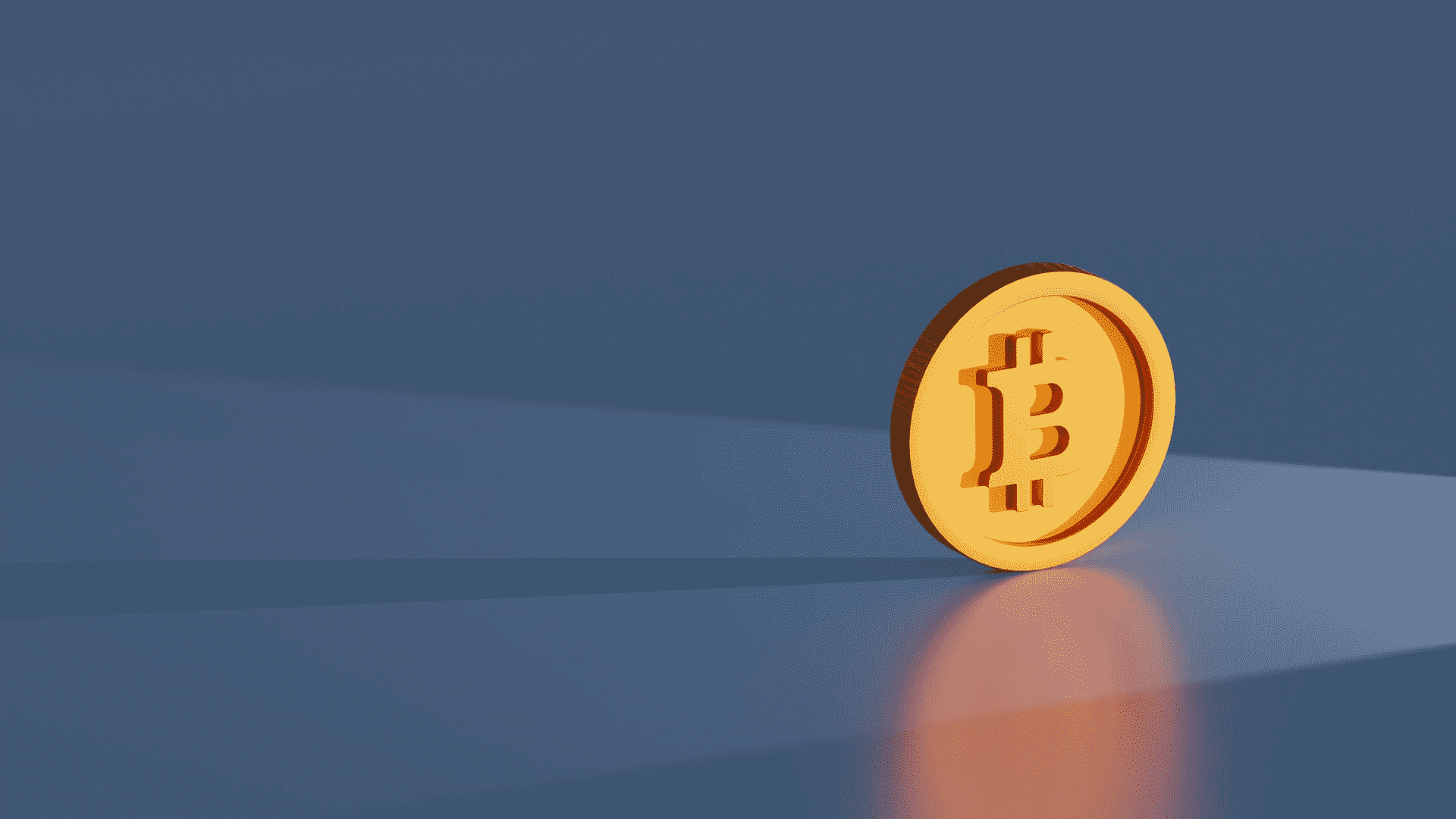 Disclaimer: The Industry Talk section features insights by crypto industry players and is not a part of the editorial content of Cryptonews.com.
The crypto market is constantly evolving, meaning that new projects spring up regularly that look to innovate and disrupt. Although this is undoubtedly a good thing, the sheer volume of new projects can sometimes make it challenging for investors to decide which offer high value potential – and which do not.
To help empower investors to make effective investment decisions, this article discusses the next big crypto contenders on the market right now. We'll also detail how investors can identify exciting new crypto projects before presenting a quick-step guide on how to invest in the next big crypto today.
The Top 14 Next Big Crypto Contenders 2023
Investors must understand which projects are trending on social media when looking for the next cryptocurrency to explode. If a project is trending, there's a chance that it could end up being the next big crypto coin – so it's wise to keep tabs on these projects, as many offer exceptional value potential. 
With that in mind, detailed below are a dozen trending coins that could become the next big cryptocurrency projects on the market: 
Bitcoin ETF Token (BTCETF) – Latest crypto presale based around the spot Bitcoin ETF approval by the SEC, with over 2,000% staking APY and close to $500k raised within the first week.
Bitcoin Minetrix (BTCMTX) – Exciting new crypto presale project that allows anybody to benefit from Bitcoin mining as the world's first stake-to-mine crypto project.
Meme Kombat (MK) – Meme coin project with unique utility as token holders can stake for 112% APY and earn tokens in the play-to-earn Battle Arena – over $100k now raised in its presale.
Launchpad XYZ (LPX) – Platform that offers valuable insights into market sentiments, reliable information, trading signals, and comprehensive evaluations for both novice and seasoned investors. $1.8 million raised so far. 
yPredict (YPRED) – With its AI-driven prediction models and various valuable resources, yPredict caters to the emerging algorithmic trading market. $3.9 million raised throughout presale. 
Chimpzee (CHMPZ) – An integrated ecosystem that is focused on immediately helping the environment while helping investors to earn an income. Already planted 20,000 trees and donated $15,000 to wildlife conservation. $1.35 million raised in presale. 
Scorpion Casino (SCORP) – Earn up to $10k in daily passive staking through casino revenues, which accelerate with increased adoption. The presale has now raised over $1m.
eTukTuk (TUK) – Green revolution for TukTuk drivers, brand new presale could be a hit in 2023 with an untapped driver demographic in developing countries. $60,000 raised so far.
Wall Street Memes (WSM) – Meme coin that offers staking and has huge potential after enjoying one of the best presales ever, raising more than $25 million. With a million-plus social media following, Wall Street Memes is now listed on multiple exchanges including OKX and Huobi.
Chiliz (CHZ) – The native token of the Socios platform, an ecosystem offering fan tokens created by sports teams, celebrities, and other entities.
Gala (GALA) –  A project aiming to revolutionize the blockchain gaming niche by offering a selection of games within one platform, all functional through the GALA token.
Aptos (APT) – A new Layer-1 blockchain network created by former Meta Platforms developers to process up to 100,000 transactions per second (TPS) and rival Ethereum.
Ripple (XRP) – Crypto focusing on payment processing, enabling cross-border transfers with low fees and near-instant finality.
Theta Network (THETA) – Decentralized video delivery network that helps solve bandwidth issues within the video-streaming sector. 
A Closer Look at the Next Big Cryptocurrency Coins
All the projects listed above have already generated substantial momentum on social media, with investors eager to see whether they can provide positive returns during the ongoing 'crypto winter'.
Let's take a closer look at each of these projects, covering the reasons why many market participants believe them to be contenders for the next big crypto to buy:
1. Bitcoin ETF Token – Latest Crypto Presale With Over 2,000% Staking APY And Up To 25% Token Burn Mechanics
Bitcoin ETF Token is a new token presale built around the spot Bitcoin ETF approval by the Securities and Exchange Commission (SEC). This includes token burn mechanics that will permanently remove up to 25% of the total token supply as events around the spot Bitcoin ETF approval unfold.
For example, 5% of the total token supply will be removed when the first spot Bitcoin ETF is approved by the SEC. Another 5% will be burned when such an ETF is launched, and three more milestones will remove an additional 15%.
Participate in the $BTCETF presale by connecting your Ethereum-based wallet to the token presale site and use ETH, USDT or card to buy as many tokens as you want.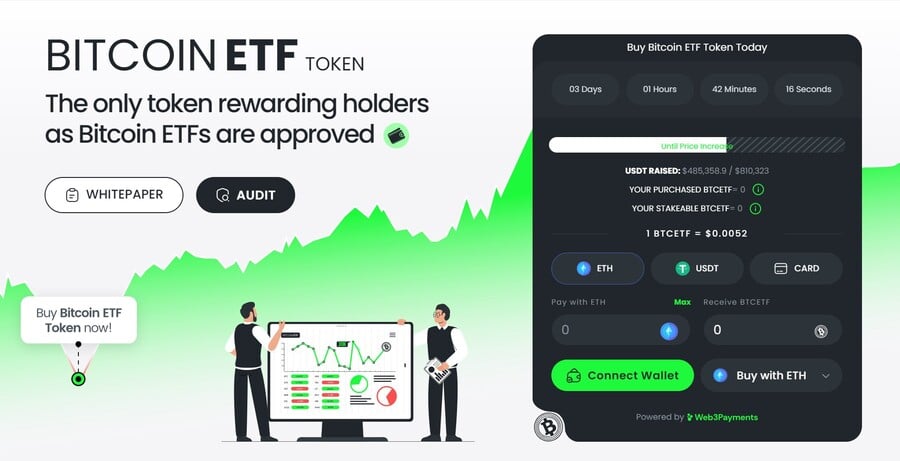 Early in the presale, the token price will be lowest starting from $0.0050 in the first presale stage. The more you wait to buy the tokens, the higher the price it will be, reaching to $0.0068 in the last stage of the presale. This makes it prudent to buy as early as possible if you want to participate in this project.
Thanks to the staking feature, you can earn more tokens by staking them. The APY in the early stages is 2,000%. However, this number will drop as more tokens are staked. Make sure to stake early if you buy $BTCETF tokens to maximize your potential rewards.
Follow Bitcoin ETF Token on X and join the Bitcoin ETF Token Telegram channel to learn more about the project and to get news updates on the spot Bitcoin ETF approval. Also, read the Whitepaper for more details. 
| | |
| --- | --- |
| Presale Started | 6 Noe 2023 |
| Purchase Methods  | ETH, USDT, BNB, MATIC and Card |
| Chain | Ethereum |
| Min Investment | None |
| Max Investment | None |
2. Bitcoin Minetrix – Exciting New Stake-to-Mine Cryprto Presale Offering BTC Mining and 9,000% APY
Bitcoin Minetrix ($BTCMTX) is a newly launched presale that could be the next big crypto as it is opening up Bitcoin mining to all.
Previously, Bitcoin mining has been a closed shop with only those that can afford powerful mining rigs and huge energy bills able to mine BTC, while cloud mining has been filled with scammers.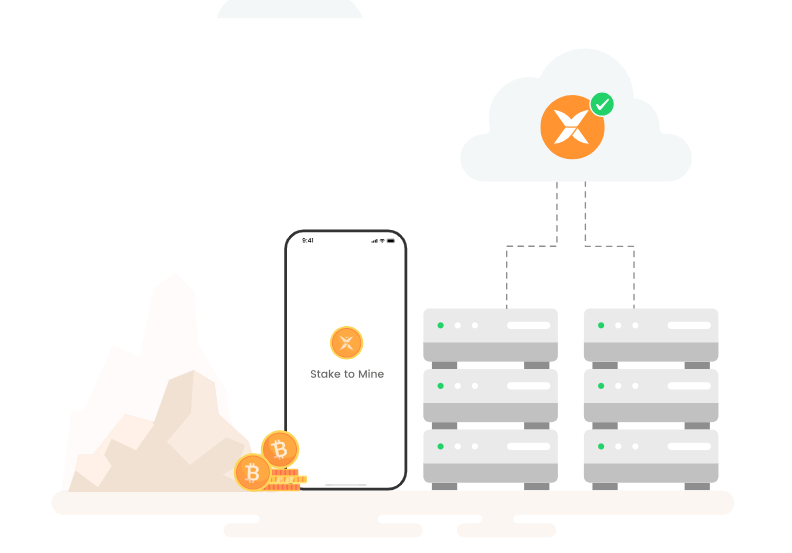 While the price of mining one Bitcoin is now estimated to be $42,000, Bitcoin Minetrix allows investors to join their ecosystem for just $10.
The protocol works by staking BTCMTX, which generates cloud mining tokens – they can then be burnt to earn allocated cloud mining time, with the BTC rewards distributed to stakers.
The whole process is managed via an upcoming dedicated mobile app and breaks down a huge barrier to mining BTC.
Furthermore, Bitcoin Minetrix is also offering incredible annual percentage yields during the presale, with the current APY more than 9,000%.
The presale has just launched with tokens available for $0.011 during stage 1, with the price to rise by 8% to $0.0119 by stage 10.
More information on the project can be found in the whitepaper or on Telegram.
| | |
| --- | --- |
| Presale Started | September 26 2023 |
| Purchase Methods  | ETH, USDT, BNB |
| Chain | Ethereum |
| Min Investment | $10 |
| Max Investment | None |
3. Meme Kombat – New Meme Coin with Huge Utility through Staking and P2E Wagering
Meme Kombat ($MK) is a meme coin project and play-to-earn ecosystem that has also just launched its presale.
It could be the next big crypto because, despite being a meme coin, is offering unique utility and tokenomics to many rival meme coins.

The project, which has been developed by a doxxed and public-facing team, allows users to stake tokens for rewards, with 112% APY available during the presale.
Its biggest draw, however, is its play-to-earn Battle Arena, which will allow players to wager on the outcome of battles between characters representing popular meme coins such as Pepe and Wojak.
The Battle Arena is powered by blockchain technology and AI and ensures that all results are immutable and transparent, with winning payments made instantly.
The Battle Arena will also be seasonal meaning new characters, themes and game modes are released, while there will also be lots of side markets to add depth and variety to the play.
There is a limited supply of just 12 million $MK tokens with 50% of those available during one presale round, with a fixed cost of $1.667 per token.
Read the whitepaper or the Telegram group for more information.
| | |
| --- | --- |
| Presale Started | September 21 2023 |
| Purchase Methods  | ETH, USDT, BNB |
| Chain | Ethereum |
| Min Investment | $10 |
| Max Investment | None |
4. Launchpad XYZ (LPX) – Simplifying Web3 Investments for Beginner and Experienced Traders
Launchpad XYZ stands out as a noteworthy option for those keen on exploring the next big crypto. The platform is designed for user ease and offers valuable insights, including market sentiment towards diverse cryptocurrencies.
At the time of writing, a single LPX token can be procured for as low as $0.0445 and there is significant potential for capital appreciation for investors and more than $1.8 million has already been raised in the presale.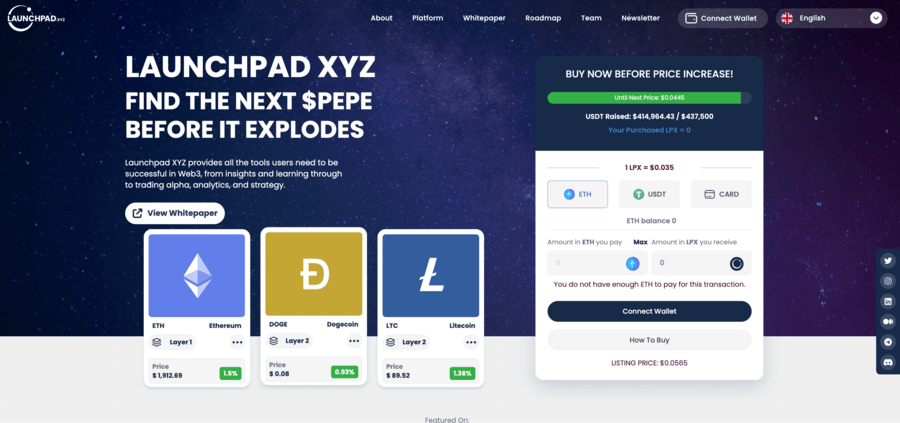 Launchpad XYZ offers a valuable tool, whether you're a beginner or a seasoned investor seeking to navigate the intricate landscape of Web3 investments. The platform delivers reliable information, comprehensive evaluations, and a pulse on the prevailing market trends.
Rather than solely depending on community input or external counsel, the platform promotes the importance of individual judgment in investment decision-making. As the Launchpad XYZ whitepaper highlights, the alert system empowers users by providing timely updates on forthcoming crypto presales, NFT launches, P2E game releases, and other crucial project details.
One major feature is already live – the alpha Telegram signals group recently made a 7,000% call on LINQ and has multiple 1,000%-plus calls in recent weeks.
Before their listing on decentralized and centralized exchanges, LPX platform tokens can be obtained at a reduced rate directly from the platform. While presale crypto investments are risky, alternative coins like Tamadoge have demonstrated high upside potential.
Staking at least 10,000 LPX tokens unlocks exclusive privileges, including priority access to beta versions of popular P2P games and discounts on various products and services offered by Launchpad XYZ's partners.
Users can access these premium offerings by staking at least 10,000 LPX for 90 days, showcasing the token's utility.
The platform also covers various aspects of utility tokens, including liquidity, expert perspectives, custom indicators, and arbitrage opportunities.
Furthermore, Launchpad XYZ keeps its users abreast of the latest investment trends in Web3, enabling them to seize opportunities before they become common knowledge.
Interested individuals are invited to join the Launchpad XYZ Telegram channel for real-time updates on the project's progress.
| | |
| --- | --- |
| Presale Started | 25 April 2023 |
| Purchase Methods  | ETH, USDT, Credit Card |
| Chain | Ethereum |
| Min Investment | 100 LPX |
| Max Investment | None |
5. yPredict (YPRED) –  Revolutionizing Crypto Analytics By AI-Driven Predictions and Comprehensive Trading Resources
yPredict offers its users a user-friendly trading interface, a vast array of research resources, and a selection of advanced crypto analytic tools. Its prediction models, meticulously constructed by AI professionals using state-of-the-art NLP and other AI technologies, are known for their accuracy.
During the current ICO stage, a single $YPRED penny coin is available for purchase at $0.10. With the next selling phase, the starting price per token will be $0.11. The launch price of $0.12 also assures potential investors of value appreciation in the subsequent months.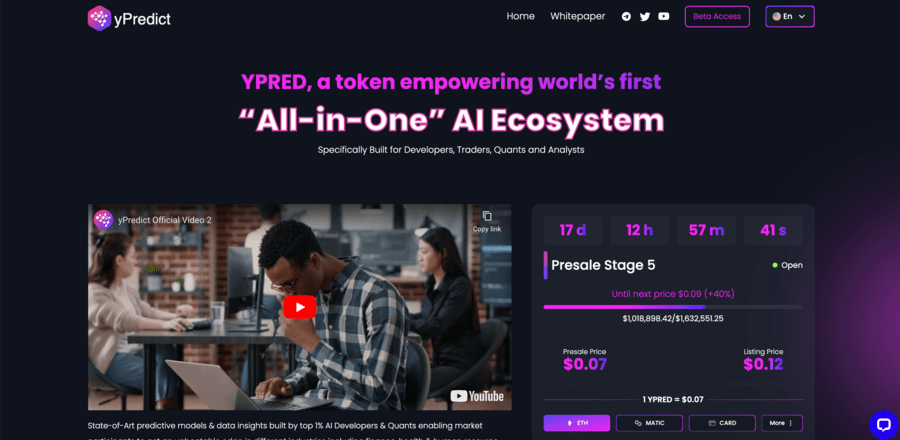 The project is closing in on $4 million raised during the presale.
yPredict's prediction models have been co-developed with financial mathematicians and AI specialists to cater to the fast-growing algorithmic trading market. These models are extremely handy for monitoring market shifts and evaluating the value of cryptos.
The platform offers valuable resources, including technical analysis and EA indicators. Its advanced pattern recognition feature enables traders to visibly spot rising and falling market trends on graphs.
Additionally, the yPredict token smart contract is entirely transparent and KYC-approved, and it operates on the versatile Polygon blockchain.

As per the yPredict whitepaper, token holders staking $YPRED will receive 10% of subscription revenue. The total circulation of tokens will always be capped at one billion.
Users should subscribe to the yPredict Telegram channel for the latest updates and news about the platform.
| | |
| --- | --- |
| Presale Started | Q1 2023 |
| Purchase Methods  | MATIC, ETH, USDT, BNB, Credit Card |
| Chain | Polygon |
| Min Investment | 200 YPRED |
| Max Investment | None |
6. Chimpzee (CHMPZ) – Environmentally Focused Project That Has Planted 20,000 Trees and Donated $15,000 During Presale, $1.35M Raised So Far
Chimpzee (CHMPZ) is a project that has already made quite an impact. It's a rarity that projects contribute before the presale has even finished, but this is exactly what Chimpzee has done. It has planted over 20,000 trees to save the rainforest and further donated $15,000 to protect elephants. This is in line with its commitment to donate 10% of the proceeds to charity. 
Unlike other projects that make a lot of promises, Chimpzee has already delivered and demonstrated goodwill. Plus, the project has attained a third-party smart contract audit from Solidity Finance and a KYC accreditation from Coinscope. The project is serious in its commitment to saving the environment and its whitepaper outlines in detail some of the species that are in danger, as well as the damage that deforestation is doing.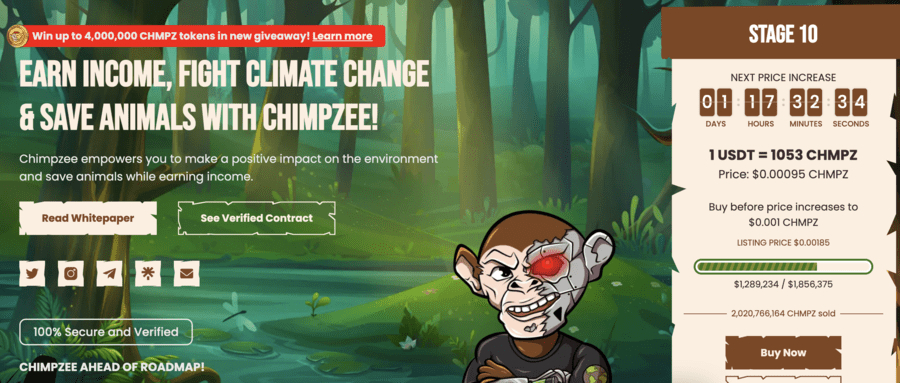 With Chimpzee, it's possible to earn a 20% APY through a Diamond NFT passport. This is the quickest way for users to earn an income. Other NFT passports include Gold, Silver, and Bronze, but these confer less privileges than the Diamond NFT passport. In total Chimpzee provides three ways to earn an income. 
These are the Shop-To-Earn, Play-To-Earn, and Trade-To-Earn components. Chimpzee also intends to burn its token supply down to 50 billion, which could serve to increase the overall price due to token scarcity.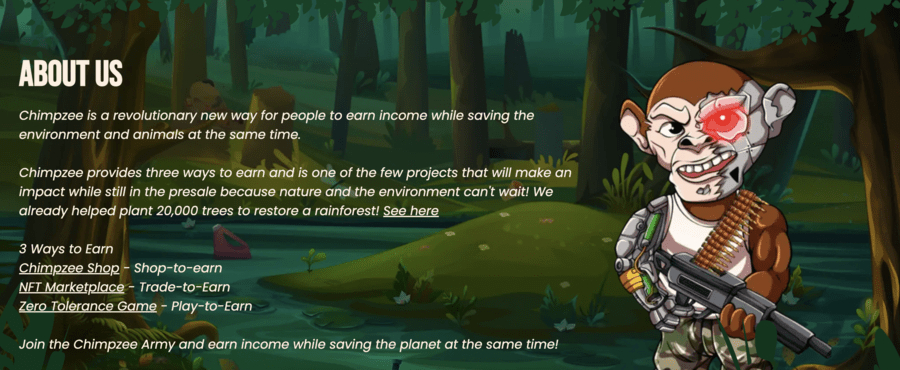 To take part in the presale, users will need to have a Web3 wallet (Chimpzee accepts a wide number) as well as ETH or USDT. It's also recommended to join the project socials – Twitter, Discord, Telegram, Link Tree, and Instagram. The whitepaper should also be explored in detail prior to investment. 
Thus far, Chimpzee is over 66% of the way towards meeting its hard cap, having raised $1.35 million out of its $1.8 million target. 
| | |
| --- | --- |
| Presale Started | Q2 2023 |
| Purchase Methods  | ETH, USDT |
| Chain | Polygon |
| Min Investment | 1000 Tokens |
| Max Investment | None |
7. Scorpion Casino (SCORP) – Impressive Rewards for Those Who Love Casino Games, $1m Raised In Presale 
Scorpion Casino (SCORP) can potentially provide up to $10,000 in daily passive staking, depending on how the casino itself performs. The project is on a mission to build the number one social online gambling platform that combines fun and income potential. 
The casino is home to over 210 casino games, with an additional 160 live games. This includes popular games such as blackjack, poker, roulette, slots, and more. So far the presale has raised nearly $920,000 out of its $1 million target hard cap –  it's nearly complete, and might sell out soon.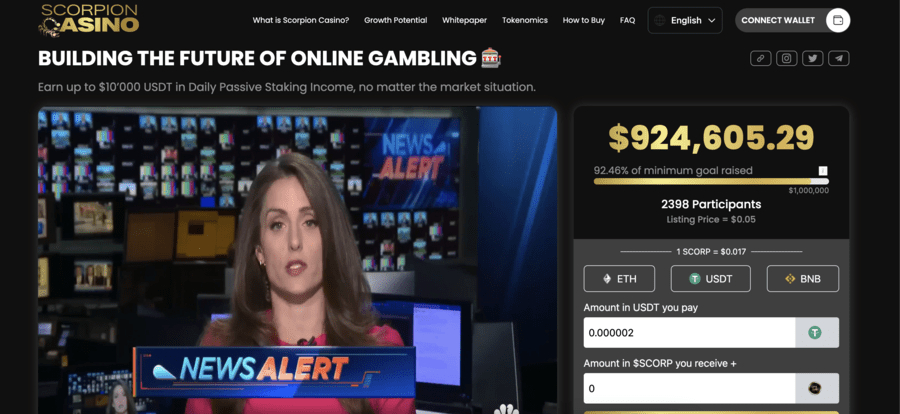 The ecosystem further contains an entire sports betting platform, allowing people to bet on their favorite teams. There is a total of over 300,000 betting options with this provider. Scorpion Casino has integrated all of the major sports leagues for sports –  football, soccer, MMA, boxing tennis, golf, horse racing, basketball, etc. 
In terms of security, the casino is fully licensed and regulated by the Curacao EGaming licensing entity – it's totally transparent and provably fair. In addition, Scorpion Casino only works with reputable platforms such as BetRadar/CoinsPaid, offering an enhanced experience to customers. 
The SCORP token is the exclusive payment method for the entire Scorpion ecosystem and the default currency. This token provides a passive income for holders through its 2% redistribution tax levied on all buy/sell transactions. Furthermore, a 1% burn tax ensures a deflationary ecosystem for potential price appreciation. 

To take part in the presale, participants are required to have MetaMask, Wallet Connect, Trust Wallet, or Coinbase Wallet. USDT, ETH, or BNB are acceptable means of transfer.
20% bonus tokens are available for those who take part in the presale. The current price per token is $0.017, though the listing price is much higher, at $0.05. More details can be found within the Scorpion Casino whitepaper.
| | |
| --- | --- |
| Presale Started | Q2 2023 |
| Purchase Methods  | ETH, USDT, BNB |
| Chain | Binance |
| Min Investment | 1000 Tokens |
| Max Investment | None |
8. eTukTuk (TUK) – Sustainability Sourced Electric Vehicle Transport For Developing Economies, Brand New Presale With $60k Raised
eTukTuk (TUK) aims to help TukTuk drivers from developing economies start using more sustainable practices by making the switch to electric vehicles (EVs). TukTuks are a form of transport very common in Asian countries, though they are currently not the most eco-friendly. 
Currently, Internal Combustion Engines are used to run most TukTuks – releasing significant levels of CO2 into the air as compared to cars. eTukTuk wants to set a new standard in EV production and maintenance, and these new TukTuks will be more affordable for drivers.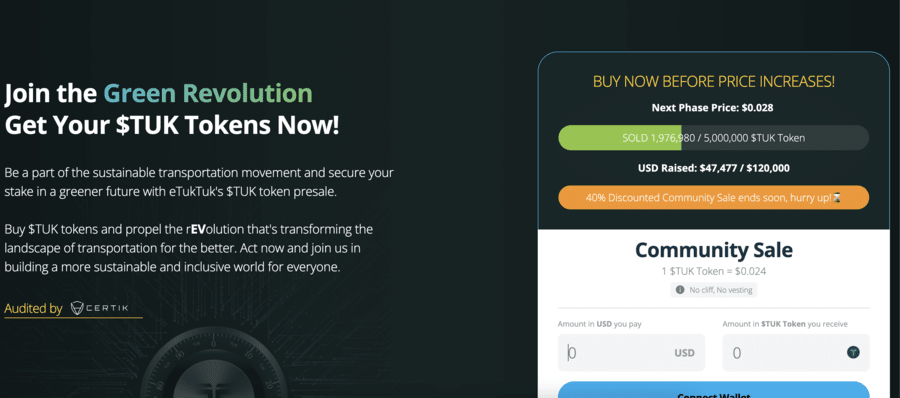 For this reason, eTukTuk intends to create EV charging stations and Electric Vehicle Supply Equipment to promote the transition to using net zero carbon emission vehicles. The project is based in the capital of Sri Lanka (Colombo) and will be building and then distributing charging stations to suburban centers in various developing countries, where the TukTuk is one of the dominant means of transport. 
Drivers can make transactions using the application, using TUK tokens as payment. The project is based on the Binance Smart Chain (BSC). A percentage of profits will go to territory partners who set up, manufacture, and maintain the stations. The tokens can also be staked for additional benefits.
APY is generated every time a driver makes a payment on the app. From a staking pool, the funds will be distributed as a reward to stakers. The total supply is 2 billion tokens and presale launched quite recently, at the start of August 2023. So far, it has raised over $60,000. 
More information can be found on the Telegram channel as well as on Twitter. Potential investors should also investigate the whitepaper in detail before allocating any financial resources. The project has been audited by Certik and has an ambassador program for increased adoption. 
If TukTuk drivers take to this new concept, it could be the next big crypto in 2023 and beyond. it is currently available at a 40% discount. 
| | |
| --- | --- |
| Presale Started | August 2023 |
| Purchase Methods  | ETH, BNB, USDC, USDT, ADA |
| Chain | Binance |
| Min Investment | 1000 Tokens |
| Max Investment | None |
9. Wall Street Memes – Next Big Meme Token Now Available on Multiple Tier-1 CEXs
One of the next big cryptocurrency contenders is $WSM, the native token of Wall Street Memes. This is a popular meme platform that first launched its Twitter page in 2019. In the following years, Wall Street Memes has garnered a following of more than 1 million across various social media sites and enjoyed success in the Web3 space. 
The WSM presale was one of the best ever, raising more than $25 million before it was listed on multiple leading CEXs including OKX and Huobi – at the time of writing, its 24-hour volume is almost $60 million.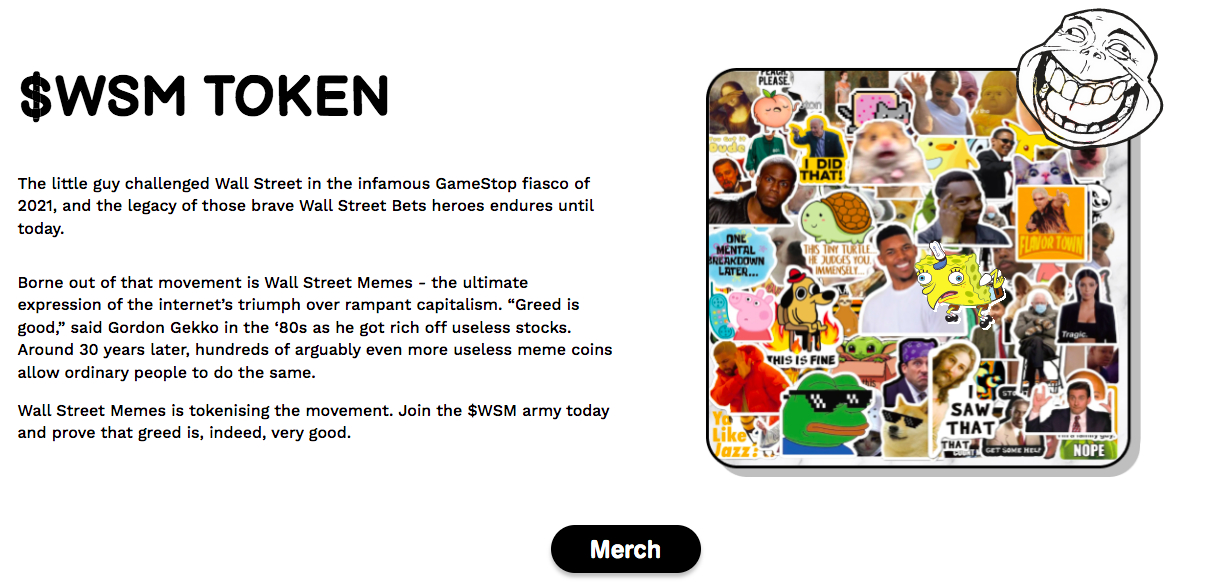 With more CEX listings coming and hype continuing to build, Wall Street Memes' large community following gives it the potential to be one of the top meme coins of the year. While new projects, such as Pepe (PEPE), have had to create a new following, Wall Street Memes already has a competitive advantage. 
Elon Musk has also interacted with the page on numerous occasions and has been rumored to be the crypto whale that recently spent more than $1 million buying WSM tokens.
Moreover, the Wall Street Memes creators have previously launched a successful NFT project, Wall St Bulls. The first collection of Wall St Bulls was launched in 2021, where 10,000 Ethereum NFTs were sold in just half an hour. 
Wall Street Memes also has several advantages over other meme coins, with a small supply of just 2 billion tokens and stake-to-earn feature currently offering 38% APY.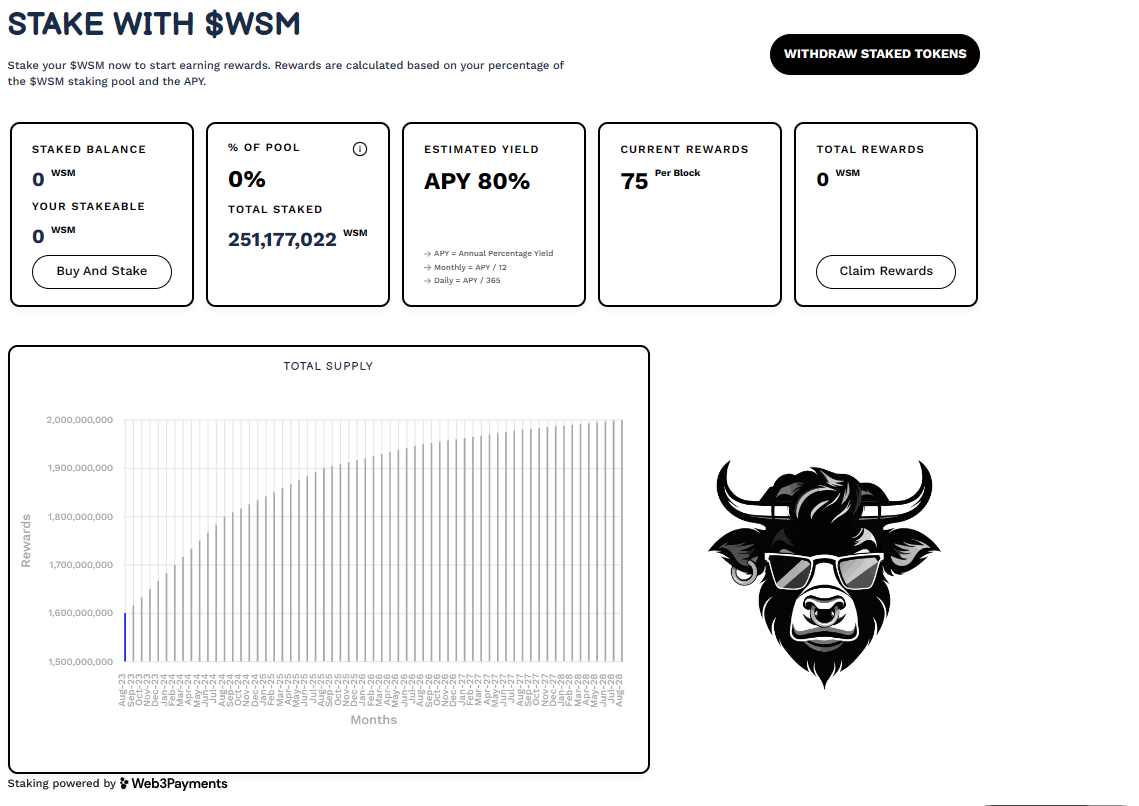 The project looks primed to explode in the coming days and weeks as it spreads across Web3.
Join the Wall Street Memes Telegram group for regular updates on the project..
10. Chiliz (CHZ) – Pioneering Fan Token Project with Exciting Plans
Chiliz is the native token of the Socios platform – an innovative ecosystem that offers various fan tokens. These tokens are created by sports teams, celebrities, and other entities that provide exclusive perks to the holder. Some of these perks include access to one-time merchandise drops and invites to VIP events.
Several well-known names have partnered with Socios, including FC Barcelona, Paris Saint Germain, and Inter Milan. The Chiliz token (CHZ) is used to purchase these fan tokens, which has prompted immense growth. According to CoinMarketCap, CHZ now has a market cap of over $558 million.      

Due to its unique use case, Chiliz could be the next big crypto to shake up the market. The project recently purchased a considerable stake in Barca Studios and launched its own blockchain – providing a solid platform for future growth. 
11. Gala (GALA) – The Next Big Cryptocurrency in the Blockchain Gaming Niche
Those researching what's the next big crypto will likely have come across Gala. Gala is a relatively new cryptocurrency project that looks to revolutionize the blockchain gaming niche. It does this by offering a selection of games within one platform – all made functional through the GALA token.
At the time of writing, the Gala platform offers 15 games, including Last Expedition, Echoes of Empire, and Spider Tanks. Most of these games also integrate NFTs practically, with Gala offering a built-in NFT marketplace for NFT trading.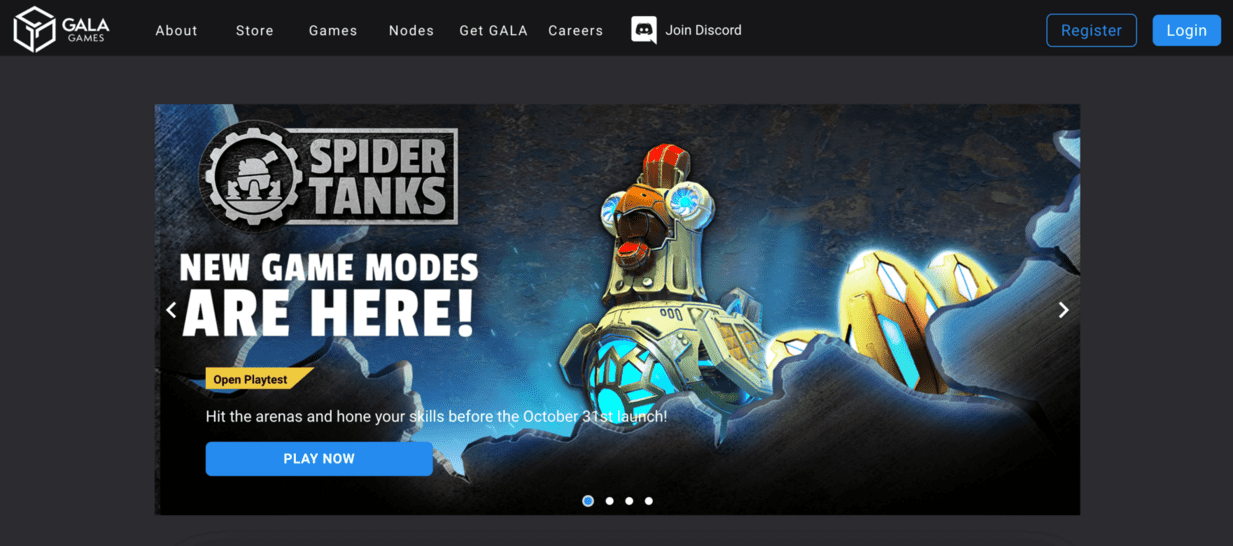 However, like many tokens, GALA's price has suffered during the ongoing 'crypto winter'. The GALA price is down over 96% from November 2021's all-time highs, as investors have shied away from risky assets. Regardless, Gala still has enormous potential and could be an intriguing way to gain exposure to the revival of the blockchain gaming sector.
12. Aptos (APT) – New Layer-1 Blockchain Looking to Rival Ethereum
Aptos is a new Layer-1 blockchain network created by former Meta Platform developers who had worked on the Diem project. The Aptos development team has big aims, looking to offer a network that can process up to 100,000 transactions per second (TPS) and rival Ethereum. 
This would undoubtedly make APT a frontrunner for the best crypto to buy – yet the network's launch did not go as planned. Aptos' tokenomics were unclear, and many believed it to be a pump-and-dump scheme, prompting the token's price to fall sharply.

However, the APT price has rebounded recently and is nearly at the same level it debuted. Moreover, Aptos is backed by some big players, including FTX and Andressen Horowitz, which adds a significant degree of credibility to the project's offering.
13. Ripple (XRP) – Popular Payments Protocol with Rebound Potential
Ripple has long been touted as one of the best altcoins on the market due to its revolutionary take on payment processing. Using the power of the blockchain, Ripple can facilitate cross-border transfers with low fees and near-instant finality. 
Ripple's native currency is XRP, used to pay transaction fees and as a 'bridge currency' when making exchanges. Although XRP has been hyped tremendously, its progress has been stalled since 2020 due to an ongoing lawsuit by the SEC.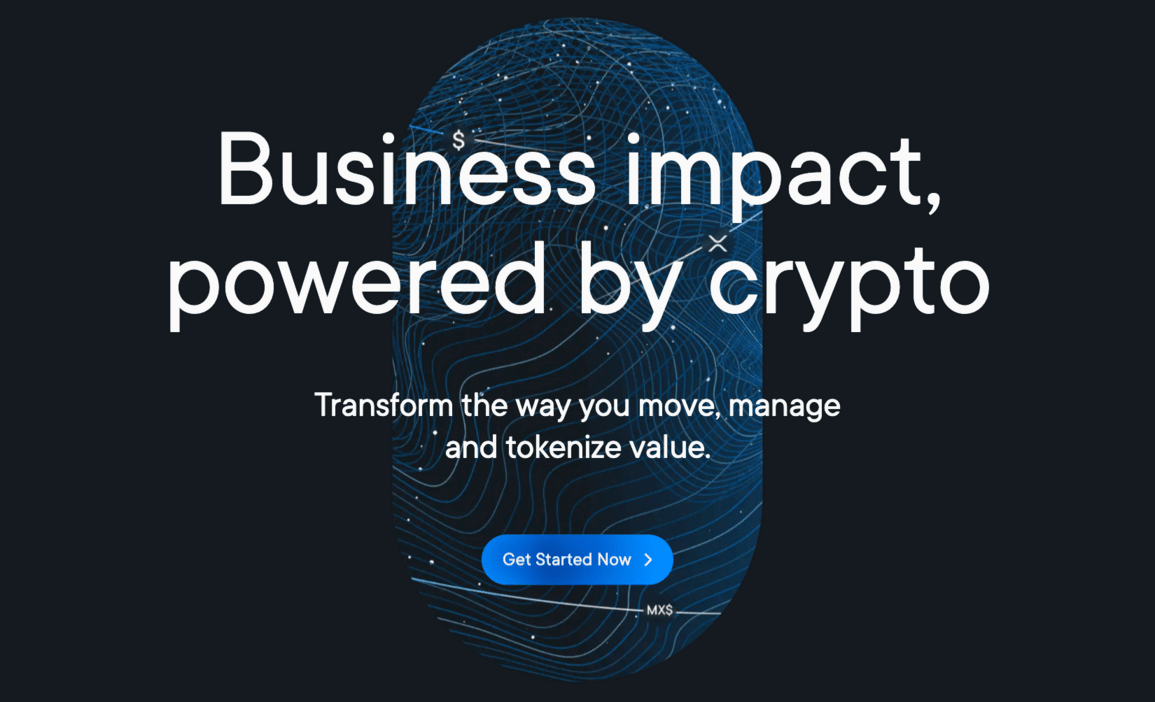 However, it recently had a partial victory as the court ruled in its favor, prompting sharper price increases and relisting on major exchanges. This was a huge win for the cross-border settlements provider, after a lengthy legal battle. 
14. Theta Network (THETA) – The Next Big Crypto According to Reddit
Theta Network is the next big cryptocurrency according to Reddit – leading many to take note of its progress. According to Gemini, Theta Network is a decentralized video delivery network that helps solve issues within the video-streaming sector.
These issues revolve around bandwidth, which has suppressed growth in many sectors. However, Theta allows people to become 'nodes' by staking THETA tokens – providing bandwidth to others as a byproduct.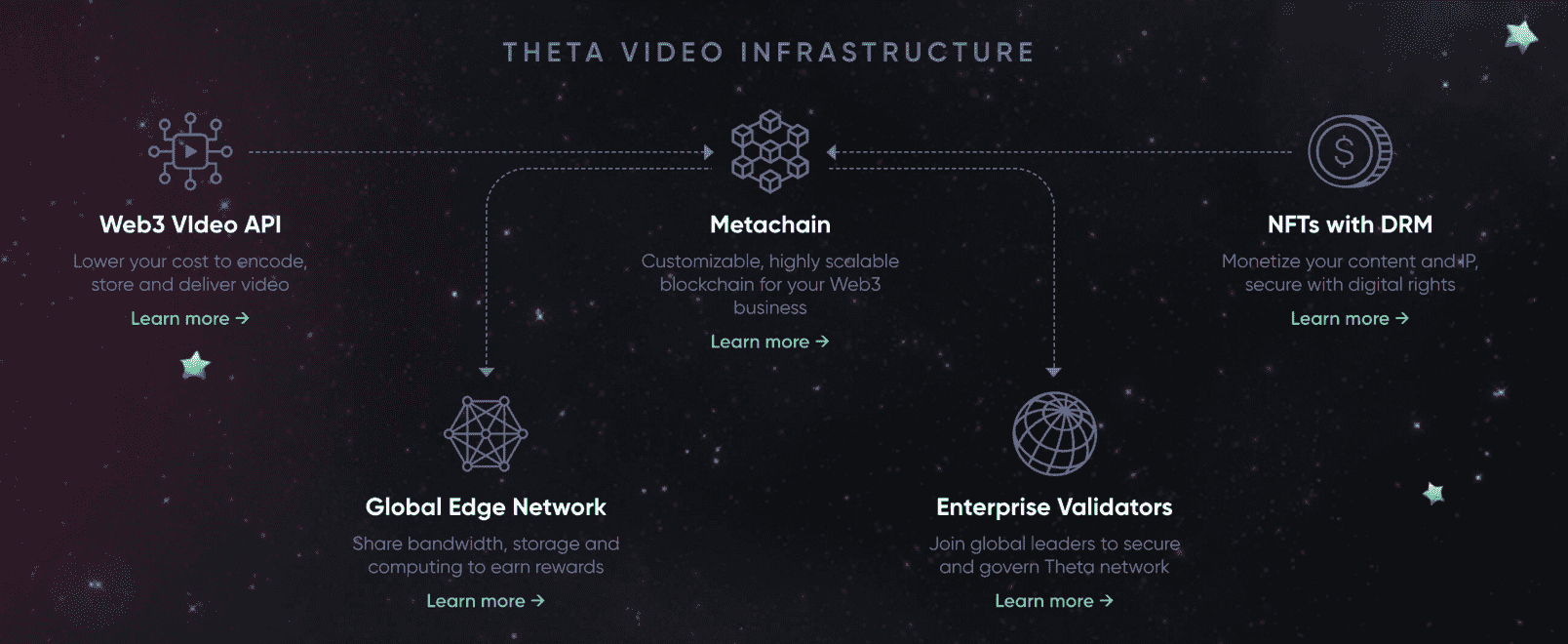 As the Theta Network grows, this will help make video content delivery more effective and reduce the barriers to the sector's growth. Looking ahead, Theta's team even has plans to move into web hosting and other areas – hinting that this could be the next big crypto to produce exponential returns.
How to Find the Next Big Crypto
Determining what will be the next big cryptocurrency is the most challenging task in the whole space – especially given the transitory and volatile nature of the crypto market. 
However, finding the next big token can be extremely lucrative, with the likes of Pepe pumping 7,000% in just three weeks earlier this year. 
There are some tactics that investors can employ to sift out projects with above-average value potential and help them spot red flags to avoid bad projects or scams. Let's take a closer look at some of these tactics below: 
Look for Trending Projects on Social Media
Many of the cryptos with the most potential get their start through social media. Platforms like Twitter, Reddit, and YouTube provide scope for new projects to begin 'trending', which is when a project starts being discussed by a large portion of the investing community.
If a project begins trending, there's a good chance it has at least some merit – otherwise, nobody would be talking about it. Thus, seeking out cryptos consistently mentioned on social media is a great way to identify high-potential projects.
Review the Project's Whitepaper and Roadmap
Finding out what's the next big crypto also involves in-depth analysis of a project's whitepaper and roadmap. These two resources should set out what the project aims to achieve and how it will go about it.
The key here is to look for a 'unique selling point' (USP) that will help the project stand out in the ultra-competitive crypto market. 
Whitepapers are essentially an overarching document that tells a potential investor everything they need to know about a project – all the answers should be in there.
As a rule, investors should avoid projects that have poorly written or vague whitepapers and ones that do not have well-thought-out roadmaps. It is all good promising a $1 billion market cap, but the roadmap should outline the steps the project will take to achieve it.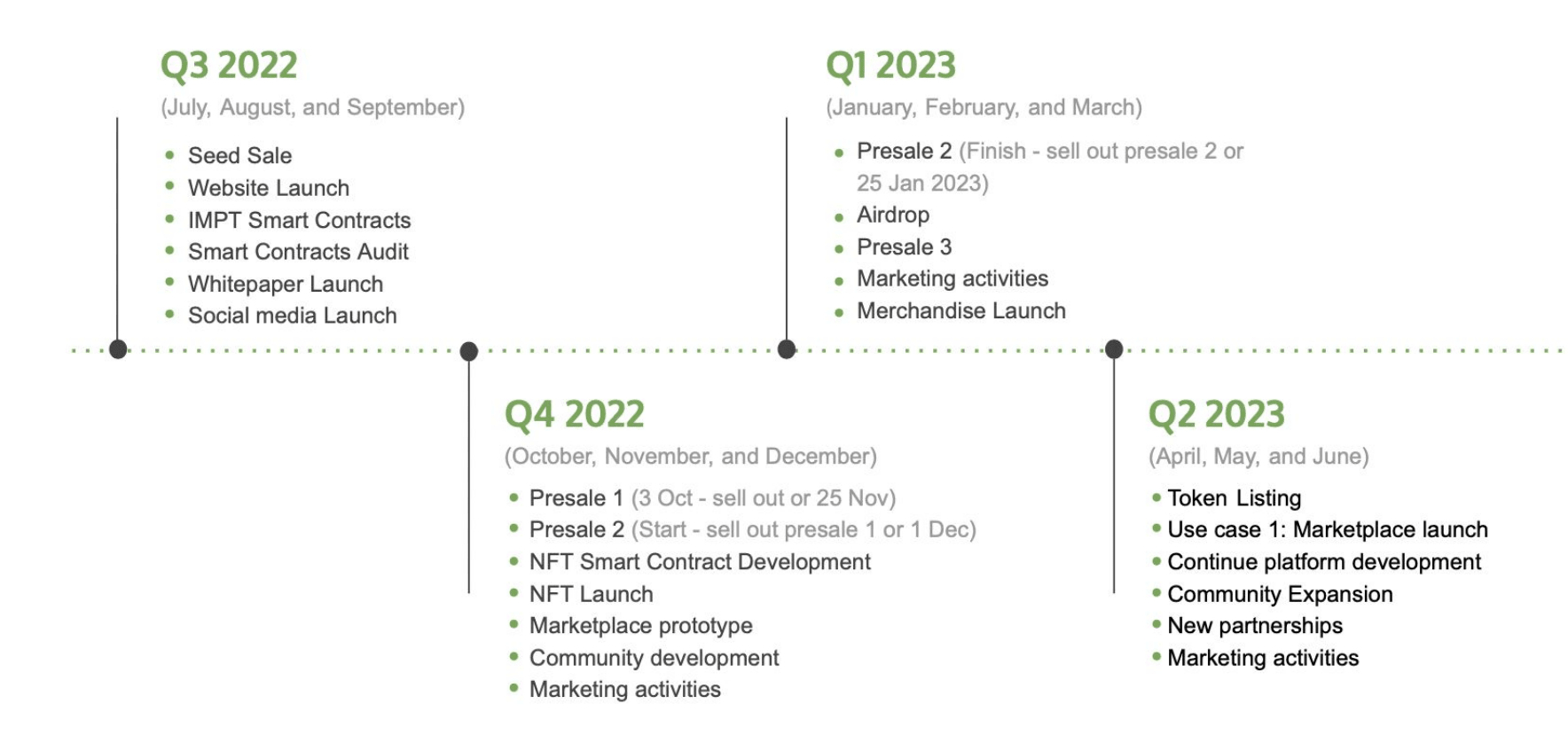 Seek Out New & Innovative Use Cases
Following the previous point, it's vital to seek out projects with innovative use cases. Many of the best crypto winter tokens either improve on another project's offering or provide a new use case entirely.
However, it's also essential to examine whether the development team behind a project can actually achieve their goals. This involves searching them up on sites like LinkedIn and inspecting their work history to determine whether they have the skills and expertise to lead the project to success.
Find Projects with Appealing Tokenomics
Finally, investors looking to uncover the next big cryptocurrency would also be wise to analyze the 'tokenomics' of any projects under consideration. The term 'tokenomics' describes the factors that influence a token's value, such as supply, distribution schedule, characteristics, and burn mechanisms.
Since the laws of supply and demand determine the values of crypto tokens, it's vital to search for projects with appealing tokenomics. For example, a project with a built-in token burn mechanism will gradually reduce the supply over time. This makes the remaining tokens scarcer – thereby increasing their value. 
Projects that have large team allocations could indicate a rug pull, for example. The best projects will have the majority of their tokens made available for investors as quickly as possible, rather than trying yo artificially inflate the price.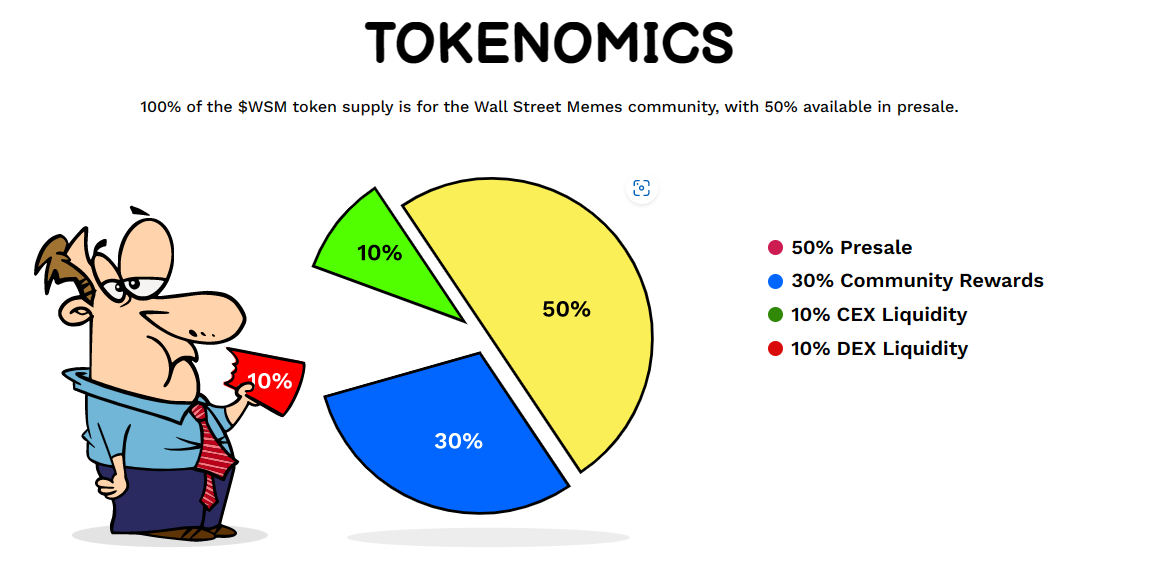 How to Invest in the Next Big Crypto Coin
Now that we've discussed the best penny crypto projects with high potential and explored the factors to consider when choosing a crypto, it's time to focus on the investment process. 
With that in mind, presented below are the five easy steps that investors can take to invest in Bitcoin ETF Token ($BTCETF) tokens today through the presale:
Step 1 – Create a Cryptocurrency Wallet: Download a cryptocurrency wallet which is compatible with the Bitcoin ETF Token presale platform, such as MetaMask.
Step 2 – Buy ETH/USDT Tokens:  $BTCETF can be swapped with ERC-20 tokens such as ETH and USDT. 
Step 3 – Connect the Wallet to the Presale: Access the Bitcoin ETF Token presale website and click on the 'Buy Now' option. Choose your preferred cryptocurrency wallet and follow the on-screen instructions to connect the wallet.
Step 4 – Purchase and Stake $BTCETF Tokens: After the wallet is connected, choose to purchase $BTCETF tokens with ETH/USDT. Enter the amount you wish to purchase and click on 'Buy and Stake' to earn a current APY of over 2,000%.
Step 5 – Claim $BTCETF: Users can collect their tokens on the presale platform after the presale ends or add them to the staking pool to earn passive rewards.
Next Big Crypto Contenders – Conclusion
In conclusion, this article has taken an in-depth look at some of the next big crypto contenders before presenting an overview of the factors investors must consider when choosing a crypto project.
One of the next big cryptos to watch is Bitcoin ETF Token ($BTCETF). This is a speculative token based on events around the spot Bitcoin ETF approval by the SEC. It also offers huge staking APY of 2,000% in the early stages of the presale.
The first stage of its 10-stage presale has just launched, with tokens available for $0.0052 and close to $500k already raised in the project within the first week.
FAQs
Which is the next big cryptocurrency?
Our pick for the next big crypto coin is Bitcoin ETF Token ($BTCETF), which offers generous staking APY and up to 25% token burn mechanics.
Which coins will explode in 2023?
Although there's no telling exactly which coins will explode in 2023, there are specific projects that have already begun generating momentum towards the end of the year. These projects are Bitcoin ETF Token, Bitcoin Minetrix, Meme Kombat, yPredict, Launchpad XYZ, and Chimpzee – all of which have amassed vast amounts of capital through their eagerly-anticipated presale phases.
---