Cardano Price Prediction as New Messari Report Shows Cardano TVL Increased By 170% in 3 Months – ADA to $10?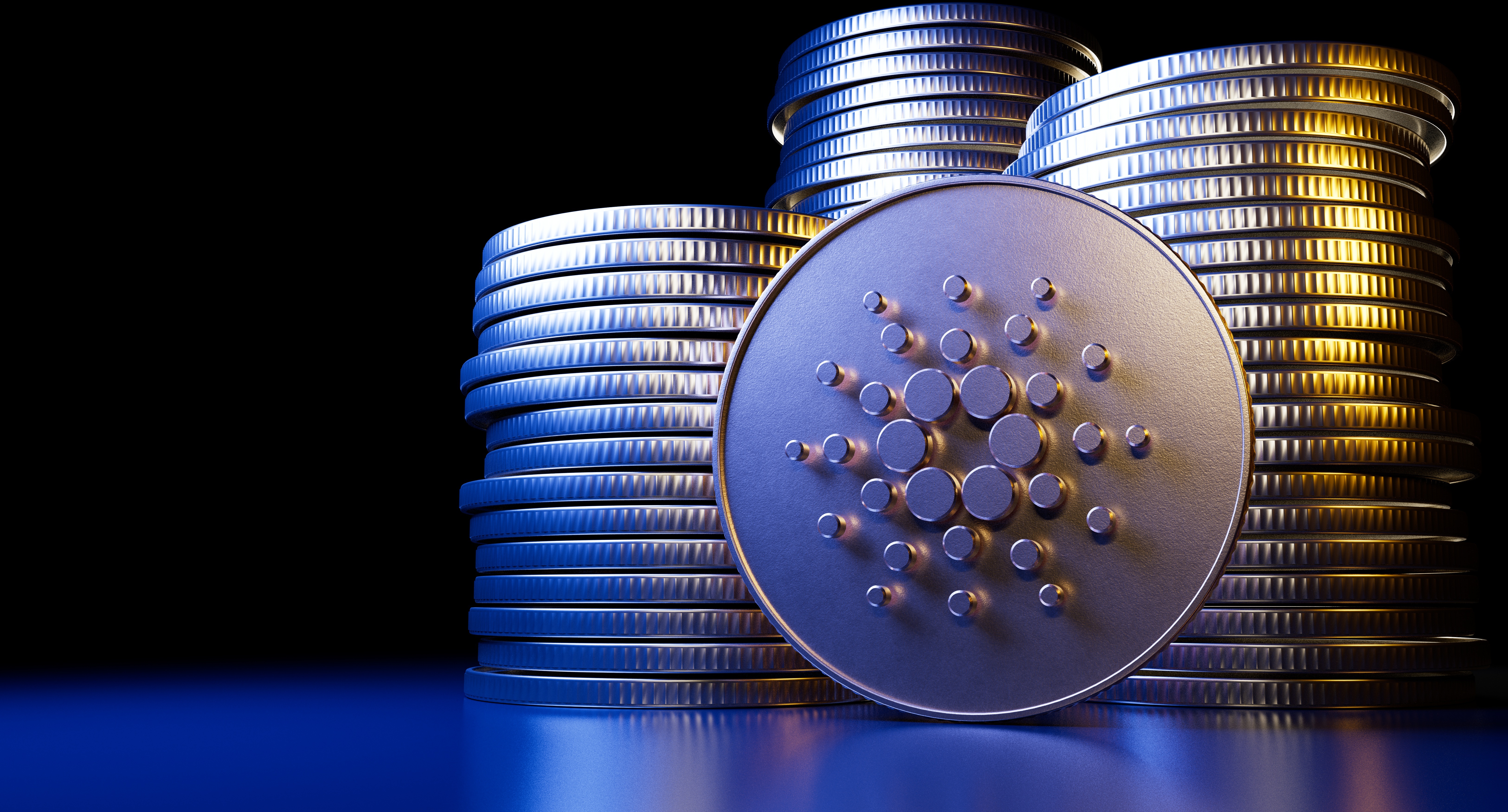 Negative momentum in cryptocurrency markets has continued on Thursday and Cardano (ADA) is suffering as a result.
The cryptocurrency which powers the smart-contract-enabled Cardano blockchain and sits at the heart of Cardano's Decentralized Finance (DeFi) ecosystem, was last down a little over 2.5% on Thursday after dropping over 6% on Wednesday.
ADA/USD was last changing hands close just above $0.40, having found support from an uptrend that began in early March and from the 21-Day Moving Average.
That means the cryptocurrency around 12.5% lower versus the multi-month highs it hit above $0.46 earlier this month.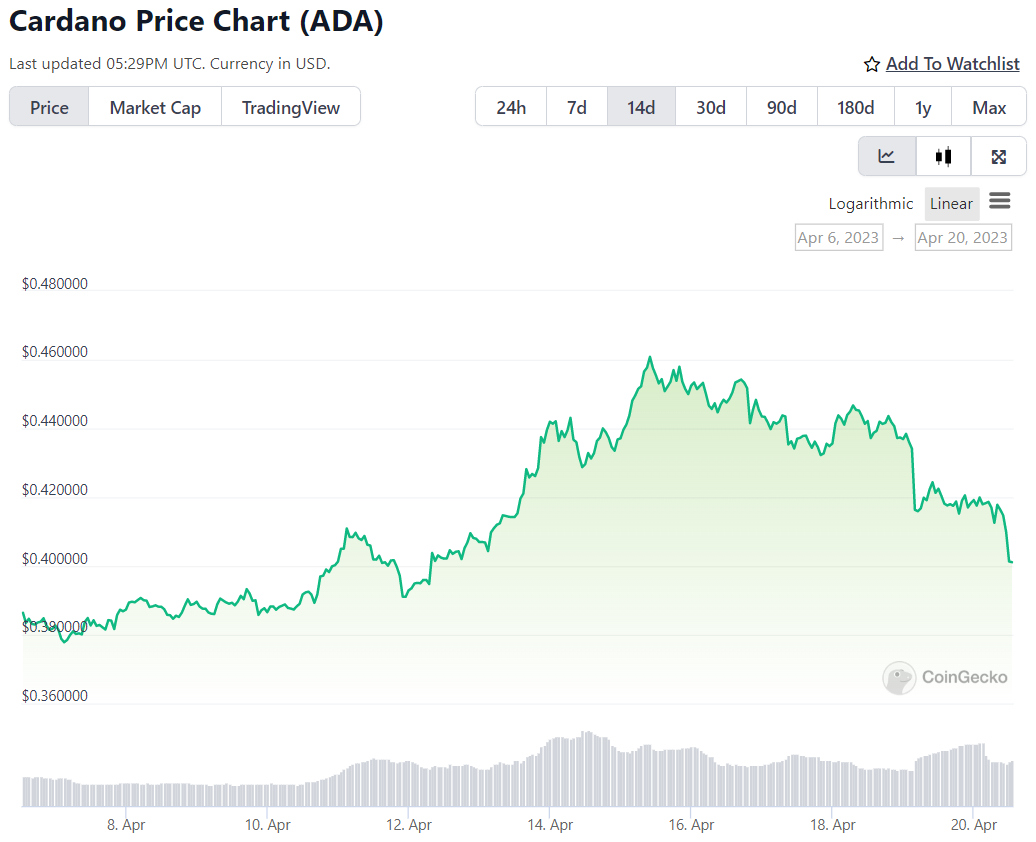 Despite its sharp drop in the last few days, Cardano still trades north of 65% up on the year, with the world's seventh largest cryptocurrency by market capitalization having ridden a wave of positive momentum in the broader crypto market since the year began.
Crypto has rallied this year on hopes for end to the Fed's tightening cycle and the possibility of a near-term cutting, driven by slowing US inflation and weakening economic momentum, combined with concerns about the stability of the traditional financial system after last month's US bank "crisis" and after crypto had arguably become well over-sold at the end of last year.
But Cardano has likely also derived support from decent growth in its DeFi ecosystem.
Cardano's DeFi Ecosystem Demonstrates Solid Growth
According to a report released by crypto analytics firm Messari, the total value locked (TVL) in Cardano blockchain-based smart contracts rose by 170% in Q1 2023 to nearly $140 million.
That was partially down to asset price appreciation, but the TVL growth rate far outstripped ADA's 54% market cap gain for the quarter.
A big catalyst for the increase was a 261% jump in the total value of stablecoins issued on the network, according to Messari, who pointed to growth in the supply of Indigo's IUSD and Djed's DJED.
Stablecoins, "a cornerstone of DeFi" according to Messari, were largely absent from the Cardano ecosystem prior to Q1 2023.
Many expect the new stablecoins, which offer new ways for investors to generate yield in crypto but from a stable asset, will bring substantial new flows of capital into Cardano's DeFi ecosystem in the coming years.
Price Prediction – Where Next for Cardano (ADA)?
With ADA now below support in the form of prior highs in the $0.41 area and below its 21DMA, a break below the uptrend from early March is looking increasingly likely.
A sustained push below $0.40 would open the door to a potential drop back towards ADA's 50 and 100DMAs at $0.37.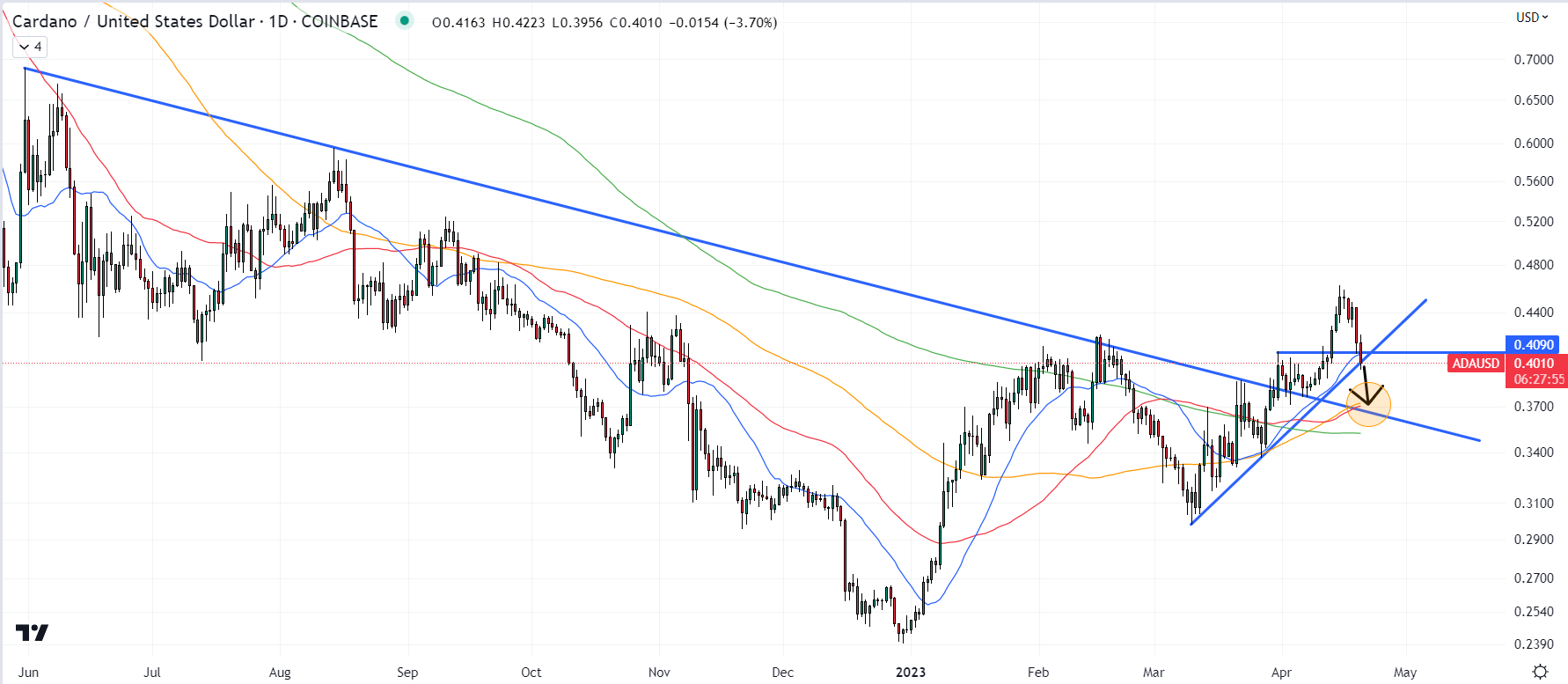 This area could prove to be an important zone of support given that it also coincides with an old ADA downtrend that goes all the way back to June 2022.
If the crypto bull market is here, dip-buyers will likely be waiting to pounce if ADA was to fall back to these sorts of levels.
Assuming macro generally remains a tailwind (i.e. that markets don't start pricing in more Fed tightening for longer again), then ADA is likely to eventually push above $0.50 in the coming weeks and months.
Can ADA Hit $10?
From the top of its 2018 bull market highs (at $1.31) to its 2020 bear market lows (at under $0.02), ADA lost a stunning more than 98%.
It then posted a more than 170x recovery to hit fresh all-time highs above $3.13 at the peak of the 2021 bull market.
When ADA fell under $0.24 last year, that marked a more than 92% drawdown from the 2021 highs.
If history is to repeat itself and ADA is to post 170x gains from these lows, that would imply the ADA price rallying above $40.
Now, this might be a little optimistic.
Along with the broader cryptocurrency market, Cardano is maturing as an asset, which means its swings between bull market highs and lows and back again will become less extreme in time.
But could ADA post 40x gains versus its 2022 lows to hit $10 per token during the upcoming bull market?
If the likes of Bitcoin pushes into the hundreds of thousands of dollars per token and Ether pushes above $10,000 in the coming years, there is no reason why Cardano can't post strong exponential gains.
Many bulls will be eyeing $10 as a long-term profit target.
Cardano Alternative to Consider
While the long-term price outlook for Cardano (ADA) is potentially very strong, investors should nonetheless always be on the lookout to diversify their crypto holdings.
One high-risk-high-reward investment strategy that some investors might want to consider is getting involved in crypto presales.
This is where investors buy the tokens of up-start crypto projects to help fund their development.
These tokens are nearly always sold very cheap and there is a long history of presales delivering huge exponential gains to early investors.
Many of these projects have fantastic teams behind them and a great vision to deliver a revolutionary crypto application/platform.
If an investor can identify such projects, the risk/reward of their presale investment is very good.
The team at Cryptonews spends a lot of time combing through presale projects to help investors out.
One such project that the team has identified as having a very strong potential is Ecoterra.
Ecoterra is the native cryptocurrency of a blockchain-run green ecosystem that incentivizes environmentally friendly behavior.
Ecoterra's ecosystem consists of a Recycle to Earn (R2E) platform, a carbon offset marketplace, a marketplace for recycled materials and an impact profile.
The green web3 start-up's R2E app is supported in any country that uses Reverse Vending Machines (RVMs), meaning a huge potential market.
Ecoterra is in the fourth stage of its ECOTERRA token presale, with tokens currently priced at just $0.00625.
The project just passed the massive milestone of having raised over $2 million.
Potential investors should note that the presale price will soon rise to $0.007 and that the token will list on exchanges at $0.01 – a 60% jump from current levels.
---