Cardano Price Prediction as $50 Million Celsius and Robinhood Sell-Off Approaches – Will ADA Dump?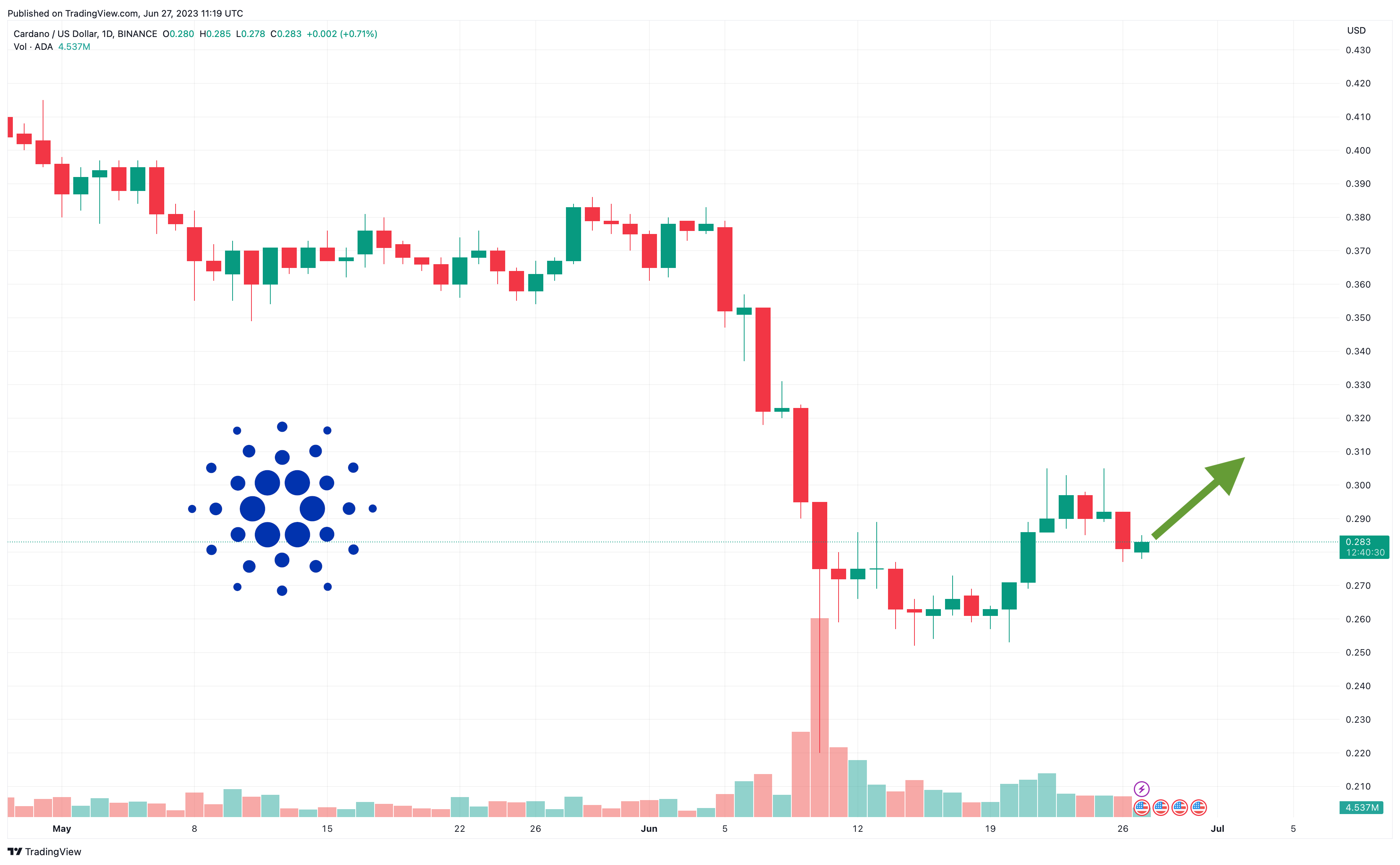 The price of Cardano (ADA) has dropped by 2.5% in the past 24 hours, with the altcoin failing to $0.281341 ahead of delistings on Robinhood and Celsius this week.
ADA remains up by 9% in the past week, but is down by 24% in the last 30 days while up by 14% since the beginning of the year.
Today's fall highlights a very real danger for ADA at the moment, which is that its classification as a security by the SEC in the regulator's recent legal actions will lead to further exchange delistings, at least with platforms that serve US-based customers.
However, it's possible that the Robinhood and Celsius delistings have now been priced in by the market, meaning that no further falls are likely, with Cardano's fundamentals helping to lift it back up in the longer term.
Cardano Price Prediction as $50 Million Celsius and Robinhood Sell-Off Approaches – Will ADA Dump?
ADA's indicators are in a weak position, although it's not entirely out of the question that they and the altcoin mount some kind of recovery in the coming days.
ADA's relative strength index (purple) slipped to 40 yesterday, indicating strong selling pressure, although there are some very modest signs of a slight recovery today, potentially as a precursor to gains.
On the other hand, the altcoin's 30-day moving average (yellow) is sliding downwards today after spending a few days recovering towards its 200-day average (blue), with the possibility of a further decline to come.
As negative as this looks, ADA's support level (green) has shown a slight increase in the past week or so, suggesting that the altcoin has fallen as far as it can at the moment.
Indeed, ADA did actually witness a very small recovery from $0.281 to $0.284 this morning, even though it has subsided again and is still down in the past 24 hours.
This raises the question of where exactly it will go today once Robinhood sells the Cardano on its platform, which is worth around $30 million.
Given that this is a relatively large sum for a coin with a 24-hour trading volume of around $175 million today, there is likely to be another dip once the sale goes through.
As for Celsius, it will begin selling its ADA from July 1, with its offloading of the altcoin potentially happening in a gradual manner.
Some analysts have suggested that these selloffs have already been priced in by the market, given that ADA (along with other coins set to be delisted) has underperformed other major cryptocurrencies.
For this reason, it's possible that any dip today will be slight, and that Cardano may soon recover afterward.
There's an argument to suggest that it's a massively undervalued token relative to its fundamental worth, given how much Cardano as a platform has evolved and developed in recent months.
It now has 130 projects launched and running on its platform, which now accounts for around $152 million in total value locked in, making it the 15th-biggest layer-one platform in the crypto ecosystem.
Because of its worth, ADA can be expected to rally again once the dust has settled on its US-based delistings.
It could return to $0.30 in the next few weeks, before potentially ending the year around $0.40.
New Altcoin with High-Potential
While ADA can be expected to recover in the longer term, holders may be waiting for several months (or longer) for a substantial recovery and rally.
For this reason, they may be inclined to diversify into other altcoins, particularly newer examples that have their initial periods of growth ahead of them.
A prime example of this is Chimpzee, an Ethereum-based platform that rewards its users for taking actions that support the environment and endangered animals.
The platform began the presale for its native CHIMPZ token several weeks ago, and has already raised more than $600,000.
This raise has been driven by the growing expectation surrounding Chimpzee's platform, which will combine shop-to-earn and trade-to-earn elements that will reward users for contributing towards conservationist projects.
For example, Chimpzee's shop-to-earn feature will provide users with CHIMPZ for every purchase they make, with a percentage of each purchase being directed towards environment-focused organizations and charities.
Chimpzee has already signed partnerships with a number of projects and organizations, including a reforestation project in Guatemala.
This kind of support for noble causes stands in stark contrast to many platforms in crypto, something which helps account for why Chimpzee has been able to raise so much money in its presale so quickly.
Investors can join the token offering by heading to its official website and connecting their crypto wallets, with CHIMPZ purchasable using USDT, ETH or fiat currency.
1 CHIMPZ token currently costs $0.00064, with this price due to rise to $0.00065 tomorrow.
However, CHIMPZ will list with a price of $0.00185, while it could rise much higher, helping its early investors to make considerable market-beating gains.
Disclaimer: The Industry Talk section features insights by crypto industry players and is not a part of the editorial content of Cryptonews.com.
---