Best Crypto to Buy Now In 2024
Disclosure: Crypto is a high-risk asset class. This article is provided for informational purposes and does not constitute investment advice. By using this website, you agree to our terms and conditions. We may utilise affiliate links within our content, and receive commission.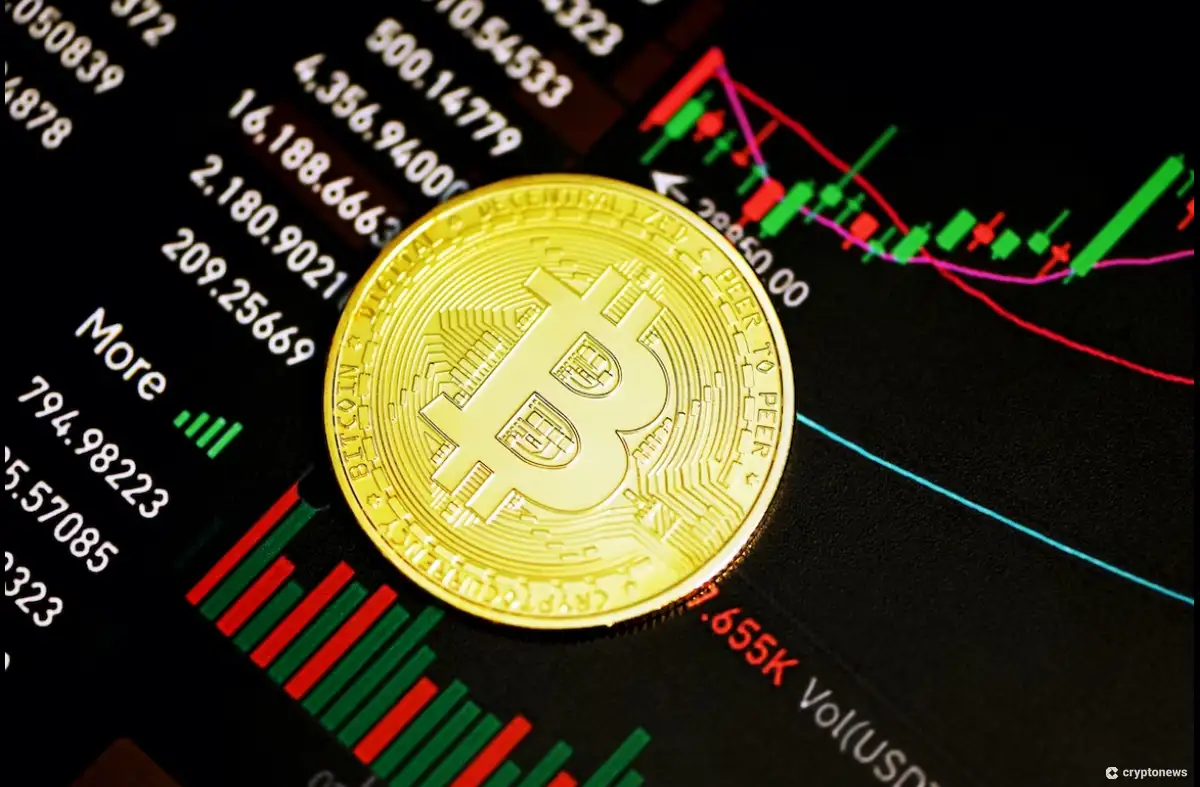 Altcoins can be an excellent alternative to Bitcoin, the largest crypto asset by trade volume. You have probably already heard of Ethereum, Dogecoin or even Tether, however, looking even deeper into what cryptocurrencies are available, can be more beneficial to start in the world of crypto. If an 'altcoin season' is in store, what is the best crypto to buy now?
This beginner's guide attempts to answer the question of what cryptocurrency to invest in right now and reviews the top cryptos for upside potential in 2024, based on their range of use cases.
The Best Cryptocurrency to Invest in 2024
Our list of the best cryptos to buy now ranges from presale assets and low market cap altcoins through to the big caps:
Bitcoin ETF Token – New token linked to the fate of the upcoming Bitcoin spot ETF approvals by the SEC. $BTCETF will burn 25% of its token supply over time and offers high staking rewards. Currently, $BTCETF is priced at only $0.0058 on presale, which has now raised more than $1.8 million in just three weeks.
Bitcoin Minetrix – This tokenized cloud mining platform allows anyone to start mining Bitcoin easily. Stake and earn $BTCMTX tokens and earn cloud mining credits that can be burnt to purchase cloud mining power on Bitcoin. Bitcoin Minetrix has been soaring since the presale launch, with more than $4.5 million raised.
Meme Kombat – New doxxed stake-to-earn meme crypto project with genuine utility offering early-bird investors 415% APY with automatic staking during the presale stage. Wager $MK tokens to fight with meme coin avatars on a battle arena. Around $2m now raised in the presale.
TG.Casino Token – This fully licensed Telegram casino, which has just launched, leverages the $TGC token to offer staking benefits and in-game rewards. The token can be used to access NFTs and will be burnt on the ecosystem. $TGC is currently available to buy on presale, which over $3 million.
Wall Street Memes – $WSM is a new token backed by a well-known NFT and meme platform that had one of the best crypto presales ever and continues to attract huge trading volume. Has just launched a crypto casino offering a 200% welcome bonus.
eTukTuk – Buy this sustainable cryptocurrency to make payments with crypto tokens on EV charging stations and earn staking rewards. eTukTuk will help TukTuk drivers in developing nations access cheaper payments. More than $265k raised with staking APY currently around 750%.
Green Bitcoin – Best gamified Bitcoin price prediction cryptocurrency to buy in 2023, on presale now – stake your $GBTC, predict Bitcoin's price and earn rewards.
Scorpion Casino – With a fair reward distribution system integrated into the smart contract, the project allows you to generate daily passive income worth up to $10,000 by holding SCORP. More than $2 million raised in the presale.
Launchpad XYZ – A new Web3-focused ecosystem built on the Ethereum blockchain. This ecosystem aims to be the best project for introducing users to crypto, NFTs, and other digital assets. More than $2 million raised in its presale.
yPredict – This is a next-generation trading and research platform that lets members purchase subscriptions to prediction models created by professional traders and financial quants – over $5 million raised in its presale so far.
Doge Star – Doge-inspired galactic metaverse aims to provide an integrated NFT ecosystem with DAO governance, a gigantic 69% token burn, a structured presale price increase, and a huge 1 quadrillion supply. $800k raised so far. 
Pikamoon – The ultimate play to earn metaverse has taken elements from some of the world's most successful games to create an engaging P2E ecosystem with great earning potential for gamers. The team is fully doxxed and more than $4.2 million has been raised in the presale.
Bitcoin (BTC) – The oldest cryptocurrency with the largest market capitalization, this will always be a prime recommendation for investors. 
Ethereum (ETH) – The original smart contract development environment and the most successful altcoin in history. 
Binance Coin (BNB) – Native token of the world's largest crypto exchange and considered by many to be the best crypto to buy now with FTX exchange defunct.
XRP (XRP) – Cult-favorite pick for the best crypto to buy now, stood the test of time as a cross-border payments network for banks.
Dogecoin (DOGE) – Best meme coin in its growing market, ranked in the top 10 coins on CoinMarketCap.
Uniswap (UNI) – Growing decentralized exchange and native token UNI which was one of the best cryptos to buy in the 2021 bull run.
Shiba Inu (SHIB) – Best meme coin outside of the top 10 cryptos by market capitalization, second largest behind DOGE.
Tether (USDT) – As one of the earliest and most utilized stablecoins, Tether maintains a 1:1 peg with the US dollar. It's a top choice for investors seeking to avoid the volatility typically associated with cryptocurrencies.
U.S. Dollar Coin (USDC) – Another leading stablecoin, USDC is widely recognized for its transparency and full backing by US dollars, making it a trusted asset for traders and a staple in the digital finance space.
Solana (SOL) – Known for its high-speed blockchain and low transaction costs, Solana has emerged as a strong competitor in the decentralized finance (DeFi) and smart contracts arena, attracting investors interested in performance and scalability.
Cardano (ADA) – Positioned as a research-driven and eco-friendly blockchain platform, Cardano offers advanced features in smart contract functionality and is often favored for its strong community and potential in creating sustainable global solutions.
TRON (TRX) – With its high throughput and efficient content-sharing platform, TRON aims to decentralize the web, making it a preferred choice for investors interested in the intersection of blockchain and digital content distribution.
Celestia (TIA) – a rising name in the cryptocurrency space offers a unique 'modular' blockchain framework that separates consensus from execution. This innovative approach promises greater scalability and flexibility, making it an attractive option for investors looking to tap into advanced blockchain technology. As a potential game-changer in decentralization and blockchain development, Celestia is a noteworthy contender in the crypto market.
The above projects were identified from market research based on various factors – such as their upside potential, current market capitalization, and valuation compared to prior all-time highs. 
Many of the cryptos featured in this article could be used by an investor to build a diversified crypto portfolio in the run-up to the next bull run.
The Best Cryptocurrencies to Invest in Today Reviewed
Building a diversified portfolio of many different crypto assets is perhaps the best way to approach the current market conditions. We explore some of the best options available in this review. 
1. Bitcoin ETF Token – Best Crypto to Buy Now
Bitcoin ETF Token ($BTCETF) is one of the best cryptos to buy right now. This new ERC-20 token is created to celebrate the expected arrival of Bitcoin Spot ETFs. While this project is not associated directly with any spot ETFs, it will burn 5% of its token supply upon reaching different Bitcoin-based milestones. 
Since the presale started, Bitcoin ETF Token has raised more than $1.8 million in just three weeks.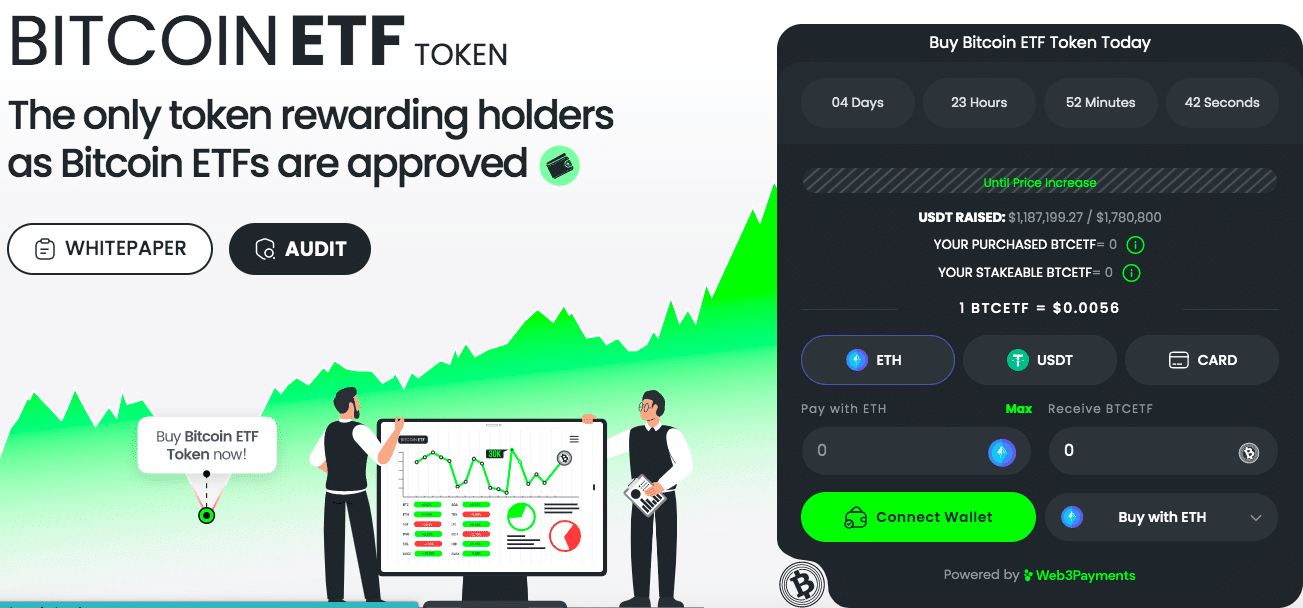 A Bitcoin spot ETF (Exchange Trade Fund) allows investors to gain exposure to BTC, without directly purchasing the asset. With many global investment companies pushing for a Bitcoin spot ETF, a release may be around the corner. 
Bitcoin ETF Token will be burning 5% of its token supply upon reaching five different milestones. For instance, a token burn will take place after $BTCETF crosses a $100 million market cap. Other milestones include the official confirmation of a Bitcoin spot ETF, the release of the first ETF, and BTC crossing the $100k mark. 
Moreover, this deflationary cryptocurrency will charge a 5% tax on trading the token. The tax will drop by 1%, upon reaching each of the milestones. In the long term, Bitcoin ETF Token will burn 25% of its total supply. 
$BTCETF token holders can also access high staking yields by locking the tokens on a verified smart contract. At press time, you can earn over 140% annual staking yields with $BTCETF.
From a 2.1 billion token supply, 840 million tokens are being allocated across ten stages. By the final round, $BTCETF will be priced at $0.0068 per token.
Thus, the deflationary burning mechanism and the huge staking yields can make Bitcoin ETF Token one of the best cryptos in the coming years. Go through the Bitcoin ETF Token whitepaper and join the Telegram channel to learn more about this cryptocurrency. 
2. Bitcoin Minetrix – Best Stake-to-Mine Crypto 
Our next pick for the best cryptocurrency is Bitcoin Minetrix ($BTCMTX). This is a stake-to-mine cryptocurrency that is reducing the entry barrier for cloud mining activities – over $4.5 million has been raised in the presale, which is also offering a staking APY of 130% and is our overall best crypto presale.
Bitcoin Minetrix will tokenize cloud mining through its ecosystem. By holding $BTCMTX, the native cryptocurrency, token holders can stake their assets and generate passive income. Bitcoin Minetrix will leverage cloud mining companies' equipment, saving costs for individual miners.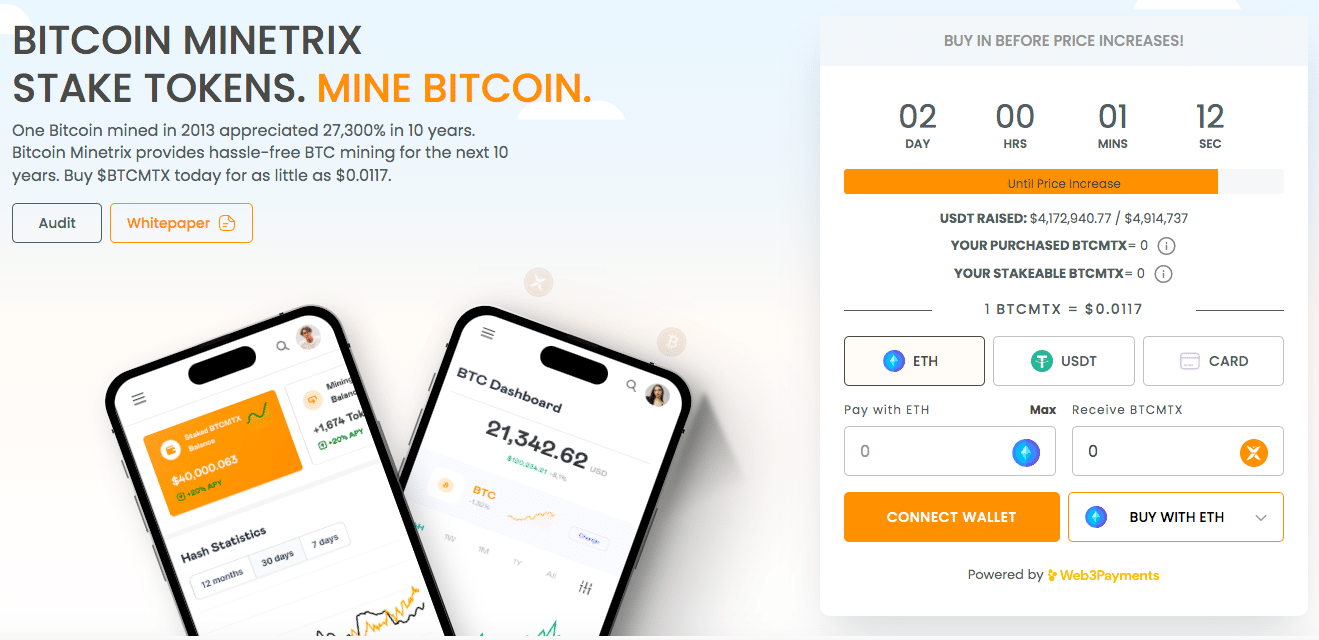 As your tokens are staked on the ecosystem, Bitcoin Minetrix will offer you cloud mining credits. These will be non-tradable ERC-20 tokens, which can be burnt on the ecosystem in exchange for Bitcoin cloud mining power. Once your credits are burnt, you receive an allocated cloud mining time through which you can collect a percentage of the mining revenue. 
Bitcoin Minetrix came up with this solution due to the dubious scams that are prevalent among other third-party cloud mining companies. By giving autonomy via the $BTCMTX credits, users will easily be able to generate cloud mining credits. 
This new cryptocurrency platform has just started the token presale for $BTCMTX. From a total supply of 4 billion, 70% of the tokens have been allocated equally across twenty presale rounds. At the time of writing, $BTCMTX is priced at just $0.0119 during the ongoing presale round.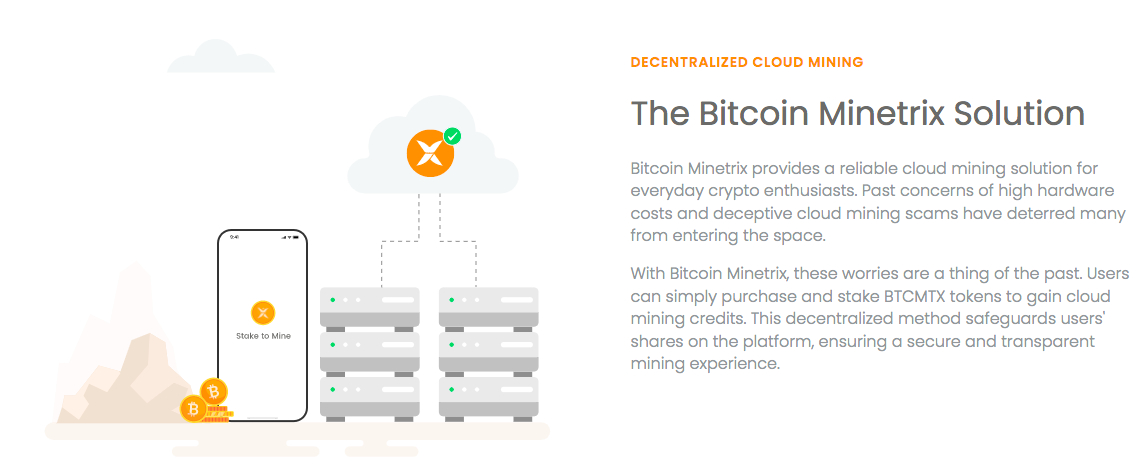 The price will hike to $0.0148 by the 39th and final presale stage. 
42.5% of the presale tokens will be used for Bitcoin mining, while 7.5% will be staked, and 15% will be set aside for the community. Read the Bitcoin Minetrix whitepaper and join the Telegram channel to learn more about this cryptocurrency project. 
3. Meme Kombat ($MK) – Best Play-to-Earn Crypto 
The next crypto on our list is Meme Kombat ($MK) which offers staking and is a top play-to-earn crypto game. This exciting new blockchain meme coin project leverages AI and stake-to-earn (S2E) mechanics with decentralized gaming offering degens a meme token with genuine utility. 
With just a few weeks since its launch, the Meme Kombat presale has already raised over $2m highlighting its upside potential and popularity amongst degens and the wider crypto market.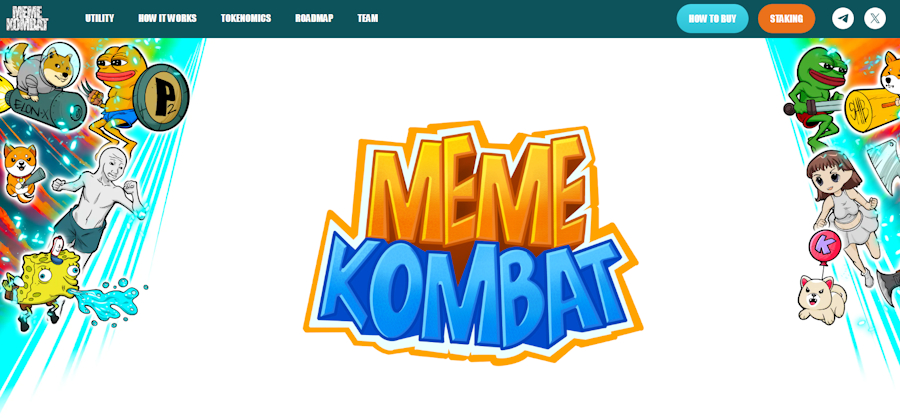 Meme Kombat's platform facilitates outcome-based wagers, crypto staking, and Web3-based meme gaming. This trio of hot crypto trends helps Meme Kombat enter the scene as an innovative crypto project merging meme culture with staking and wagering games. 
As well as earning an income from staking – which currently sits at 512% APY – users will have the opportunity to bet with $MK tokens on the results of battles between 11 meme characters within the Meme Kombat battle arena. 
Meme Kombat introduces an innovative gaming sisystem that pivots on its native token, $MK. The main premise: to simplify staking and wagering while simultaneously offering enticing rewards. Winners not only receive $MK tokens but also stand a chance to win valuable prizes.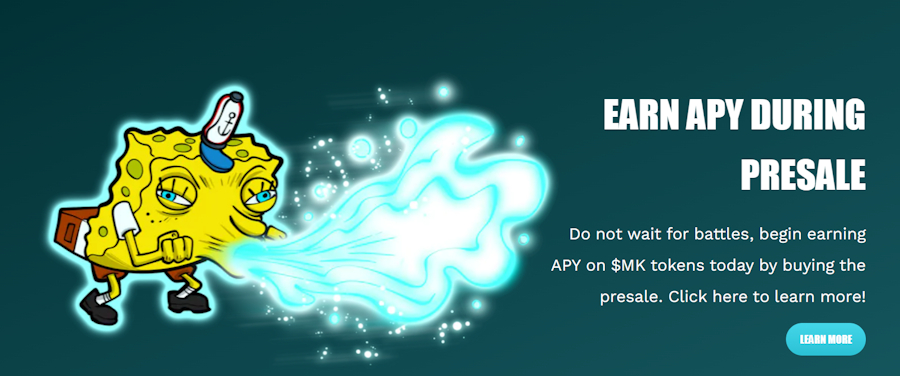 A unique staking system sits at the heart of this gaming ecosystem. Early-bird enthusiasts can purchase $MK tokens for a discounted price of $0.214 and begin earning up to 415% through the staking mechanism. However, the income earned is based on both the staking duration and the level of engagement on the platform.
Throughout the presale, staking is automatic for all degen buyers, with rewards accumulating over time. After the presale ends, participants can re-stake their tokens via the claim page. It's important to note that removing tokens from staking post-presale results in forfeiting rewards, which compound daily.
How do Meme Kombat's tokenomics work? With 50% of the total token supply allocated to the presale, 30% for staking and battler rewards, 10% for community rewards, and 10% for decentralized exchange liquidity, Meme Kombat offers a comprehensive meme, staking and wagering ecosystem that works. 
The global online gambling market is surging, with blockchain technology at its forefront, projected by businesswire.com to increase from $88.65Bn in 2023 to $125.6Bn in 2027 at a compound annual growth rate of 9.1%. Meme Kombat stands out from the crowd by combining blockchain, AI, and memes in a new yet exciting way, appealing to the same demographic that has made staking and meme coins popular. 
Unlike traditional staking, Meme Kombat facilitates the active use of staked $MK coins, making them available for wagers. Meme Kombat token can be purchased using ETH, BNB, or USDT (ERC-20 and BEP-20 versions), offering a unique gateway to meme-powered game-based gambling and dual-purpose staking, making it an exceptional crypto opportunity with 10x potential. 
Read the Meme Kombat whitepaper and join the X (formerly Twitter) and Telegram channels to stay updated with all the latest news and announcements.  
4. TG.Casino Token – Best Crypto for Staking Rewards
One of the best new cryptocurrencies to watch right now is TG.Casino Token ($TGC) as it offers huge staking rewards during its presale and other rewards via its casino. The TG.Casino is a fully licensed upcoming casino platform that can be accessed directly via the Telegram app globally and is open and playable now.
Due to the security and top-quality infrastructure that Telegram offers, the TG.Casino is 100% safe to use – furthermore, there is no KYC (Know Your Customer) requirement before joining the casino. 

$TGC, the native cryptocurrency, can be used to avail multiple benefits and staking rewards on the casino and used to participate in multiple casino games. Certain game rooms are exclusive for $TGC token holders, while TG.Casino Token will also be offered as rewards to casino players. 
$TGC has a total supply of 100 million, out of which 40% has been allocated for the ongoing presale. Currently priced at $0.16 per token, TG.Casino token has raised more than $3m in only a few weeks. Within the platform, users can also stake $TGC to earn staggering APYs – at press time, the annual yield for staking $TGC is a staggering 195%. 
From the profits that TG.Casino generates, a portion will be used to buy back $TGC tokens from a decentralized exchange. 40% of the tokens bought back will be burnt to help limit price volatility and the remaining 60% will be offered as rewards to staked token holders. 

The casino offers thousands of slots, virtual and live dealers, and sports betting, with players able to anonymously deposit crypto with no fees or limits. New players receive a 200% matched first deposit, up to 10 ETH, while those who deposit and play with $TGC earn 25% cashback on losses weekly.
By investing at least $5k in the $TGC presale, investors can receive exclusive NFTs and post-launch rewards. For more information, read the TG.Casino whitepaper and join the Telegram channel.
5. Wall Street Memes – Best Meme Coin to Buy Now
Wall Street Memes ($WSM) enjoyed one of the best crypto presales of 2023 and its early success and huge community make it a strong pick to be the next crypto to explode.
It is the best meme coin to buy now as it has a small market cap but high trading volume – signaling huge room for growth. The project, which also offers staking rewards, has also just launched a new crypto casino as it continues adding utility to its ecosystem.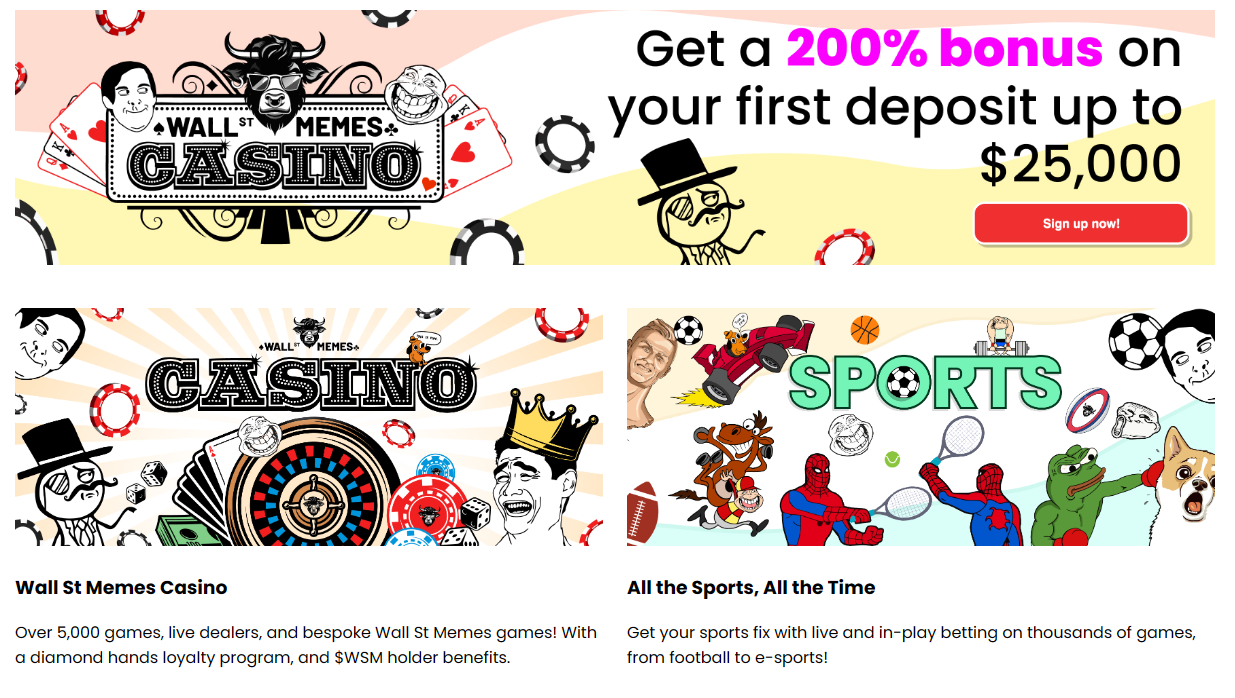 Powered by Telegram, the Wall Street Memes casino will offer instant, secure, and anonymous gaming, with thousands of slots, live card games, and sports betting. New players can earn a huge welcome bonus of a 200% matched first deposit, up to $25,000, while those who deposit $WSM will earn an extra 200  free spins.
Wall Street Memes has been a fixture in crypto since 2019, and has built a social media following of more than a million, with high-profile personalities like Elon Musk having interacted with the platform's memes, highlighting its popularity online. It previously launched the Wall Street Bulls NFT collection, which sold out in 30 minutes, before launching $WSM – which sold out its $25 million presale in record time.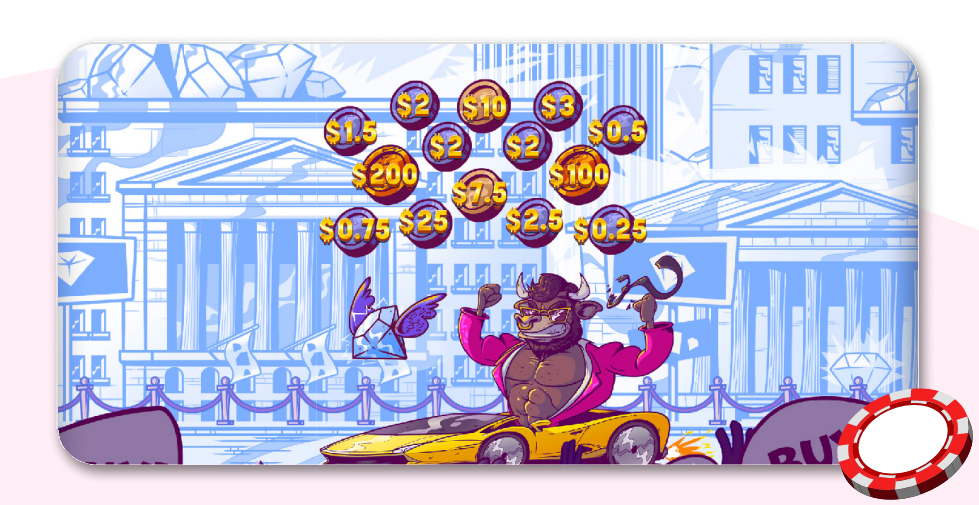 After listing on exchanges, $WSM pumped by almost 300% and now appears set to break out when wider market conditions improve, especially with the added utility from the casino. 
The $WSM token has a total supply of 2 billion tokens and is listed on multiple tier-1 CEXs. Keep abreast of this project's developments via the Wall Street Memes Telegram.
6. eTukTuk – Best Eco-Friendly Crypto to Buy
One of the top cryptocurrencies to buy right now is eTukTuk (TUK). This is the world's first automotive project powered on the Binance Smart Chain and by leveraging blockchain technology.
eTukTuk aims to offer energy-efficient EV charging stations to TukTuk drivers in the developing world. The presale has now raised more than $265k, while those who lock their tokens into the staking pool can earn up to 750% APYs.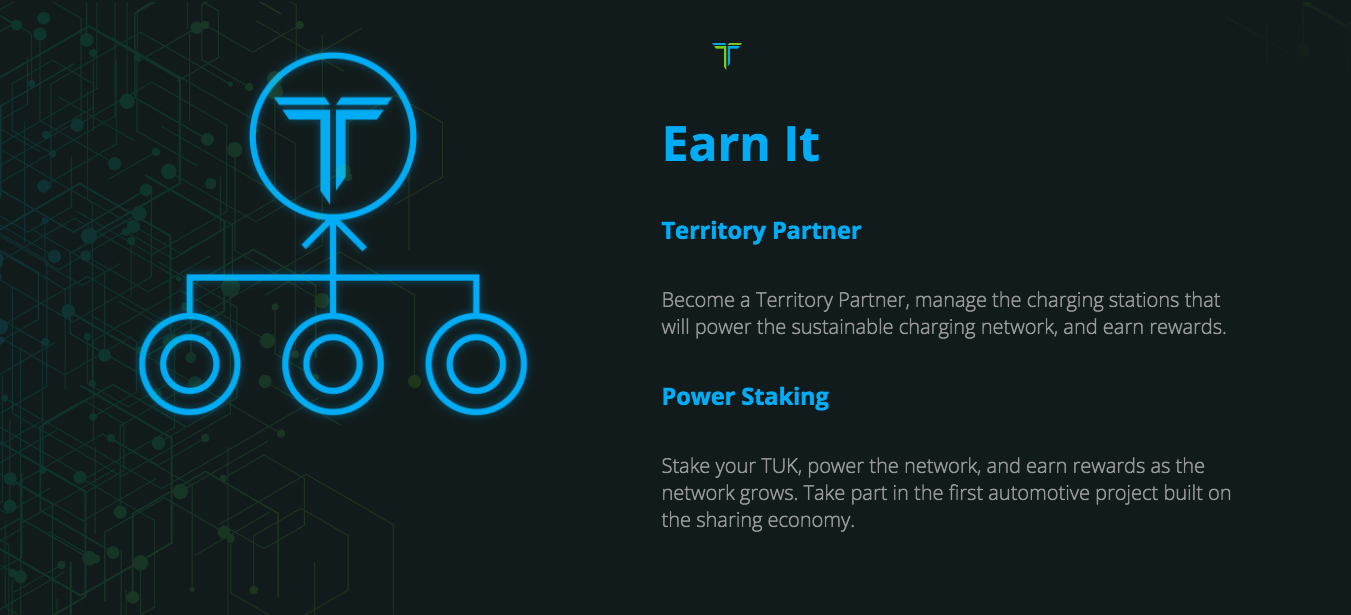 Since the BSC charges low costs per transaction and is a highly scalable network, eTukTuk will be able to expand the platform across the world. TukTuk drivers can make the change from using Internal Combustion Engine (ICE) TukTuks to zero-emission vehicles (ZEVs). 
Not only do these vehicles reduce air pollution, but they will also result in lesser energy consumption. With the past exploitation of non-renewable resources such as fossil fuels, ICEs are slowly becoming obsolete. Thus, TukTuk drivers are already looking to switch to electric vehicles. 
According to the eTukTuk whitepaper, the platform will help TukTuk drivers save 75% by using efficient charging means. Firstly, eTukTuk will set up electric vehicle supply equipment (EVSEs), where ZEVs can be charged. 
The EVSEs will be set up in multiple locations, primarily in developing countries. Each EVSE will be set up with the help of a territory partner, who will be responsible for operating and installing the equipment. Once drivers start paying on the eTukTuk driver app, the partners will receive a cut of every transaction. 

One of the best cryptos, $TUK, can also be staked to earn APY (Annual Percentage Yield) on the ecosystem. Furthermore, staked token holders will receive inflationary rewards from a staking pool for the next 15 years. 
The $TUK presale has just launched with 12.5% of the total 2 billion token supply allocated for the presale. Join the eTukTuk Telegram channel for more information on this cryptocurrency project. 
7. Green Bitcoin – Best Gamified Price Prediction Crypto to Buy
Next on our list is Green Bitcoin, a new token presale aiming to raise funds and develop a Bitcoin price prediction reward system. All you need is $GBTC tokens to stake, and then predict Bitcoin's price. If you're accurate, you'll be rewarded.
However, the game isn't live yet but you can buy $GBTC tokens in a presale at a discounted price. Once the token is listed on major exchanges, the price could potentially go up. Moreover, the token presale is divided into multiple stages and the token price goes up with each stage even during the presale.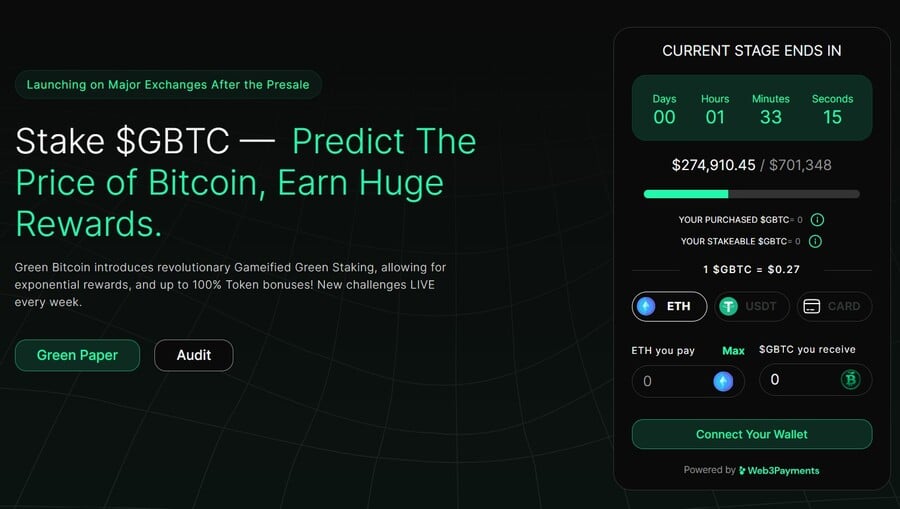 You need ETH, USDT or a card to buy the $GBTC token in the presale. Withdrawal of your tokens will be enabled once the presale ends. While you wait, stake your tokens and earn more $GBTC as a reward. There's a 700% APR as of this writing, which will drop as more tokens are staked. This means if you're planning to participate in the presale anyway, it's best to do it early due to the lower token price and higher staking APR.
Based on Green Bitcoin's whitepaper, there are 21 million tokens in total with 40% dedicated to the presale and 27.5% to the staking rewards. This means more than half of the supply will go to early supporters.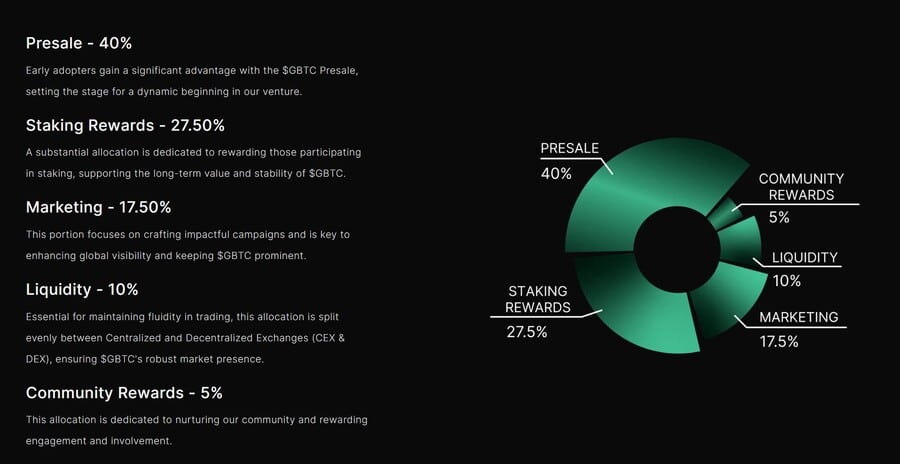 There are four phases in the project's development. First phase is the presale launch, second phase is the token listing on exchanges after the presale ends. The third phase implements the Bitcoin price prediction reward system where the fun begins.
Make sure to follow Green Bitcoin on X and Green Bitcoin on Telegram to stay up to date with the latest information about the project.
8. Scorpion Casino – Best For Casino Rewards
Another excellent crypto investment of 2023 is $SCORP – the utility token of Scorpion Casino. The project introduces a unique social online crypto gambling platform where you can earn daily yield and rewards based on the casino's performance. 
It turns gaming into a lucrative activity and is an excellent alternative to play-to-earn platforms, which have high entry barriers. More than $2 million has been raised in its presale so far.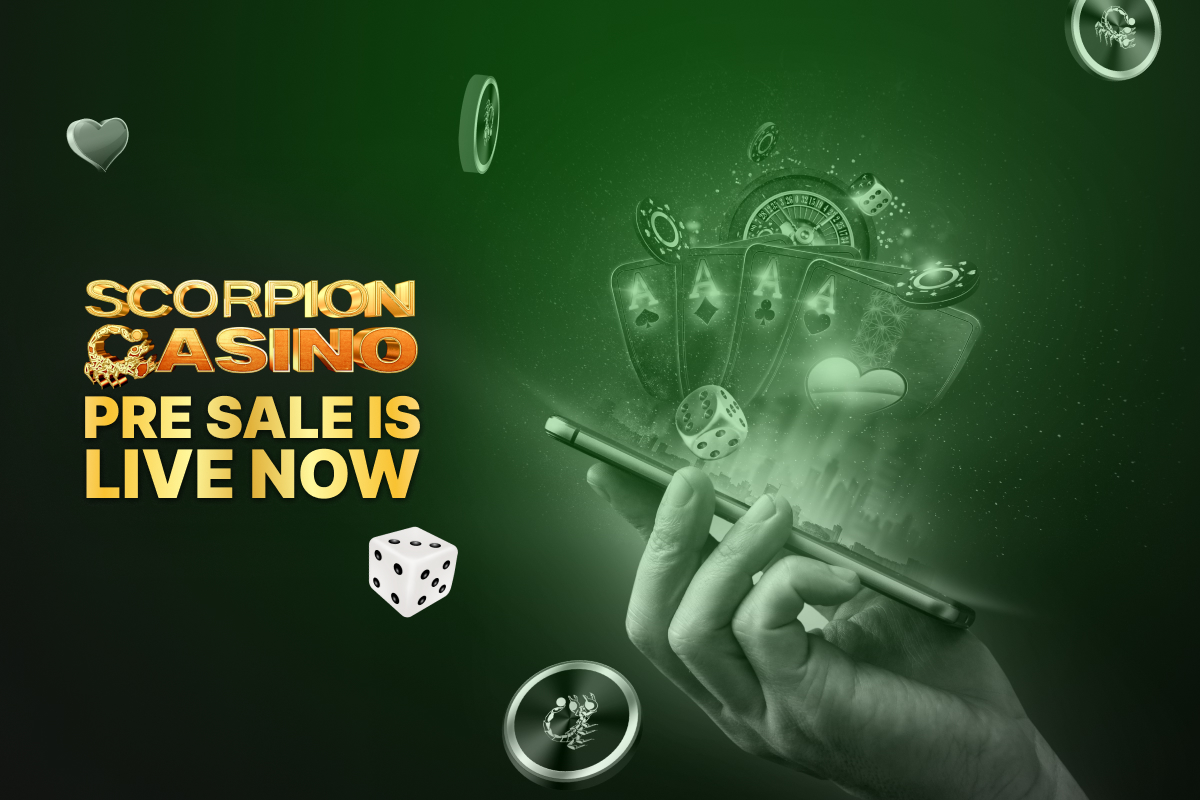 With a fair reward distribution system integrated into the smart contract, Scorpion Casino allows you to generate daily passive income worth up to $10,000 by staking SCORP. This applies to the presale investment too. 
As a deflationary token, SCORP is put through an automatic burn mechanism which will support its value in the long term. Using the token, you can get access to:
30,000 betting opportunities monthly
210 casino games
60 live games with a licensed, transparent and provable platform.
It also allows sports betting on major leagues like NBA, MLB, NHL, Champions League, Primera Division, Bundesliga, Football World Cup, UFC, Boxing, etc
Although Scorpion Casino is a new project, it has secured partnerships with industry leaders like BetRadar and CoinsPaid. That strengthens the project's foothold in the market. The platform's focus on security and compliance also speaks for its credibility. It is regulated and licensed by the Curacao EGaming licensing entity.

Scorpion Casino now allows payments in cryptocurrencies like Bitcoin, ETH, and BNB. More payment options, including a wide range of fiat currencies, are likely to be integrated soon.
As a strong new player in the fast-growing global online betting and gambling markets, the SCORP presale opens one of the best crypto investment opportunities of 2023. (Use the Exclusive Bonus Code Scorpion20 to get 20% extra on your purchase. Available for a limited period only).
9. Launchpad XYZ – Best Gateway to Web3
Launchpad XYZ is a brand-new Ethereum-based platform that aims to streamline the transition of the next 10 million users to the world of Web3 technologies. To do this, Launchpad XYZ will offer various tools and features to create an 'all-in-one' ecosystem that touches on all aspects of Web3 – a setup that has yet to be completed in the crypto market. 
Within the Launchpad XYZ platform, users can access a decentralized exchange (DEX), trading terminal, presale marketplace, metaverse experience library, play-to-earn (P2E) game hub, and much more. Launchpad XYZ will also offer several features that have yet to be widely adopted by the crypto community, such as an NFT DEX and a fractionalized assets marketplace.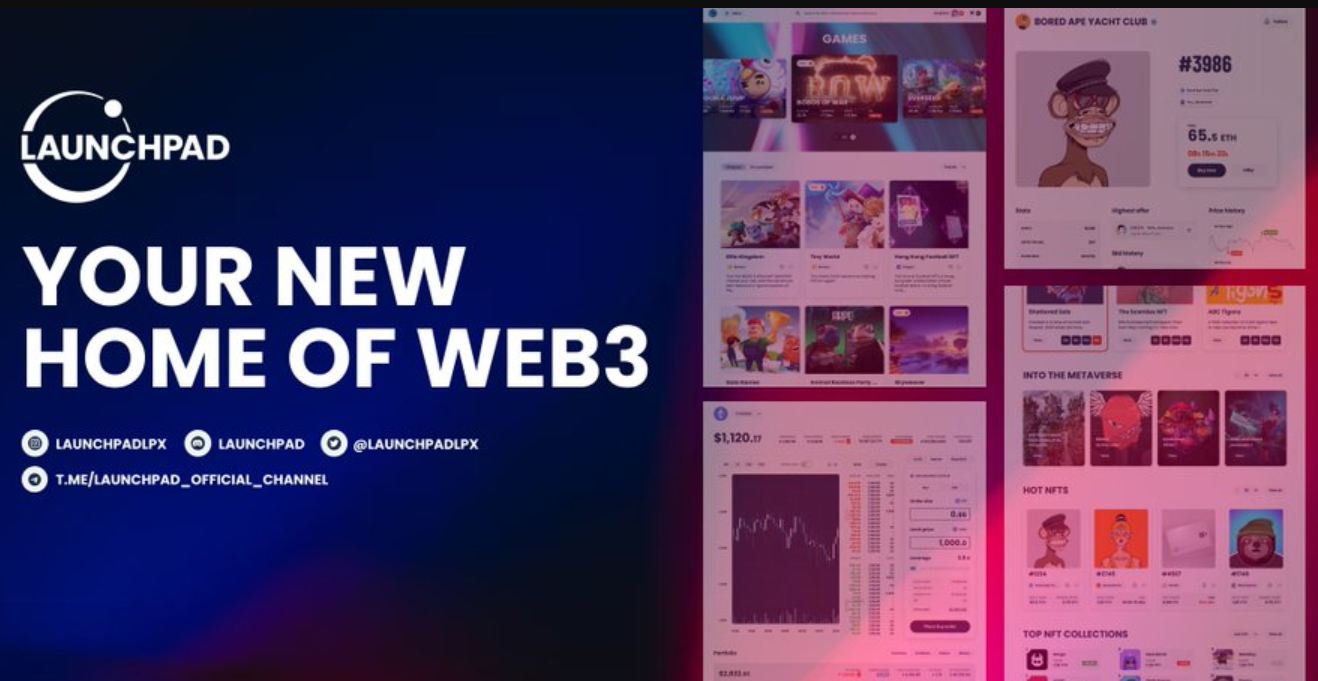 One of the main features is the alpha Telegram channel, which offers signals and recently made a 7,000% call on LINQ. Underpinning all of these features is LPX – Launchpad XYZ native ERC-20 token. As per the project's whitepaper, LPX will be used to pay fees and list assets on Launchpad XYZ numerous exchanges, although investors can also stake tokens to receive unique benefits. 
These benefits include early access to presale cryptos and discounts on trading fees. Since Launchpad XYZ is entirely decentralized, the platform never has control over each user's digital assets. Moreover, Launchpad XYZ will also feature expert insights and educational materials showcasing how users can make money through new and exciting Web3 technologies.

However, as a presale cryptocurrency, Launchpad XYZ is naturally considered riskier than more established coins since there's no price history to look back on. However, even though presale cryptos have clear risks attached, they can sometimes provide significant returns – such as in the case of Lucky Block.
Those looking to participate in the presale, which has raised $2 million, can buy Launchpad XYZ tokens for $0.0445 – 50% lower than the project's intended listing price. Notably, the LPX price will increase between stages, rewarding those who get involved the earliest. Interested investors can learn more about Launchpad XYZ by joining the official Telegram channel.
10. yPredict – Best Crypto to Buy for Traders
yPredict (YPRED) is a next-generation trading platform that provides traders with the data-driven insights they need to make better trading decisions. It offers advanced research and analysis capabilities to help traders stay one step ahead.
With the $YPRED token, users can access the ecosystem and buy subscriptions. The subscriptions on the platform offer monthly access to model predictions that a team of financial quants and trading experts has generated. 

The new models are verified by yPredict's DAO (decentralized autonomous organization), ensuring users get the best possible trading information. One of the top utility tokens to hold, $YPRED token holders receive a portion of each new subscription. 
10% of the new sign-up funds are distributed to existing token holders through a liquidity pool. Furthermore, a swap fee of 15% is charged on every trade on the platform, 15% of which is also shared with token holders.  By holding $YPRED, members can access educational resources. The platform allows members to take models and quizzes and lets you earn tokens by completing these assessments. 
There is also a 5% tax on buying new tokens and a 7% tax on selling $YPRED. The tax collected is distributed towards liquidity pools, platform development, and marketing and research purposes.  80 million tokens have been allocated for the presale. Currently, $YPRED is priced at $0.11 per token. However, the price will jump to $0.12 upon listing.
yPredict has raised over $5 million since the presale started – read the yPredict whitepaper and join the Telegram channel to learn more about this project. 
11. Doge Star – Community-Centered Galactic Metaverse With Doge Theme, Integrated NFT Marketplace, And 69% Token Burn
Doge Star is an ERC20 meme ecosystem with a stellar theme. This is a Doge-inspired token with the wisdom of the stars,  as a shining beacon in the wider crypto universe. It claims to be more than just a token or even a community, but a universe unto itself. 
The vision of Doge Star is to integrate NFTs into an inclusive Metaverse, where each collectible can be sent from planet to planet. The Doge Star Metaverse serves two purposes – to entertain players and to provide a means of ROI. Every NFT is meant to have real-world value.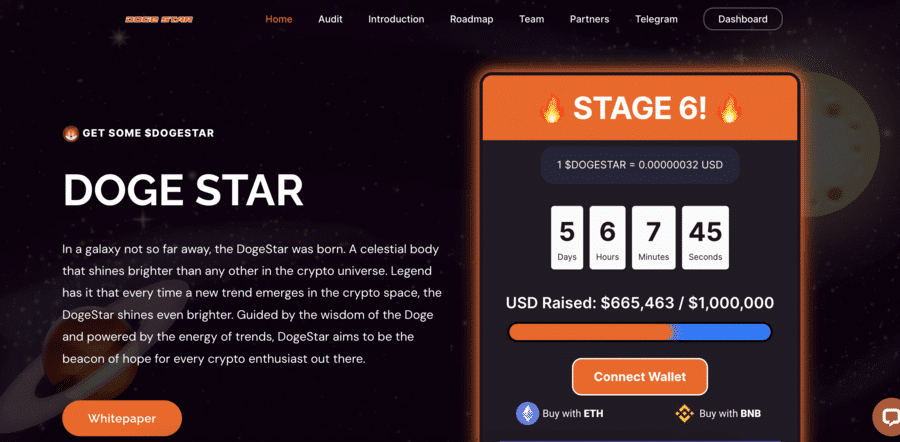 At the core of Doge Star is the NFT Marketplace, referred to as the 'Galactic Bazaar'. Each individual NFT is a blockchain-certified collectible to ensure correct ownership. So not only is each NFT interoperable within a broader universe, it is certified and immutable for individual ownership. 
Players have the opportunity to take part in DAO governance and to customize characters, ships, and bases. In-game achievements can be monetized for increased ROI. 
There is a gigantic 1 quadrillion $DOGESTAR tokens in total. 69% is allocated to a burn pool, 10% to the presale, 10% to DEX liquidity, and 10% to CEX liquidity. 69% is an extremely large token burn, a strategy to encourage price appreciation. The final 1% is for marketing purposes. 

Currently, in stage 6, the presale has raised over $800k and is priced at $0.00000032. The exchange listing price is substantially higher, at $0.0000006. The combination of a 69% token burn, a definitive presale price increase, and a Doge-inspired theme could yield impressive ROI rewards, if market conditions are appropriate.  
Doge Star has been smart contract audited for additional transparency. For more information, users can join the Telegram account and read the Doge Star Whitepaper.
12. Pikamoon – Immersive P2E Metaverse Aims To Become Best P2E Ecosystem On the Market
Pikamoon is a P2E metaverse with a significant community focus. The team behind Pikamoon studied many other P2E projects and took the winning elements, including player incentivization, community focus, and engaging gameplay. 
The "Pikaverse' has its own story and appeal, featuring Gods, Titans, Pokemon, and unique cultures based on the elements. The aim is to become the best Metaverse and GameFi crypto on the market, and the ecosystem takes aspects from Fortnite, Pokemon, and even Fifa.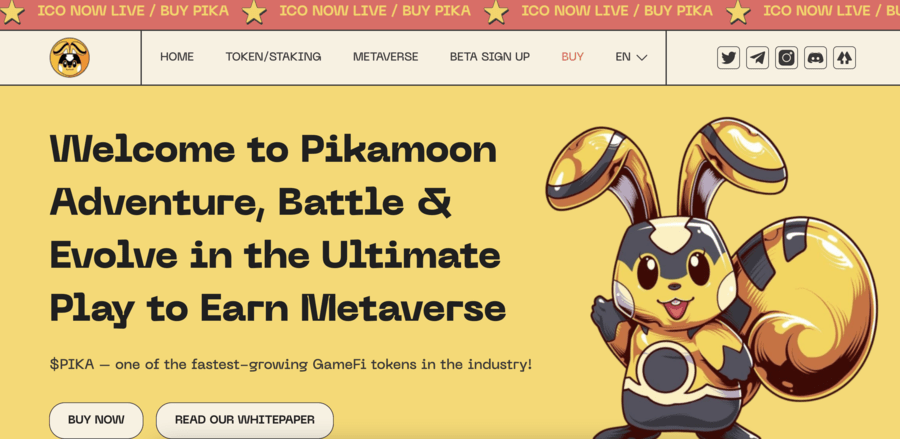 Travelers within the Pikaverse engage in combat with other travelers, instructing their Pikamoon to attack. They can also swap, talk, flee, check-in, or use an item. The battle system can get very complex with defensive and offensive maneuvers, and the team has clearly put a lot of thought into battle mechanics to make it engaging for players.
$PIKA is the native token that can be used to buy items. It can be earned by completing quests within the game. 
Pikamoon is currently in stage three of its presale, with a price of $0.0006. The launch price for $PIKA is $0.0007, which is nearly a 20% appreciation. The presale has raised over $4.25 million so far and the token can be purchased with either ETH or card.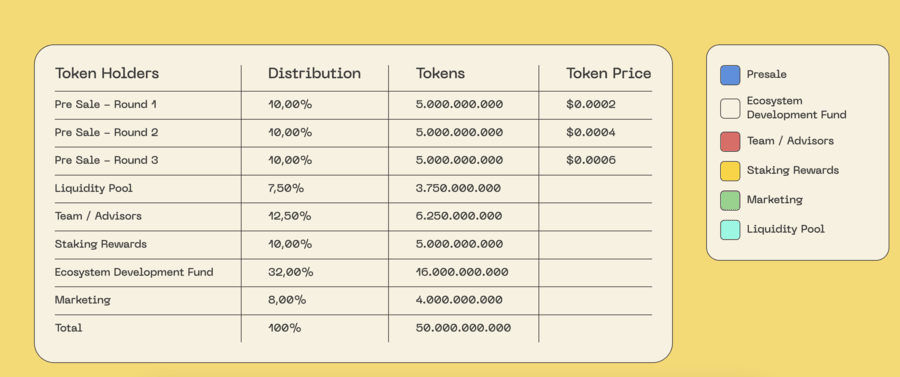 Metamask or another compatible Web3 wallet will be required to connect to the presale page and finalize the transaction. Staking will become live after the presale is complete and there is no buy tax when purchasing $PIKA. 
For more information, gamers can check out the Pikamoon Telegram account. The team behind Pikamoon is doxxed and the project has been verified by Coinsniper. 
The Pikamoon Whitepaper outlines all relevant information related to the Pikaverse, battle mechanisms, NFT marketplace, and much more. 
13. Bitcoin – Best to Buy for Long-Term Investors
Bitcoin is the leading crypto asset of choice, with the largest presence and market capitalization in this space. Bitcoin went on a prolonged bull run in 2021, which halted in November of the same year when the digital asset surpassed $69,000. 
This is unprecedented when one considers that you could buy Bitcoin for just a small fraction of a dollar when it was first launched in 2009. In other words, in just over 12 years of trading, Bitcoin achieved gains in the millions of percentage points.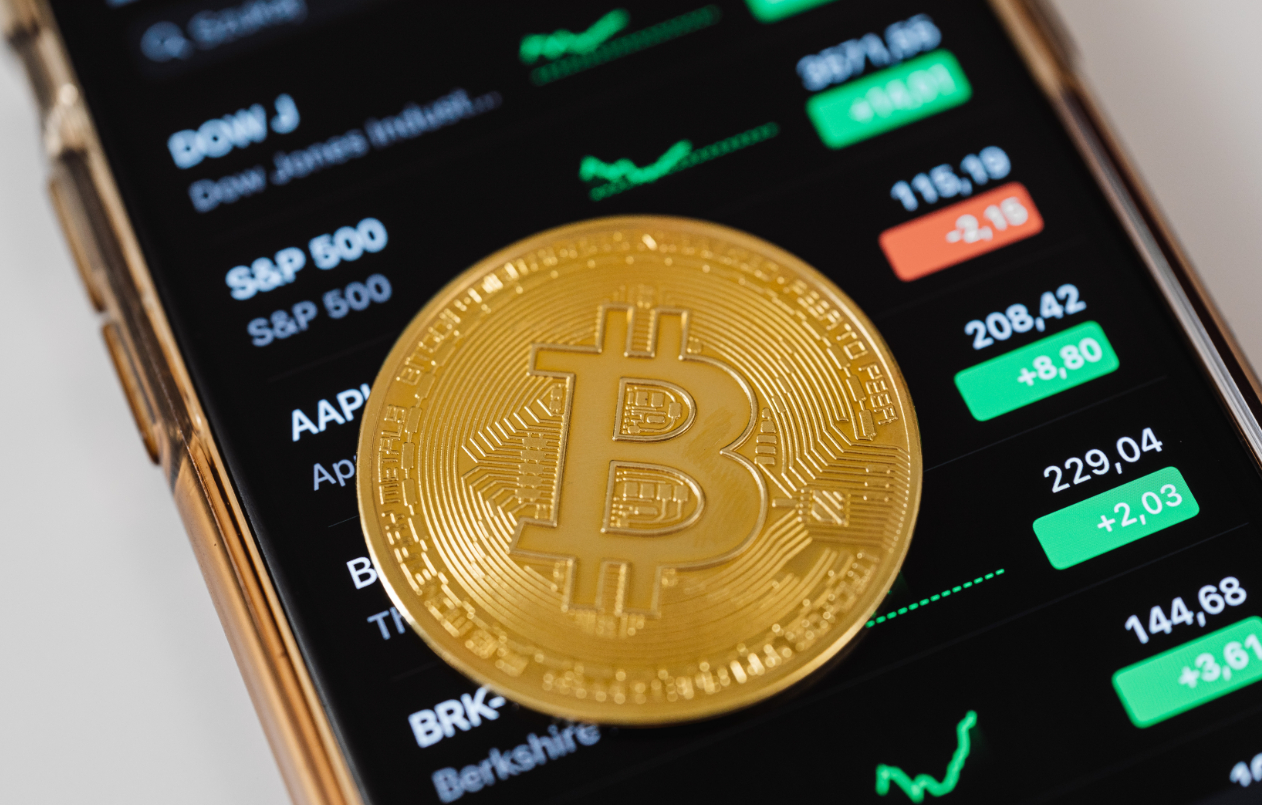 Nonetheless, Bitcoin has since entered a bear market and subsequently dragged the rest of the industry down with it – in just 12 months between November 2021 and November 2022, BTC lost more than 75% of its peak value, dropping below $17k in late 2022.
However, 2023 has seen the price of Bitcoin making an excellent recovery from those lows and, at the time of writing, BTC is priced at $36,000 – 120% up from January 1. Much of its price action has been driven by the likes of BlackRock and Fidelity – major financial management firms with trillions of dollars of assets under management – applying for Bitcoin spot exchange-traded funds.
Experts believe the US Securities and Exchange Commission will approve their applications soon, which could be the catalyst for another bull run in 2024 – along with the pending Bitcoin halving, which is expected in April 2024.
Despite the increased price in the last year, Bitcoin remains attractive to investors as it can still be purchased at 50% below its all-time high. According to Bitcoin price predictions, some analysts forecast that the price of BTC could hit $100,000 by the end of 2024.
Consequently, if BTC does return to its ATH in 2025, how much should you invest in Bitcoin to maximize any potential profits?  Another thing to remember about Bitcoin is that many platforms now offer yield services on the digital asset. This means that while investors wait out the bear market, they can generate a passive income on their Bitcoin holdings. As such, some investors are also asking is it too late to buy Bitcoin?  
In terms of the upside potential, this remains to be seen. Some Bitcoin proponents see no limit to the value of the de-facto digital asset, with medium-term objectives of $100,000 per token. In the shorter term, a return to the $69,000 level would require an upside move of over 150%. When it comes to buying BTC we found that the best crypto app in 2023 is the Binance crypto app. 
Cryptoasset investing is highly volatile and unregulated in some EU countries. No consumer protection. Tax on profits may apply.
14. Ethereum – Best Crypto for Decentralized Apps
Ethereum also stands out as one of the best crypto to invest in 2023. The world's second-largest crypto project by market capitalization is the leading smart contract blockchain – there are thousands of ERC-20 tokens built on top of Ethereum, which highlights its legitimacy. 
Moreover, and perhaps most importantly, when ERC-20 tokens are sent and received, transaction fees must be paid in ETH. This means that ETH has real-world utility, and thus – demand from the broader markets remains strong. With the ETH Merge now completed, some market analysts consider this crypto to be one of the greenest cryptos on the market in 2023.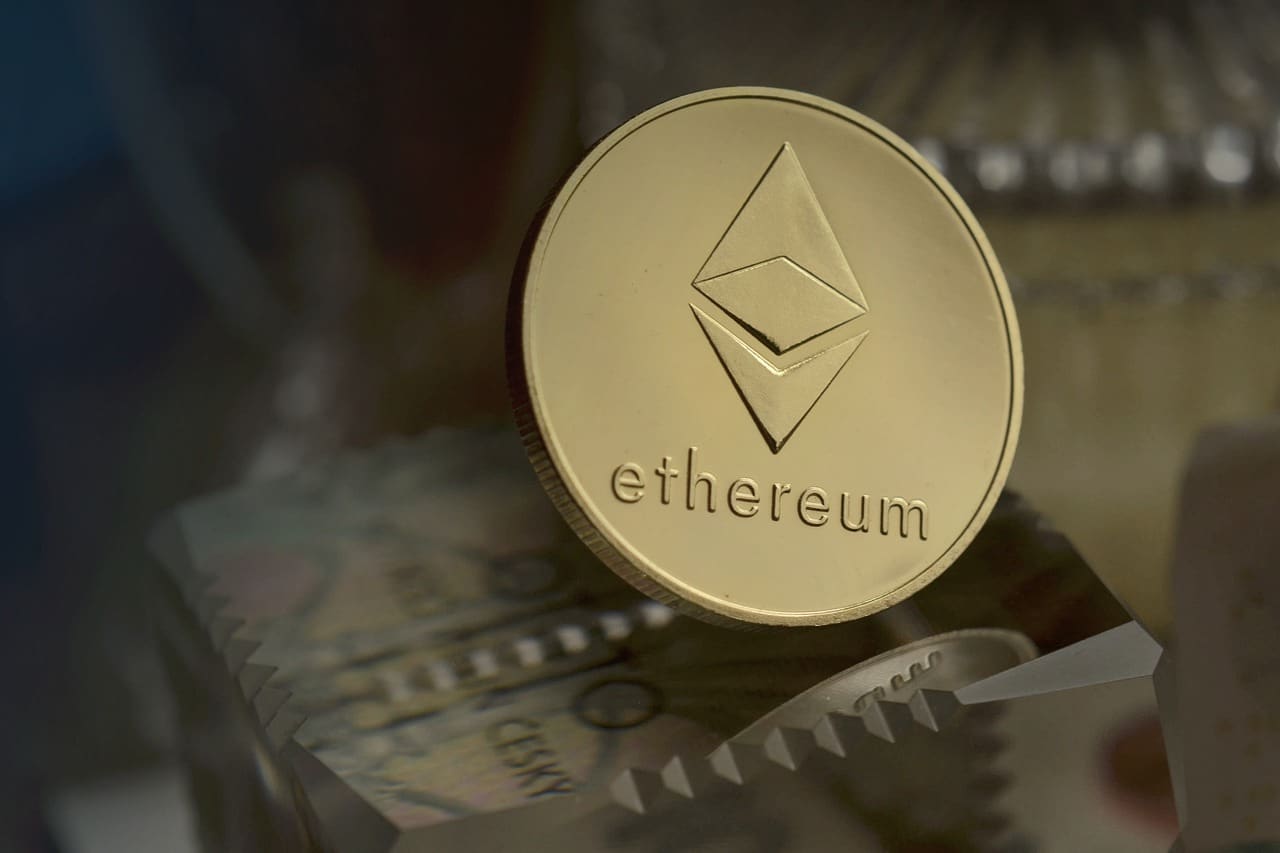 Another thing to note when investing in Ethereum is that it's the de-facto blockchain of choice for metaverse projects. Whether that's Enjin, Decentraland, or the Sandbox – leading metaverse worlds operate on top of Ethereum. During the 2021 crypto bull run, the Ethereum price reached highs of over $4,900.
As of writing, the same crypto asset is trading at around $2,00. For a return to its prior high at current pricing levels, that would mean an upside of over 145%. The price of ETH has also been pumping in recent weeks because, like with Bitcoin, major investment firms such as Fidelity have also applied to open spot Ethereum ETFs.
Cryptoasset investing is highly volatile and unregulated in some EU countries. No consumer protection. Tax on profits may apply.
15. BNB – Best for Binance Customers
Looking at the value of Binance Coin at the time of writing, this could also be one of the best cryptocurrency to invest in 2023. This digital asset is the native token of the Binance ecosystem, which is the largest P2P crypto exchange globally for trading volume and offers reduced trading fees and other loyalty rewards.
BNB was created in 2017 and its initial use case was to offer discounted trading fees for users of its exchange. Binance has since gone on to create a multitude of additional products and services, many of which offer BNB further use cases.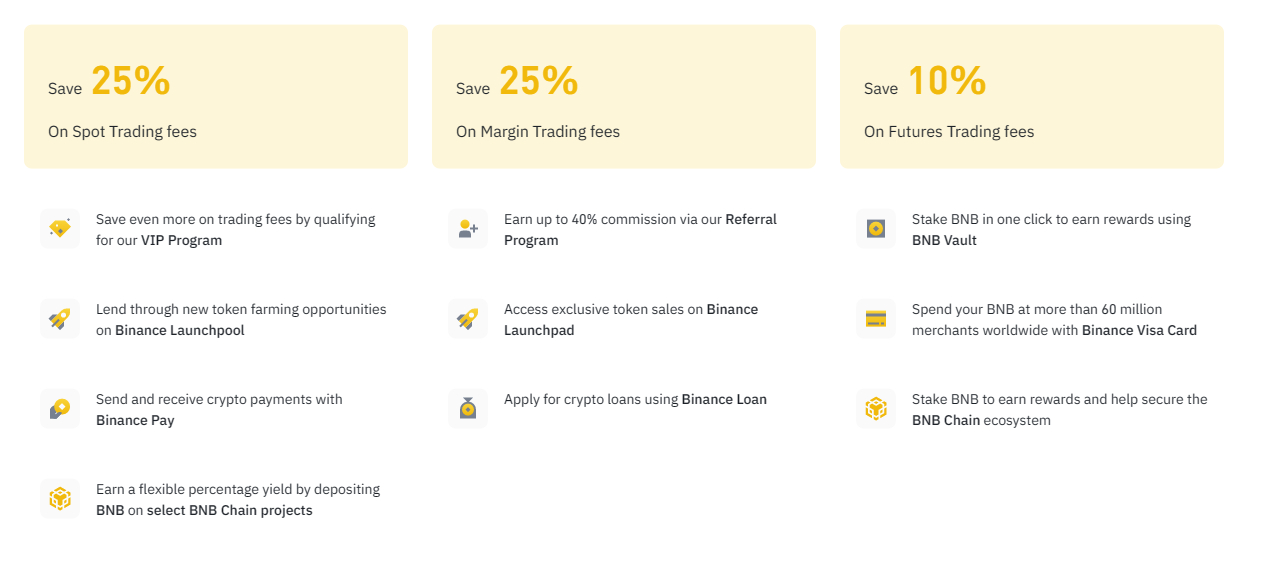 For example, the Binance Smart Chain – which aims to compete with legacy blockchain networks, typically requires listed projects to pair against BNB. Moreover, transaction fees on the Binance Smart Chain are paid in BNB. Just like ETH on the Ethereum blockchain, this ensures that BNB has real-world value and remains in constant demand. Compared to its prior all-time high of $669, BNB is trading at a discount of 57% for those investing at prices as of writing.  
Those investing in BNB should be aware that Binance has been subject to clampdowns across the world, including in major markets such as the US and UK, as regulators seek to avoid another FTX-scale disaster.
Cryptoasset investing is highly volatile and unregulated in some EU countries. No consumer protection. Tax on profits may apply.
16. XRP – Best for Cross-Border Payments 
XRP was launched in 2012, which makes it an established crypto asset that has gone through several bear markets. This is the native token of the Ripple network – which enables banks to transfer funds across cross-borders. 
In comparison to legacy payment systems like SWIFT, Ripple offers fast, cheap, and scalable transactions. This is the case irrespective of where the sender or receiver is based. Moreover, the rapid performance of Ripple also remains solid when competing currencies are used.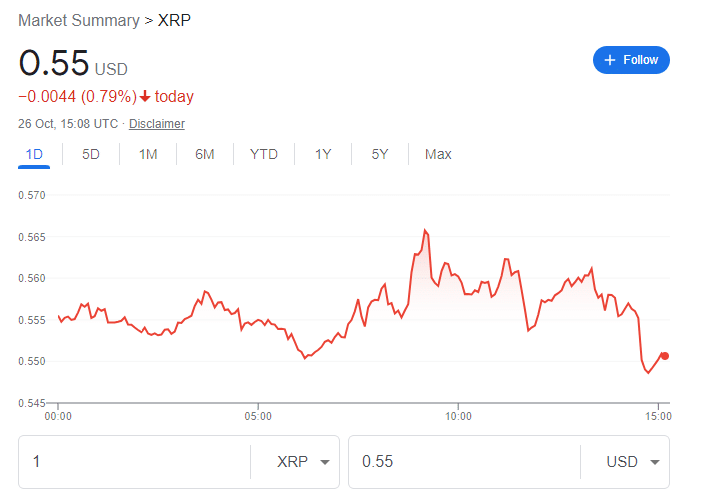 Typically, when banks use the Ripple network to transact, the transfer takes 4-5 seconds. Fees amount to a very small fraction of a cent, and Ripple can handle up to 1,500 transactions each and every second. 
XRP was up as much as 120% in October from its January prices after a series of minor court victories swayed investors into believing Ripple was about to win their two-year court case – however, that momentum has slowed amid uncertainty and a potential appeal from the SEC.
Cryptoasset investing is highly volatile and unregulated in some EU countries. No consumer protection. Tax on profits may apply.
17. Dogecoin – Most Popular Meme Coin 
Next up on our list of the best crypto to buy now is Dogecoin. Although it wasn't until 2021 that Dogecoin came alive – at least in terms of its pricing action, this digital currency was launched way back in 2013. But is it too late to buy Dogecoin today?
The project was launched as a joke, to highlight the ease in which crypto assets could be sold to the general public, but still remains one of the best meme coins around. This joke-like tag remained until early 2021, which was when Dogecoin caught the attention of Tesla CEO Elon Musk and pumped to incredible highs in just a few short weeks.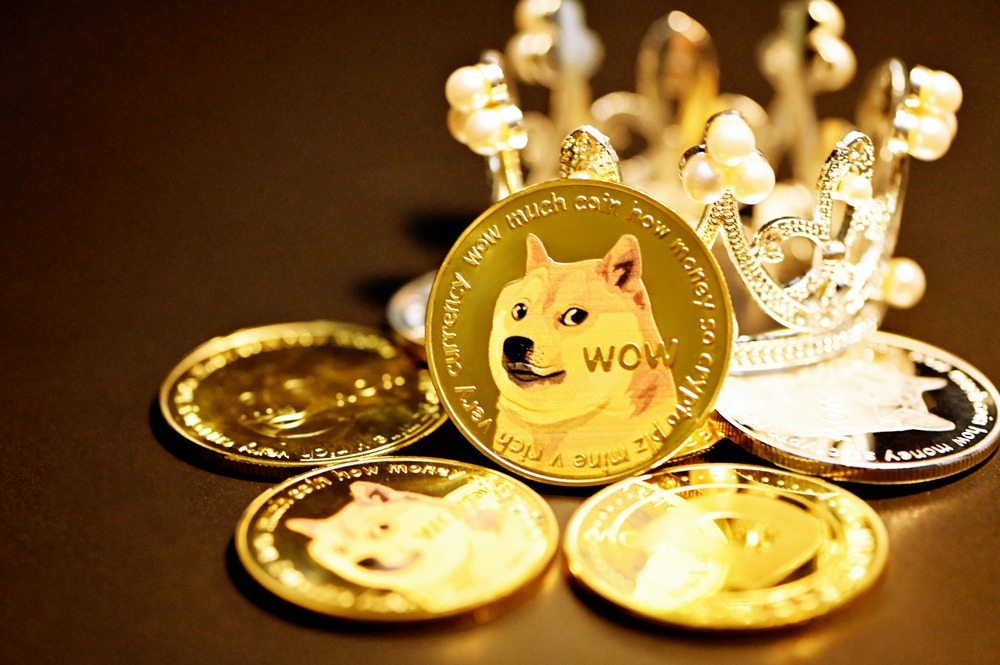 Across many Tweets and public appearances, Musk reiterated that he was a Dogecoin believer, with DOGE peaking at $0.71 – marking a 700,000% jump in just three months. Tesla – among other companies – now accepts Dogecoin as a payment method and many believe Musk will eventually add it as a payment/tipping service on X (Twitter).
DOGE has suffered through the bear market, while Musk was accused of insider trading and sued for over $200 billion in a class-action lawsuit. The token remains at a relatively low price – 90% down from its peak price – but its instant name recognition could see it pump in a true bull market.
Cryptoasset investing is highly volatile and unregulated in some EU countries. No consumer protection. Tax on profits may apply.
18. Uniswap – Best for Decentralization
Uniswap is a popular decentralized exchange that operates on top of the Ethereum network, meaning that traders can buy and sell crypto assets without a third party. Its native token UNI was one of the best cryptos to buy in 2021.
Instead, users can simply connect their crypto wallet to Uniswap and begin trading. Therefore, no account needs to be opened, nor does the user need to provide any KYC documents. The Uniswap exchange has revolutionized how trading orders are facilitated. 
Instead of using order books, Uniswap utilizes an AMM (automated market maker) system. This means that a user can trade tokens without needing a seller. Uniswap achieves this through liquidity pools. Those that wish to add liquidity to a Uniswap pool will earn interest. This offers a passive way to generate income on idle crypto tokens. Uniswap also offers other DeFi (decentralized finance) services, and more products are in the pipeline.   
Cryptoasset investing is highly volatile and unregulated in some EU countries. No consumer protection. Tax on profits may apply.
19. Shiba Inu – Popular Alternate Meme Coin 
Ever wondered if Shiba Inu is a good investment right now? Although Dogecoin is the original meme coin to enter this market, it now has a lot of competition. In this regard, Shiba Inu is perhaps the best cryptocurrency to buy now for those that wish to add a collection of alternative meme coins to their portfolio. 
The Shiba Inu story is nothing short of impressive. Although the project was only launched in April 2020, it has already become a large-cap crypto asset. Not only that, but early investors have since witnessed gains of several million percentage points. 
Crucially, Shiba Inu aims to become more than just a meme coin. For instance, the project has since built its own native layer-2 blockchain network – Shibarium – metaverse world, decentralized exchange, NFT collection, and selection of games.
So is it too late to buy SHIB for 2023? The token is also way down from its all-time high but, like DOGE, has the name recognition to potentially secure good returns in a bull market.
Cryptoasset investing is highly volatile and unregulated in some EU countries. No consumer protection. Tax on profits may apply.
How We Rated the Best Cryptos to Buy Now
To curate this list of the best cryptos to buy now we looked at various factors including historical performance, potential for growth and long-term potential, current price, utility, and security. For new projects currently on presale we also analyzed their teams, whitepaper, tokenomics, and roadmap to ensure they are legitimate projects that offer no risk of being a scam.
Our top picks tend to be presale and low market cap projects as they often offer much more potential for a return on investment (ROI) compared to longer-established projects, although investors should understand they can come with increased risk. 
Bitcoin, for example, is the largest cryptocurrency and considered by many to be the 'safest' investment – although investors are still at risk of losing funds. To make a significant gain when investing in BTC, billions of dollars elsewhere would need to be invested, making the potential to return large sums much more limited.
Some crypto presales offer immediate upside, as they offer staged price increases, which means those who enter early can see returns as soon as the tokens are listed on an exchange. However, we would always recommend having a diverse investment portfolio that contains both riskier and safer investments.
How to Find the Best Cryptos to Buy
Still wondering if cryptocurrency is a good investment in 2023? In this section, we will explain some of the methods that investors can utilize when searching for the best crypto to buy now for their portfolio. 
Long-Term Potential 
First, it is wise to consider what is the long-term potential of the crypto project. For example, Bitcoin will likely remain a 'store of value' for most, while Ethereum operates as the de-facto smart contract blockchain for ERC-20 tokens and metaverse coins, making it incredibly useful.
The long-term potential of both Bitcoin and Ethereum looks strong. As outlined above, the fact that major investment firms are preparing to offer Bitcoin and Ethereum ETFs to their clients, with the SEC expected to approve them, will be seen as a 'huge seal of approval', as Galaxy Digital CEO Mike Novogratz put it, for the potential long-term value of those two coins.
"This regulatory breakthrough is very important," says @ARKinvest Founder, CEO and CIO @CathieDWood. "Our expectation is that the crypto ecosystem will be dominated [by Ether and Bitcoin] and it will scale from more than $1 trillion today to $25 trillion in 2030." pic.twitter.com/yWqwiMA5hV

— Squawk Box (@SquawkCNBC) November 14, 2023
Analysts at British investment bank Standard Chartered told their clients earlier this year that BTC could reach $120,000 by the end of 2024 – a 233% price increase from now – and a healthy Bitcoin means the rest of the market is healthy as investment trickles down into riskier tokens.
Similarly, many other established crypto projects should have a bright future ahead of them. For instance, XRP has formed partnerships with over 200 banks, despite its continued issues with the SEC, while plots of land within the Decentraland metaverse have been purchased by multiple global brands.   
There are dozens of examples of major brands investing in Web3 and blockchain technology and by the end of the decade, it is expected to become a much larger part of mainstream life. Indeed, ARK Invest CEO Cathie Wood has predicted that the total crypto market – currently worth just over $1 trillion – will be worth as much as $25 trillion by the end of the decade.
Crypto Presales 
Cryptocurrency presales distribute a portion of a project's tokens to early investors on a first-come, first-serve basis. By investing in a presale, investors can acquire coins before they are listed on exchanges and before they are available to trade amongst the general public. 
Wondering how much to invest in cryptos? Many investors will have missed the opportunity to buy Bitcoin at under $100 or Ethereum at below $1. Fortunately, there are plenty of other opportunities to target similar gains. 
One of the best ways of achieving this goal is to search high and low for solid presale projects, which are often referred to as crypto ICOs (initial coin offerings). For example, in late 2022 Tamadoge was on sale for $0.01 in the first stage of its presale before reaching a peak of $0.194 after listing on exchanges – nearly 2,000% gains from that price. Crypto presales tend to offer more room to grow as they sell tokens at lower than their true market value to fund development.
However, investors must be diligent in their research to ensure they only purchase high-potential tokens that have a legitimate chance of being a worthy investment. Research should include investigating the following:
Read the whitepaper: A whitepaper is a document that outlines the whole project and should give readers a clear understanding of exactly what they are investing in. Poorly written or vague whitepapers should be considered a red flag.
Read the roadmap: A roadmap is the plan of how a project will develop over the coming months and years. It is easy to promise a $1 billion market cap, but the best projects also outline plans of action and the steps they will take to get to that point.
Check the smart contract: Unfortunately, the crypto world is rife with scammers and some projects are intended to steal funds from the get-go. There are resources to check smart contracts, while top projects will provide a full audit from a reputable third-party blockchain security firm.
Check the team: Again, due to the proliferation of scammers in the space, doxxed and public teams will relieve investors as they know exactly who is behind the project. An anonymous team is not necessarily a red flag if other parts of the project (whitepaper/roadmap/audit) are legitimate.
Check social media sentiment: Social media sentiment and hype are crucial to the success or failure of a project. Interesting projects will fail if they do not catch the attention of the wider marker. Similarly, be wary of projects that use bots/fake accounts to promote their tokens.
Utility 
Cryptocurrency projects offering high utility are likely to be more sustainable in the long run, since investors can use the tokens within the ecosystem to generate real value.
When searching for one of the top 10 cryptos to invest in, it is wise to focus on projects that have a real-world use case. As we mentioned earlier, Ethereum is a high-quality utility project as it has hundreds of other protocols and thousands of altcoins built on top of its blockchain. This means that its token ETH has huge levels of demand as people engage with those projects.
At the time of writing ETH has more than a 50% market share for DeFi chains, with a TVL (Total Value Locked – the value of other projects built on its blockchain) sitting at more than $25 billion, according to DeFiLlama.
Ethereum has more than 950 other protocols built on top of it, more than a third larger than the Binance Smart Chain (664), while the next largest chain by TVL, Tron, is almost 70% smaller with a TVL of around $8 billion.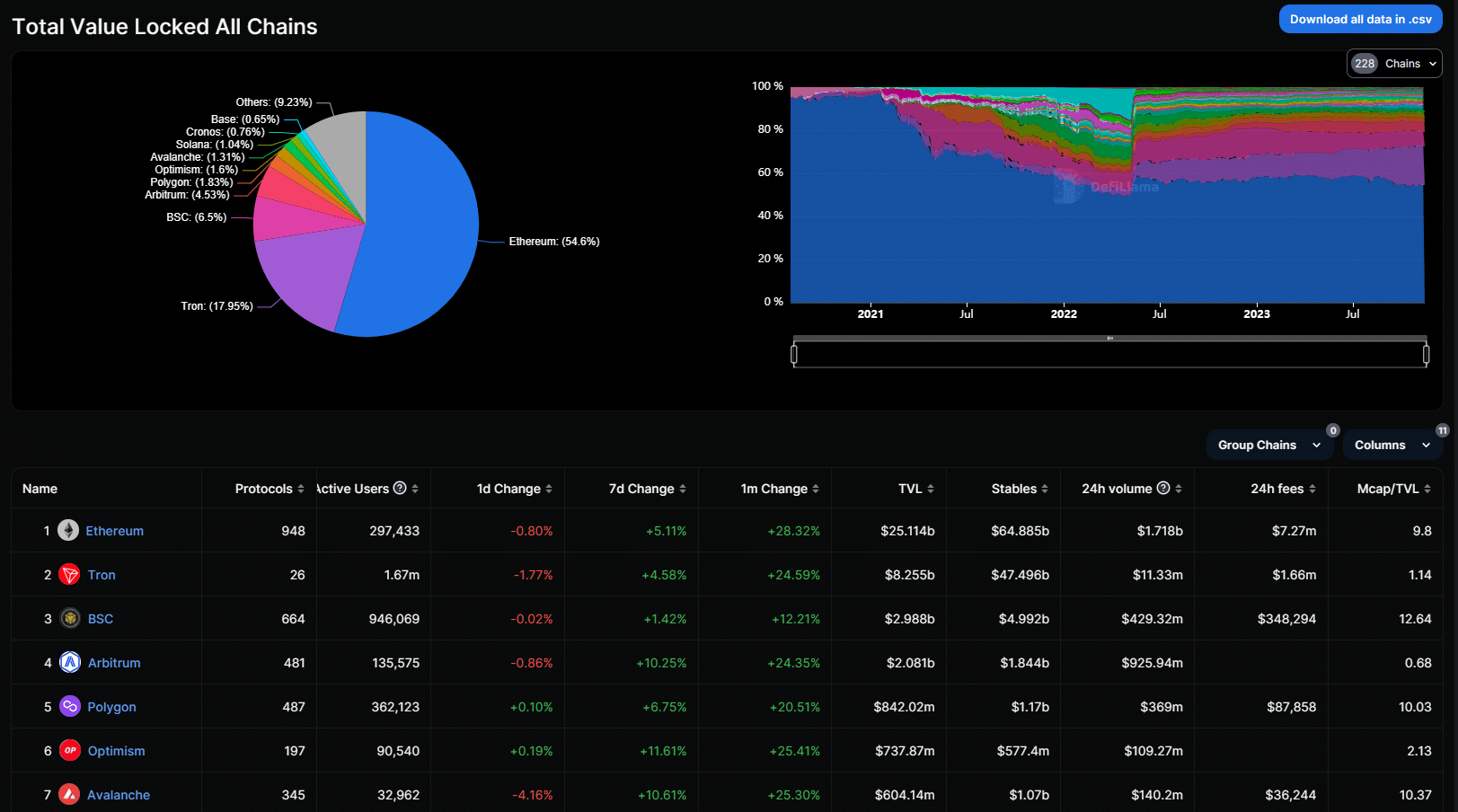 Market Capitalization  
Investors should have a firm grasp of how the market capitalization of a crypto asset works as it will enable the investor to assess what the potential upside looks like. For example, when the price of Bitcoin peaked in late 2021, it surpassed a market capitalization of over $1 trillion. In theory, this means that the upside is potentially limited with Bitcoin, as it has already witnessed significant levels of growth. 
Should Bitcoin break a new all-time high in the coming months it would represent a 92% price increase from the price at the time of writing – an excellent ROI but one that can be beaten in other parts of the market.
Smaller market caps projects, such as trending meme coins, have much larger room for growth as it doesn't take so much investment to see their price increase. For example, in the past week alone five meme tokens listed on CoinMarketCap have seen a price increase of more than 100% beating what Bitcoin investors hope to achieve in the next 12 to 18 months – there will be dozens more if one navigates around the site.
Of course, small market cap tokens come with increased risk that have to be priced in when investing. While small market tokens can see much higher growth in a shorter spell than the likes of Bitcoin and Ethereum, they are also more likely to plummet in price.
Competition  
It is also a good idea to see how much competition the respective crypto asset has. After all, there are now more than 25,000 tokens listed on CoinMarketCap – and even more that lie in waiting. For instance, there are many so-called 'Ethereum Killers' in the market, each of which claims to offer a faster, cheaper, and more scalable alternative to Ethereum. 
Investors will need to decide on whether it is better to invest in Ethereum or a direct competitor such as layer-2 solution Polygon, which is capable of faster speeds and cheaper transactions than Ethereum, but has yet to gain the same footing with consumers.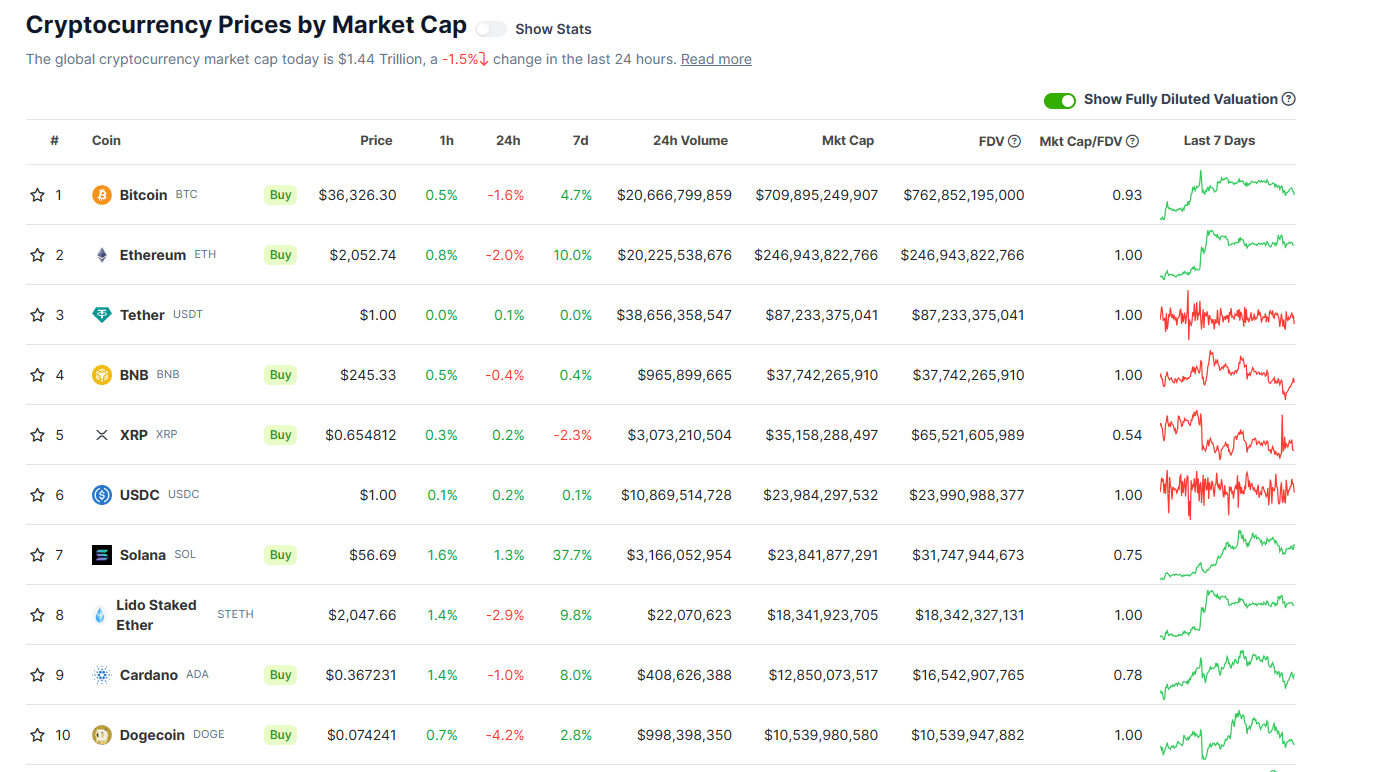 The same is true of 'DOGE Killers', meme coins that promise to one day surpass the market cap of Dogecoin, the biggest and most popular meme coin. Crypto investors often cycle through tokens and trends, with copycat and derivative tokens quickly popping up if one token shows it resonates with investors. 
Pepe is one such example – after the meme coin hit a $1 billion market cap in May 2023 it sparked a mini meme coin revival with dozens of copycat tokens, such as Pepe 2.0, AstroPepeX, McPepe, PepeAI and dozens – if not hundreds – of others being created in its wake.
Trading Signals and Trading Bots
Some investors prefer to integrate the best crypto signals into their trading strategy as it allows them to eliminate emotions from the investing process. We have also reviewed the best AI crypto trading bots for traders who want to execute trades 24/7.
Trends
As mentioned above, trends should not be discounted when deciding which cryptos to purchase at a given time. Investing in a trending token or theme can prove to be both hugely beneficial if the timing is good – or disastrous should an investor take too long to realize that the trend is no longer popular.
During the 2021 bull run was play-to-earn gaming and the metaverse, which was expected to become a major industry in the 2020s and revolutionize the way people played games and interacted in a virtual world.

Axie Infinity (AXS) is one such example as it grew more than 3,300% – rising from under $5 to over $160 – from June 2021 to November 2021, as players across the world invested in their NFTs and cottage industries were developed with players earning incredible sums. 
At its peak, the game had almost 3 million daily active users and a market cap of almost $10 billion, a piece of virtual land in its metaverse sold for over $2 million, and players in developing countries were earning up to 5x their regular wage.
However, complaints over the gameplay and the price of the NFTs needed to play it quickly saw the hype die away. By January 2022, the market cap had dipped to $3 billion and the price to under $50. Its secondary token SLP lost 99% of its value just a month later and then the protocol suffered a $600 million hack from North Korea from which it has never recovered.
According to DappRadar, there are just 13,500 daily active players at the time of writing, with the price around $6.
Investing in a trending token can bring huge rewards but investors should be diligent to take profits and/or cash out when that trend starts to die, unless they want to be left holding a worthless bag of tokens.
Conclusion
In summary, this market insight has reviewed and ranked many of the best cryptos to buy now. We have covered a variety of projects to ensure that investors can diversify well and help answer which crypto to buy in 2024. Diversification can help to preserve capital, because all investments carry risks, and prices can go in both directions. 
Our top choice is a revolutionary new cryptocurrency project called Bitcoin ETF Token ($BTCETF). This cryptocurrency is linked to the potential release of Bitcoin spot ETFs, and will conduct multiple burning events on the completion of various milestones associated with the spot ETF release.
$BTCETF can be staked to earn high APYs, and offers deflationary tokenomics. More than $1.8 million has been raised in just three weeks since launch with the staking rewards currently over 140%.
References
Best Crypto To Buy Now – FAQs
Which is the best crypto to buy?
One of the best cryptos to buy right now is Bitcoin ETF Token. This is a new deflationary cryptocurrency created to capitalize on the upcoming launch of Bitcoin spot ETFs. From a 2.1 billion token supply, 25% will be burned. $BTCETF also offers high staking yields. 
Which cryptocurrency has the best future?
Although nobody can predict the future with any certainty, there are a number of solid crypto assets that will likely stay relevant. This includes established coins such as Bitcoin, Ethereum, XRP, BNB, Cardano, and Polygon, as well as new projects like Bitcoin ETF Token, Bitcoin Minetrix, Meme Kombat, Wall Street Memes, and TG.Casino.
What are the best new cryptocurrencies to invest in?
Those in the market for new crypto projects that offer a low-cap entry point might consider Bitcoin ETF Token, Bitcoin Minetrix, Meme Kombat, and TG.Casino.
Disclaimer: The Industry Talk section features insights by crypto industry players and is not a part of the editorial content of Cryptonews.com.
---