14 Best Long Term Crypto Projects to Invest in 2023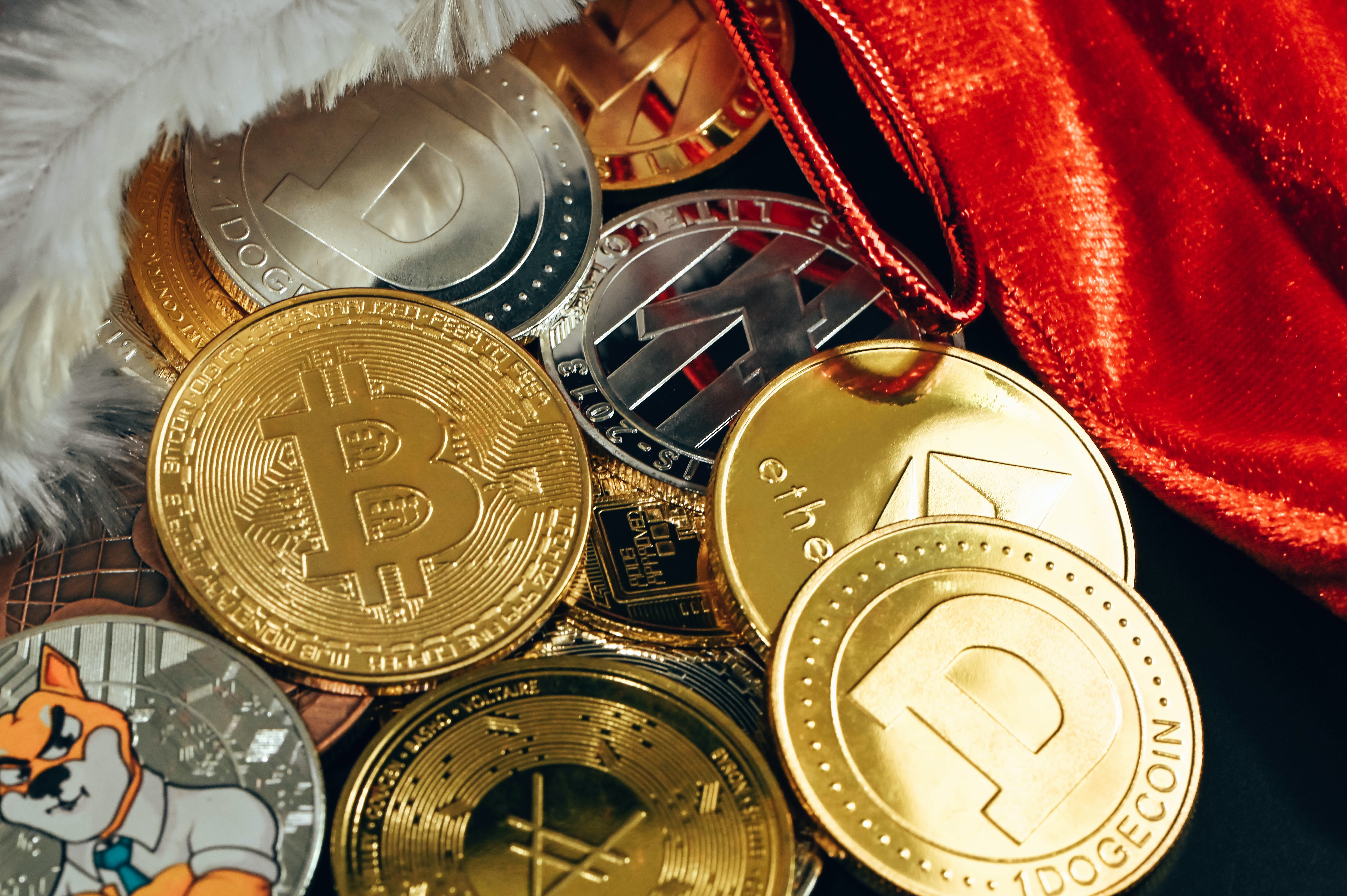 Disclaimer: The Industry Talk section features insights by crypto industry players and is not a part of the editorial content of Cryptonews.com.
With the largest cryptocurrencies currently trading more than 50% below their all-time highs (ATHs), investors are looking for long-term crypto projects that can be profitable in the next few years.
This guide will look at some of the best long-term crypto investments for 2023.
Top Long-Term Crypto Investments for 2023
The table below provides an overview of the best crypto for long term investment in 2023.
Wall Street Memes - Community-driven meme crypto stemming from the successful Ethereum NFT collection Wall St Bulls. It offers 30% of the token supply for community rewards and has captured the attention of high-profile people like Elon Musk. $WSM presale raised over $25 million in just a few months.
Bitcoin BSC - An emerging staking token on the Binance Smart Chain offering rewards every 10 minutes. In its presale phase, it has raised close to $1.5 million in one week. With its PoS system, it is eco-friendly and enables cost-effective transactions.
yPredict - A cutting-edge AI-driven trading platform that empowers users to make informed decisions by offering advanced features like pattern recognition, sentiment analysis, and predictive model marketplaces.
Chimpzee - A green crypto platform that blends environmental conservation with financial gains. Their unique ecosystem consists of a play-to-earn game, a profit-sharing NFT marketplace, and a store where shopping rewards users. $CHMPZ presale has already raised $975K, with an expected price rise upon exchange listing.
Launchpad XYZ - Platform with seamless Web3 investments, connecting you to leading blockchain networks, exclusive pre-sales, NFT events, and P2E game launches. Join our thriving community and elevate your crypto experience.
eTukTuk - An eco friendly, Binance Smart Chain-based project that is creating EV charging stations and reducing carbon emissions. The community sale has recently started with a 5 million $TUK hard cap.
The Uncharted - Innovative NFT project powered by Xeta, bridging traditional finance and decentralized finance.
Paw Fury: Innovative play-to-earn NFT game focused on fighting against climate change with 3D immersive gameplay.
Ethereum - A promising crypto for HODLing in 2023, offering decentralized applications, NFTs, and other protocols through smart contracts.
Polygon - An innovative crypto for long-term growth, acting as a scalability solution for Ethereum and other cryptocurrency networks using Layer 2 protocols.
Decentraland - Popular Metaverse coin to invest in, with a virtual real estate platform where players can buy, sell, and trade virtual plots of land using the native cryptocurrency (MANA).
Bitcoin - The largest cryptocurrency to HODL for the long-term, known for its regular price volatility and potential for profit.
Solana - Project with fast transaction speeds, offering decentralized finance solutions and high scalability through proof-of-history (PoH) and proof-of-stake (PoS) consensus.
XRP - Native digital asset of the Ripple network, which aims to provide a fast, low-cost, and highly scalable cross-border payment solution.
Best Crypto for Long Term Investments: Reviewed
The sections below discuss some of the top cryptocurrencies by looking at their current prices, use-cases and price predictions for the future. Here are some of the best crypto for long term growth.
1. Wall Street Memes - Hot New Community-Driven Meme Crypto With Over a Million Followers, Raised Over $25 Million
The Wall Street Memes (WSM) coin is a trending new meme crypto developed by the creators of the popular Ethereum NFT collection, Wall St Bulls.
This successful NFT collection gave its community unique perks like an Options Market and a priority list for other NFT collections and sold out within 30 minutes of launch on Ethereum.
The $WSM token presale was launched in May 2023, leveraging their established reputation and a community of over a million followers across social media.
With over $300,000 raised on day one, the project saw a strong start, highlighting solid community support. A few months into its launch, the presale has an uptick in investor interest, having collected over $25 million.
Presale tokens are priced at a presale rate of $0.0337 USDT, offering an upside opportunity for early buyers.
However, investors must note that although presale investments can provide substantial returns, they also come with potential risks. But coins with strong community backing often perform well over the long term.
Importantly, influential figures like Elon Musk have engaged with the platform's memes, highlighting its broad reach and popularity. The project's substantial community involvement may help the $WSM get listed on major exchanges.

As per the Wall Street Memes whitepaper, the $WSM token's total supply is capped at 2 billion tokens, and all of it is dedicated to community allocation. Half of these tokens are reserved for the presale, while the rest is split between community rewards and liquidity.
Additionally, an airdrop is scheduled to celebrate the launch. Token holders who follow the project on social media channels and join the platform's Discord can win part of a $50k pool.
Join the Wall Street Memes Telegram channel to keep up with the project's updates.
| | |
| --- | --- |
| Presale Started | 26 May 2023 |
| Purchase Methods | ETH, USDT, Credit Card |
| Chain | Ethereum |
| Min Investment | 100 $WSM |
| Max Investment | None |
2. Bitcoin BSC - An Emerging Long-Term Staking Token on Binance Smart Chain That is Nearing $2 Million In Presale
Bitcoin BSC (BTCBSC) is a new staking token on the Binance Smart Chain, designed for immediate reward distribution.
Currently in its presale phase, the token starts with a pool of more than 6 million tokens, each priced at $0.99 USDT.
Much like Bitcoin, BTCBSC sets its total token limit at 21 million. The presale features 4 million tokens while setting aside an additional 2.125 million to account for the likely excess demand.
Moreover, Bitcoin clones have received positive market responses recently. For example, BTC20, another token built on Ethereum, sold out its initial $6 million hard cap goal in just two weeks, subsequently seeing a 700% jump upon its Uniswap listing.
BTCBSC has captured investor attention within just a few days by raising nearly $2 million, highlighting its potential to replicate BTC20's success.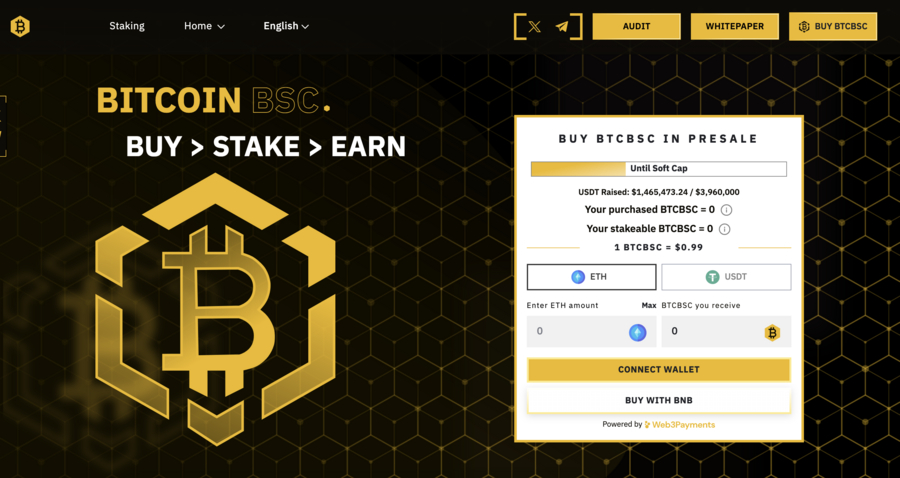 BTCBSC uses a Proof-of-Stake consensus model and departs from Bitcoin's Proof-of-Work consensus.
This system enables you to grow your token holdings by staking your existing BTCBSC tokens, promoting long-term engagement.
Your stake size directly correlates with your reward, designed to mimic the original Bitcoin block rewards, paid out every 10 minutes.
The platform offers an APY of over 300% at the time of writing, which is expected to decline as more participants stake but will be compounded for early adopters.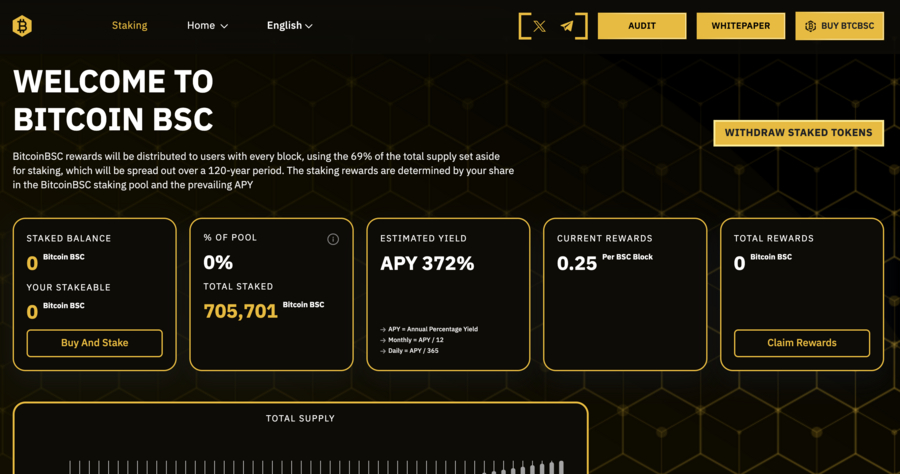 According to Bitcoin BSC's whitepaper, 69% of the total token supply, amounting to 14.455 million, is allocated for staking purposes. Aligned with Bitcoin's long-term plan, these tokens will be gradually unlocked over 120 years.
By leveraging Binance Smart Chain's capabilities, BTCBSC ensures quicker and more cost-efficient transactions than Bitcoin or Ethereum.
To stay updated, you can join the Bitcoin BSC Telegram channel.
| | |
| --- | --- |
| Presale Started | September 5 2023 |
| Purchase Methods | ETH, USDT, BNB, Credit Card |
| Chain | BNB Smart Chain |
| Min Investment | $10 |
| Max Investment | None |
3. Launchpad XYZ - Simplifying Web3 Investments with an Advanced Platform
Launchpad XYZ's ICO aims to bring together crucial aspects of the Web3 ecosystem into a unified center. This project is a convergence point for leading blockchain networks, simplifying Web3 investments for novices and experienced individuals.
At press time, the presale price for $LPX tokens is $0.0445 USDT. Upon listing, the token will be valued at $0.07 USDT, with the anticipation of its worth increasing over time.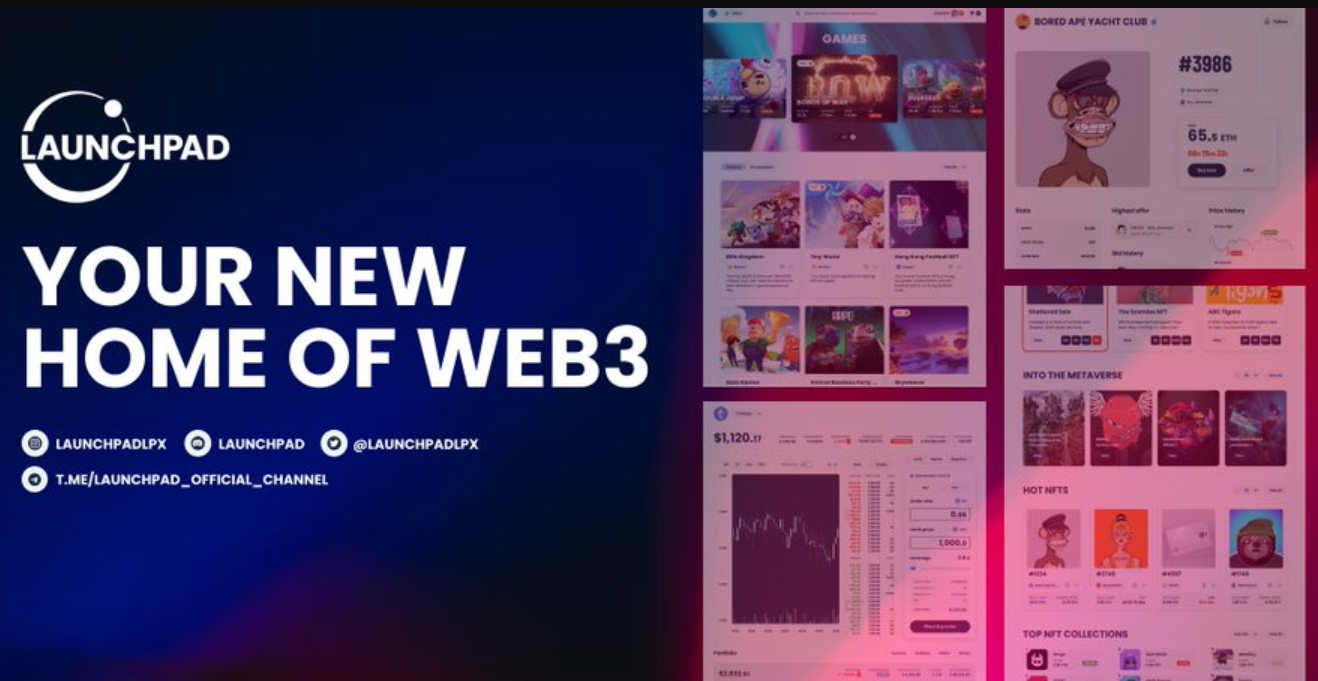 The platform's team has worked with many well-known companies, giving them invaluable experience in their field. The platform informs users about upcoming events, such as crypto presales, the latest NFT happenings, P2E game releases, and other essential project information, allowing them to make well-informed investment choices.
The Launchpad XYZ whitepaper emphasizes the platform's ability to guide novice investors through determining when to buy, hold, and sell. Because of its user-friendly analytics and easy layout, it could become a gathering place for millions of people interested in Web3 technologies.
During the Launchpad XYZ presale, tokens can be purchased at a discount before they are listed on exchanges. Presale investments in cryptos aren't without risks, but projects like Tamadoge show the possible enormous returns.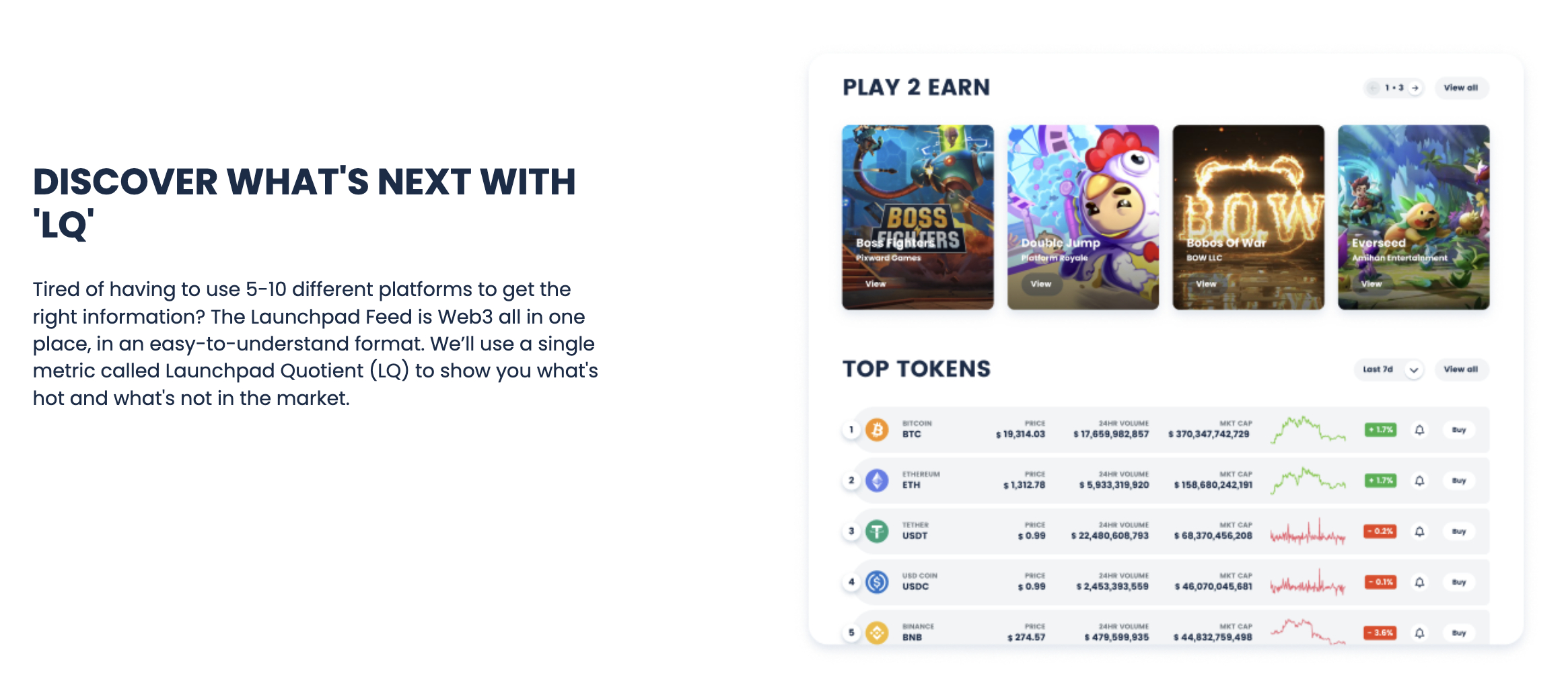 Traders on Launchpad XYZ's perpetual decentralized exchange (DEX) can use leveraged positions to hedge against sharp price fluctuations. This feature and the decentralized exchange's security make it a favorite among seasoned traders looking to reduce risk exposure.
Launchpad XYZ places significant emphasis on the LPX token. By staking at least 10,000 LPX tokens, users can enjoy early access to in-demand P2P games' beta releases and benefit from reduced decentralized exchange (DEX) trading fees.
The importance of the LPX token is evident in its exclusive perks; users who stake a minimum of 10,000 LPX for 90 days can unlock these premium features.
Users can stay updated on the latest developments by joining the Launchpad Telegram channel.
| | |
| --- | --- |
| Presale Started | 25 April 2023 |
| Purchase Methods | ETH, USDT, Credit Card |
| Chain | Ethereum |
| Min Investment | 100 tokens |
| Max Investment | None |
4. yPredict - AI-driven Trading Platform that Empowers Users to Make Informed Decisions
To assist traders in making educated choices, yPredict utilizes artificial intelligence to analyze vast amounts of data and derive insights. Following the presale, a BitMart listing is confirmed, with the presale extending through four additional phases. During this period, the cost of yPredict will rise by 140%, from $0.05 USDT to $0.12 USDT.
Those participating in the presale can acquire 80% of the overall token supply, with a maximum cap of 1 billion tokens. The hard cap for this event is set at $6.5 million, and there will be a 50% TGE release for the tokens bought during the presale.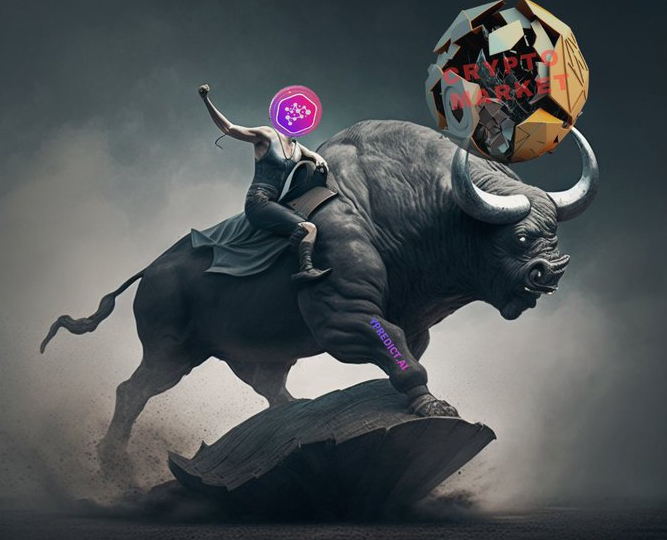 yPredict's protocol has been crafted with the expertise of AI and machine learning specialists, financial quantitative analysts, and traders. By employing AI to create internal predictive models and marketplaces, yPredict enables users to trade more transparently and make more informed decisions, providing a statistical advantage over other market participants while reducing market noise.
As per the yPredict whitepaper, additional capabilities include pattern identification, sentiment analysis, indicator evaluation, and transaction scrutiny. Furthermore, the platform hosts a marketplace where AI and machine learning developers can sell their predictive models for others to acquire.


The platform's native $YPRED token serves multiple purposes: it is utilized to pay for memberships, which are available in three tiers (free, active, and pro), each granting different levels of access to the platform's offerings. Additionally, the token is employed to compensate developers who market their models.
yPredict was created by a fully transparent and KYC-verified team on the highly efficient and speedy Polygon blockchain, with Coinsult performing an audit on the token's smart contract. To gain further insight into the platform, consider joining the yPredict Telegram group.
| | |
| --- | --- |
| Presale Started | Q1 2023 |
| Purchase Methods | MATIC, ETH, USDT, BNB, Credit Card |
| Chain | Polygon |
| Min Investment | 200 YPRED |
| Max Investment | None |
5. Chimpzee - Upcoming Green Crypto With NFT and Staking Rewards, Raised Over $1.3M
Chimpzee (CHMPZ) is a unique green platform merging profits with eco-friendly objectives. This innovative platform rewards users and backs wildlife preservation, carving its niche as 'green' crypto.
$CHMPZ tokens, priced at just $0.000995 each, have raised over $1.3 million in presale. When listed on exchanges, the final presale stage will see a token price of $0.00185.

As per the Chimpzee whitepaper, the Chimpzee platform comprises three ecosystems users can interact with using the $CHMPZ token.
A standout feature is the "zero-tolerance" play-to-earn game, where players can battle against digital poachers, integrating gaming and environmental conservation. Entry to this game requires Chimpzee NFT passports, enhancing the platform's user engagement.
NFT passports also unlock profitable staking opportunities with an APY reaching 20%. Furthermore, they provide access to Chimpzee's NFT marketplace, allowing users to earn from trading fees.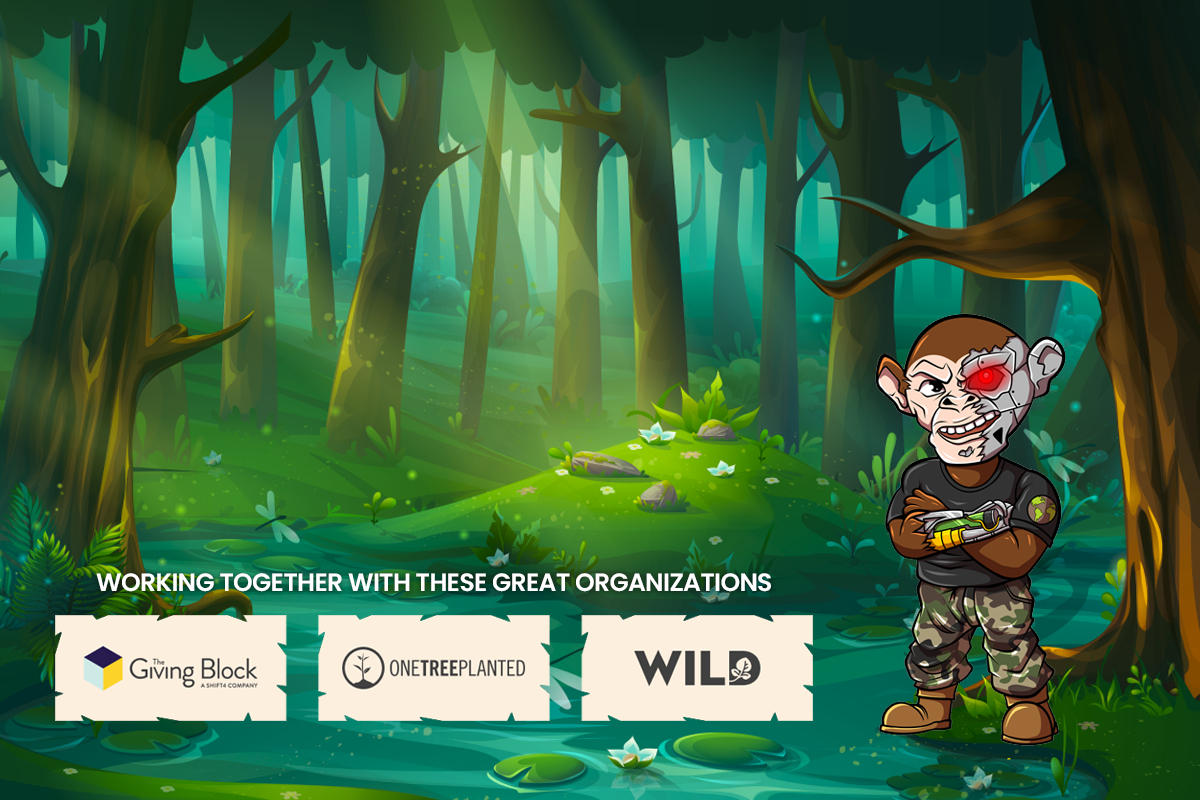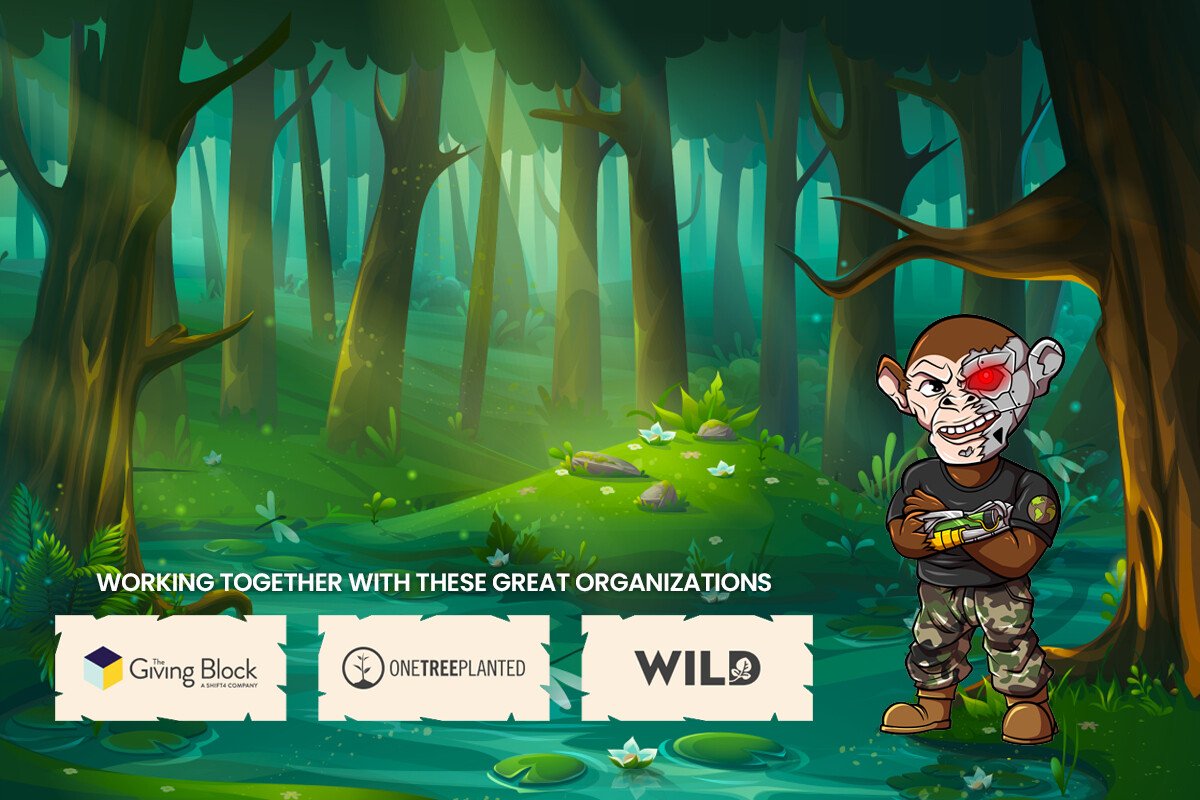 The Chimpzee store forms the final part of the ecosystem. Here, users can shop using their tokens and earn more through frequent purchases. A portion of store profits goes directly to Chimpzee's partnered charities.
The project has planted over 30000 trees worldwide and donated $15K to the WILD Foundation, an entity dedicated to elephant conservation. Thus, Chimpzee not only rewards its users but also actively contributes to preserving natural ecosystems.
Interested buyers can enter the Chimpzee Telegram channel to get the latest updates.
| | |
| --- | --- |
| Presale Started | Q2 2023 |
| Purchase Methods | ETH, USDT, Credit Card |
| Chain | Ethereum |
| Min Investment | None |
| Max Investment | None |
6. eTukTuk - Newly Launched Community Sale To Launch a Green Revolution and Sustainable Future For Everyone
eTukTuk (TUK) aims to assist TukTuk drivers from less developed countries to start using more sustainable practices by transitioning to EV vehicles. A TukTuk is a form of 3-wheeled taxi often seen in Asia, and is also known as an auto rickshaw.
Currently, ICEs (Internal Combustion Engines) are used to run most TukTuks and these release much more CO2 into the air than cars. So eTukTuk will be creating EV charging stations and Electric Vehicle Supply Equipment (EVSE) to promote the switch to using zero-emission vehicles and help the environment.
The eTukTuk project is based out of Colombo, the capital of Sri Lanka, and eTukTuk will be building these charging stations in the urban and suburban regions of various developing nations. For convenience, drivers will be able to make purchases on the application using $TUK tokens.
A percentage of the transactions generated will be sent to partners within a given territory, who are responsible for the manufacturing and setting up the EVSE/EV charging stations. According to the eTukTuk whitepaper, token holders can also stake the token to earn benefits
An APY (Annual Percentage Yield) will be provided every time a driver makes a payment on the app. From a staking pool, the funds will be distributed to the staked token holders.
$TUK has a total supply of 2 billion tokens. The current price per token is 1 $TUK Token = $0.024 and there is no cliff or vesting period. In the next stage, the price will rise to $0.028. The project has been audited by Certik and the community sale hard cap is $120,000.
To take part in the community sale a wallet such as MetaMask, Wallet Connect, or Trust Wallet is a prerequisite.
You can find out more about the project by looking at the whitepaper or by checking out the Twitter and Telegram channels.
| | |
| --- | --- |
| Presale Started | July 2023 |
| Purchase Methods | ETH, BNB, USDC, USDT or ADA |
| Chain | BSC |
| Min Investment | 100 tokens |
| Max Investment | None |
7. The Uncharted - An NFT Project Powered by Xeta and Successful High-Frequency Trading
Most NFT projects, when it comes to long-term rewards, focus on the value of the NFT itself. This can be a bit of a hit-and-miss, as it is hard to gauge whether there will still be interest in the appearance or exclusivity. Instead, projects should focus on novel ways of offering value, and The Uncharted exemplifies that.
The Uncharted NFT collection is a set of 21,000 NFTs that help bridge traditional finance and decentralized finance. The team, all of whom have been doxxed, is keen on making this project more than a collection of pictures. As such, it has created a platform powered by Xeta where NFT holders earn from a 36-month investment pool.
All sales revenue from the NFT goes towards the XETA Capital Fund (XCF) High-Frequency Trading fund, which is a highly proven fund. This has a strong track record of success, and holders stand a chance to gain as much as 400% annually. What's more, there is quarterly profit distribution to holders via an airdrop. While there is a 36-month investment period, users can opt to sell their NFTs at any time on OpenSea. After the "3-year adventure into deep space", the fund is split evenly between the NFT holders and The Uncharted LTD.
The Uncharted NFT collection is set to launch in Q1 2023, with the first chapter focusing on "The Southern Ring Nebula." Most chapters will follow in the months to come, and they are currently under development. The themes of the collection are focused on adventure, survival, and discovery.
The Uncharted offers users a new way to earn from their NFTs, and in a field where you normally would have to be a high net worth individual with several millions of dollars in liquidity.
8. Paw Fury - Trending Play-to-Earn Game With AI Carbon Tracking
Paw Fury is an innovative play-to-earn game where a courageous Shiba Inu and team unite to combat the Carbon Lords and their army of Crooks to save the Paw Island Paradise.
The non-fungible token (NFT) based game seeks to conquer evil and restore the planet's balance.
The project is the first-ever P2E game that uses AI for carbon tracking, a unique feature missing on other like-minded platforms.
This allows users to closely monitor their contribution towards a greener future. Additionally, the Paw Fury team is dedicated to supporting eco-friendly initiatives worldwide by allocating a portion of their NFT sales revenue.
Moreover, Paw Fury offers an in-game asset trading experience with an integrated NFT marketplace, allowing users to buy and sell their unique digital avatars. Additionally, its carbon offset marketplace enables users to trade carbon credits and reduce their carbon footprint.
For a P2E game, Paw Fury has all it takes to be a resounding success as it utilizes the integrity of blockchain technology while bringing to the fore the urgency of environmental awareness.
In addition, its immersive gameplay and limited NFT collection put it on the right track. Notably, the real-time use of AI for carbon tracking is the first of its kind in blockchain technology focused on climate change.
The Paw Fury project is currently in its presale stage and has raised over $6.6 million from investors. At press time, early-bird investors can buy $PAW for $0.0000000316 to contribute towards this green initiative and enjoy the gameplay.
9. Ethereum - Promising Crypto to HODL in 2023
With a market cap of $213 billion, Ethereum (ETH) is one of the best crypto for hodling in 2023. An open-sourced network, Ethereum leverages smart contracts to allow developers to list various DApps (decentralized applications), NFTs, and other protocols. According to algorithmic Ethereum price prediction by CoinCodex, Ethereum is expected to reach nearly $3,000 by the end of 2023.
After reaching an ATH of $4,900 in November 2021, ETH is trading at $1,740 in September 2022 - which equates to a 64% price correction. Despite this, Ethereum has the potential to be one of the best altcoins to buy right now.
The network is expected to undergo a major upgrade - named The Merge - which will solve major scalability issues on the cryptocurrency. That landmark upgrade is expected on September 19.
Ethereum is also expected to reduce transaction costs and energy efficiency issues as well increase speed with the release of the much-awaited 'ETH 2.0' upgrade. This could therefore make it the most energy-efficient crypto to buy in 2023. For further details about the market's second-largest cryptocurrency read our 'Is Ethereum a good investment?' article now.
Cryptoassets are highly volatile and unregulated. No consumer protection. Tax on profits may apply.
10. Polygon - Innovative Crypto for Long-Term Growth
MATIC (Polygon) is one of the best crypto to hold long term. This cryptocurrency is an open source, permissionless platform deployed on Ethereum to act as a scalability solution.
MATIC makes Ethereum and other cryptocurrency networks more scalable by leveraging Optimistc Rollups - Layer 2 protocols.
MATIC, the native crypto, plays an important role in governing the on-chain transactions and settling transactions between the different parties. The token soared from $0.0035 in 2019 to an ATH of $2.92 in 2021.
MATIC is one of the best penny cryptocurrencies for 2022 and is currently trading at $0.99 per token having just announced a major partnership with coffeehouse Starbucks.
Cryptoassets are highly volatile and unregulated. No consumer protection. Tax on profits may apply.
11. Decentraland - Popular Metaverse Coin to Invest in
Decentraland is a virtual real estate platform where players can buy, sell and trade virtual plots of land. Each parcel of land is virtually minted as an NFT by using ERC-721 smart contracts. Investors must use MANA as the native cryptocurrency to trade these virtual plots - an ERC-20 token.
MANA tokens can also be used within the ecosystem to purchase various in-game avatars, wearables and other items on the Decentraland marketplace. Besides in-game transactions, MANA is the governance token used to interact and participate in the Decentraland Decentralized Autonomous Organization (DAO).
MANA became one of the most popular metaverse cryptos in 2021, as it increased from $0.08 to $3.2 by the end of the year - equating to a 3,900% price increase. However, MANA has declined in 2022 to $0.8 per token. The cryptocurrency is still the 39th largest digital asset, with a market cap of $1.5 billion.
Cryptoassets are highly volatile and unregulated. No consumer protection. Tax on profits may apply.
12. Bitcoin - Largest Cryptocurrency to HODL for the Long-Term
Launched in 2008, Bitcoin (BTC) is the first-ever cryptocurrency that was invented. With a market cap of more than $427 billion, Bitcoin still accounts for 40% of the entire cryptocurrency market cap in the space.
After reaching an ATH of nearly $70,000 in 2021, Bitcoin declined in 2022 following uncertain economic conditions due to inflation and price hikes. Currently, BTC is trading at $22,000 in September 2022- more than a 50% decline since the start of the year. Some market analysts have offered Bitcoin price predictions for 2025 and 2030 in which they forecast that BTC could hit highs of $65k again.
However, BTC is known to face regular price volatility, with regular price corrections following bull markets. Since the token has regularly provided profits in the last decade, Bitcoin can be one of the best crypto for HODLing in 2023.
Cryptoassets are highly volatile and unregulated. No consumer protection. Tax on profits may apply.
13. Solana - Crypto with Fast Transaction Speed
Solana (SOL) is an open-sourced blockchain that provides decentralized finance (DeFi) solutions to users. The blockchain provides dApps creation by leveraging smart contracts, similar to Ethereum.
But unlike the popular cryptocurrency, Solana (SOL) offers higher scalability through its proof-of-history (PoH) consensus combined with a proof-of-stake (PoS) consensus.
Solana can handle up to 50,000 transactions per second (TPS) at an average cost of just $0.00025 per transaction. SOL, the native token, burst onto the scene after soaring from a price of $1.8 in January 2021 to an ATH of $260 in November.
The token has since corrected to $30 in August 2022, making it one of the most volatile cryptos, but SOL seems to be gaining momentum in September, as the token has increased to $38 and boasts a market cap of $13.3 billion.
Cryptoassets are highly volatile and unregulated. No consumer protection. Tax on profits may apply.
14. XRP - Instant Cross-Border Payment Settlement System
XRP is the native crypto on the XRP ledger blockchain, which hundreds of banks and financial institutions use as a cross-bored payment settlement system.
Institutions benefit from XRP's truly decentralized and low-cost design - making it fast and affordable to make payments globally. The XRP ledger can handle 1,5000 TPS, with a mere $0.0002 transaction cost.
A sustainable blockchain, the XRP ledger is 61,000x more energy efficient than any other proof-of-work (PoW) blockchain. After reaching an ATH of $3.84 in 2018, XRP has corrected to $0.35 per token in 2022.
Nonetheless, XRP has still provided a return on investment (ROI) of 5,965% since its launch.
Cryptoassets are highly volatile and unregulated. No consumer protection. Tax on profits may apply.
How to Analyze Long Term Crypto Investments
When looking for the best crypto to invest in the long term, investors should take a detailed look at the features and use cases provided by the respective assets.
The sections below discuss a few factors that may help determine potential long-term crypto investments.
Use Cases
Firstly, investors should study the various cryptocurrencies by looking at the use cases they provide in the market. For example, Bitcoin grew to popularity since it provided an alternative to centralized finance by offering peer-to-peer payments across the globe.
Similarly, Ethereum leveraged the proof-of-stake (PoS) and implemented smart contracts to allow developers to build new decentralized protocols.
Even if a token witnesses short-term price corrections, an abundance of use cases will help it outperform the market in the long term.
Growth Potential
Even the best shitcoins in the market, such as Dogecoin and Shiba Inu, have faced high levels of volatility due to their limited growth potential. One of the reasons for this is due to their inflationary tokenomics.
For example, Dogecoin has increased its token supply from 100 billion to 132 billion tokens since launch - and has an ever-increasing supply - which limits the growth potential since supply outweighs demand. On the other hand, tokens like Tamadoge (TAMA) offer deflationary tokenomics. With a total token supply of 2 billion, TAMA will burn 5% of all tokens spent on the ecosystem.
D2T features a small supply of just 1 billion which could quickly lead to supply shock.
Thus, investors can invest in a coin that will be low in supply and potentially increase in price in the long term.
How to Make an Investment Decision on Long-Term Cryptos
The best long term crypto portfolio may experience potential profits depending on when investors enter the market and how they analyze their investments.
Many beginner traders wondering how to get into crypto for the first time often look for the best long-term crypto investments. Here are a few factors that may help investors decide on whether to HODL or sell a cryptocurrency.
Performance in a Bear Market
In 2022, crypto markets have been trading downwards due to uncertain global market conditions. Typically, many investors compare the performance of altcoins to Bitcoin while trying to analyze if a token is a good investment.
For example, Bitcoin has fallen by more than 60% in 2022, just like most of the top digital assets. Therefore, the strong performance despite Bitcoin's bearishness may be a sign of a solid long-term investment.
Prior All-Time Highs
While a long-term investment typically involves holding an asset for more than one year, the entry stage is an important factor to look at. For example, investors who bought Bitcoin in January 2022 would lose 53% on their investments.
On the other hand, investors who purchase BTC in January 2021 will have recorded nearly a 350% return on investment. One way to look at the best entry time is to analyze the prior all-time highs of the token. For example, some investors may prefer investing in a token which has corrected in price and has the potential to trade higher in the long term.
How to Invest the Best Crypto for Long-Term Growth
The sections below highlight a step-by-step process on how to buy $WSM tokens - the best long term crypto investment for 2023.
Step 1: Set up a Wallet
Install a crypto wallet such as MetaMask or Trust Wallet on your browser or mobile device.
Step 2: Buy USDT/ETH/BNB
Buy ETH on eToro and then transfer it to the crypto wallet.
Alternatively, investors can buy Ethereurm/ BNB/ USDT directly on the Wall Street Memes website by using a card.
Step 3: Connect Wallet
Visit Wall Street Meme's website and click 'Buy now'. Then select the relevant option, depending on which crypto you purchased, and input the amount of $WSM tokens you wish to purchase.
Tokens will be stored on the website and can be claimed when the presale ends.
How to Invest in Cryptos using eToro
The guide below shows users how to invest in some of the top digital assets using eToro - one of the best cryptocurrency exchanges in the market.
Step 1: Open an Account with eToro
Firstly, you need to open an account with eToro and provide personal information.
Enter your full name, phone number and email address.
Step 2: Account Verification
Investors also need to verify their accounts on eToro by providing two pieces of information.
Firstly, provide proof of identity by uploading a passport copy or a driver's license.
Users also need to provide proof of residence. A bank statement or any utility bill will be accepted.
Step 3: Deposit Funds
After the account is verified, investors can deposit a minimum amount of $10 (For US and UK users only).
Choose a preferred payment method - debit/credit cards, bank transfers or e-wallets such as PayPal, Neteller, or Skrill.
Enter the deposit amount and click on 'Deposit' to continue.
Step 4: Choose and Invest in Cryptocurrencies
Once the funds have been deposited, enter the name of the digital asset on the eToro search bar.
Investors can click on the symbol that appears below the search bar and click on 'Trade' to continue.
An open order pop-up will appear on your screen, allowing you to enter the amount you wish to deposit in the trade.
Enter the amount and click on 'Open Trade' to finish the order creation process.
Cryptoassets are highly volatile and unregulated. No consumer protection. Tax on profits may apply.
Conclusion
After analyzing the top long-term crypto investments, we recommend Wall Street Memes as the crypto project with the most long-term potential.
In just a few weeks of its official launch, Wall Street Memes has raised more than $25 million USDT. The meme crypto platform has a strong community backing of over a million followers and has also caught the attention of big names like Elon Musk.
FAQs
Should you invest in crypto for the long term?
Long-term investing in cryptos can be a safer way for investors to avoid the regular price movements and volatility being observed in the markets.
Which crypto is best for long term investment?
We recommend Wall Street Memes as the best long-term investment. This crypto project has already secured an investment of over $25 million and has ambitious plans in its roadmap, making it suitable for a long-term investment.
What cryptocurrencies are best for hodling?
Investors can look at top altcoins such as Ethereum, XRP, and MATIC as the best long-term investments for HODLing. On the other hand, many emerging tokens such as $WSM, $BTC20 and $YPRED can also provide huge long-term returns.
---