15 Best Future Cryptocurrency Projects to Invest in 2023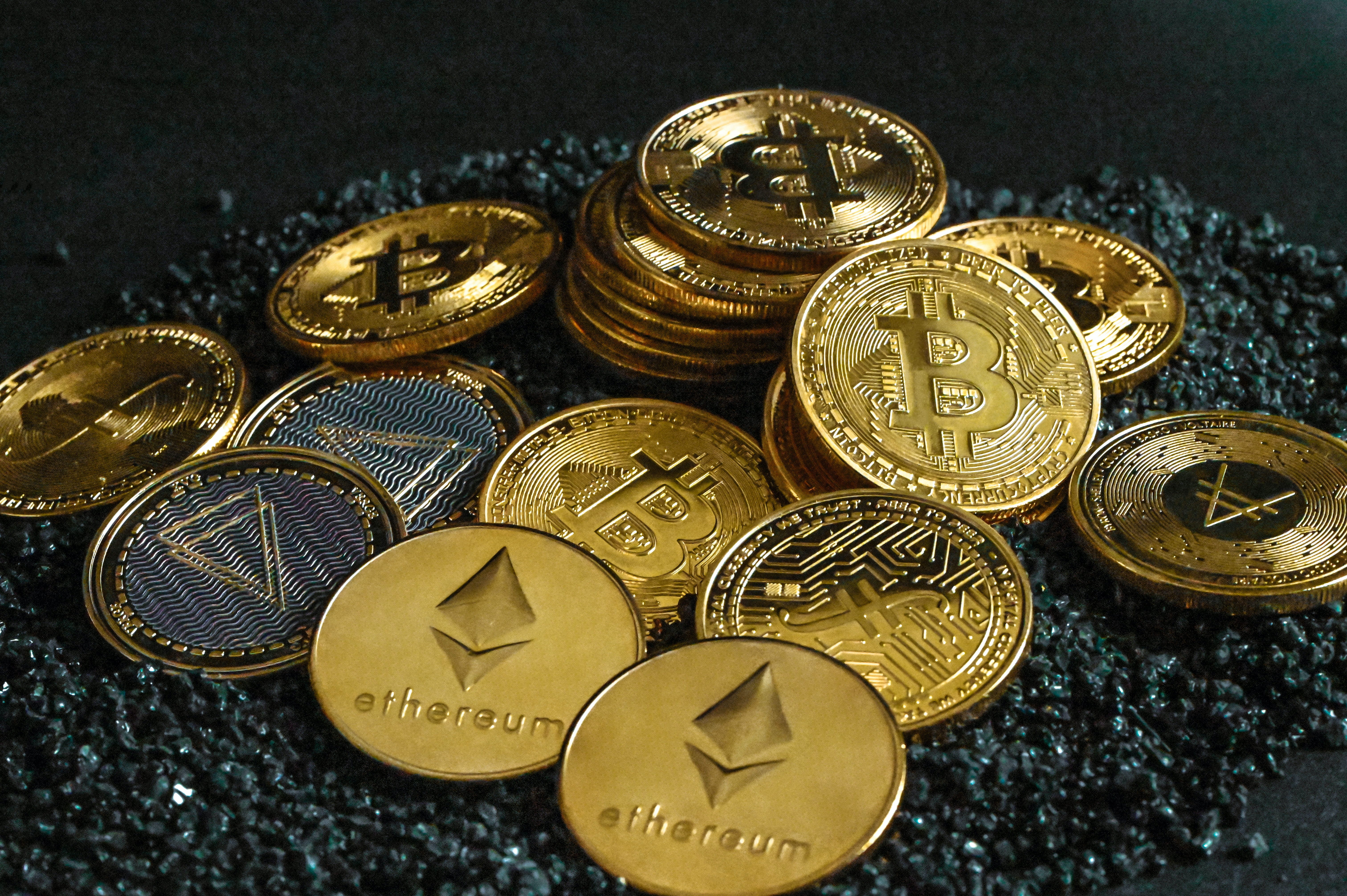 Disclaimer: The Industry Talk section features insights by crypto industry players and is not a part of the editorial content of Cryptonews.com.
The cryptocurrency industry is growing at a phenomenal pace. This is great news for investors, but the sheer number of projects can make it a challenge to find the best future crypto buy.
Right now, less than 4% of the world's population holds cryptocurrency. But with rapid retail and institutional adoption, crypto has impressive long-term prospects.
Here, we take a look at a dozen of the most promising cryptocurrency projects, and cover how you can get involved in the pre-sale of one of this year's most hyped projects.
The Best Future Crypto Projects for 2023
A sneak peek at some of the best future crypto to buy in 2023 can be found below.
Wall Street Memes - Latest meme coin to blow up in the post-pandemic crypto meme frenzy. Its presale raised close to $25 million in just 3 months and it is soon expected to list on a Tier 1 exchange such as Coinbase or Binance, which will further improve its market longevity. The campaign also has 1 million social followers, so it won't be going away anytime soon.
Bitcoin BSC - A project combining the psychological appeal of Bitcoin with the power of the BNB Smart Chain, this BTC replica raised over $1.3 million in just 7 days of its launch, and provides rocket yields of 422% at the present time, which could help it stay in the market longer than most of its competitors.
Launchpad XYZ - From presale listings to a decentralized exchange, Launchpad XYZ gives users entry to a variety of Web3 services. The $LPX token is available on presale for $0.01, trading at a 20% discount to the listing price of $0.012.
yPredict - This platform works with AI developers and analysts to offer predictive models on the crypto space through a financial marketplace. The $YPRED token can be used to generate passive income and access P2E ecosystems.
Chimpzee - Has already planted 20k trees and donated $15,000 to wildlife conservation, this presale is making a difference and has raised $1.3 million in its ongoing fundraising round.
XRP20 - The second coming of XRP, XRP20, is a stake-to-earn alternative. Offering a deflationary staking mechanism, XRP20 is priced 30x cheaper than the XRP all-time lows. This token is priced at $0.000092 on presale. Presale is complete.
BTC20 - Merging Bitcoin's early days' charm with modern blockchain tech while raising over $3.8 million in a few days, showing strong community backing. Using a Proof-of-Stake method, it offers passive income via staking rewards while being eco-friendly. Presale for this project is complete.
Anarchy - Combining the concepts of anarchy and memes, the $ANA coin aims to battle financial inequality and empower crypto users. The presale is active, with the starting price at $0.00021 per coin.
BNB - The native token of Binance, one of the biggest cryptocurrency exchanges in the space. The BNB token is used to get discounts on trading fees.
Bitcoin - First and largest cryptocurrency in the space. The BTC token is over 50% below its all-time high.
DAO Maker - This is a popular retail venture platform that gives users easy access to new cryptocurrency projects.
Moonbeam - This cryptocurrency supports interoperable blockchain applications. Moonbeam lets users send their Ethereum smart contracts to the Polkadot ecosystem.
Cosmos - This cryptocurrency deploys scalability solutions, allowing blockchains to transfer value with one another.
Ethereum - Largest altcoin in the cryptocurrency space. This blockchain allows users to deploy smart contracts and build decentralized applications.
Sweat Economy - A move-to-earn cryptocurrency that rewards members for staying active. Earn SWEAT tokens and spend it on an online marketplace to purchase audio books and yoga classes.
A Closer Look at the Best Future Cryptos to Invest in
The cryptocurrency industry is booming with many investors looking for the top crypto to invest in ahead of the next altcoin season. In just over a decade it has produced dozens of game-changing innovations, many of which are beginning to work their way into our everyday lives — like digital payments and blockchain gaming.
Spotting the best future crypto to buy requires a great deal of research and analysis, but it can be an incredibly rewarding process. With that in mind, we've scoured the fertile land of crypto to find the next big cryptos to invest in today.
Whether you're looking for undervalued gems, the best upcoming ICOs, first-movers, cryptocurrency pioneers, or early-stage behemoths, this list has something for everyone.
1. Wall Street Memes - Best Future Crypto Project to Invest In 2023
The global crypto market has been swarmed with meme coins since brands like Dogecoin and Shiba Inu took off in 2021. However, few have enjoyed the success the Wall Street Memes project has experienced over the last four weeks. This blockchain-based crypto went into presale on May 26 and raised over $4 million in a week and a half. Let's dissect what made it an overnight phenomenon.
At first glance, Wall Street Memes works like every other meme coin available today. It's a crypto based on viral images from the internet, so it has little intrinsic value. There's no business or economic utility to it either, which makes it highly volatile, even for a crypto coin. So, what's so special about WSM to make it our best future crypto to invest in for 2023?
The power of Wall Street Memes lies in its mission — a protest against capitalism. Drawing from the 2021 GameStop fiasco, this project's creators aim to empower traders to compete against institutionalized investors by harnessing the power of meme virality. In their view, investing in these tokens can net millions, much like meme stocks do for their competitors.
WSM developers owe much of their success to external support. The brand, which gained recognition with its NFT collection in 2021, had over a million social media followers before the coin went into presale. On top of that, the most popular meme coin advocate, Elon Musk, promoted the currency on Twitter. Plenty of influencers and followers have continued to support this campaign since.
If these arguments have convinced you to join the community, don't waste any time. Visit WSM's official website and purchase the coin for $0.0337 at a discounted presale price. However, if you're still hesitant about investing, Wall Street Memes' website, Telegram, and other socials can help you learn more about the initiative.
| | |
| --- | --- |
| Hard cap | $30,577,000 |
| Total tokens | 2 billion |
| Tokens available in presale | 1 billion (50% of total supply) |
| Blockchain | Ethereum |
| Token type | ERC-20 |
| Minimum purchase | 100 $WSM |
| Purchase type | ETH, USDT, BNB |
2. Bitcoin BSC - High Quality Future Crypto With 120 Year Token Longevity, BTC Theme at $0.99, And $1.3M Raised Within a Week
Bitcoin BSC ($BTCBSC) is a BEP20 project that provides an opportunity to invest in Bitcoin at just $0.99.
Currently priced at $25,000 (~25,000x), this second chance of BTC investment has proven very enticing for many, which is partially why it has raised a colossal $1.3 million in just 7 days.
Nobody would want to miss out on early stage Bitcoin investment, twice.
Of course, this is obviously a Bitcoin replica and not the original - the price, supply and availability of Bitcoin in 2011 have simply been recreated on a more powerful blockchain (the BNB Smart Chain).
So prior to investing, the whitepaper should be explored in detail and it should be comprehended that this is simply a copy, and there is no evidence that it will follow in the footsteps of the original Bitcoin.
However, it is also worth noting that BTC20, a similar Bitcoin clone, achieved a 600% price appreciation at one stage, after completing its $6.05 million hard cap in about 3 weeks.
Bitcoin BSC offers more utility than BTC20, being derived on the more powerful BNB Smart Chain as opposed to Etheruem.
The BNB Smart Chain is much faster and far more affordable in comparison, with ultra low transaction fees.
Staking rewards are also on offer, currently in the range of 422%. These yields will go down with time, but are likely to remain in double digits even when the presale completes (as gauged from other presale projects.
Staking rewards play a large role when assessing project longevity.
People will stay with a project for longer if they are offered incentives in the form of rewards. The release schedule is also set at 120 years, which is again identical to Bitcoin.
To take part in the presale, it's a good idea to join the project socials (Twitter, Telegram). You will also need to have an accepted Web3 wallet as well as ETH, USDT, or BNB to complete the transactions.
Based on our research, we think this is a crypto that will be around for quite a long time.
| | |
| --- | --- |
| Presale Started | 5 September 2023 |
| Purchase Methods | ETH, USDT, BNB, Credit Card |
| Chain | BNB Smart Chain |
| Min Investment | $10 |
| Max Investment | None |

3. Launchpad XYZ - Cryptocurrency Platform Giving Entry to Multiple Web3 Services, $1.5M Raised
With the evolution of Web3, more and more users are accessing decentralized networks. However, Launchpad XYZ aims to offer a platform that makes all the popular decentralized protocols accessible from one ecosystem.
With $LPX, the native token that powers this platform, users can access Launchpad XYZ's decentralized exchange (DEX), P2E hub, and more. One of the features offered on Launchpad XYZ is a Web3 wallet, which can be downloaded after providing just an email address or phone number.
With your Web3 wallets, you can interact with other decentralized applications, access Web3 services, and purchase and swap tokens. On the DEX, users can access hundreds of asset pairs, and even access perpetual contracts for certain pairs.
With $LPX, traders can benefit from lower trading fees on the DEX. The native token can be used to also purchase fractionalized assets, which include real-world assets such as real estate and art. Launchpad XYZ also allows members to search NFTs from the top exchanges and curate their collections through an NFT gallery.
Those looking to gain more knowledge and insight into the crypto space can access the Launchpad XYZ quotient. Through this tool, the platform utilizes live data to provide over 400 data points on top tokens. The data points are generated after leveraging technical indicators such as moving averages and buying sentiment.
Currently, $LPX is available to buy on presale for just $0.0445 per token. While investing in any presale is not a risk-free investment, the utility Launchpad XYZ aims to provide may help increase the adoption of the token. From a low supply of 1 billion tokens, 250 million $LPX coins have been allocated across ten presale rounds.
By the final round, the price of $LPX will double to $0.07. Launchpad XYZ aims to raise a soft cap target of $5 million from the presale and has already raised over $1.5 million since the presale started.
Read the Launchpad XYZ whitepaper and join the telegram channel to say updated on this project.
| | |
| --- | --- |
| Presale Started | 27 April 2023 |
| Purchase Methods | ETH, USDT, Credit Card |
| Chain | Ethereum |
| Min Investment | 100 LPX |
| Max Investment | None |
4. yPredict - Analytics Platform Offering Passive Income Earning Opportunities
The yPredict ecosystem allows members to trade cryptocurrencies after accessing data-driven insights and knowledge. The platform works with a team of AI developers and financial quants who provide predictive analytics and models on the potential outlook of different cryptocurrencies.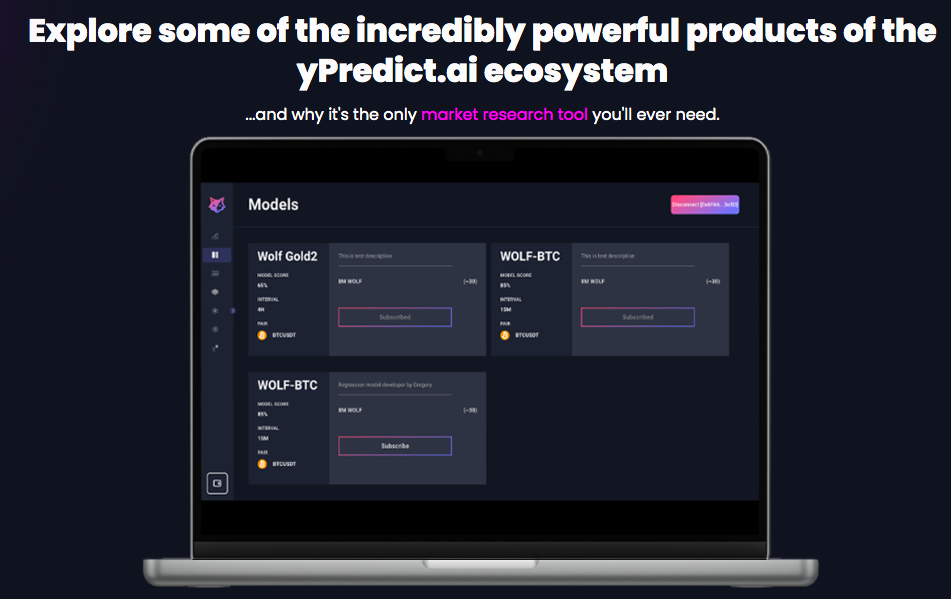 With $YPRED, the native token, members can purchase monthly predictions to access the models from a financial marketplace. Some of the information provided includes AI trading signals generated by the top 1% of AI developers. The platform conducts sentiment analysis by using AI tools and utilizes various technical indicators to predict a token's price.
yPredict uses a patent-pending pattern recognition algorithm, which scans multiple trading charts to identify whether a token is bearish or bullish in the short term. Along with all these features, users can learn more about cryptocurrencies by accessing yPredict's Learn2Earn ecosystem.
On this, members can take assessments and quizzes about cryptos and earn $YPRED tokens for passing the tests. With the $YPRED token, users can participate in P2E ecosystems and bet on the future outlook of certain crypto tokens. The participants with the closest predictions are also rewarded with tokens.
While there is no guarantee on whether the $YPRED token will rise, this cryptocurrency can be staked on the ecosystem to generate passive income. yPredict runs staking pools, which will regularly receive 10% of all the revenues generated from new platform subscriptions. Furthermore, 15% of all swapping fees collected on the ecosystem will also be allocated to the staking pools.
$YPRED can be purchased on presale for a price of $0.05 per token. However, the price will jump to $0.12 by the final round. Since the presale went live, over $3.8 million has been collected through the presale.
Read the yPredict whitepaper and join the telegram channel to stay updated with this crypto platform.
| | |
| --- | --- |
| Presale Started | Q1 2023 |
| Purchase Methods | MATIC, ETH, USDT, BNB, Credit Card |
| Chain | Polygon |
| Min Investment | 200 YPRED |
| Max Investment | None |
5. Chimpzee - Provides 20% APY While Helping Save The Planet, $1.3M Achieved From $1.8M Hard Cap
Several crypto projects are creating innovative financial solutions, but there is a shortage of functional environmental and social solutions. However, a new trend is emerging, with a few pioneering initiatives leading the way.
Chimpzee is among these projects, with a key focus on preserving the planet and its wildlife. It provides various features that allow users to earn passive income while also contributing to environmental causes. These features include Play-to-Earn, Shop-to-Earn, and Trade-to-Earn, which can be accessed through the Chimpzee shop, NFT marketplace, and Zero Tolerance Game. The team has allocated 10% of the token supply and a portion of the profits to support organizations working towards these causes.
Earning passive income in a highly lucrative manner is possible by possessing a Chimpzee NFT passport, which enables users to earn additional CHMPZ tokens and receive rewards by engaging with various components of the ecosystem.
Chimpzee has unveiled a mobile app that leverages AI technology to generate personalized Chimpzee avatars for its users. These avatars can be used to create a personalized Chimpzee NFT passport, which shares some of the same benefits of a Diamond NFT Passport.
To participate in the Chimpzee presale and acquire these exclusive NFT passports, a total of 40 billion CHMPZ tokens will be distributed across four rounds. In the current round, the price for 1 CHMPZ starts at 0.0005 USDT, with the next round increasing the price to 0.0007 USDT. The final price will be listed three times higher at $0.00185. Receive free bonus tokens when you buy in the presale only.
Acquiring the opportunity to mint a Chimpzee Diamond NFT passport when it becomes available after the presale provides users with the greatest benefits and highest earning potential since the supply is restricted. Those who fail to participate in the presale have to pay a higher price for the passports and wait until after the whitelist NFT passport prelaunch, which is solely accessible to presale investors.
Chimpzee has the potential to be one of the biggest green crypto projects and is worth observing. Grabbing the chance to participate in the presale early on offers benefits that are hard to resist.

6. XRP20 - New Cryptocurrency Offering Staking Rewards, XRP20 is Priced 30x Cheaper than the XRP All-Time Lows, Presale is Complete With Staking Active
One of the top future cryptocurrency tokens, XRP20 ($XRP20), offers staking opportunities and deflationary tokenomics. Described as the second coming of the XRP token, XRP20 is built on the Ethereum blockchain and offers a token supply of 100 billion.
Financial institutions and banks mainly use XRP to settle cross-border transactions. On the other hand, XRP20 will be used by retail traders. Since it is based on the Ethereum blockchain, XRP20 adopts a stake-to-earn model. Therefore, token holders can stake tokens and generate passive income. 40% of the 100 billion token supply will be allocated for the staking mechanism.
Another 40 billion tokens have been allocated for the ongoing token presale. Through this presale, XRP20 aims to raise a hard cap of $3.68 million. The successful presale has already raised more than $250K in under a week. The token is priced at only $0.000092 for the presale and can be purchased with Tether (USDT) or Ethereum (ETH) holdings.
At this stage, the token is priced 30x cheaper than the XRP all-time lows. Therefore, investors who did not manage to profit from the success of XRP could invest in XRP20 instead. While the two projects are not related, XRP20 offers staking opportunities and will use a burning mechanism to reduce 10 billion of its token supply over time.

Every 0.1% of buy and sell transactions will be sent to a dedicated burnt wallet address. After the presale, the token will conduct its initial exchange offering, which could see the price explode in the future. Read the XRP20 whitepaper and join the Telegram channel for more information on this new crypto token.
| | |
| --- | --- |
| Presale Started | August 2023 |
| Purchase Methods | ETH, USDT. |
| Chain | Ethereum |
| Min Investment | 100 XRP20 |
| Max Investment | None |
7. BTC20 - Merging Bitcoin's Original Spirit with Modern Tech, Presale Sold Out
Aiming to recreate the early Bitcoin spirit with modern blockchain tech, BTC20 is gaining prominence amid the ongoing market recovery.
The platform launched 6.05 million tokens at a nostalgic $1, similar to Bitcoin's initial price in 2011.
It adopts the sustainable Proof-of-Stake system, unlike Bitcoin's Proof-of-Work. This eco-friendly approach allows token holders to earn via staking, reinforcing network security and encouraging participation.
Moreover, BTC20 offers the public all (100%) tokens, focusing on total decentralization. As an ERC-20 token, it integrates easily with existing platforms and wallets, simplifying user interaction.
BTC20's whitepaper outlines a maximum supply of 21 million tokens, the same as Bitcoin. But it sets aside 14.95 million for staking, enticing early investors while promoting broader adoption.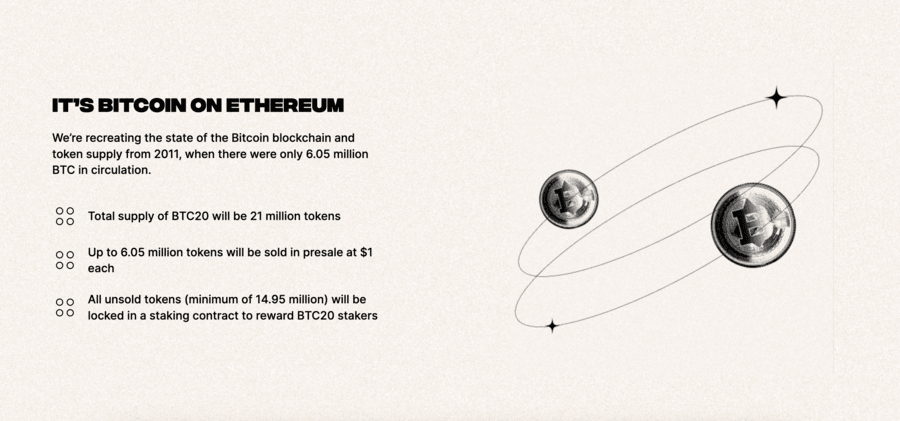 Like Bitcoin's long-term strategy, BTC20 plans a token release over an estimated 120 years, ensuring sustained growth and user trust.
The proceeds from the token sale will be utilized to strengthen the BTC20 ecosystem. Planned developments include building strategic partnerships, decentralizing governance rights, and exploring decentralized applications.
Investors can join the BTC20 Telegram channel to keep up with the platform's progress.
8. Anarchy - Future Crypto Combining Anarchism and Memes
Anarchy is a one-of-a-kind crypto project, as it bases its philosophy on anarchy. In short, the coin's mission statement claims that the organized worldwide financial system doesn't care about the little guy and only serves the rich, using the data we leave everywhere online to profit from us. If you add memes to that, you get a unique coin promoting a sort of "anarchy" that the cryptocurrency sphere brings to the world.
But is that possible? The idea behind Anarchy is to use the Decentralized Autonomous Organization called Anarchy DAO. It's a philanthropy and investment organization wholly owned and operated by its community members, mainly $ANA token holders.
The token is called $ANA, with 69,420,000,000 coins to be mined. 80% will be issued for sale, whereas 20% will be kept for liquidity. It will feature a 4.5% sell and transfer tax to DAO and a 0.5% sell & transfer burn fee.
Investors will be able to claim the Anarchy token after the initial coin offering wraps up. It's important to follow the instructions on the site to claim the token manually.
The presale is still in its first stage, with more than 20% of tokens sold. A single unit of $ANA is $0.00021, but that price will increase with each stage. It's possible to use ETH, USDT, BNB, or a card, to buy tokens from the official Anarchy presale.
Unfortunately, any additional information related to this coin is still unavailable. Despite this, some investors are already actively purchasing it, with more than $300,000 raised in $ANA. Make sure to check the project's official Telegram group for more info.
| | |
| --- | --- |
| Presale Started | June 2023 |
| Purchase Methods | ETH, USDT, BNB, credit card |
| Chain | Ethereum |
| Min Investment | None |
| Max Investment | None |
9. BNB - Token with Impressive Track Record and Use Case
Binance is well-known as a cryptocurrency exchange titan, with trading volume that dwarfs all other centralized exchanges.
With the recent advent of BNB Chain (formerly Binance Smart Chain), Binance has made its foray into the smart contract space in a big way. BNB Chain is now the third most popular blockchain by DeFi total value locked (TVL) and the second by market capitalization.
For those looking for the best future crypto to invest in, BNB stands out as a promising candidate. Widely heralded as the king of token utility, BNB has a huge number of uses in the Binance and BNB Chain ecosystem — being used for paying gas costs on BNB chain, participating in Binance launchpad sales, unlocking trading fee discounts, and more.
BNB has also proved to be heavily resistant to bear markets. In 2019, a time when most cryptocurrencies were collapsing in value, BNB was shattering record highs. Likewise, while most cryptocurrencies have lost upwards of 80% since the 2021 bear market, BNB is down just 60% — demonstrating its relative strength. According to most BNB price predictions this promising crypto could reach highs of $2k by the end of 2030.
Part of this may be attributed to the large number of BNB burned through the buy back and burn campaign and the more recent pioneer burn program, reducing its supply. To date, more than 1.95 million BNB has been burned, worth more than $500 million.
Cryptoassets are highly volatile and unregulated. No consumer protection.Tax on profits may apply.
10. Bitcoin - Original Cryptocurrency Fiat Alternative
The one that started it all. Bitcoin is a staple in the portfolio of most cryptocurrency investors due to its impressive price action and long-term prospects.
As a cryptocurrency designed to be a direct replacement for traditional fiat, Bitcoin has seen rampant adoption by individuals, businesses, and enterprises worldwide, and is now considered legal tender in El Salvador and the Central African Republic.
Despite having a market cap of more than $380 billion, Bitcoin actually has no major competitors. Other simple payment cryptocurrencies, including Litecoin and Monero, fall utterly short when it comes to global adoption and nothing has managed to even come close to Bitcoin's success.
Indeed, Bitcoin is now held by numerous sizeable firms, including the likes of Tesla, Coinbase, Block, and MicroStrategy.
This gradual adoption has fueled one of the most impressive price rallies ever seen, with Bitcoin exploding from essentially $0 to a peak value of more than $69,000 since 2009. Many believe it is just a matter of time before it shatters this value to reach even greater heights.
And with Bitcoin's utility and uptake set to dramatically increase over time thanks to the growth of the Lightning network, and the development of Bitcoin DeFi solutions like Portal, there is good reason to believe Bitcoin is the best crypto of the future.
Cryptoassets are highly volatile and unregulated. No consumer protection.Tax on profits may apply.
11. DAO Maker — Popular Launchpad and Retail Venture Platform
Spotting promising new crypto projects can be a challenge, given the sheer volume of new projects hitting the market each day.
DAO Maker looks to simplify this by democratizing access to promising new projects through its token sale platform. The platform allows DAO token holders to access a range of hand-curated opportunities, making finding and taking part in early-stage sales a simple task.
DAO is arguably the best future cryptocurrency to invest in if you're got limited time on your hands to research your own investments.
Since the platform launched in 2018, DAO Maker has hosted sales for some of the most successful projects in recent years — including heavyweights like Orion Protocol, XCAD Network, and My Neighbor Alice.
The team is constantly releasing new products and upgrades, and the platform continues to go from strength to strength in terms of partnerships and ecosystem growth. Because of this, the DAO token looks like a strong pick for those that want to make the most of the next bull run.
Cryptoassets are highly volatile and unregulated. No consumer protection.Tax on profits may apply.
12. Moonbeam — A project bringing smart contracts to Polkadot
Moonbeam is a Polkadot parachain designed to make it easy to build interoperable blockchain applications.
As an EVM implementation for Polkadot, Moonbeam allows developers to easily port their Ethereum (and EVM chain) smart contracts over to Polkadot. These would then benefit from interoperability with the broader Polkadot ecosystem, which includes other popular parachains like Astar, Acala, and Parallel.
The Polkadot ecosystem is widely considered to be a hotspot of innovation in the blockchain space, with dozens of crypto tools, platforms, and protocols currently in development.
As the Polkadot user base grows and its product and services landscape swells, developers may begin to flock to Moonbeam as a simple way to deploy their applications on Polkadot.
According to the official roadmap, work is currently underway to support XCM — which will allow Moonbeam smart contracts to communicate with other applications across all Polkadot blockchains.
As the primary utility token of the Moonbeam Network, Glimmer (GLMR) is required for paying for smart contract operations and facilitating on-chain governance. As such, demand for the token should skyrocket alongside growing demand for Moonbeam network resources.
Though the Moonbeam token has been on a long-term downtrend, it is important to note that its ecosystem is only in the very early stages of development — as such, there is limited utility for the GLMR token right now.
If, or when, this ecosystem begins to expand, GLMR could be arguably one of the best future crypto coins for growth — particularly when you consider it is the leading smart contract platform on Polkadot.
Cryptoassets are highly volatile and unregulated. No consumer protection.Tax on profits may apply.
13. Cosmos — Bet on the Cross-Chain Future
Interoperability has been a long-standing problem in the blockchain space.
Right now, most blockchains operate as closed-off ecosystems with essentially no way to communicate with other platforms. This limits their utility since it prevents developers from leveraging the unique properties of different blockchains within their dApps.
It also leads to a great deal of redundancy and friction for end-users — since popular dApps are forced to deploy on multiple different chains, and users are forced to get to grips with multiple different blockchains and wallets to access their favorite dApps.
Cosmos, however, wants to make this a thing of the past by powering an interchain landscape of products and services — all of which is connected by its proprietary cross-chain message passing and inter-blockchain communication protocols.
This will allow value (e.g. tokens) and data to be transferred across compatible blockchains seamlessly, while allowing Cosmos ecosystem chains to interact with existing external blockchains, like Bitcoin and Ethereum.
Cosmos is tackling one of the hardest challenges in the blockchain space. If it succeeds, the ATOM token could potentially be the best future cryptocurrency to invest in, since there are a huge number of rails that deliver value to ATOM holders. This includes regular airdrops, staking fees, and on-chain governance.
Arguably the best cryptocurrency of the future, ATOM has demonstrated long-term growth and could be set to retake its previous all-time highest value of $44.70 in the coming years.
Cryptoassets are highly volatile and unregulated. No consumer protection.Tax on profits may apply.
14. Ethereum — The Ever-popular Smart Contract Platform
No list of promising long-term cryptocurrency investments would be complete without Ethereum — the juggernaut that introduced smart contracts to the world.
As a smart contract platform, Ethereum is used to host decentralized applications (dApps), which are powerful blockchain-based apps that can be accessed from anywhere, by anyone, at any time.
The platform is currently the dominant smart contract platform, with over 3,000 dApps now running on the blockchain, and more than $34.1 billion controlled by Ethereum DeFi services.
Despite growing competition among other smart contract platforms, including the likes of Solana, BNB Chain, Avalanche, and more, Ethereum is set to complete one of its biggest ever upgrades in mid-September.
The upgrade, known as 'The Merge' will see Ethereum move from its energy-intensive Proof-of-Work consensus system to the much more environmentally friendly Proof-of-Stake. It will also set the stage for a range of further upgrades that could help Ethereum secure its position as one of the most technically advanced blockchains in operation. This could make ETH the most energy-efficient crypto of the year.
As the native gas token of the Ethereum platform, the ETH token is set to become the main beneficiary of this growth. This is why ETH has managed to perform better than most in the bear market and stands to experience potentially meteoric growth in the months and years ahead.
Cryptoassets are highly volatile and unregulated. No consumer protection.Tax on profits may apply.
15. Sweat Economy — A massive new move-to-earn platform
In recent years, blockchain technology has demonstrated its capacity to reshape the way that applications are monetized and users are rewarded.
Besides the incredibly popular play-to-earn niche, the move-to-earn sector also gained a great deal of popularity during this time, since it provided users a way to earn cryptocurrency rewards for simply keeping fit.
Until now, no move-to-earn project managed to properly balance rewards and growth — usually due to poor tokenomics or a lack of ecosystem development.
But Sweatcoin, a move-to-earn project built on the NEAR blockchain, could be set to change that.
Sweatcoin is a blockchain-based move-to-earn project that rewards users in SWEAT tokens for being active. These tokens can then be spent in the marketplace on a range of rewards, like iPhones, anti-gravity yoga classes, audible books, and more.
Or they can be withdrawn and used on-chain, where they can be staked or exchanged for other cryptocurrencies.
The platform currently has partnerships with hundreds of brands and healthcare partners, more than 100 million registered users, and millions of app downloads.
Unlike the other projects on this list, the SWEAT token isn't currently in circulation, so can't be bought on exchanges. But given that it will launch with an initial market capitalization of just over $15 million, it could be the best future crypto to invest in — particularly if you can get in early.
To put this into perspective, its two largest competitors — STEPN and Step App — achieved market capitalizations of $2.3 billion and $175 million respectively. Despite being orders of magnitude less successful.
How to Find the Best Future Cryptocurrencies
Looking to get rich off cryptos? Cryptocurrencies are, without a doubt, the most profitable asset class of the 21st Century. Indeed, the returns provided by the hottest cryptocurrencies like Bitcoin, Litecoin, and Ethereum have eclipsed those provided by traditional asset classes over the same time period.
But not all cryptocurrencies are built equal. Indeed, only a small minority of cryptocurrencies achieve the parabolic growth typically associated with the asset class. Most, unfortunately, fail to gather significant momentum. Even those using the best crypto signals cannot accurately pinpoint which cryptos will explode in the near future.
Because of this, it's important to take the time to separate the best future crypto coins from the likely failures, rather than deploying funds indiscriminately. Contrary to popular belief, not all cryptocurrencies will grow in value, and many of today's most popular assets will never return to their former glory.
Determining the best future crypto to invest in can be a challenge, but it's very possible with the right strategy. Some of the things you'll want to consider include:
Understand supply changes
Cryptocurrencies tend to be inflationary. Put simply, this means the number of coins or tokens in circulation usually increases over time — typically due to staking rewards, early investor vesting, and treasury unlocks.
For tokens without significant buy-side demand, this can lead to significant and sustained sell pressure, collapsing the value.
Tokens with a large fraction of their maximum supply in circulation tend to be least affected by this phenomenon but also tend to have less upside potential. Meanwhile, newer tokens tend to suffer more from this challenge, but also have more potential upside.
Changing trends
Every bull market has its themes and trends. Spotting these early is one of the best ways to secure substantial profits.
In many cases, the best future crypto to buy is a first mover in a new trend, whether that be meme coins - or shitcoins as they can be known - the metaverse, blockchain gaming, NFTs, interoperability protocols, or something entirely new.
History has shown that the first mover advantage is present even in the crypto sector.
Token utility
Token utility refers to the actual value a cryptocurrency can offer during the ecosystem. Utility can be generated by a number of means, including staking rewards, in-platform purchases, discounts on fees, and more.
The vast majority of cryptocurrency tokens lack significant utility or the correct product/market fit. As a result, their long-term prospects are weak.
But for projects with well-crafted token utility, buyer-side demand can help sustain the token's value during a bear market, and send it skyrocketing in a bull one.
As such, it's always wise to scrutinize a token's real utility before speculating on it.
Team and backing
Many of today's most successful projects are created by repeat entrepreneurs who have a history of success.
Likewise, the partners, collaborations, and integrations a project has can play a pivotal role in its success or demise.
Because of this, it's wise to check who is behind the project, to see if they've got what it takes to produce the results you're looking for.
How to Buy Future Crypto - Wall Street Memes
Here's a step-by-step guide.
Step 1: Download a Wallet
Investors need to download a crypto wallet such as MetaMask or Trust Wallet before they get started.
Step 2: Buy USDT/BNB/ETH
Investors need USDT/BNB or Ethereum to buy $WSM tokens. One option is to buy ETH, BNB or USDT on eToro and then transfer tokens to the crypto wallet.
Another option is to make the purchases directly via a credit card through the Wall Street Memes presale page.
Step 3: Convert USDT/BNB/ETH to $WSM
Next, visit the Wall Street Memes website and select 'connect' to enter your wallet details.
Then select the relevant option and follow the steps on the screen to purchase $WSM tokens.
After the purchase, $WSM tokens will be stored on the Wall Street Memes website. They can be claimed after the token generation event (TGE) starts.
Conclusion
The cryptocurrency industry provides endless opportunities for speculation. But filtering the truly promising projects from the duds is easier said than done.
In this guide, we've discussed a range of projects that stand an excellent chance of achieving long-term growth and success — helping to deliver the parabolic returns that are characteristic of cryptocurrencies.
Wall Street Memes, one of the latest meme coin additions to the crypto market, may be the most effective yet. Its goal is to help the average investor take advantage of current meme fads and earn millions hassle-free.
The project already boasts $25 million in presale funding and over a million supporters, including Elon Musk. You can purchase its native crypto token for $0.0337 if you want to get involved before the price goes up for its T1 CEX listing later this year.
FAQs on the best future crypto to buy
Is cryptocurrency the future?
Most crypto future predictions paint cryptocurrencies as not only the future of money but also the future of stored digital value. Over time, the types and use cases of cryptocurrencies have expanded considerably and there are now crypto-based options for most online services. This gives investors a chance to easily invest in the next generation of digital and financial infrastructure.
What is the best future crypto to buy?
The cryptocurrency landscape is as deep as it is wide. There are quite literally tens of thousands of different cryptocurrencies now available — many of which are attractive investment opportunities.
Some of the most popular choices for the best future crypto to buy include BTC, ETH, BNB, and ATOM, while we recommended Wall Street Memes, which is getting huge interest in its early presale.
Which crypto is best for the long term?
Not all cryptocurrencies have long-term growth potential. But the best crypto to invest in for future returns tends to be those that offer strong token utility, target a large audience, and have enough funding to develop a killer product. Crypto projects such as Wall Street Memes, Bitcoin BSC, yPredict and Launchpad XYZ have the potential to be listed on Coinbase in the future.
Wall Street Memes ($WSM) stands out as the best option, thanks to its massive social media presence, Musk's support, and powerful branding. Its native token is currently available at a discounted price — $0.0377 per coin.

---