12 Best Crypto Courses for Trading & Education 2023
Disclosure: Crypto is a high-risk asset class. This article is provided for informational purposes and does not constitute investment advice. By using this website, you agree to our terms and conditions. We may utilise affiliate links within our content, and receive commission.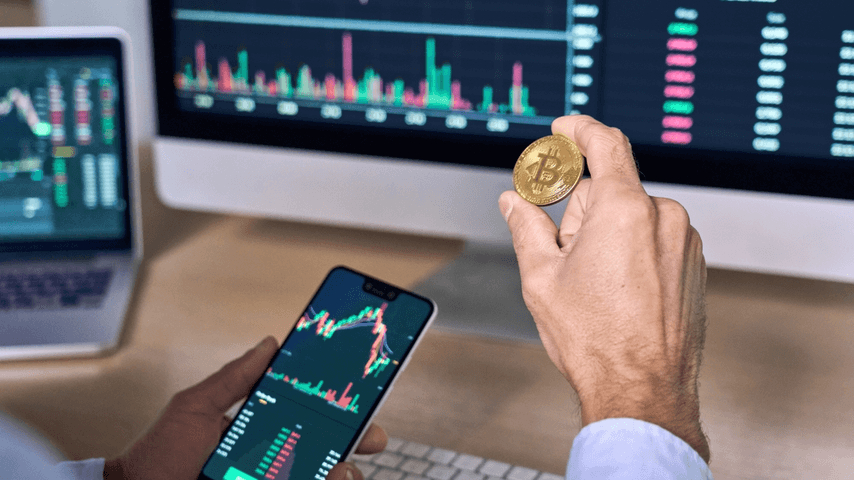 Learning the ins and outs of how cryptocurrency works may be intimidating for beginners, which is where online courses can help. 
With that in mind, we have ranked the best cryptocurrency courses for 2023.
Crypto and blockchain courses give investors high-quality training on everything from advanced trading strategies to understanding technical analysis – read on to find out more.
The Best Crypto Trading Courses for 2023
We've researched and ranked the best cryptocurrency trading courses this year in the list below:
Rekt Capital – Leading Courses for Beginners and Advanced Traders to Buy and Sell Crypto
Jacob Crypto Bury Discord – Leading Community to Get Help and Tips on Trading
BitDegree – Best Cryptocurrency Course to Earn While Learning
Blockgeeks – Blockchain Courses With an Expert Team of Teachers
Blockchain Council – Blockchain and Web3 Certifications for Crypto, Metaverse, & NFTs
Udemy – Education Platform With Over 213,000 Online Video Courses
Piggybacks – Access Numerous Courses on Crypto Trading and Technical Analysis
Upskillist – Global Online Learning Platform With Interactive Classes
RocketFuel – Interactive Membership-Based Crypto Courses 
Learners Point – Online Acadamy With Techniques and Tools to Trade and Mine Crypto
101 Blockchains – Variety of Courses Offered to Learn Actionable Skills
MIT Media Lab – Learn About Digital Signatures, Hash Functions, and More in Six Weeks
As you can see, there is a plethora of different educational platforms to sift through when looking for the best cryptocurrency courses. Read on for more information on each.
Best Cryptocurrency Courses Reviewed 
Crypto trading courses come in all shapes and sizes, with some offering the best crypto tips. 
For instance, some platforms offer free courses as well as paid ones. Some providers only offer video courses, whereas others offer interactive ones too. Choosing the right one can help investors find the next cryptocurrency to explode.
Below, investors can read our full analysis of each of the best crypto courses for 2023 that we listed above.
1. Rekt Capital – Leading Courses for Beginners and Advanced Traders to Buy and Sell Crypto
For those looking for an unbiased, and level-headed market insight from a professional that doesn't get afraid of seeing the volatility of the cryptocurrency market, Rekt Capital is the one to choose. This crypto trading course not only has the top 4 crypto newsletters in the world, providing people with simple market insights that get them ready for crypto trading, but it also offers every fundamental you can ask for in a cryptocurrency course.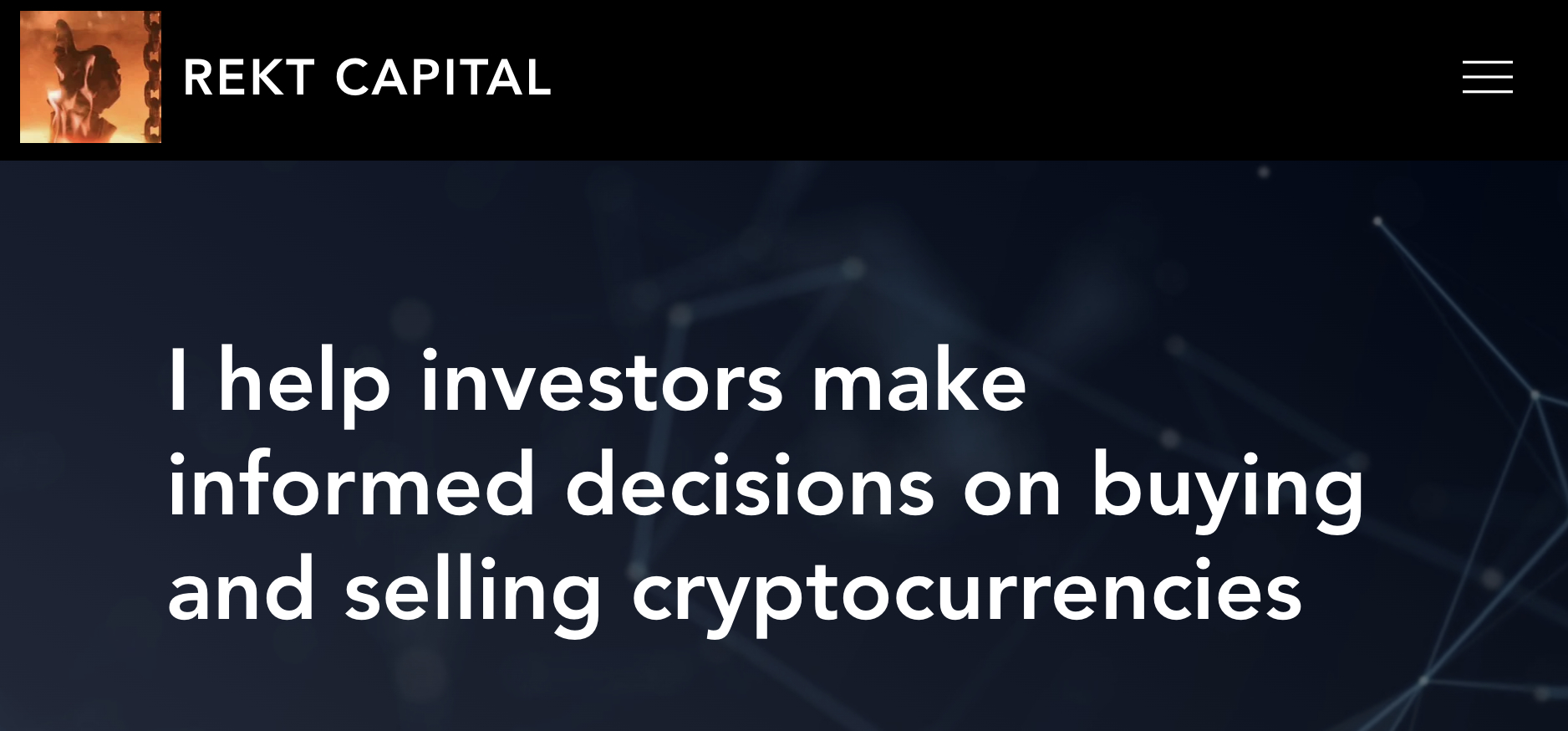 Whether you are a beginner trying to get the hang of fundamentals or a veteran trader trying to fine-tune your trading strategies, Rekt Capital has different offers for you. 
For daily updates about the cryptocurrency space, you can check out the newsletter. The information it provides will be robust and will contain digestible bits so that what you read isn't too intimidating. But if you are looking for a more coherent approach to learning, meaning you are willing to dive deep, you can ask for a weekly video subscription on Bitcoin and Altcoin investing. 
That subscription will cover everything from Data science metrics to market indicators for Bitcoin as well as altcoin. Personal investment insights are also provided by the instructor delivering this course. 
But if you are getting started, there are three different levels of courses that might suit you better.
Overall, Rekt Capital is an all-encompassing course that focuses on all the necessary attributes of crypto trading. 
2. Jacob Crypto Bury Discord – Leading Community to Get Help and Tips on Trading
Jacob Crypto Bury is a leading YouTube trader that has racked up hundreds of thousands of views on his videos and more than 10k subscribers by offering trading insights, tips and crypto alpha.
Although it is not strictly an education course, crypto traders and investors will find both the Jacob Crypto Bury YouTube channel and the associated Discord group to be a hugely useful source of information.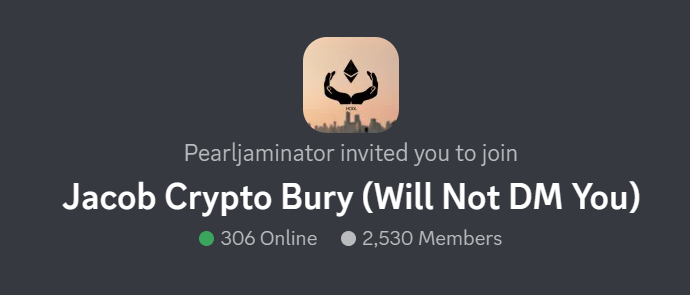 Traders and investors can get involved in a community of like-minded crypto individuals that share tips and analytical info, with Jacob himself an extremely active member in the group and regularly sharing his own TA and allowing other members to copy his strategy.
There are a number of different channels within the group that cover various topics of conversation.
There is the main general discussion chat – which is not solely just crypto chat but covers everything, including general chat and offering plenty of memes.  
The news links feed that covers pertinent new stories, a Charts channel to discuss technical indications and forecast where prices might be heading, as well as a channel to discuss all things DeFi.
VIP members also get signals with the Discord group rated as one of the best crypto signals groups around.
3. BitDegree – Top Cryptocurrency Course to Earn While Learning
Mini scholarships and reward-based learning are only two of the aspects that make BitDegree one of the best crypto trading courses for 2023.
The platform has its own native currency – BDG. When investors enroll in BitDegree crypto courses online, they will receive digital currency tokens as a reward in the form of BDG distributions.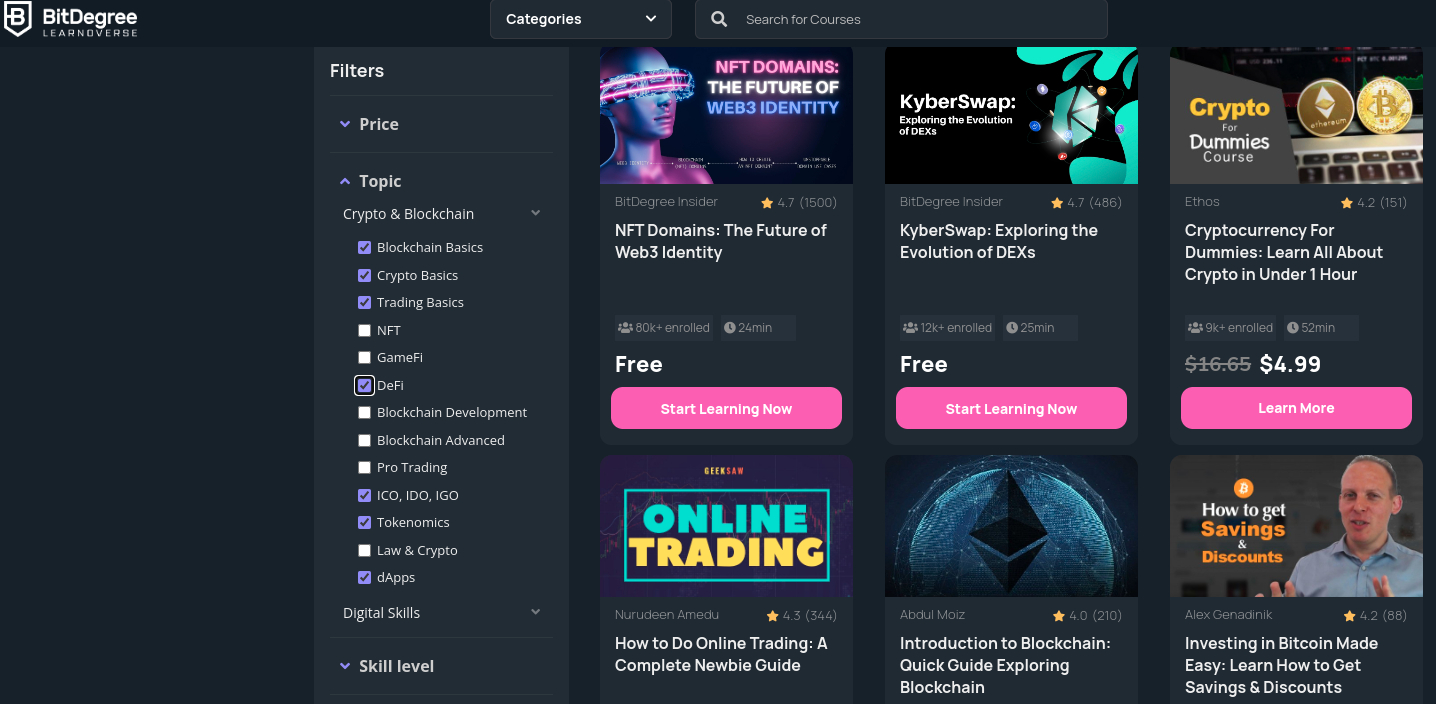 Additionally, students can obtain these tokens by applying for micro-scholarships. They will also be awarded tokens when communicating with businesses via the BitDegree platform.
Students will receive BDG tokens in exchange for every authorized course they complete. These tokens can also be used to pay for other courses and students have the option of converting them to ETH if they wish.

Students looking for a free crypto trading course won't be disappointed. This platform offers a wide variety of free cryptocurrency trading courses as well as paid ones.
Additionally, BitDegree offers gamified education to give students a more engaging experience. This also allows them to interact while learning.
With the help of e-learning gamification, students receive quick feedback on their development and can discover how they compare to others.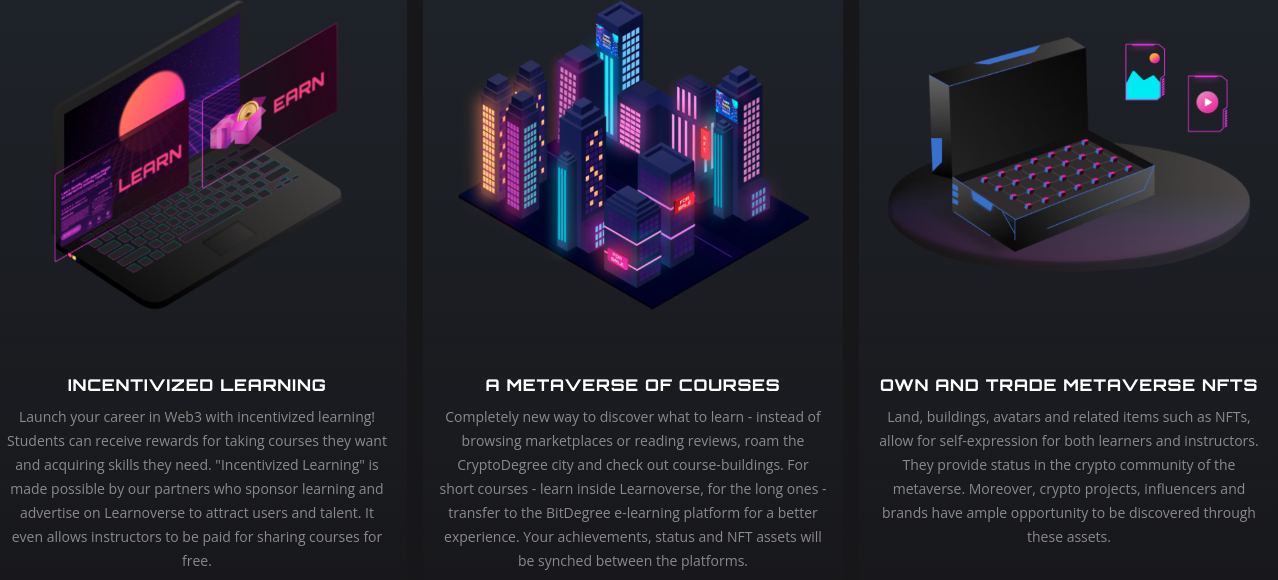 Apart from the free options, the price at BitDegree starts from $1.99 per course. As of writing, the highest course is $499. As with all of the best cryptocurrency courses, BitDegree covers various topics.
Courses can be found on topics like blockchain and crypto basics, tokenomics, NFTs, GameFi, dApps, and more. Since 2022, students have had the option to explore the BitDegree Learnoverse.
They can look for insightful information, discover courses by entering different buildings, and advance to earn crypto by moving up levels.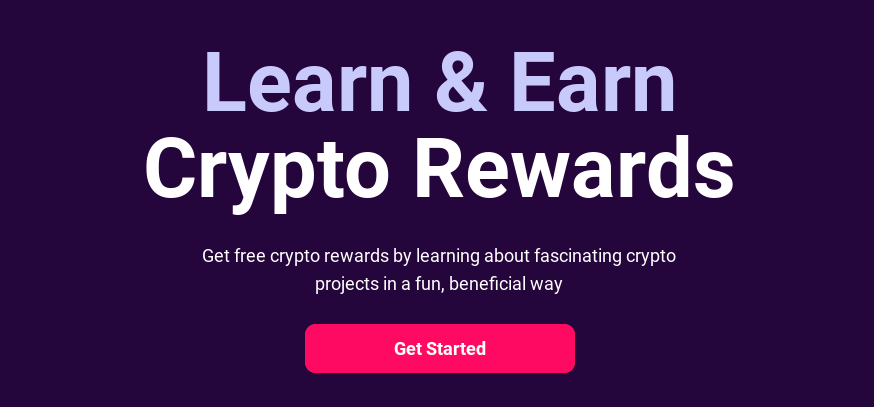 They can also acquire crypto-degrees vis BitDegree, giving them access to job prospects on web3. By rewarding its users with tokens for their efforts, the Learnoverse hopes to transform P2E (play to earn) into L&E (learn and earn). Needless to say, some of the top-trending cryptos in 2023 are also the best P2E cryptos on the market. 
Investors can also earn and learn by watching informative videos and answering questions. Options include the web3 crypto project ​​FIO Protocol, which is offering $2 worth of free crypto. The Learn Ledger course allows students to earn 10% off the family pack.  PrimeXBT, a trading platform, offers a 7% deposit bonus via BitDegree.
4. Blockgeeks – Expert Blockchain Courses With an Expert Team of Teachers
Blockchain, Ethereum, and Hyperledger accelerated online courses are available from Blockgeeks. This is one of the best cryptocurrency course providers for choice.
There are over 1,600 classes and courses to choose from. The platform offers one weekly live lesson taught by a Blockgeeks teacher.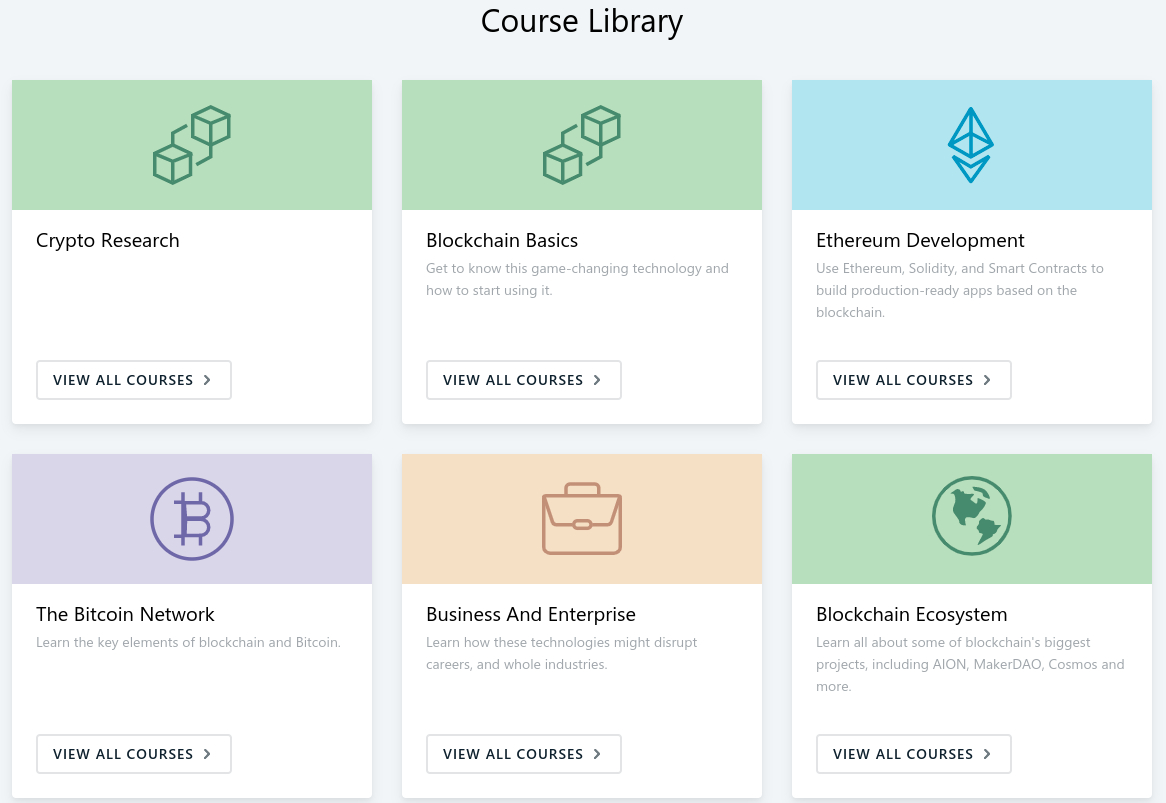 This includes tests, assignments, and projects. A unique, non-fungible ERC-721 token serves as proof that the investor has completed the respective Blockgeeks program.
The Blockchain for Business Accelerated course teaches non-developers about the principles of digital ledger technology. This includes its use cases in retail, healthcare, finance, and more.

The course also teaches investors how to work with a blockchain developer. This Blockgeeks course is open to all skill sets, however, enrollment is capped at 30 students each session.
Meanwhile, both Ethereum and Hyperledger Accelerated courses call for prior knowledge of object-oriented programming languages.
Introduction to Blockchain and Cryptocurrency and Blockchain Use Cases are two free introductory courses.

Those looking for a free cryptocurrency trading course will find an extensive library on this platform Alternatively, investors can unlock hundreds of hours' worth of content by subscribing to Blockgeeks.
The fee to access the paid courses is $6 a month as of writing. Categories include crypto research, how to buy Bitcoin, Ethereum development, Blockchain ecosystem, and basics.
The Ethereum development courses cover everything from how to create crypto games with NFTs to building dApps, and identifying the best upcoming ICOs and tokens. Under each category listed, there are various courses to explore.
5. Blockchain Council – Blockchain and Web3 Certifications for Crypto, Metaverse, NFTs, and More
Blockchain Council is one of the top sites in 2023 for crypto day trading courses. The platform also offers crypto courses aimed at value investors, developers, analysts, and more.
The Blockchain Council has created a variety of Unlimited Learning Subscription options. These online cryptocurrency courses are all industry-oriented.
That is to say, they are based on the functional and development elements of various technologies centered around blockchain. This also includes NFTs, the metaverse, cryptocurrency, and web3.
Courses here cover cryptocurrencies and blockchain for businesses, as well as developing them. Additionally, the Blockchain Council offers certification courses on understanding the technology.
The duration of the crypto trading courses, with regard to the Unlimited Learning option, is 12 months. They are priced between $349 and $699 and also include options for developers. There are also numerous other certifications and degrees with various prices and durations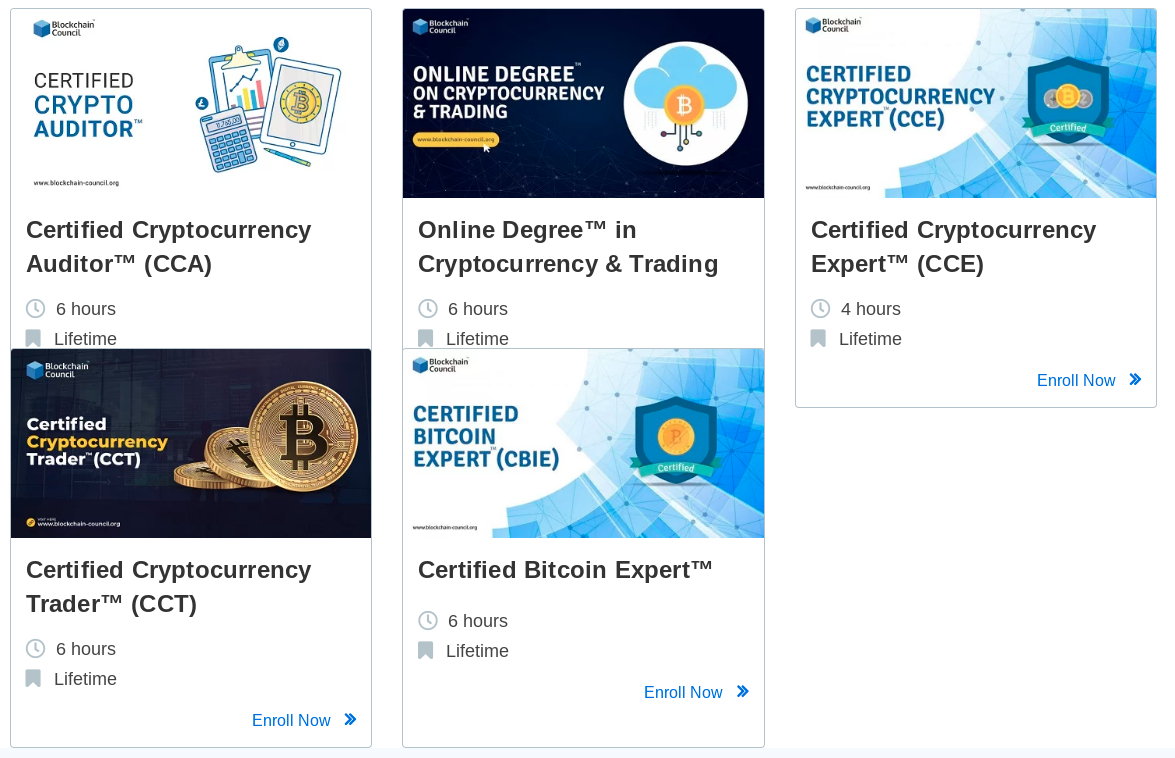 This platform says it has certified over 50,000 professionals. Those who think this is the best cryptocurrency course can join to become a member.
Students who do so will get 30% off self-paced training, the offer of an 'All Blockchain Courses' bundle valued at $399, as well as other benefits.
Furthermore, members get 50% off all instructor-led training, and free access to podcasts, workshops, e-books, webinars, and premium content.
As of writing, Blockchain Council is also offering those who subscribe 20% off.
6. Udemy – Education Platform With Over 213,000 Online Video Courses
Udemy offers some of the best cryptocurrency courses for beginners, intermediate, and experienced traders alike.
One example is the Complete Cryptocurrency and Bitcoin course, which teaches students how to create profitable trading strategies, carry out technical analysis, and more. All should help investors find the next bull run coins.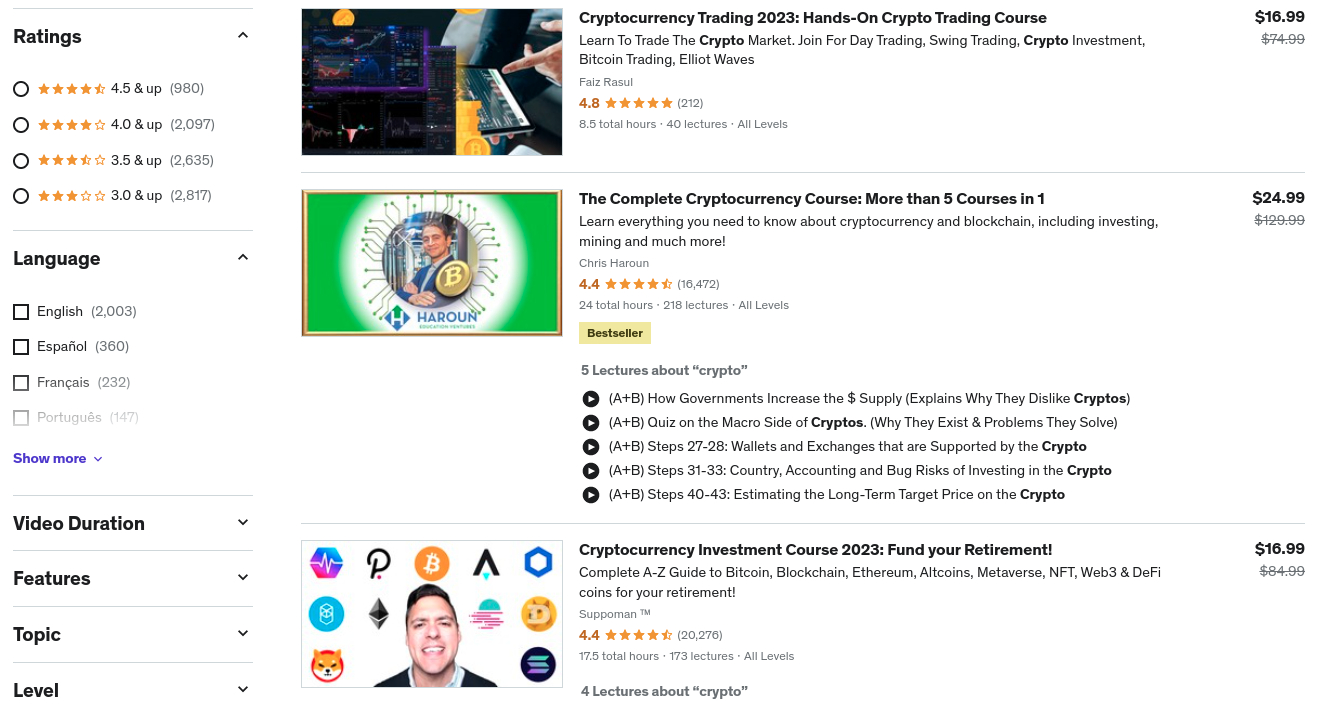 There are also advanced options which include swing strategies and crypto day trading courses. This covers short selling, risk management, technical analysis, how to read an order book, and more.
The Mastery option is one of the best cryptocurrency trading courses for those who want to become professional investors. This includes mining, how to find the hottest crypto, securing investments, and more.
Unlike the previously mentioned platforms, Udemy doesn't offer interactive crypto trading courses, only videos. That said, investors can choose from over 213,000 online video courses.
For instance, there are over 3,300 crypto-specific courses. 700 of them are crypto day trading courses. There are almost 2,700 blockchain options and nearly 2,000 NFT courses as well.
Many of the best crypto trading courses we came across were priced at less than $30. Additionally, there are over 400 free crypto trading courses at Udemy.
7. Piggybacks – Access Numerous Courses on Crypto Trading and Technical Analysis
Piggybacks offers the best cryptocurrency course for learning technical analysis, and specifically how to use TradingView. 
The best cryptocurrency trading course for beginners offered by this provider consists of 49 lessons and is priced at $297. This is called The Ultimate Cryptocurrency Trading Course.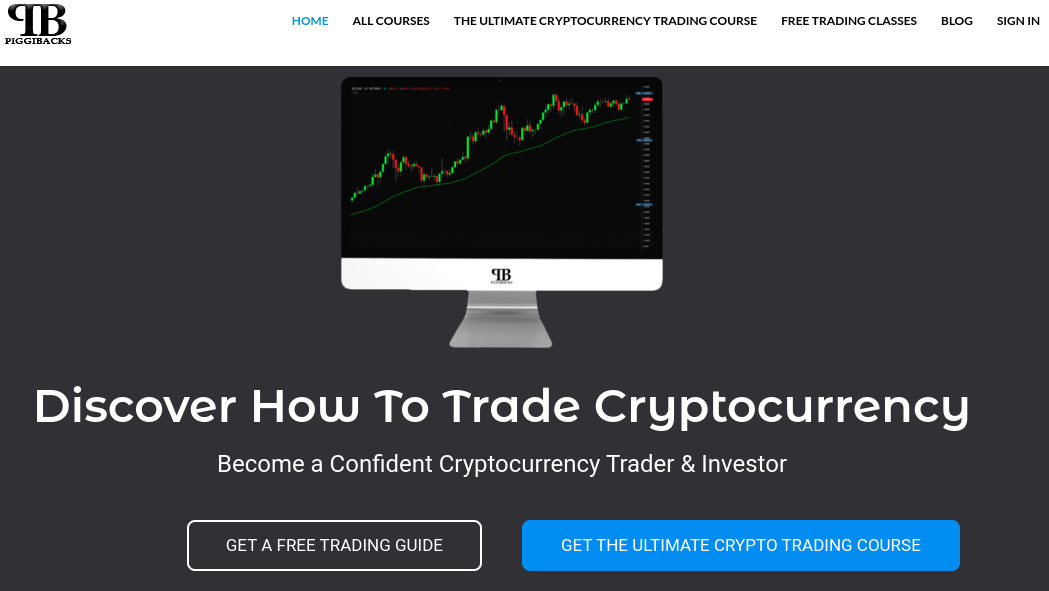 It includes more than 50 videos that take investors from the basics all the way up to advanced techniques and technical analysis.
The course comprises how to read candle stick patterns, a TradingView tutorial, chart timeframes and how to draw support and resistance, and much more.
Students can pay in four monthly installments of $97 if they wish. Another crypto trading course offered by Piggybacks focuses on how to research the market properly for maximum results.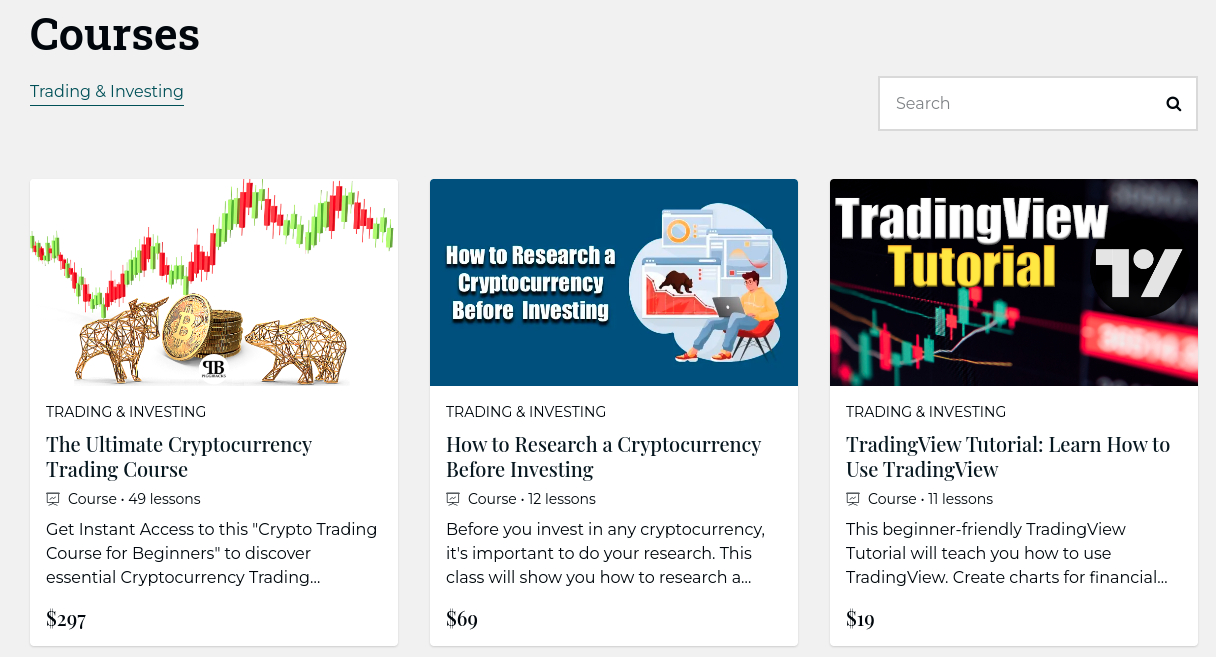 This is made up of 12 lessons and is priced at $69. Another course to consider is the full TradingView tutorial with 11 lessons, priced at just $19.
It's worth noting that Piggybacks does offer some free trading classes, although not as many as the aforementioned platforms.
We found free crypto trading courses on leverage, candlestick charts, Binance, and TradingView.
8. Upskillist – Global Online Learning Platform With Interactive Classes
Upskill offers one of the best crypto courses for those who want to get started for free. The platform has a limited-time deal as of writing.
Students can try out the cryptocurrency course online, previously priced at $69.99 per month, free of charge with no commitment.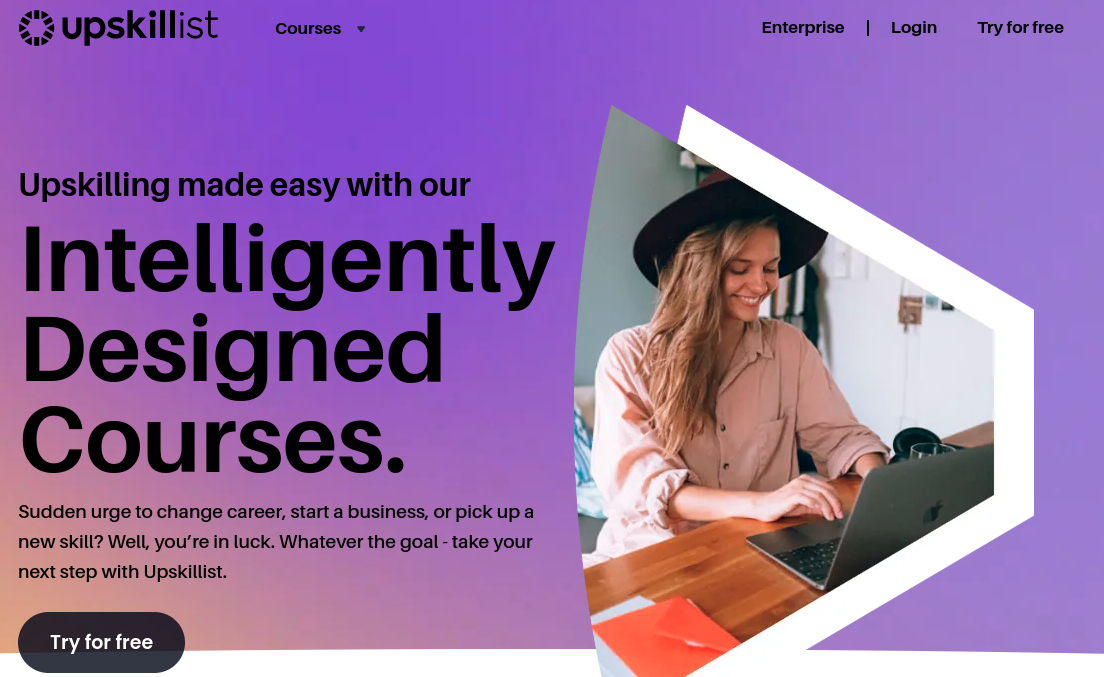 The duration of this free cryptocurrency trading course is four weeks. It includes eight lessons, with tool kits included. Students who complete the course will be given a diploma certification.
Lessons will cover how to use the MT4 platform, mitigate risk, and conduct technical analysis. There are only so many places available for each crypto course. As such, investors need to register in order to partake in this free trial offer.
9. RocketFuel – Interactive Membership-Based Crypto Courses 
RocketFuel allows small businesses, corporations, and students to learn about cryptocurrency trading from seasoned investors.
The starter crypto trading course costs $47 per month and includes access to a wide range of weekly analysis videos.
This also includes a crypto newsletter and lots of educational content surrounding blockchain technology. Additionally, RocketFuel offers a premium option at $77 per month. There's also an Elite plan, which costs $997 on an annual basis.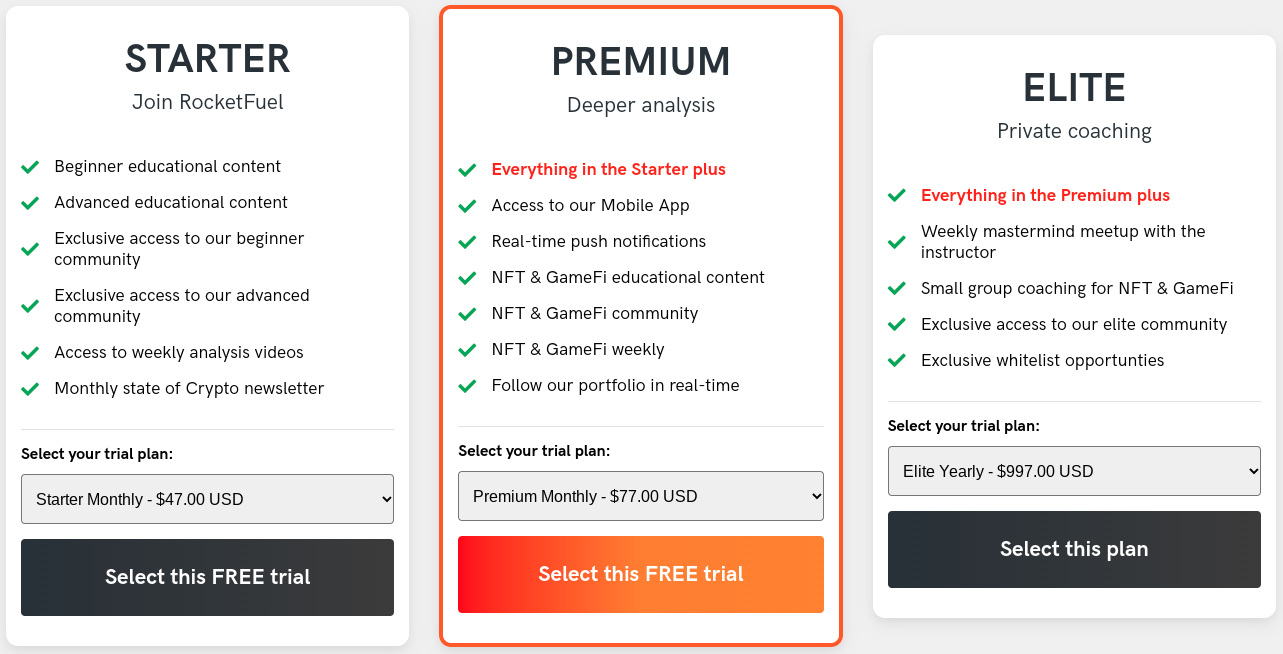 Investors can test the course of their choosing free of charge for a seven-day period. RocketFuel says its goal is to provide the knowledge and assistance necessary to become an expert in cryptocurrency trading.
The courses walk students through the constantly shifting crypto environment. Each student will have a personalized member dashboard, giving them the information, tools, and resources they need to make wise decisions.
10. Learners Point – Online Acadamy With Techniques and Tools to Trade and Mine Crypto
Learners Point might not be the overall best cryptocurrency course provider we've discussed today, but it is worth considering nonetheless. 
The first noteworthy cryptocurrency course offered here is inclusive of exercises for the student to complete with real-world case studies. This Learners Point crypto trading course also explains how the industry is evolving.

Additionally, students will learn how to use tools to mine and trade the asset. Lessons in this cryptocurrency course include information on derivatives such as options and futures.
There are also lessons on margin trading and lending, how to spot scams, fundamental and technical analysis, market phycology, and much more.
The crypto-related courses at Learners Point include those focused on Bitcoin, blockchain development, and more. Most courses run for four or five weeks. Enter a name, email, and cell number to find out more.
11. 101 Blockchains  – Variety of Courses Offered to Learn Actionable Skills
101 Blockchains offers one of the best cryptocurrency courses online for newbies who wish to familiarise themselves with metaverse technology.
The intermediate Metaverse Technology course helps students learn how to use the tools needed to create a virtual universe. The course covers editors, UI hardware, robots, and much more.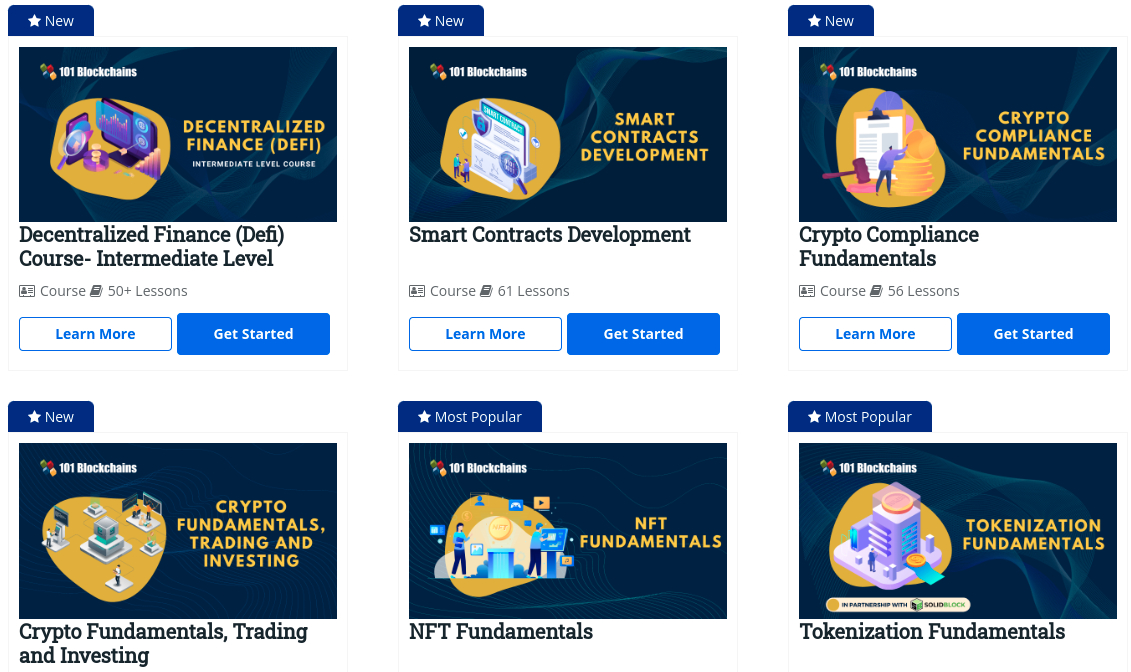 Students can access over 40 crypto and blockchain-related courses by signing up for a basic subscription. There are courses on all sorts of subjects at 101 Blockchains.
This includes crypto compliance fundamentals, tokenization, DeFi, Corda development, Ethereum technology, an introduction to DeFi, and many other subjects. The price starts are $25 per month (charged annually).
This plan includes multiple training courses, exclusive resources, and master classes. The other plan includes everything we just mentioned, in addition to unlimited access to 101 Blockchains' certification programs.
12. MIT Media Lab – Learn About Digital Signatures, Hash Functions, and More in 6 Weeks
MIT Media Lab is a leader in technical education worldwide and offers one of the best cryptocurrency trading courses. 
The MIT cryptocurrency course should appeal to many investors as it covers the market, exchanges, and trading in great depth.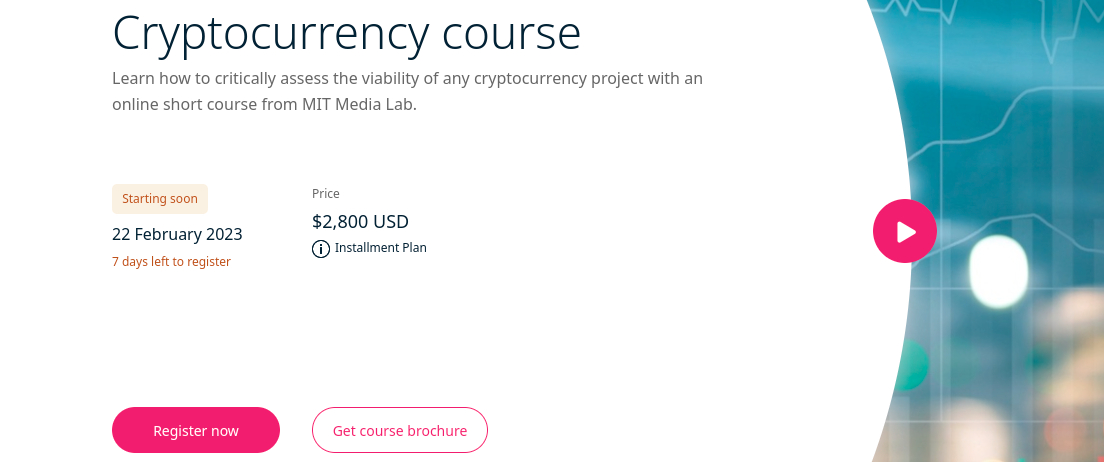 The MIT crypto course is six weeks long and students will be required to spend 7-10 hours a week on it. Each module will cover a different topic.
For instance, in week one, the student will be taught about the basics of Bitcoin and why it was created. Other modules include ICOs, dApps, and smart contracts. There are six modules in total.
This MIT cryptocurrency course costs $2,800 and needs to be paid in two installments of $1,400.
What Can You Learn From a Crypto Course?
Crypto trading courses can cover a wide range of topics and this includes everything from in-depth explanations of how to trade the best altcoins, to high-level overviews of blockchain technology.
Anyone looking to get a practical understanding of the most recent advances in the space will be looking for the best cryptocurrency trading course for 2023.
Below are some of the topics that students can learn from the best crypto courses.
Technical Analysis
Many cryptocurrency traders opt to carry out technical analyses to predict the markets. As such, many of the best cryptocurrency courses online today offer at least one option dedicated to this subject.
In some cases, the platform in question will offer a course entirely about technical analysis. For instance, BitDegree offers a course priced at $9.99 that teaches students about reading charts, learning patterns, candlesticks, and understanding indicators.

This course was designed to be user-friendly. As such, it should suit beginners and intermediate traders.
By the end of it, the student should feel comfortable using a wide range of technical analysis tools to identify trends, momentum, support and resistance, and more in the notoriously volatile crypto market.
Crypto Trading Strategies
One of the reasons that students search for the best cryptocurrency course is to learn how to develop their own trading strategies. This can include things like day trading, scalping, dollar-cost averaging, or using robots. 

Here's a quick explanation of some of these strategies, for students that are still looking for the right crypto course for their needs:
Day Trading – The goal of day trading in cryptocurrencies is to enter and exit a position within the same day. It is also known as intraday trading due to the fact that positions are established and closed in a single day. Day trading may be beneficial since cryptocurrencies are so volatile.
Crypto Scalping – A quick-paced trading method known as crypto scalping relies on capitalizing minute price changes to make gains. Scalpers depend on short-term trades that consistently earn small returns from small price swings. This is a stark contrast to long-term investing. 
Dollar-Cost Averaging – DCA involves making small, recurring investments of a specified amount of money. Students continue to place orders regardless of market trends. That is to say, this strategy involves investing in market highs and lows. BitDegree offers numerous courses that cover this subject, notably the Bitcoin Masterclass, which is aimed at beginners. This one costs $9.99.
Bot Trading – This involves allowing a robot to find the best crypto to buy. It will open and close positions using preset conditions and algorithms. BitDegree offers the best crypto trading course for algorithmic investing. One masterclass is on sale for $20 as of writing and there is also a free option on the same subject
Many of the best online crypto courses also teach students about strategies such as sniper trading. BitDegree and Blockgeeks both offer a crypto course that includes information on this strategy.
At the time of writing, BitDegree has a limited offer that allows students to learn about the sniper strategy for just $10. This includes 12 lessons and they will receive an NFT certificate upon completion
How to Use a Crypto Wallet
Digital storage is a key requirement for those who want to find and invest in the best future cryptocurrency projects.
They not only support global transactions, but wallets also allow investors to manage and safely store their digital currencies.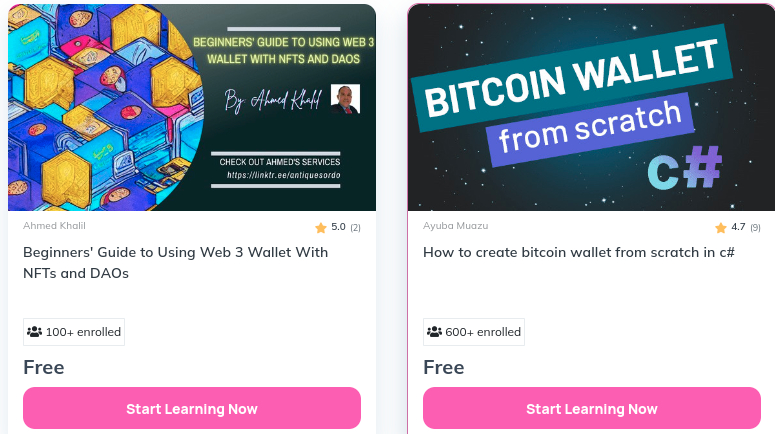 Some newbie investors think that using blockchain wallets is intimidating. This is precisely why some of the best free crypto trading courses educate beginners on how to use and create digital wallets. 
How to Create Cryptocurrencies and Mine
Some students may be interested in developing their own digital assets. As such, some of the best online courses also cover how to become a blockchain developer.
Students who like the sound of this might wish to take a look at the Ethereum Blockchain Developer course at BitDegree.

According to the platform, the price is usually $500 for this 61-lesson course. However, it's on sale for just $99 as of writing.
All of the principles of blockchain technology are covered in this course. Investors will learn about smart contracts, dApps, programming, and stack development.
The course is appropriate for both novice and experienced traders, as no prior coding or programming skills are required. The course is 7 hours and 25 minutes long and is in the format of educational videos.
Learn About the Metaverse and NFTs
Many of the best cryptocurrency trading courses we've talked about today also offer various free and paid options to educate students on things like NFTs and the Metaverse.
The metaverse and NFTs are growing in popularity. Even if the student doesn't want to buy NFTs or visit a metaverse, it might still interest them to learn about these technologies. This is because many new crypto launches are engaged with them.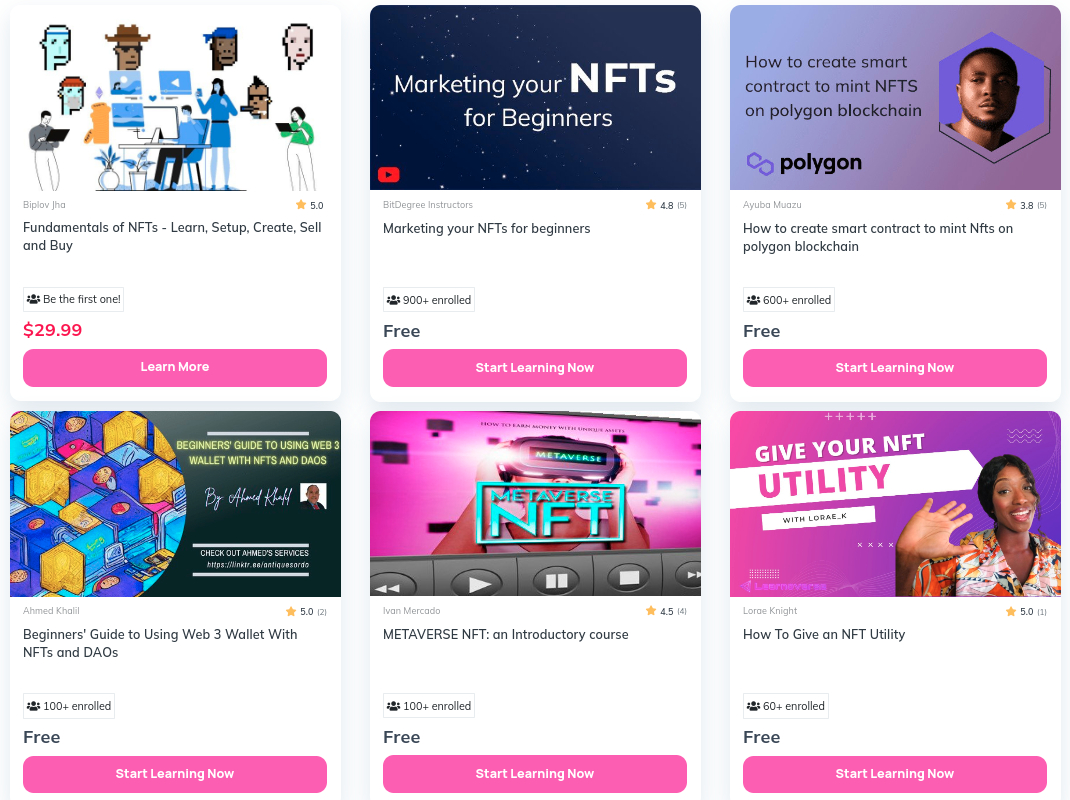 As such, learning what they are all about might aid investors in identifying potentially profitable new cryptocurrency projects. 
As more individuals join the metaverse and buy special digital assets in the form of NFTs, this trend is likely to continue for a while in the future. The Metaverse NFT: An Introductory Course is free of charge at BitDegree.
Conclusion
That concludes our guide on the best cryptocurrency courses online for 2023. We found the overall best platform for crypto courses to be Rekt Capital, since its collection of tutorials is well organized and covers everything from fundamentals to risk management to technical analysis of crypto trading. 
Rekt Capital offers a multitude of courses aimed at newbies, intermediate, and advanced traders, investors, and developers. Other top crypto course providers worth considering include BitDegree and Blockchain Council. 
FAQs 
Is there a course in cryptocurrency?
Yes. There are many crypto trading courses. They come in all shapes and sizes. Some are aimed at beginners, while others are for advanced investors. Some of the best cryptocurrency courses are offered by Rekt Capital. There is a huge library of both paid courses for altcoin trading, Bitcoin trading, risk management and technical indicators 
Are crypto trading courses worth it?
Whether crypto trading courses are worth it will depend on what the student gets out of it. Many platforms offer both free and paid courses to be completed online, some also give NFT certificates and degrees.
Where can I learn about crypto?
Some of the best places to learn about crypto are Rekt Capital, BitDegree, Blockgeeks, and Blockchain Council. All offer a range of courses for most requirements. This includes courses that focus on crypto fundamentals, blockchain technology, NFTs, the metaverse, digital wallets, and much more. Many courses are free of charge, at least for a trial.
Who are the top crypto coaches?
The top crypto coach right now is Rekt Capital. He is a cryptocurrency analyst who shares macro research, technical analysis, and commentary related to the cryptocurrency market. His research has been featured on sites such as Forbes, Cointelegraph, Real Vision, and Hackernoon. And with over 47000 subscribers to his weekly newsletter, he has gained a lot of attention for his courses. 
Disclaimer: The Industry Talk section features insights by crypto industry players and is not a part of the editorial content of Cryptonews.com.
---