Rivaling Visa, Skyrocketing Trezor, Binancing All and 20 Crypto Jokes
This week in crypto: Ethereum transaction volume rivaled Visa as blockchain transactions soared, Tether saw its market capitalization hit a new record high, a long-forgotten Ethereum ICO wallet resurfaced with $15 million worth of funds after eight years of dormancy, and Saifedean Ammous was appointed as an economic advisor to El Salvador's National Bitcoin Office,
In Binance and Binance-related news: Bitcoin was trading at a discount on Binance Australia due to a payment cutoff, the exchange was planning to delist a number of privacy coins for users in four countries, it was discussing a proposal to let some institutional clients keep their trading collateral at a bank, it began transitioning Japanese users of its international exchange to a specialized local platform, its chief communications officer denied that they were cutting 20% of the staff, and the exchange appointed Richard Teng as its head of all regional markets outside of the US. After the hacker behind the Tornado Cash heist handed back control of the protocol to the team, Binance reopened TORN deposits and moved Tornado Cash into the Innovation Zone.
In the CBDC and regulation news: the European Central Bank released two reports on a potential digital euro, the Bank of Japan released the results and findings of a report on central bank digital currencies, the MiCA rules were signed into law by European officials, Coinbase CEO criticized US lawmakers over their approach to bringing "regulatory clarity" to crypto and warned that innovation is moving offshore, a US regulator warned firms of the risks that come with the clearing of digital assets, Russia's Finance Ministry said crypto is too risky for "most" Russians but could be "suitable" for "professional investors", the Russian government abandoned plans to create a national cryptocurrency exchange, the US debt ceiling deal was left out the cryptocurrency mining tax, Japanese stablecoin ban was lifted, Bali tightened rules to make it harder for tourists to pay with crypto, UAE's Central Bank introduced new anti-money laundering guidance for crypto businesses, and Hong Kong and UAE central banks joined forces on crypto regulations, while Gemini was headed to the United Arab Emirates.
In the stuff's-happening news: Deutsche Telekom announced support for Polygon blockchain infrastructure, Fingerprints DAO teamed up with Harm van den Dorpel and Mercedes Benz on an NFT collection, Sony was set to invest in Web3, NFT, and metaverse firms via an incubator program, and Pi Network unveiled a Web3 social platform Fireside Forum to foster positive online interactions. Bybit announced its plans to exit Canada, and Gate.io disputed rumors of insolvency after tweets alleging a connection between it and Multichain. Meanwhile, while Ledger's CEO argued that the recently-launched 'Recover' product makes self-custody easier, Trezor's sales skyrocketed by 900% week-over-week. Huobi HK started offering crypto spot trading to Hong Kong's retail and institutional clients, Tether launched Bitcoin mining in Uruguay.
In legal, scam, and hack news: Sam Bankman-Fried was preparing to argue that he relied on the advice of a Silicon Valley law firm in his defense against fraud charges, and the US DOJ might drop some charges against Bankman-Fried if the Bahamas authorities object to them. Gemini filed a motion to dismiss the US SEC's securities violation lawsuit, a former Coinbase manager and his brother agreed to settle insider trading charges brought by the SEC, and the Trust Reserve stablecoin team was detained by police in China. In South Korea, police shut down two suspected crypto scams worth a combined $350 million, a court handed a suspended jail term to a civil servant who stole public funds to pay for crypto investments, and there was a spike in crypto scams that target young women on social media platforms. Meanwhile, Jimbos Protocol was hacked for over $7.5 million using a flash loan exploit,
Jokes time! Enjoy.
__________
GM, CT!
__
Actual photo.
__
WTF of the week in a meme:
__
Heey, AIs can be right after all.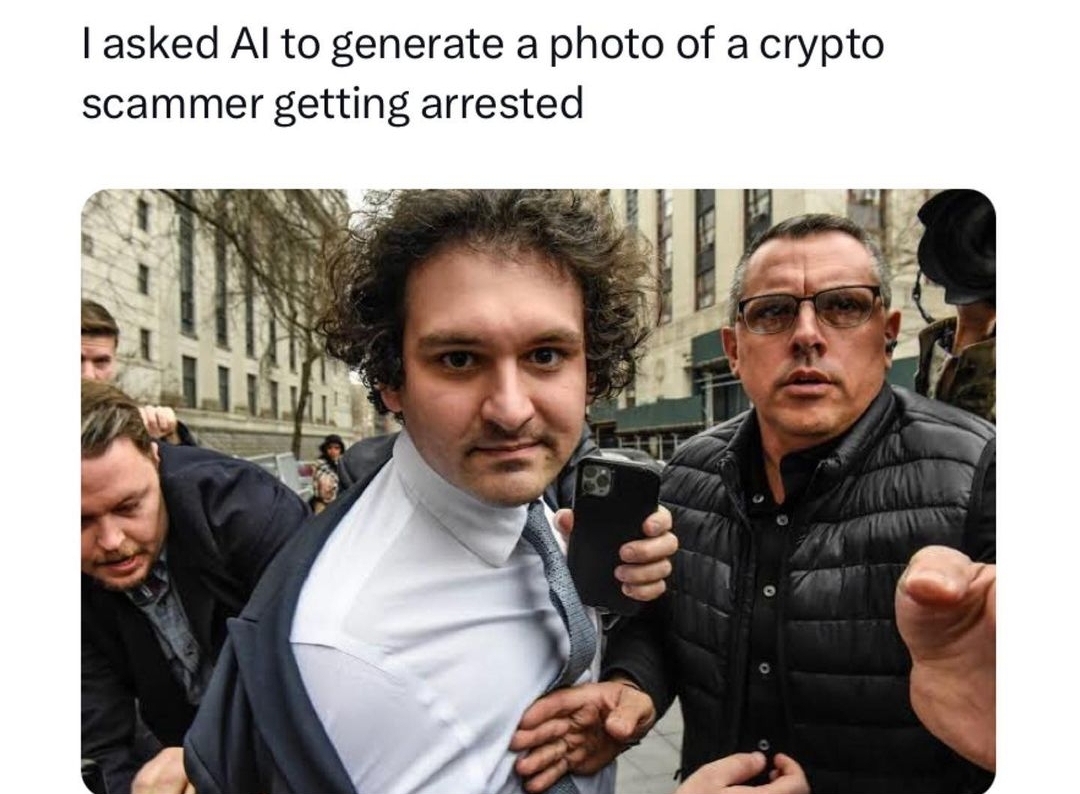 __
Thought of the day.
__
Can't fool him. He sees no difference!
__
Absolutely disgusting!
__
Gotta P&D 'em all!
__
All set.
__
Have no idea what happened, it was going so well.
__
What if. Discuss.
__
Timing is everything.
__
🥺
__
Let's see what the analysts predict.
__
Professional.
__
Duh!
__
'No worries, we've got this.'
__
'The f**ck are you talking about now? Tell the damn technology to step evolving exponentially.'
__
Okay, which one of you geniuses thought of carving their seed phrase onto your scull?
__
And for the end, remember: your soulmate is out there. Just super busy. Very important.
---