Web3's Hottest GambleFi Presale TG.Casino Surges Beyond $250,000 – Get In Early Before $TGC Pumps
Disclosure: Crypto is a high-risk asset class. This article is provided for informational purposes and does not constitute investment advice. By using this website, you agree to our terms and conditions. We may utilise affiliate links within our content, and receive commission.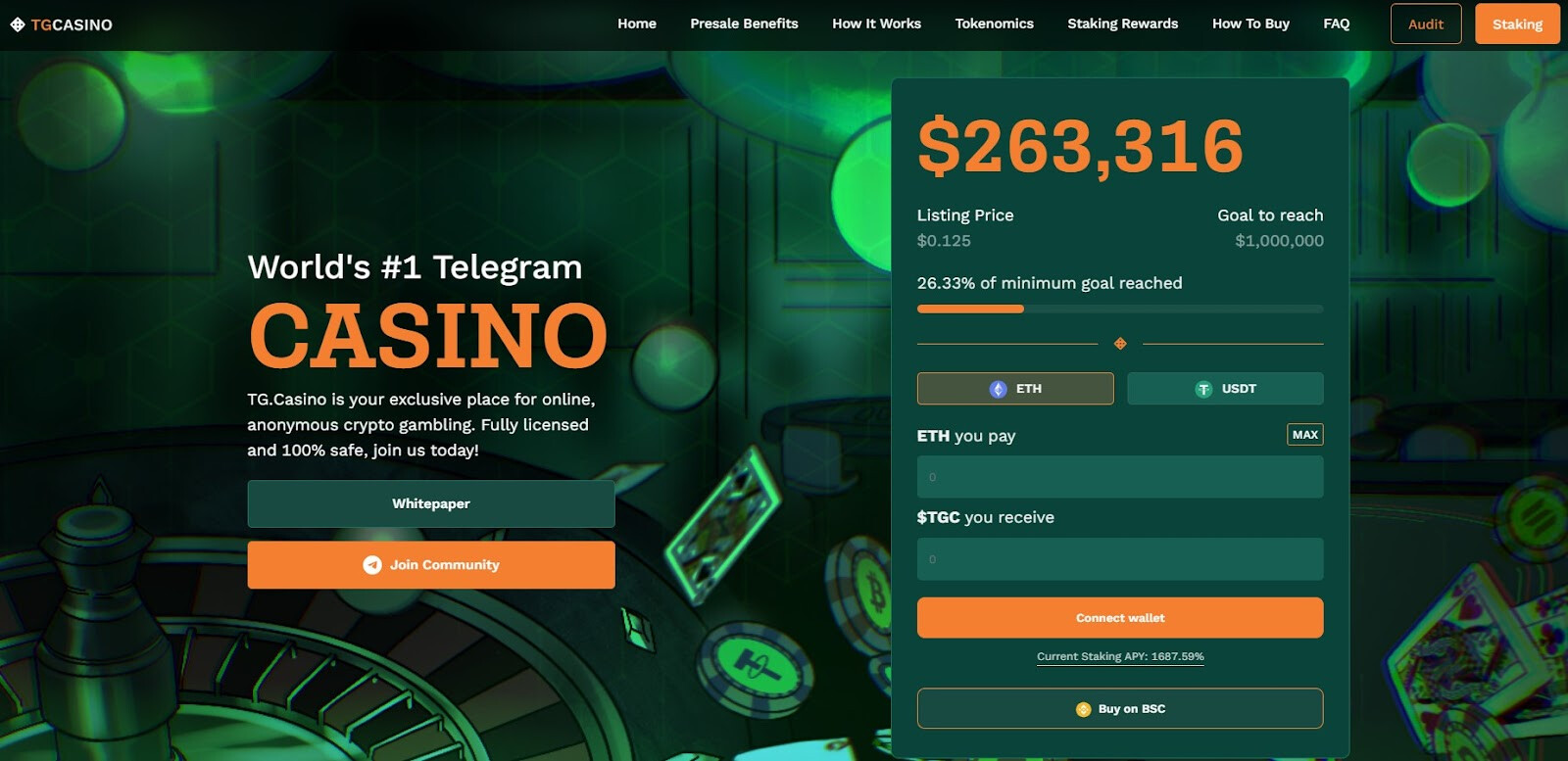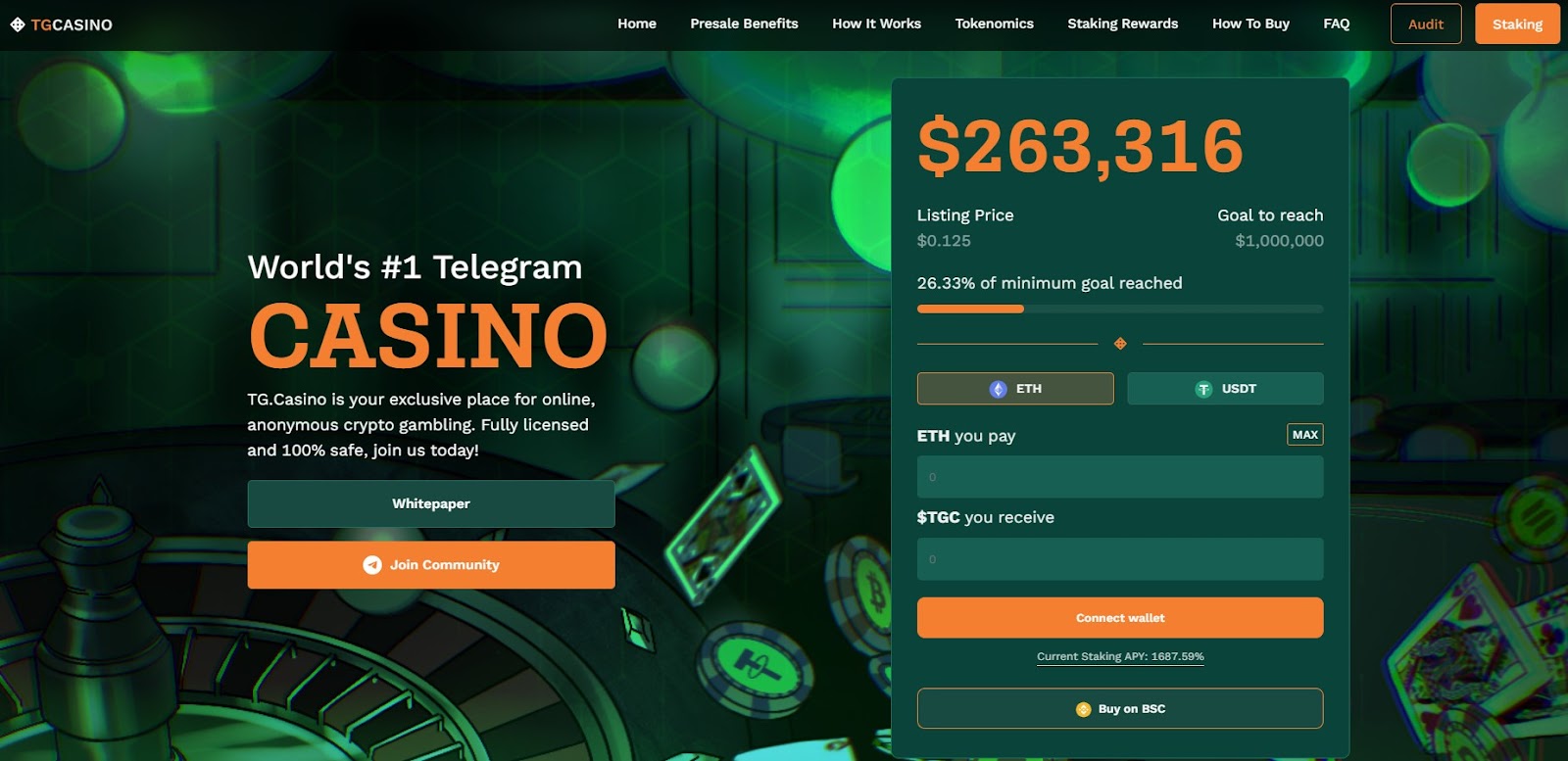 Friday 29th of September – In a huge step forward for the fast-growing web3 gambling space, crypto start-up TG.Casino just launched on Telegram.
The protocol's exciting launch is expected to inject fresh momentum into the project's exciting presale, which has already generated more than a massive $250,000 in funds in barely a week.
TG.Casino is the next generation of web3 GambleFi products – Platforms like Rollbit, Hamsters and Stake.com upped the standards versus the traditional gambling industry by offering users instant deposits and withdrawals, no-KYC and better transparency.
TG.Casino takes this a stage further and adds a crucial new ingredient into the mix – the ease of use offered by Telegram automation.
In that sense, TG.Casino is looking to replicate the success of fellow Telegram powered web3 platform Unibot, which put advanced crypto trading strategies in the hands of all of Telegram's 700 million monthly users.
It's no surprise then that hype surrounding TG.Casino's $TGC token presale is at a fever pitch.
Get in Now on TG.Casino's $TGC Presale
To help power the growth of its Telegram-based GambleFi platform, TG.Casino is conducting an exciting presale that has already raised an impressive $260,000 in little more than one week.
And potential investors have no time to lose if they want to get involved in one of 2023's hottest presales.
That's because 1) TG.Casino is likely to soon hit its raise target of $5 million and 2) early presale investors can earn a huge annual percentage yield (APY), which was up until recently above 1,600% as per the official TG.Casino website.
How, you might ask?
Well, TG.Casino offers a portion of all of the platform's profits to $TGC token holders, with token stakers having the most to gain.
TG.Casino runs a buyback program, burning 40% of these tokens and sharing the other 60% out to $TGC token stakers.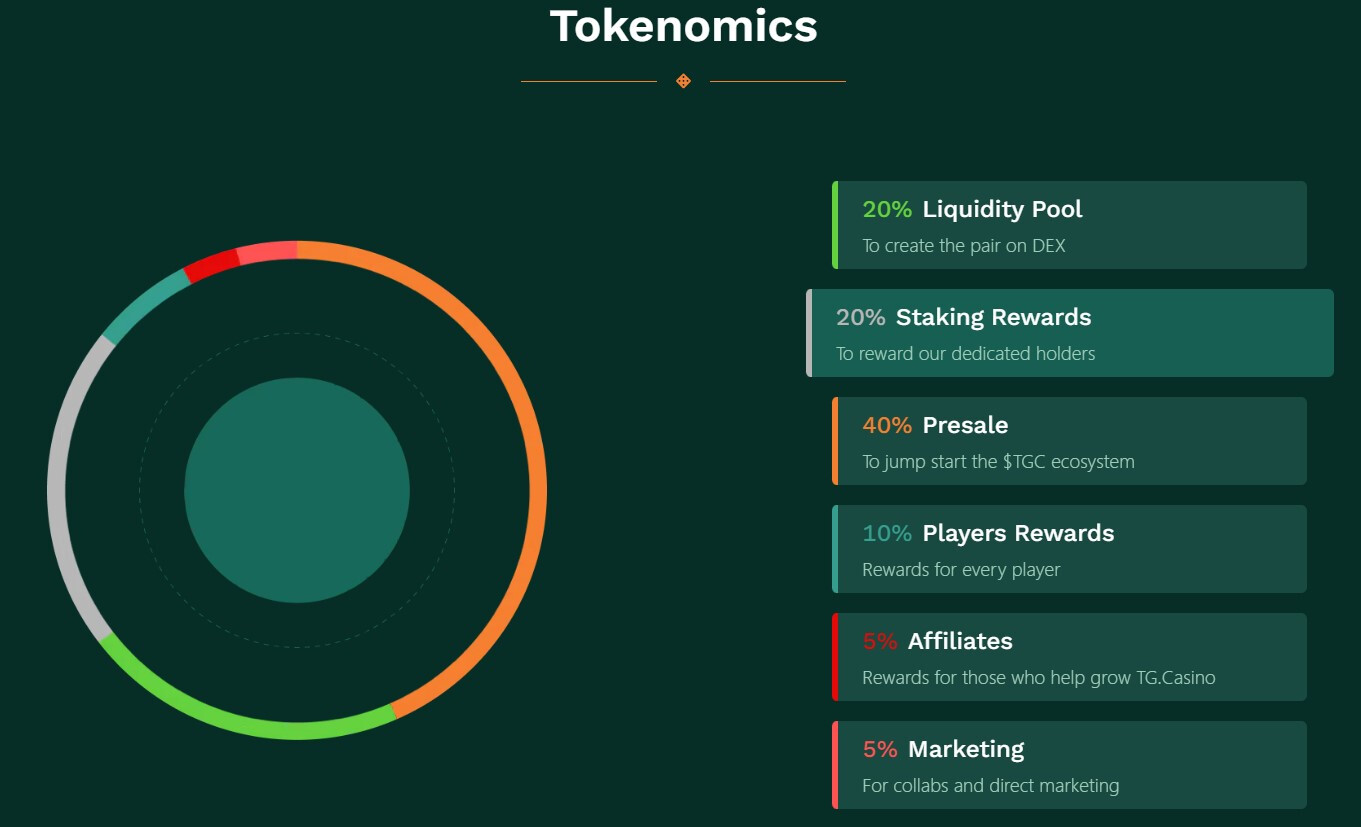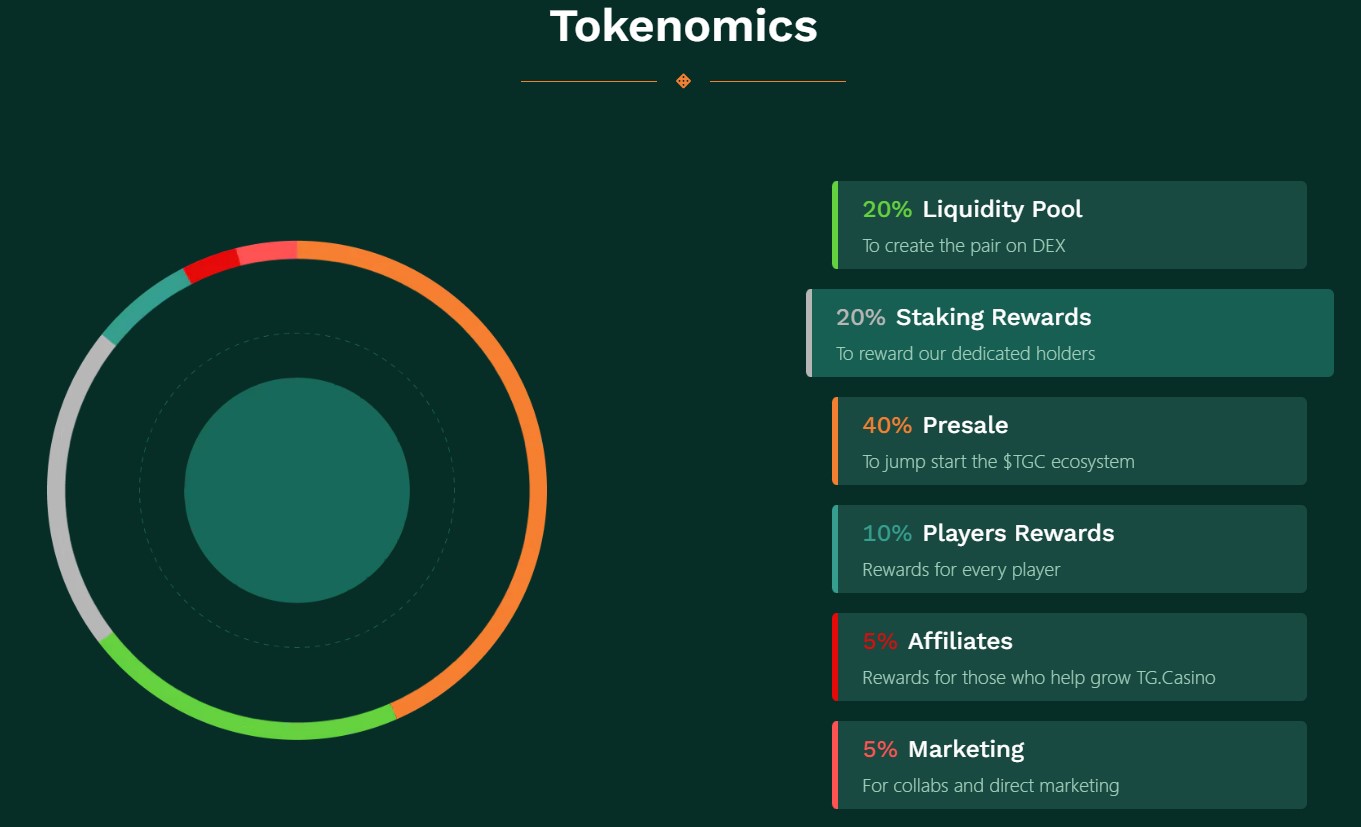 Can $TGC Surpass UniBot?
Unibot took the crypto industry by storm earlier this year as it made advanced crypto trading techniques accessible to Telegram's enormous user base.
At its peak, the protocol's $UNIBOT token was able to reach a market cap of more than $200 million.
However, its market cap has since fallen back to around $60 million, with analysts critical of the protocol's revenue raising mechanism – a tax on all transactions that can suppress protocol and token trading activity.
TG.Casino doesn't employ any self-defeating protocol or trading taxes.
Rather, it raises its revenue via the time-tested method of using the Handle and House Edge.
Meanwhile, unlike with $UNIBOT, TG.Casino's buyback program acts as a strong incentive for investors to HODL their $TGC tokens, as they benefit from passive income and token supply deflation.
While they do operate in different lanes (TradeFi versus GambleFi), TG.Casino's friendlier tokenomics mean that $TGC stands a good chance of seeing even better price performance than $UNIBOT.
Now is the Perfect Time to Buy $TGC
Priced at just $0.125 per token, now is the perfect time to invest in $TGC.
That presale price values $TGC at a market cap of just $12.5 million.
If $TGC was able to match Unibot's all-time high of more than $200 million, that could mean gains of close to 20x for presale investors.
But $TGC ceiling could be substantially higher.
As outlined on the TG.Casino website, it's still very early days for web3 casinos, a market currently valued at just $250 million, versus the $263 billion market value of the global casino and online gambling market (according to data compiled by Statista).
"Crypto Casinos are rapidly gaining market share from Web2 online casinos due to their ease of access, no KYC and the ability to keep transactions off bank statements," TG.Casino notes, adding that "currently 80% of online casino games are played on mobile devices with the vast majority of Crypto casinos specifically designed for mobile devices".
It would be no surprise to see the sector grow to a market of multiple billions in the coming years, and thanks to its Telegram integration TG.Casino is well positioned to be at the forefront of this.
After all, Telegram is also forecasted to enjoy impressive growth in the coming years.


$TGC – One of the Year's Fairest Presales
Unlike other similar crypto presales, where early investors or the team behind a token's development might reserve a large portion of the token supply for themselves, $TGC is characterized by fair tokenomics.
40% of the token supply is available to the general public, with $TGC currently priced at $0.125.
20% is being reserved for DEX liquidity, 20% is dedicated to staking rewards, 10% to player rewards, 5% for marketing and only 5% for the project's affiliates.
The token can be bought with ETH or BNB and USDT (ERC-20 and BEP-20) and runs on the Ethereum blockchain.
For peace of mind, token buyers can rest assured in the knowledge that the project's smart contract is audited by leading blockchain security firm Coinsult.
Disclaimer: Crypto is a high-risk asset class. This article is provided for informational purposes and does not constitute investment advice. You could lose all of your capital.
---