Fight Out Crypto Presale Review – Should You Invest?
Disclosure: Crypto is a high-risk asset class. This article is provided for informational purposes and does not constitute investment advice. By using this website, you agree to our terms and conditions. We may utilise affiliate links within our content, and receive commission.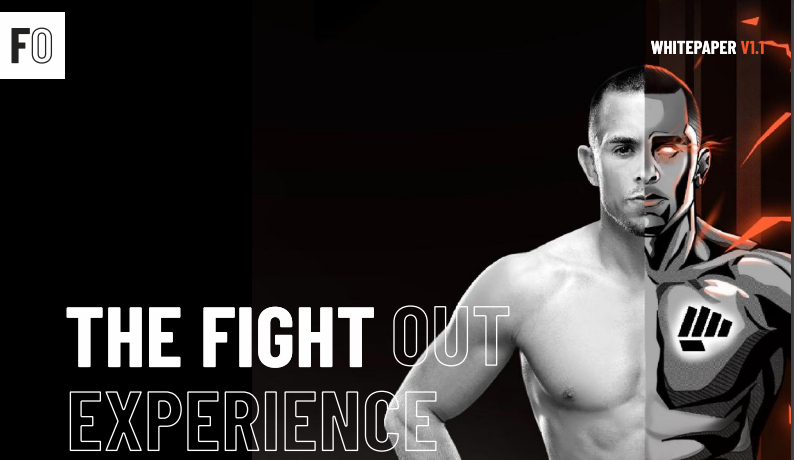 Disclaimer: The Industry Talk section features insights by crypto industry players and is not a part of the editorial content of Cryptonews.com.
Fight Out is an upcoming move to earn platform that rewards users for pursuing an active and healthy lifestyle. While not the first of its kind, the Fight Out crypto project aims to be an M2E platform with a difference with many distinguishing features that benefit investors.
Our review team scrutinized Fight Out to determine the mechanics of its ecosystem, the project's tokenomics, details of its ongoing token presale, and future roadmap. For interested investors, also included is a step-by-step guide on how to buy Fight Out crypto tokens.
Fight Out Crypto: What is it?
Fight Out is a move to earn platform that has revolutionized workouts by developing a fitness platform using Web 3.0 technology. 
Apart from creating an ecosystem that enables fitness fanatics to lead an active lifestyle, Fight Out provides monetary rewards to users in the form of digital currencies, which can be exchanged for fiat currencies.
Instead of developing just another M2E platform, Fight Out has gamified this ecosystem to make fitness more interactive, entertaining and rewarding. This ecosystem has lowered the barriers of entry by simplifying the use of Web 3.0 technology and not requiring users to invest in expensive NFTs.
Fight Out has accommodated everybody who wants to reach their fitness goals by developing a platform that's not cost-prohibitive and enables users to track their progress.
As a user progresses on their fitness journey, their soulbound avatar directly benefits by having the progress transferred onto it.
The training and rewards will be facilitated via the Fight Out mobile app. But the ecosystem will spread to real-world gyms, enabling users of the platform to attend live classes and make use of the facilities in key cities around the world.
Fight Out Mechanics
Fight Out is a platform that enables users to get a complete physical and mental workout. It enables users to improve their strength, cardio, muscle endurance, mental fortitude and technique.

Although Fight Out specializes in wellness-rounded fitness programs, users can customize workouts to focus on their specialty and specific muscle groups.
The first step is to create an account with an e-mail address and download the app. Subscriptions are available in-app, and users will receive 25% off if subscribing with the native token, $FGHT. 
The next step is for users to set their fitness goals, background, the equipment at their disposal and desired workout types. The app also enables users to track their nutrition and sleep for accountability.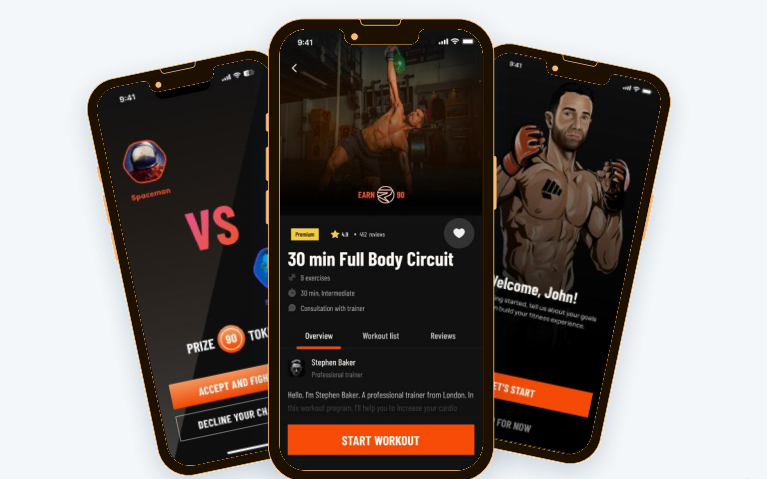 The workout builder is perfect for solo users seeking a personalized routine. The app generates exercises based on the user's fitness level and provides video tutorials to ensure users practice good form. The videos also highlight newbie mistakes and provide advanced tips.
A feature for on-demand workout classes via the app or live sessions at Fight Out gyms is available. The workouts consist of yoga, meditation, boxing and strength and conditioning.
Elite-level boxing coaches will run a technique-focused course to introduce users to the fundamentals of boxing.
Leaderboards stats and challenges are shown to build a culture of competition, thereby motivating each user to excel.
Rewards
The key difference between Fight Out and and most M2E platforms is that it doesn't focus on a single metric for activity. Not only does it track steps, but it also follows a user's movements during workout class participation, bodyweight exercises and weight exercises.
Besides workouts, the in-app move to earn crypto, REPS, is also rewarded to users who grow the community and earn badges.
This reward mechanism motivates Web 2.0 fitness users to switch to a Web 3.0 ecosystem.  

Fight Out uses smart technology to track movement and key effort indicators to ensure data points feed into a reward algorithm. 
Rewards are distributed into different categories such as cardio, wellness and muscle strength. To obtain the optimal rewards, users should engage in all-around growth.
After receiving REPS, users can redeem them in several ways. One way is to redeem them in the Fight Out store, which is stocked with merchandise such as shoes, sweaters and fighting gear. Also available in the store are supplements and training equipment.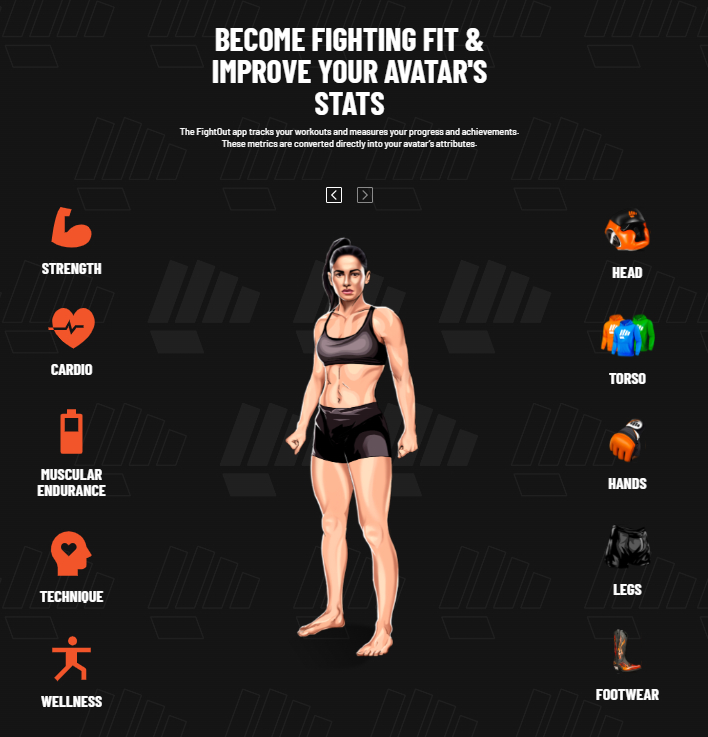 The other option is to redeem REPS for discounts on app subscriptions and remote consultations with trainers.
Users who want to accumulate more REPS can intensify their workouts to receive higher rewards or they can be bought with Fight Out tokens.
Fight Out also enables users to redeem the REPS on their NFT avatars. Cosmetics can be added to the avatars such as fashion accessories, hairstyles and tattoos to make them unique.
What's Special About Fight Out?
Unlike most M2E crypto platforms that track only a user's steps, Fight Out ensures that the smart technology also includes movement. That's particularly useful for users wanting to maximize rewards if they train with weights.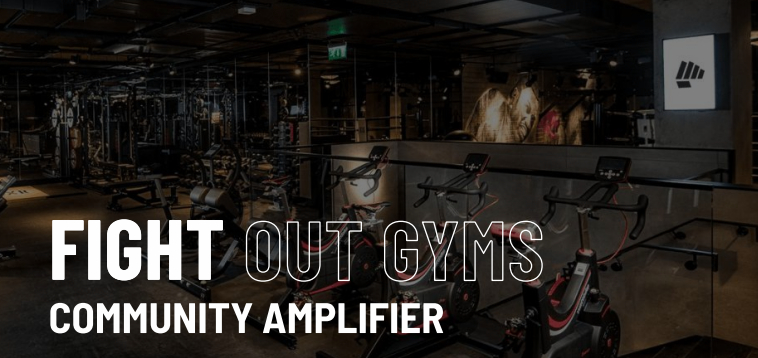 Using Fight Out enables users to enjoy a gamified experienced via their avatar. The strength that a user develop is transferred to the avatar, which enters the metaverse once its strength is sufficient.
In the metaverse, the avatar competes against other players to win fights and tournaments. That provides users with more opportunities to earn reward tokens.
Fight Out enables users to challenge AI-powered pro fighters or attend AI-powered exhibitions and championships. 
The gyms are a key feature that distinguishes Fight Out from similar platforms. Besides the app, this ecosystem will soon cater to users who want to use facilities and personal training in person. The Fight Out gym will be located in key metropolitan areas. 
The gyms will contain a health bar stocked with nutritious meals, smoothies and snacks. Health bars will be available through VIP rewards for stakers. A content studio layout in the gym enables personal trainers to interact with users and offer classes remotely.
Fight Out has signed professional fighters and top-tier coaches to serve as ambassadors of the brand.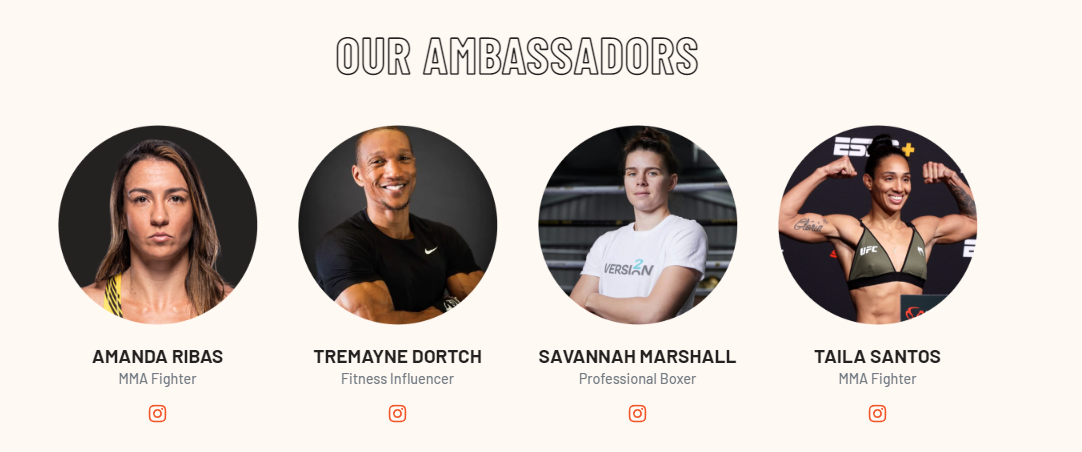 The MMA fighters, boxers and fitness influencers will provide more exposure to the brand by wearing Fight Out merchandise and promoting it at exclusive functions.
Elite platform users will have access to masterclass-style content developed by these professionals to provide advanced training workouts that will help users expedite their progress.
Is Fight Out Token a Worthwhile Investment?
Investors need solid reasons to invest in a crypto project, and the Fight Out token has proven to be a utility coin.
Bonus Tokens
The Fight Out crypto presale contains bonus tokens that investors will be entitled to if they participate in the early-round fundraising. During the first stage of the presale, Fight Out offers bonus tokens based on the initial investment and vesting period selected.
An investment of $500 will yield a 10% bonus, and an additional 10% will be granted for selecting the 6-month vesting period. 
Investors who want to maximize the rewards can receive a 50% bonus. That will require a $50,000 investment and a 24-month vesting period.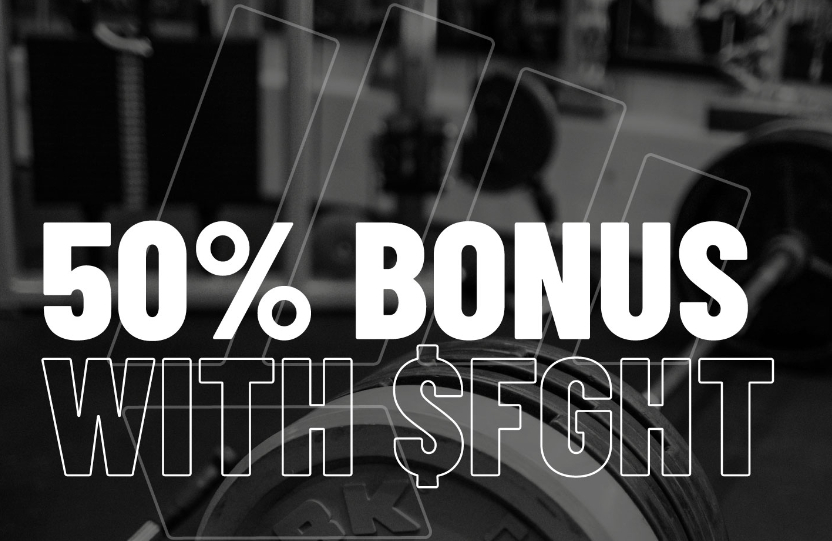 The bonus tokens will be available only during the first stage of the presale. Investors who want to claim the bonus should act now as the bonus is removed once the $5 million hard cap is reached.   
At the time of writing, Fight Out had already raised more than $2.8 million.
Giveaway
To celebrate the presale launch, Fight Out is hosting a crypto giveaway. This is an opportunity for early investors to receive more Fight Out cryptocurrency. One lucky investor will win $250,000 of Fight Out crypto tokens.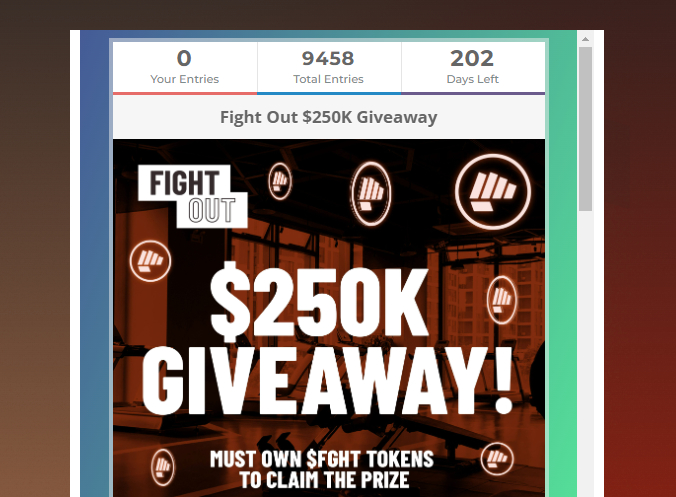 Only 202 days remain for investors to be part of the giveaway. To be eligible for the giveaway, investors need to own at least $250 of Fight Out crypto tokens on the day of the draw.
Multiple entries are granted to investors who perform social media tasks such as retweeting Fight Out on Twitter and joining the Telegram channel.
Investors can find out more information about Fight Out and $FGHT by reading the whitepaper.
Future Developments
A stagnant project is bound to be left behind. That's one of the reasons that Fight Out is constantly developing. Besides the gyms it's working on opening, Fight Out will also offer a co-working space to let members destress and increase their productivity.
More ambassadors will be added to the roster, which will provide the project with more exposure. Exercises will be enhanced with the First Steps boxing course.
Who is Behind Fight Out?
Knowing who is operating the project ensures investors that this ecosystem is legitimate. The Fight Out team is fully doxxed for transparency with their professional background detailed on LinkedIn.
The project's CEO for example is Carl Jones. Marco Raposo is the product owner, and Amadeus Rennalls is responsible for UI/UX design. Other members of the team include David Ryan is the community manager.
Acting as the brand's ambassadors are Amanda Ribas (MMA fighter), Tremayne Dortch (fitness influencer), Savannah Marshall (professional boxer) and Taila Santos (MMA fighter).
Certik has performed a security assessment audit on Fight Out, and it verified it on 18 December 2022.
Fight Out's Future Plans
In Q1 2023, Fight Out presale will conclude. Fight Out plans to acquire its first gym during this period. Another important launch will be regarding the crypto app. At the beginning of 2023, app testing will take place. 
Limited edition fighter NFTs will be launched and staking for Fight Out crypto tokens, which will enable investors to earn a passive income by locking up their coins.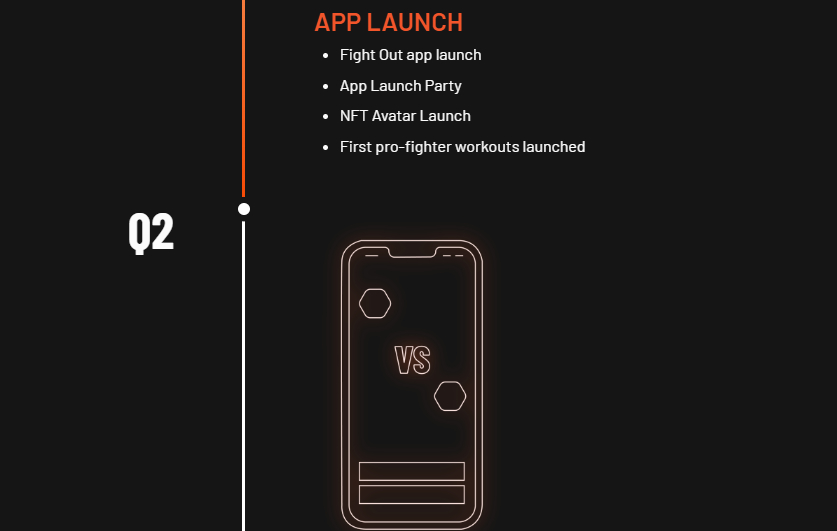 After the testing, the app should be launched in Q2. $FGHT tokens will be destined for centralized exchanges. That is when the majority of the market will become acquainted with this project. The first pro-fighter workouts will be launched. 
Heading into Q3 2023, investors can expect the launch of the First Steps boxing course. There will also be more on-demand workouts and additional in-app social features.
Looking at Q4 and beyond, Fight Out plans to launch its first gym. Other planned launches include PVP contests, Fight Out metaverse, in-app marketplace and challenges for REPS.
Fight Out's Presale 
Investors who want to buy $FGHT tokens are likely to find them at the lowest price during the presale. The first stage of the presale is currently underway and offers the tokens at $0.0166.
The presale ends on 31 March, and $FGHT tokens are scheduled to be listed on centralized exchanges on 4 April 2023. 

The Fight Out website states that $FGHT tokens will be listed on exchanges at $0.0333. Investors who buy $FGHT tokens during the first stage will be up by 100% by the time the presale ends.
Investors may also be entitled to bonus tokens during the first stage of the presale if they meet the prerequisites. 
Fight Out has a capped supply of 10 billion tokens. It has allocated 30% to the presale and 15% of the tokens will be given in rewards to early investors. Another 50% will be locked away as part of the vesting over 5 years.
Only 5% of the tokens are allocated to exchange liquidity. That means investors have more access to the Fight Out crypto tokens during the presale than on exchanges.
How to Invest in Fight Out
To make investing in $FGHT tokens simpler, we've included a step-by-step guide.
Step 1 – Set Up a Wallet
The first step requires investors to download a wallet to store their cryptocurrencies. This wallet will be connected to the presale platform to complete the buying of $FGHT tokens.
The two most popular choices are MetaMask and Trust Wallet. MetaMask is usually the one recommended because it's available on iOS and Android. It's also possible to down it to a Chrome desktop browser.

Download the wallet by visiting the MetaMask website, then click the 'Download' icon and select the appropriate device to download the wallet to.
Step 2 – Connect the Wallet
Visit the Fight Out website and click 'Connect wallet.'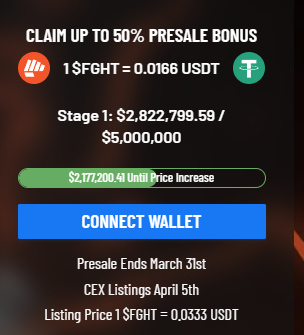 The next popup window will prompt you to select the appropriate crypto wallet provider. 
Note that you will never be asked for your seed phrase – if you are, you have landed on a fake site impersonating a crypto project. Scammers often even pay for PPC ads for their fake domain to appear in Google search results.
Step 3 – Choose a Payment Option
Investors will need to hold either Ethereum (ETH) or Tether (USDT) in a crypto wallet because one of these coins will be exchanged for $FGHT tokens. Choose a reliable exchange to buy ETH or USDT.
Fight Out has partnered with Transak, which has provided an on-ramp facility that allows investors to buy Ethereum with a card from the website. Ensure that you have bought enough Ethereum to cover the gas fees.
Two options are available after you have Ethereum in your crypto wallet. Investors can buy $FGHT tokens with Ethereum or USDT. Select the appropriate option and then complete the transaction by filling in the details of the purchase, which is the next step.
Step 4 – Buy $FGHT tokens
Input the amount of Ethereum or USDT to exchange for $FGHT tokens.
The amount of $FGHT tokens that the investors will receive will be shown. Investors also have the option of choosing bonus tokens. Once the bonus option is selected, the system will automatically generate the vesting period as well.
Click "Buy Now'.
Step 5 – Claim the Tokens
The wallet provider will prompt the investor to authorize the transaction so that the transaction is finalized. 
The tokens will only be available after the presale ends. Revisit the website and click "Claim Tokens'.
Conclusion
Fight Out has developed its M2E platform to ensure users are rewarded for movements and steps. It has also gamified workouts, providing users with entertainment and more opportunities to earn reward tokens.
Another way that Fight Out has distinguished itself from similar platforms is by striving to open real-world gyms. Once launched, users can attend in person and use the gym's facilities.
Fight Out's roadmap contains a lot of developments for the ecosystem, which should make the $FGHT token more useful. REPS rewards received can be exchanged for items in the Fight Out store and even to receive a discount on the app's subscription.
By signing professional athletes and coaches to be the brand's ambassadors, Fight Out aims to provide the ecosystem with more exposure.
The first stage of Fight Out's presale enables investors to claim bonus tokens. The maximum bonus investors can claim is 50%, which will require a vesting period of 24 months.
$FGHT is available at $0.0166 during the first stage but will be listed on exchanges at $0.0333, according to the Fight Out website.
FAQ
What is Fight Out?
Fight Out is a move to earn platform that enables users to receive reward tokens for pursuing a an active and healthy lifestyle. This ecosystem is working on launching an app and real-world gyms to help people get in shape through cardio, yoga, weight exercises and strength and conditioning.
This ecosystem has gamified workouts, enabling users to access the metaverse with their avatar and fight against other players to earn reward tokens.
Is Fight Out Crypto a Worthwhile Investment?
It's important that investors do the due diligence on Fight Out and determine its features and benefits. Investors are advised to compare Fight Out's features to their investing goals to see if the two align. 
---