Exciting New All-in-One Web3 Platform Launchpad XYZ Helps Traders Navigate Crypto's Choppy Waters – Presale Hits $1.2 Million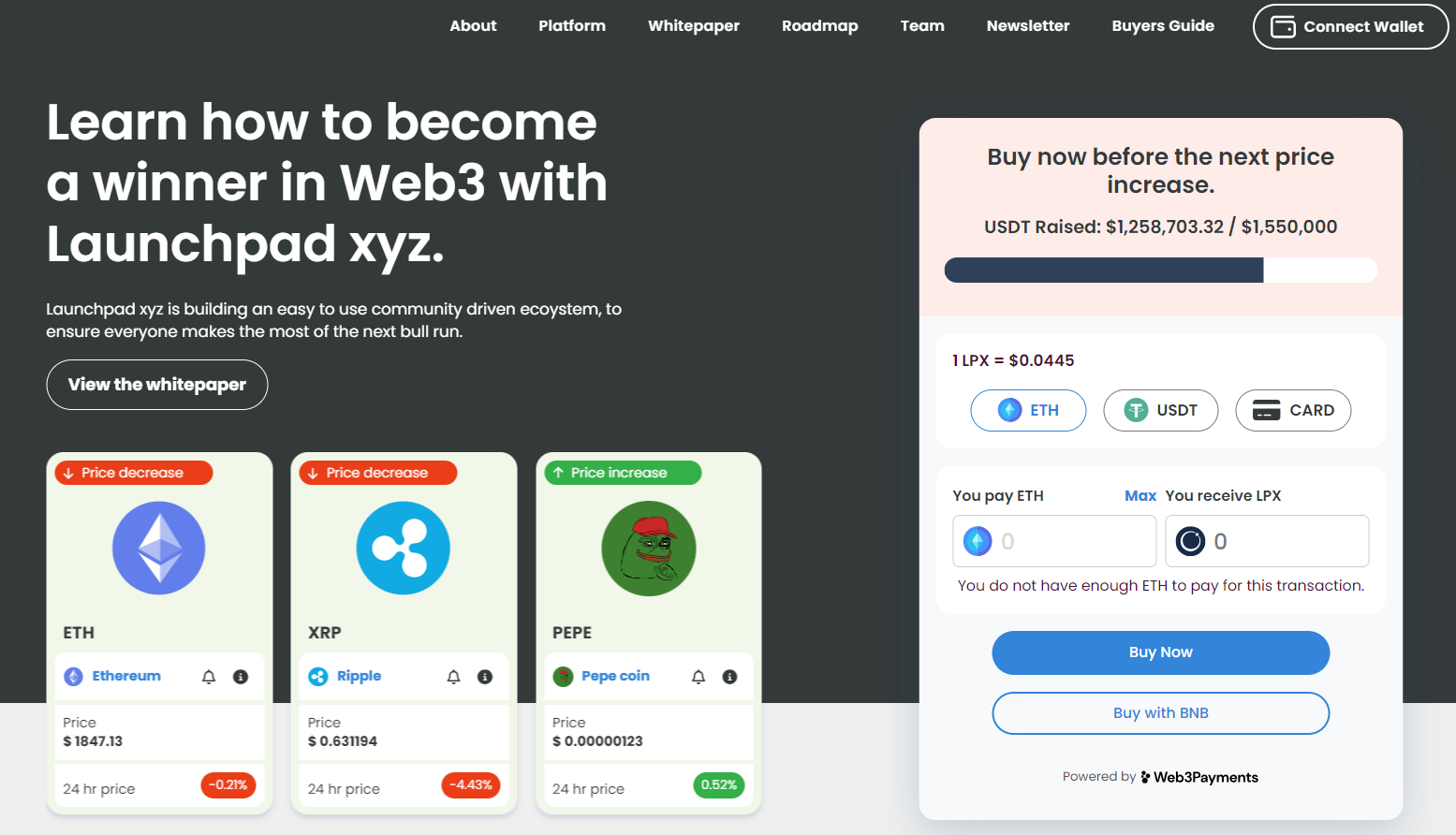 Friday, 11th August - An exciting new web3 start-up called Launchpad xyz is building an "all-in-one" platform to help traders navigate the choppy waters of the crypto market, and its presale just hit a big milestone.
To fund the development of its revolutionary, community-focused web3 platform, Launchpad xyz has been conducting a presale of its native $LPX token, which platform users will need to own if they want access to Launchpad xyz's premium features and services.
And the presale hit $1.2 million earlier this week.
With platforms such as Unibot already providing early investors with over 30x returns, Launchpad xyz could be the next big thing in assisted trading.
The team have announced that they will be rewarding early contributors with something special in the next few weeks, so now is the time to get involved
Major crypto news and analysis websites like Cryptonews.com, Business 2 Community and Techopedia all rank Launchpad XYZ amongst their top crypto presales of the year.
What is Launchpad xyz?
Launchpad xyz is building an easy-to-use community driven all-encompassing web3 ecoystem that, according to the project's website, will "ensure everyone makes the most of the next bull run".
Whether you are a casual web3 users (i.e. you play a few blockchain games and want to own a few NFTs), a newbie trader, or a professional trader, Launchpad xyz has you covered.
Let's begin with the platform's trading and investing capabilities.
Launchpad xyz's LearnWithLaunchpad platform provides newbie crypto users with all the training required to become successful traders.
Launchpad xyz "will support users in learning and understanding the Web3 ecosystem, from in-depth analytics and insights to news and market sentiment".
Professionals can also benefit from the Launchpad xyz team's expertise, high-level analysis and trading signals.
For an early look into the kind of high-quality analytics that Launchpad xyz traders will have access too, check out the start-up's Telegram channel, which posts trading signals, breaking market news and daily market news updates.
The project claims to already be up 30x on the signals it has been giving out for free. Don't miss out.
Launchpad XYZ has a newsletter aimed at providing "market-leading alpha" for more experienced traders and investors (also called Trading Edge), which can be signed up for via the project's website.
Launchpad XYZ's AI Chatbot and Innovative Ranking System Will Revolutionize Your Investing
One of its most promising tools is Apollo, Launchpad xyz's very own custom artificial intelligence (AI) assistant.
According to Launchpad xyz, Apollo will be able to "decode digital assets, revealing invaluable insights" and "transform data into informed decisions" to help investors maximize their profit potential.
The platform also offers an innovative ranking system called the Launchpad Quotient that will help investors navigate the uncertain waters of web3.
The ranking system leverages over 400 data points including social, financial, and market data to deliver a confidence and trust ranking for a range of digital assets, empowering investment decisions in the process.
Once traders have identified potentially profitable web3 investment opportunities using Launchpad xyz's educational materials, they will be able to execute their trade using Launchpad xyz's very own trading terminal, which will route all trades via Launchpad xyz's decentralized digital assets exchange.
"We'll focus on attracting market-leading liquidity providers to ensure your trades complete fully on the Launchpad," the start-up says on its website.
All said, Launchpad XYZ claims that its tools will help traders and investors find the next 100x Web3 asset.
So Much More Than Just a Crypto Trading Platform
While Launchpad XYZ features all the tools a trader could ever need, the scope of its platform goes well beyond purely catering to crypto investors.
The all-in-one platform aims to build a "humanized, curated portal that provides easy access to the best projects in the blockchain space, with the ability to self-custody any asset you own".
"From NFTs to play-to-earn games, Launchpad XYZ will provide an unbiased window into the latest and greatest experiences Web3 has to offer".
Launchpad XYZ will feature a peer-to-peer (P2P) non-fungible token (NFT) exchange and users will be able to take immediate self-custody of their crypto assets via Launchpad XYZ's very own web3 wallet.
Ultimately, Launchpad XYZ wants to facilitate crypto mass adoption by acting as a bridge between Web2 and Web3 for brands, "enabling them to access the power of immutable contracts and validated data, whilst wrapping them in market-leading experiences".
This way, the project aims to "help brands to onboard the next 10 million Web3 users by providing them with tools, knowledge, and audiences in line with the current infrastructure".
$LPX – The Ultimate Web3 Utility Token?
Terence Ribaudo, CEO of Launchpad xyz says " It is clear the market needs a new type of trading platform after the FTX and Crypto.com debacles. By focusing on ease of use and transparency, with its core built on fully decentralized infrastructure, we are building what we believe will be the core of the next phase in Web3. No more trading against users or manipulating markets - we are here to help anyone make the most of the yields available in Web3."
$LPX forms the economic backbone of the Launchpad XYZ ecosystem, with investors who stake a minimum of 10,000 token able to derive the most benefits.
These include discounts on fees, access to partner discounts, access to whitelists of NFT mints, access to presales, access to beta play-to-earn game launches and community prestige badges.
At its core, Launchpad xyz is focused on attracting the next wave of traders away through an easy-to-use humanized interface.
As the first truly decentralized trading platform, it hopes to take significant market share from incumbents, and provide its users with market-leading liquidity and insights - something it's already proving in its dedicated pre-launch alpha telegram channel.
Just this week 200% and 300% trades have been shared, making it an easy choice for savvy market participants.
Launchpad XYZ's amazing benefits for its $LPX token stakers encourage long-term HOLDing of the token and should reduce sell pressure when the token goes live across major exchanges.
According to Launchpad XYZ's Whitepaper, the project will begin launching some of the main features of its platform in Q3 2023, including the Launchpad Feed, Token and NFT Directory, Metaverse Library and Gaming Hub.
If the platform experiences substantial user adoption, as many observers think it will, this could create significant demand for the platform's native $LPX token.
Major influencers have also been talking up the coin, including the likes of Michael Wrubel and Crypto Gains.
---