C+Charge Presale Launches to Break Open Carbon Credits For EV Drivers and Charging Stations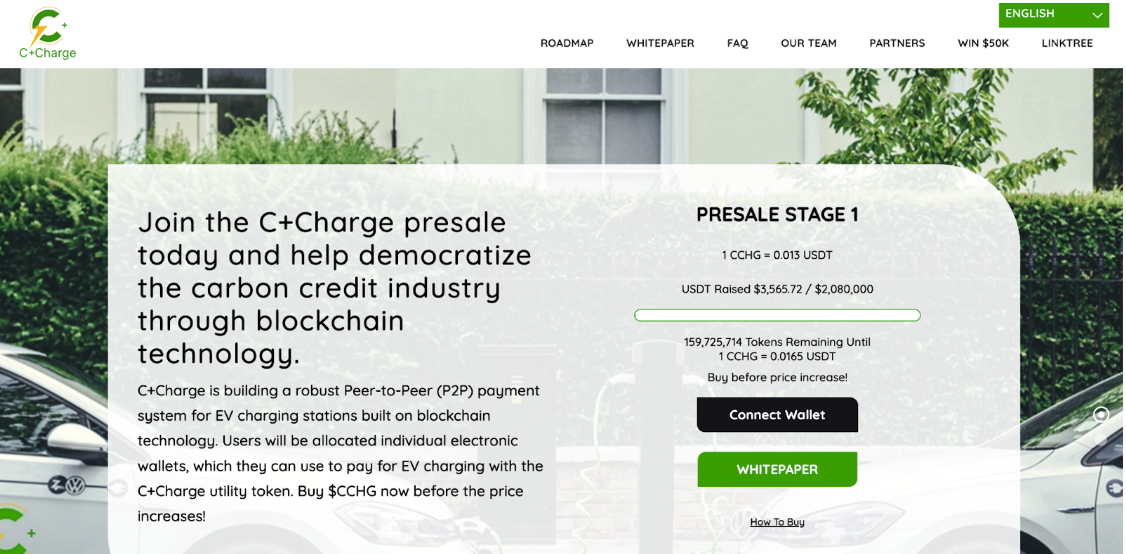 London, England, Monday 19 December 2022 – Electric vehicle (EV) charging's future is on the blockchain and C+Charge is making it happen with its presale starting today.
C+Charge is a peer-to-peer payment system that opens up carbon credits to drivers of EVs and supports the rollout of the charging station network they depend on.
You can join its mission to democratize the carbon credits industry and revolutionize EV charging by investing in the presale that is open to all members of the public.
C+Charge and its CCHG token are all about utility and exploiting the real-world use case of distributed ledger technology (blockchain).
Each token currently costs $0.01300 and will rise in price over 4 stages, ending at $0.02350. 40% of the total supply of 1 billion tokens are on sale to the public.
A lucrative use case for blockchain technology to attract long-term investors
Isn't it about time we were all able to access carbon credits when we charge our electric vehicles? Unfortunately, that's not the situation today.
Every time an EV driver charges they could be earning carbon credits, but there is no platform that offers that, until now.
C+Charge wants to attract long-term investors focused on funding the realization of a lucrative use case that will contribute to benefiting our environment.
Still, it is worth noting that Stage 1 investors will make a paper profit of 80% by the time the presale ends.
More than that, when you use the CCHG token to pay to charge your EV, those tokens are then removed from circulation, thereby creating a deflationary price-supportive mechanism.
The obstacles that C+Charge sweeps away
Today there are competing ways of measuring payments. C+Charge replaces these with one easy-to-access universal payments system that doesn't require the installation of expensive Point of Sale (PoS) equipment – instead, drivers use the CCHG token to pay.
Plus, through its partnership with Flowcarbon, EV owners will be able to earn carbon credits in the form of the Goodness Native Token (GNT) every time they charge, alongside CCHG.
GNT token represents a verified voluntary carbon credit and is backed by venture capital firms a16z Crypto and Samsung Next as well as fund manager Invesco.
One carbon credit allows for the emission of 1 ton of greenhouse gasses.
Drivers and operators of charging station networks to benefit
Blockchain technology reduces the cost of managing the stations by dispensing with expensive PoS as mentioned earlier, but it can also transmit reliable real-time information about the status of each station and perform diagnostic tasks.
That means C+Charge becomes an essential tool for, say, municipalities or those running communal charging solutions, to manage their fleet.
For EV drivers it provides a way of reliably tracking the availability of fully working charging stations.
And because everything is powered by blockchain, all the EV driver needs is an internet connection and the C+Charge app to interface seamlessly with the platform.
Here's how the app works:
Fire up the easy-access charging station geolocation finder to get to a C+Charge partner charging point;
Make use of the multiple platform integration options to pay with the CCHG token stored in the app's crypto wallet;
At any time you can instantly interrogate charger wait times and their operational status so you don't make a wasted trip to a defective station;
Keep track of the carbon credits you have earned (GNT) and the amount of CCHG held;
Finally, with C+Charge carbon credits can also be turned into NFTs as part of the reflections program and stored in the app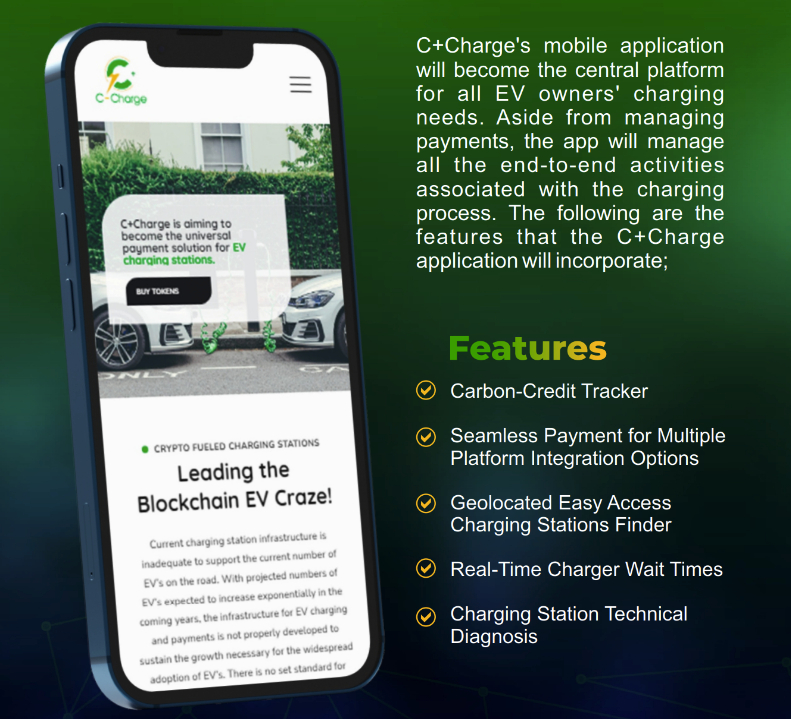 C+Charge fixes the downsides of carbon credits and boosts EV adoption
Even though EV sales have been booming, carbon credits as a key incentive for EV adoption are not being used anywhere as widely as it needs to be.
Also holding back the rollout of adequate and accessible charging infrastructure is the way that carbon credits are skewed towards big business, to the detriment of others, including EV drivers.
Worse, carbon credits are often used by large companies as a tax they are willing to pay to pollute. This allows them to continue emitting carbon and other greenhouse gasses instead of acting as an incentive to deploy low- or non-carbon emission solutions.
The winners in the current carbon credit system are those that produce or use goods that allow less carbon to be used – but EV drivers are unfairly excluded.
Manufacturers of EVs, such as Tesla, can earn millions of dollars by selling carbon credits to polluters.
C+Charge wants to democratize carbon credits so that an increasing share of carbon credit revenue – which was valued at $851 billion in 2022 – finds its way into the pockets of EV owners trying to do the right thing but are not receiving the rewards they are entitled to.
C+Charge is the only on- or off-chain platform that enables EV owners to be rewarded for charging
The carbon credits industry will be worth $2.4 trillion by 2027, so opening up access to EV drivers will be a huge business.
Breaking open the carbon credit industry can also spur the adoption of EVs and the massive scaling up of charging station networks that are needed globally.
There are estimated to be 1.8 million charging points around the world, but that is still nowhere near enough.
Another issue that C+Charge will address is the fact that the vast majority of charging stations are connected to national grids, making it impossible to know what percentage of the supplied electricity is derived from renewable sources.
C+Charge is seeking out partnerships with manufacturers of solar-powered 'pods', so that more renewable-energy-based charging stations can be rolled out.
C+Charge bags first international partner, boasts top-tier leadership and VC funding
The blockchain-powered EV charging project has already secured its first international partner, Perfect Solutions Turkey, adding 20% of the EV chargers in the country to the C+Charge network.
C+Charge is co-founded by Ryan Fishoff, the CEO of the publicly traded company American Wealth Mining Corporation, which is a business focused on crypto, environmentally sustainable investments, fintech, retail, wellness, nutrition, and financial education.
Fishoff is C+Charge's lead strategic advisor. The highly experienced team and the strength of its business model have attracted venture capital funding from 360° Crypto Economy to the tune of $250,000.
With VCs quick off the mark to put skin in the game, there's no time to lose to invest in the electric-charged, carbon-neutral EV future.
---