5 Best New Cryptocurrency to Buy 2022
Disclaimer: The text below is an advertorial article that is not part of Cryptonews.com editorial content.
Finding the best cryptocurrency to invest in 2022 tends to be the goal of every investor. However, it can be extremely difficult to locate these illusive assets that offer large upside potential.
Throughout this guide, we'll be taking a look at 5 of the best new crypto projects on the market and providing a guide detailing how to buy our top pick. Let's get started.
5 Best New Cryptocurrency to Buy - Our Picks
Below are our top picks for the best cryptocurrency to invest in 2022. Detailed reviews of each project can be found in the next section.
Tamadoge - All Around Best New Cryptocurrency to Buy
Battle Infinity - Massively Promising P2E Ecosystem
Lucky Block - The World's Number 1 NFT Competition Platform
Flow - New Blockchain for dApps and NFTs
1inch Network - Bustling DeFi Ecosystem
A Closer Look at the 5 Best Cryptocurrencies
Each of the projects we'll be taking a look at has been making waves in its respective sector as a result of a solid set of features and a strong team.
Tamadoge - All Around Best New Cryptocurrency to Buy
By blending trends in crypto (NFTs, the Metaverse, play-to-earn) the Tamadoge (TAMA) team has created a utility-focused meme coin that could be the best cryptocurrency to invest in 2022. Since the project went into presale on July 25th 2022, it has already raised nearly USD 4 million and shows no signs of slowing anytime soon.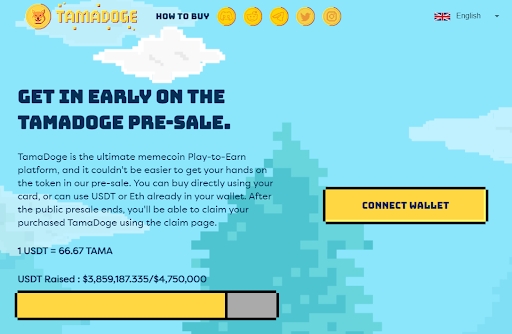 The project centers around a Metaverse world dubbed the Tamaverse. Within this world, players can interact with one another as well as their Tamadoge pets. Later in the development cycle (Q4 2023) Tamadoge will also launch a mobile app with augmented reality features allowing players to get even closer to their pets.
Each pet takes the form of an upgradable NFT (mining begins Q4 2022). Players can give their pet food, toys, and cosmetic items from the Tamadoge store to upgrade it. In return, the player receives Dogepoints which improve their leaderboard ranking, entitling them to a larger portion of the rewards pool.
In contrast to most presale projects, Tamadoge already has a confirmed listing on LBank and Uniswap which will greatly increase trading volume and could in turn boost the price of TAMA significantly.
As the TAMA token will experience incremental price increases to offer early investors better value, it's worth checking out Tamadoge today. Join the Tamadoge Telegram group to keep updated with the project's latest developments.
Battle Infinity - Massively Promising P2E Ecosystem
Battle Infinity (IBAT) is a new cryptocurrency release 2022, merging DeFi and P2E gaming in order to create an all-in-one ecosystem that any crypto enthusiast will love. The project has sold out its presale quickly, raising 16,500 BNB. However, on August 17th it will be listed on PancakeSwap so investors everywhere will be able to stock up on IBAT.
With Battle Infinity boasting a diverse range of features, the ecosystem is split into six unique platforms. IBAT Premier League (a fantasy sports league), IBAT Battle Games (a collection of P2E games), IBAT Battle Arena (an immersive Metaverse arena), IBAT Battle Market (an NFT marketplace), IBAT Battle Swap (a DEX), and IBAT Battle Stale (a staking platform).
Expected to release during phase 7 of the roadmap, the IBAT Premier League shows immense potential. Competing platforms like Dream11 and Mobile Premier League have tens of millions of users each. With Battle Infinity likely to capture a portion of that audience along with the crypto crowd, it could become one of the largest fantasy sports platforms on the market.
Powering the Battle Infinity ecosystem is the IBAT token. Based on the BEP-20 standard, IBAT supports fast, cheap, and efficient transactions - perfect for DeFi and P2E gaming. The token has a myriad of uses including staking, buying advertising space, and in-game bets. With plenty of use cases, the IBAT token could be the next cryptocurrency to explode.
With Battle Infinity selling out well before its September deadline, it's clear that the project has been a big hit with investors. With more exchange listings planned for the future, it's worth joining the IBAT Telegram group to stay updated with the project's latest developments.
Lucky Block - The World's Number 1 NFT Competition Platform
Lucky Block (LBLOCK) is a project aiming to reshape the competition sector through the use of blockchain technology. The Lucky Block team has taken elements from cryptocurrency and NFTs in order to create a fair and highly efficient platform that rewards everyone.
Lucky Block competitions range greatly in terms of the jackpot. However, some notable prizes include USD 1 million in Bitcoin, property, and concert tickets. Each competition is entered by purchasing an NFT from NFT Launchpad. Even after a competition has ended, the NFT entry ticket will still give users the ability to claim a portion of the prize pool each day.
The LBLOCK token has recently shifted to the ERC-20 standard, allowing the project to get listed on high-profile CEXs like LBank and MEXC as well as the Uniswap DEX. This increased demand and boosted the token's price massively. With more listings already in the works, Lucky Block is a great choice for those wondering what is the best cryptocurrency to invest in.
With LBLOCK currently trading for just a couple of cents, the token is perhaps the best penny cryptocurrency to invest in 2022. Check out the Lucky Block Discord to learn more about the project (admins will never message first)
Flow - New Blockchain for dApps and NFTs
Investors looking for the best cryptocurrency to invest in 2022 need to check out Flow (FLOW), a project aiming to provide web3 and dApp developers with an easy-to-use blockchain designed specifically for creators.
With the number of dApps and web3 projects climbing exponentially over the past couple of years, there's a definite need for a more efficient and cost-effective blockchain for developers. Flow is secure, fast, and massively scalable, making it a great choice for the aforementioned task.
Flow is consistently mentioned amongst the top 11 new cryptocurrencies to invest in and for good reason. The project fulfills a real need within the crypto space, as such, we could see it take off once the next bull run begins.
1inch Network - Bustling DeFi Ecosystem
Within the DeFi space, 1inch Network (1INCH) is perhaps the best cryptocurrency to invest in 2022. The project bundles a series of DeFi protocols in order to give investors a one-stop platform providing access to the sector.
The core feature of the 1inch Network is a DEX aggregator that provides users with the best possible deal by scouring hundreds of platforms. 1inch can be used across many of the most popular blockchains, with a few of the most notable including Ethereum, BNB-Chain, and Avalanche.
With the DeFi sector continuing to grow quickly, a platform that is able to quickly compare rates between liquidity providers is likely to be a hit with customers. 1inch is still fairly new, but once it's more established, it could become the best cryptocurrency to invest in 2022.
How to Buy the Best New Cryptocurrency
To ensure nobody gets stuck, we've included this guide detailing the process of buying our top pick - Tamadoge.
Step 1: Register with an Exchange
In order to buy TAMA, Ethereum is required. It can be purchased from a regulated exchange like eToro or directly from the Tamadoge website using fiat.
Cryptoassets are a highly volatile unregulated investment product. No UK or EU investor protection
Step 2: Deposit and Buy ETH
Next, click on 'Deposit Funds', decide how much to invest, and press 'Deposit'. Then, enter 'ETH' into the search bar, press 'Trade', choose how much Ether to buy, and press 'Open Trade'.
Step 3: Create Crypto Wallet & Withdraw ETH
Afterward, create a crypto wallet by downloading the MetaMask mobile app or browser extension and following the on-screen instructions. Next, ensure the wallet is set to the Ethereum network and withdraw ETH from eToro to MetaMask via the eToro Money Wallet.
Step 4: Connect Wallet & Buy TAMA
After that, navigate to the Tamadoge presale, press 'Connect Wallet', select MetaMask, and confirm the connection. Then, enter the desired amount of tokens in the 'Buy Tamadoge' section, and press 'Convert ETH'. As soon as the presale has concluded, the tokens will be available to claim.
---