NEO Price, Ontology, Qtum, Tron, Bytum, IOST Skyrocket on China Hype
The past few days in the Cryptoverse have been both surprising and greatly entertaining. Following China's announcement on increased blockchain adoption, and subsequent surge in bitcoin (BTC) and altcoin prices, we also see Chinese projects pump hard.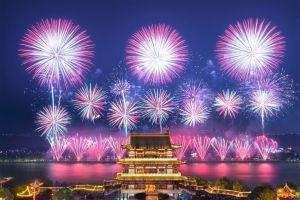 As previously reported, China's President Xi Jinping urged the country to hasten the blockchain development, saying that this technology is important "in the new round of technological innovation and industrial transformation" of China. And while the country is expected to launch their digital renminbi soon, there have also been reports that the regulators are already looking at applying blockchain technology to cross-border trade finance. Additionally, blockchain-related stocks in Hong Kong and mainland China are also up, while the crypto and blockchain-related searches surged on China's popular search engines and messaging apps.
Meanwhile, whether due to this news or not, BTC made a historic jump, going up astonishing 30% in a single day. Altcoins followed, turning the market green. Of particular interest this time around are the China-originated projects, which have seen a significant, double-digit (in one instance, even a triple-digit) rise in the past seven days, but also in the past 24 hours alone. Let's see six such coins standing at the top of the list, five of which are within the top 50, and the last on in the top 100 coins by market capitalization.

This China-originated project had a second largest jump in the past seven days, and is the only coin in this category to have seen a triple-digit rise over the course of the past seven days, 151.62%. In the past 24 hours alone, it went up by 96.65%. BTM saw significant jumps in November 2018 and June 2019. The price slowly fell between June and September, after which the last 30 days show the price trading sideways, at around USD 0.050, with barely any fluctuations. There is a movement upwards on October 25th, followed by a jump on October 27th, from USD 0.07 to USD 0.20. With a correction, its price at the moment of writing (UTC 8:30) is USD 0.14.
The second-placed coin on this list is also from the top 50 coins by market capitalization. ONT went up 66.64% in the past week, and 34.87% in the past day. ONT's charts show some higher peaks in November 2018, as well as May and July 2019. The past quarter though has seen the price fall, then trading sideways in the past month, finally picking up momentum again on October 26th. This lead to its highest price in the past week of USD 1.13, compared to its lowest price in the same period of USD 0.53. It's currently trading at USD 0.97.
Following ONT closely is NEO, which sits in the top 20 coins category, with a rise of 62.10% in the past seven days, out of which 22.02% is from the past day alone. Similarly as the previous coins, after the November 2018 and July 2019 peaks, NEO's price fell in the past quarter, which is followed by the calm period in the past month with minimal activity. Its price rallied on October 26th, going up to its highest level in a week of USD 13.20 on October 28th. NEO's lowest price in the past week was USD 6.77. It's now standing at USD 11.88.
The price of the thirty-second coin by market capitalization appreciated 43.44% in the past week. 32.87% of the rally is from the past 24 hours. In the past year, QTUM saw a particularly high jump in July when it reached its highest price in this period of time, USD 5.83, compared to its lowest, which was USD 1.48 at the end of September. Trading sideways in the past month, it rallied in this past week, starting October 25th, when it went from USD 1.58 to USD 2.72 on October 28th. Its price at the moment is USD 2.44.
One of the top 10 coins (again) is also on this list. Tron's price went up 24.57% in a day, and a total of 32.40 in a week. Among its top 10 peers, it has seen the second highest jump in a week, right after Bitcoin SV (BSV) with 41.92%, and before Bitcoin Cash (BCH) with 15.85%. TRX has seen several peaks in the last year, but in the last quarter its price fell, rallying up shortly in September, before falling further to its lowest price in this period of USD 0.01. Its last-month and seven-day periods show a few fluctuations before experiencing a less dramatic rise than the previously mentioned coins on October 26th, going from USD 0.016 to USD 0.017. It fell slightly soon, before rallying again on October 27th, reaching its highest price in a week, but also in the last quarter, of USD 0.21. At the moment, TRX is trading at USD 0.020.
Right behind TRX, IOST has seen a rise of 27.35% in a day and 32.23% in a week. Its highest peak in the past year was in April 2019, when it reached USD 0.018, compared to the lowest price in this time frame of USD 0.003 from October. From this low price, however, after a number of fluctuations in the past 30 days and a calming period in the last week, it rallied on October 26th. Two days later, it reached a price of USD 0.0068, and is now trading at USD 0.0058.
__
Meanwhile, the Cryptosphere's naturally quickly reacted to the news, noticing that "all Chinese Alt coin are pumping like crazy." Tron's very own Justin Sun tweeted about TRX's return among the top 10 coins, while in a now-deleted tweet, he predicted the coin to move in the top 4 category by the end of the year. Mati Greenspan, senior market analyst at eToro, a social trading platform, wondered how he didn't make a connection sooner between NEO and China, saying: "Of course NEO is pumping hardest. Duh... Chinese regulated Blockchain network."
Trader and economist Alex Krüger, as well as trader and analyst Luke Martin, aka Venture Coinist, also shared their opinions on this development:
---