Bitcoin SV
BSV
Bitcoin SV
Bitcoin SV (SV stands for Satoshi's Vision) is a fork of Bitcoin Cash. It came to be after the Bitcoin Cash Hash War, which started on November 15, 2018. On November 26, CoinGeek founder Calvin Ayre announced the "hash war" is over, and Bitcoin SV splits from the Bitcoin Cash blockchain.
| Market Cap | Volume 24h | Circulating Supply | Maximum Supply |
| --- | --- | --- | --- |
| $2,978,385,697 | $237,577,912.03 | 18843906.0 BSV | 21000000.0 BSV |

What is Bitcoin Satoshi Vision (BSV)?
Bitcoin SV (BSV) sets itself a straightforward mission: to fulfill the original Satoshi Nakamoto's vision set out in Bitcoin's whitepaper. It seeks to restore the Satoshi protocol for Bitcoin by enabling it to scale quickly and globally, setting unlimited block sizes, keeping it stable and secure, and allowing safe instant transactions.
In the long run, BSV (also referred to as BCHSV) seeks to replace every other payment system in the world.
How Did Bitcoin SV Came To Be?
Bitcoin SV's past is closely related to the history of Bitcoin.
First, Bitcoin Cash split of Bitcoin on August 1, 2017, in the light of the debates on how to scale the network. The discussion has led to many disagreements and has prompted two different factions - Bitcoin Core (BTC) and Bitcoin Cash (BCH).
The underlying difference between BTC and BCH was the approach to transaction speed issues that plagued the original Bitcoin network. Bitcoin Core group offered to implement SegWit2X protocol, while Bitcoin Cash party has increased the Max Blocksize Limit to 8MB (32MB today) a solution. It allowed the network to process nearly two million transactions per day for lesser fees. Initially, the Bitcoin's Blocksize limit was 1MB (2MB today).
Despite the changes, Bitcoin Cash remains a highly centralized network where the few biggest mining pools account for more than 51% of hashing power whereas Bitcoin is way more decentralized.
What is the BCH Hash War?
Fast forward one year, the disagreements surfaced in the Bitcoin Cash community.
On November 15, 2018, during non-backward compatible hard fork network upgrade, BCH forked into two rival chains that started to battle for miner votes to force their preferred set of new rules on the blockchain - Bitcoin ABC (BAB) and Bitcoin SV (BSV).
Bitcoin ABC was led Roger Ver and Jihan Wu, while Craig Wright and Calvin Ayre backed Bitcoin SV.
According to Coingeek, a site owned by Calvin Ayre himself, ABC developers hastily implemented several controversial changes regarding hard forks. Some of them suggested adding checkpoints, a 10-block reorganization defense, and Avalanche (a pre-consensus system that would move BCH towards Proof Of Stake system rather the Nakamoto's Proof of Work consensus).
Bitcoin SV supporters were unhappy with newly proposed rules and changes put forward by ABC developers. Accepting such changes would mean abandoning fundamental principles of Satoshi's vision. Thus, SV supporters advanced their ideas on the future of BCH, thus sparking a "hash war." Eventually, it culminated (not without excess drama) a creation of the separate fork.
Calvin Ayre says Bitcoin SV is the real Bitcoin and is the only cryptocurrency in the entire market that lives up to the original Sathosi Nakomoto's vision.
"ABC has abandoned Bitcoin's core principles by abandoning Nakamoto consensus and trust in miners' Proof of Work. This is fine for them to test their thinking but not by killing Bitcoin before it's even tested properly so we stepped in."
to preserve value retreat to Bitcoin SV. Only a platform that scales will be around once the carnage is over...digital gold and ICO models are going to all die.https://t.co/0GKPoDLcn2

— Calvin Ayre (@CalvinAyre) November 26, 2018
[
The network split was announced on November 26, 2018. The primary supporters of the project are CoinGeek Mining, nChain, and bComm Association. Currently, the company works on securing the partnerships with the rest of the major BCH partners.

What's The Difference Between Bitcoin SV (BSV) And Bitcoin Cash (BCH)?
Here's a brief summary of the fundamental consensus mechanism changes that stirred up the conflict.
Bitcoin ABC Proposed Major Changes
OP_DATASIGVERIFY - A script language opcode which allows the transactions to validate a signature of an external message. It opens the ability to have a message that comes from an external source as a part of the transaction. One of the use cases of such feature could be retrieving information from an API or an oracle.
CTOR - Short for Canonical Transaction Ordering, CTOR changes the way blocks are built so that the transactions within a block must have a specific ordering, which prevents double spending, and potentially makes room for parallel transaction validations in the future. Essentially, it's a new optimization rule that would allow for a quicker transaction validation for big blocks, as well as for a speedier block validation.
Bitcoin SV Proposed Changes
A block size increase to 128MB - It enables more complex contracts and scripts within a single transaction, as well as previously disabled script operands that allow for running more advanced scripts and smart contracts.
After the fork upgrade, no one is mining with the original Bitcoin Cash rules anymore. During the "hash war," each group tried to dominate the chain with hashing power to attach its new consensus rules to the other chain.
As of now, the Bitcoin SV team is heading in an utterly different direction than Bitcoin Cash.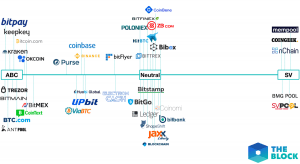 Who's taking which side during the BCH fork war. Source: The Block Crypto.
Once you open Bitcoin SV homepage, it greets you with the quote of Satoshi Nakamoto:
"The nature of Bitcoin is such that once version 0.1 was released, the core design was set in stone for the rest of its lifetime."
Bitcoin SV's roadmap emphasizes four pillars that form the basis of the "Satoshi's Vision":
Stability. Big firms and corporations dislike volatility. They need a stable platform to operate. Frequent, repeated and unproven changes present substantial obstacles and uncertainties for large-scale businesses to commit to building applications on top of projects like Bitcoin Cash. For this reason, the development of Bitcoin SV includes only the most critical changes that gear the chain towards original Bitcoin design, and spur innovation on top of its stable base protocol. Part of the solution is restoring Satoshi op_codes, that foster the creation of smart contracts, tokenization, atomic swaps, and other innovative tools on the BSV blockchain.
Scalability. It's mandatory to process the transactions on a massive scale if BSV is to become a truly global money platform, The development of the BSV blockchain focuses on enhancing throughput capacity, increasing block sizes, and other performance improvements. A part of this plan also includes securing mining profitability after block reward halvings in 2020 and 2025.
Security. As a global currency platform, the project needs to guarantee a shatterproof level of security. Bitcoin SV develops a rigorous Quality Assurance for mining node software to make it a reality. Three activities will facilitate its development :
The exchange of external QA expertise with the experts of other security-sensitive industries, like national security, aerospace, and medicine.
Hiring industry-leading blockchain security audit firms.
Offering a lucrative bug bounty program to engage and mobilize security researchers over the globe.
Safe instant transactions. They are critical for opening brick and mortar merchant markets for BSV payments. Improvements for better secure instant transactions is a crucial priority to further BSV development.
Once these pillars are accomplished, BSV plans to become a single most suitable blockchain for the world.
How Can You Get Bitcoin SV (BSV)?
Everyone who held Bitcoin Cash (BCH) before November 15, 2018, can get an equal amount of BSV after the hard fork update. It effectively works as an airdrop. However, a secure procedure for claiming BSV from is yet to be developed. Bitcoin SV blog states that the safest option is to wait and conduct no transactions until then.
If you need to use your coins right now and despite the risks, check with your wallet provider about how to claim your BSV. However, note there's no single solution, and it all depends on how you hold your BCH.
It's important to note that until a secure solution is developed, both Bitcoin Cash and Bitcoin SV use the same replay protection scheme, which enables replay attacks. No replay protection lets every BCH and BSV transaction to take place in both chains simultaneously. Sending BSV could result in both BSV and BCH coins being sent to the same addresses on different chains and vice versa.
Besides, as the fork of BCH, BSV is listed on many exchanges. Currently, it can be traded on:
Gate.io, Poloniex, HitBTC, OKEx, FCoin, Bitrue, Cobinhood (paired with BTC, USDT).
Bitfinex (paired with BTC, USD).
Upbit, CoinZest (paired with BTC, KRW).
Coinsuper, YoBit (paired with BTC, ETH).
Bittrex, Huobi, Coinsquare, Bit-Z, IDAX, BigONE, MBAex (paired with BTC).
Kucoin, Bibox, Hotbit, OTCBTC (paired with BTC, ETH, USDT).
DragonEX, CoinEx, ZB.COM, WazirX, CoinBene (paired with USDT).
OKCoin International (paired with USD).
Bithumb, Coinbit, Korbit (paired with KRW).
Indodax (paired with IDR).
BX Thailand, Bitkub (paired with THB).
Bitbns, Koinex (paired with INR).
Altcoin Trader (paired with ZAR).
Trade Satoshi (paired with BTC, LTC).
SouthXchange (paired with BTC, BCH, USD, USDC, DASH, TUSD, PAX).
On April 15 2019, Binance announced plans for the delisting of Bitcoin SV on April 22 2019, followed by a similar announcement made by Kraken on April 16.
How to Store Bitcoin SV (BSV)?
If you get your hands on BSV coins, there are several wallets you can use:
CashPay Wallet
Centbee
Guarda
HandCash
Pixel Wallet
A complete list of services supporting BSV can be found here.
Current State of the Project
The Bitcoin SV project begins with restoring the original Bitcoin protocol for a stable foundation on top of the Bitcoin Cash protocol. First network changes will focus on re-enabling Satoshi op_codes, enabling miners to set ExcessiveBlockSize and other important features.
Besides, the developers prepare for BSV's official launch in the first week of December 2018. The team will put a particular focus on Bitcoin SV branding.
The initial project roadmap looks like this: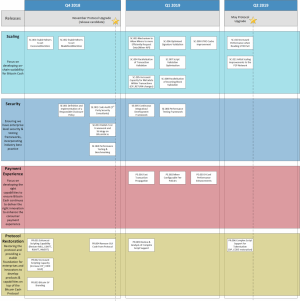 All in all, it remains to be seen where the Satoshi's Vision blockchain goes. Despite the costly hash war, the BSV's battles are just beginning, as the new fork seeks to secure more partnerships and win more crypto community's recognition. Currently, the company has forged partnerships with:
HandCash
CentBee
Money Button
Yours.org
Keyport TV
The list of companies and applications supporting BSV keeps on growing.
Similar Projects
Bitcoin - The most popular version of Bitcoin, also known as "Bitcoin Core."
Bitcoin Cash - The most popular fork of Bitcoin Core.
Bitcoin Diamond - Another fork of Bitcoin, working towards faster transactions and lower transaction costs.