14 Most Promising Crypto to Buy & Hold Right Now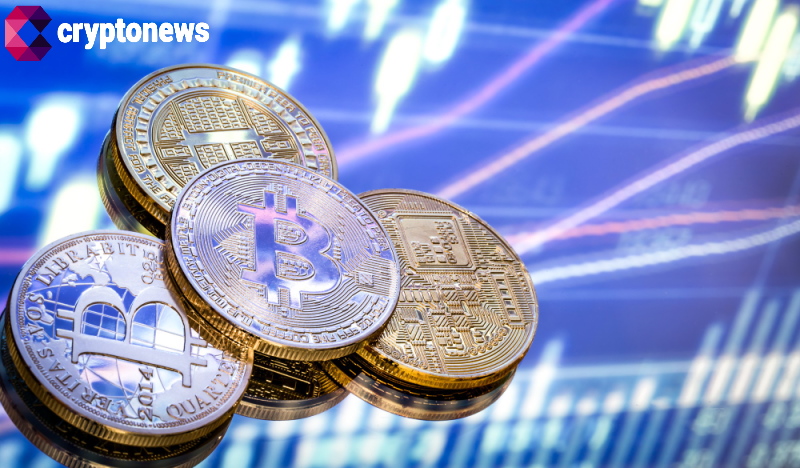 Disclaimer: The Industry Talk section features insights by crypto industry players and is not a part of the editorial content of Cryptonews.com.
To ensure long-term gains in the digital asset market, investors are looking for the most promising cryptocurrency to buy right now. By comparing recent price movements and use cases, we review 14 of the top promising new cryptocurrency projects in 2023.
The Most Promising Cryptos to Invest in 2023
The list below highlights some of the most promising cryptocurrency to invest in 2023.
Wall Street Memes - One of the most promising cryptos this year with a staggering $25 million raised, 80% staking rewards, million-plus social media following and interaction from notable celebrities such as Elon Musk. Now in its final stage priced at $0.0337, a T1 exchange listing is expected to follow with the IEO in late September.
Bitcoin BSC - BEP20 token reflects BTC tokenomics in 2011 and supercharges it with the BNB Smart Chain, the project yields an estimated 193% APY and has raised $2.7 million in just 13 days.
Launchpad XYZ - Comprehensive platform offering timely insights into the Web3 investment landscape, provides the LPX token, a promising investment opportunity with versatile utility. Includes alpha signals, a custom trading terminal and a huge amount of data.
yPredict - Innovative AI-based trading platform offering data-driven insights for crypto trading, along with $YPRED, its native token that enables access to predictive models and potential for passive income - $3.6 million raised in its presale.
Chimpzee - A project focused on sustainability, Chimpzee has already planted over 20k trees and donated $15,000 to protect elephants. It also offers 20% APY through a novel NFT passport mechanism. Over $1.25 million raised in the presale so far.
eTukTuk - Combines financial inclusion with environmental conservation through eco-friendly vehicles for drivers in poorer countries. $50k raised in presale with a 40% bonus for early investment.
Scorpion Casino - Allows users to gain more APY the better the casino performs, in an innovative form of indirect ownership. Presale 92% sold out at the time of this writing with a 20% bonus for early bird participants.
Bitcoin - A proof-of-work coin obtained by mining, and with a limited supply of 21 million tokens, Bitcoin is considered a deflationary token.
Decentraland - Metaverse-based virtual real estate game where virtual plots of land can be bought or traded,
Ethereum - Decentralized blockchain that deploys smart contracts; developers use Ethereum to create various decentralized finance (DeFi) products.
Polygon - Layer-2 scaling solution built on the Ethereum network; Polygon uses Optimistic Rollups to make Ethereum more scalable and a multi-chain system.
XRP - Blockchain-based payment service used by banks and financial institutions to facilitate quick transactions
Binance Coin - Native crypto of the Binance exchange, BNB is now deployed on the Binance Smart Chain.
Dogecoin - Despite its humorous origin, the meme crypto has garnered significant attention and growth thanks to high-profile endorsements from notable figures.
Analyzing the Most Promising Cryptocurrency to Buy
The most promising digital assets offer unique use cases which can potentially make them profitable investments in the long-term. The sections below conduct an in-depth analysis of the most promising crypto projects for 2023.
1. Wall Street Memes - Highly Promising Meme Token With Interaction From Elon Musk and $25 Million Presale Raise
Wall Street Memes (WSM) is one of the hottest cryptos of 2023, with a huge social media following over 1 million strong. It is known for having being tweeted about by Elon Musk, who is accredited with the prominent price rise of Dogecoin on many occasions. This project has a substantial internet presence and is looking to leverage its community to push for a $1 billion market capitalization.
The Wall Street Memes project launched at the end of May and has now raised over $25 million as it heads for its closing date and IEO at the end of September. Few projects raise such colossal amounts in such a short span of time.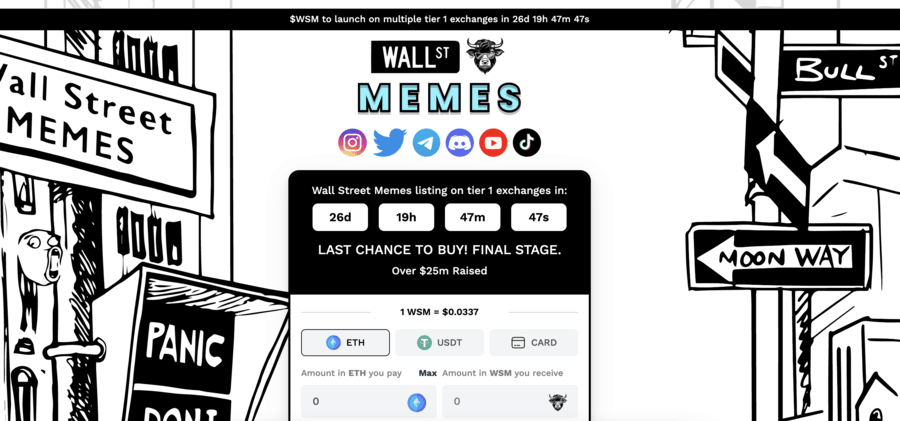 The theme of this campaign has to do with retail investors finally being able to get even with the Wall Street elites. Previous meme coins such as Shiba Inu and Dogecoin enjoyed enormous success, though it must be said that these kinds of tokens also come with risks that need to be understood beforehand.
Wall Street Memes further offers token staking and a generous $50,000 airdrop. Its collection of Ethereum NFTs sold out within minutes and this is an adaptable and versatile project that capitalizes on multiple initiatives.
The total supply of 2,000,000,000 $WSM is entirely allocated to the community. Of this, 50% is available to buy now during the presale, with the rest split between community rewards and liquidity.
The project is also offering generous rewards and, at the time of writing, more than 250 million tokens have been added to the staking pool, with an estimated APY of 80%.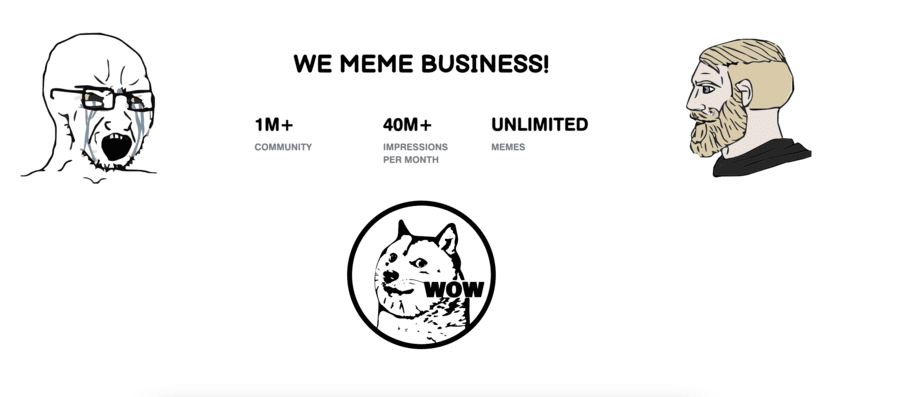 Users can find more details on the project's Linktree as well as on the Telegram group to keep up to date with the latest developments on this new presale.
The project is in its final stages and the token price is currently $0.0337. There is no team allocation for this presale and it is expected to soon list on a major Tier 1 exchange upon presale completion - the listing price will likely be far more than the presale price.
| | |
| --- | --- |
| Presale Started | May 2023 |
| Purchase Methods | ETH, USDT, BNB, Credit Card |
| Chain | Ethereum |
| Min Investment | 100 WSM |
| Max Investment | None |
2. Bitcoin BSC - Promising BEP20 Token Offers Bitcoin for $0.99 and 193% APY, Raises $2.7M in Just 2 Weeks
Bitcoin BSC (BTCBSC) is an innovative new concept that takes Bitcoin tokenomics in 2011 and reflects them on a powerful BNB Smart Chain architecture, to make it much more attractive to modern investors.

6.125 million BTCBSC tokens are available in the presale at a price of just $0.99, with staking rewards in the region of 193%. These staking rewards stem from the BNB Smart Chain which is a technically superior option to Bitcoin's PoW mining model. This previous system led to much in-fighting in the original Bitcoin blockchain, resulting in splits that led to Bitcoin Cash, Bitcoin SV, and Bitcoin Gold.
So BTCBSC takes the fundamentals of Bitcoin yet avoids its many pitfalls through the BNB Smart Chain. Its low cost, very fast, smart contract capable, and maintained by the world's largest exchange - Binance. This combination of Bitcoin nostalgia alongside technical efficiency has already proven popular amongst investors, who have contributed $2.7 million in just 13 days.

At this rate of fundraising, this Bitcoin replica will sell out within a few weeks. The campaign has undertaken an advanced manual third party smart contract audit through Coinsult, and the code was found to have no issues. No token allocation has been given to the core team. Both of these are positive signals in terms of project transparency.
Rewards are generated at 10 minute intervals to emulate Bitcoin's block rewards system, with the final tokens being released 120 years into the future. More information regarding the tokenomics can be found in the Bitcoin BSC whitepaper, with additional alerts and updates provided in the Twitter and Telegram socials.
Remember that this is a Bitcoin replica with no relationship between the original. So while its trading at $0.99 and BTC at $26,000, it is unlikely to follow the exact same price pattern, though it could 10x or experience upside potential in the coming weeks and months, like other Bitcoin replicas have done.
| | |
| --- | --- |
| Presale Started | 5 September 2023 |
| Purchase Methods | ETH, USDT, BNB, Credit Card |
| Chain | BNB Smart Chain |
| Min Investment | $10 |
| Max Investment | None |
3. Launchpad XYZ - Platform simplifying Web3 Investments with Real-time Insights
Recently, Launchpad XYZ launched the presale of its promising native LPX token. The platform offers users timely insights, such as public sentiment towards cryptos and other relevant social statistics.
At present, the LPX token is priced at merely $0.0445. Moreover, the potential for significant profit at a listing price of $0.07 is highly attractive to investors.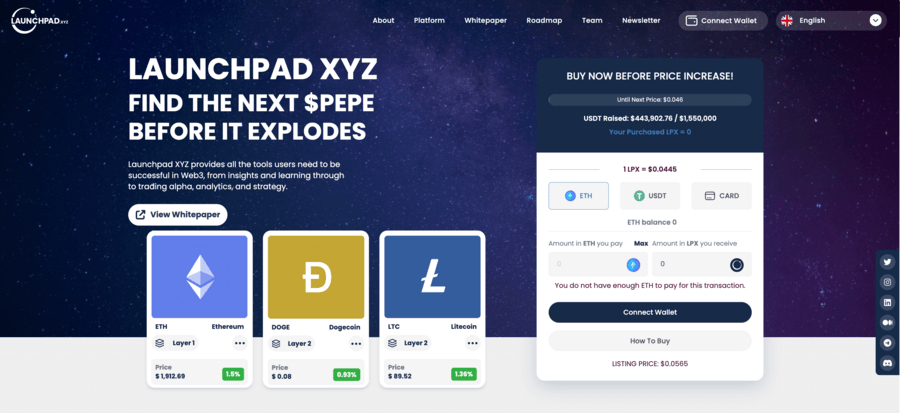 Launchpad XYZ offers a reliable source of information on the Web3 investment landscape for novice and experienced investors. This includes data, analytics, and market sentiment analysis. The platform underscores the importance of personal research and not overly depending on external advice.
The official whitepaper of Launchpad XYZ highlights its alert system. This system proactively updates users and investors about upcoming NFT debuts, crypto presales, P2E game releases, and critical project updates.
Before being listed on exchanges, LPX tokens can be purchased on the platform at a reduced rate. Altcoins such as Tamadoge have exhibited remarkable growth potential, despite the associated risks of investing in cryptos during their presale stages.
With the vision of becoming the epicenter of the Web3 business ecosystem, Launchpad XYZ is working on developing a decentralized exchange (DEX). This will facilitate frictionless trading on the platform.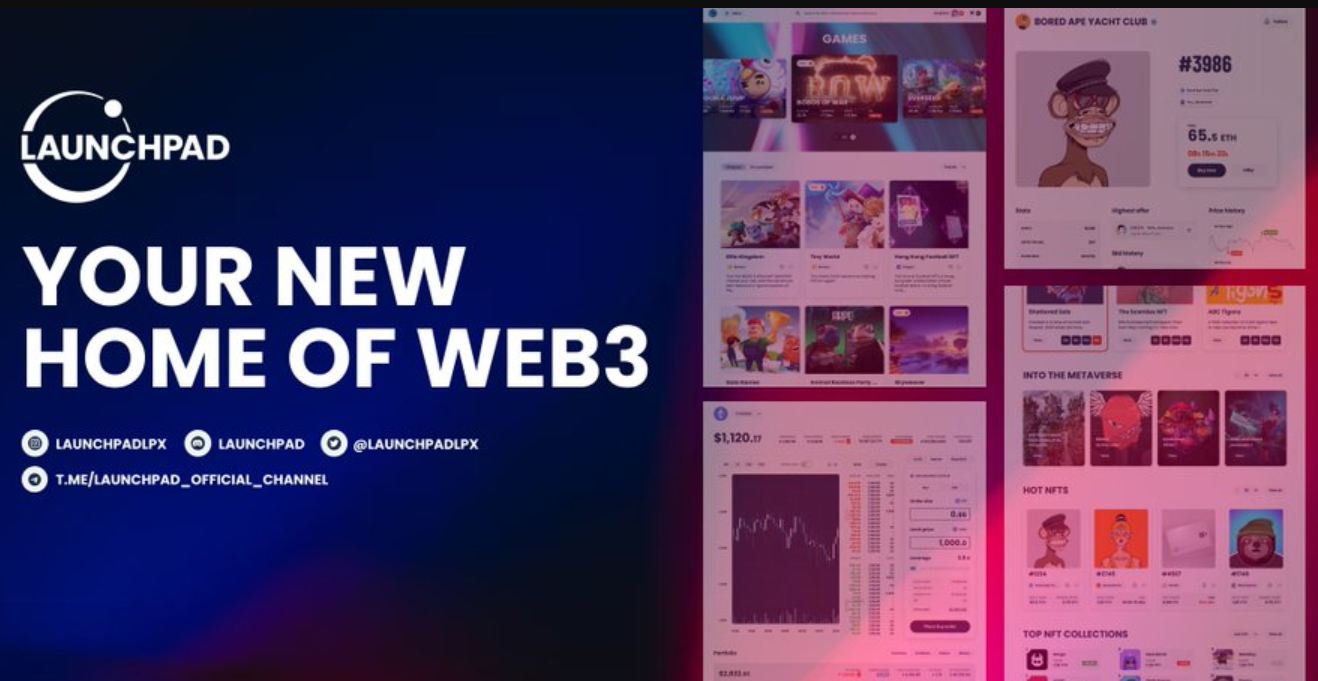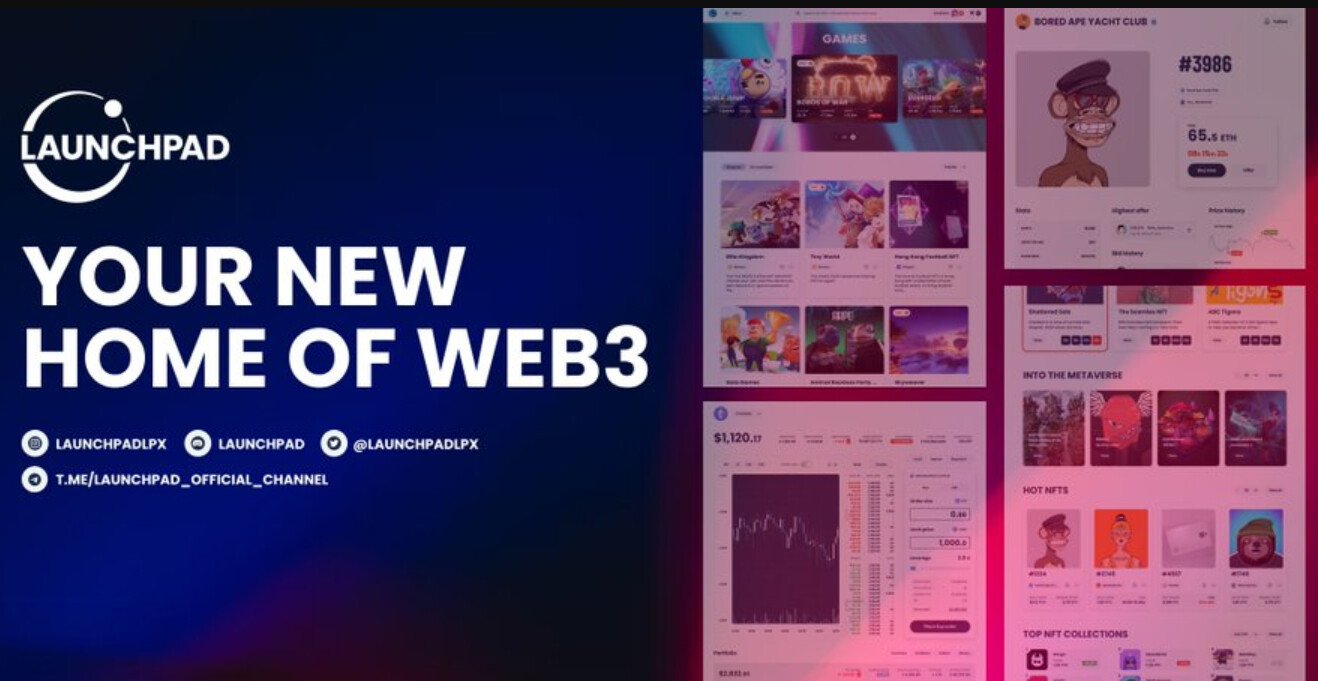 The platform's native LPX token has a multitude of utilities. By staking at least 10,000 LPX tokens, users qualify for discounts on products and services offered by Launchpad XYZ's partners and early access to beta versions of premier P2P games. These premium services are accessible to those who stake a minimum of 10,000 LPX for 90 days, demonstrating the token's value.
Another feature already up and running is the alpha Telegram signals group, which has provided multiple 1,000%-plus calls in recent weeks including a 7,000% call on LINQ.
Through Launchpad XYZ's real-time data on Web3 investments, users can discover promising opportunities ahead of their mainstream introduction.
Updates related to the platform can be received by joining the Launchpad XYZ Telegram channel.
| | |
| --- | --- |
| Presale Started | 25 April 2023 |
| Purchase Methods | ETH, USDT, Credit Card |
| Chain | Ethereum |
| Min Investment | 100 LPX |
| Max Investment | None |
4. yPredict - Platform Harnessing AI For Smart Crypto Trading
In AI-based trading, yPredict has emerged as a promising crypto. The platform offers its members data-driven insights and professional expertise, empowering them to leverage these resources for crypto trading. yPredict utilizes predictive models developed by a proficient team of AI developers and quantitative financial specialists to anticipate crypto trends.
$YPRED tokens can be acquired for $0.10 each during the current presale phase. However, the price is expected to rise to $0.12 by the end of the presale - since the start of the presale, over $3.6 million has been raised.
As outlined in the yPredict whitepaper, the platform can forecast whether a token could undergo a bearish or bullish trend in the near future. This is achieved by scrutinizing various trading charts through a proprietary pattern recognition algorithm.
Users can access these models in the financial marketplace and use the native $YPRED token to pay for monthly predictions. Premier AI researchers have validated the AI trading signals and developers utilizing the available dataset. The platform employs artificial intelligence to evaluate public sentiment using various technical indicators to forecast future token prices.


Investors can utilize the $YPRED token to place Play-to-Earn ecosystem bets on the value of different cryptos. The individuals making the most accurate predictions are rewarded with tokens.
Also, staking $YPRED tokens within the ecosystem can yield passive income. The staking pools receive a share of 10% from yPredict's recurring revenue generated from new user subscriptions.
Additionally, these staking pools receive 15% of the total revenue from trading fees within the network.
To learn more about the platform, join the yPredict Telegram channel.
| | |
| --- | --- |
| Presale Started | Q1 2023 |
| Purchase Methods | MATIC, ETH, USDT, BNB, Credit Card |
| Chain | Polygon |
| Min Investment | 200 YPRED |
| Max Investment | None |
5. Chimpzee - An Immediate Action Campaign That Is Planting Trees & Donating To Wildlife, $1.2 Million Raised in Presale
Chimpzee (CHMPZ) is not your run-of-the-mill project - it's a serious campaign that has already made a substantial impact in terms of environmental contributions. So far, without the presale even being completed, it has already planted 1,200 trees to save the Brazilian rainforest, donated $15,000 to protect animals, and also planted 20,000 trees in Guatemala.
Its two primary aims, as demonstrated in the whitepaper, are to help nature and provide a way for investors to earn an income. It strikes an excellent balance between helping the planet and also incentivizing users to take part.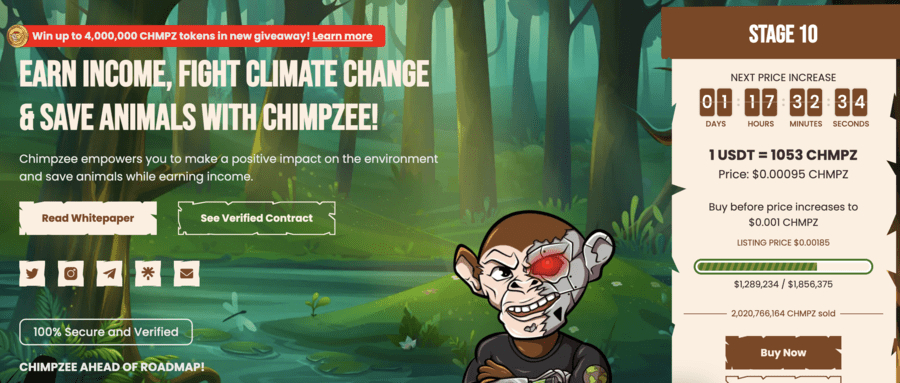 The whitepaper further outlines the damage being caused to rainforests and to specific species, and explains in dollar terms how little is required to help them to survive and thrive. The goal is immediate action without delay and to empower and motivate individuals to make a genuine difference. NFT staking rewards are up to 20%, depending on what type of NFT is purchased.
There is a total supply of 89 billion CHMPZ tokens, which is set to be reduced to 50 billion. Token burning can help to promote price appreciation. Of the total supply, 10% of the proceeds are given to charities concerned with the environment.
The current presale price is $0.00095 while the final listing price is set at $0.00185, a substantial difference. Investors can help the environment through Chimpzee while earning rewards from passive income.
More than $1.25 million has been raised at the time of writing.
To take part in the presale, a Web3 wallet (MetaMask, Trust Wallet) is required, along with ETH, USDT, or a Credit Card. The Chimpzee project is also smart contract audited by a reputable third party and has a KYC Certification from Coinscope.
More details can be found on Twitter, Discord, Telegram, Link Tree, and Instagram.
| | |
| --- | --- |
| Presale Started | Q2, 2023 |
| Purchase Methods | ETH, USDT, Credit Card |
| Chain | Ethereum |
| Min Investment | 1000 CHMPZ |
| Max Investment | None |
6. eTukTuk - A Green Revolution For TukTuk Drivers in Underdeveloped Regions, Brand New Presale To Encourage Financial Inclusion
Despite the advancements in technology, the transportation sector still grapples with two significant issues – carbon emissions and financial exclusion.
eTukTuk (TUK) is the world's first automotive project built on the Binance Smart Chain (BSC) blockchain with the aim of empowering less developed countries and assisting the planet in the process.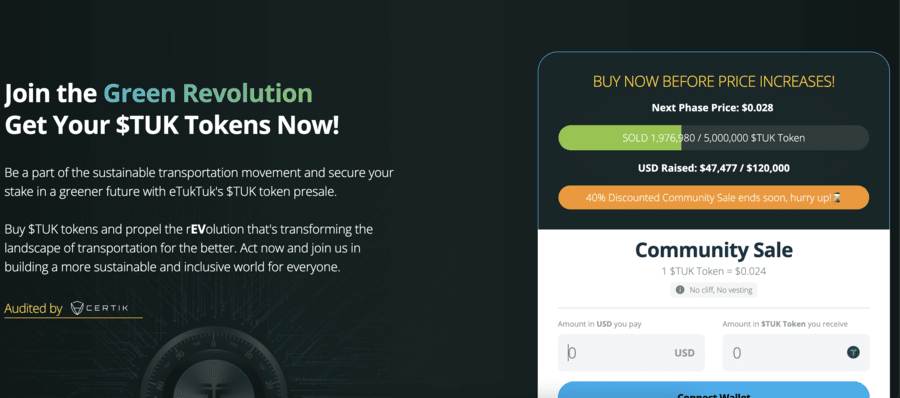 The project launches from the Capital of Sri Lanka (Colombo) and seeks to provide electrical vehicles that are more affordable and also more eco-friendly. Currently, TukTuk (a TukTuk is a three-wheeled vehicle that is commonly seen in Asian countries as a mode of transport) vehicles are far more damaging to the environment as compared to cars, with more CO2 emissions. It plans to launch efficient charging stations along with the new vehicles.
Moreover, it will assist TukTuk drivers transition from internal combustion vehicles, known for their high CO2 emissions. The project has received strong financial support from The Capital Maharaja Group. This organization holds a 20% equity stake in Sri Lankan operations. Sri Lanka has over 21 million people, over 1 million TukTuks, and a high pollution index, so this is a promising region to launch such an initiative.
The new vehicles can also help to make drivers more money, requiring far less maintenance and drastically reducing fuel costs. This is important in poorer regions. Drivers can also stake the token and earn rewards for using the TUK token within the application.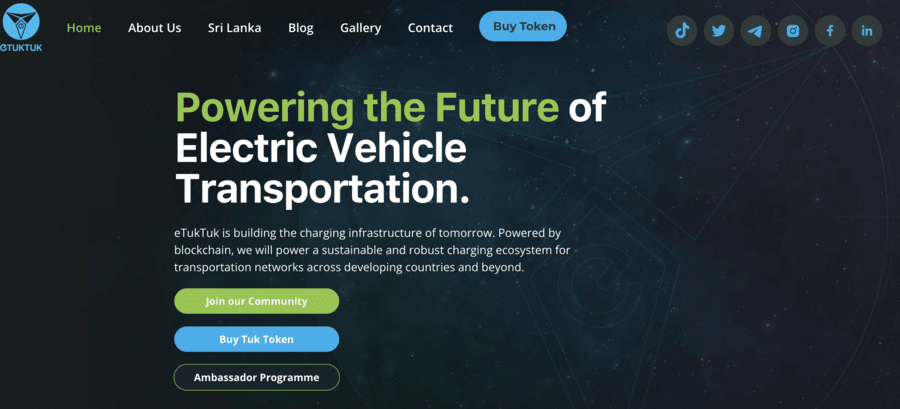 eTukTuk is more than a transport project, but is a socio-economic tool to help people and the planet. It can make funds available to those who otherwise not be able to make a respectable living. By combining sustainability, technology, and economics, it's looking to set a standard for how industries should evolve in light of the facts of climate change.
The presale has just started with $50,000 raised so far - and a 40% discount on tokens - all the latest platform news can be found by joining the Telegram channel. This could be an excellent project to take part in for those who care about the environment.
| | |
| --- | --- |
| Presale Started | August 2023 |
| Purchase Methods | ETH, BNB, USDC, USDT, ADA |
| Chain | BSC |
| Min Investment | 1000 TUK |
| Max Investment | None |
7. Scorpion Casino - Hot New Casino Coin That Is Already 92% Sold Out On Presale, $1 Million Hard Cap
Scorpion Casino (SCORP) is a new paradigm in online gambling because it lowers barriers of entry and enables everybody to become a casino owner. People can earn revenue in a fun and responsible manner from this licensed provider. So far, the casino has raised over $920,000, very nearly reaching its $1 million hard cap.
Its aim is to be a premium social online gambling platform where participants can earn a daily yield which will depend on the performance of the casino. This is a novel revenue generation mechanism where all people can feel included.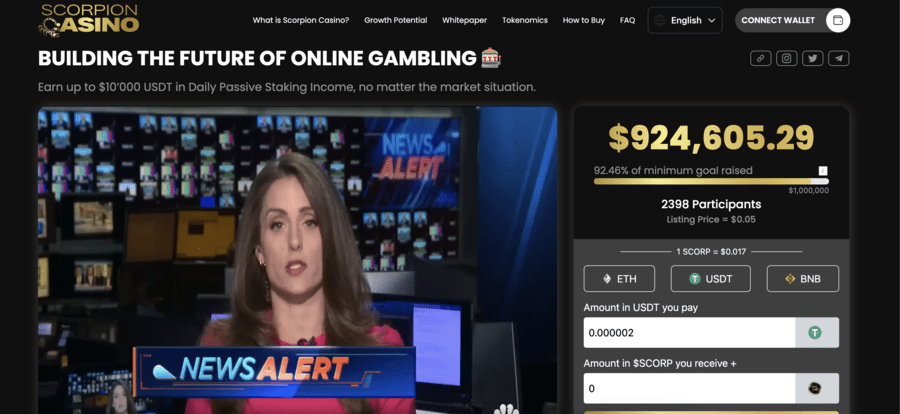 It's possible to earn $10,000 through staking rewards with this casino, regardless of market conditions. Major games - blackjack, slots, poker, etc. - are available through the platform, and it is among the first online casinos to use cryptocurrency in this manner.
Additionally, it offers a sports betting section, allowing users to place bets on the outcome of their favorite sports matches - such as soccer, horse racing, tennis, basketball, golf, boxing, and MMA.
A 2% tax is leveraged on every transaction, redistributed to all SCORP holders - this means that they see their holdings grow as the casino gets more usage. Furthermore, the token is also deflationary with a 1% burn tax.
The gaming experience is transparent and provably fair due to being connected with all major gaming providers. This includes Evolution, NetEnt, and AMATIC. Additionally, the Curacao eGaming licensing entity licenses and regulates Scorpion Casino. SCORP is the default cryptocurrency for the casino.

Users that take part in the presale now, before it wraps up, can benefit from 20% extra tokens. The current price is $0.017 while the listing price is set at $0.05.
Acceptable cryptocurrencies include ETH, USDT, and BNB, paid through a Web3 wallet. More information can be found on the whitepaper, Twitter, and Telegram.
| | |
| --- | --- |
| Presale Started | Q2 2023 |
| Purchase Methods | ETH, USDT, Credit Card |
| Chain | Ethereum |
| Min Investment | 1000 SCORP |
| Max Investment | None |
8. Bitcoin - Promising Long-term Cryptocurrency Project
One of the best cryptocurrency investments in the digital assets space, Bitcoin (BTC) is the largest and original cryptocurrency with a live market cap of $500 billion - 49% of the entire market.
Launched in 2009, this cryptocurrency was created by an alias that goes by the name of 'Satoshi Nakamoto' and has become one of the best performing financial assets ever. One of the best proof-of-work coins, Bitcoin, is obtained by mining. Miners use large amounts of computational power to solve a complex algorithmic problem to earn new Bitcoin. With a limited supply of 21 million tokens, the cryptocurrency is deflationary.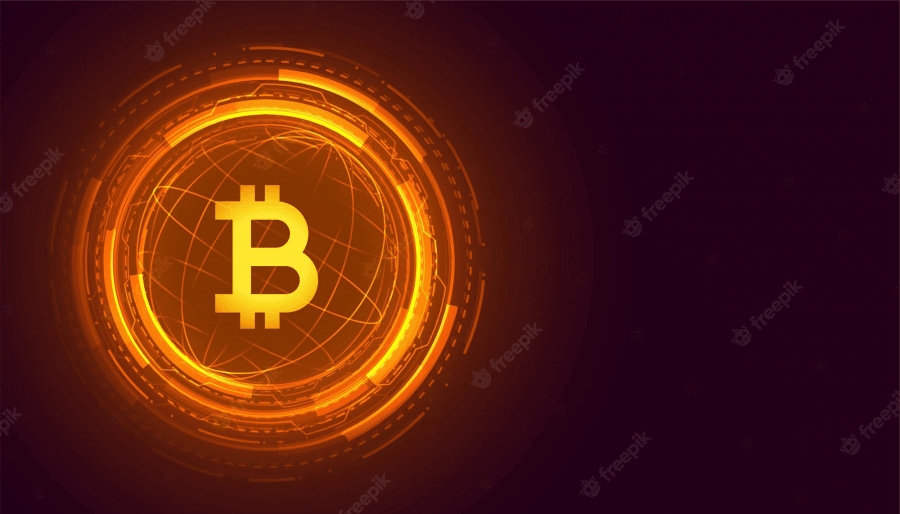 In November 2021, Bitcoin reached an ATH of nearly $70,000. However, 2022 was disappointing for the popular cryptocurrency and the widespread economic markets.
BTC enjoyed a strong first half of 2023, almost doubling in price and prices are predicted to rise further ahead of the next Bitcoin halving and amid institutional adoption, including spot Bitcoin ETFs from huge asset managers such as BlackRock and Fidelity.
Currently, BTC is trading at around $26k per token - 63% below the $70K highs - which could represent a decent potential entry point for many long-term investors.
While previous price history should not be used to consider future growth, Bitcoin has displayed a history of cyclical and boom-bust price action.
Cryptoassets are highly volatile and unregulated. No consumer protection. Tax on profits may apply.
9. Decentraland - Virtual Real Estate Cryptocurrency to Invest in 2023
The last few years have seen numerous NFT-based projects and use cases enter the digital assets space.
Decentraland has been one of the most popular cryptocurrencies in the last few years - as it offers a metaverse-based virtual real-estate game where virtual plots of land can be bought or traded.
Built on the Ethereum network, Decentraland features pieces of virtual land which are minted as ERC 721 smart contracts. The platform also offers Estates - which are NFTs representing combined pieces of digital land. These unique NFTs can be traded with MANA - an ERC-20 token and the native cryptocurrency of Decentraland.
In 2021, MANA increased from a price of $0.07 to an ATH of $5.90 - a price increase of more than 8,300%.
However, the sudden rise of multiple metaverse cryptocurrencies was followed by a huge price correction. Thus, the popular altcoin is now trading at $0.7127 per token. But, the metaverse is expected to reach a market cap of $5 trillion by 2030.
Since this space offers tradable NFTs by leveraging various decentralized finance elements, investors believe it to become one of the best future cryptocurrency projects.
Cryptoassets are highly volatile and unregulated. No consumer protection. Tax on profits may apply.
10. Ethereum - Top Altcoin with new PoS Upgrade
Ethereum is a decentralized blockchain that deploys smart contracts to allow developers to create various decentralized finance (DeFi) products on its network.
Currently, Ethereum has the largest number of NFTs minted on its platform, making it one of the best DeFi coins in the past few years, and is by far the biggest blockchain for decentralized app (dApp) builders, more than four times bigger than its nearest rival.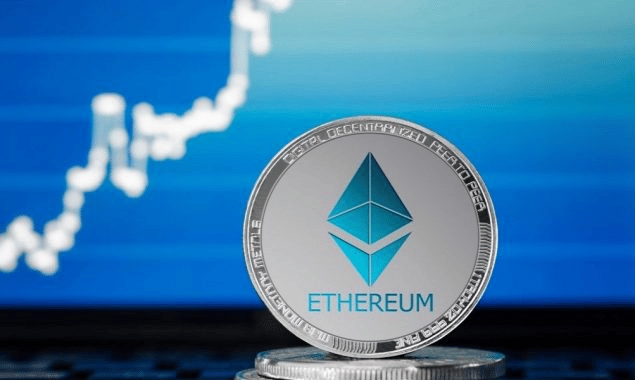 However, Ethereum has faced issues with high gas fees and slow trading times on its network. Therefore, the cryptocurrency recently underwent a network upgrade, allowing it to adopt the Proof-of-Stake (PoS) algorithm. With the PoS consensus, Ethereum will offer high throughput - allowing a large number of transactions to be conducted every second.
One of the most promising cryptocurrencies to buy, Ethereum, reached an ATH of $4,900 in November 2021. Like Bitcoin its current price - around 65% below its all-time high - could mark a good entry point for buyers.
Cryptoassets are highly volatile and unregulated. No consumer protection. Tax on profits may apply.
11. Polygon - Layer-2 Scaling Solution on Ethereum
Polygon (MATIC) is a layer-2 scaling solution built on the Ethereum network. This cryptocurrency is used as a scaling solution for Ethereum.
Polygon uses Optimistic Rollups - which makes Ethereum more scalable and a multi-chain system. Polygon can reach around 65,000 transactions-per-second (TPS), way faster than the likes of Visa, which has a max TPS of 24,000.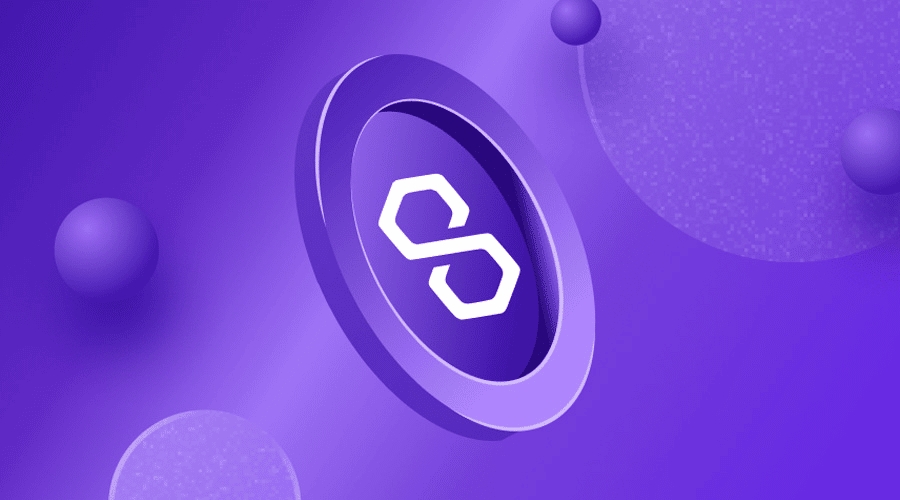 MATIC is Polygon's native cryptocurrency and governance token and are used as a payment service on Polygon, as well as being leveraged by users to operate within the Polygon network. With a quick block time of under 2 seconds, over 50 dApps have been built on Polygon.
Trading at $0.01 in January 2021, MATIC reached an all-time high of $2.92 in December of the same year - a staggering 29,100% price increase. Currently, MATIC has a price of $0.54 and a market cap of $5 billion.
Cryptoassets are highly volatile and unregulated. No consumer protection. Tax on profits may apply.
12. XRP - Global Payments Provider to Invest in 2023
Ripple is a blockchain-based payment service and global network which is used by banks and financial institutions. This platform offers global transactions by leveraging its native cryptocurrency - XRP.
While traditional finance offers low-speed processing times, XRP leverages blockchain technology to facilitate quick transactions in 3-5 seconds.
With a low cost of $0.0002 per transaction and the ability to handle more than 1,500 transactions per second, XRP is a promising cryptocurrency to invest in 2023. After launching in 2013 at $0.0059, XRP reached an ATH of $3.84 in 2018. However, XRP has declined to a price of $0.50 at the time of writing.
Due to this cryptocurrency's alternative benefits, more than 300+ financial institutions have partnered with XRP to transfer funds globally. However, much of XRP's price has been stifled by an ongoing court battle with the SEC - despite a recent victory, parent company Ripple Labs are not yet clear of more court appearances.
Cryptoassets are highly volatile and unregulated. No consumer protection. Tax on profits may apply.
13. Binance Coin - Governance Token of a Global Cryptocurrency Platform
Binance Coin (BNB) is the native cryptocurrency of the Binance exchange - a global cryptocurrency trading platform with more than 600 digital assets.
After being created on the Ethereum network, BNB is now deployed on the Binance Smart Chain - which can handle more than 60 transactions per second (TPS). This is more than 3 times greater than Ethereum's average of 17 TPS.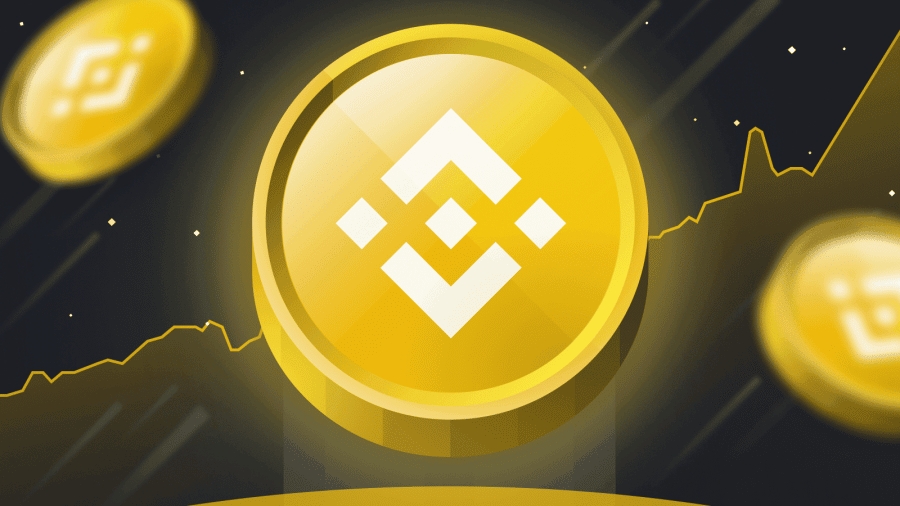 The largest exchange in terms of trading volume, Binance offers low trading fees, referral programmes and leverage trading opportunities for users. By leveraging the BNB token, Binance users can access further discounts. For example, Binance customers holding a certain amount of BNB can gain a 25% discount on spot trading fees.
Thus, the popularity of Binance has allowed BNB to stay competitive. BNB has a current price of $270, with a market cap of $44 billion. Despite correcting by 60% since its ATH, BNB is still the fourth largest cryptocurrency in terms of market cap.
However, investors should note that Binance has been hit with sanctions and lawsuits in numerous territories around the world which could stifle the growth of the token.
Cryptoassets are highly volatile and unregulated. No consumer protection. Tax on profits may apply.
14. Dogecoin - Meme Coin with High-Growth Potential
Launched in 2013, Dogecoin was based as a joke on the popular Doge meme. However, social media backing and support from celebrities such as Mark Cuban and Elon Musk have made Dogecoin one of the best meme coins to trade.
Just like Bitcoin, DOGE can be accessed via mining activities. The cryptocurrency uses scrypt technology, which allows investors to access DOGE. However, this particular asset has an unlimited token supply, with a circulating supply of more than 132 billion coins.
Is it too late to buy Dogecoin? After receiving backing from Elon Musk on Twitter in the last few years, DOGE has become one of the biggest digital assets in the space. From a price of $0.004 in January 2021, DOGE reached a high of $0.70 in the same year. This staggering price rise of 17,400% led to the development of multiple other meme projects, such as Shiba Inu and Dogelon Mars.
However, Dogecoin has corrected by over 90% since its ATH - with a live price of $0.063 per token. Since this cryptocurrency regularly attracts high levels of volatility, it may be a potential investment opportunity for high-risk high-reward-seeking investors.
Cryptoassets are highly volatile and unregulated. No consumer protection. Tax on profits may apply.
How to Find Highly Promising Crypto
When looking for new promising crypto projects in 2023, investors can look at a variety of factors and indicators to determine their next investments. Here are a few techniques to help you find the most promising cryptocurrency to trade right now:
Platform Use Cases
Analyzing a project's use cases is a great way to identify promising cryptocurrency investments for the future.
Many thousands of different cryptos exist with many thousands of different use cases, which are also referred to as utility.
On this list, for example, yPredict is an AI-powered trading terminal, Launchpad XYZ is a gateway platform for Web3 users and Chimpzee is allowing crypto investors to also invest in eco-friendly projects and sustainable programs that help preserve nature and wildlife.
Some cryptocurrency projects are networks and blockchains that other protocols are built upon, with the likes of Ethereum and Polygon filling this void.
Different projects will have different goals and ambitions and, on the other hand, the likes of Dogecoin and other meme tokens exist purely as speculative investment vehicles and come with more risk.
Bitcoin, ironically, offers very little utility beyond being used sparingly as a payment but as it is considered the 'safest' crypto it has found a niche as a store of value and has been referred to as 'digital gold'.
Social Media Backing
Apart from platform utility, marketing is an important feature that cryptocurrencies leverage. For example, the best shitcoins, such as Dogecoin, have a huge social media presence with more than 2.3 million subscribers on the r/dogecoin Reddit group.
Wall Street Memes is another project that has built a substantial social media following and leveraged that to raise $25 million during its presale. As a high visibility project that also has the attention of Elon Musk, it is expected to grow further once the $WSM token reaches exchanges at the end of September.
Furthermore, social media followings and sentiment is a great way to weed out projects that should be avoided - social media sites can be checked to see whether a project is worth investing in based on what others are saying.
Most Promising Time to Buy Crypto
When is the best time to invest in the most promising crypto assets? Do you know what the best crypto to buy in the bear market is? The sections below discuss when investors can pick up new cryptocurrency assets for profitable future returns.
Cryptocurrency Presales
The most promising cryptocurrency assets may not display a staggering market cap at current levels. Since many investors are looking for profitable cryptocurrencies which will offer long-term gains, investing in cryptocurrency presales may be the best possible time to enter into new holdings.
Presales often offer tokens at a discounted prices, allowing those who get in early to make gains when the token is initially listed on an exchange.
New Exchange Listings
The most promising digital assets are the ones that everyone wants to get their hands on. Therefore, they must be made available on the biggest cryptocurrency exchanges. Once a cryptocurrency is listed on popular exchanges, it drives customer interest and can increase trading volumes.
As the number of listings increases, instant access to a new consumer base has the potential to move prices.
In the crypto space this has been referred to as the 'Coinbase' or 'Binance effect' as tokens get a huge boost when it is announced they will list on major exchanges - with investors anticipating an influx of new investment amid the excitement.
Conclusion
The most promising cryptos offer unique benefits and use cases, attracting more investors to look at their projects. Wall Street Memes stands out as the most promising of all cryptos on the list, for many different reasons.
Notably, it has raised over $25 million during its presale and has a huge social media following of over 1 million. The project also offers an estimated staking APY of 80% and meme coins are known for powerful returns in short time frames and $WSM could well list on a Tier 1 exchange, further bolstering its price.
Currently, it is available for $0.0337 in its final presale stage, with an IEO upcoming at the end of September.
FAQs
Which is the most promising crypto?
Wall Street Memes is one of the most promising crypto project of 2023. it has powerful backing, a strong community, and has raised $25 million in a little over 3 months. It's rare that a presale raises this much capital. other promising cryptos include Bitcoin BSC, eTukTuk, and Chimpzee.
Which crypto coins has the most promising growth?
Bitcoin has shown the most promising growth historically, but analysts believe its days of mega growth are now over. It does, however, remain one of the safer bets in the space. Ethereum and Polygon could also show promising growth in the next bull run, while presale meme coins like Wall Street Memes and Sonik Coin have huge potential for large gains.
What is the cheapest and most promising crypto coin?
Sonik Coin is one of the cheapest cryptos around and is currently available for $0.000014 per token during its presale, which has already raised more than $900k in less than three weeks.
---