Dogecoin Price Prediction as Meme Coins Surge in Price – Time to Buy DOGE?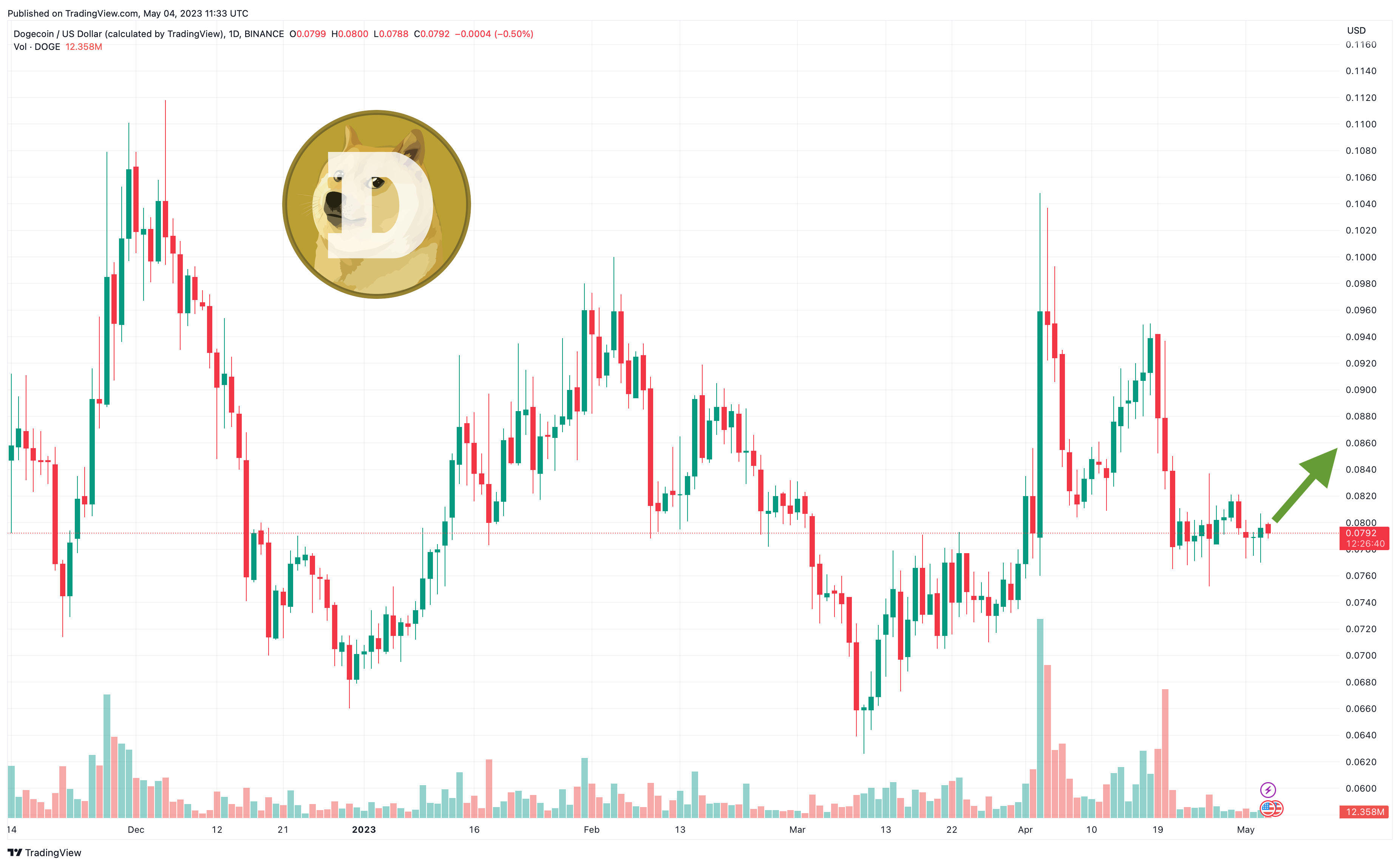 The Dogecoin price has risen by 1.5% in the past 24 hours, reaching $0.079494 after the cryptocurrency market reacted positively to the Federal Reserve's latest rate hike.
This means that DOGE has gained by a modest 1% in the past week but is down by 17% in the last 30 days, although the original meme token has gained by 13% since the start of 2023.
DOGE's slight rally today also comes as meme tokens, in general, are having something of a mini-season, with Pepe Coin (PEPE) in particular, beating much of the market right now.
And with the Dogecoin community still expecting Twitter to introduce DOGE payments in the not-too-distant future, DOGE could be in for a big rally of its own soon enough.
Dogecoin Price Prediction as Meme Coins Surge in Price – Time to Buy DOGE?
DOGE's little jump today comes as its indicators move into an unpromising position, with its 30-day moving average (yellow) just about to drop below its 200-day average (blue), forming a 'death cross' that usually signals more falls.
That said, DOGE's relative strength index (purple) seems to be resisting a fall further below 50, with the indicator flattening out at the 45 level.
At the same time, the meme token's support level has not really dropped over the past week, something which suggests that it may not actually drop any further in the next few days.
That said, an alert has revealed that a Dogecoin address containing 1.5 million DOGE has been activated again after spending the past nine years dormant.
This could suggest that the address owner is preparing to sell, although the activity of other DOGE whales is mixed at the moment, with some moving funds to exchanges and some moving from exchanges in the past few hours.
More positively, the market has recently been hit with a mania for meme tokens, with PEPE rising by over 600% in the past week.
This new trend hasn't quite expanded to include DOGE, yet it's possible that once the fervor surrounding PEPE and WSB Coin subsides, traders may turn once again to DOGE.
Being a meme token, there's not really any fundamental reason why investors should pick DOGE over other tokens, beyond its enduring popularity.
That said, the Dogecoin community continues to hope that the Elon Musk-owned Twitter will eventually introduce crypto and DOGE payments at some point in the future.
While it could be argued that much of this is wishful thinking, Musk is a well-documented Dogecoin supporter, while Twitter partnered with eToro last month to provide real-time asset prices and the ability to buy crypto via the social investing platform.
In addition, inside sources within Twitter confirmed in January that Twitter has been accelerating its digital payment plans, with the social network even applying for payment licenses with a number of US states.
Because of this, there is a real possibility that DOGE payments and/or transfers could end up on Twitter before long, something that would undoubtedly boost the meme token's price to a massive degree.
Indeed, Twitter adoption would enable it to beat its current all-time high of $0.731578, before potentially reaching whole numbers during the next bull market.
Altcoins With Utility
The problem with Dogecoin, of course, is that not much can be expected to happen to its price if Twitter doesn't introduce DOGE payments.
Because of DOGE's over-reliance on Elon Musk and Twitter, traders may prefer to invest in altcoins with stronger fundamentals, as well as in newer alts that haven't yet had their initial spurt of growth.
One coin that ticks both of these boxes is Launchpad XYZ (LPX), which is an Ethereum-based platform that provides users with their portal into the growing Web3 sector.
Launchpad opened the presale for its native LPX token around a week ago, and has already raised $175,000.
Launchpad XYZ's main selling point is that its platform will seamlessly integrate the different elements, applications and features that currently make up the siloed Web3 space.
By combining multiple features into a single platform, Launchpad XYZ will make Web3 more attractive to general users, thereby helping to boost adoption for the sub-sector and the apps/platforms within it.
Upon rollout, Launchpad will feature an NFT wallet, as well as a play-to-earn game hub, a launchpad for presales, a trading terminal, an analysis platform, and an AI-powered search engine specifically for crypto.
Perhaps most importantly, it will also provide users with a user-friendly portal to other Web3 projects and platforms, while its native LPX token can be staked to earn rewards.
Investors can participate in its presale by heading over to the Launchpad website and connecting their wallets.
1 LPX token currently costs $0.035, although this will rise to $0.0375 when the presale enters its second stage.
And once the sale ends, LPX will list on exchanges at $0.07, making for an increase of 100%, and that's before it has any rallies.
---