Dogecoin Price Prediction as Elon Musk Reveals He is Considering Crypto Payments for Twitter – Can DOGE Hit $1?
Disclosure: Crypto is a high-risk asset class. This article is provided for informational purposes and does not constitute investment advice. By using this website, you agree to our terms and conditions. We may utilise affiliate links within our content, and receive commission.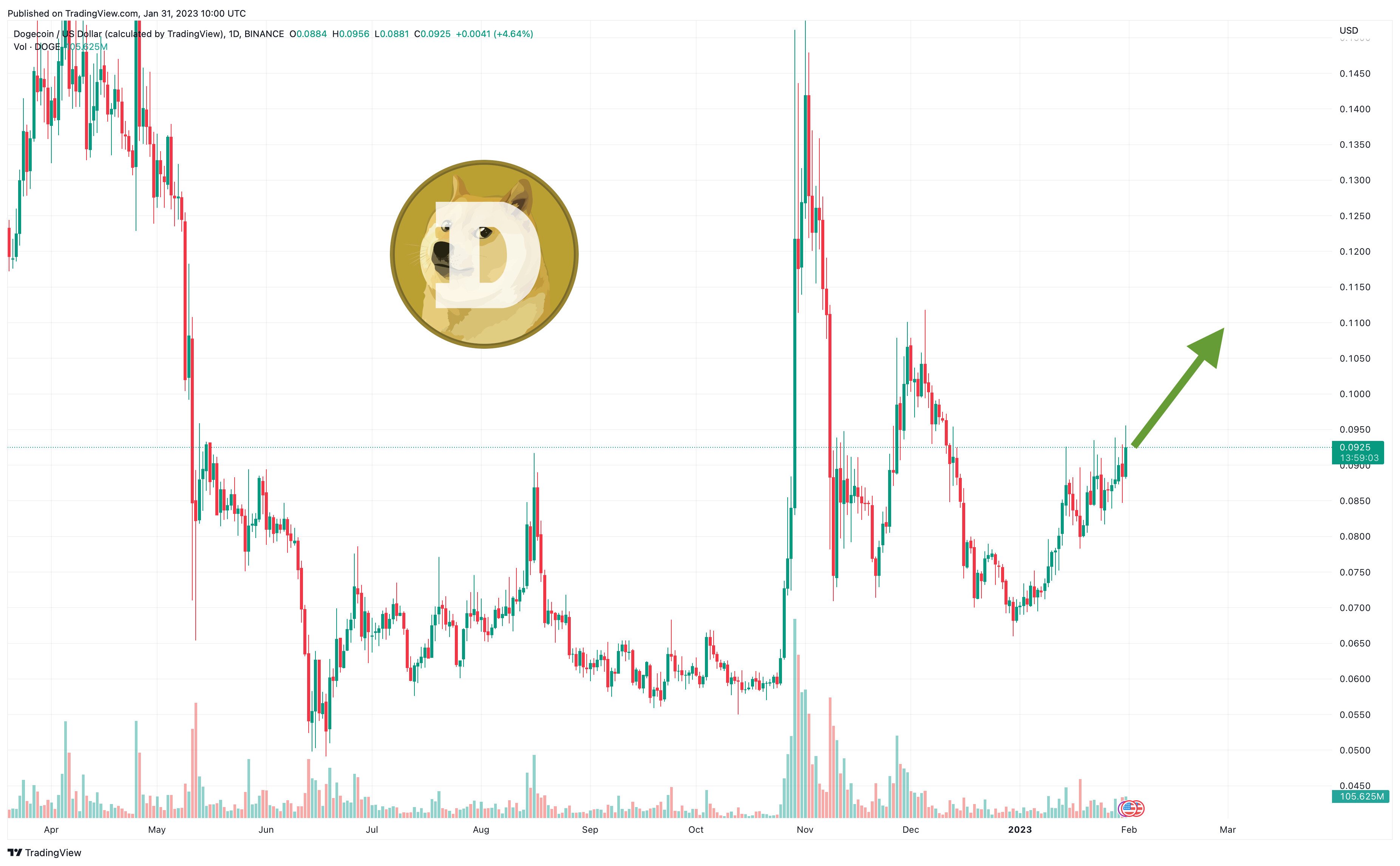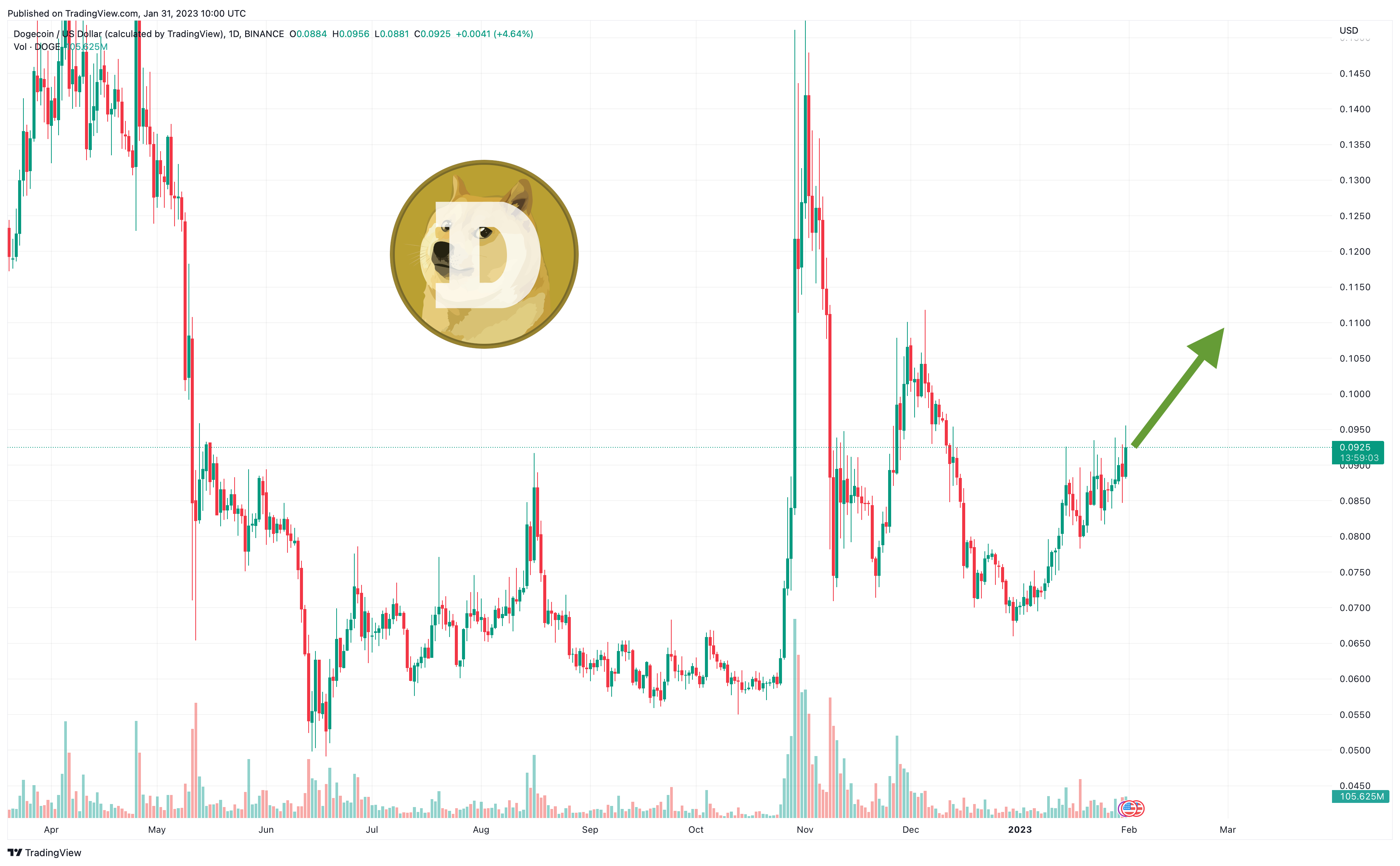 The Dogecoin price has jumped by 8% today, rising to $0.092839 after reports yesterday that Twitter owner Elon Musk is determined to move ahead with integrating payments into the social network. DOGE is now up by 11% in a fortnight and by 32% following the news, with the market expecting that the meme token will be one of the chief beneficiaries of Twitter's crypto play.
The market has long expected that Twitter will one day see dogecoin payments, and if this expectation is realized, there's no doubt that DOGE will rally massively as a result. However, the latest reports make no explicit mention of dogecoin itself, and with Twitter also reportedly working on its own digital currency, there's no guarantee that the social network will embrace DOGE.
Dogecoin Price Prediction as Elon Musk Reveals He is Considering Crypto Payments for Twitter – Can DOGE Hit $1?
DOGE's chart makes it clear that the altcoin is enjoying a breakout rally right now, with its relative strength index (purple) rising to 70 as a result of rising momentum. At the same time, its 30-day moving average (red) has overtaken its 200-day average (blue), again indicating that a breakout — of indeterminate duration — is currently underway.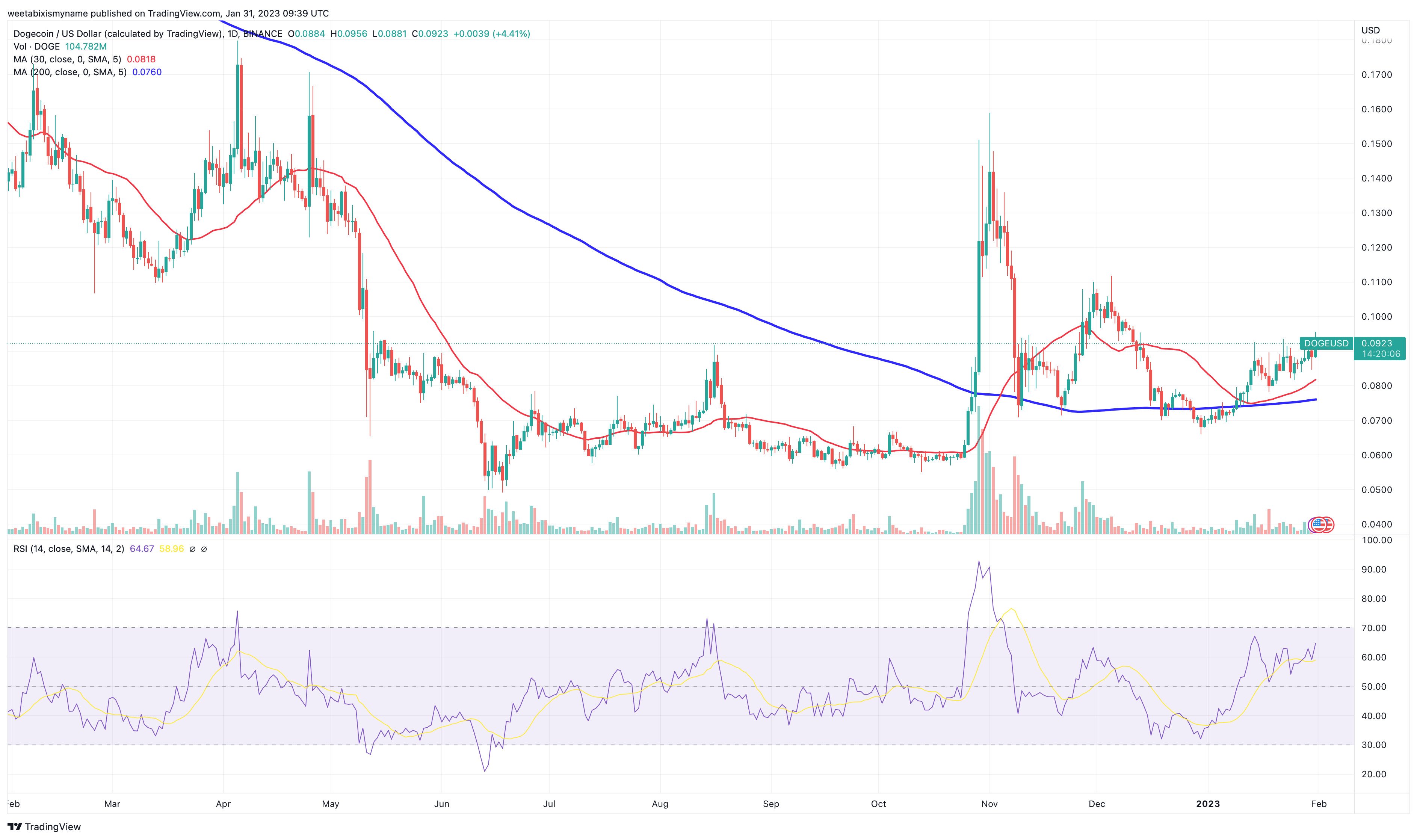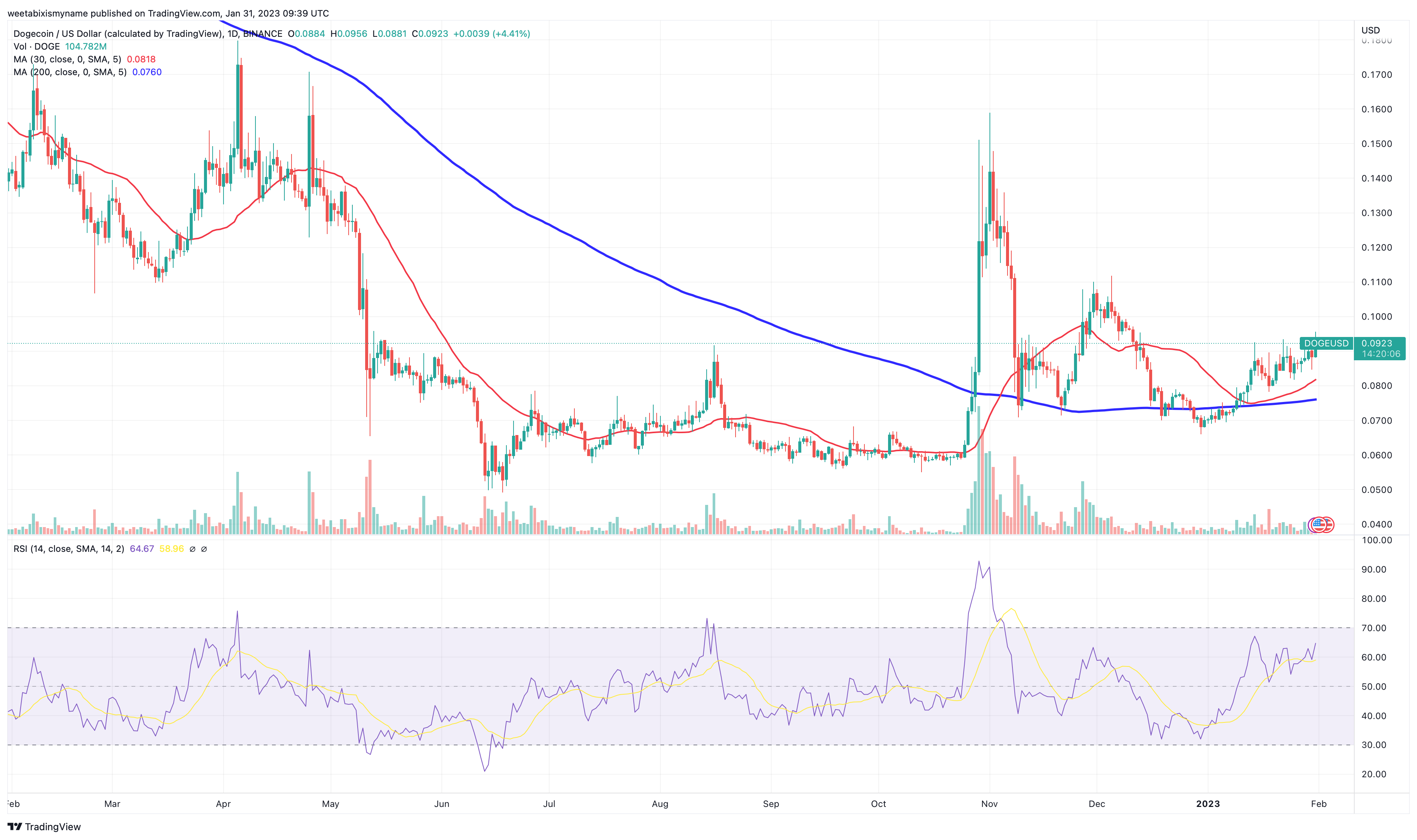 The main reason for today's rally is an article published yesterday on the Financial Times website, in which insiders tell the outlet that Twitter is accelerating its payment plans, with the social network already applying for regulatory licenses across the US.
The report also mentions that Twitter's payment services will be "built so that crypto functionality could potentially be added at a later point." This is the only mention of cryptocurrency in the entire report, yet it was apparently enough to spark a dogecoin rally, with the coin reaching a 24-hour high of $0.095126, following a 24-hour low of $0.085494 (making for an 11% gain).
https://www.twitter.com/MrDogecoin69/status/1620141434077859841
Of course, it needs to be highlighted that at no point did the insiders speaking to the Financial Times mention DOGE. They also seemed to suggest that Twitter's payment services would involve only fiat currencies to begin with, and then there's the fact that, much as we saw with Facebook-Meta, Twitter may encounter considerable regulatory pushback.
As such, it would be very premature to begin buying up masses of DOGE in the belief that it will soon rocket toward $1. Indeed, past weeks have brought news of a so-called 'Twitter Coin', a reportedly in-house digital currency that may end up negating the need for Twitter to use dogecoin (or any other existing cryptocurrency).
https://www.twitter.com/cb_doge/status/1619787909711921152
Still, despite such reservations, it's probably safe to say that if he gets his way, Elon Musk will ensure that Twitter has cryptocurrency payments of some kind somewhere down the line (although this may even be years away). And just to humor the dogecoin holders out there, there's a very good chance that DOGE would rise massively in the event that Twitter integrates it.
With this possibility in mind, DOGE supporters continue to target $1 as the altcoin's medium-to-long-term price.
$1 is only the beginning. #dogecoin $DOGE

— The President of Ðoge (@realDogePrez) December 22, 2022
On the other hand, observers outside of the Dogecoin community continue to propose more realistic targets. For instance, a panel of experts predicted in December that DOGE would end the year at $0.08 (it actually closed at about $0.07), and then rise to $0.19 by 2025.
Needless to say, such conservative targets are likely to be disappointing to hardcore DOGE enthusiasts. But in a world where Twitter adoption cannot be taken for granted, they will probably end up being more accurate than anything a DOGE holder might suggest.
This isn't to say that DOGE is dependent solely on Twitter for price movements. It also enjoyed a little end-of-year rally when it was listed by Bitstamp, which according to CoinMarketCap is the fifth-biggest exchange in the world by volume.
We've listed $DOGE (Dogecoin) for our customers. Much wow!

Buy and sell with no trading fees up to $1,000 over the past 30 days.

Learn more: https://t.co/PashIZnTzY pic.twitter.com/eqdEKkgm4j

— Bitstamp (@Bitstamp) December 22, 2022
This shows that there's possibly a little bit more going on with DOGE than simply a hope that Elon Musk will save it.
Dogecoin Alternatives
If you're looking for other high-potential crypto projects alongside DOGE, we've reviewed the top 15 cryptocurrencies for 2023, as analyzed by the CryptoNews Industry Talk team.

The list is updated weekly with new altcoins and ICO projects.
Disclaimer: The Industry Talk section features insights by crypto industry players and is not a part of the editorial content of Cryptonews.com.
---